Last Updated on 05/24/2021 by FilipiKnow
Trying to log in with your SSS user ID and password but still getting an "invalid user ID/password" error message? Are you trying to access your My.SSS account but have totally forgotten your login credentials? Are unable to reset your SSS password because you've also lost/forgotten your registered email address?
You've come to the right place! Let this article be your guide to recovering lost or forgotten SSS user ID, password, or email address.
Related: How to Compute Your SSS Contribution: An Ultimate Guide
How to Recover SSS User ID and Password if Forgotten or Lost: A Step-by-Step Guide.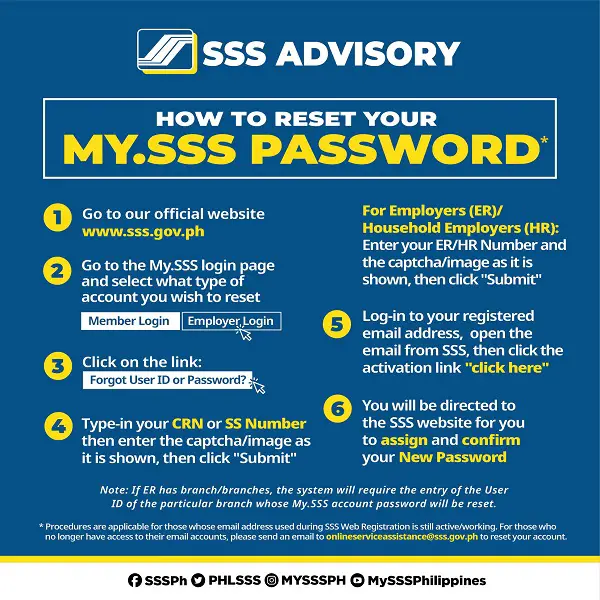 Before you proceed, check first if the My.SSS portal is undergoing an update. If you can't access it, try to do this procedure later. Otherwise, follow the steps below to reset your SSS password if you've lost it or can't remember it anymore.
1. Go to the official SSS website.
Depending on your membership category, you can either click the MEMBER portal (if you're a regular SSS member) or the EMPLOYER portal (if you're a registered employer).
2. Click the "Forgot User ID or Password?" link on the My.SSS portal.
You can see the link in the SSS member login page just below the captcha box.
3. Enter your CRN or SSS number (for member account) or Employer/HR Number (for employer account).
The CRN or Common Reference Number can be found on your Unified Multi-Purpose ID (UMID), just above your ID photo. Your SSS number, on the other hand, is the permanent number that you use in your regular SSS transactions. You can also obtain this number by checking the E-1 form you used when you first registered with the Social Security System.
If you're an SSS member, you will be given a choice on how you want to recover your login credentials. The options are "My registered email address" and "Security Questions".
Select the first choice if you still have access to the email address you used when you first created your SSS account. The system will ask you to encode your CRN or SSS number as well as the captcha to be shown on your screen. Once you have been verified, you will receive a password reset link to your email address.
Related: How to Recover Lost or Forgotten SSS Number
In case you have forgotten your email address or no longer have access to it, select "Security Questions" instead. After entering your CRN or SSS number, the system will ask you to answer two security questions. All members are now required to set up and provide answers to two security questions so they can easily retrieve their account even if they've lost or forgotten their login credentials. In my case, I have selected the following security questions:
In what town or city was your first job?
What was the last name of your Grade 1 teacher?
Take note that you can only set this up when you still have access to your SSS account.
Once you've supplied the correct answer, tick the box for the captcha. The system will then show you your login credentials.
These two options are not available if you're an employer. Instead, you will only be asked to enter your Employer/HR number as well as the captcha. Finally, the system will send a link to your email address to reset your password.
4. Check your email for a password reset link from the SSS.
If the message is not in your inbox, check if it's in the SPAM folder.
5. Create your new password.
After clicking the password reset link, you'll be directed to a page showing your user ID as well as two boxes where you'll input your new account password.
The new password must meet the following guidelines:
Must be 8-20 alphanumeric characters.
The first character must be alphabetic.
No special characters like underscore, comma, asterisk, etc.
Must be different from your User ID.
Take note that if the employer has another branch or multiple branches, the system will ask for the User ID of the particular branch that you're resetting the My.SSS account password for.
Once you're done, click Submit.
If you can't access your SSS-registered email anymore (which means you won't receive the password reset link), have your online account reset. Send an email request to [email protected] or visit the nearest SSS branch. For more information, please read the next section.
Related: How to Apply for SSS Salary Loan Online: An Ultimate Guide
Once you're issued a temporary password and the user ID you previously registered, use them to log in to your My.SSS account. Then change your password right away. Don't forget to keep a copy of your new password so that you won't have to go through the entire process again.
I want to reset my SSS User ID and Password but I don't know or have no access to my email address anymore. What should I do?
As is evident in the previous guide, it's quite easy to retrieve your lost or forgotten SSS user ID/password as long as you still have access to the email address you used to register your account.
However, the problem becomes complicated if you also lost or forgot your registered email address. Without any means to receive the SSS password reset link, there's no way you can recover your SSS online account right away.
Fortunately, there's a solution to this. SSS offers the same troubleshooting advice whether you're encountering problems with SSS registration or issues related to account access.
In summary, there are four (4) ways to recover your email address which in turn will help you reset your SSS user ID/password.
1. Call the SSS Member Electronic Services Department.
If you have tried everything in your power but still failed to remember the email you used to register your SSS account, it's time to contact the SSS Member Electronic Services Department.
You can call them at (02) 920-6401 local 5971 / 5966 / 6449 / 5240 / 6092 / 5968.
2. Inquire via email.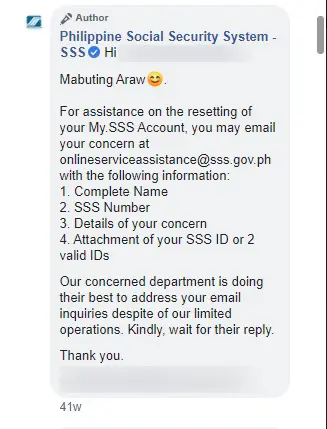 Even when you call them, they will most likely require more details from you so I recommend sending them an email instead.
You can send an email with a subject line "Assistance in retrieving lost/forgotten email address" to [email protected]
Don't forget to include the following details in your email:
Details of your concern/request (in this case, your forgotten/lost email address and the efforts you've made to recover it, to no avail).
Complete name
10-digit SSS number
A clear screenshot of the error message, if applicable
Image/scanned copy of your UMID card or 2 valid IDs.
3. Leave a comment on the official SSS Facebook page.
The SSS Facebook admins are surprisingly responsive (they usually reply to comments within an hour or a day) so this is an effective way to let them know about your issue. However, due to the large volume of users leaving comments on Facebook, it would be best to only do this to follow up on your concern that you already sent via email (see the previous section).
In your post, provide your email address and the date you sent your email inquiry/request.
4. Go the nearest SSS office.
As a last resort, you can always proceed to the nearest SSS branch and ask for assistance in retrieving your SSS online account credentials.
Tips and Warnings.
You can't create more than one SSS account. So if you try to register a new account and the system rejects it, one common reason is you already registered before.
When choosing your password, always remember these two cardinal rules: (1) Don't use personal information such as your name, birthday, or phone number; (2) Create longer passwords (SSS allows a maximum of 20 alphanumeric characters) because the longer your password, the harder it is to crack.
Keep a copy of your email address as well as your SSS user ID and password. You can write them down on a piece of paper provided that you keep it in a safe place that only you have personal knowledge of. Based on my experience, however, it's better to invest on online password managers (anti-virus software Norton has this feature too) that not only keep your usernames and passwords in encrypted forms but also enable you to automatically fill in the information whenever you want to access your SSS account, saving you a lot of time in the process.
Go back to the main article: SSS Online Registration Guide: 4 Easy Steps
Frequently Asked Questions.