Do you want to learn how to know SSS number that has been forgotten or lost?
Most of us registered with SSS while still fresh college graduates who didn't know any better. Looking for a job was more important than keeping our SSS number in a safe place. As a result, it's too easy to forget our SSS numbers and suffer the consequences of losing them.
Your SSS number is more important than you think. Not only do you need it to create your My.SSS online account, but also to avail of all the benefits that regular paying SSS members are entitled to.
Fortunately, you don't have to apply for a new one if you've forgotten or lost your SSS number. Instead, you can verify it using one of the options discussed in this article.
Table of Contents
What Is an SSS Number?
The SSS number is a 10-digit number assigned to each compulsory and voluntary member registered with the Social Security System (SSS), the government-owned social insurance program in the Philippines.
Whether online or offline, SSS members will always need this number before they can access their records, apply for loans, or avail of benefits in case of sickness, unemployment, disability, maternity, retirement, or death. Outside of SSS, you also need this number whenever applying for a new job, opening a bank account, or transacting with other government agencies.
Why You Need To Get (and Keep) Your SSS Number
Your SSS number proves that you're registered with the Social Security System and therefore have the right to pay your contributions and avail of the SSS benefits.
Specifically, you need to get and keep your SSS number for the following purposes:
To get hired. The Social Security Law mandates employers only to employ people with SSS numbers. This is why you must apply for an SSS number before starting your first job and present it each time you switch to a new employer.
To create a My.SSS account. Most SSS services are now going online, so you need to create your My.SSS account now more than ever. Doing so will help you save time and money, as SSS transactions can be completed without leaving the comforts of your own home. However, you won't be able to create an online account if you can't provide your SSS number.
To pay for SSS contribution and SSS loan. Without an SSS number, your employer won't be able to deduct from your salary the amount of contribution or loan amortization due every month. If this happens, both parties will suffer, as employers can face penalties for not remitting the required contributions.
To avail of different SSS benefits. As an SSS member with a valid SSS number, you can remit your contributions regularly, the amount of which will determine how much you'll get if you avail of different SSS benefits. SSS members are qualified to avail of SSS benefits for sickness, maternity leave, unemployment, disability, retirement, or death.
SSS Number Verification: How to Know SSS Number in 8 Ways
Method 1: How To Check SSS Number Through Your My.SSS Account
The My.SSS or the SSS member portal is where members can quickly check their contributions, apply for SSS salary loans, submit applications for SSS benefits, or generate PRN for contribution/loan payments without leaving their homes.
You can also quickly view your SSS number when logging into your account. Suppose you haven't registered and created your own My.SSS account yet, follow the instructions in this article.
Meanwhile, if you already have a My.SSS account, you can obtain your SSS number by following these steps: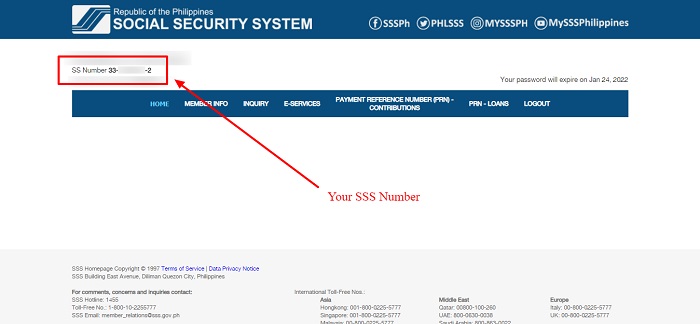 Go to the official SSS website.
Answer/solve the CAPTCHA and click Submit.
On the right side of the page, select the MEMBER portal if you're an individually paying member or the EMPLOYER portal if you're a registered employer.
Log in with your user ID and password. If you have forgotten or lost your login credentials, check out this guide to learn how to recover them.
Once you gain access to your account, you can see your SSS number displayed at the upper left corner of the page, just below your name and above your CRN number.
Alternatively, you can also access your My.SSS account using the SSS Mobile app. Should you prefer to check your SSS number through your mobile phone, follow these steps: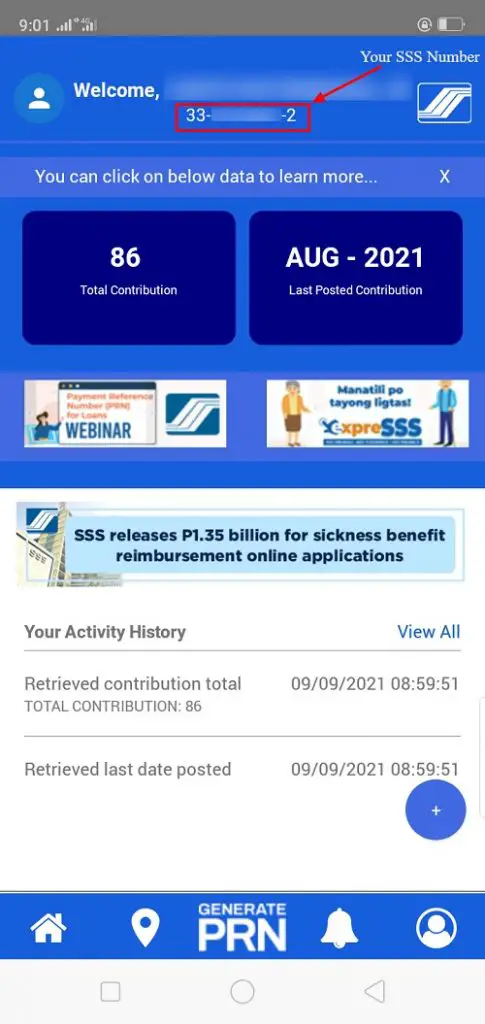 Install the SSS Mobile app on your mobile phone.
Log in with the same user ID and password you use to access your My.SSS account from your computer/laptop.
Thanks to the newly designed SSS Mobile app, you can immediately see your SSS number at the top of the screen upon logging in.
Method 2: How To Check SSS Number Through Your Old SSS ID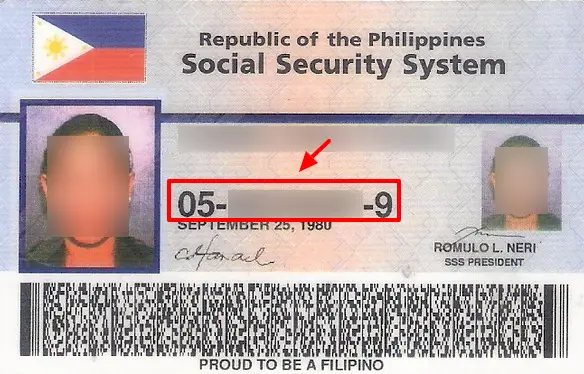 If you still have your old SSS ID (the bluish card issued before 2011), you can find your SSS number below your name. Note that this old SSS ID version is no longer issued and has been replaced by the UMID or Unified Multi-Purpose ID.
Unlike the old SSS ID, the UMID doesn't show your SSS number and instead displays the CRN on the front of the card.
Method 3: How To Check SSS Number Through Your SSS E-1 or E-4 Form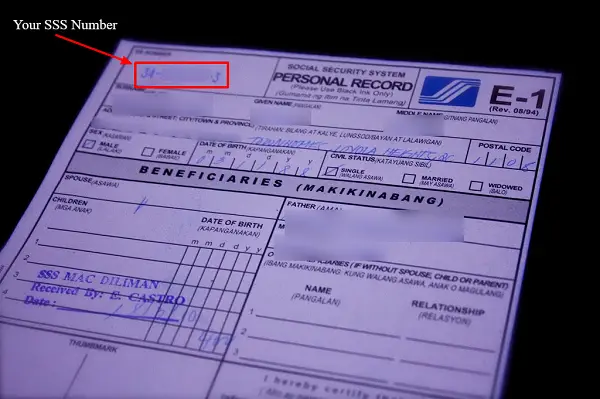 If you applied for an SSS number in 2015 or earlier and keep a copy of your E-1 form, you can find your number handwritten in the upper right corner.
The SSS E-1 or Personal Record form contains the new member's personal information, including name, address, civil status, and beneficiaries. First-time members used to receive this after successful registration at the SSS office. However, members who registered in recent years likely don't have a hard copy of this form as SSS registrations and other transactions have already transitioned online.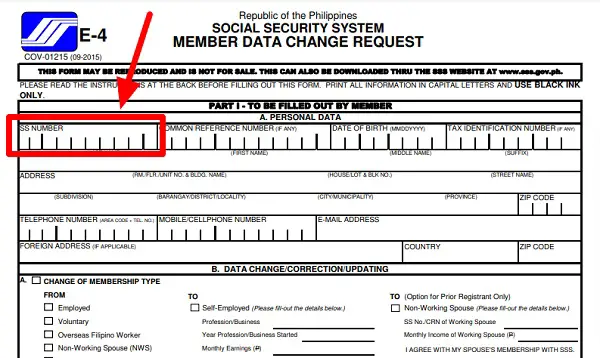 Another form to check your SSS number is the SSS E-4 (Member Data Change Request) form. Members use this form to request a change in their SSS membership data, like name, date of birth, civil status, beneficiary, or contact information.
After submitting the E-4 form to the nearest SSS branch, you will be given a personal copy, which you most likely have if you requested a change.
Method 4: How To Check SSS Number Through Your SSS Contributions Payment Form (RS-5)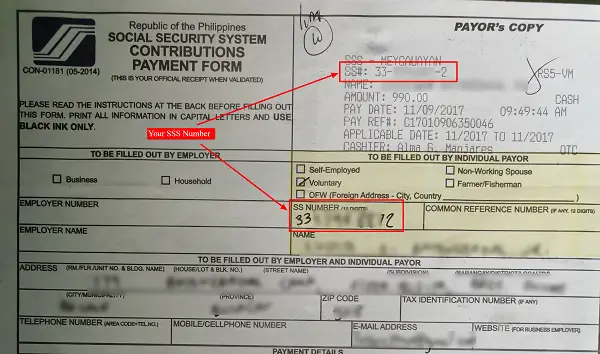 You can quickly pay your monthly SSS contributions from your phone. But back when online payment methods were few and far between, members had no choice but to pay their contributions personally at the nearest SSS branch.
If you used to pay your contributions the traditional way regularly, chances are you've managed to keep a few copies of the SSS Contributions Payment Form. Members who fill out this form to make a monthly, quarterly, semi-annual, or annual payment are given a personal or payor's copy for record-keeping purposes. Suppose you're able to retrieve a few copies of this form. In that case, you can see the SSS number on two different sections: one is the machine-validated SSS number at the upper right corner and a handwritten one immediately below the membership category section.
Method 5: How To Check SSS Number Through Your HR Department or Employer
The HR or admin keeps your records, including your SSS number that the company uses to remit your contributions. Employers are required by law to remit their employees' SSS contributions regularly, so the HR department should have your number on file unless you're dealing with a delinquent employer.
To verify your SSS number through this method, call the human resources department or send an email inquiry. This shouldn't be a problem if you're currently employed, as HR departments are often more responsive to their active employees.
Lastly, you can also check your company/employee ID, as some companies print their employees' SSS numbers on this identification card for quick reference.
Method 6: How To Check SSS Number Through Your Email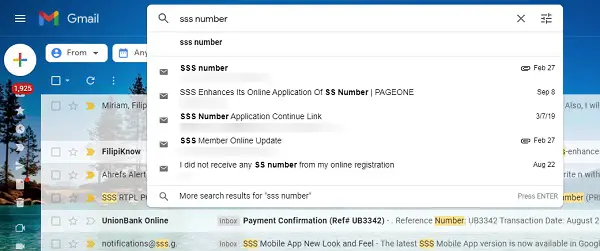 If you applied for an SSS number in 2016 onwards, search for the email message from the SSS that contains your SSS number slip.
However, this can be challenging if you have received numerous email messages from SSS. To help you home in on the email message containing your SSS number, enter the keyword SSS number in the search box at the top of email programs like Yahoo! Mail, and Gmail.
If this doesn't work, you can use a more specific search string: has:attachment SSS number. If you input this in the search box, the email program will return only the results with attachments (i.e., PDF or MS Word files) that most likely contain your SSS number.
Method 7: How To Check SSS Number Through Email or Phone Inquiry
You can reach SSS through the following numbers:
SSS Call Center:

8 920-6446 to 55.

Member Electronic Services Department: 8-9206401 to 45 local 5971, 5966, 6449, 5240, 6092, and 5968.
Toll-Free Number: 1-800-10-2255777 (1-800-10-CALLSSS).
You must add area code 2 before the 8-digit number if you're calling from a mobile phone (e.g., 28920-6401). The SSS hotlines are only available from Mondays to Saturdays, 7 AM to 7 PM.
If you can't get through the line, try emailing [email protected] with your complete name, birth date, address, and a photo or scanned image of your valid ID. Don't forget to use SSS Number Verification as the email subject line.
To help you save time, here's an email template you can use:
Good day!
I'm writing to request my SSS number. Here are my membership details for verification purposes:
Name:
Date of Birth:
Address:
Mobile Number:
I have also attached a copy of my valid ID as proof of my identity.
Looking forward to hearing from you!
After sending the email, expect SSS to respond within two working days. Depending on your provided data, SSS will either reply with your SSS number or request additional information.
Method 8: How To Check SSS Number By Visiting Any SSS Branch
If none of these things work, your last resort is to go to the Member's Assistance Section of an SSS branch.
SSS branches are open from Mondays to Fridays, except during public holidays. You can search for the nearest SSS branch using this SSS branch directory.
Present at least two valid and unexpired IDs (with photo and signature) to verify your number on the SSS database.
Tips and Warnings
To prevent you from forgetting or losing your SSS number in the future, you can save it in a free note-taking app or a password manager with a note-taking feature. You can do the same for your PhilHealth number, Pag-IBIG number, TIN, and other government membership identification numbers.
Frequently Asked Questions
1. Can I get my SSS number through the official SSS Facebook page?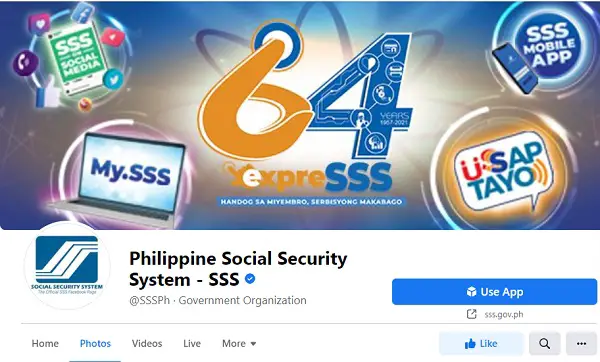 No. As of this writing, there's no way to communicate with SSS via its official Facebook page except in the comment section. The messaging feature has been deactivated and replaced by Use App, which links to the SSS Mobile app page. If you leave a comment on their Facebook posts, SSS will give you an automated reply asking you to use the options discussed above to retrieve your SSS number.
2. How can I check my SSS number by text?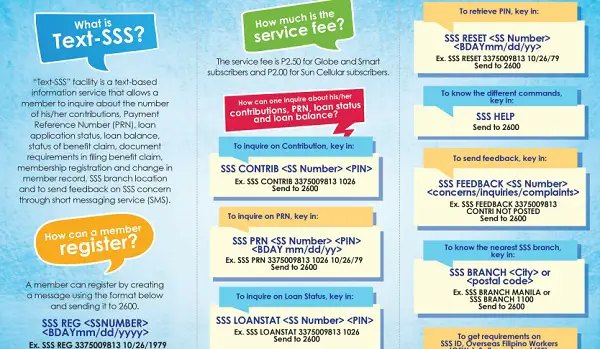 As of this writing, there's no option to verify your SSS number via Text-SSS, the text-based information service of SSS. Only members who know their SSS numbers can register and use Text-SSS to inquire about their contributions, PRN, loan status, and loan balance.
Go back to the main article: How to Get SSS Number Online in the Philippines: An Ultimate Guide