Whether you're a new or existing member, this guide will help you get, retrieve, or verify your PhilHealth number with ease.
Disclaimer: This article has been published for educational purposes only. Neither the author nor FilipiKnow is affiliated with PhilHealth, so specific queries about your membership and insurance benefits must be forwarded to the proper authority.
Related: How to Get PhilHealth ID: An Ultimate Guide
Watch Video: How To Get PhilHealth Number if Forgotten or Lost
What Is PhilHealth Number?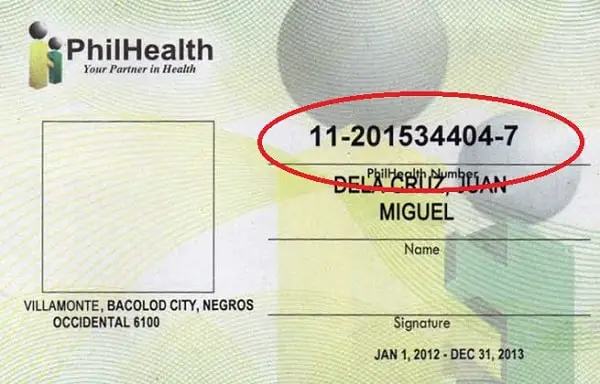 The PhilHealth Identification Number (PIN) is a permanent and unique 12-digit number assigned to every PhilHealth member. The PhilHealth number is required in all PhilHealth transactions, from getting an ID to claiming a benefit. So when you get one, make sure to keep a copy of it in case of an emergency.
How To Get PhilHealth Number as a First-Time Member
If you're not a member yet, register with PhilHealth first to get a PhilHealth number. You'll be issued this number, along with your Member Data Record (MDR), once you've completed the PhilHealth online or manual registration. 
Check this to learn more about PhilHealth membership registration. 
To summarize, here are the steps that you will have to complete in order to obtain a PhilHealth number through online and manual registration:
Option 1: Getting a PhilHealth Number Through Online Registration (currently unavailable)
Click Proceed and then check the box to agree to the Terms and Conditions. Finally, click Accept.
Fill out the registration form with your personal information, contact details, dependents, your membership category, and PhilHealth Employer Number or PEN (which employed members can obtain from their employer/HR department).
Upload the PhilHealth registration requirements.
Wait for the verification link that PhilHealth will send to your email. Click this link to complete the registration process.
PhilHealth will then send you another email with your transaction number. Take note that this is not your official PhilHealth number which you'll receive in a separate email after one to three weeks.
Once you've received your PhilHealth number, you can now start paying your contributions and become eligible to PhilHealth benefits.
Option 2: Getting PhilHealth Number Through Registration via Email Request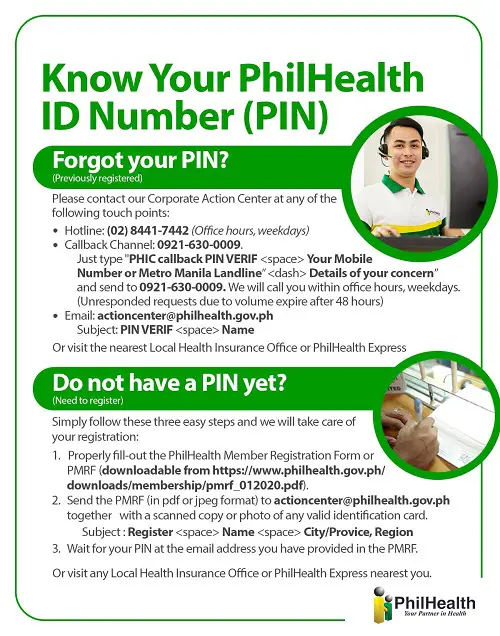 If the PhilHealth online registration facility is not available, you can register with PhilHealth via email request. To do it, follow these steps:
Download the PhilHealth Member Registration Form (PMRF). You can find this form by going to the official PhilHealth website and selecting downloads from the main menu. Choose Forms and then click the download link for the PMRF under Membership.
Print out the form and manually fill it out. PhilHealth won't accept electronically signed forms.
Scan the duly accomplished form and send it in PDF or JPEG format to [email protected] together with a scanned copy or photo of any valid ID. Don't forget to put the following in the email subject line: Register<space>Name<space>City/Province, Region
Wait for PhilHealth to reply with your PhilHealth number.
Option 3: Getting a PhilHealth Number Through Manual Registration
For local employees and sea-based OFWs: Fill out two copies of the PhilHealth Member Registration Form (PMRF) and submit them to the HR department of your company or manning agency. Once your application has been processed, you will be issued your Member Data Record (MDR) and PhilHealth ID, both of which contain your PhilHealth number.
For employers: Proceed to the nearest PhilHealth branch and submit the requirements for employee registration. Once your application has been processed, you'll be issued your PhilHealth Employer Number (PEN) as well as the MDR/s and PhilHealth number/s of your employee/s.
For sponsored members: If your family is listed as NHTS (National Household Targeting System for Poverty Reduction), proceed to your city or municipal DSWD office to get a certification. Then, submit this certificate to the nearest PhilHealth branch along with your valid ID. Once enrolled, you can now view your PhilHealth number through the MDR and PhilHealth ID that will be given to you. Meanwhile, those whose families are not listed as NHTS can proceed to their barangay office instead. If qualified, you'll be enrolled under the Sponsored Program and issued a PhilHealth ID containing your PhilHealth numnber.
For voluntary members: After completing the PhilHealth registration requirements, submit them to any PhilHealth Regional Office, Local Health Insurance Office, PhilHealth Express outlet in select malls, iRemit or Ventaja branch in your host county (if you're an OFW), the Office for Senior Citizens Affairs (if you're a senior citizen), or PRA Head Office (if you're a foreign retiree). Pay your PhilHealth contribution and submit the Official Receipt. Once registration is successful, you'll be issued your MDR and PhilHealth ID containing your PhilHealth number.
How To Know PhilHealth Number if You're Already an Existing Member: A Guide to Recovering Lost or Forgotten PhilHealth Number
Can't remember your PhilHealth number?
If you've registered with PhilHealth before, you shouldn't enroll again just to get a new number.
Here are the different ways to easily verify your PhilHealth number if you lost or forgot it:
Option 1: How to Know PhilHealth Number By Calling the PhilHealth Corporate Action Center Hotline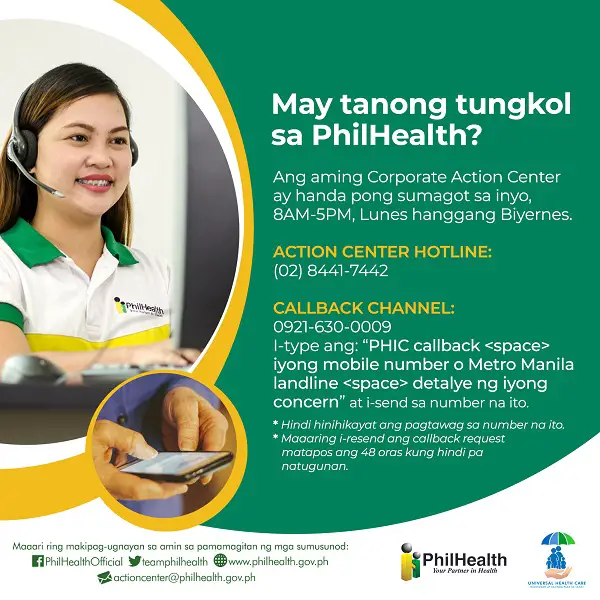 Requesting your PhilHealth number is just a short phone call away. You may contact the PhilHealth call center hotline anytime from Mondays to Fridays, 8 a.m to 5 p.m.
Here's how to verify your lost or forgotten PhilHealth number through the hotline:
Prepare your TIN or SSS number before you make a call.
Dial (02) 8441-7442 if you're calling from a landline outside Metro Manila. Callers from Metro Manila can simply dial 8441-7442. On the other hand, those who are calling from a mobile phone can dial 2-8441-7442.

Press 1 for English or 2 for Taglish instructions.

Press 1 if you're in Metro Manila or 2 if you're in the province.

Press 1 to speak with an agent.

When your call gets through, tell the agent that you need to know your existing PhilHealth number. Provide your full name, birthdate, and TIN/SSS number.

Once your identity is verified, the agent will give your PhilHealth number.
Note: According to most of our readers, this is probably the best and easiest way to get your PhilHealth number without personally going to the PhilHealth office.
Aside from calling the hotline above, you can also reach out to PhilHealth's Corporate Action Center through its callback channel. Simply type PHIC callback PIN VERIF<space>Your mobile number or Metro Manila landline<space>Details of your concern (e.g., PHIC callback 09889898899 I want to know my PhilHealth number) and send it to 0921-630-0009. Wait for a PhilHealth representative to call you back within 48 hours (only during office hours, weekdays).
Option 2: How to Know PhilHealth Number Through Your PhilHealth ID or Company ID
The easiest way to know your existing PhilHealth number is to check the PhilHealth ID issued to you when you applied for membership. It's printed on the topmost portion of the card.
If you don't have this ID yet, you might find your PhilHealth number on your company ID, along with your tax identification (TIN), SSS, and Pag-IBIG numbers.
Option 3: How to Know PhilHealth Number Through Your Employer/HR Department
The HR department of companies and government offices keep records of their employees' information, including PhilHealth numbers. Try contacting or visiting the HR of your present or past employer to request your PhilHealth number.
Option 4: How to Know PhilHealth Number Through Email Inquiry
The PhilHealth number online inquiry service is available to all members.
Simply email a request with your complete name and birthdate to [email protected]. If you can attach an image of your valid ID, that would be better, as it helps PhilHealth to confirm your identity.
To help you save time, here's a sample email template you can use:
Good day!
I'm writing to request my PhilHealth number as I recently lost my copy of it. Here's my personal information:
Name:
Date of Birth:
Address:
I have also attached a copy of my valid ID for verification purposes.
Thank you and looking forward to hearing from you soon!
Sincerely,
Your Name
Don't forget to use PIN VERIF<space>Your Name as your email subject line.
After sending the email, expect to receive a response from PhilHealth within 2 to 3 working days. PhilHealth will either give your PhilHealth number or request additional information for security purposes.
Option 5: How to Know PhilHealth Number Through Text
The PhilHealth Corporate Action Center can also be reached via SMS. There's no specific text format to follow but your text message must include your name, birth date, and details of your concern. Send the text inquiry to 0917-8987442 and wait for a PhilHealth representative to respond.
Option 6: How to Know PhilHealth Number Through PhilHealth's Official Social Media Pages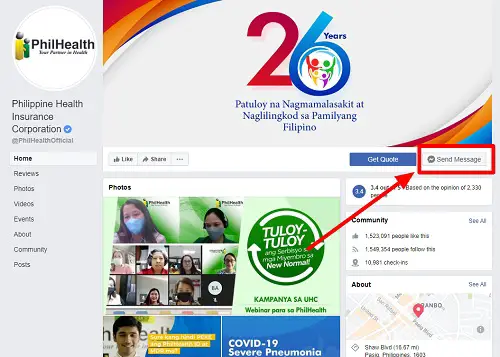 This is our least recommended method of PhilHealth number online inquiry as the responses you'll get from PhilHealth's social media accounts are pretty much generic. However, there's no harm in trying.
To inquire about your PhilHealth number via Facebook, simply look for PhilHealth's official page and tap the Message button. Type in your message asking about your PhilHealth number and then hit Enter. Alternatively, you can also tweet or send a direct message to PhilHealth's official Twitter account, @teamphilhealth.
Option 7: How to Know PhilHealth Number By Visiting the Nearest PhilHealth Office
If none of the ways to retrieve the PhilHealth number works, the only choice left is to personally inquire at a PhilHealth office. 
Bring a valid ID to the nearest PhilHealth branch and approach the Public Assistance Desk to inform the staff about your PhilHealth number verification request.
You'll be given a queue number or asked to line up. When it's your turn, present your ID to the officer, who will then look up your information in the PhilHealth member database and give your PhilHealth number.
While you're at it, you may apply for PhilHealth ID and/or request a copy of your MDR to maximize your time at the PhilHealth office.