Are you a new freelancer or OFW looking into PhilHealth but without any idea how to start? Or someone who quit your job and has no idea about PhilHealth voluntary contribution? 
As we transition into the new normal, health is more important now than ever. The COVID-19 pandemic has highlighted the need to care for ourselves and prepare financially for any health-related emergencies. PhilHealth is one of the ways we can safeguard our health and finances. 
The Philippines is implementing the Universal Health Care Law to provide healthcare services for all. To enjoy the comprehensive benefits of the UHC, you need to have your PhilHealth membership affairs in order. 
This guide will help you with everything necessary about PhilHealth's voluntary contributions. From preparation of registration to payments, quick tips, and FAQs. 
Disclaimer: This article has been published for educational purposes only. Neither the author nor FilipiKnow is affiliated with PhilHealth, so specific queries about your membership and insurance benefits must be forwarded to the proper authority.
Table of Contents
What Is PhilHealth's Voluntary Membership?
PhilHealth classifies its contributors into direct and indirect contributors. The government subsidizes indirect contributors. These are usually the indigent population, senior citizens, and those with disabilities. 
Direct contributors pay contributions to Philhealth either through their employers or out of pocket. If you are employed, and your employer shares half of the cost for your contributions, you are considered a direct contributor to the Formal Economy membership. 
On the other hand, those who are not formally employed but with income are classified as Direct contributors under the Informal Economy contributor or the Voluntary Membership1. 
Voluntary members need to register or update their membership independently and pay the total cost of their contributions. 
Who Is Eligible for Voluntary Membership?
According to PhilHealth, those considered under voluntary membership are the following2
1. Migrant Workers
If you are a Filipino currently working overseas, PhilHealth membership is voluntary. This category covers land-based migrant workers, seafarers, Filipinos living or working abroad that are not citizens of that country, and overseas Filipinos in distress. 
2. Informal Sector
If you deliver goods and services as your source of income, but you are not employed by a company or under contract, you belong to the informal sector. 
Some examples include jeepney and tricycle drivers, vendors, small construction workers, and home-based industries or services. 
3. Self-Earning Individuals
These individuals are not hired by an employer but earn their income by offering their services like professional practitioners. 
Examples are doctors, lawyers, engineers, artists, architects, actors, performers, business people, entrepreneurs, coaches,  athletes, news correspondents, and similar individuals. 
4. Filipinos With Dual Citizenship
If you are a natural-born Filipino in a foreign country with dual citizenship or nationalities, you may also apply for voluntary PhilHealth membership. 
5. Naturalized Filipinos
A Filipino citizen can also apply for voluntary membership through naturalization governed by the Commonwealth Act No. 473 or the Revised Naturalization Law. 
6. Citizens of Other Countries Working and Residing in the Philippines
This refers to foreign citizens residing and working in the Philippines with valid working permits and/or Alien Certificate of Registrations (ACRs). 
Part I. Registration
Requirements for Registration of New PhilHealth Voluntary Member
Alright, you've already determined that you are eligible for voluntary membership and are ready to take the next step. First, what do you need to prepare? 
To register as a new voluntary member, these are the documents required by PhilHealth: 
1. Two (2) fully accomplished PhilHealth Member Registration Forms. You can download the form on the Philhealth website.
2. 2 1×1 ID picture 
3. Proof of identity. Accepted are photocopies of your PSA-issued birth certificate or  2 valid IDs: 
Alien Certification/Immigration Certification of Registration
Baptismal certificate
DSWD ID 
GOCC ID
GSIS e-Card or SSS UMID card
Integrated Bar of the Philippines ID
OWWA ID
OFW ID
Passport
PRC ID
TIN ID
Voter's ID 
Certification issued by IP leaders
4. Proof of income 
Latest Pay Slip (or Certificate of  Separation from Employment)
Latest financial assessment
Certificate of Income from LGU/Authorized organizations
Certificate of Membership with  Monthly Income issued by the association of vendors and drivers and other affiliated organizations
The Corporation may determine other documents
5. For OFWs, additional requirements may include the following for checking active status:
Valid Overseas Employment Certificate (OEC) or e-receipt
Working visa/re-entry permit
Valid employment contract
Company ID issued by the overseas employer
Cash remittance receipt from the OFW abroad (at least two months before renewal/payment date)
ID/Certificate issued to the OFW in the host country (iqama, Permesso di Soggiorno, HK ID, etc.)
How To Register as a New Voluntary PhilHealth Member
Registration can be done online or by personally going to the nearest Local Health Insurance Office or PhilHealth Express Outlet3. 
1. How To Register Online
Online Registration can be done in two ways: 
a. Through the PhilHealth Electronic Registration System
Please note that this system is unavailable as of the time of writing. An overview of the previous process will be given here:
Step 1: Go to https://eregister.philhealth.gov.ph/ and click Proceed
Step 2: Fill out the online registration form
Step 3: Upload requirements 
Step 4: Submit your registration and check your email for further instructions. Your PhilHealth number will also be emailed.
b. Through Email
Step 1: Fill up the PMRF correctly and legibly
In the right upper corner, indicate your purpose as "REGISTRATION."

Fill up your details. Make sure the information is updated.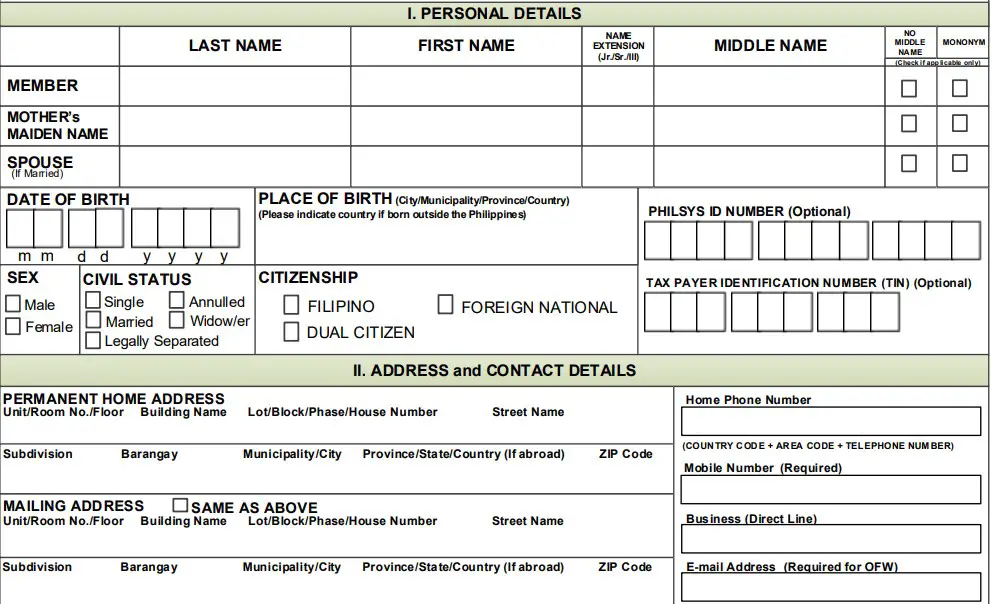 Put in your membership type. For freelancers, check Self-Earning Individual, and for OFWs, select Migrant Worker and specify if Land-Based or Sea-Based.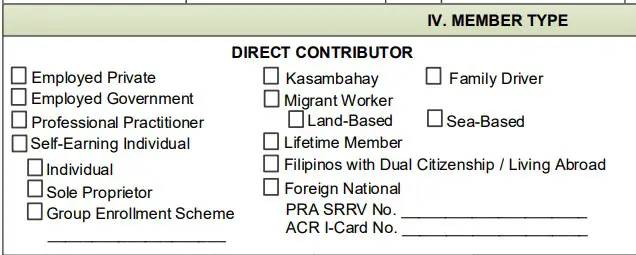 Indicate your monthly income and the document you will attach as proof.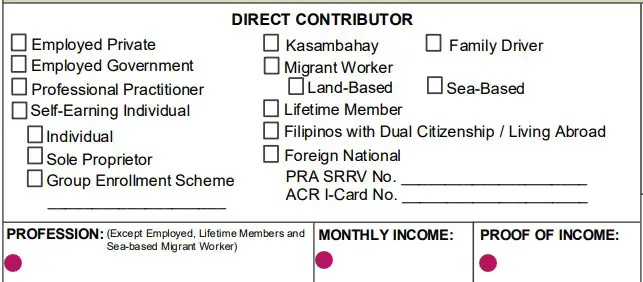 Finally, sign the form. 

Step 2: Email the completed PMRF to [email protected] with a scanned copy of your valid ID and other required documents. Use the subject format Register<space>Full Name <space>City/Province, Region
You will receive your Philhealth Identification Number at the email address you provided in your PMRF. 
2. How To Register in Your Nearest Local Health Insurance or PhilHealth Express Outlet
Step 1: Check the PhilHealth office nearest you. The contact number of the office and the schedule are also provided. 
Step 2: Fill out two PMRF forms. As mentioned before, ensure the information provided is complete,  correct, and readable. Make sure to sign the forms. 
Step 3: Submit the filled-out forms and present the requirements for validation. You will be issued your PhilHealth Member Data Record (MDR) and your PhilHealth ID. 
Step 4: Pay for the necessary premium. 
3. How To Register as an OFW
If you are abroad, you can apply through:
 Any branch of PhilHealth-accredited collecting partners iRemit and Ventaja Corporation
PhilHealth Electronic Registration System
Email by sending your PMRF to [email protected] 
How To Add Dependents as a Voluntary PhilHealth Member
You may declare dependents to maximize your PhilHealth benefits fully. You may add them in the space provided in the PMRF form.

The following are the eligible dependents and the additional requirements you need to present to prove your relationship during registration: 
| | |
| --- | --- |
| Eligible Dependents | Documents |
| Spouse (If not yet registered) | Marriage certificate |
| Children under 21 years old (Legitimate or illegitimate) | Birth or Baptismal Certificate |
| Legally adopted child under 21 years old | Court decree of adoption |
| Stepchild under 21 years old | Marriage certificate of biological parents and step-parents (with registry number)Birth certificate of the child |
| Mentally or physically disabled child, 21 years old and above | Birth certificate with registry number and a medical certificate stating the extent of disability |
| Foster child | Birth certificate with registry number/Foundling certificate/Child profile Foster family care licensureFoster Placement Authority |
How To Change PhilHealth Membership Category From Employed to Voluntary
If you were formerly employed and will continue your contributions as a voluntary member, you need to update your registration from Formal to Voluntary4. 
You still need to secure and complete a copy of the PhilHealth Membership Registration Form. 
In the PMRF, mark Updating/Amendment in the Purpose in the upper right corner. You will use the same PhilHealth Identification number as a formal member. 

In the membership type, you can select your new membership type. 
Remember also to indicate your new income and prepare a proof of income. You will not be able to pay online without updating this portion. 
Submit the PMRF and supporting documents to your local PhilHealth branch. OFWs may email their form to [email protected].
You will be given a new MDR and payment order form with determined payment from your new income. You will need to pay for the contribution as a voluntary member. Succeeding payments can be made online after5 . 
Part II. Payment of Contributions
How Much Is PhilHealth Contribution Voluntary?
Your contribution depends on your monthly income. For 2022, the contribution is 4% of your monthly salary6.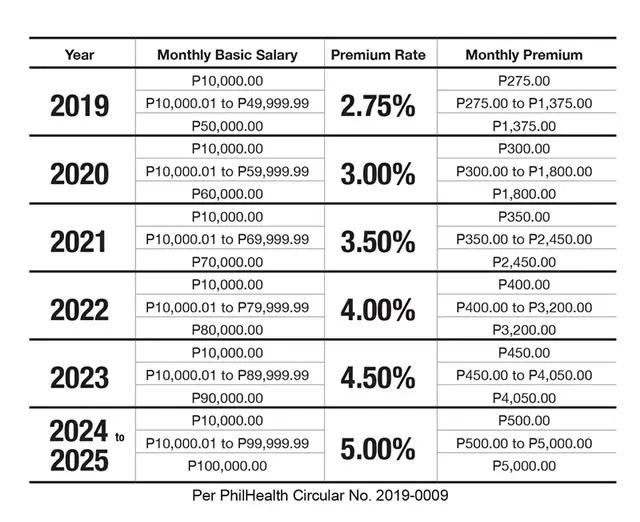 Say you earn ₱25,000 per month based on the proof of income you presented when you registered. Based on this table, your contribution will be computed as
Voluntary Member Monthly Premium = (Monthly Income x 0.04)= 25,000 x 0.04= ₱1000
Keep in mind that those earning 10,000 pesos and below are fixed at ₱400.00 per month, while those earning ₱80,000 and above are fixed at ₱3,200.00. 
How To Pay PhilHealth Contribution as a Voluntary Member
You can pay your premiums over the counter or online. 
You can go directly to your nearest PhilHealth Branch or Bayad Centers and SM malls for over-the-counter payments. You may also pay through a bank deposit.  You have to fill out a payment slip and pay onsite. 
Online payments can be made through the PhilHealth Member Portal when you log in with your PhilHealth number.  Remember that you can only pay online if you have already updated your monthly income records.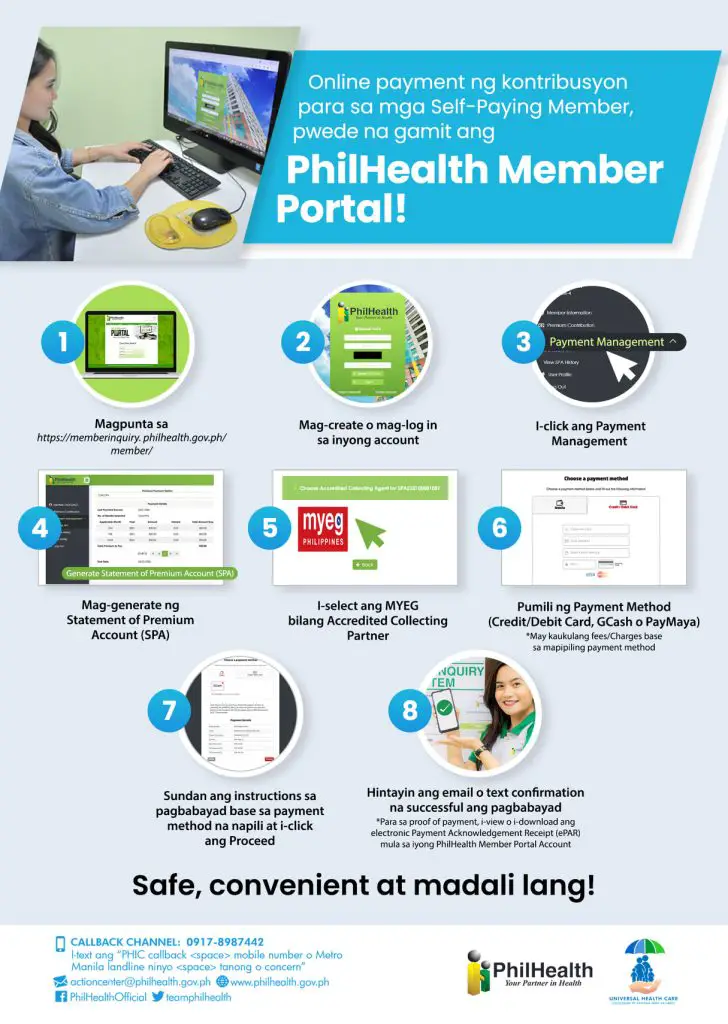 Payment Schedules and Deadlines
Payment can be made monthly, quarterly, semi-annually, and annually: 
Monthly – deadline is the last working day of the month 
Quarterly – payment is made every three months or quarter; the deadline is the last working day of the quarter you are paying for. 
Semi-annually – payment is made every 6 months or half the year. The deadline is also the last working day of the half-year you are paying for. 
Annually – you are already paying for the whole year (January-December). The deadline for this is also the last working day of the first quarter (March 31 if this falls on a working day). 
Tips and Warnings
As with any government office transaction, expect at least a few hours to half a day if you register for the first time. Lines are usually long in the morning. Arrive early and bring with you a lot of patience. 
Make sure your supporting documents are complete with photocopies. Also, bring an extra ballpen with you. Remember, there are fewer questions and a smoother transaction if you have complete requirements. 
Ask questions! PhilHealth branches have an area for inquiry/questions if you have additional questions. You can also ask for assistance if you have questions about filling up the forms. 
You might get overwhelmed when you go to the office and see different lanes. A lot of the branches implement a numbered queuing system. Ask the proper lane for your purpose and get a number. 
PhilHealth branches require that all people coming in for transactions fill up a health declaration form, wear a facemask, and practice social distancing. Follow minimum health standard protocols for your safety. 
Failure to pay premiums will not prevent you from enjoying program benefits under the Implementing Rules and Regulations of the Universal Health Care Law. However, you will still be required to pay all missed contributions with interest, compounded monthly. This is 1.5% for self-employed professionals, OFWs and Filipinos living abroad, and those with dual citizenship.
Always protect your personal information. Make sure your PhilHealth number and MDR are in a safe place. Keep your identifying documents safe as well during transactions. Do not allow other unauthorized people access to your personal information and documents. 
Frequently Asked Questions
1. I already registered but have not made contributions in years. How do I reactivate my PhilHealth account? 
You do not have to register again. Only one PhilHealth identification number is assigned to each member.  However, you need to update your membership. This involves submitting an updated PMRF form. 
Following the same process for changing from employed to voluntary, check the part on the amendment, then fill up parts of the form you need to update from the last time you paid. Make sure to update your income as well. 
Depending on how long ago your last contribution was, you will be required to pay for missed contributions. This might be on a case-to-case basis, so the best thing to do is go to your nearest PhilHealth branch to clarify your specific case and required payment. 
Have you lost your PhilHealth number? Here's a guide to retrieving it. 
2. Do I need to pay for all the missed PhilHealth contributions? 
Yes. Under the IRR of the UHC, non-payment will not result in termination of availing of benefits, but you will be required to pay missed contributions plus the interest compounded monthly. 
You could pay retroactively for up to 3 months if you had paid nine consecutive monthly contributions before the unpaid months or paid retroactively within one month after the unpaid months. Otherwise, you will have to pay the penalty. 
3. I already registered. How many payments should I make to enjoy benefits?
If you have only registered as a new member and membership is less than 9 months, you are only required to pay at least three monthly contributions within six months of availing of the benefit. 
If you are an older member, you can enjoy benefits if you are an active member meeting the following requirements:
a. Qualifying contributions – Paid at least three monthly contributions within six months before the first day of availing/confinement. 
b. Sufficient regularity of payment – Paid at least six monthly contributions preceding the three-month qualifying contribution payments within the 12 months immediately before the first day of availment/confinement.
4. Am I entitled to the same benefits as the PhilHealth formal sector?
Yes. There are no differences in benefits between the formal and voluntary categories.
5. How can I check my contributions? 
You can check the status of your contributions online. Log in using your PhilHealth number at https://memberinquiry.philhealth.gov.ph/member/. 
You have to create an account first by clicking Create Account. Fill up the necessary basic information and follow the instructions. After confirmation of your online account, you can log in and check your contributions. A summary of your contributions and history is available on the member contributions part of the page. 
6. If I miss a payment of my premiums, am I still eligible for benefits?
Under the Universal Healthcare Law, non-payment of premiums will not hinder availing of benefits provided that you pay the missed contributions. So it is recommended not to miss any contributions as you may never know when you will need healthcare assistance. 
7. Can I pay for my contributions earlier? 
Yes. Under voluntary membership can pay their premiums for up to 3 years (36 months) in advance. Just make sure that you specify the payment period in your payment slips.  
8. Can I change back to formal contributions if I get employed? 
Yes. If you get employed and share contributions with an employer, all you need to do is update your membership from voluntary to formal. Just submit an updated PMRF form specifying new membership and income. More information about that is here.
9. I have more concerns and need to talk to someone. How can I get in touch with PhilHealth? 
a. PhilHealth has a call center and a callback service: 
Call Center Hotline 84417442 (PHIC). 
You may request a call from them through the Callback Channel: 0917-898-7442. Text "PHICcallback [space] Mobile No. or Metro Manila landline [space]
details of your concern". They will call you to discuss your concerns during office hours on weekdays only. Callback requests will expire after 72 hours.
b. Social media: Facebook: /PhilHealthofficial; Twitter: @teamphilhealth
10. What can I do if I want to register but have no work and can't pay the contribution?
Under the UHC, all Filipinos are eligible National Health Insurance Program members. You can apply for the Indirect Contributor Membership if you cannot pay premiums. 
These are members subsidized by the government. If you are an indigent member listed under DSWD, a senior citizen based on RA 10645, or a PWD covered by RA 11228, you are eligible for this membership and will be shouldered by the government
11. Can I apply for PhilHealth even if I'm unemployed?
Yes. Per the Universal Healthcare Law or RA 11223, ALL Filipinos are automatically eligible to avail of benefits from the National Health Insurance Program or PhilHealth.
References