Last Updated on
Wondering how government compensation work? In this guide, you'll learn about the salary grade table and how it determines the amount of salary a government employee receives every month.
Related: How to Apply for Government Jobs in the Philippines: An Ultimate Guide
At a Glance: Salary Grade Table 2020.
| Salary Grade | Minimum Monthly Salary (in Php) |
| --- | --- |
| 1 | 11,551 |
| 2 | 12,276 |
| 3 | 13,019 |
| 4 | 13,807 |
| 5 | 14,641 |
| 6 | 15,524 |
| 7 | 16,458 |
| 8 | 17,505 |
| 9 | 18,784 |
| 10 | 20,219 |
| 11 | 22,316 |
| 12 | 24,495 |
| 13 | 26,754 |
| 14 | 29,277 |
| 15 | 32,053 |
| 16 | 35,106 |
| 17 | 38,464 |
| 18 | 42,159 |
| 19 | 46,791 |
| 20 | 52,703 |
| 21 | 59,353 |
| 22 | 66,867 |
| 23 | 75,359 |
| 24 | 85,074 |
| 25 | 96,985 |
| 26 | 109,593 |
| 27 | 123,839 |
| 28 | 139,939 |
| 29 | 158,131 |
| 30 | 178,688 |
| 31 | 262,965 |
| 32 | 313,512 |
| 33 | 395,858 |
What is the salary grade?
A salary grade (SG) is a number that defines the amount of monthly payment/income that a government employee receives. Salary grades in the Philippine government run from 1 to 33, with 33 receiving the highest pay.
Each government position is assigned a salary grade based on its difficulty level and range of responsibilities. The higher the number, the more difficult and wider the scope of responsibilities are. Thus, those with a higher salary grade receive higher pay than others.
What is the salary step?
Each salary grade consists of eight steps (except for SG 33 with only two steps) that correspond to the basic salary of an employee based on how long he/she has served in a particular position.
Regardless of salary grade, all newly hired government employees start at Step 1, which is the MINIMUM pay rate. After every three years of continuous satisfactory service in their current positions, employees move forward to the next salary step that indicates their increased salary. For every salary increase, a Notice of Step Increment is issued to the concerned employees.
This goes on until they reach Step 8, which is the final and maximum rate within a salary grade.
This means government employees get a raise every three years (as long as they perform well at work) without moving out of their salary grade.
Salary grades of different government positions.
1. Constitutional officials/Executive category.
These elected or appointed officials hold the highest positions in the government and are thus assigned the highest salary grades.
As the country's highest-ranking government official, the President of the Republic of the Philippines has the highest salary grade of 33.
Here are the salary grades of top government officials in the Philippines:
Position

Salary Grade

President

33

*Vice President
*Senate President
*Speaker of the House of Representatives
*Supreme Court Chief Justice

32

*Senator
*Congressman
*Supreme Court Associate Justice
*Constitutional Commission Chairman
*Executive Secretary
*Department Secretary
*Other positions of equivalent rank

31

*Constitutional Commission Commissioner
*Department Undersecretary
*Solicitor-General
*Other positions of equivalent rank

30
2. Professional supervisory.
Government employees with a management role in their respective organizations are assigned salary grades 9 to 33. Their jobs require extensive technical knowledge in their field and having a bachelor's degree or higher.
Examples of positions in the professional supervisory category are Senior Vice President, Director II, Elementary School Principal I, and Engineer IV.
3. Professional non-supervisory.
Positions that require the practice of a specific profession or thorough knowledge in the arts or sciences are assigned salary grades 8 to 30. Government employees with such positions are graduates of a four-year course.
Examples of positions in the professional non-supervisory category are University Professor, Teacher I, Chemist I, Statistician I, Tourist Receptionist I, and Municipal Treasurer.
4. Sub-professional supervisory.
Employees who supervise workers performing manual, clerical, or technical jobs are assigned salary grades 4 to 18. Their positions require secondary education, vocational education, or completion of up to two years in college.
Examples of positions in the sub-professional supervisory category are Electrician Foreman, Chief Bookbinder, and Bookbinder IV.
5. Sub-professional non-supervisory.
Workers who perform manual, repetitive, or routine work and are elementary/high school/vocational graduates or college undergraduates are assigned salary grades 1 to 10.
Examples of positions in the sub-professional non-supervisory category are Staff Aide, Draftsman I, Administrative Aide III, and Dental Aide.
The Salary Standardization Law of 2019.
What is the Salary Standardization law of 2019?
The Salary Standardization Law (SSL) of 2019 (Republic Act 11466) grants yearly salary increase and additional benefits to government employees in the Philippines from January 1, 2020 until 2023. It includes the basic pay per salary grade and step, allowances, benefits, and performance-based incentives.
Also called the Salary Standardization Law V, the SSL is the fifth law that imposes salary increases for government workers.
Through this law, salaries for all government employees are standardized across all agencies. By doing so, the government hopes to promote excellence, efficiency, and accountability among its employees.
Also, the standardized compensation system in the government eliminates the need for employees to make salary negotiations with HR or their superiors.
Related: How to Compute Your Income Tax Using the New BIR Tax Rate Table
Who is covered by the salary increase?
Pay hikes under the Salary Standardization Law apply to all civilian government workers with regular, contractual, or casual status—whether full-time or part-time—in the following offices:
Executive, legislative, and judicial branches;
Constitutional Commissions and other Constitutional Offices;
Government-owned and controlled corporations (GOCCs) not covered by Republic Act 10149;
LGUs, including barangay personnel, receiving monthly honoraria.
Who is exempted from the SSL?
Although they're part of the Philippine government, these groups are NOT covered by the salary increases mandated by the Salary Standardization Law:
Military and uniformed personnel, including Police Officer I in the PNP, Private in the Department of National Defense, and equivalent ranks in the BFP, BJMP, Philippine Coast Guard, Philippine Public Safety College, and National Mapping and Resource Information Authority;
GOCCs under RA 10149 (They have their own Compensation and Position Classification System);
Job order workers;
Consultancy or any contract with no employer-employee relationship.
How much is the salary increase for government workers?
The increases in government salary under the Salary Standardization Law of 2019 averages at 5% in 2020. They range from Php 483 (for SG 1) to Php 7,762 (for SG 33).
But by 2023, after all the increases will have been applied, the pay hikes will average at 23.24%.
Mid-level government employees, or those with salary grades 11 to 13, get the highest raise of 24.1% in 2020 to 30.7% in 2023. These workers include entry-level public school teachers, nurses, statisticians, accountants, civil defense officers, and agriculturists.
For example, a Teacher I or Nurse I with salary grade 11 gets an increase of Php 1,562 in 2020 (from Php 20,754 in 2019 to Php 22,316 in 2020). In the next three years, the starting salary of employees in the same position will increase to Php 23,877 in 2021, Php 25,439 in 2022, and Php 27,000 in 2023.
Workers with salary grades 1 to 10 enjoy an increase of 17.5% in 2020 to 20.5% in 2023.
For example, a Utility Worker I with salary grade 1 gets a raise of Php 483 in 2020 (from Php 11,068 in 2019 to Php 11,551 in 2020). The pay of SG 1 workers will increase to Php 12,034 in 2021, Php 12,517 in 2022, and Php 13,000 in 2023.
Having the lowest raise of 8% are those within the highest salary grade range (SG 25 to 33), particularly in the executive-level positions.
Salary grade tables for government employees.
Under the Salary Standardization Law of 2019, the government implements a new salary schedule (also called the salary grade table) reflecting increased monthly salaries in four tranches or annual installments from 2020 to 2023.
Key information you need to know:
All the rates in the salary grade tables below are the monthly salaries for full-time regular and contractual employees of national government agencies.
For part-time workers, their salary is proportionate to the number of hours worked. A part-time employee who renders four hours of work daily receives half of the rate corresponding to his/her salary grade and step.
For casual workers under the "No Work, No Pay" policy, their daily wage is computed by dividing the corresponding monthly salary by 22 working days. For example, a new hire (Step 1) with Salary Grade 1 should receive Php 525.05 per day worked in 2020 (Php 11,551 ÷ 22 = Php 525.05).
Related: The Ultimate Civil Service Reviewer (with Free Practice Tests + Answer Keys)
1. Salary grade 2020 table (Effective January 1, 2020).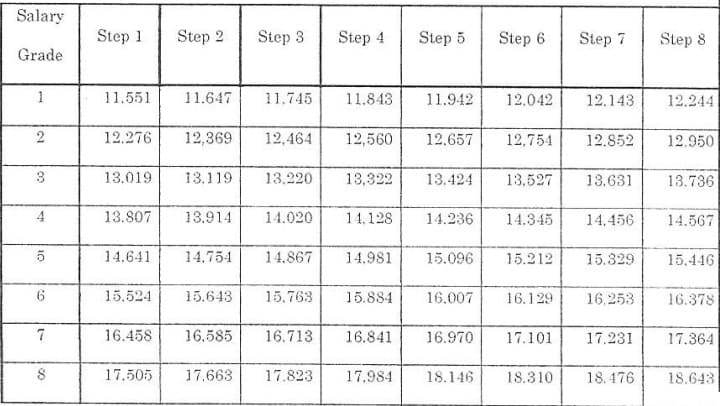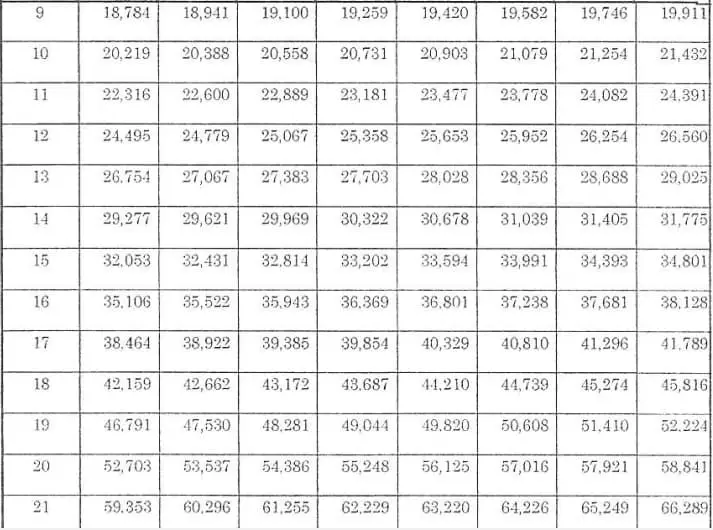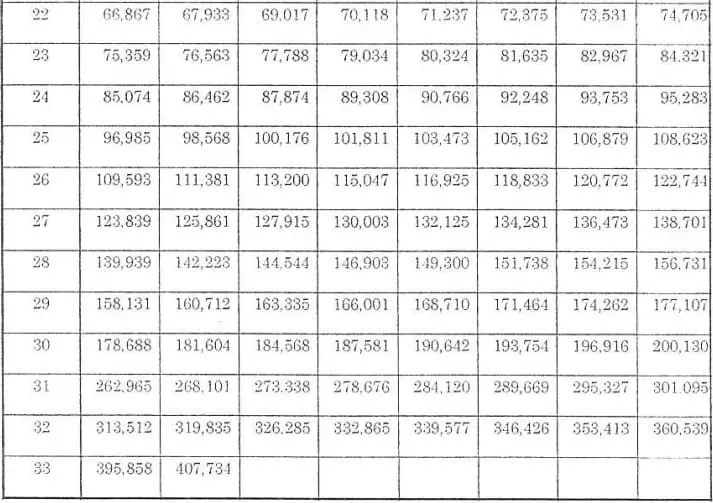 2. Salary grade 2021 table (Effective January 1, 2021).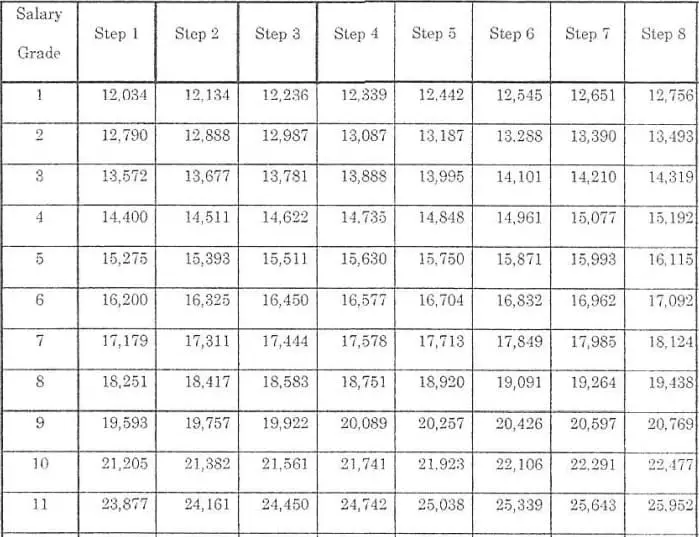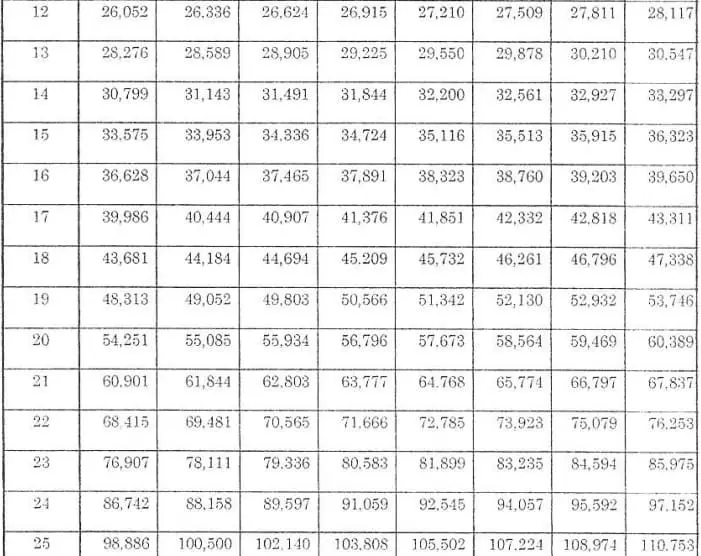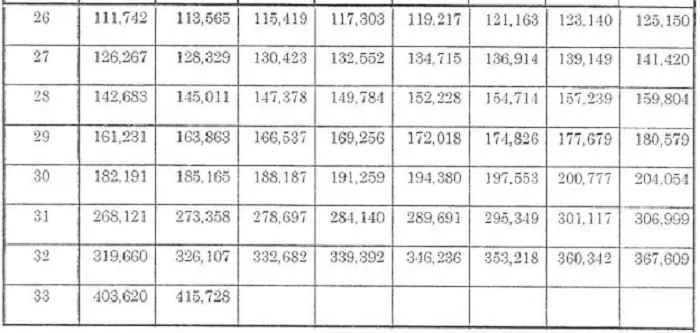 3. Salary grade 2022 table (Effective: January 1, 2022).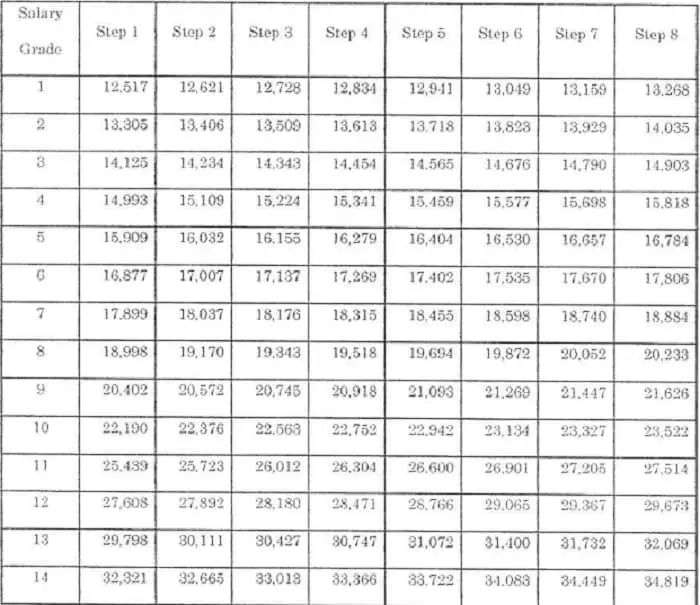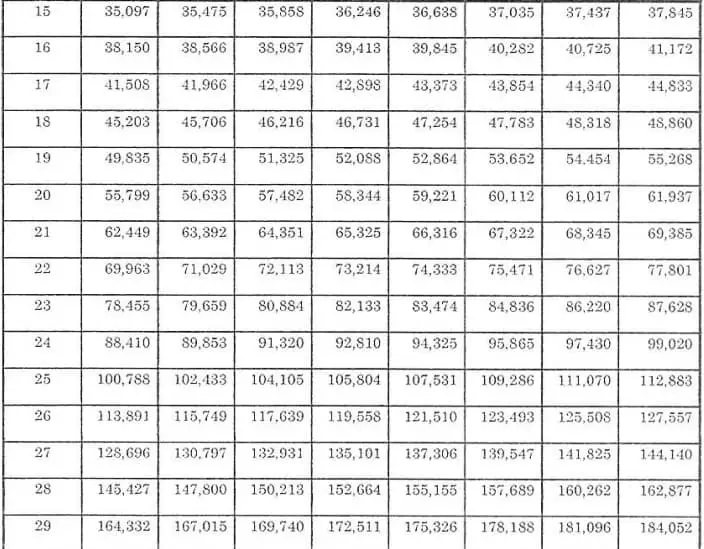 4. Salary grade 2023 table (Effective January 1, 2023).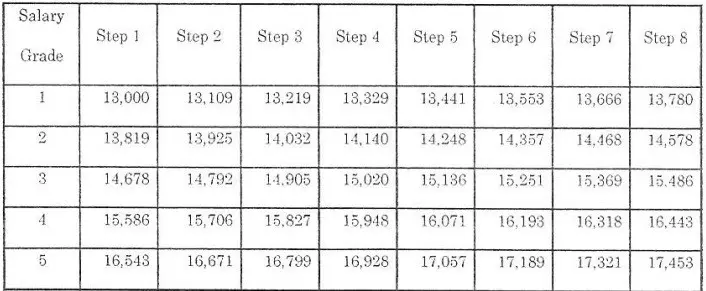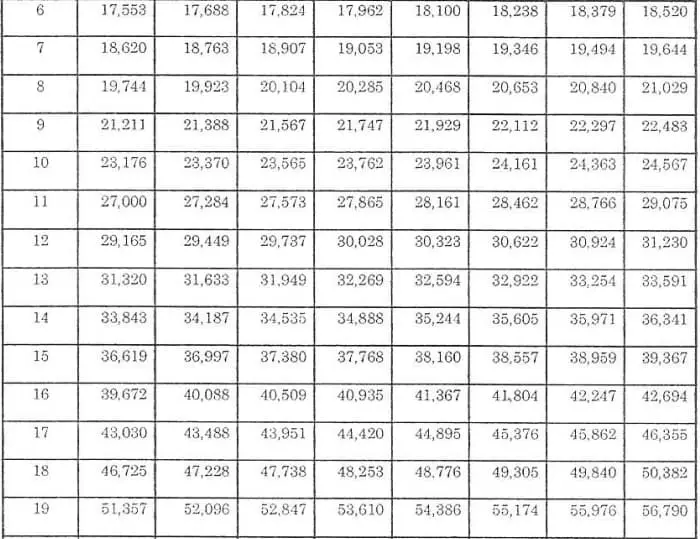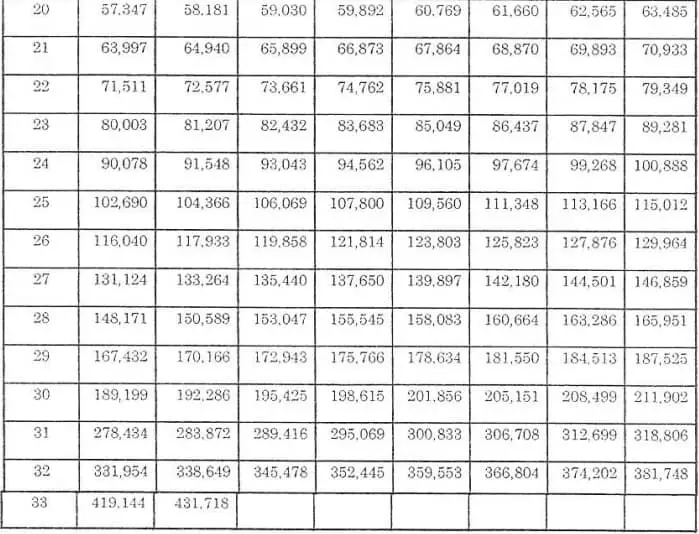 5. Salary grade tables for LGUs (local government units).
Salaries of LGU workers differ from those in the national government. Computing how much an employee receives is based on the LGU's income classification (i.e., 1st class, 2nd class, etc.).
LGU employees in special cities and first-class cities receive the same rates as their counterparts in national government agencies.
Those in second-class to sixth-class cities and first-class to sixth-class municipalities are paid a percentage of the salary grade table under the SSL.
a. Salary grade table for provinces and cities.
| Income Classification | Percentage of Salary Schedule |
| --- | --- |
| Special Cities | 100% |
| 1st Class | 100% |
| 2nd Class | 95% |
| 3rd Class | 90% |
| 4th Class | 85% |
| 5th Class | 80% |
| 6th Class | 75% |
b. Salary grade table for municipalities.
| Income Classification | Percentage of Salary Schedule |
| --- | --- |
| 1st Class | 90% |
| 2nd Class | 85% |
| 3rd Class | 80% |
| 4th Class | 75% |
| 5th Class | 70% |
| 6th Class | 65% |
Based on the salary grade tables above, employees working for a wealthier LGU (such as a 1st class city) receive higher salaries than those in similar positions in a lower-class city or municipality.
Interested in working for the government? Start your journey by reviewing for and taking the civil service exam.