Do you want to have a stable job that allows you to directly take part in saving people's lives? Perhaps a career as a fire officer in the Bureau of Fire Protection (BFP) is what you're looking for. 
As a firefighter, you will primarily be suppressing and prevening destructive fires1–all while getting paid the exact base salary as your PNP counterparts. With the signing of the BFP Modernization Act2 that seeks to transform the agency into a world-class institution at the forefront of the country's disaster and emergency medical responses, things are looking up for those wanting to build a BFP career. 
But how much exactly is the BFP salary in the Philippines? And how do you become a fire officer in the first place? Let's answer these questions and more in this definitive guide to becoming a firefighter in the Philippines.
Table of Contents
BFP Salary: How Much Does a Firefighter Make in the Philippines?
To keep up with inflation and encourage firefighters to provide better, more committed fire safety services to the public, President Duterte signed the Congress Joint Resolution No. 13 in 2017, effectively increasing the base pay of military and uniformed personnel (MUP) in two tranches, the last one being implemented in 20194. As a result, the lowest-ranking member of the BFP, Fire Officer I, now takes home a basic salary of ₱29,668 every month, while the highest-ranking position of Director receives ₱102,896. Additional fire stations, trucks, and modern firefighting equipment for BFP accompanied the salary increase5.
| | |
| --- | --- |
| BFP Rank | Monthly Base Pay/Basic Salary |
| Fire Officer I | ₱29,668 |
| Fire Officer II | ₱30,867 |
| Fire Officer III | ₱32,114 |
| Senior Fire Officer I | ₱33,411 |
| Senior Fire Officer II | ₱34,079 |
| Senior Fire Officer III | ₱34,761 |
| Senior Fire Officer IV | ₱38,366 |
| Inspector | ₱49,528 |
| Senior Inspector | ₱56,582 |
| Chief Inspector | ₱62,555 |
| Superintendent | ₱71,313 |
| Senior Superintendent | ₱80,583 |
| Chief Superintendent | ₱91,058 |
| Director | ₱102,896 |
In addition to the basic monthly salary, all uniformed personnel of the BFP are entitled to receive longevity pay6 equivalent to 10% of their monthly base pay for every five years of service (starting from the date of their original appointment. They will also receive allowances like hazard pay (currently fixed at ₱540 per month), subsistence allowance, quarters allowance, clothing allowance, and other allowances as provided by existing laws. 
BFP fire officers are also entitled to receive other financial benefits, most notably the BFP Scholarship Program7 given to the children of firefighters who died/got sick/became permanently disabled while in the line of duty. Under this program, the fire officer's child will receive a government-subsidized scholarship for ten years, ensuring that he/she will finish college. However, this scholarship can only sponsor one child at a time; the other children may still benefit from the program, provided the 10-year sponsorship is not fully consumed.
How To Be a Fire Officer in the Philippines: 2 Ways
Like a career in PNP, there are two pathways to choose from to become a fire officer in the Philippines. 
If you're a high school graduate who hasn't earned a college degree yet, you can join the PNPA cadetship program and graduate with an automatic rank of Fire Inspector. Alternatively, eligible college graduates who realize their true calling a little later may wait for job openings every year and apply for available entry-level Fire Officer I positions. 
Let's discuss these two options in detail. 
Option 1: Become a PNPA Cadet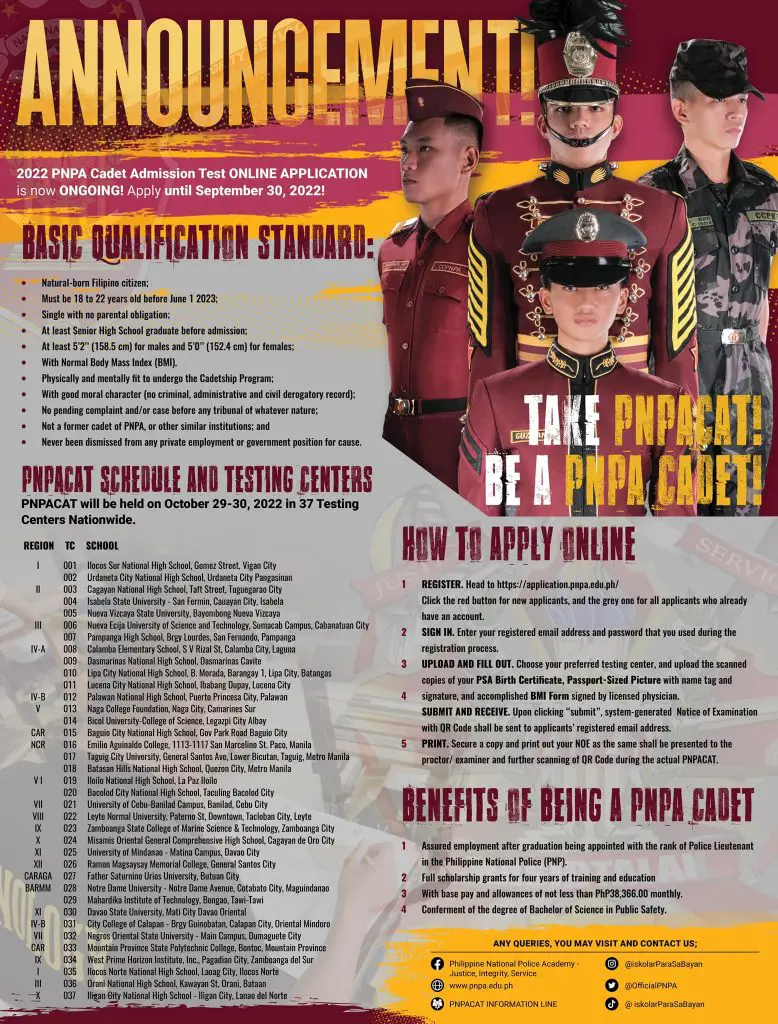 The PNPA Cadetship Program is a 4-year residential scholarship program offered by the Philippine National Police Academy (PNPA) to qualified candidates who will pass their entrance examination and endure their rigorous screening process. 
While the program is intended to discover and prepare future commissioned officers of the Philippine National Police (PNP)8, some of its graduates choose (and are allowed) to be assigned to the Bureau of Fire Protection. Successful cadets who complete the program will earn a Bachelor of Science in Public Safety (BSPS) degree. Those who opt to work under BFP will be automatically appointed to the initial rank of Fire Inspector9. 
To be qualified, aspiring PNPA cadets must meet the following requirements:
You must be a natural-born Filipino citizen;
You must be 18-22 years old before admission;
You must be single and with no parental obligation;
You must be at least a Senior High School graduate before admission;
Your height must be at least 5'2″ (158.5 cm) for males and 5'0″ (152.4 cm) for females;
You must have a normal Body Mass Index (BMI);
You must be physically and mentally fit to undergo and endure the cadetship program;
You must have good moral character, which means no criminal, administrative, or civil derogatory record;
You must have no pending complaint and/or case before any tribunal of whatever nature;
You must not be a former PNPA cadet or other similar institution;
You must have never been dismissed from any private employment or government position for cause.
After passing the Philippine National Police Academy Cadet Admission Test (PNPACAT), the applicants will undergo yet another series of examinations, including Body Mass Index (BMI) assessment, Physical Agility Test (PAT), Psychiatric/Psychological Examination (PPE), Physical, Medical, and Dental Examination (PMDE), Drug Test (DT) and complete Character and Background Investigation (CBI). Those who pass the second round of screening will be endorsed for the interview, where they will handpick the final list of candidates who will make it to the next batch of PNPA cadets. 
Option 2: Earn a Bachelor's Degree and Join BFP as a Fire Officer I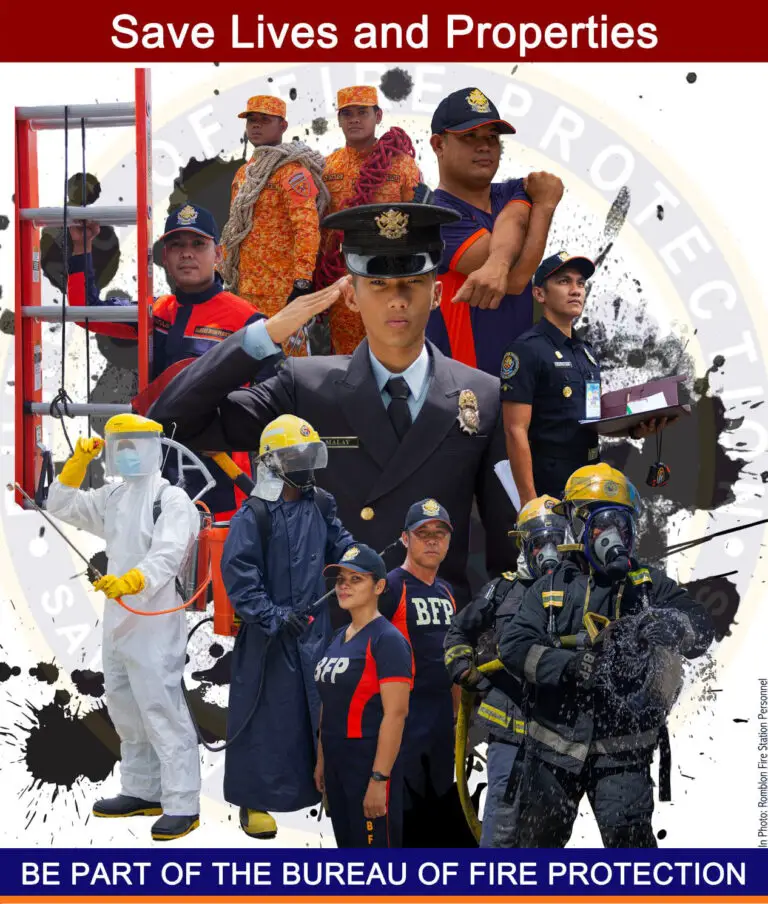 Bachelor's degree holders who are too old to enter the PNPA don't need to fret. You can still pursue your dream of becoming a fire officer by waiting and applying for one of the available Fire Officer I positions posted every year. The downside is you'll enter the BFP through its lowest rank, but you can climb the rungs of the organization's career ladder with dedication and perseverance. 
To apply for the Fire Officer I position, interested male or female candidates must meet the following qualification requirements10:
You must be 21-30 years old on the day of the actual assumption of duty (married candidates are still welcome to apply as long as their age is within the acceptable range);
You must have a Civil Service Commission (CSC) second-level eligibility, which means you must have taken and passed the professional-level civil service examination. Otherwise, you can take and pass the annual Fire Officer Examination (also administered by CSC) instead. You can also get automatic civil service eligibility if you're a bar or board exam passer (RA 1080), a registered criminologist (RA 1113111), or a college graduate with Latin honor (PD 907), provided you obtain a certificate from the CSC to prove your eligibility;
You must have a height of at least 1.57 m (5'2") for males and 1.52 m (5')for females12;
You must weigh not more or less than 5 kilograms from the standard weight corresponding to your height, age, and sex;
You must be a Bachelor's degree holder from a recognized institute of learning (high school graduates, college undergraduates, or graduates of a 2-year vocational course are not qualified);
You must be of good moral character;
You must not have been dishonorably discharged or dismissed for cause from previous employment;
You must not have been convicted by final judgment of an offense or crime involving moral turpitude;
You must pass the neuropsychiatric evaluation, medical examination, and drug test that will be conducted during the screening period to determine your physical and mental readiness. 
You can apply for the Fire Officer I position if you meet all the qualification requirements above. To check for job openings, visit your BFP Regional Office's official website or Facebook page. Once there's an announcement for FO1 hiring, coordinate with the nearest Fire Station to learn how to apply and where to submit the following standard requirements:
Application Letter
Authenticated Service Record (for previous government employees)
One Handwritten Personal Data Sheet
One authenticated copy of TOR and College Diploma
One authenticated copy of Second Level Eligibility from CSC/PRC
Photocopy of Certificate of Live Birth issued by PSA
Photocopy of Certificate of Marriage (if applicable)
Authenticated Certificate of Waiver (for applicants with height and/or age deficiencies)
Photocopy of PhilHealth ID or MDR and Pag-IBIG ID or MDF.
In addition to the requirements above, applicants will be asked to submit their ECG and Serum Pregnancy Test results (for female applicants)13.
After receiving the applications, the screening committee appointed by the BFP will meticulously filter the applicants regarding age, height, weight, and vital signs. 
The initial deliberation will produce the list of applicants deemed fit to proceed to the rigorous Physical Agility Test (PAT), which consists of a series of physical activities designed to gauge the candidate's fitness and readiness to handle the training set by the BFP.
Those who will pass the PAT will be endorsed for the Panel Interview (PI). Only those who make it through the interview will undergo a Complete Background Investigation, followed by a Psychological & Medical Evaluation and Drug Test. At this point, the successful candidates must also submit the results of laboratory examinations, including urinalysis, CBC with blood typing, Hepa B screening, cholesterol, creatinine, chest X-ray, fasting blood sugar (FBS), and dental panoramic X-ray. 
The candidates will then go through a final round of deliberation, during which the definitive list of successful applicants will be selected. 
Finally, the chosen candidates will take their oath and be appointed Fire Officer I. 
References