Many Filipinos cannot afford their hospital bills, what with the expensive health care in the Philippines. According to the Philippine Wellness Index study1, this is why most Pinoys pay for their hospitalization through PhilHealth. 
This fact highlights the importance of PhilHealth—it eases your financial burden when you or a loved one is hospitalized.
You probably wish you wouldn't ever have to avail of PhilHealth benefits. But nobody is immune to sickness, so it's reassuring to have health insurance in case you need it.
Here's everything you must know about PhilHealth, from membership registration and getting a PhilHealth number and ID to paying PhilHealth contributions and claiming benefits.
Disclaimer: This article has been published for educational purposes only. Neither the author nor FilipiKnow is affiliated with PhilHealth, so specific queries about your membership and insurance benefits must be forwarded to the proper authority.
Table of Contents
What Is PhilHealth?

The Philippine Health Insurance Corporation, or PhilHealth, is a government agency attached to the Department of Health that provides health insurance in the Philippines.
PhilHealth's mandate is to ensure all citizens access affordable health care. However, it does not directly provide medical services. Instead, PhilHealth is the government's health insurance provider. Subsidized healthcare services are availed at hospitals and clinics accredited by PhilHealth.
According to the Universal Health Care Act2, anyone can avail of PhilHealth benefits without presenting a PhilHealth card or paying co-payment or co-insurance fees.
Signed in February 2019, the law introduced significant reforms to make healthcare services in the Philippines more affordable and comprehensive. Specifically:
All Filipinos will automatically become PhilHealth members
PhilHealth membership will be classified into direct contributors (those who pay their contributions) and indirect contributors (those whose contributions are shouldered by the government)
All members can avail of PhilHealth benefits immediately, even those with unpaid contributions. However, direct contributors should retroactively settle the unpaid contributions plus interest.
The MDR and PhilHealth ID will no longer be required when availing of PhilHealth benefits.
The contribution rate for direct contributors will increase to 3% in 2020 and by increments of 0.50% yearly until it reaches 5% by 2025.
Outpatient benefits, including outpatient medicines and emergency medical services, will become more comprehensive.
Who Can Avail of PhilHealth Benefits?
| | |
| --- | --- |
| Direct Contributors | Indirect Contributors |
| Employees with formal employment | Indigents identified by the DSWD |
| Kasambahays | Beneficiaries of Pantawid Pamilyang Pilipino Program (4Ps) |
| Self-earning individuals; Professional practitioners | Senior citizens |
| Overseas Filipino Workers | Persons with disability |
| Filipinos living abroad and those with dual citizenship | Sangguniang Kabataan officials |
| Lifetime members | Previously identified at point-of-service/sponsored by LGUs |
| Self-earning individuals, Professional practitioners | All Filipinos aged 21 years and above with the capacity to pay |
PhilHealth members and their enrolled dependents are entitled to government-mandated health insurance benefits. 
Members receive different benefits and pay different contribution rates depending on their category.
1. Formal Economy Members
PhilHealth members under the formal economy category consist primarily of employees with formal contracts and fixed employment terms, including the following: 
Private employees

Project-based contractors in government or private offices

Entrepreneurs (micro, small, medium, and large businesses)

Kasambahays
2. Informal Economy Members
Also called voluntary or individually paying members, PhilHealth members in the informal sector include the following:
Informal workers (jeepney/tricycle/pedicab drivers, market vendors, small construction workers, etc.)

Naturalized Filipino citizens

Foreigners living, working, and/or studying in the Philippines (They're entitled to inpatient and outpatient benefits only.)

Unemployed Filipinos, such as college students and fresh graduates

Minors or children below 18 years old who do not qualify as legal dependents and are under the care of a guardian (Pregnant minors should be registered as principal members even if they're already qualified dependents. This ensures PhilHealth coverage for their newborns.)
3. Overseas Filipinos
PhilHealth coverage is mandatory for all sea-based and land-based OFWs, whether documented or not.
Also, Filipinos with dual citizenship and other Pinoys living abroad can become PhilHealth members.
4. Senior Citizens
Under Republic Act 10645, all Filipinos 60 years old and above are automatically PhilHealth members as long as any other membership category does not cover them. 
5. Lifetime Members
Filipino retirees who have paid at least 120 monthly PhilHealth contributions qualify for a lifetime membership. 
Lifetime PhilHealth members include the following people:
Individuals 60 years old and above

Uniformed personnel 56 years old and above

Retired SSS underground miners 55 years old and above

SSS and GSIS pensioners before March 4, 1995
Like senior citizens, lifetime members enjoy automatic and continuous PhilHealth coverage.
6. Persons with disability (PWDs)
PWDs are now automatically covered by PhilHealth under a new law (Republic Act 11228) signed by President Rodrigo Duterte in February 2019.
PhilHealth is also mandated to develop exclusive benefit packages to address the unique health care and development needs of PWDs in the Philippines.
7. Sponsored Members
This membership category consists of financially incapable Filipinos whose PhilHealth contributions are sponsored by another person, the government, or a private organization.
PhilHealth implements a No Balance Billing Policy for sponsored members, paying for the hospital bills of those confined in an accredited government hospital.
Sponsored members include the following:
Informal economy members from the lower-income class whose contributions are subsidized by local government units (LGUs)

Orphans, abandoned and abused minors, out-of-school youths, street children, PWDs, senior citizens, and battered women under the care of the Department of Social Welfare and Development (DSWD) or any accredited institution whose contributions are subsidized by the DSWD
Barangay workers and volunteers (health workers, tanods, etc.) whose contributions are entirely shouldered by their LGU
Sangguniang Kabataan (SK) officials
Filipinos who are 21 years old and above who are still not capable of paying the premiums
Patients identified at point-of-service (POS) or those who haven't been registered and included in the PhilHealth database yet but are financially incapable of paying the premiums
8. Indigent Members
Filipinos whose income is inadequate to support their family are automatically covered by PhilHealth, with the female spouse (as identified by the DSWD) as the principal member.
Like sponsored members, indigent members receive free health care services under the No Balance Billing Policy.
If the family is a beneficiary of the Pantawid Pamilyang Pilipino Program (4Ps), they belong to this category. The DSWD uses the survey result obtained from the National Targeting Household System (NTHS) for Poverty Reduction or the "Listahanan3" to identify qualified Filipinos who will benefit from the 4Ps and the free PhilHealth coverage.
Indigent members are automatically enrolled and covered by PhilHealth, with the female spouses designated as the primary members of the program. Meanwhile, qualified dependents are entitled to up to 45 days of coverage each year (to be shared among multiple dependents). Please refer to the next section for a complete list of qualified dependents.
9. Qualified Dependents of PhilHealth Members
Employed, voluntary, OFW, sponsored, and indigent members may enroll their dependents, who will also receive PhilHealth benefits.
Only non-members and inactive PhilHealth members may be declared as dependents.
Here are the family members you can enroll as dependents:
The legal spouse

who is not a PhilHealth member (Common-law partner cannot be enrolled as a dependent.)

Children under 21 years old

who are unmarried and unemployed, regardless of status (legitimate, illegitimate, adopted, stepchildren, etc.)

Children aged 21 and above

with congenital disability or any disability that makes them fully dependent on the PhilHealth member for support

Foster children
Parents aged 60 and above

(biological parents/stepparents/adoptive parents) who are not PhilHealth members

Parents with a permanent disability

, regardless of age, who are entirely dependent on the PhilHealth member for support
To qualify for PhilHealth benefits, the names of dependents must be listed on the Member Data Record (MDR) of the principal member.
What Are the Requirements for PhilHealth Registration?
To be eligible for PhilHealth benefits, you must register as a member. But first, prepare the required documents for hassle-free registration.
Duly accomplished PhilHealth Member Registration Form (PMRF). Whether you register online or by walking in at the nearest PhilHealth office, you must submit a filled-out PMRF, the updated version you can download from the official PhilHealth website. Since you're a new member, don't forget to check the " Registration " box under "Purpose."
Active email address. You need this if you opt to register online via email. PhilHealth requires new members to email the scanned copy of the duly accomplished PMRF and the member's valid ID. In return, a PhilHealth representative will respond to the same email address with the transaction number and other details of the member's online membership registration.
Valid ID. PhilHealth requires all new members to present or provide a photocopy of a valid identification card for verification purposes.
Supporting documents (e.g., PSA birth certificate) that will prove the applicant's relationship with his/her declared dependents.
Other forms, if applicable. For instance, if you're an employer, you can register through the Philippine Business Registry (PBS); afterward, you won't have to submit documents. However, employers who want to register their employees with PhilHealth must submit additional documents, which can be seen here. Other members who are required to submit additional documents are the following:
Overseas Filipino Workers (OFWs): To register with PhilHealth, land-based OFWs must submit to the nearest PhilHealth office their duly accomplished PMRF, a copy of their valid ID and supporting documents, and their latest job order contract/employment contract/OEC. Meanwhile, sea-based OFWs must submit their duly accomplished PMRF, a copy of their valid ID and supporting documents, and an Employee-Members (ER2) report.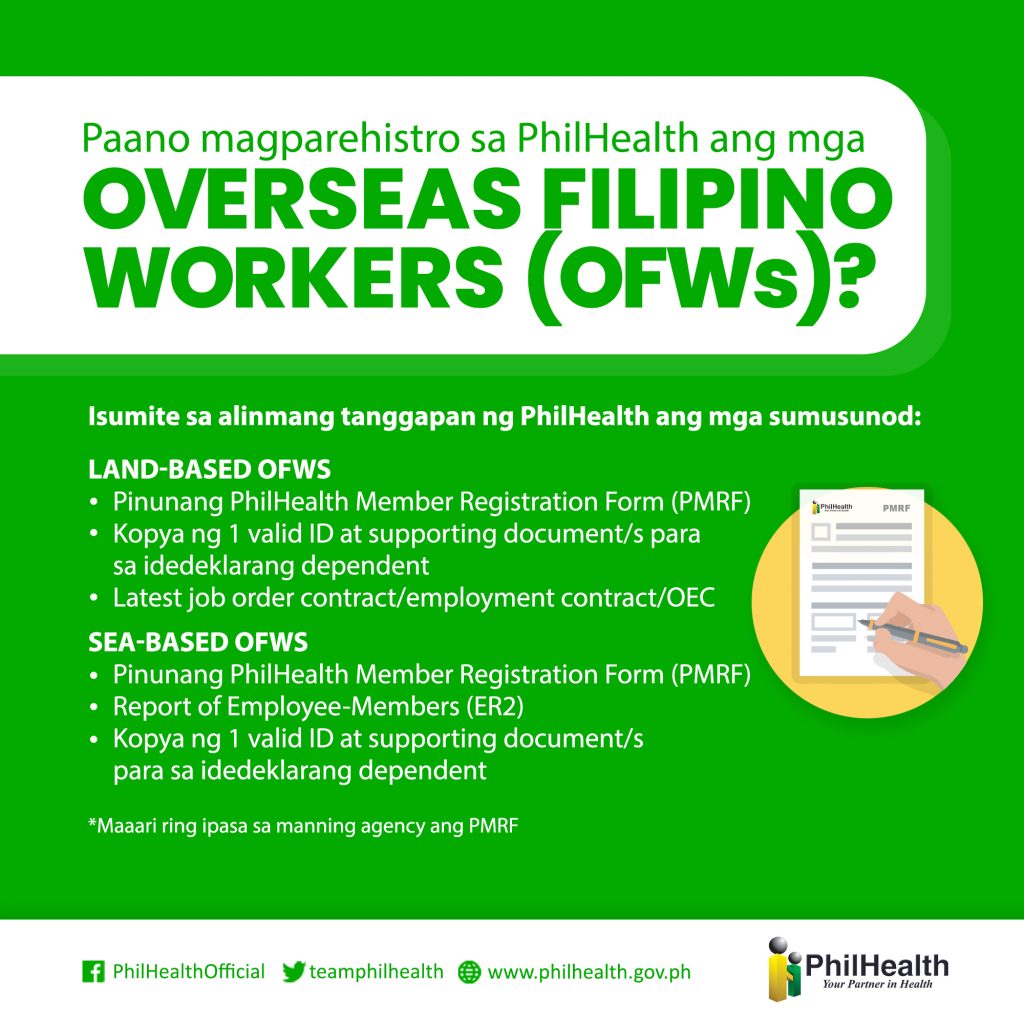 Lifetime Members: Those who are qualified for PhilHealth lifetime membership must submit their duly accomplished PMRF, a copy of their Senior Citizen ID (or any valid ID that shows their date of birth), 2 pcs 1×1 photo, and or any document like their service record or certification from their employers showing their total PhilHealth contribution over the years. The lifetime members will be issued a PhilHealth Member Card upon submitting these requirements to the PhilHealth office.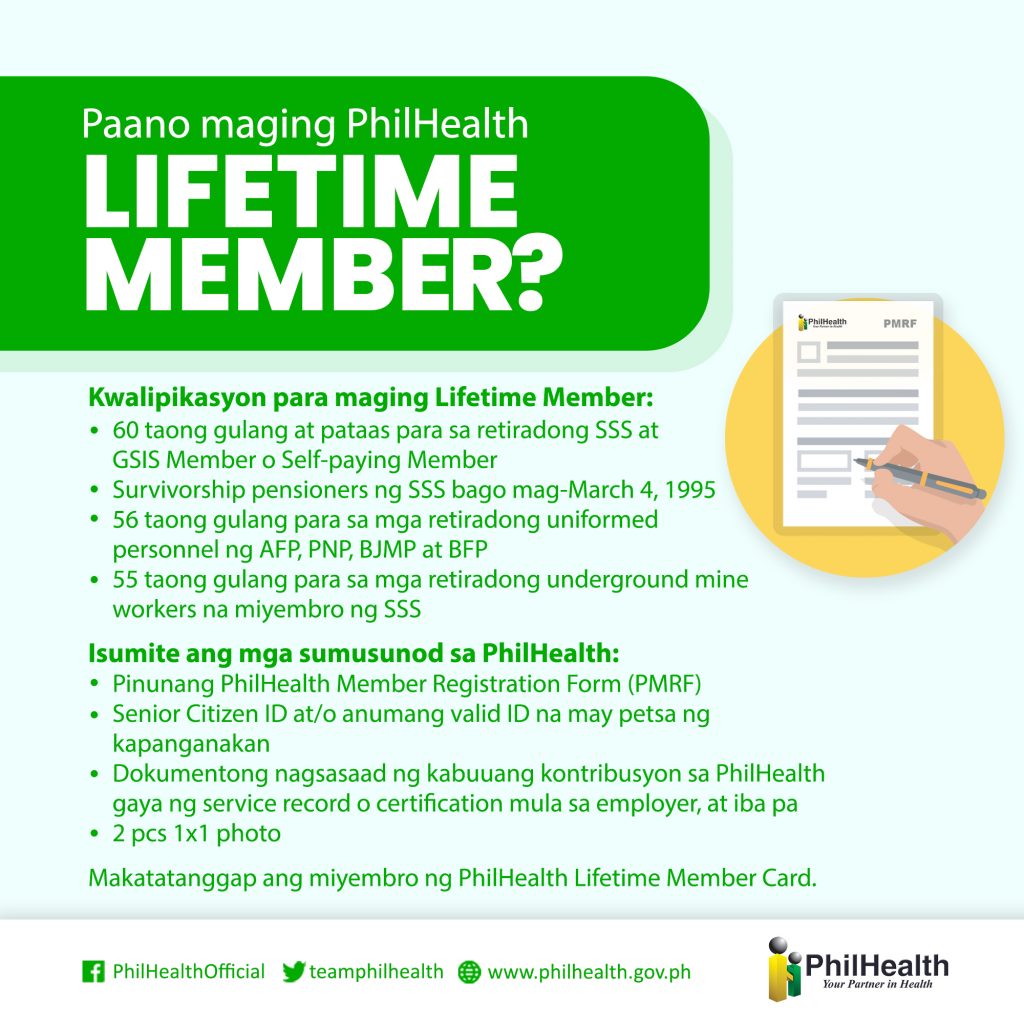 How To Register in PhilHealth Online via Email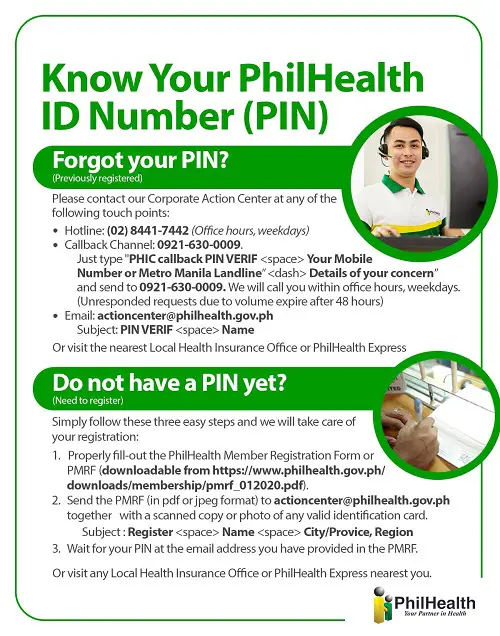 You can register with PhilHealth through the Internet or a walk-in application at a PhilHealth office. Both online and manual registration procedures are only for people enrolling for the first time. 
PhilHealth membership is free. You'll only have to pay your first PhilHealth contribution.
If you're already a member who needs to change the membership category (e.g., from employed to self-employed/voluntary), do not register again. Instead, you only have to update your PhilHealth membership record.
Registration can be done by sending an email request to the PhilHealth Corporate Action Center. To register via email, follow these steps:
Download the PhilHealth Member Registration Form (PMRF). You can find this form by visiting the official PhilHealth website and selecting downloads from the main menu. Choose Forms and then click the download link for the PMRF under Membership.
Please print out the form and manually fill it out. PhilHealth won't accept electronically signed forms.
Scan the duly accomplished form and send it in PDF or JPEG format to [email protected] with a scanned copy or photo of any valid ID. Don't forget to put the following in the email subject line: Register<space>Name<space>City/Province, Region
Wait for PhilHealth to reply with your PhilHealth number.
How To Register in PhilHealth Online if You're an Existing Member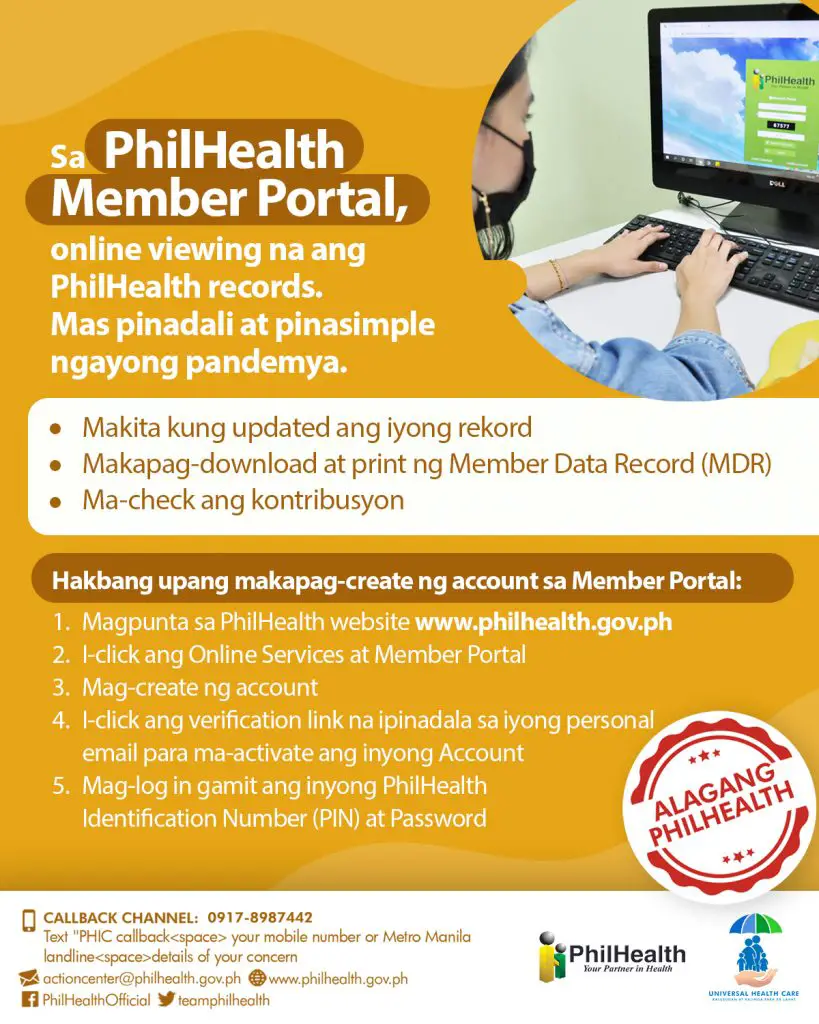 You can register online and create a PhilHealth Member Portal account if you're an existing member with an active PhilHealth number. Through this online portal, you can quickly do the following:
To create your PhilHealth Member Portal account, follow these steps:
Go to the official PhilHealth website
Click Online Services, then Member Portal
Create an account
Click the verification link sent to your email address to activate your account
Log in using your PhilHealth Identification Number (PIN) and password.
How To Register in PhilHealth via Walk-In Registration
Here's how to enroll manually in PhilHealth per membership category.
a. For local employees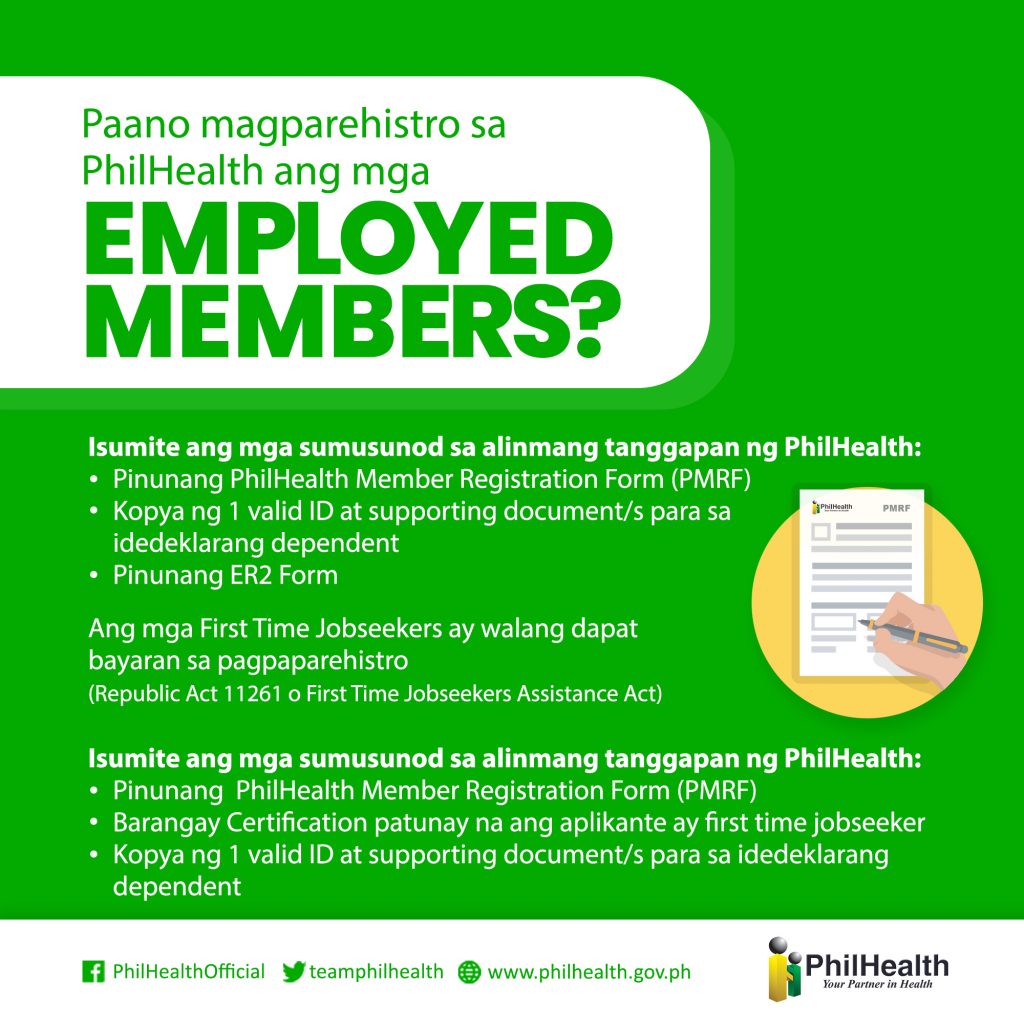 If you're currently employed by a company and not enrolled in PhilHealth yet, your HR department will handle your membership registration for you. 
Simply fill out two copies of the PMRF and submit them to HR. Once your application is processed, PhilHealth will issue your Member Data Record (MDR) and PhilHealth ID through your employer. Both documents indicate your PhilHealth number.
You can also process your registration by going to the nearest PhilHealth office. Submit the duly accomplished PMRF and E2 Form with a copy of your valid ID and supporting documents like a birth certificate proving your relationship with your dependent/s.
First-time jobseekers must also submit the same requirements but with the addition of a Barangay Certification proving that the applicant is indeed a first-time jobseeker. The requirement is needed so the applicant can register for free, per the First Time Jobseekers Assistance Act.
b. For employers
Visit any PhilHealth office and submit the requirements for employee/kasambahay registration.
After processing, PhilHealth will issue your PhilHealth Employer Number (PEN) and Certificate of Registration (which should be displayed in your office, if you're a business employer).
Also, receive the MDRs and PhilHealth numbers of your registered employees or kasambahays.
c. For sponsored members
If your family is listed as NHTS (National Household Targeting System for Poverty Reduction), get a certification from the city or municipal DSWD office that you're an NHTS family.
Submit this document and present a valid ID to the nearest PhilHealth office. Once your family enrollment is verified, you can request an MDR and a PhilHealth ID.
However, if your family is not listed as NHTS, go to the barangay office and inquire about PhilHealth enrollment under the Sponsored Program. The LGU will assess if you qualify for membership. 
The LGU will register the family as a sponsored member if you're qualified. You'll be asked to fill out the PMRF. The LGU will then pay for your PhilHealth contribution. Once your membership is processed, you'll be issued a PhilHealth ID.
d. For voluntary and other member categories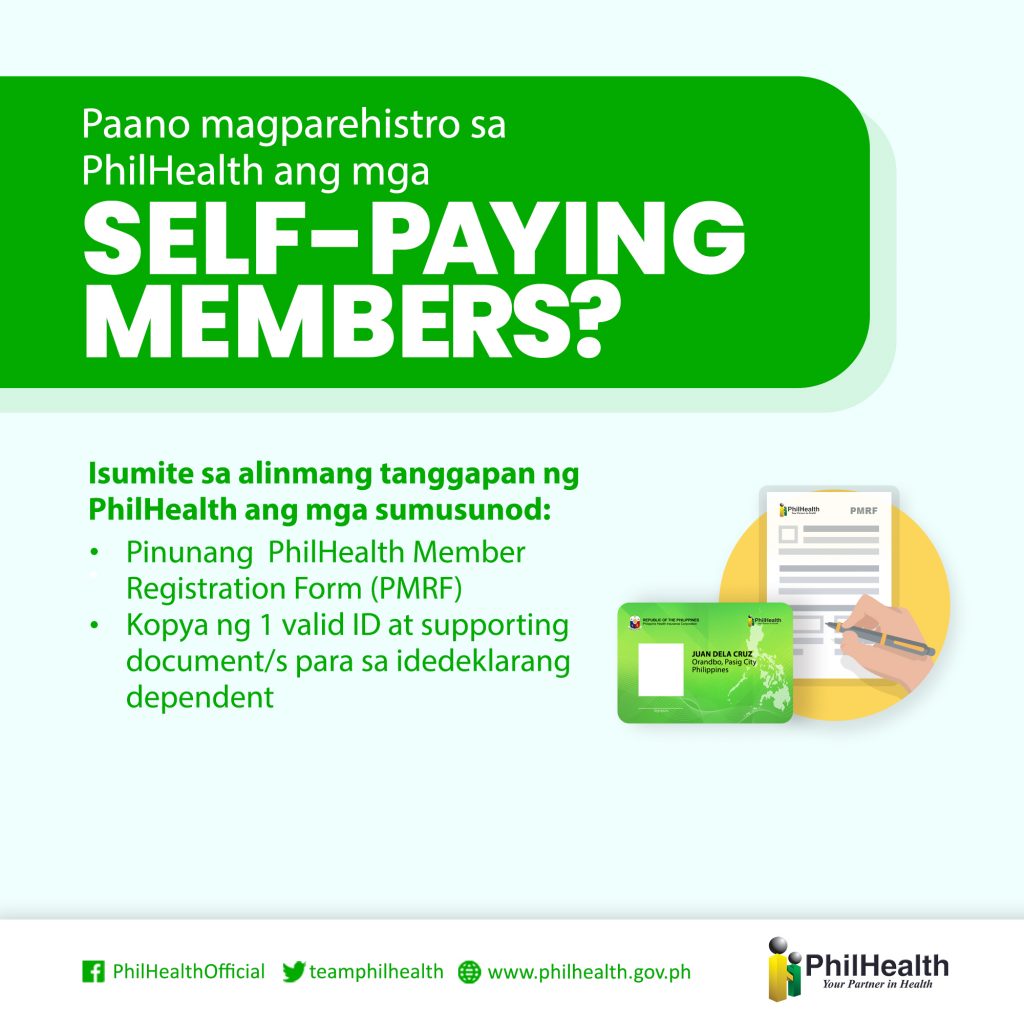 Here are the steps to apply personally as a voluntary/OFW/senior/foreign member of PhilHealth.
i. Submit the requirements for PhilHealth membership registration
Go to any PhilHealth Regional Office, Local Health Insurance Office, or PhilHealth Express outlet in the nearest mall. Arrive early in the morning, as queues can get long quickly. 
OFWs currently abroad may visit any

iRemit

or

Ventaja

branch in their host country to submit their documents for PhilHealth registration. Alternatively, they can email their accomplished PMRF to the Overseas Filipinos Program (OFP) office at [email protected].

Senior citizens may file their membership application through the Office for Senior Citizens Affairs (OSCA) in the city or municipal hall where they live. 

Foreign retirees in the Philippines may submit the PhilHealth requirements to the PRA Head Office in Makati or any of its

satellite offices

in Baguio, Clark, Cebu, or Davao.
ii. Double-check your information
The PhilHealth officer will verify your documents and encode your information. You'll be shown your encoded details on a computer. Review them carefully and let the officer know if there is any necessary correction.
iii. Pay your PhilHealth contribution
Proceed to the Cashier or Payment Processor window and pay your contribution. If you're applying at PhilHealth Express in a mall, you'll be asked to pay at the nearest accredited collecting partner.
Wait for the cashier to issue you an official receipt (OR).
iv. Get your MDR and PhilHealth ID
Return to the PhilHealth officer who processed your registration and submit the OR. The officer will print and release your OR, MDR, and PhilHealth ID copy.
What Are the Benefits of PhilHealth?
PhilHealth members and their enrolled dependents are entitled to a wide range of healthcare services (inpatient, outpatient, and coverage of severe diseases) in PhilHealth-accredited facilities.
Having PhilHealth coverage doesn't mean members won't have to pay for anything when they avail themselves of medical services. Only indigent, sponsored, senior citizens, and kasambahay members enjoy this privilege.
Most PhilHealth members still have to pay a portion of their medical bills. PhilHealth doesn't shoulder the total cost of health care services—it only reduces the members' medical expenses. 
Here's an overview of PhilHealth benefits (To find the specific benefits for a particular disease or treatment, use the Case Rates Search facility on the PhilHealth website.):
PhilHealth pays a certain amount (including room and board fees, professional fees, medicines, laboratory tests, and operating room use) to the accredited hospital where the member is admitted for more than 24 hours. The hospital then deducts the amount from the member's bill before discharge. 
Each PhilHealth member is entitled to a maximum of 45 days per year for hospital room and board allowance. Qualified dependents of a member have a separate 45-day allowance per year shared by all of them.
2. Outpatient Benefits
PhilHealth also covers medical treatments and procedures that don't require hospitalization, such as the following:
Day surgeries

– Non-emergency surgical procedures, including minor and major operations

Radiotherapy

– Radiation treatment delivery using cobalt and linear accelerator

Hemodialysis

– Covers outpatient and inpatient services, such as emergency dialysis for acute renal failure

Outpatient blood transfusion

– Includes medicines, X-rays, lab tests, operating room use, etc.

Primary care benefits

– Includes standard health checkups, diagnostic tests, and medicines for specific illnesses such as asthma, pneumonia, and UTI.
The primary care benefits by PhilHealth are offered under the outpatient package known as Konsultasyong Sulit at Tama (KonSulTa)4. Formerly called "Tsekap," this package provides free primary healthcare services, including consultation, 13 laboratory examinations, and 21 drugs and medicines with prescriptions available for members and their dependents.
The following are the 13 laboratory exams5 you can avail of for free via KonSulTa:
CBC with platelet count
Urinalysis
Fecalysis
Sputum Microscopy
Fecal Occult Blood
Pap smear
Lipid profile (total cholesterol, HDL, and LDL cholesterol, Triglycerides)
FBS
OGTT
ECG
Chest x-ray
Creatinine
HbA1c
Note that the services will only be free if you avail them at the accredited KonSulTa provider/facility where you're registered; otherwise, you will be charged for products/services acquired outside the facility6.
To avail of the KonSulTa outpatient services package7, you must create an online member account with PhilHealth. Once your account is created, click "KonSulta" from the menu, select your preferred accredited KonSulTa provider (one of the rural/city health units closest to your location), and you'll be automatically registered. For those who don't have an online account, you can also register through geographical registration, where local government units enlist their constituents, or via walk-in registration at any PhilHealth office.
3. Z Benefits
The Z benefit package provides financial aid to PhilHealth members and dependents suffering from severe diseases requiring long-term hospitalization and costly treatments.
Under the Z benefits package, PhilHealth will shoulder the treatments for the following illnesses and health conditions8:
Acute lymphocytic leukemia
Early breast cancer
Prostate cancer
Kidney transplant
Standard risk coronary bypass graft
Tetralogy of Fallot
Ventricular septal defect
Cervical cancer
Z MORPH (Mobility, Orthosis, Rehabilitation, and Prosthesis Help)
Selected orthopedic implants
Peritoneal dialysis
Colon cancer
Rectal cancer
Expanded mobility orthosis rehabilitation help
Premature and small newborns
Children with developmental disabilities
Children with mobility impairment
Children with visual impairment
Children with hearing impairment
Rheumatic heart disease.
Z benefits cover professional fees, hospital room and board fees, lab tests, medicines, and operating room use. 
4. SDG-related Benefits
Any disease included in PhilHealth's Sustainable Development Goals (SDG)—such as malaria, HIV-AIDS, tuberculosis, and animal bites—is covered.
Members may also avail of PhilHealth coverage for voluntary surgical contraception procedures such as vasectomy or transection of fallopian tube/s.
PhilHealth has different packages that address the healthcare needs of pregnant women and newborns. 
Maternity care package

– Medical services before, during, and after giving birth

Normal spontaneous delivery package

– Essential health services for normal deliveries and post-childbirth period

Maternity benefits for high-risk delivery

– Covers caesarian delivery, complicated vaginal delivery, breech extraction, or vaginal delivery after C-section

Newborn care package

– Essential newborn care services such as screening tests and hearing test
6. Mental Health Services
With the passage of the Mental Health Law (Republic Act 11036) in June 2018, psychiatric consultations, medicines, and treatments for mental health conditions are now covered under PhilHealth.
As of this writing, PhilHealth only covers up to ₱7,800 for hospitalized patients suffering from mental health disorders such as bipolar disorder, schizophrenia, anxiety disorders, and dementia. However, this will soon be improved into an expanded mental healthcare package that will make mental healthcare services more accessible. This will include a new outpatient program providing 12 specialist care consultations, diagnostics, psychoeducation, and psychological support9. PhilHealth is also considering possibly adding mental health primary care services to the KonSulTa package.
Tips and Warnings
1. Avoid fixers who offer PhilHealth ID and MDR processing service for a fee
There are fixers, mostly on Facebook, that offer assistance for faster processing of PhilHealth ID and MDR for a ₱200 to ₱300 fee. 
While paying for such a service can be tempting if you're too busy to get these documents alone, it's still illegal. You can't tell if the regular PhilHealth ID and MDR you'll receive are legitimate, even if the fixer says so.
Also, the fees are expensive, considering that both documents are free of charge when you request them directly from PhilHealth. 
If you want to save time getting your PhilHealth ID, assign someone you trust to do it. Just provide an authorization letter and your valid ID. Your authorized representative should also present his/her valid ID when applying for a PhilHealth ID on your behalf.
As for the MDR, you can easily get a copy of it online through the Member Inquiry online facility.
2. Keep your PhilHealth information safe
The MDR and PhilHealth ID contain the member's sensitive information, such as full name, birth date, and address. When these details fall into the wrong hands, they may be used for fraudulent activities such as identity theft.
For instance, PhilHealth has received reports about some lending companies requesting their applicants' PhilHealth numbers for faster loan processing. But this information is instead used to access membership records through the online Member Inquiry facility. 
Protect your PhilHealth documents at all costs. Keep your PhilHealth ID and MDR in a safe place. Never disclose your membership information to anyone except legitimate PhilHealth officers when transacting with the government agency.
3. Contact PhilHealth through official channels for inquiries and concerns
PhilHealth is easy to reach. Various means of communication are available to accommodate inquiries, service requests, feedback, and complaints.
If you have a PhilHealth-related question or need assistance, contact PhilHealth through any of the following channels:
Hotline: (02) 441-7442 

Text Line: (0917) 898-7442 / (0917) 512-9149 (for OFWs only)

Email: action[email protected] / [email protected] (for OFWs only)

Facebook: /PhilHealthofficial

Twitter: @teamphilhealth
The SMS-based facility often encounters technical issues. When it's unavailable, contact PhilHealth through other means.
The best way to reach PhilHealth is through its call center hotline. It's usually quick to get through the line, and the agents are knowledgeable, friendly, and courteous.
4. It's okay to have two health insurances (one from PhilHealth and another from a private company)
Paying for your medical bills is easier on the pocket if you have health insurance from PhilHealth and a private company, be it a company-sponsored HMO (health maintenance organization) or overseas health insurance plan (in the case of OFWs).
When a member is hospitalized, PhilHealth benefits are deducted from the total hospital bill before the HMO or health insurance provider pays for the balance.
HMO and health insurance plans also have a yearly maximum benefit limit. If your hospital bill exceeds this limit, you must pay the balance out of pocket.
If you're worried about the additional cost of paying PhilHealth contributions, think of it this way: paying for hospitalization on your own when you get sick is much more expensive. 
Another good reason to become a PhilHealth member and pay contributions: you can get health insurance coverage for your qualified dependents at no additional cost.
Your PhilHealth contribution amount remains the same regardless of how many dependents you declared. And when a family member gets sick, you can rest easy knowing that the medical bills will be reduced, thanks to your dependent's PhilHealth coverage.
5. PhilHealth can be used abroad
PhilHealth covers the hospitalization of Filipino PhilHealth members and dependents confined abroad. Foreign PhilHealth members are exempted from receiving this privilege.
To file for reimbursement of overseas confinement, submit the following documents to any PhilHealth office in the Philippines via email or international courier within 180 days after discharge:
Accomplished PhilHealth Claim Form 1
Statement of Account translated into English
Copy of medical certificate, medical abstract, or medical record translated into English
Official receipt issued by the hospital and doctor
If an operation was performed: a copy of the operative record, translated into English
Frequently Asked Questions
References