Being a recent college graduate without much work experience doesn't mean you can't write a resume that will get you hired.
Just take a look at the examples below.
Fresh graduate resume example 1.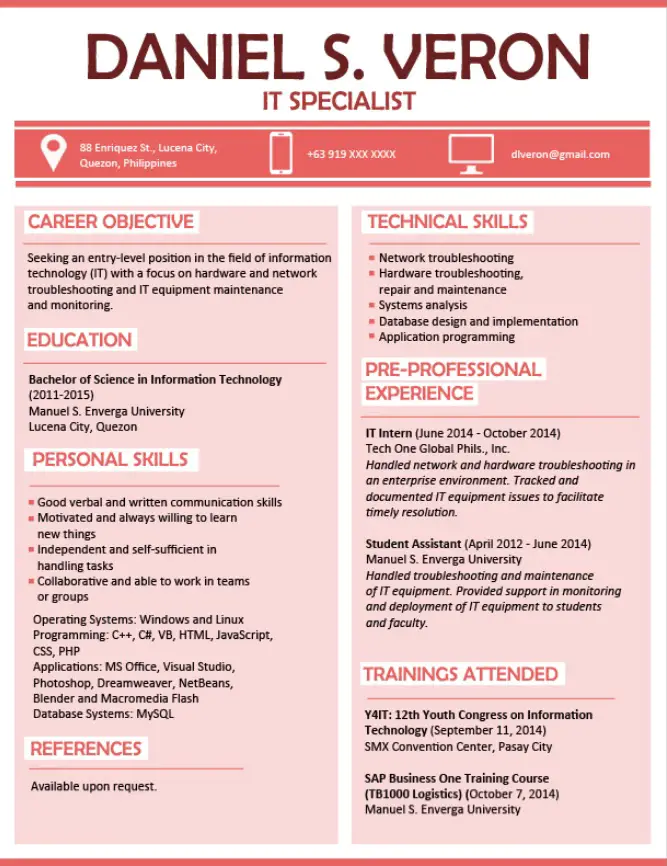 Strengths.
What's impressive about this fresh graduate resume is that it's straightforward and focused. At just a glance, you can tell what the applicant is capable of.
The career objective is not the typical generic statement you'll find in many resumes. It succinctly states what level of position in what field the candidate is applying for, as well as his IT specializations.
The resume highlights both the hard and soft skills to compensate for the lack of work experience. It also includes key character traits—such as "always willing to learn" and "collaborative"—employers are looking for, especially in fresh graduates.
Areas for improvement.
The technical skills and personal skills sections can be organized better. They should go together in one column. The paragraph about competencies in operating systems, database systems, etc. must be placed under Technical Skills.
Also, the references section can be omitted to free up some space.
Fresh graduate resume example 2.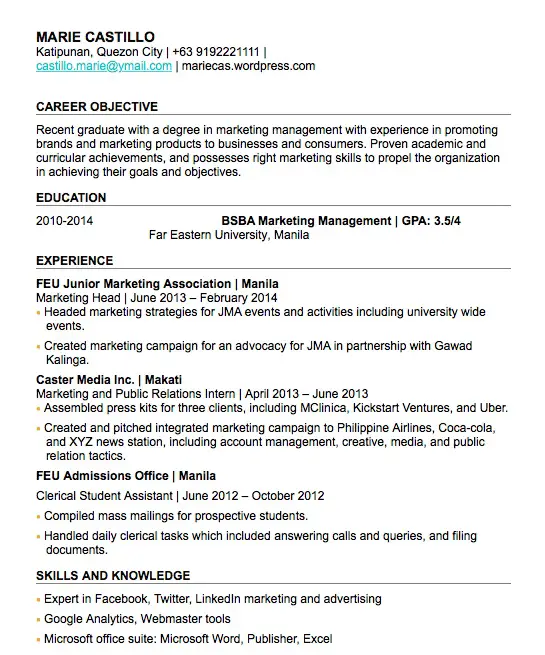 Strengths.
This is another example of a well-written fresh graduate resume. The career objective emphasizes the applicant's marketing experience and mentions that her skills and achievements can contribute to business goals.
The candidate beefs up her work experience section by compiling her relevant experiences from her extra-curricular activities, internship, and stint as a student assistant. Adding names of prestigious clients the applicant has worked for is a clever way to boost work experience.
Because the applicant's experience is more stellar than her skills, she played it up by putting her experience first before the skills and knowledge section.
Areas for improvement.
A few soft skills could be added to give the recruiter an idea of the candidate's personality. The part about MS Office can be removed, as everyone nowadays is expected to be proficient with it. This could provide space for additional soft skills.
Go back to the main article: How to Write a Resume in the Philippines (with Samples, Formats, and Templates)