Seven seconds. That's how quickly recruiters scan a resume. Is yours impressive enough to get invited for a job interview?
Your resume is like an advertisement for promoting your work experience and skills. It's your tool for selling yourself as the best candidate for the job to prospective employers.
With tighter competition in the job market nowadays, creating a strong resume has become more critical than ever.
Here's everything you need to know about writing a resume, including samples and tips to help you craft an impressive resume.
Table of Contents
At a Glance: Sample Resumes
What Is a Resume?
A resume (also spelled résumé) is a written account that summarizes a job seeker's work history, skills, professional achievements, education, and other qualifications. The word comes from the Middle French "résumer," which means "to sum up." It's usually the first document that employers request from job applicants.
What Is a Curriculum Vitae?
A curriculum vitae (CV for short) is a comprehensive and detailed document that describes a person's entire professional and academic career. It's a Latin term that means "course of life."
What Is the Difference Between a Resume and a CV?
A resume and curriculum vitae are not always interchangeable. A resume provides a quick summary of one's qualifications, while a CV provides a more in-depth and extensive career overview.
These documents differ mainly in terms of what each is used for, how long it is, what details are included, and how each is designed.
| | |
| --- | --- |
| | ResumeCVPurposeMost job applicationsUsually for applications in the academe, medical fields, and scientific research (e.g., academic jobs, scholarships, grants, research fellowships, etc.)Typical LengthOne two pagesNo page limitAmount of InformationAs short and concise as possibleContains more informationCustomizationHighly customized to match the specific requirements per positionNo changes unless there are new achievements or qualificationsLayoutCreative or minimalist design with bullet points, colors, icons, and other design elementsMinimalist design with plain text, more sections, and no bullet points |
If you're applying for a job in the Philippines, it's easy to differentiate a resume from a CV. However, it's tricky when you apply for jobs abroad.
Different countries have different requirements for resumes and CVs. Here are some pointers to remember when sending a resume or CV to the following countries:
The United States and Canada – A resume is used for job applications, while a CV is used only for academic applications.
Europe and New Zealand – When a company asks for a CV, it means you should submit a brief account of your qualifications (equivalent to a US resume). The term resume isn't used in these locations.
Australia, South Africa, and most Asian countries – Used interchangeably, a resume and a CV refer to the same short job application document. However, resumes are most common for private-sector jobs, while CVs are preferred for government jobs.
How To Write an Effective Resume in the Philippines: 8 Steps
Step 1: Use the right resume format
Start by knowing which resume format will work best for your job application. Resume formats differ in the qualifications they emphasize. So choose a format that highlights whatever you want recruiters to notice on your resume.
When deciding on a resume format, consider your work experience, skillset, career goals, and the job you're applying for.
Here are four resume formats to choose from, including their pros and cons and when to use each.
a. Reverse-chronological
This traditional resume format is what most candidates use and employers are most familiar with. It highlights career progression by listing work experience in reverse-chronological order, starting with the latest and working back through past jobs.
Advantages:
Easier to see a candidate's career development
Preferred by most employers because it's easier to read and scan
Disadvantages:
Hard to stand out since most candidates are using this format
Highlights lack of experience for fresh graduates, undergraduates, job hoppers, and those with long employment gaps or frequent career changes
Best resume format for:
Candidates with plenty of work experience relevant to the job they're applying for
Showing career advancement (e.g., promotion, lateral movement, overseas assignment, etc.)
Sample reverse-chronological resume format: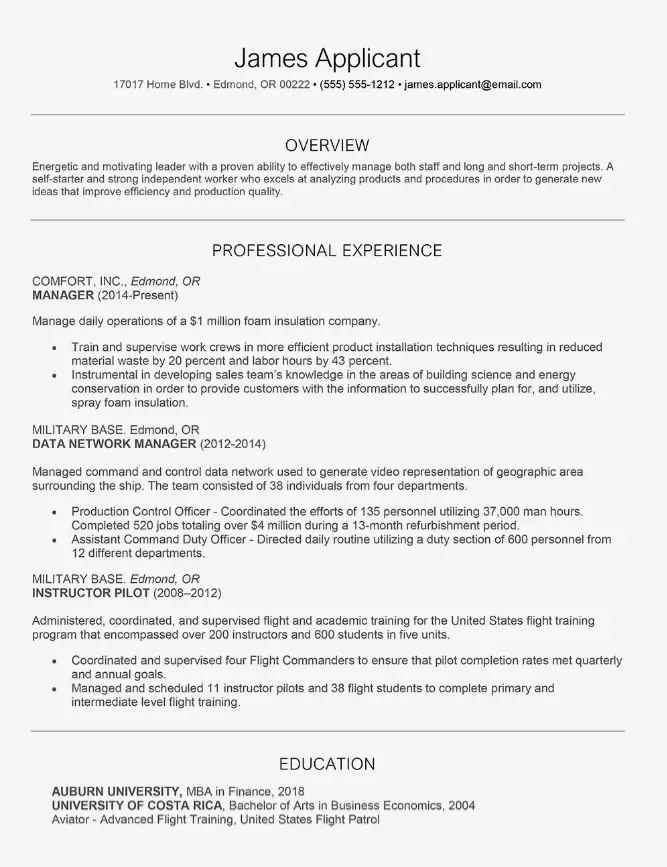 b. Functional
Also called the skills-based resume, the functional format emphasizes an applicant's skills rather than work experience.
Instead of listing work history first, put your qualifications and skills at the top of your resume. Organize your functional resume by grouping skills with similar themes together (e.g., "Leadership Skills," "Customer Service Skills," Marketing Skills," etc.).
Advantage: Highlights skills and downplays lack of experience
Disadvantage: Might be perceived as hiding one's shortcomings
Best resume format for:
Anyone who lacks relevant work experience, such as fresh graduates, working students, applicants with employment gaps, job hoppers, and career switchers
Candidates with an expert level of experience who want to emphasize a certain skillset
Sample functional resume format: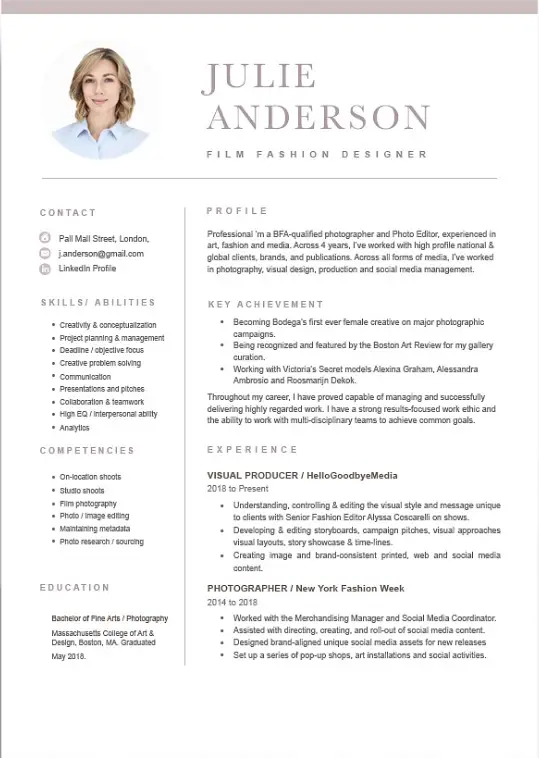 c. Hybrid
The hybrid resume format combines certain elements of both reverse-chronological and functional formats. Also called a combination resume, this format consists of two parts: the first part highlights relevant qualifications and skills, while the second part lists your work history.
Advantages:
Provides the same benefits as the reverse-chronological format but with more flexibility
Can address questions about potential red flags such as employment gaps, job-hopping, and career changes
Disadvantages:
Not as familiar to employers as other resume formats
Not suitable for entry-level applicants
Best resume format for:
Experienced pros in a particular industry
Showcasing a diverse and developed skillset, especially for positions that require skills in at least three different fields or categories
Candidates switching careers or with gaps in work history
Sample hybrid resume format: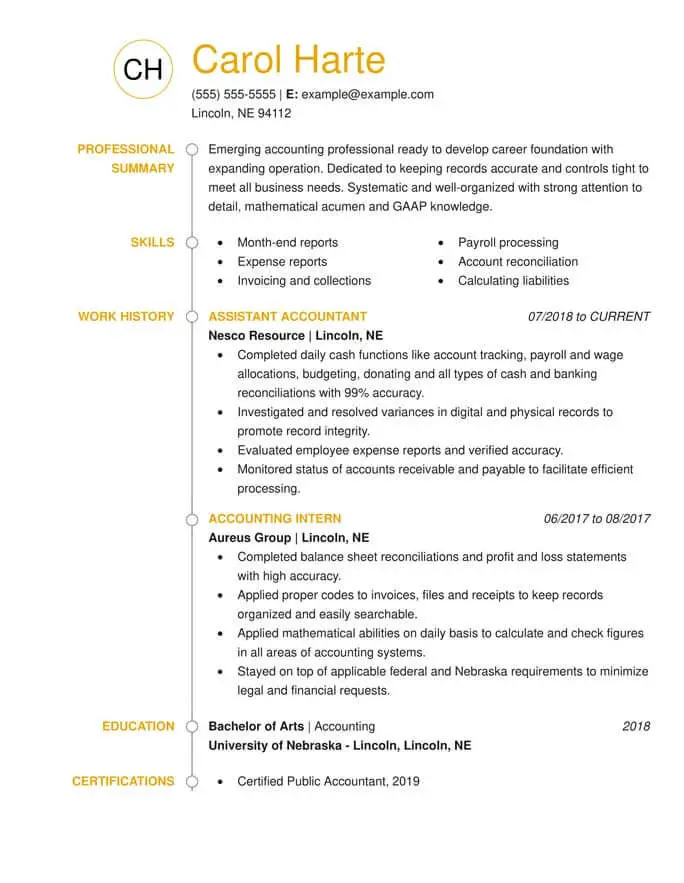 d. Infographic
An infographic resume uses graphic design elements such as colors, illustrations, icons, charts, and font styling instead of just basic text. In terms of content structure, this type of resume can be either reverse-chronological, functional, or hybrid.
Advantage: Grabs attention and can easily stand out
Disadvantage: Hard to pull off and can leave a bad impression if not executed well
Best resume format for:
Designers and other creative professionals
Marketing and advertising professionals with design skills (or who can hire a freelance designer to create a resume)
Sample infographic resume format: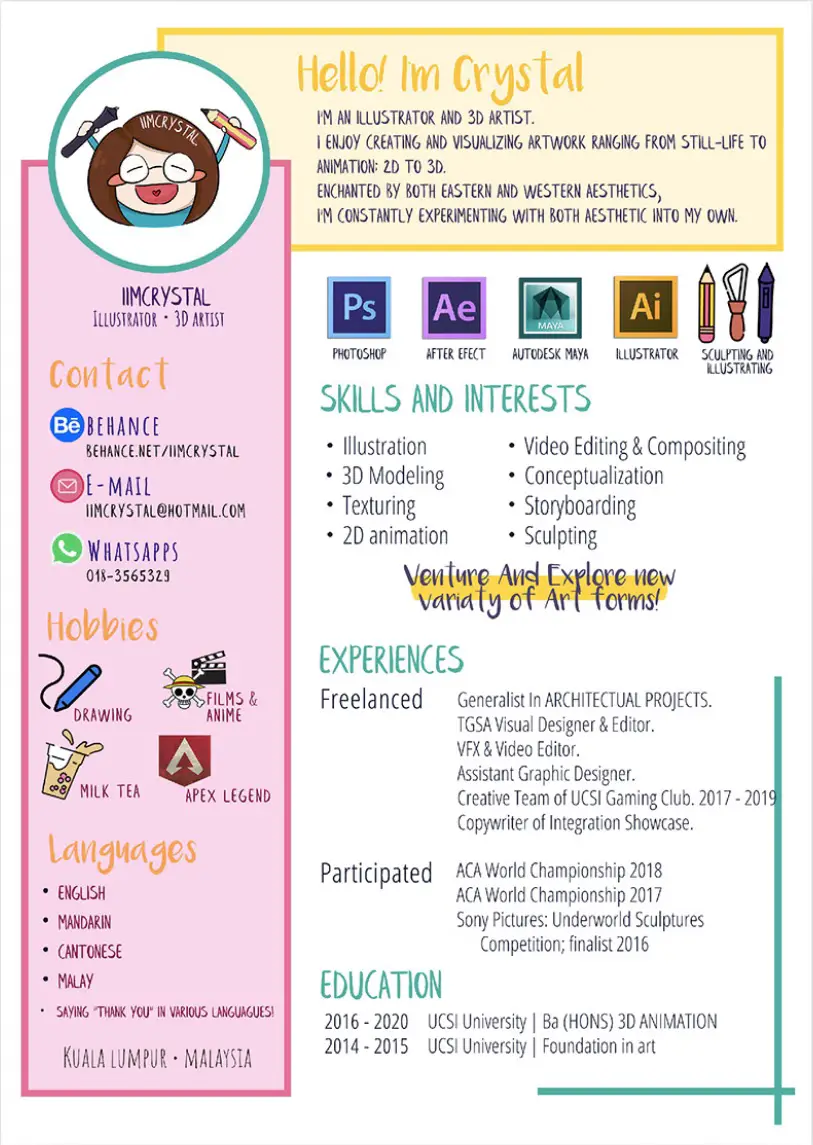 Step 2: Create your resume header
Regardless of the resume format you use, always put your name and contact information at the top. This way, if you make the next cut, the recruiter or hiring manager will easily know how to get in touch with you.
Must-have information on a resume header:
Full name
Location
Telephone number/Mobile number
Email address
Optional information on a resume header:
Professional title (e.g., "Marketing Professional," "Web Developer," etc.)
LinkedIn profile URL
Website/Blog URL
Link to an online portfolio
Step 3: Write a resume introduction
The introduction is one of the most critical parts of a resume, as it highlights the candidate's most important qualifications. Since it's placed somewhere at the top of the page, recruiters notice the introduction first before everything else.
There are four ways to present a resume introduction. The right option depends on the job applied for, as well as the candidate's skillsets and work experience.
a. Qualifications Summary
A summary of qualifications is a list of key career accomplishments with four to six bullet points. Use this type of resume intro if you have a great deal of work experience with measurable achievements and diverse skillsets.
Sample Qualifications Summary:
b. Career Objective
This resume section states in two to three sentences why you want a specific position in the company. Using a career objective on a resume is ideal for fresh graduates, entry-level candidates, and career-switchers with little or no relevant work experience.
Sample Career Objective:
c. Professional Profile
This resume intro combines the qualifications summary and career objective. The professional profile can be either a bullet-point list or a brief paragraph.
Use a professional profile if you are applying for a position in the same industry, have particular expertise in your field, and have a major career achievement to highlight.
Sample Professional Profile:
d. Professional Summary
In two to three sentences, this section highlights the top skills, experience, and achievements in your career. It may also mention the job title and years of experience.
A professional summary works for experienced and skilled candidates, as it allows them to showcase their most important qualifications.
Sample Professional Summary: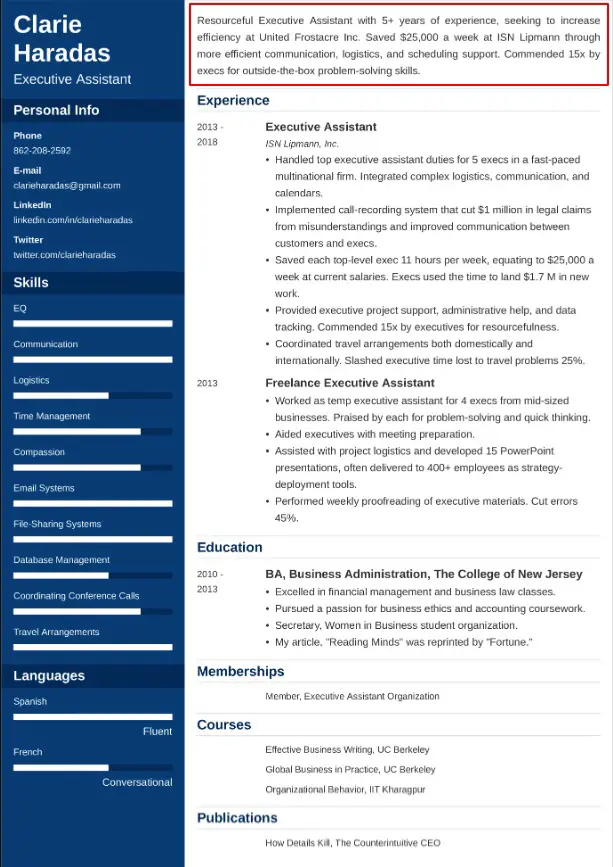 Step 4: List your relevant work experience
The work experience section (also labeled "Professional Experience" or simply "Experience") is your opportunity to prove your qualifications to potential employers.
You don't have to list your entire career—just choose up to three to five experiences that are most relevant to the job you're applying for.
If you're using the reverse-chronological format, place your work experience near the top, right below your resume intro. But for the functional format, this section should be placed somewhere lower, like below the education section.
How to list work experience on your resume
The standard format for listing work experience includes the following information:
Job title – Your job titles should be prominent on a resume to make it easy for potential employers to scan and find your relevant experience for the job. Put each job title at the top of each entry;
Company name and location – Below or next to your job title, put the name of your past or present employer and its city and/or country of location. If you're employed by a prestigious or well-known company in the industry, you may place its name on top of your work experience instead of the job title. If the company name is unfamiliar, you may write a short description of the organization;
Employment dates – Add the timeframe of your employment in each company. You can indicate just the year or the month and year when each position started and ended. No need to write the full dates. If you're still employed with a certain company, put "present" after your start date (e.g., August 2018-present);
Key responsibilities and achievements – This part describes not just what you did but also how well you did your job. List the duties and notable accomplishments most relevant to the new job (around three to five bullet points) in order of decreasing importance. To stand out, focus on what you achieved rather than your daily responsibilities. Mention exactly how you helped the business grow, exceeded your KPIs, got promoted in a short span, and so on.
Step 5: Add your education
The education section shows that you meet any academic requirements for a specific role, such as a bachelor's or master's degree in a related field.
Where you put this section and how much information you include depend on your level of experience. If you've worked for a long time, keep your education short and place it after the work experience section.
However, if you lack experience, you may want to highlight your education by making it detailed and putting it near the top (above your work experience). This is also a good strategy for professionals in fields that place an emphasis on academic success, such as legal, medicine, accountancy, and education.
How to list education on your resume
List your education, starting with your highest degree, in this format:
Degree
School name
Location (city/province or country, if you studied abroad)
Graduation date (month and year)
Honors and awards received (e.g., cum laude, dean's lister, leadership excellence, scholarship, etc.)
If you have a college degree, no need to add your high school and grade school information.
Step 6: List your hard and soft skills
Your resume should have a good mix of hard and soft skills because employers are looking for both in a candidate.
Hard skills are measurable abilities that get a job done, such as coding in different programming languages, video editing, bookkeeping, and social media management.
Soft skills are personality traits that shape how you do your job and how you work and interact with co-workers. Examples of soft skills are leadership, professionalism, teamwork, initiative, persistence, and self-motivation.
The growing trend in recruitment nowadays is that employers value soft skills more than hard skills. Consider that fact when writing the skills section of your resume.
JobStreet.com's 2018 Fresh Graduate Report1, for instance, found that most employers consider three things when screening candidates: attitude/work ethic, analytical thinking, and communication skills.
An iCIMS Hiring Insights report2 notes that the top fields where soft skills matter more than hard skills are customer service, human resources, and sales/marketing.
According to the report, more recruiters place greater importance on soft skills for management positions than entry-level positions. For senior-level posts, the most valuable soft skills are problem-solving, oral communication, and adaptability.
How to list skills on your resume
Choose five to eight of your hard and soft skills that are most relevant to the position you're applying for. For an easy read, list them as bullet points.
If you have a long list of hard skills, group them into categories. For example, if you're a virtual assistant, you can categorize your skills into administrative, email management, social media management, etc.
For each hard skill, include your proficiency level (beginner/intermediate/advanced/expert).
Step 7: Personalize your resume with additional sections
Chances are, hundreds of applicants for the same position have the same (or higher) level of work experience, education, and skills as yours.
How do you set yourself apart?
Add a personal touch to your resume. Show employers that you are well-rounded and do something outside of work. After all, the experience and skills you gain from it can also be applied to the workplace.
Depending on your profession or industry and what you prefer to highlight, here are the optional sections you may list on your resume.
a. Certifications/Licenses
If you're in a profession with certification or licensing requirements (such as nursing, medicine, and engineering), make sure to include any relevant information in your resume.
Even if your industry doesn't require licensing, you may include any professional development courses you've earned, like a professional certificate in digital marketing.
b. Volunteer Work
Do you spend your free time helping others? Your volunteering experience is worth adding to your resume.
Studies find that listing volunteer work raises a candidate's chance of getting hired. By showing that you help the community, you give the impression that you're a loyal, committed employee. You also get to prove critical skills such as leadership, problem-solving, communication, teamwork, networking, event planning, fundraising, and more.
It's a great strategy especially for students and fresh graduates without work experience and candidates with long unemployment periods.
For this section, the typical format lists the name of the organization, inclusive dates of volunteer work, achievements, and a short description of volunteer experience.
c. Languages
The ability to communicate in two or more languages is a valuable asset in fields such as translation, ESL teaching, writing, and customer service.
It's also useful in multinational companies where the chance of career growth is high for multi-lingual employees who may be assigned to work in different countries.
So if you're well-versed in a foreign language, make sure to add that info to your resume. To list your language skills, write the languages you can speak and understand, as well as your proficiency level for each one (basic/intermediate/proficient/fluent/native).
d. Hobbies and Interests
The hobbies and interests section may be the least important section, but it can boost your resume if it's related to the position you're applying for.
For example, being a basketball coach means you have the leadership, problem-solving, and interpersonal skills required for a management position in a company.
Step 8: Proofread and review multiple times
Save yourself from potential embarrassment and rejection due to glaring mistakes. When you've finished writing your resume and cover letter, edit and proofread them multiple times to catch and correct errors, including the following:
Incorrect, incomplete, or outdated contact details;
Grammatical errors, particularly misspellings and wrong verb tenses (Use past tense for former positions and present tense for your current position);
Formatting inconsistencies (different date formats, font types, heading formats, etc.).
Remember these pointers when proofreading your resume and cover letter:
Read the document slowly from the beginning. Then read it backward per phrase. Pay close attention to every phrase.
Proofread your resume several times at different times of the day.
Run a grammar and spelling check on your computer. You can install online tools like Grammarly to help you spot errors you missed from your manual proofreading.
Ask a friend or family member for help. Take note of their feedback and suggestions for improvement.
Best Resume Samples for Every Type of Applicant in the Philippines
Top 10 Free Tools for Creating a Resume
Unless you have Photoshop skills, it's hard to come up with a resume that doesn't look sloppy.
Enter online resume builders with professionally designed templates that let you plug in your information for a polished look. Especially for first-timers, these tools are very helpful.
Use a resume builder so that you can focus more on writing your resume than obsessing about its design.
Here are 10 free resume builders that are among the easiest to use:
This online resume builder allows users to upload a PDF file of their LinkedIn profile and use the drag-and-drop feature to add design elements they like. After creating a resume, the file can be downloaded in PDF format.
Want a creative, custom-designed resume? Canva is the right tool for you. It has a vast collection of templates, photos, illustrations, colors, and other elements made by professional designers. You can use them for free to create or modify a layout for your resume.
For job seekers who are not so tech-savvy, the easy-to-use resume-building tool on Cultivated Culture is perfect. It allows full customization and the creation of an unlimited number of resumes for free.
What's great about this online platform is that its resume templates are created based on feedback from real recruiters and hiring managers from some of the best companies in the world. The templates have also been tested with real job seekers with different backgrounds, levels of experience, and industries.
This beginner-friendly online tool has a simple interface that makes creating a resume quick and easy. There's a broad array of pre-designed resume templates crafted per profession, so you don't have to manually modify the layout. You can also organize the sections as you'd like.
Unlike other resume builders on this list, Novorèsumè specializes in resume writing rather than design. This is a must-use tool if you want to optimize your resume content. It analyzes text and recommends revisions to improve your resume quality.
Once you're done with your draft, you can customize and preview your resume layout, and then download it as a PDF file.
If you're looking for the fastest tool for creating a resume, use Resume.com. This free resume builder can extract information from your LinkedIn profile and place it on a template of your choice. You can immediately work on your resume from its homepage and download the final output as a PDF, DOCX, RTF, or TXT file.
This is another great tool for resume writing and design, especially for those without a good command of English. Users simply just have to answer a set of multiple-choice questions about their work experience and education and fill in the blanks with necessary information.
ResumeGenius also lets users add pre-written bullet points for making customized job responsibilities in the work experience section. Resumes created with this tool can be downloaded in PDF, DOCX, and TXT formats.
Building a resume using Resume.io is simple. Just choose a template, add your information, and download your resume.
To get an idea of how to write a resume, you can also check the website for resume samples from people who got hired in different industries.
With its professionally designed templates, you can create visually stunning resumes for different jobs you want to apply for. Creating a resume is easy as well—you can just upload your document on the website instead of cutting and pasting text.
More than just a resume builder, Zety lets you create a cover letter in the same design as your resume. It also features a text editor for minimizing typos and a resume checker that suggests revisions for improvement.
Tips and Warnings
1. Use powerful action verbs
A common mistake in resume writing is starting every phrase with "Responsible for." These words just take up space and don't add value to your resume. Instead, use strong action verbs that instantly grab the hiring manager's attention.
Choose action verbs3 that go beyond just stating your duties. Use words that show how you delivered results, exceeded expectations, solved problems, did something innovative, or accomplished anything.
Here are some of the strongest action verbs that can help you accomplish that:
Accelerated
Accomplished/Achieved
Awarded/Won
Created/Established
Developed
Eliminated
Excelled
Grew
Implemented
Improved
Improvised
Increased/Boosted
Decreased/Reduced/Minimized
Initiated
Innovated
Launched
Led/Managed
Negotiated
Persuaded
Pioneered
Promoted (to a higher position)
Resolved
Strengthened
Succeeded
Surpassed
Trained/Mentored
Transformed
Volunteered
2. Quantify your accomplishments
Using the right action words alone is not enough to convince employers that you're a strong candidate for the job.
As much as possible, support your list of accomplishments with data. Include numbers, percentages, monetary values (in peso, dollar, or any applicable currency), timeframe, and other performance metrics to back up your successes.
For example, instead of simply stating you "Reduced average customer waiting time," you can improve it by adding numbers: "Reduced average customer waiting time from 24 hours to 1 hour."
If possible, briefly state how you accomplished something. The example above can be further improved: "Reduced average customer waiting time from 24 hours to 1 hour by organizing the customer service team's workflow and prioritizing customer requests."
Other specific, measurable achievements to add to your resume include the following:
KPIs/Performance targets achieved or surpassed
% increase in sales, revenues, profit margin, conversion rates, website traffic, production efficiency, etc.
% cost savings generated or expenses reduced
Number of people managed, trained, or mentored
Number of customers handled or served daily
Amount of grants, funding, or donations generated
3. Have a simple and consistent layout
To get their resume noticed, some applicants go overboard with colors, illustrations, and other design elements—which are actually unnecessary and distracting.
Remember: less is more. Go easy on your layout. Let your credentials speak louder than your resume design. Use colors, icons, and whatnots only to enhance your resume's visual appeal, not to overshadow its content.
So, how should your resume look to make an impression?
A 2018 Ladders eye-tracking study4 found the common elements of resumes where recruiters spent the most time and focus on:
Clear, simple layouts with marked section headings
Position titles in boldface supported by accomplishments in bullet points
Clear, easy-to-read fonts
The same study also identified the common elements of worst-performing resumes to avoid:
Cluttered design with long sentences, multiple columns, and very little white space
Little use of section headings
Keyword overuse (Keyword use is helpful in resume writing, but overdoing it can make your document sound robotic.)
In addition, having ample white space makes a resume more readable. For most resumes, a one-inch margin around the page works. This also gives the recruiter and hiring manager enough space to write comments on a printed resume.
If you have to reduce the margin size to fit your content on a page or two, make sure it isn't lower than 0.5 inch.
Consistency in your resume formatting is important, too. If you italicize company names, for instance, all the others should be in italics as well. All job responsibilities and accomplishments must be in bullet lists. Also, use the same font for all text in your document.
The key is to keep your resume's look uniform throughout. Otherwise, the recruiter would think you're careless, and that might spill over your work performance.
4. Choose the right font type and size
The best font and text size is one that won't make the reader squint.
What to use:
Easy-to-read font (e.g., Arial, Calibri, Georgia, Helvetica, Times New Roman, Verdana, etc.)
Different font sizes in decreasing order for your name (24 pt), section headings (14-16 pt), and bullet points/paragraphs (10-12 pt)
What to avoid:
Ornate and cursive fonts that are difficult to read
Fancy and wacky fonts, including Comic Sans, that don't look professional
Font size below 10 pt
Using one text size throughout
5. Submit your job application properly
All it takes to botch your job application—even with a perfectly written resume and cover letter—is failing to follow the employer's instructions on document submission.
Take the time to carefully read the job posting's submission requirements before you send your application. Keep an eye out for these usual requirements:
Where to send the materials – While most employers require submission through email, others ask applicants to upload their resume online.
Email subject line – Look for a specific subject line format. If there's none, use this standard format: [Position Title] Resume – [Your Name]. Example: Marketing Assistant Resume – Juan Dela Cruz.
Types of required attachments – Aside from the resume and cover letter, the employer might have other requirements such as a portfolio or work samples. Make sure to attach them as well.
File format – Should you send your documents in a specific format? Check the job ad to find out. If it doesn't specify anything, attach your job application materials in either PDF or DOCX, as these are the most preferred file formats by employers.
Attachment name – Be specific when naming your attachments. If the employer has no specifications for attachment naming, you can use this format: [Your Name] – [Position Title] – [Attachment Type]. Example: Juan Dela Cruz – Marketing Assistant – Work Sample
Cover letter submission – Check if the job posting mentions anything about how to submit a cover letter. The employer might require to attach it to your email. Otherwise, you can just copy the text and paste it into the body of your email message. Learn more about how to write an effective cover letter here.
Submission deadline – Never overlook this detail, or else, your job application will be ignored. Government job postings, in particular, set a deadline for document submission.
Others – Some employers test the applicant's ability to follow instructions, usually by asking them to insert a certain word in the subject line or cover letter.
Additionally, use a professional email address (ideally one with only your name or initials) when sending your resume and other documents. An email address that's cutesy or filled with odd characters doesn't only come off as unprofessional but also shows that you're not taking your job application seriously.
Lastly—and most importantly—never mass email your resume. It reeks of carelessness and lack of attention to detail.
Put yourself in the shoes of the hiring manager. Would you hire someone who sent a generic job application to multiple companies at once?
Frequently Asked Questions
References