A good resume for healthcare professionals establishes their educational and medical background, certifications, and licenses.
If you're looking for a job in the medical field, here are some resume examples you can refer to.
Nursing resume sample.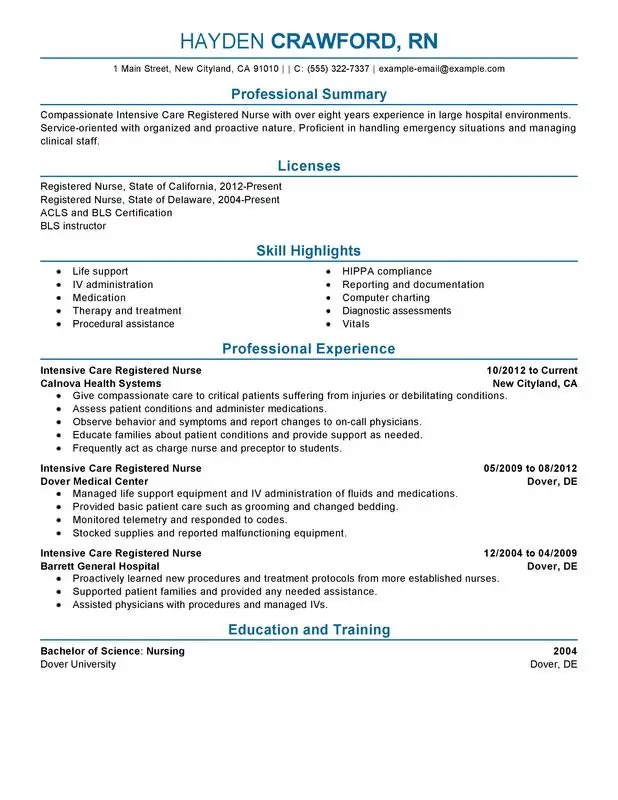 A well-structured resume like this one is not only easy on the eyes but also substantial enough in terms of nursing qualifications. Aside from showcasing healthcare management skills, the candidate also emphasizes the ability to provide compassionate care to patients.
While all nurses are expected to be compassionate, this resume excels because it also stresses another important attribute: initiative. The candidate shows through the professional experience section his being proactive, mentioning things like reporting malfunctioning equipment as well as learning from more established nurses.
Caregiver resume sample.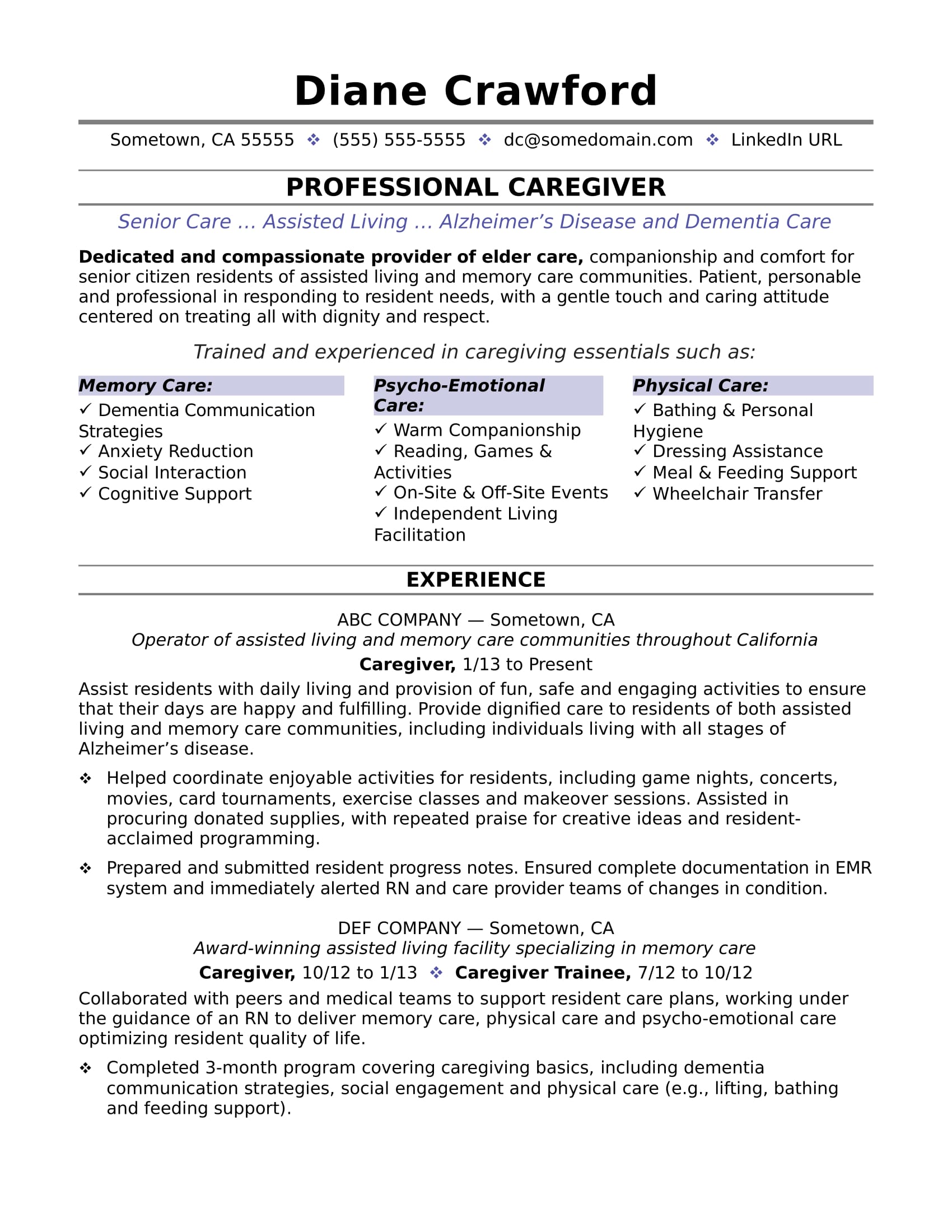 This sample resume makes it clear that the professional caregiver specializes in elderly care and that she can be trusted to care for old patients. It lists the caregiving skills per category, giving an idea of everything she's capable of as a caregiver for the elderly. The resume also shows that the candidate has been trained for the job.
Related: How to Become a Caregiver in Canada: A Definitive Guide for Filipinos
Medical technologist resume sample.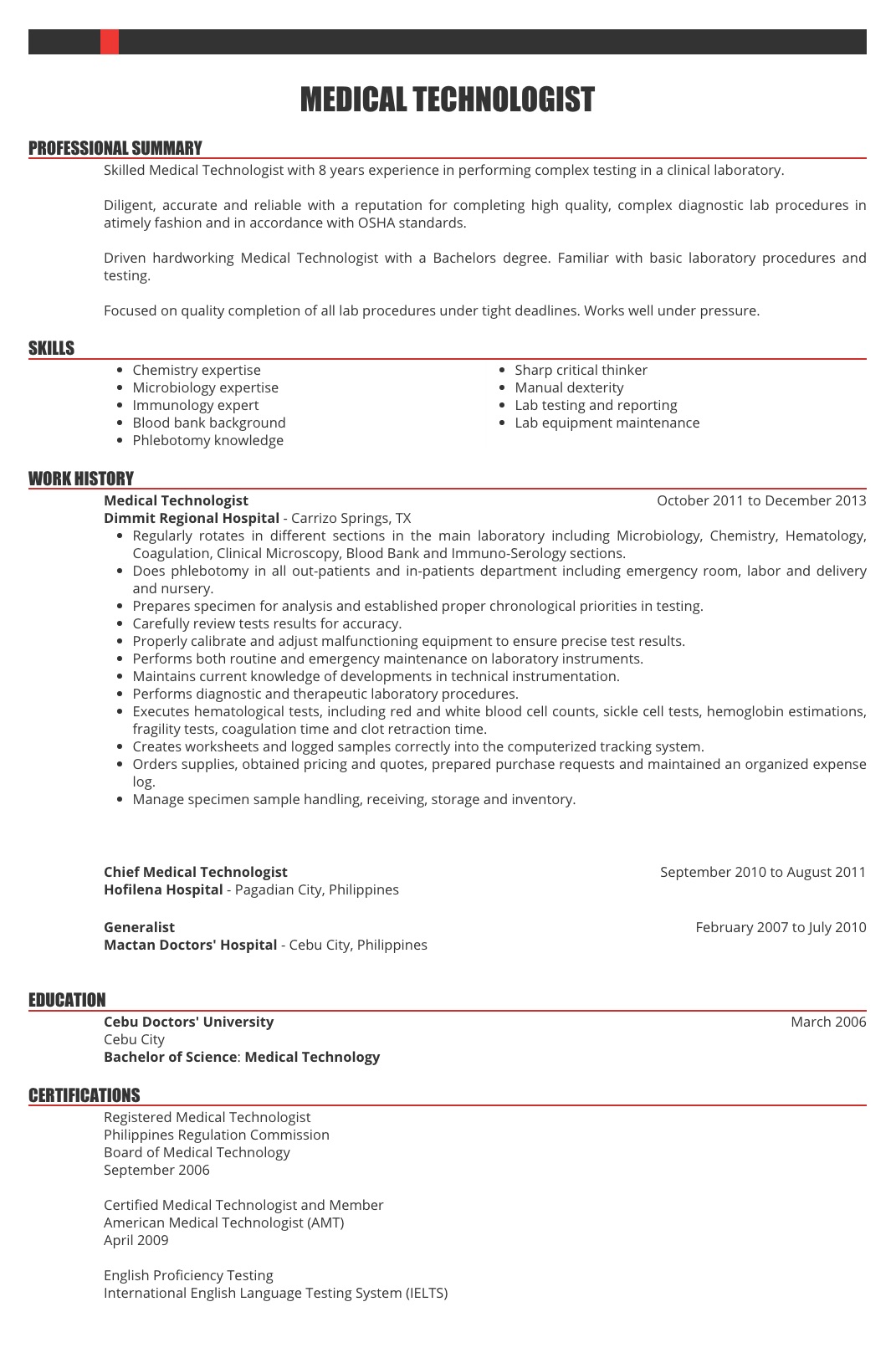 Structure-wise, this resume sample of a medical technologist nails it. The document looks neat and organized with bullet points and concise phrases. It amply highlights the candidate's broad experience and ability to deliver high-quality, timely, and safety-compliant outputs.
However, this medtech resume could still be improved. The past work experiences lack elaboration, perhaps because of a lack of space. This can be tweaked by choosing only three to five key responsibilities for the latest work experience and removing the others. In doing so, there will be more room for information about the two previous jobs.
Radtech resume sample.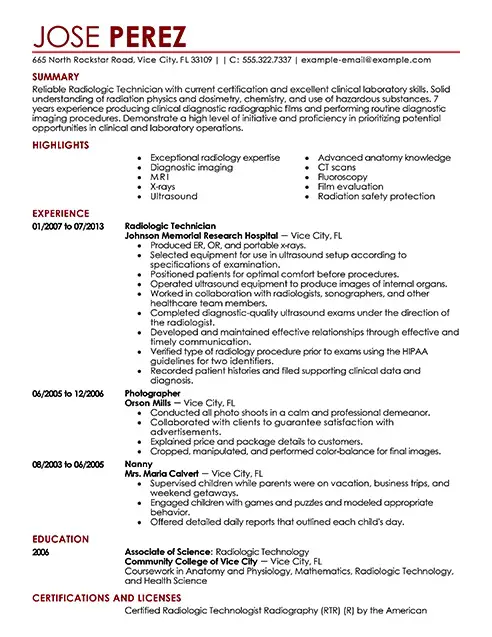 This resume of a radiologic technician is written in a way that shows how experienced the candidate is in his field. Adding his photography experience—even if it's unrelated to rad tech—helps boost the candidate's application by showcasing his customer service and communication skills, which are relevant to a rad tech job.
However, it's hard to see the connection of the previous experience as a nanny to the rad tech profession. If it was for a job that involves caring for pediatric patients, the child care experience would have been more valuable.
Go back to the main article: How to Write a Resume in the Philippines (with Samples, Formats, and Templates)