PhilHealth implements a case rate payment system where the amount that PhilHealth will reimburse the patient depends on the specific illness/case. This coverage includes healthcare professional fees and facility charges. 
Disclaimer: This article has been published for educational purposes only. Neither the author nor FilipiKnow is affiliated with PhilHealth, so specific queries about your membership and insurance benefits must be forwarded to the proper authority.
Dengue is among the cases covered by PhilHealth. Dengue fever with and without warning signs is covered up to ₱10,000 while Severe Dengue is covered up to ₱16,000.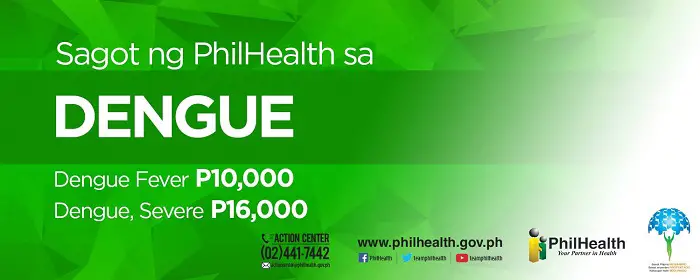 Listed below are other common illnesses covered by PhilHealth and their case rates. Take note that this is not a complete list. Complete case rate information can be searched in the Philhealth Portal.
Illness
Coverage
Acute Gastroenteritis

Amoebiasis
₱6,000
Acute Renal Failure
₱19,300
Allergic Reactions
₱6,200
Anaphylactic Shock (Severe Allergic Reactions)
₱7,600
Anemia
₱10,000
Arthritis (Infectious)
₱9,700
Asthma (In Acute Exacerbation)
 ₱9,000
Back Pain, Radiculopathy, Sciatica
₱6,400
Bleeding Disorders/Hemorrhagic Conditions
₱12,800
Brain Injury/Intracranial Injury
₱8,800
Breast Cancer/Malignancy
₱11,800
Cancer/Malignancy (Depends on Affected Organs), Examples: Bone and Cartilage

Case Rate Range for Malignancy

Central Nervous System

Digestive Organs
₱16,500


₱11,000-₱16,900

₱16,900

₱14,200
Cardiac Arrhythmia and Cardiomyopathy
₱13,400
Cellulitis
₱9,600
Chikungunya and Other Arthropod-Borne Viral Fever
₱8,100
Cholecystitis
₱11,300
Chronic Heart Disease Without Complication
₱4,000
Chronic Obstructive Pulmonary Disease
₱12,200
Chronic Kidney Disease
₱14,500
COVID-19 Moderate Without Pneumonia With Risk Factors for Progression

COVID-19 Moderate With Pneumonia

COVID-19 Severe

COVID-19 Critical
₱43,997

₱143, 267

₱333,519

₱786,384
Dengue Fever

Dengue, Severe
₱10,000

₱16,000
Diabetes Mellitus With Complications Other Than Coma or Ketosis
₱12,600
Diabetes Mellitus With Coma or Ketosis
₱15,800
Dehydration (Moderate-Severe)
₱4,000
Ebola Virus Disease
₱110,000 up to ₱222,000
Epilepsy
₱7,800
Glaucoma
₱6,500
Heart Failure
₱15,500
Heat Stroke and Other Heat Exhaustion
₱6,500
Hydrocephalus
₱17,300
Hypertensive Urgency/Emergency
₱9,000
Hyperthyroidism
₱8,500
Hypoglycemia
₱4,000
Hypothyroidism
₱8,100
Inflammatory Bowel Disease
₱9,100
Inflammatory Diseases of the Central Nervous System (Encephalitis, Myelitis, etc.)
₱21,600
Inflammatory Disease of the Heart (Endocarditis, Myocarditis, etc.)
₱14,400
Influenza
₱6,000
Injuries to Muscle, Tendons, and Joints
 ₱7,200
Intestinal Obstruction
₱10,100
Ischemic Heart Disease With Myocardial Infarction

Ischemic Heart Disease Without Myocardial Infarction
₱18,900

₱12,000
Leptospirosis Moderate to Severe
₱11,000
Liver Failure
₱20,600
Malnutrition
₱11,700
Meningitis
₱25,700
Meningococcemia
₱19,800
Mental and Behavioral Disorders
₱7,800
Middle East Respiratory Syndrome (MERS-CoV)
₱50,000-₱100,000
Migraine and Headache Syndromes
₱5,500
Miscarriage

If With Complications
₱5,000

₱6,900
Newborn Sepsis
₱11,700
Nutritional Disorder
₱9,200
Osteoporosis and Disorders of Bone Density and Structure
₱7,900
Otitis Media
₱7,800
Pancreatitis and Diseases of the Pancreas
₱12,600
Parasitic Infection Without Complications (Ex. Malaria, Schistosomiasis)
₱4,000
Peptic Ulcer With Hemorrhage

Peptic Ulcer Without Hemorrhage
₱12,800

₱6,100
 Perinatal Infections
₱12,700
Pneumonia High Risk

Moderate Risk
₱32,000

₱15,000
Postpartum Complications
₱9,300
Pregnancy/Maternal Comorbidities
₱6,800
Pyelonephritis
₱10,900
Rheumatic Heart Disease
₱12,800
Sepsis
₱32,000
Skin Infections
₱4,000
Stroke-Hemorrhagic

Stroke-Infarction
₱38,000

₱28,000
Systemic Lupus Erythematosus
₱11,900
Tetanus
₱16,500
Tuberculosis (Extrapulmonary)

TB (Miliary)

TB (Pulmonary)
₱11,900

₱11,900

₱9,800
Typhoid Fever
₱10,000
Upper Respiratory Tract Infection (Acute Bronchitis)
₱4,000
Urinary Tract Infection or UTI (Admissible)
₱7,500
Urolithiasis
 ₱4,000
Viral Hepatitis
₱11,800
Viral Infection (Ex. Measles) (Admissible)
₱7,700
Viral Infection of the Nervous System
₱21,100
Zika Virus
₱8,100
Return to the main article: How To Register in PhilHealth Online: A Complete Guide for New Members