The majority of GCash transactions are free of charge. However, there are several transactions that incur minimal fees.
For bills payment, the service fees range from Php 5 to Php 15. When sending money, a service fee of up to 2% of the total amount may be charged.
For cash-in transactions, it depends on the method you use to load your GCash. If you cash-in via the following online banking channels, you'll get your money free of charge:
You can also cash-in through other banks that use Instapay but it comes with service fees that vary per bank.
Cashing in via Bank Card (Mastercard/Visa) will now incur a convenience fee of 2.58% starting July 6, 2020. The new fee is due to direct charges from the mobile app's payment partners and is not part of GCash earnings.
The fee will also be charged on top of the amount you cash in. For example, if you're cashing in Php 100 via Bank Card, the total amount that will be deducted from your source account is Php 102.58.

Cashing in is free in over-the-counter outlets but there's a monthly limit of Php 8,000. Once you reach this monthly threshold, you'll then be charged a service fee of 2% each time you cash in. The limit refreshes every first day of the month so you can cash in for free again until you reach the Php 8,000 limit.
For more information, please refer to the tables below: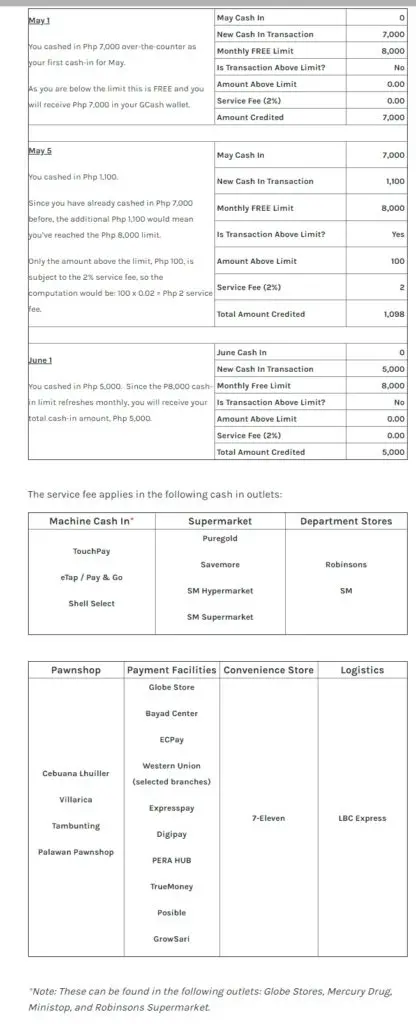 For cash-out transactions, a service fee of Php 20 per Php 1,000 transactions will be charged if you're withdrawing your money over the counter. When cashing out through GCash MasterCard, a Php 20 service fee will be charged for every withdrawal.
Meanwhile, if you're cashing out through bank transfer (to a bank using the Instapay network), a Php 15 fee per transaction will be charged starting October 1, 2020. Fund transfers to BPI or UnionBank accounts that are linked to your GCash account will remain free of charge. Send Money (i.e., GCash-to-GCash transactions) will likewise remain free.
Go back to the main article: How to Use GCash in the Philippines: An Ultimate Guide