Withdrawal is also referred to as "cash-out" in GCash lingo.
You can claim money from GCash through GCash MasterCard, partner pawnshops, supermarkets, and other payment facilities.
Table of Contents
To claim money from GCash using your GCash MasterCard, simply go to any bank's ATM and insert your card. Provide your password, which is the MPIN, then choose withdrawal, and select 'Savings'. Enter the amount that you want to withdraw and collect the cash.
A PHP 20 fee will be charged for every withdrawal transaction using your GCash MasterCard.
Related: How to Use GCash Mastercard: Application, Withdrawal, and Fees
How To Cash Out GCash Without Card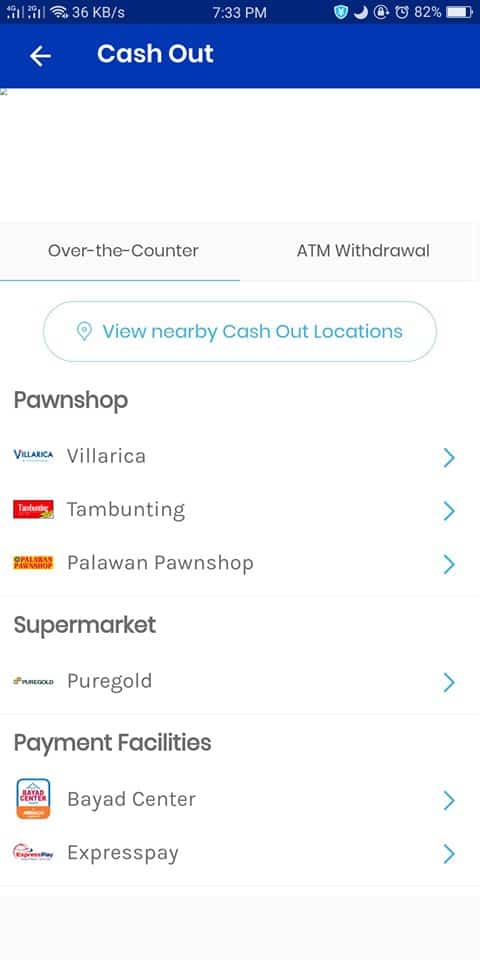 Aside from using your GCash MasterCard, you can withdraw money from GCash through the following:
1. Pawnshops
Villarica
Tambunting
Palawan Pawnshop
PeraHUB
Jaro Pawnshop
2. Supermarket
3. Payment Facilities
Bayad Center
Expresspay
Posible
TrueMoney
4. Department and Convenience Stores
To look for nearby cash out facilities in your current location, follow these steps:
Turn on your mobile's GPS
Login to your GCash app
On the home screen, click on Cash Out
Select View nearby partners
A map will be shown presenting nearby cash outlets. Click the blue indicators to see the outlet's details. Note that the orange indicator is your current location.
Here's a step-by-step guide on how to withdraw money from GCash through pawnshops (Villarica, Tambunting, and Palawan Pawnshop), supermarkets (Puregold), and Payment Facilities (Bayad Center and ExpressPay):
Go to any branch of the partner pawnshops, supermarkets, and payment facilities. Inform the staff that you'd like to cash out from your GCash wallet.

Completely fill out the GCash Service Form and provide the required details like your Gcash-registered mobile number and the amount that you want to cash out.

Present your valid ID.

You'll receive an SMS confirming your Cash-Out. Reply with your MPIN to confirm the transaction.

Once the transaction has been confirmed, collect the cash from the cashier and get the receipt.
You may also withdraw your money from GCash through any GCash Pera Outlets (PO) located in sari-sari stores and other small businesses near you. Provide your GCash-registered number to the GCash PO operator and the amount you wish to withdraw.
It must be noted that cash-out transactions using the methods discussed above will incur a service fee of 2% of the total amount to be withdrawn.
Some small stores also offer GCash cash-out services but use GCash's Express Send feature. Basically, you send to the store attendant the money you wish to withdraw using the Express Send feature and then they give you the "physical" money in exchange for the amount you have transferred. Some stores charge a minimum of PHP 15 on this transaction. 
How To Withdraw by Transferring Your Money From GCash To Bank
If you don't have a GCash Mastercard yet or you're unable to cash out your money over the counter, the only option left for you is to send the money to your own bank account.
We already discussed how to send money to a bank through GCash. Technically, it's not one of the "cash-out" methods recommended by GCash. However, I recommend doing this especially if you're enrolled in online banking since you can immediately check if you already received the money from GCash.
After receiving the money from GCash, you can then choose to withdraw it via ATM, spend it through your debit card, or pay for products or services online.
Tips and Warnings
GCash Mastercard only works with Bancnet or Mastercard-supported ATMs. Ensure that the ATM has a Bancnet or Mastercard logo before proceeding.
GCash Partner Outlets don't allow a representative or proxy for cash-out transactions. The GCash account owner is the only one allowed to withdraw the money. 
Only fully-verified users can withdraw their money from GCash. 
Frequently Asked Questions
1. How to withdraw money from GCash through 7-Eleven?
As of this writing, 7-Eleven branches and their Cliqq kiosks do not offer GCash cash-out services. Thus, you cannot withdraw money via these facilities.
2. I have cashed out my money from GCash via bank transfer but I haven't received it yet. What should I do?
Wait at least 1-2 working days for the bank transfer process to complete. There might be a maintenance or system error in the GCash partner bank. If the funds are still not transferred beyond this timeframe, you may submit a ticket to GCash Help Center.
Go back to the main article: How to Use GCash in the Philippines: An Ultimate Guide