We've all been there.
You want to buy or pay for something with GCash but it turns out you have no or insufficient funds left in your account.
The problem is, your bank account is either empty or inaccessible at the moment. With no way to cash in, how can you possibly add GCash credits to your account?
This guide will show how it's possible to fund your account by converting your mobile load, Globe reward points, or unused Globe prepaid or postpaid data to GCash credits that you can use any way you want.
Go back to the main article: How to Use GCash in the Philippines: An Ultimate Guide
Can you convert or send Globe load to GCash? [Quick Answer]
No, it is no longer possible to directly convert Globe mobile load to GCash. Globe has decided to deactivate this feature beginning February 2017 due to fraudulent activities of users who found a way to abuse the system. If you want to fund your GCash account, you can do so through different cash-in or loading options.

Nevertheless, there are apps claiming they can convert your load balance to GCash money. They use direct carrier billing to charge your mobile load balance and send them back to you in the form of GCash credits.
However, the conversion comes with a steep price.
For instance, an app called Load2Cash deducts a 50% transaction fee plus a 12% tax from the final converted amount. This means that for a Php 100 load, you will only get a total of Php 38 worth of GCash money. It doesn't take a genius to realize this is a highway robbery.
Load to Cash, another questionable app recommended by equally questionable websites, works exactly like Load2Cash. The only difference is Load to Cash is a relatively newer app with no user reviews to help you decide whether it's worth a try. But since it basically uses the same business model, it's safe to assume it will likewise put you on the losing end.
There's also the Share Treats app which requires users to buy "treats" using their mobile load, convert it to CLiQQ wallet balance, which can then be redeemed at the nearest 7-Eleven convenience store as GCash funds. Unfortunately, 7-Eleven no longer allows users to convert CLiQQ wallet funds to GCash so the options have become more limited than ever.
How to Convert Load to GCash the Old-Fashioned (But Legit) Way.
Remember "Share-A-Load"? You may have not used this feature as often as you used to but it's one you can rely on if you're desperate to fund your GCash account quickly. Here's how:
Find a Globe mobile user with an active GCash account and who is willing to buy prepaid load from you. Since mobile load can be purchased straight from the GCash app, you've got to do some convincing. Perhaps offer the mobile load for a lesser price in exchange for GCash funds. You can find buyers either from your friends list or any Facebook group that caters to this type of transaction.
Come up with an agreement, making sure both parties clearly understand every detail of the transaction.
Once both of you have accepted the offer, transfer the exact amount of mobile load to the intended receiver. For Globe, you can transfer the load balance by texting the amount to 2 + 10-digit mobile number of the said receiver. Say you're sending Php 100 worth of mobile load. Simply text 100 and send it to 2 + the recipient's mobile number (with the "2" replacing the number 0 prefix, as in 29XXXXXXXXX). Alternatively, load balance can also be sent from an existing Smart mobile number to another. To do this, text the recipient' s 11-digit number<space>amount and send it to 808. Example: 09XXXXXXXXX 100
Have the recipient confirm receipt of the mobile load. Once the other party has received it, ask him/her to send the agreed-upon GCash fund amount to your own GCash account.
Wait for a text message confirming the transfer has been successful. Double-chek if you have received the right amount. Once done, you can now use GCash to pay bills, shop online, and many more.
I can't find anyone willing to buy mobile load from me. Are there other ways to fund my GCash account without cashing in?
Yes, there are. In fact, you might have a good amount of GCash credits waiting somewhere without you even knowing it. For instance, Globe encourages all its subscribers to convert their Globe Rewards points or unused data to GCash. Therefore, if you're short on GCash money and you want to fund your account without jumping through hoops, you can try one of the two methods that will be discussed below instead.
How to Convert Globe Rewards to GCash.
Globe Rewards enable Globe subscribers to earn points every time they use Globe services and products. These points can be redeemed through the Globe Rewards app to avail of exclusive treats, discounts, and other offers.
Until December 31, 20211, you can also redeem Globe Rewards points and have them converted to GCash money.
Take note, however, that this is only available for Globe prepaid or postpaid mobile subscribers. Those with Globe At Home prepaid or postpaid broadband plans can't redeem the points to get GCash funds as there are no GCash accounts connected to their plans.
Each Globe Rewards point is equivalent to Php 1 so redeeming 150 points will earn you Php 150 worth of GCash credits. However, the redemption limit is only 5 times per day per account and the maximum number of points you can redeem each time is 30. Therefore, you can redeem up to 150 points per day which should be credited to your GCash account within 3 days.
To learn how to convert Globe Rewards points to GCash, follow these steps:
1. Download the Globe Rewards app.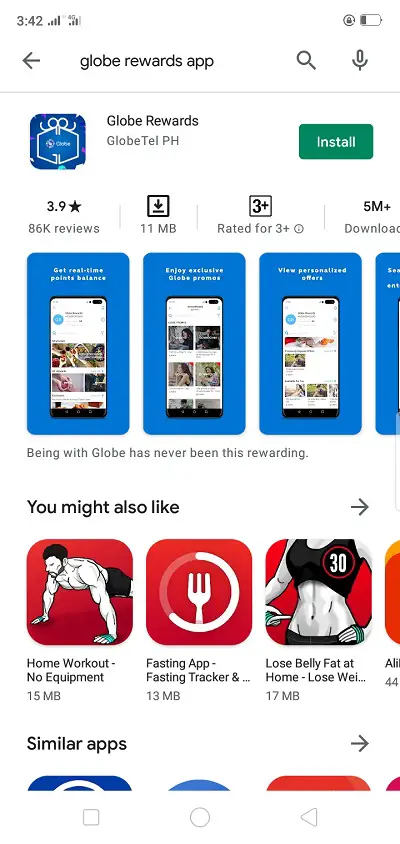 The app will help you monitor how many points you have earned so far and the updated list of offers you can redeem these points for. You can download the free app from Google PlayStore (Android), Apple Store (iOS), or Huawei App Gallery.
2. Enter your active Globe prepaid or postpaid mobile number.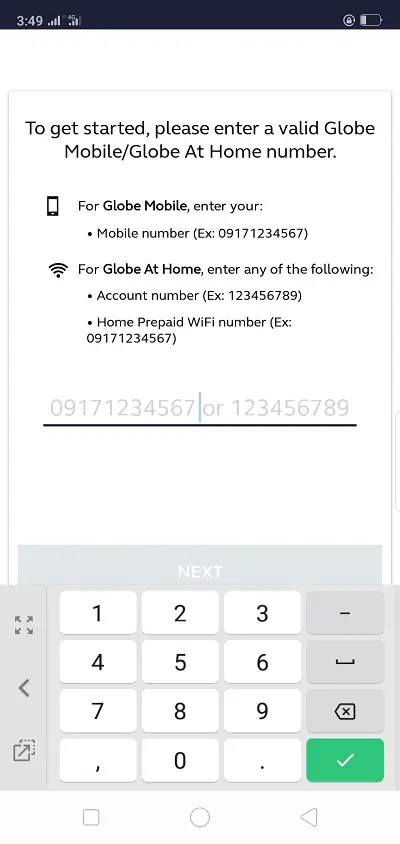 Since you will be converting Globe Rewards points to GCash credits later, make sure you've already created a GCash account with the same mobile number. Globe At Home broadband users, on the other hand, are not able to create a GCash account with the same account number. Hence, they can still redeem points to claim different offers but will not be able to convert them to GCash credits.
3. Choose how you want to verify your account number.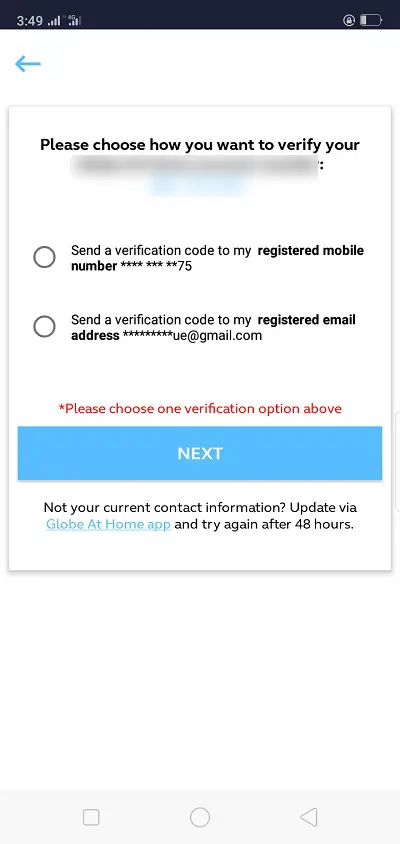 You can opt to have the verification code sent to your registered email address or mobile number.
Once you've selected the verification method, click Next.
4. Enter the verification code sent to you then click Submit.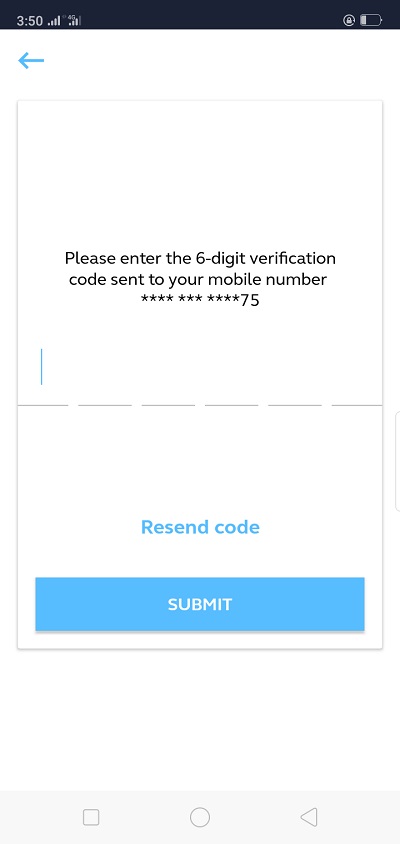 5. Complete your account information.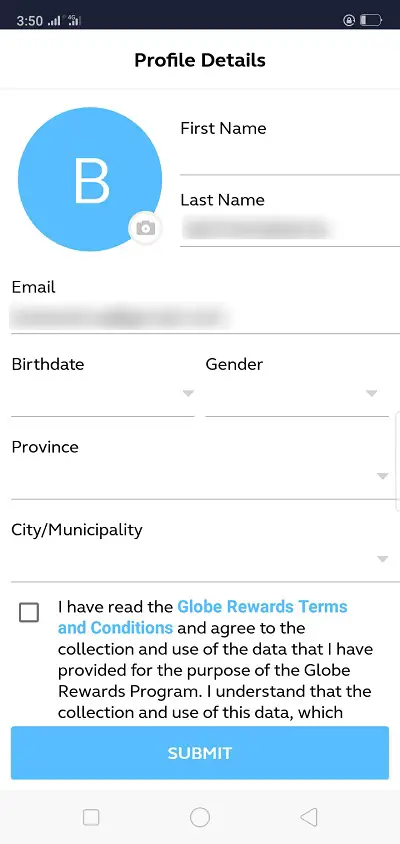 Fill out the Profile Details form with your name, email address, birthday, gender, province, and city/municipality. Tick the box provided after reviewing the Terms and Conditions.
Click Submit.
6. Check your Globe Rewards account and see how many points you've earned so far.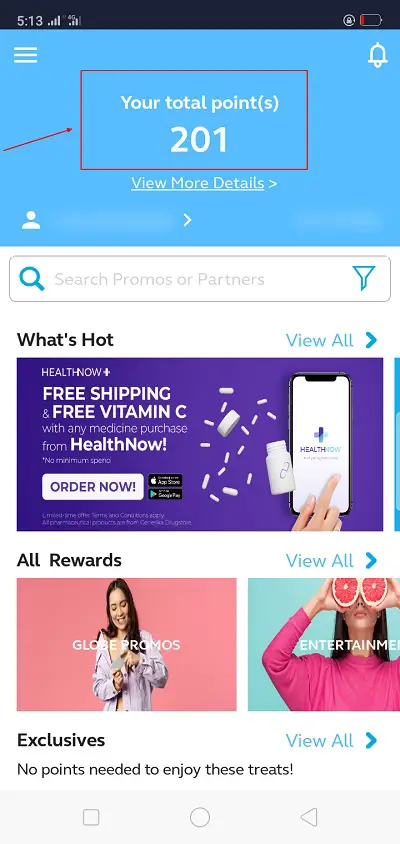 7. Type "gcash" on the search box and select the number of points you want to redeem.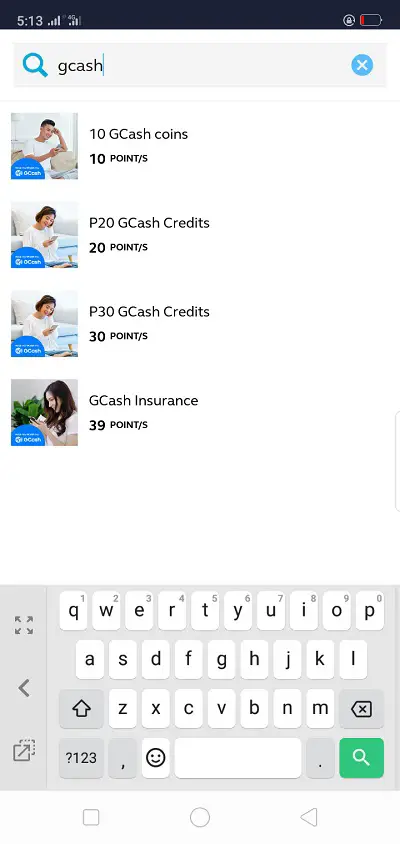 There are three options to choose from: 10, 20, and 30 points which are equivalent to 10, 20, and 30 GCash credits, respectively. Again, the maximum number of points you can claim in a day is 150. Once you've reached this limit, you have to wait another day to redeem the remaining points in your account.
8. Review the details and click Next.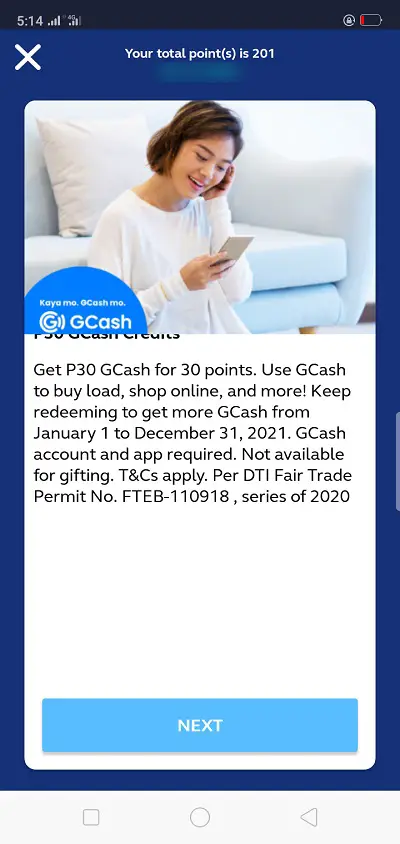 9. Choose between Send as Gift or Redeem Now.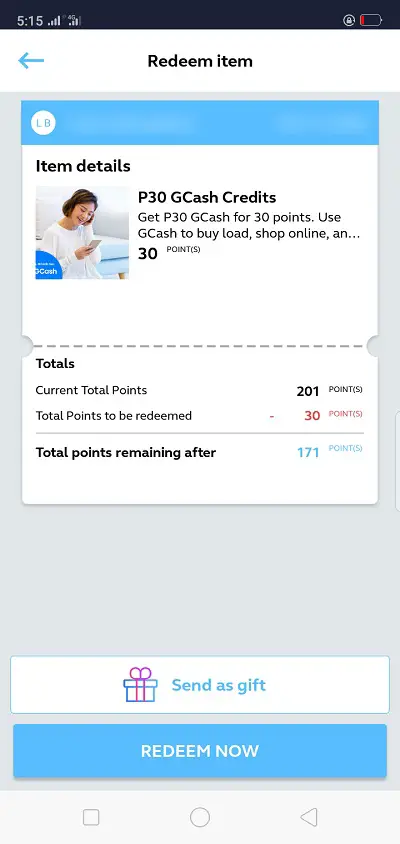 Select Send as Gift if you want to add GCash credits to someone else's account. Otherwise, click Redeem Now to start crediting the GCash money to your own account.
Take note that if you redeem the points for yourself, you can still redeem the remaining points in your account four more times. By contrast, gifting the points to someone else will reduce the redemption limit to only 1 per day.
10. Wait for the confirmation message.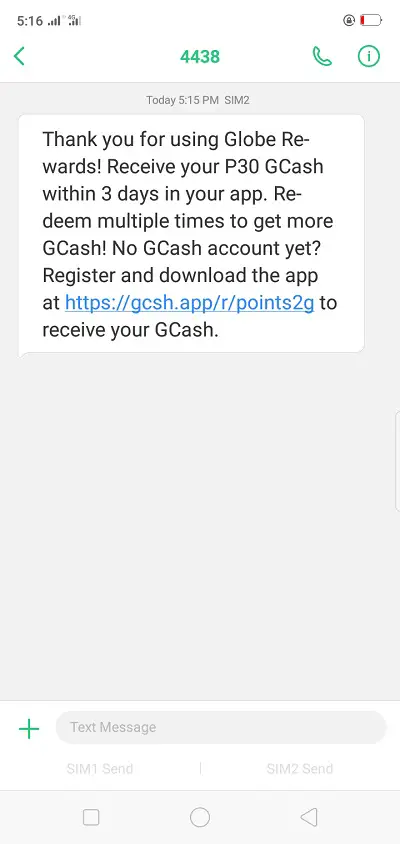 Once you have received the text message from 4438, it will take up to 3 days before the GCash credits reflect in your account. Again, you can redeem points up to 5 times a day per account so if you have at least 150 points and you want to convert all of it to GCash credits, make sure you redeem 30 points each time.
Should you encounter issues receiving the GCash credits, reach out to either Globe or GCash hotline to receive further assistance.
How to Convert Unused Data to GCash.
Do you know that you can also turn your unused data at the end of each billing cycle into GCash credits? I bet you haven't heard about this until now. But if you're the type of user who doesn't fully consume the data allocated to you, having a source of extra GCash money isn't a bad idea at all.
To know the amount of unused data you have accumulated at the end of each billing cycle, you have to download the updated Globe One app. This app will show you the amount of unused data you have and their equivalent reward point/s.
For reference, here's the current conversion rate2 for each type of user:
Prepaid users: 1 GB = 1 reward point
Postpaid users: 1 GB = 10 reward points
Home prepaid WiFi users: 3 GB = 3 reward points
In order to get GCash credits, you must first convert these unused data to Globe Rewards points. Once the points are already in your Globe Rewards account, you can then follow the process discussed previously to convert the Globe Rewards points to GCash credits.
Alternatively, you can also redeem the reward points to avail of discounts or vouchers currently offered in the Rewards app, or use it to buy load or shopping credits, whichever you prefer.
To learn how to convert excess data to GCash, follow these steps:
1. Download the GlobeOne App.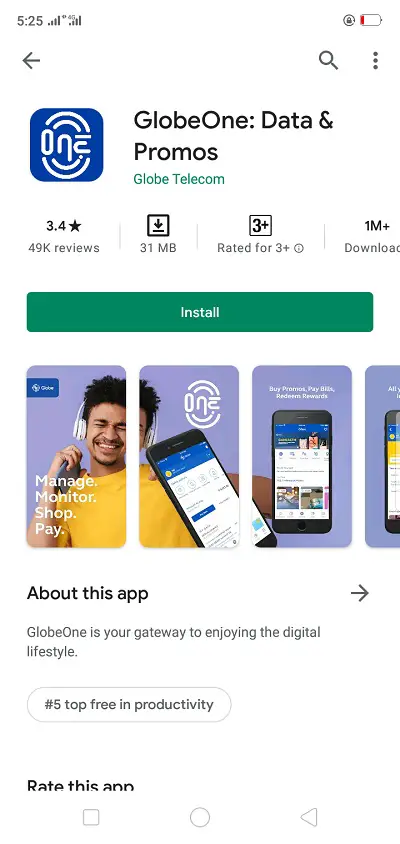 2. Choose how you want to log in to your account. If you don't have an account yet, select Create Account to proceed.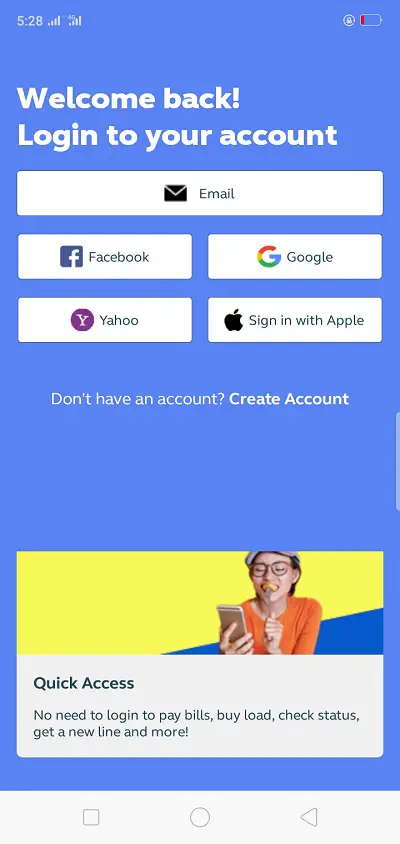 3. Set up your PIN then click Proceed to Dashboard.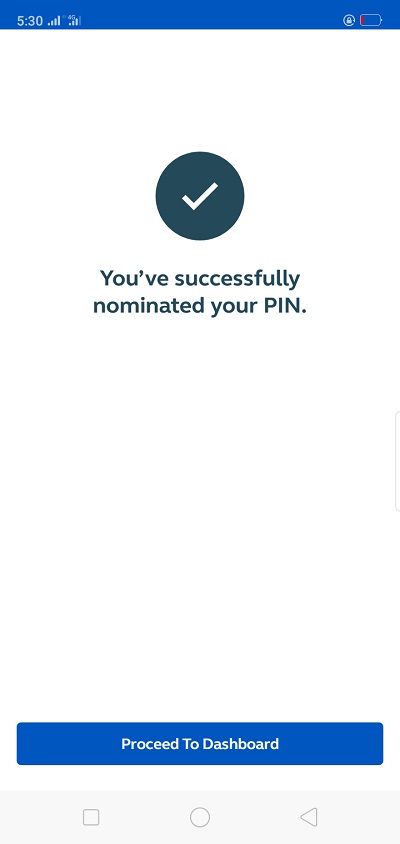 4. Select your account.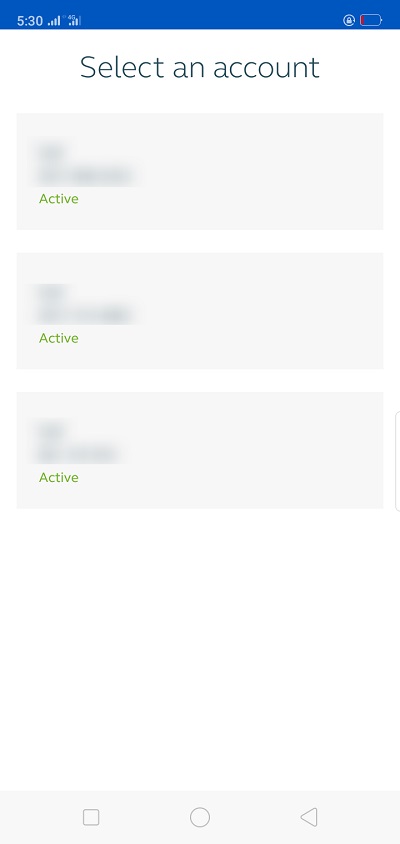 5. Check if you currently have unused data. If there are, click Convert Data.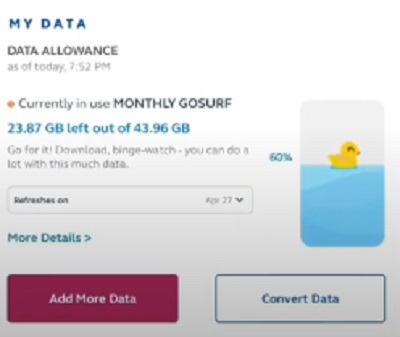 6. Choose the amount of data you want to convert. The corresponding reward points will then be displayed. Click Convert to proceed.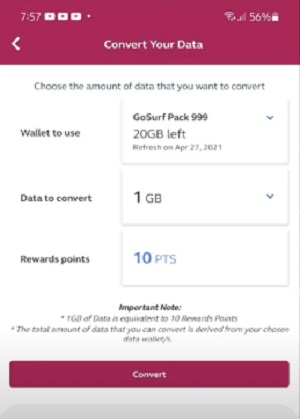 7. Wait for the confirmation message that your data have been successfully converted to reward points.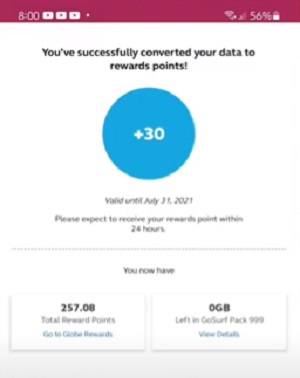 8. Expect to receive the reward points within 24 hours.
9. Open your Globe Rewards app and convert the reward points to GCash credits (see the previous guide for more info).
Go back to the main article: How to Use GCash in the Philippines: An Ultimate Guide
References:
How to Convert Globe Rewards Points to GCash. (2021). Retrieved 7 August 2021, from https://www.globe.com.ph/go/shopping-lifestyle/article/how-to-convert-globe-rewards-to-gcash.html
Fenol, J. (2021). 'As good as cash': Globe says unused data convertible to rewards points, GCash. Retrieved 8 August 2021, from https://news.abs-cbn.com/business/03/25/21/as-good-as-cash-globe-says-unused-data-convertible-to-gcash-rewards-points