Our past is a gallery of winners and losers. While some local brands such as Jollibee have withstood the test of time, there were plenty of other Filipino products that unfortunately received the proverbial ax.
A lot of factors come into play in the demise of a locally-made product. These include poor product quality, stiff competition, terrible marketing strategies,  and massive re-branding among others.
Also Read: 14 Nostalgic Pinoy Foods From Your Childhood That Are Extinct Now
Combine all of these with consumers' preference for foreign products and there goes a certified loser.
For many of us, however, some of the products from yesteryear are not actually losers but well-loved brands that are not meant to stay. Instead, they have become obsolete to serve as a nostalgic reminder of how simple our lives back then.
Take a trip down memory lane with this list of beloved classic Filipino products that have met untimely deaths:
1. Diana Margarine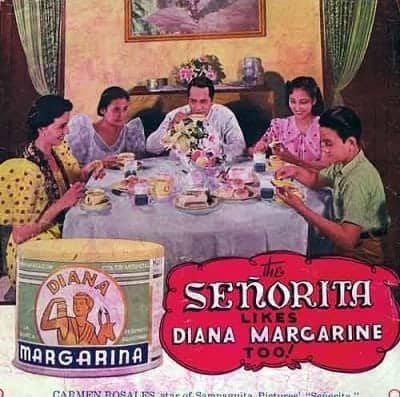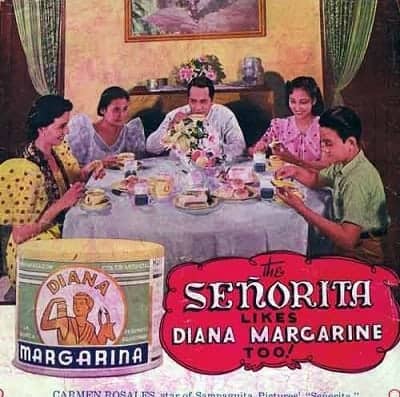 Diana Margarine became popular in the Philippines between the 1930's and 1940's. Similar to Star Margarine, this product was sold in cans and did not require refrigeration. It was manufactured in Manila by Dy Buncio & Co., Inc.
In the product endorsement shown above, pre-war movie star Carmen Rosales (second from right) is referred to as the Señorita, the same name of her hit movie produced by Sampaguita Pictures and directed by Dr. Gregorio Fernandez.
Sitting next to the young Rosales were (from left) Gloria Del Mundo, Rosa Aguirre, Miguel Anzures (assistant production manager), and Narding Anzures.
Narding, son of Rosa Aguirre and Miguel Anzures, was a popular child actor who would later be convicted of murder for killing actress Lilian Velez and her housemaid in 1948.
2. Waling-Waling Face Powder
Popular in the 1940's, Waling-Waling face powder was advertised as "sagisag ng pambihirang kabanguhan at kariktan" and promised to bring "mala bulaklak na kagandahan" to its consumers.
Waling Waling was popular among the masses, just like Gloria and Madame X cosmetics. Most products under these brands were actually imported from China, repacked here, and were given local names.
On the other hand, Spanish and American brands were more popular among the affluent. They include Camay and Gloco from the US as well as Heno de Pravia and Bella Aurora from Spain.
3. Halili Beer
Long before San Miguel Corporation gained a monopoly of the country's beer industry, there was Halili Beer that gave the former a run for its money.
Popular in the 1960's, Halili Beer was manufactured by the F.F. Halili Enterprises, a company established by former Bulacan Governor Fortunato Halili. The company, whose brewery was built along Balintawak in Quezon City, also owned other products and business ventures including Mission Beverages, Goody Rootbeer, and the Halili Transit.
Also Read: 22 Things We No Longer See in Manila
Depending on who you ask, Halili beer and beverages fizzled out either because of a strategic acquisition or lack of leadership. It is said that when Gov. Halili was afflicted with infantile paralysis, no one from his sons took over the business, hence the death of the brand. Another version tells about San Miguel Brewery being threatened by Halili Beer, leading the former to buy out stocks of the latter.
Whatever the real story was, it ended in favor of San Miguel who would eventually regain monopoly of the local beer market.
4. Bataan Matamis Cigarette
Patronized by the masses during the 1940's, Bataan Matamis was a locally-made cigarette sold at a cheaper price. It was manufactured by Bataan Cigar & Cigarette Factory in Binondo during an era when smoking was still perceived as acceptable, cool, and refreshing.
Unlike other brands of cigarette, Bataan Matamis had no filter so smokers would inhale, puff, and literally spit out loose tobacco. Aside from Bataan Matamis, the company also manufactured other variants such as Bataan Hebra, Bataan Hebra Blanco, and Balintawak Regaliz–all of which were heavily advertised in local magazines and newspapers.
5. Sison's Ice Drops
Sison was a local manufacturer of ice drops–those delectable alternative to dirty ice cream or expensive snacks sold by Selecta and Magnolia.
Famous for its all-Filipino flavors such as mongo, buko, keso and pinipig, Sison's ice drops were produced in a factory located at 415-417, 419 Trabajo and 540 Verdad, Sampaloc, Manila.
Before the factory closed down for good, its products were well-loved by kids and adults alike. Mongo and buko flavors were the most popular flavors, and people loved Sison's ice drops for their delicious but not too overwhelming taste. In fact, the ice drops resemble icicles more–they had rich flavoring yet small amount of milk.
6. Royal Lem-O-Lime Soft Drink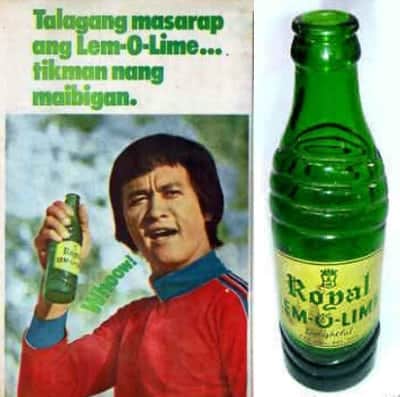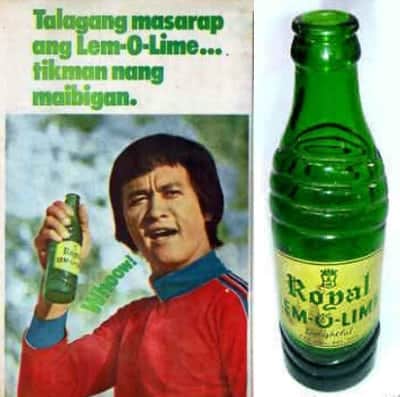 Royal Lem-O-Lime is a discontinued soft drink manufactured by Royal Tru. It was a cheap citrus-flavored soda that became popular from the 1960's until 1970's.
Royal Tru became famous for its fruit-flavored soft drinks such as Royal Tru-Orange, Royal Tru-Lemon, Royal Tru-Dalandan, and Royal Tru-Orange Light. Aside from Lem-O-Lime, other products that went into extinction were Royal Ginger Ale, Royal Tonic Water, and Royal Soda Water.
Royal Tru was first introduced by the San Miguel Brewery in 1922. Five years later, San Miguel became a franchisee of Coca-Cola. Both the Royal Tru beverages and the Coca-Cola franchise would eventually combine to become Coca-Cola Bottlers Philippines, Inc. (CCBPI). Then, in 2007, San Miguel finally sold its entire share of CCBPI (including Royal Tru) to the Coca-Cola Company.
7. 'Ang Tibay' Shoes
Known for its durability, 'Ang Tibay' shoes definitely lived up to its famous tagline: The Wear That Lasts. From the 1900's up to the 1950's, 'Ang Tibay' was almost an indomitable brand of leather footwear, pleasing both locals and foreigners alike.
Just like any great enterprise, 'Ang Tibay' also had a humble origin. It's founder, Toribio Teodoro, was born to poor parents and didn't even complete elementary education. At a young age, he started working in a cigar factory before he switched to slipper making at the age of 20. It was during this time when the idea of starting a business came to his mind.
In 1910, he opened his first shop on Rizal Avenue with the help of his friend and business partner, Juan Katindig. The two eventually parted ways, leaving Teodoro with no choice but to start "Ang Tibay Footwear Factory" on his own. In the span of 10 years, his company gradually emerged as one of the biggest enterprises in the country, earning him the title "Manila's Slipper King."
During the late 1920's, Teodoro ventured into shoemaking. This decision prompted him to hire more employees and build a larger factory in Grace Park in Caloocan. The Art Deco style factory was one of the most modern factories in the country as well as in Asia.
The brand continued to soar until the 1950's and 1960's when the popularity of 'Ang Tibay' shoes slowly faded.
8. Serg's Chocolates
The name "Serg's Chocolates" usually conjure up images of carefree childhood–those times when we all had the luxury to eat a box of chocolates without worrying about tooth decay.
Established in 1954 by Anton Goquiolay, Serg's Products Inc. offered products such as chocolate bars, breakfast cocoa, candies, and instant coffee. The company was named after  Goquiolay's son, Sergio.
Serg's was a force to be reckoned with from the 1950's and well into the 1970's. Its operation was temporarily halted by the martial law era during which the Goquiolay family migrated to the United States. The company later became part of the Asset Privatization program of the government.
In the early '90s, Sergio Goquiolay, then already a professor in the US, decided to return to the country and revive their family business. The plan initially went well, with Serg's even gearing up to export its products to other Asian countries. But all hell broke loose when the 1997 Asian Crisis struck the Philippines. Instead of expanding, Serg's faced massive debts which were made even worse by labor disputes within the factory.
The beloved chocolate factory filed for bankruptcy in 2001. There was a recent campaign to revive Serg's chocolates, but no official statement has been released yet to confirm whether the local brand is coming back for good.
9. Elpo Rubber Shoes
If 'Ang Tibay' was known for its durable leather footwear, Elpo was the local king of rubber shoes. The latter was the brainchild of Don Tomas C. Geronimo who opened El Porvenir Rubber Products Inc. in 1933. The said company was the pioneer rubber shoe manufacturer in the Philippines.
The company's flagship product, the Elpo rubber shoes, was the Philippines' answer to Converse during the 1940's and well into the 1960's. The term "Elpo" was a contraction of El Porvenir which means "the future."
10. Radiowealth Television
Radiowealth may not ring a bell to the younger generation, but it was actually a pioneer company in the local television industry.
It all started when Domingo Guevarra–also credited for creating the first Filipino car called Sakbayan–earned the right to distribute Motorola radio and TV set in 1946. By 1955, his company, Radiowealth, Inc., began manufacturing its own television sets made from imported electronic parts. Theirs were more affordable so many Filipino families had the chance to own this appliance.
Also Read: 10 Fascinating Firsts in Philippine History
In the following years, Radiowealth continued blazing the trail. In 1966, Radiowealth, Inc. started producing 19-, 21- and 25-inch models of TV sets. The Philippines also became the third country to manufacture color TV sets, thanks to Radiowealth.
11. Magnolia Choco-Vim
Magnolia Choco-Vim was the precursor of today's Chocolait. For the baby boomers, this was the ideal comfort drink. It had a rich, creamy, milk chocolate taste loved by all kids.
First manufactured in the 1960's, Choco-Vim came in bottles of different shapes: square, round, and squat. Similar to your typical bottle of Coca-Cola, a single Choco-Vim only costs 35 to 50 centavos back then. You could serve it cold or even frozen–an ideal treat during a hot summer.
Faced by intense competition with other chocolate drink brands such as Milo in the '70s and '80s, Choco-Vim was eventually re-branded as Chocolait.
12. Presto Funwich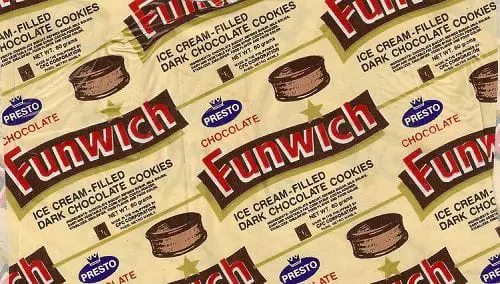 Presto Funwich was the ultimate chocolate snack for those who grew up in the '90s. It was so delectable that some say DQ's own version of ice cream sandwich is no match to this classic and now-defunct brand.
Produced by Consolidated Foods Corporation (now merged with Universal Robina Corporation), Presto Funwich was priced at less than 20 pesos and came in two mouth-watering flavors: Vanilla and dark chocolate. It is best remembered for its luscious ice cream filling complemented by two dark chocolate wafer biscuits.
13. Magnolia Ice Cream – Chico Flavor
Magnolia, a Filipino ice cream brand owned by San Miguel Corporation, unveiled the "Flavor of the Month" in 1954. As the name suggests, it was a way for Magnolia to introduce a new ice cream flavor every month.
The monthly offerings included classic favorites such as Choco Pretzel and Banana Split as well as tropical fruits such as Chico (which became the Flavor of the Month for December).
In 1983, Magnolia released another offering, this time using Philippine fruits and delicacies. Dubbed as "Sorbetes," the special line of flavors include Ube Macapuno, Fruit Salad, and Halo-Halo Fiesta among others.
References
Alcazaren, P. (2002). The way we wore. [online] philSTAR.com. Available at: http://goo.gl/HcaLGq [Accessed 4 Nov. 2014].
Dolor, D. (2013). Beauty products of the '40s. [online] philSTAR.com. Available at: http://goo.gl/J1Nug2 [Accessed 3 Nov. 2014].
Francia, L. (2011). Gaga over dirty ice cream. [online] INQUIRER.net. Available at: http://goo.gl/TiQSaJ [Accessed 3 Nov. 2014].
Go Nuts Donuts Official Website, (n.d.). Company History. [online] Available at: http://goo.gl/Z8glHt [Accessed 4 Nov. 2014].
Jacinto-Lopez, L. (2002). On the street where we lived. [online] philSTAR.com. Available at: http://goo.gl/PdVLWY [Accessed 4 Nov. 2014].
Marci, M. (2014). Whatever Happened to Serg's Chocolates?. [online] Pepper.ph. Available at: http://goo.gl/0FYtul [Accessed 4 Nov. 2014].
Pe, R. (2011). Choco-Vim: The dairy diaries. [online] INQUIRER.net. Available at: http://goo.gl/794LEM [Accessed 4 Nov. 2014].
philSTAR.com, (2013). Kesong puti and other 'Best of the Philippines' flavors from Magnolia. [online] Available at: http://goo.gl/0Rqlz9 [Accessed 4 Nov. 2014].
Roxas, L. (2013). 7 Childhood Snacks We Miss (That They Should Bring Back). [online] Pepper.ph. Available at: http://goo.gl/hEqj4h [Accessed 4 Nov. 2014].
Tan, M. (2010). Yosi. [online] INQUIRER.net. Available at: http://goo.gl/z7iVSu [Accessed 3 Nov. 2014].
The Kahimyang Project, (2013). Today in Philippine History, April 27, 1887, Toribio Teodoro was born in Matang Tubig, Caloocan. [online] Available at: http://goo.gl/DS8rjb [Accessed 4 Nov. 2014].