Jollibee may be the nation's favorite fast-food chain but the humble bee we've always known is more than meets the eye. From urban legends to stories of struggle, Jollibee has its own fair share of life's surprises. Join me as we list down ten of the most interesting facts about the Philippines' beloved bee.
10. Humble Beginnings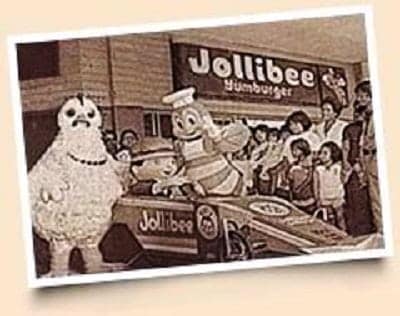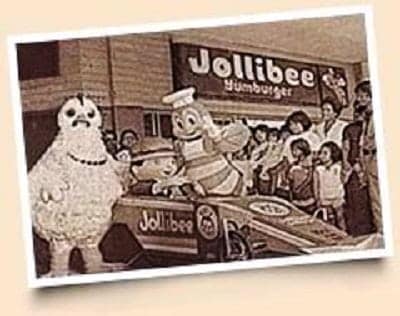 Jollibee's CEO Tony Tan Caktiong was born and raised in a poor family from southeastern China. They migrated in the Philippines to look for better opportunities. And it was in a family-run restaurant business here where Tony learned how to develop an entrepreneurial mindset.
In 1975, 22-year old Tony used family savings to open two Magnolia ice cream parlors in Cubao, Quezon City. The franchise was a hit, thanks to excellent customer service and bigger scoops of mouth-watering ice cream. To reach a larger market, Tony's team sought the help of management consultant Manuel Lumba who later found out that the public was craving for hot snacks such as hamburgers. Despite threats from international brands such as McDonald, Tony officially transformed his store into a burger chain by 1978. The rest, as the cliche goes, is history.
In an interview with Rappler, Tony shared some of his secrets to success:
"If you dream big and put your dreams into action, you will indefinitely make mistakes. But don't be scared to make mistakes. Just be quick to recognize them and learn from them as fast as you can. Learn from each mistake and it will not be a waste of time."
9. Spelling Changes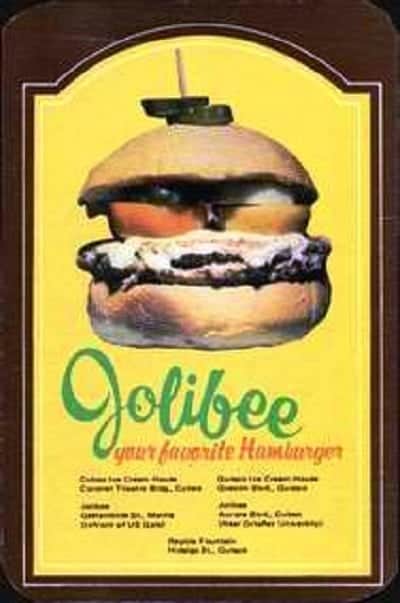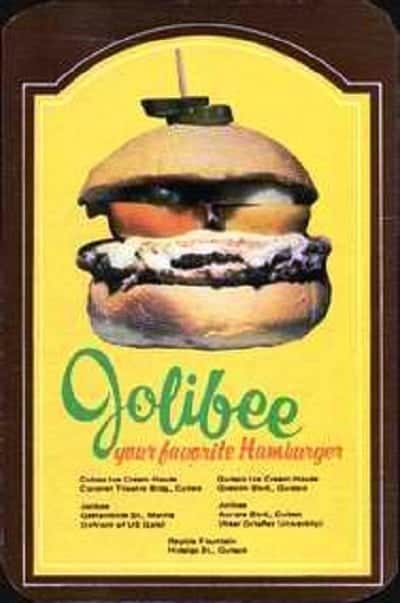 If you're going to ask ten Filipinos to spell 'Jollibee,' half of them would almost definitely commit mistakes. But we can't  blame them: the spelling confusion, after all, can be traced to the fact that the pioneers first named the store 'Jolibe' in the 70's, and then changed into 'Jolibee' (as seen on the 1977 pocket calendar above) and eventually 'Jollibee' after a deliberate branding strategy.
8. The Origin of Jollibee's name and mascot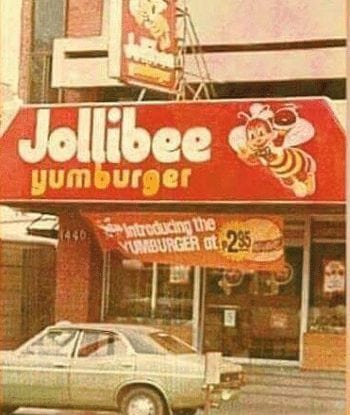 In an article published in The Economist, Tony Tan mentioned that the adorable bee mascot we've always loved represents Filipino spirit: hard-working,  optimistic, and most of all, 'jolly.' Bees, by nature, are hard-working insects who always strive to get honey or the sweetest things that life could offer. And just like a typical working Filipino, bees are "happy even though they're busy."
As for the mascot, Manuel Lumba, who was also Tony's last marketing mentor, drew inspiration from his daughter's comic books. "I began to draw: if Disney had a mouse, why couldn't I have a bee?," he said. "Then I added a chef's hat to suggest quality food, a red dinner jacket with a vest to boot, white gloves that reminded me of Disney characters, and taking inspiration from Tony Velasquez's Nanong Pandak comic-book character, I exaggerated the cheeks."
Lumba was also responsible for changing the restaurant's name to the now-iconic "Jollibee." He said: "Among Filipinos, Jolibe didn't ring a bell. But without throwing it away, we added another "L" and an "E" to now mean a 'jolly bee.' While it was wrongly spelled, I chose to keep it, and now we had a memorable name." 
7. Forgotten Mascots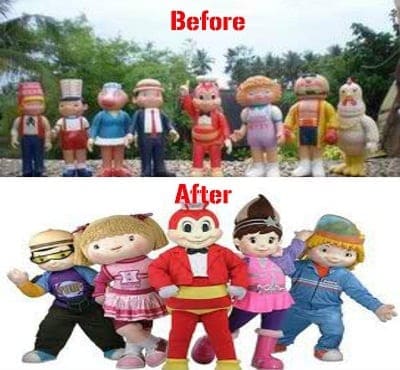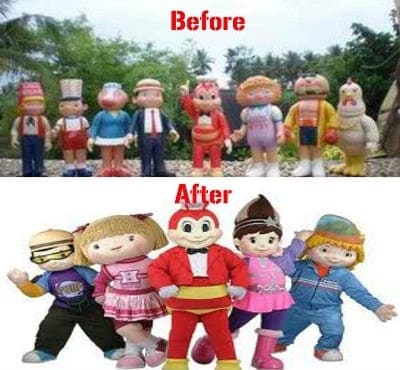 Unlike its counterparts, Jollibee has Disney-inspired mascots that match every food it serves. Apart from the happy bee we've all grown to love, there's also Mr. Yum to represent our all-time favorite burgers; Popo for french fries; Hetty for spaghetti; and the stylish Twirlie for sundaes and other Jollibee desserts. These are the same faces that kids love to watch in Jollitown, a children's program launched by the company in 2008.
Seeing five mascots seems pretty cool, but back in the day, there were actually nine of them. Unfortunately, some of these mascots had to say goodbye to give space for Jollibee's product expansion. In case you don't remember, the discontinued mascots are Chickee, the white hen representing Chickenjoy; Lady Moo and Mico for milkshakes; and the boxer Champ for the Champ Premium hamburger. These lovely characters were introduced in 1987, 1993, 1985, and 1984, respectively.
6. The legend of "earthworm" hamburger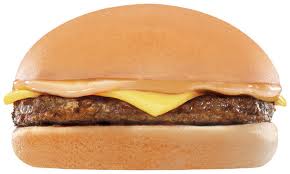 Rumors about earthworms being used as hamburger fillers started way back in the 80's. But health-conscious consumers just couldn't resist entertaining this idea. In fact, a viral email in 2003 bluntly accused Jollibee of serving worm burgers, much to the dismay of burger lovers. According to the unverified source, Jollibee used earthworms to "save production costs" and make their premium burgers "more addictive." The email also went as far as describing Jollibee founder Tony Tan as an entomophagist or a person with an appetite for worms and insects.
But like unbelievable stories, this one soon turned out to be just another urban legend. Virtually all burger chains around the globe like McDonald's also suffered from this libelous tactic. In reality, earthworms are not an ideal ingredient for burgers as it costs $30 per pound in the US–almost five times more expensive than ground beef! If the rumors are true, Jollibee should have been bankrupt a long time ago.
5. The 'Spider-Man' Controversy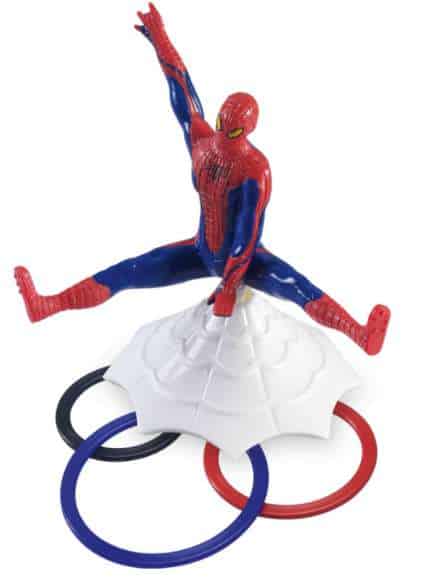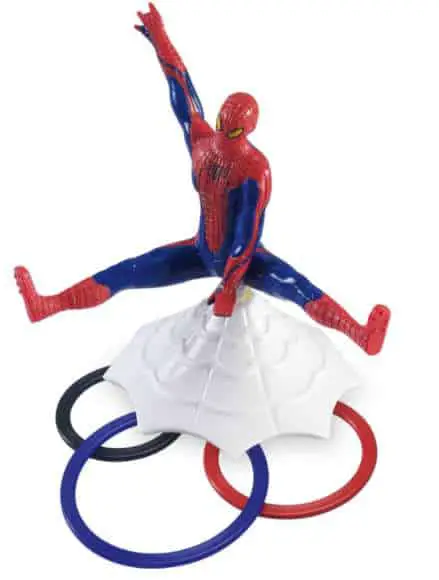 Every time a big superhero movie is about to show in theaters, kids love to flock in Jollibee to get the latest collectible toys. These are often movie tie-ins and portray the lead character doing every crazy moves imaginable. Such was the case with Spider-Man "ring-toss" toy, one of the free items you could get for every Chicken Joy bucket you purchased, and part of a marketing strategy to promote the 2012 installment of the webbed superhero movie. But everything went awkwardly when the final toy design was released.
Looking at Spidey's position above the supposedly frozen web, it seems that critics had all the right reasons to raise their eyebrows. Movieline's Brad Slager described the toy as having a "curious design" and one that commits "rectal violation of the web-slinger."
4. McDollibee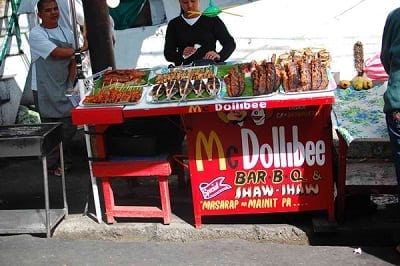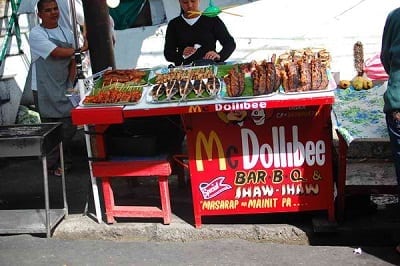 With millions of pesos spent for its trademark, Jollibee is seriously pushing the battle against imitations and counterfeiters. For the company, their strong brand represents the service, ambiance, and experience they've offered to its consumers over the years. Unfortunately, some entrepreneurs are too obstinate to hear Jollibee's call. From a shoe store to an overseas fast-food chain with exactly the same name, cases of trademark infringements continue to give Jollibee a lot of headaches.
But nothing can be more fascinating than Baguio City's very own McDollibee–a combination of the two well-loved fast food giants in the Philippines. So popular is this small barbecue stall that it was even featured by Kapuso Mo, Jessica Soho in one of its episodes. Located at the Baguio public market, McDollibee sells affordable meals and brings a smile to anyone who passes by, thanks to its catchy business name.]
3. 'Dancing Jollibee' Viral Videos
Since its brief exposure on the popular TV musical Glee, Jollibee has brought his online presence to the next level. This time, with a real Jollibee mascot and a whole lot of crazy dance moves. Soon after, the "dancing Jollibee" became a viral YouTube hit and introduced a string of other videos with Jollibee mascots strutting their stuff in children's parties. And to spice things up, Jollibee even went beyond its comfort zone and participated in an epic dance showdown with the likes of Hetty and KFC's very own Chuckie (see video above).
2. DC Comics Appearance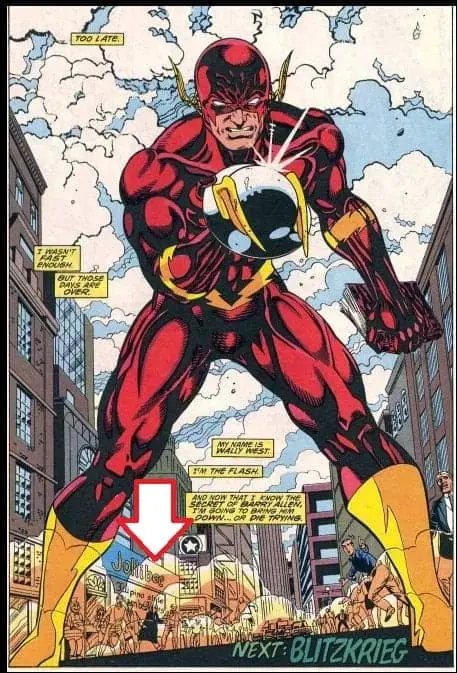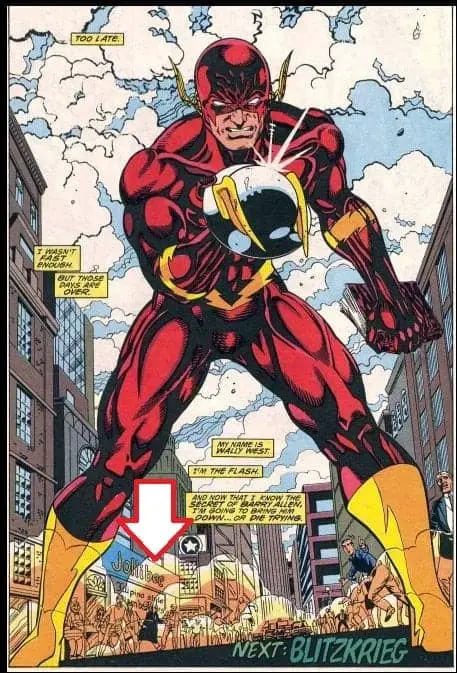 Contrary to popular belief, Jollibee's appearance on Glee was not the first international exposure for the beloved red bee. In 1993, the Pinoy-owned fast-food chain made a special appearance on one of the pages of The Flash # 77. Made by popular artist Greg LaRoque (who was staying in the Philippines at that time), the story "Return of Barry Allen" shows Jollibee and its signature mascot behind the panic-stricken Americans.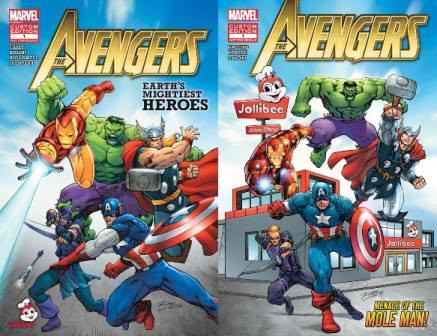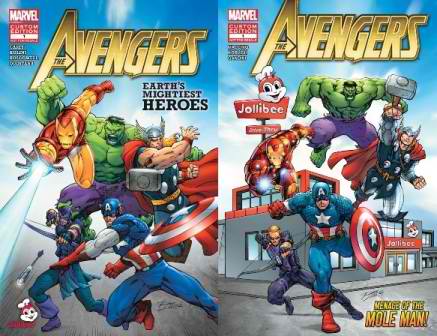 And to celebrate the 2012 movie The Avengers, Jollibee once again made its presence known in the comics world. Exclusively written for Jollibee, the 8-page comic book Avengers: Menace of the Mole Man #1 featured the villain Mole Man as he brought chaos in no less than Manila, Philippines. Written by comics legend Ralph Macchio, the story shows a Jollibee branch and its feisty store manager who later became an honorary Avenger. Of course, the adventure won't be complete without Thor, Iron Man, Incredible Hulk and the rest of the gang.
1. Jollibee as McDonald's biggest "embarrassment"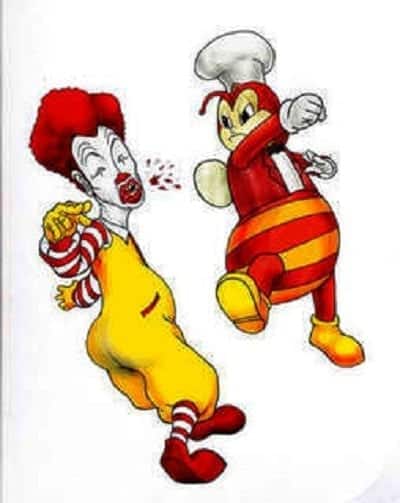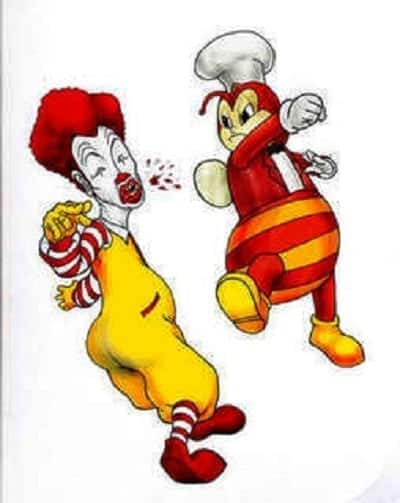 In a country that loves to patronize foreign brands, Jollibee proves to be an exception. From the time it was founded by Tony Tan in the late 70's up to its recent international expansion, Jollibee remains an undisputed force in the local fast food industry. And the fact that The Economist named Jollibee as "a huge embarrassment to McDonald's" in 2002 speaks highly of the local brand's dominance.
But how did a happy-go-lucky bee manage to beat a superstar clown over the years?
For food consultant Gene Gonzales, there are two major reasons why Jollibee always rules: a recipe tailored for the local taste buds and a strategic marketing campaign that promotes Filipino values such as "respect for elders, patriotism and loyalty to the family." 
References
Behold The Geek,. (2012). Jollibee's First Marvel Comic Appearance is Crazy and Amazing. Retrieved 2 October 2015, from http://goo.gl/05JPNV
Filipino Librarian,. (2005). Jollibee and McDonald's. Retrieved 2 October 2015, from http://goo.gl/lZoaWk
Flores, K. (2010). Jollibee appears on 'Glee' episode. ABS-CBNNews.com. Retrieved 2 October 2015, from http://goo.gl/LWWKVr
Imbong, P. (2015). The untold story of how Jollibee came to bee. Entrepreneur Philippines. Retrieved 2 October 2015, from http://goo.gl/BU2PpP
Lowe, A. (2013). Don't be scared to make mistakes – Jollibee founder. Rappler. Retrieved 2 October 2015, from http://goo.gl/aPTWQv
Slager, B. (2012). The Odd Marketing of The Amazing Spider-Man — Spinning a Web of Receipts.Movieline. Retrieved 2 October 2015, from http://goo.gl/5ibIWH
The Economist,. (2002). A busy bee in the hamburger hive. Retrieved 2 October 2015, from http://goo.gl/iTLuxZ