Are you a passionate and business-minded individual looking for an exciting venture? Are you contemplating getting a franchise of a thriving business and an established brand? Do you want to promote a Filipino brand to the world?
If you have sufficient funds and excellent management skills, you might be interested in exploring a franchise deal with Jollibee.
Jollibee is a dominant market leader in the foodservice industry in the Philippines and in Asia. With over 1,500 stores around the world, it has proven its profitability and resilience in the face of economic challenges through its 44 years of existence.
Read on to find out if you have what it takes to be a Jollibee franchisee.
Table of Contents
Key Facts About Jollibee Foods Corporation (JFC)
History
Jollibee is one of the most popular homegrown brands in the Philippines. Starting with two franchised ice cream parlors in Manila and Quezon City, keen entrepreneur Tony Tan Caktiong observed and responded to market demand by expanding their menu to include fresh meals and sandwiches. As these quickly became hot selling food items more than the desserts, he decided to end the ice cream franchise and replaced them with his own fast food outlets in 1978. 
The menu offered in the 1980s consisted of what would be known as Chickenjoy, Jolly Spaghetti, and the Yumburger, all of which are being enjoyed and loved by Filipinos anywhere in the world.
A Multinational Company
Today, Jollibee is the largest fast-food chain brand in the country as it stays true to its mission1 of serving great-tasting food and bringing the joy of eating to everyone. It is the flagship brand of the Jollibee Foods Corporation (JFC) Group, which also carries local food brands such as Greenwich, Chowking, Mang Inasal, and Red Ribbon. 
For the past several years, JFC has taken an aggressive expansion and acquisition strategy to achieve its vision of being one of the top 5 restaurant companies in the world. 
Aside from the local food brands, JFC has acquired2 several other quick-service restaurant brands worldwide: 
Burger King – bought a 54% stake in the Philippine franchise in 2011
Pho24 – established a 60/40 joint venture in 2018 under the SuperFoods Group
Panda Express – entered a joint venture agreement in 2019 through JBPX Foods Inc.
Highlands Coffee – acquired through the SuperFoods Group
Yonghe King – a fast-food noodle store based in Shanghai, China which was bought in 2004 and was acquired 100% in 2016
Hong Zhuang Yuan – Beijing-based congee restaurant chain acquired in 2008
Dunkin' Donuts – entered into a joint venture in 2015 to operate stores in China
Tim Ho Wan – acquired 100% of the Asia Pacific master franchise in 2018; slowly increased investment through the years and completed 100% buyout in 2021
Hard Rock Café – acquired through the Superfoods Group
Smashburger – purchased a 40% stake in 2015 and completed a full acquisition in 2018
The Coffee Bean and Tea Leaf – acquired in 2019
Milksha – purchased 51% of shares through Jollibee Worldwide in 2021
Yoshinoya – established a 50/50 joint venture in 2021 to hold the Philippine franchise
Jollibee Stores Around the World
As of February 2022, JFC3has a total of 5,961 stores from 18 brands across 34 countries. Jollibee accounts for 26% of the total store network at 1,527 outlets. It has a presence in various countries such as the United States, Canada, Hong Kong, Macau, Brunei, Vietnam, Singapore, Malaysia, Saudi Arabia, United Arab Emirates, Qatar, Oman, Kuwait, Bahrain, Italy, and the United Kingdom.
| | |
| --- | --- |
| Location | Number of JFC stores |
| Philippines | 3220 |
| International | 2741 |
| Total | 5961 |
Here's a closer look at the food brands with the largest number of restaurant outlets under the JFC group:
| | |
| --- | --- |
| JFC Brand | Number of stores |
| Jollibee*  | 1527 |
| Coffee Bean and Tea Leaf | 1055 |
| Chowking* | 606 |
| Mang Inasal | 577 |
| Red Ribbon* | 552 |
| Highlands Coffee | 492 |
| Yonghe King | 403 |
| Greenwich | 269 |
| Smashburger | 246 |
*includes local and international stores
Financial Performance
JFC's system-wide sales (SWS) in 2021 (JFC, 2022) generated PHP 211.7 billion, a 20.3% increase from the previous year. The SWS is attributed to consolidated sales to consumers from both the company-owned and franchised stores across all brands. Consolidated revenues for 2021 amounted to PHP 153.6 billion, up by 18.8% from PHP 129.3 billion in 2020.
JFC attained an operating income of PHP 6.3 billion in 2021, a remarkable feat from the operating loss of PHP 12.8 billion in 2020 and comparable to PHP 6.5 billion in 2019.
Impact of Covid-19 Pandemic
In response to the economic downturn brought about by the pandemic, JFC spent PHP 6.7 billion on its Business Transformation Program to rationalize its global business operations. It is expected to generate PHP 2.6 billion in annual savings for the group in the coming years.
Based on their 2020 annual report4, JFC permanently closed 486 stores worldwide and four commissaries in the Philippines, which decreased their workforce by 20%. Meanwhile, they focused on the international expansion of their store network by opening 257 outlets abroad and 81 stores within the Philippines.
Despite the negative impact of the Covid-19 crisis, JFC remains to be a stable and profitable company as it continuously improves its operations and offers new products and promos to its customers.
Jollibee Franchise: Is It Right for You?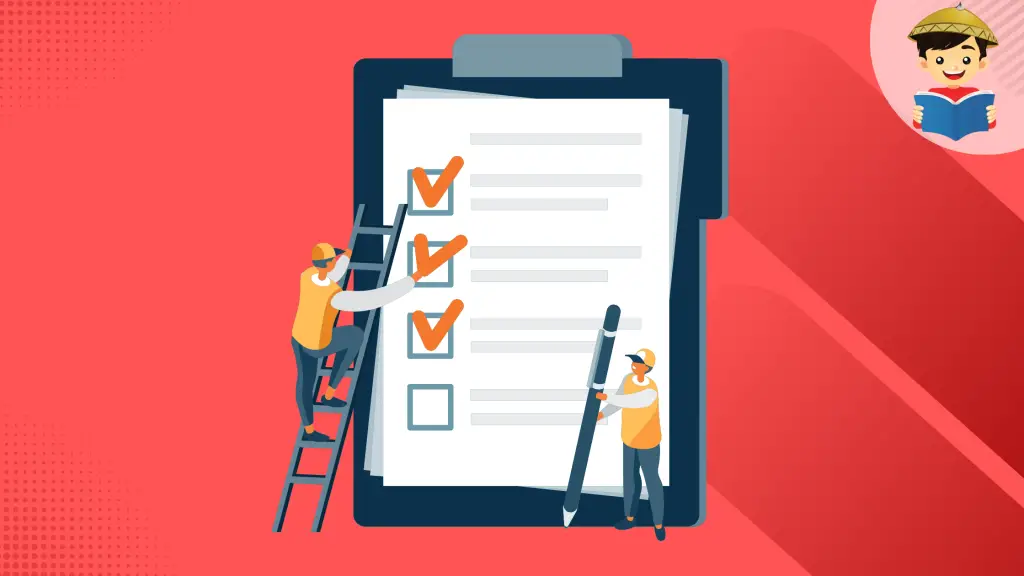 Acquiring a franchise has its benefits as well as risks. You may check this article to learn more about the franchising business model.
Applying for a franchise of a Jollibee store is a huge investment, not only financially but also in other aspects.
Answer the following questions to see if you are fit to be a Jollibee franchisee:
Are you an entrepreneur who is self-driven?
Do you know how to motivate employees?
Are you willing to devote time to overseeing the day-to-day operation of your restaurant?
Are you willing to undergo full-time training in restaurant operations?
Do you have significant financial resources to fund the investment requirement?
If you answered "Yes" to all these questions, then you are on the right track.
If you are determined to be a Jollibee franchisee, you need to scout for the best site to ensure the success of your business. Learn how to choose the right location for your restaurant in this article.
On the other hand, if you feel that you are not yet fully prepared to venture into a Jollibee franchise, you may look at other franchise opportunities that would better suit your personality and capabilities.
Once you decide that you are ready to explore operating your own Jollibee store, it's time to look at the requirements and application process.
Jollibee Franchise: In the Philippines
Required Investment
Presently, the required investment to franchise a Jollibee store ranges from PHP 35 million to PHP 55 million depending on the final store size, concept, and facilities. The investment covers the store layout and design, construction, kitchen equipment and facilities, furniture and fixtures, air conditioning system, signage, and other pre-operating expenses.
Note that there are other costs associated with the operations of the restaurant that are not included in the initial investment. These are fees for store promotion and advertising, various services including repairs and maintenance, management, and royalty fees which is a percentage of the monthly net sales. 
Likewise, the food costs, inventory, personnel salary and wages, lease rates, and other related expenses are excluded and are assumed by the franchisee.
Application Process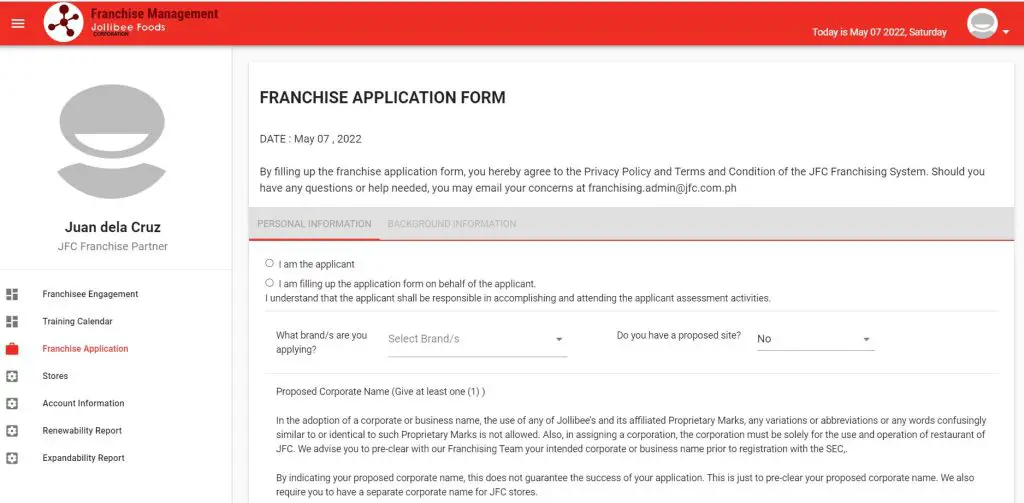 Create an account at JFC's Franchise Management app. You can track the status of your application in your account.
Fill up the online application form found in the app, providing your personal and background information. You will be asked to upload a vicinity map and provide pertinent details of your proposed site (if any).
The proposed location will be assessed by the franchise team, together with your application documents.
An interview will be scheduled to discuss investment costs, return on investment, and other franchising details.
Once the franchise is approved, you will need to attend and successfully complete the Basic Operations Training Program at a designated training store.
Note: You can still apply even without submitting a proposed site. Your profile will be stored in the database for future reference. However, interested franchisees with a proposed location will be prioritized in processing their application, which may take several months.
Jollibee Franchise: International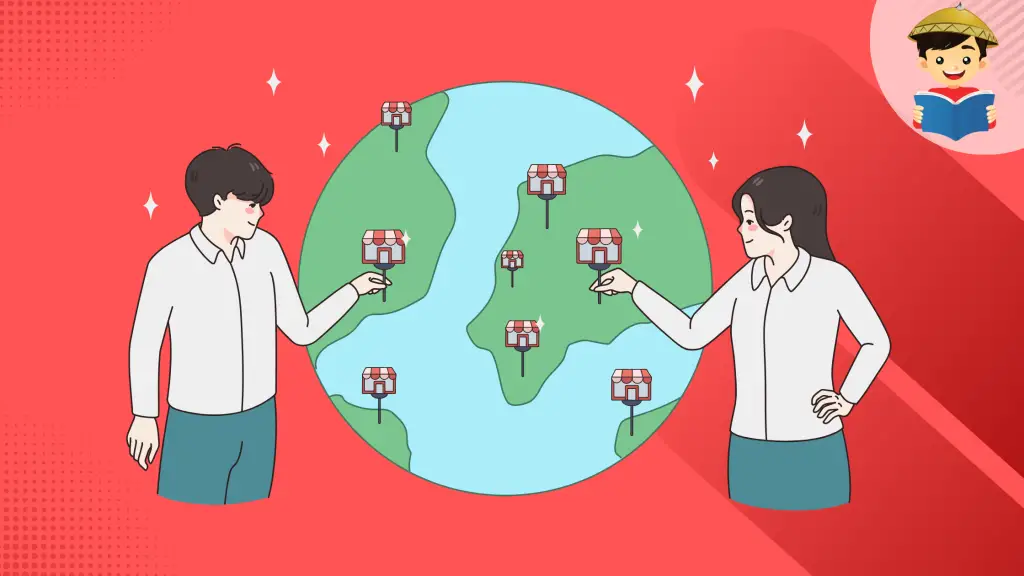 Qualifications
Jollibee has the following criteria for international5 franchisees:
Has good corporate standing and reputation
Has corporate values that are aligned with Jollibee
Has a strong belief in the Jollibee brand and commitment to partnership
Has the capability to fund and successfully operate the business
Has the capability to acquire sites
Application Process
You need to email the following documents to [email protected]:
Letter of Intent (include the Country or Area of interest)
Company and Personal Profiles
Investment and Costs
The following table6 lists the required investment for international stores:
| | |
| --- | --- |
| Country | Total Investment |
| US | $450,000 to $800,000 |
| Canada | CA$575,000 to CA$1,025,000 |
| United Arab Emirates | AED 1,650,000 to AED 2,938,000 |
| Singapore | SGD 597,000 to SGD 1,062,000 |
| United Kingdom | £333,000 to £592,000 |
| Malaysia | RM 1,82 million to RM 3,24 million |
| Saudi Arabia | SR 1,69 million to SR 3,00 million |
The net worth requirement of a potential franchisee is $5 million.
Jollibee Franchise: Profitability
For both local and international franchises, the financial feasibility will be discussed in detail once your application is accepted and you are scheduled for an interview.
JFC does not disclose the projected profitability of franchised stores in public as it greatly varies depending on the market potential, forecasted sales, and the franchisee's capability to manage the operations of the restaurant.
Jollibee Franchise vs. Competitors
In comparison to Jollibee, the initial capital expenditure for a McDonald's7 franchised store is around $1 million or PHP 52 million. The final amount will depend on the restaurant type, size, and site location.
The investment includes
Architectural planning and global design fees
Construction, leasehold improvements, and other relevant site work needed
Air-conditioning system, kitchen exhaust, and stainless fabs
Point of sale system
Kitchen equipment, seating, signage, etc.
Other furniture and fixtures
Government-mandated documents
On the other hand, a KFC8 franchise investment starts at PHP 19 million depending on the store type, area, and location.
Tips and Warnings
There is a certain profile the Jollibee management is looking for in a franchisee. More than the capacity to invest, they are rigorously screening for motivated entrepreneurs who are committed to managing the restaurant and upholding the Jollibee brand and Filipino family values in their stores.
The proposed site is a major factor in the approval of your application. Make sure that you conduct in-depth research of your location to determine business feasibility, competition, and the target market in the area.
A major misconception in a fast-food franchise business is that it can easily operate on its own due to the established system and processes of the franchisor. In fact, the franchisee still needs to put in the work to manage the business operations and increase profitability by controlling costs, motivating employees, maintaining food quality, and improving customer service.
Frequently Asked Questions
1. Does Jollibee provide financing for the franchise investment?
No. Jollibee does not provide any direct or indirect financing for franchisees. Only those who can fund the investment fully will be considered in the application.
2. Can a corporation apply for a franchise?
Franchises for local stores are only awarded to individual entrepreneurs. However, if your franchise is approved, you can create a corporation to manage the business, provided that you can show that you have the majority of the ownership.
3. What is the store's required lot size or floor area?
The final property size of the store will depend on the model or concept that will be chosen and discussed with the franchisee.
4. How long is the training program for franchisees?
Approved franchisees are required to complete the full-time Basic Operations Training Program at a designated training store, which usually lasts for 3 months. Refresher or supplemental training programs may be provided and required throughout the franchise term.
5. Who will provide the manpower to operate the restaurant?
Jollibee will assist in recruiting and training store crew members. During training, the franchisee will provide the salary and benefits of the employees.
References