Last Updated on 07/21/2020 by FilipiKnow
This article has been reviewed and edited by Miguel Dar, a CPA and an experienced tax consultant who specializes in tax audits. He provides tax advice to various start-up enterprises and clarified tax concerns of individual taxpayers. This includes assisting clients in registering their businesses, tax and bookkeeping training for start-up businesses, settling open cases, tax planning for future tax compliance and answering tax-related inquiries. 
The eBIRForms is a system that enables non-eFPS taxpayers in the Philippines to prepare and file their tax returns conveniently and accurately. It's available to everyone with or without internet access.
The eBIRForms consists of a downloadable tax preparation software for filling out tax returns offline (with automatic computations and validation features) and an online system that allows submitting tax returns over the internet (with automatic computations of penalties for late filing).
Disclaimer: This article is for general information only and is not substitute for professional advice.
Go back to the main article: How to File Income Tax Return in the Philippines: A Beginner's Guide
Who can use the eBIRForms?
The following non-eFPS taxpayers are required to file and pay taxes using the eBIRForms:
Accredited tax agents and their client-taxpayers
Accredited printers of receipts or invoices
One-time transaction (ONETT) taxpayers who are real estate agents or developers
Taxpayers filing a "No Payment" return
Local government units, except for barangays
Cooperatives registered with the National Electrification Administration and Local Water Utilities Administration
Other taxpayers such as self-employed individuals are not required to use the eBIRForms. However, they can still file and pay taxes online through this electronic system.
Who are exempted from ITR filing and payment through eBIRForms?
The eBIRForms facility can be too complicated for the non-tech-savvy to learn. If you're one of the following people, you are exempted from using eBIRForms and may file manually instead:
Senior citizens and persons with disabilities (PWDs) filing their own return
Employees with two or more employers during the taxable year
Employees with one employer and whose income tax has been withheld correctly, but whose spouse is not qualified for substituted filing
Employees qualified for substituted filing but chose to file an ITR on their own for loan, international travel requirement, promotion (in the case of AFP/PNP), or scholarship purposes
How to file and pay ITR using the eBIRForms.
Steps to file eBIRForms offline.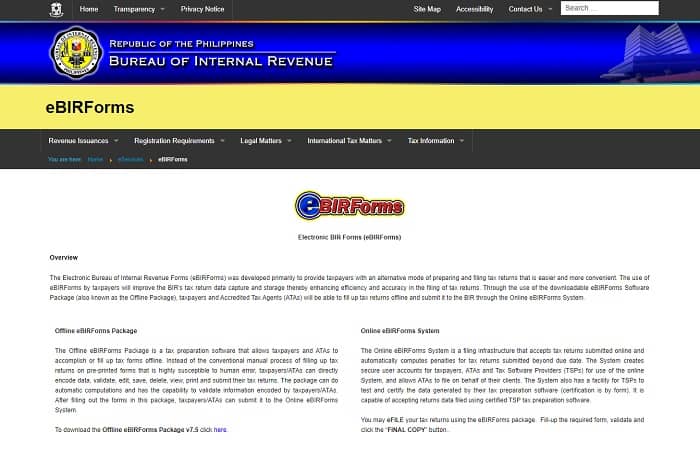 Access the eBIRForms page or the BIR website homepage.
Click on the eBIRForms icon to download the offline package, which is in the ZIP file format.
Extract the files from the downloaded zipped folder on your computer.
Right-click on the Offline eBIRForms Package.setup.exe file and click on "Run as administrator" to install the eBIRForms package on your computer.
Once the installation is complete, locate the "BIRForms" program on your PC. Click on it to open.
Create your user profile. Fill out the Offline eBIRForms Profile Page with the required information.
Click the Fill-up button. This will display the full image of the ITR you selected.
Fill out the applicable fields on the ITR. When you're done, click the Validate button.
If the system detects any blank field or incorrect information, you'll see a pop-up that asks you to do the necessary action. Once you've completed the required action, a message confirming the successful validation will appear.
Click the Final Copy button to save a copy of your ITR to your computer or flash drive.
Check your email for the confirmation status from the BIR. Print it along with three copies of your accomplished ITR.
Go to the nearest authorized agent bank (AAB) under the jurisdiction of the Revenue District Office (RDO) where you're registered. If there's no AAB in your area, visit the Revenue Collection Officer or authorized city/municipal treasurer in your RDO.
Submit your accomplished ITR plus the requirements.
Receive your copy of the stamped and validated ITR and deposit slip from the teller (or Electronic Revenue Official Receipt or eROR if you paid tax in the RDO).
An easier way to pay your tax is to use an online payment method such as GCash or an accredited bank's e-banking service. If you're paying taxes online, you should file your ITR with your RDO.
Steps to file eBIRForms online.
The procedure for e-filing your ITR via eBIRForms is almost the same as the offline filing process. The difference, however, is that after printing your accomplished ITR, you click the Submit button to forward its online version to the BIR.
The system will then present you with two options, whether to transmit your ITR via eBIRForms or eFPS. Choose the appropriate e-filing system.
Afterward, proceed with the payment of your tax due.
READ: Tax in the Philippines: An Ultimate Guide to Filing and Paying Taxes