For many graduating senior high school students, passing the UPCAT and getting into the University of the Philippines (UP) is one of their primary goals.
Because of this, it's no wonder hundreds of thousands of aspiring Iskolar ng Bayan take the exam yearly. Out of the vast sea of applicants, only a handful are selected to enter the prestigious university. 
If you're one of those aspiring applicants, the first step in getting into your dream university is overcoming the UPCAT. If you're ready to take on the challenge, read on and check out our comprehensive guide on everything you need to know about the UPCAT.
UPDATE: UPCAT is back. After over two years of postponement because of the global pandemic, the UP Office of Admissions was reinstated last June 3 and 4, 2023. Aspiring students must now pass the UPCAT to be part of any constituent university or "campus" of the UP System.
Reviewing for UPCAT? Check out our Ultimate UPCAT Reviewer
Table of Contents
Who Is Qualified To Take the UPCAT?
Anyone, regardless of age, gender, or religion, can apply for the UPCAT as long as they satisfy the following requirements:
Individual must have graduated high school or earlier and have not taken any college courses; OR
Individual must be a graduating student from a DepEd-recognized senior high school or an accredited high school abroad; AND 
Individual must be able to submit final grades from the last four years (from grade 8 to 11) before the year of graduation; AND
The individual has not taken the UPCAT yet.
What Are the Requirements for UPCAT?
Before applying, make sure you have these documents on hand. Failure to submit the required documents will not get your test permits processed.
CATEGORY OF APPLICANT
REQUIRED DOCUMENT
For ALL applicants
Four (4) recent 2×2 photographs (must be IDENTICAL)
Fully accomplished UPCAT Forms:
1. Personal Data Sheet (Form 1)
2. High School Profile(Form 2A). Note: Your school must be the one to accomplish this form
3. High School Record (Form 2B)
4. Certified True Copy of the Permanent Secondary School Record (F137/SF10) signed with the wet signature of authorized school personnel (sealed in an envelope with a wet signature on the flap). Note: You must submit this document to the UP Office of Admissions located at Kalaw St., UP Diliman, Quezon City

IF high school graduate
High school diploma (original and photocopy)
ONLY IF transferee (i.e., the applicant took subjects from another high school)
Certified clear photocopy of the Permanent Secondary School Record (Form 137) from the other school with all the grades earned within
FOR Foreign Applicants Only
Proof of payment of the UPCAT application fee
How To Apply for UPCAT in 3 Steps
1. Prepare the requirements
a. UPCAT Application Form (Form 1)
You can complete the UPCAT Application Form (Form 1) in two ways: MANUALLY or ONLINE. 
Applying manually
Manual applications are only available in selected regions. Contact your school registrar or principal for more information to find out how to file your application manually. If you have already graduated high school, you may send an inquiry to the UP Office of Admissions to know more.
Only get the application forms from the official UPCAT website to ensure you get the latest ones. Here are what the application forms look like: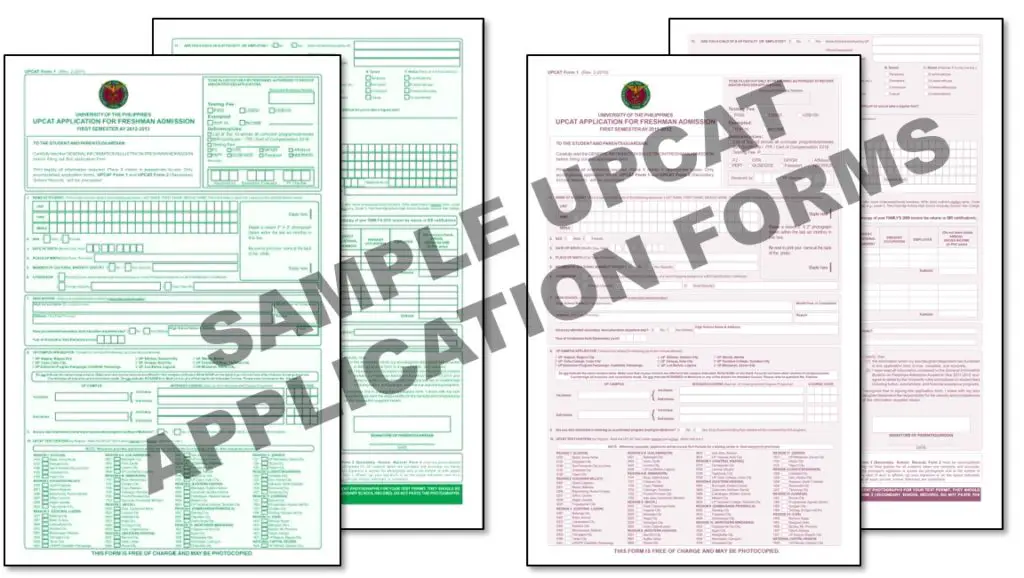 Applying through online
Everything is going digital nowadays, including the application process for the UPCAT. This is the most recommended way of application because it's faster, easier, and more convenient for most UPCAT takers. 
Step 1. Go to the UPCAT Online Application website and click "SIGN-UP HERE."
Note: If you cannot find the "SIGN-UP HERE" button, the UPCAT Application process may still not be open. Check the UPCAT website to know when the application process starts.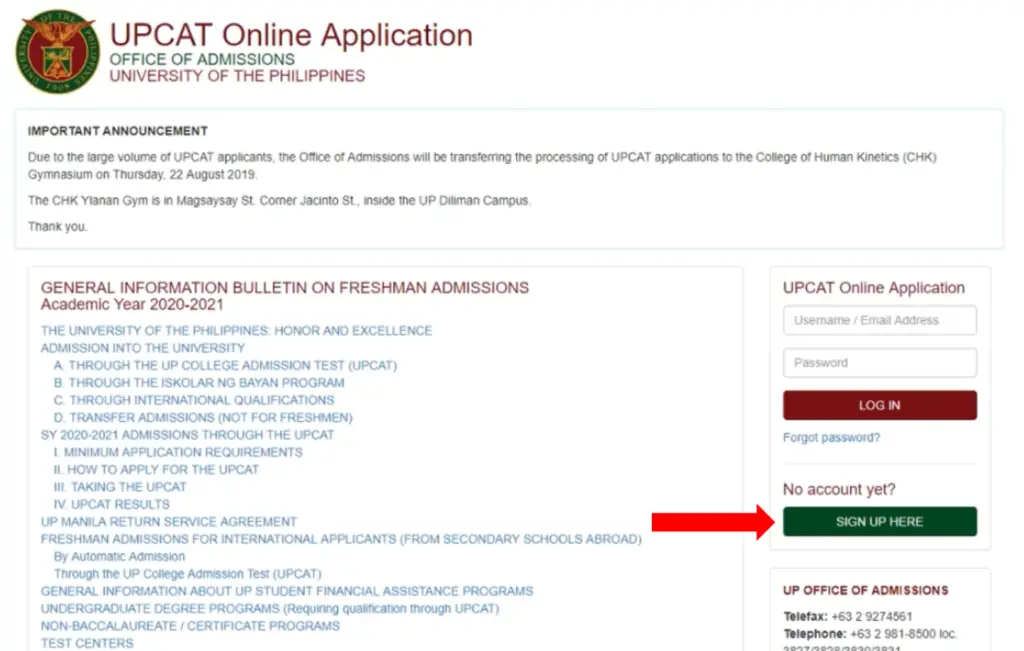 Step 2. Fill out the sign-up form with all the details asked. Ensure every detail here is accurate and error-free because once you submit your application, you can no longer edit any information afterward (except your password).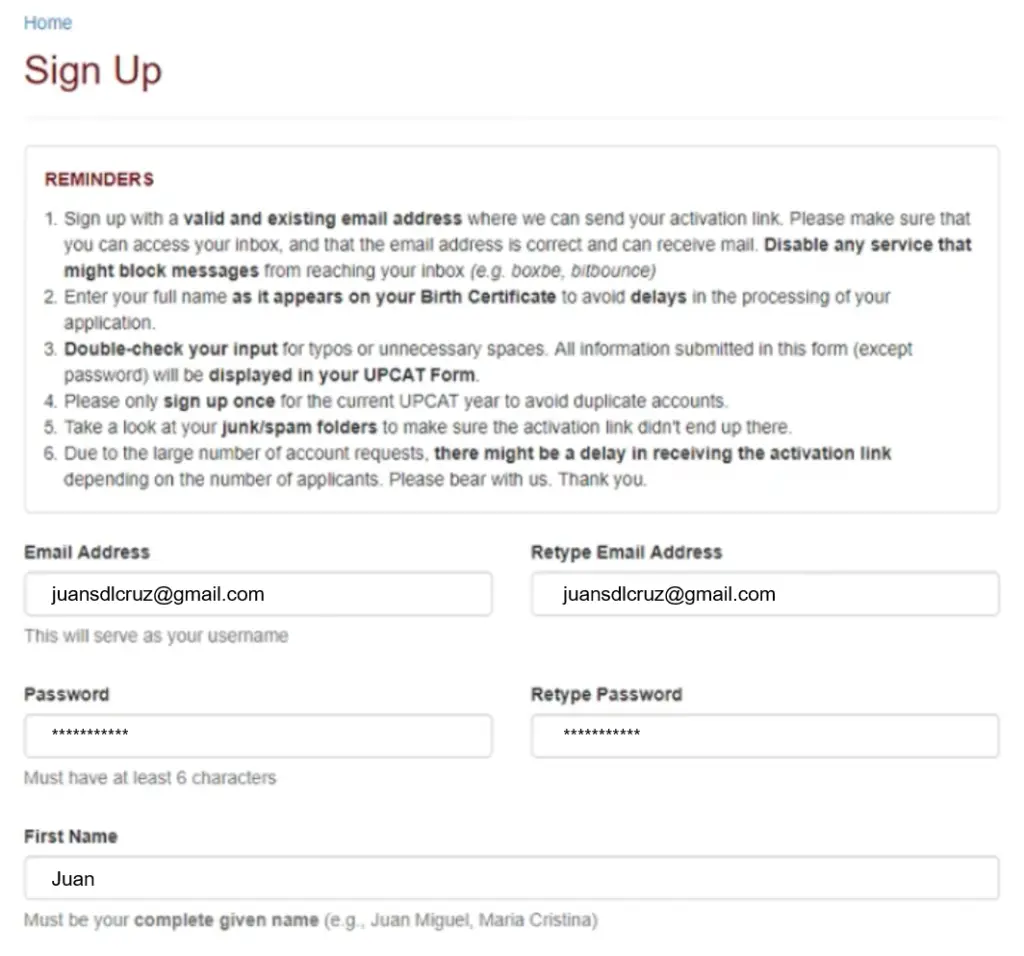 Take note of the email address and password you use. Make sure that you use a valid email address because updates regarding your application status will be sent here, and it will also be used to access the UPCAT results later on.
After submission, wait for an email from UPCAT Online containing instructions on how to activate your application.
Step 3. Once you've activated your account, log in to the UPCAT Online Application portal and complete the necessary details.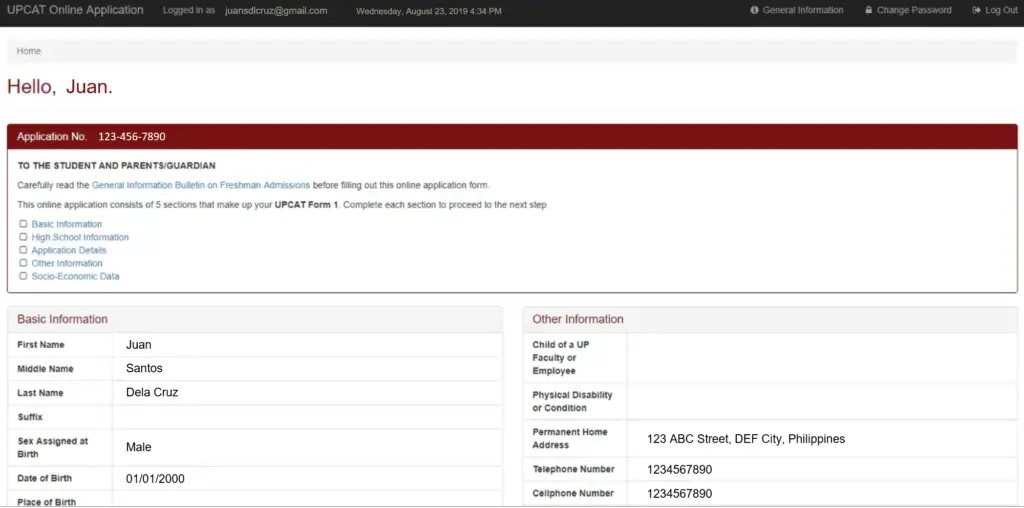 After you submit the form, you will receive a download link for FORMS 1 and 2. Print out both forms on legal-size bond paper (8.5" x 13"). 

Prepare four (4) 2×2 pictures, print out your name on paper, and then glue it under your picture. Write your signature on your name, ensuring it overlaps the picture.
Just to be sure, also write your name on the back legibly, along with your signature. Staple the 2×2 pictures in the space provided on the forms. Keep the extra 2×2 pictures, as you will use these later on.
All your pictures should look like this: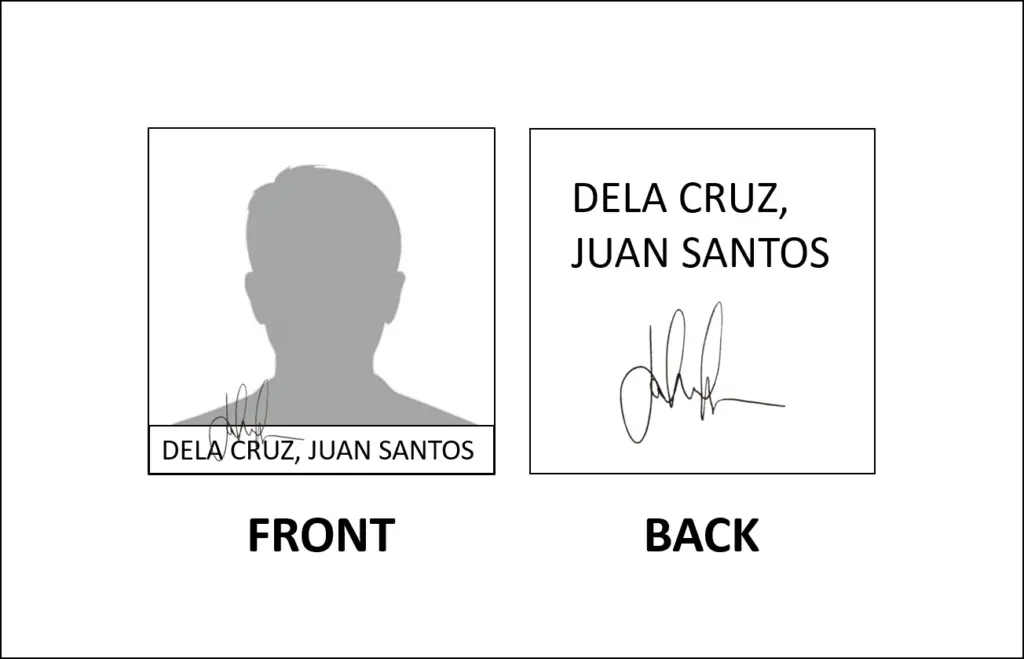 If you need to make any changes to your application, download and fill out the Request to Revise Application Form. Manual corrections/edits on your Form 1 will lead to the rejection of your application.
b. Secondary School Record (Form 2)
Similar to Form 1, staple a signed 2×2 picture on Form 2. Do not fill up or write anything on your Form 2. Instead, submit this to your school registrar or school principal for signing. 
For those who transferred schools: you must submit your Permanent Record (Form 137) along with Forms 1 and 2. Contact your previous school/s for more information on obtaining your Form 137.
c. (For FOREIGN applicants only) Pay the UPCAT Fee
As of this writing, the UPCAT application fee is waived for all Filipino applicants.
Foreign applicants who want to take the UPCAT have to pay a non-refundable UPCAT Fee:
450.00 PHP for foreigners residing and studying in the Philippines
$50 USD for foreign applicants residing in another country
The modes of payment for the UPCAT Fee may be found on the UPCAT website.
2. Submit all the requirements
Once you have all the necessary documents and requirements, submit this to the UP Office of Admissions at the University of the Philippines – Diliman Campus. You may do so in different ways:
In-person by going directly to the office
Through an authorized representative (your school, organization, etc.)
Through courier service with a prepaid return pouch (so that your Test Permit can be mailed back to you)
Upon submission of requirements, you will receive email updates regarding your application status and Test Permit. You can also check this by logging on to your UPCAT Online Account.
You will also be asked how you want to claim your Test Permit upon submission. You can opt to:
Claim it in person by going to the UP Office of Admissions
Claim it through an authorized representative (must bring a letter of authorization and valid ID)
Claim it via prepaid return pouch
3. Claim your test permit
You will receive an email notification when your Test Permit becomes available. Once you've received it, it should contain the date, time, and place for your UPCAT examination.
Here's a sample of what a Test Permit could look like: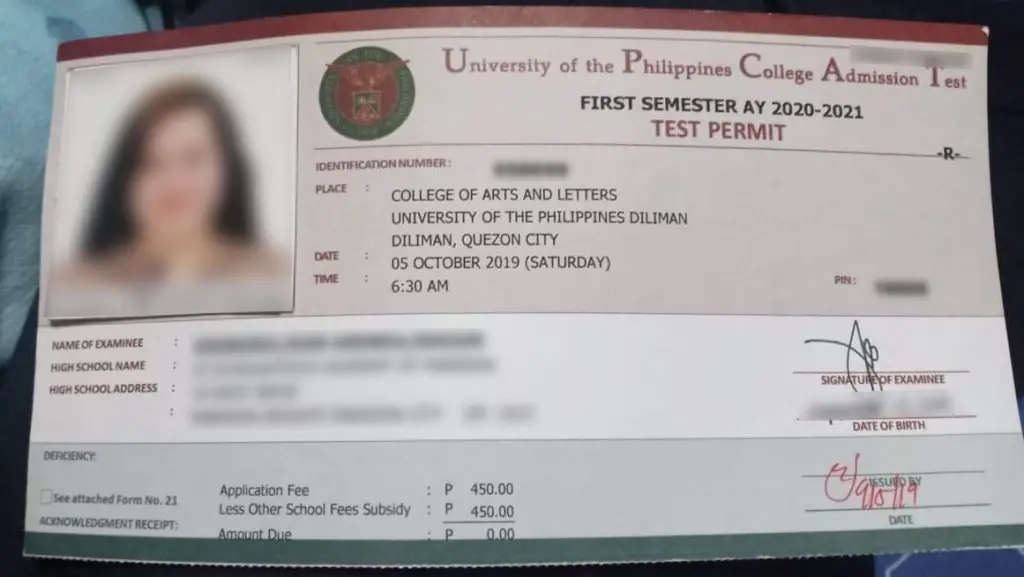 Fun fact: If you pass the UPCAT, your Identification Number becomes your Student Number, serving as your unique identity as a UP student.
Tips and Warnings
Be early. There are hundreds of thousands of applicants every year for the UPCAT. The application process may take a very long time to accomplish. As much as possible, try to gather all the necessary documents and requirements beforehand and process your UPCAT application as early as possible. Remember: there have been cases where applicants lose their chance to apply for the UPCAT due to missing the deadlines. You can't be too careful.
Keep all your documents in one folder. When processing your application, it's best to bring all your documents related to the application process in one folder. You should also make photocopies of the papers and even bring extra 2×2 pictures. Sometimes, you will be asked to show a specific document or certificate.
Always check for updates. Make it a habit of daily checking the UPCAT website, official UPCAT social media accounts, and your UPCAT-registered email address. Deadlines may shift due to unforeseen circumstances, so it's best to be prepared.
Bring your pen, stapler, and a glue stick. When asked to fill out or affix something while applying, you will need them. Not only will it be more convenient for you, but it will also save you time looking for a pen to borrow.
Bring an umbrella and snacks. When you opt to submit your application form directly to the Office of Admissions, be ready to face long hours in lines under the sun or rain. You can't underestimate the time you'll spend in line, so bringing something to ward off the potential hunger pangs is best.
Frequently Asked Questions
1. When will be the next UPCAT?
Usually, the UPCAT application process starts around July and ends in August.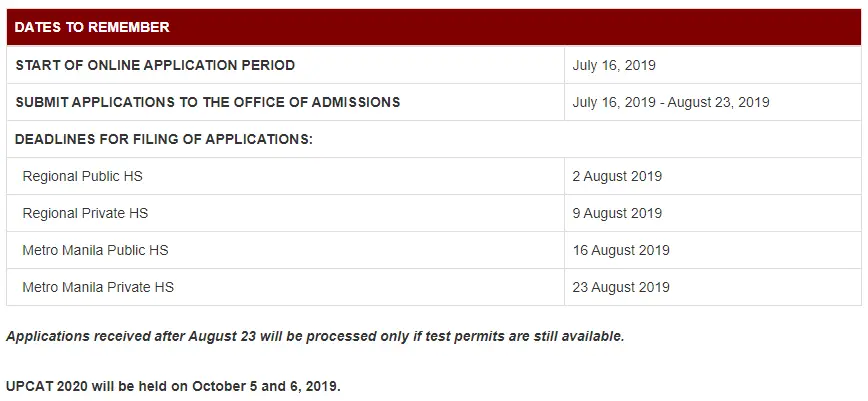 Photo: Important Dates for the UPCAT 2020 (taken from the UPCAT website)
The application deadlines are different depending on which category your high school falls under. The actual examination period usually takes place around October but can be postponed for various reasons, such as the UPCAT 2019 exam. 
2. How do I choose the degree program and UP campus to apply for?
UP offers the most degree programs in the Philippines, with 240 undergraduate and 402 graduate programs. These degree programs span disciplines such as the sciences, arts, law, politics, and education. 
The UP System consists of 8 constituent universities and 1 autonomous college scattered across the Philippines. Different UP campuses offer different degree programs, with some only available on a specific campus.
When applying for the UPCAT, thoroughly research the course you plan to take and find out which UP campus/es offer/s it. 
Check their official websites to find out the course list for each UP campus.
Your designated UP campus will be a massive part of your undergraduate (and maybe even postgraduate) life. That is why much care and research should be conducted before you choose which campus will be right for you. 
A quota course refers to a degree program with limited slots, while a non-quota course has no limited slots. There is a popular belief that choosing a non-quota course will increase your chances of entering UP. This is false because before you are considered for a degree program slot, you must pass the cut-off UPG (University Predicted Grade) for each campus.
Here are the cut-off grades for each UP campus based on the UPCAT 2019: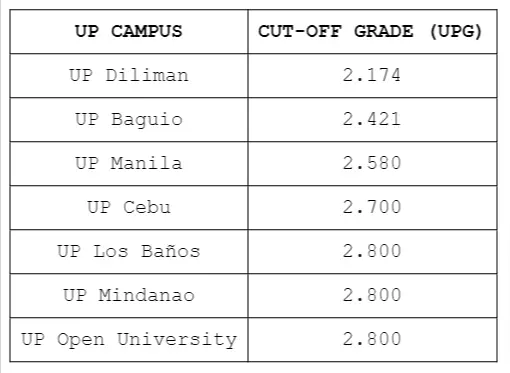 Note: The cut-off grades for each campus differ every year. Be sure to contact the local offices of the constituent university for more information.
When applying for the UPCAT, you must indicate your first and second choices for a degree program and campus. There is no sense in choosing a non-quota course as your first choice if you don't meet the campus cut-off grade. Therefore, you should plan out and choose your campus wisely. 
If you pass the campus cut-off grade but do not get a slot in your desired course, your status will be Degree Program With Available Slot (DPWAS). This means you qualify for that campus, but you will need to find a degree program with available slots. Related: How to Choose a Course in UP: A Guide to Quota and Non-Quota Courses
4. What is a UP Manila Return Service Agreement?
If you aim to pursue a medical degree at UP, you will likely end up in UP Manila. As of 2001, UP medical science graduates must work in the Philippines for at least two years within five years after graduation under the Return Service Agreement (RSA).
The graduates must work in their respective fields through education/training, research, direct service, and other related professions.
The RSA applies to graduates of the following colleges:
College of Allied Medical Professions
College of Dentistry
College of Medicine
College of Nursing
College of Pharmacy
College of Public Health
School of Health Services
5. What is Integrated Liberal Arts and Medicine (INTARMED)?
6. What is the UP Oblation Scholarship?
The UP Oblation Scholarship is awarded to the Top 50 students in the UPCAT yearly. You will be given free miscellaneous and laboratory fees and a monthly allowance upon being designated as an Oblation scholar.
This scholarship will remain for the duration of the student's degree program as long as they can maintain a certain grade point average. Related: The Ultimate UPCAT Reviewer (with Free Practice Tests and Answer Keys)