The UP College Admission Test (UPCAT) is one of the biggest college entrance exams in the Philippines with over 100,000 applicants every year. Out of the hundred thousands of applicants, only less than 15% (around 15,000 applicants) of the examinees are successful in gaining an admission slot into the University of the Philippines.
Reviewing for the UPCAT? Check out our Ultimate UPCAT Reviewer
If you're reading this now, you're probably an UPCAT taker or a friend/parent of an UPCAT taker. If you want to know more about when, how, and where the UPCAT results will be posted, read on!
When Will the UPCAT Results Come Out?
Following the usual UPCAT schedule throughout the years, the UPCAT exam takes place around September or October.
Due to the enormous amount of applicants each year, the UPCAT results usually take a long time to be processed, validated, and then released. Because of this, UP does not usually announce an exact date for the release of the results. Instead, they usually release the results around March or April.
However, the schedule may change due to unforeseen circumstances like what happened during the 2018 UPCAT. To be sure, check out the official UPCAT website or the official UPCAT social media accounts for any updates.
How To Check the UPCAT Results
In previous UPCATs, you could check the UPCAT results online or in-person by going to the UP Office of the University Registrar (UP OUR) in UP Diliman and checking out their UPCAT bulletin board for your name. 
However, as of UPCAT 2019, applicants may access their own UPCAT results only. This was done in compliance with the Philippine Data Privacy Act of 2012 (DPA). The whole process of checking your UPCAT results is easy.
You may only access the UPCAT results on the official UPCAT Results website unless otherwise stated in the official UPCAT website.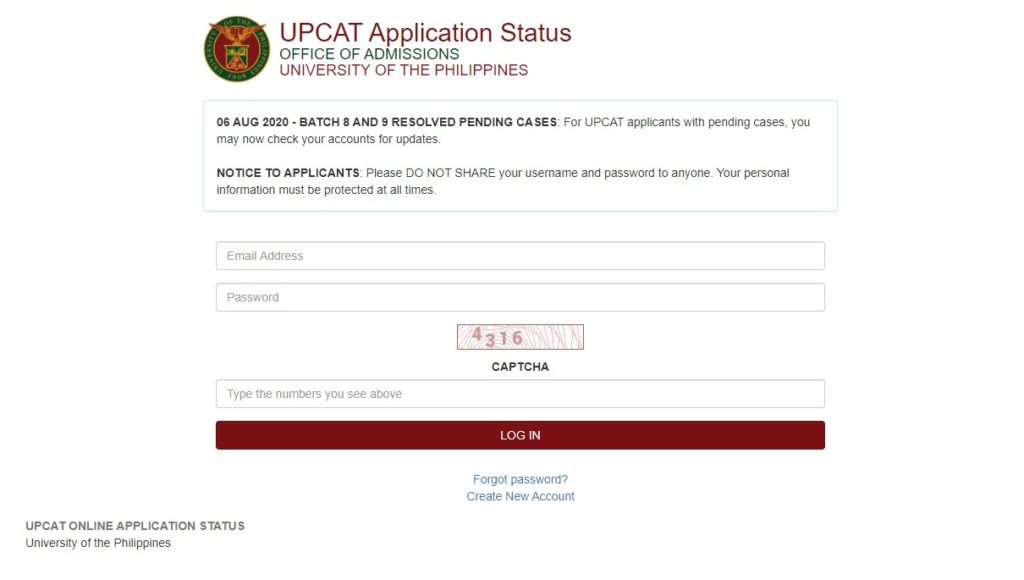 Login using the email address and password that you used during the application process.
If you forgot your password or email address, you may send a request for a reset by clicking on the Forgot Password? link. Take note: You may only send a request once. Avoid sending multiple requests to avoid the delay in the processing of your request.
Once you've successfully logged in, you will be directly greeted by the results: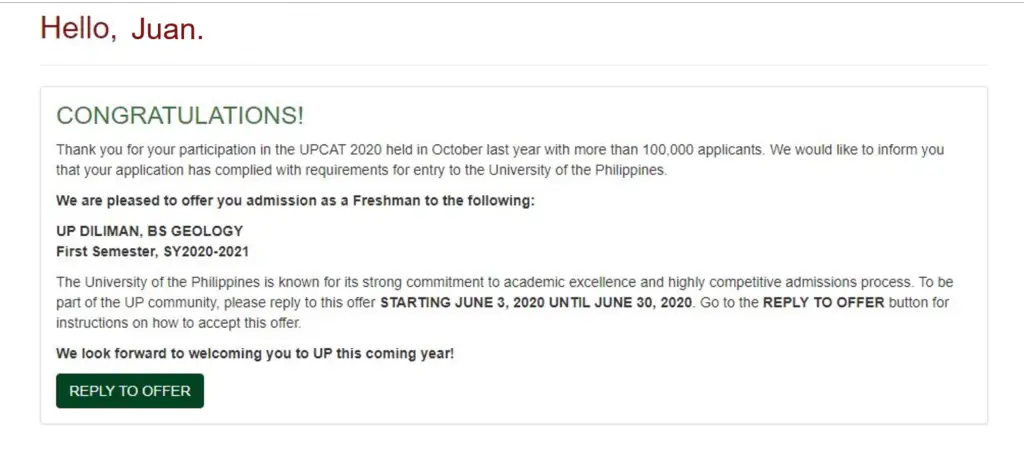 If you passed, congratulations! 
To reserve your admission slot, click on the REPLY TO OFFER button. You will then be sent a Letter of Acceptance Confirmation like this: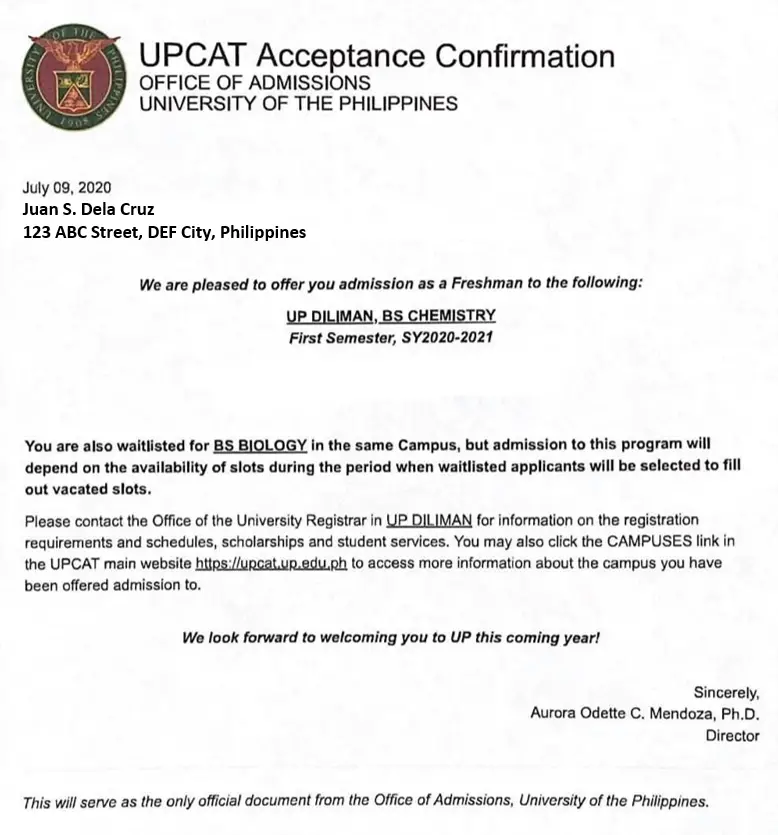 You will also be informed to wait for the pre-advising and pre-enlistment procedures. You're now officially an Iskolar ng Bayan!
If you failed, don't fret. If you still want to pursue studying in UP, check out these articles to see what you can do:
Tips and Warnings
Be patient. Avoid sending multiple requests or messages to the official UPCAT social media accounts or UP offices. Rest assured that they're pros at handling huge volumes of applications each year and will make sure that your results are valid.
Don't fall for fake news or potentially malicious links. During UPCAT season, social media is ripe with fake links to supposed UPCAT result leaks and other fake news related to the UPCAT. Be careful in dealing with these types of posts and NEVER open the links included in them. Only get news from reliable sources like reputable news sites or official UP accounts.
Don't fret about the results. The wait for the UPCAT results can be long and agonizing. Instead of feeling anxious about the results for 6-7 months, place your focus on more important things. After all, once you've taken the UPCAT, there's no changing the result and you just have to patiently wait to see how you did. There's no use in worrying about something you can't change.
Frequently Asked Questions
1. I can't see my results/I can't access the UPCAT results page. Why?
This is a common problem during the release of the UPCAT results. Because of the large volume of traffic and requests, the website can't grant access to all users and you get an error page. There's really no way to get around this besides waiting for the online crowd to subside and checking your results later on.
Related: The Ultimate UPCAT Reviewer (with Free Practice Tests and Answer Keys)