A lawyer, a former trial judge, and a renowned constitutional and international law expert, Senator Miriam Santiago's accomplishments are too numerous to count.
However, what sets her apart from the rest of the pack is her no-nonsense style of leadership. Combine that with her extraordinary intelligence, a fierce temper, and fiery tongue, and almost everything Santiago says has become a memorable quote worth repeating.
It's no wonder she is so loved by the masses and so hated by her enemies. However, love her or hate her, Santiago is undoubtedly one of the wittiest Filipinos to have ever lived.
READ: 15 Surprising Things You Didn't Know About Miriam Defensor-Santiago
1. "Fungus Face!"—Santiago, then Commissioner of the Bureau of Immigration and Deportation, calling former Rep. Nereo Joaquin when he criticized her in a privilege speech for effecting the arrest of foreign pedophiles in his district.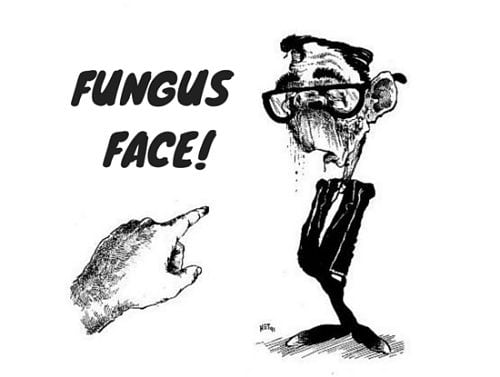 2. "Pinaliwanag ko na, ayaw niyang makinig. Eh, kung hahamunin ko na lang siya ng suntukan?"—Santiago challenging Joaquin to a fistfight.
3. "In the spirit of Holy Week, which is approaching, I amend my previous offer to fight. Instead, I challenge him to take an IQ test with me in UP!"—Another challenge to Joaquin.
4. "Sir, I remind you that as the Commissioner of Immigration and Deportation, I represent the majesty of the Republic of the Philippines. You have the obligation to show respect and courtesy to me. Now shut up, or I'll knock your teeth off!"—Santiago telling an arrested foreigner to shut up when he interrupted her during a press conference.
5. "I may not be a genius, but my opponents are certifiable idiots."—Santiago in her presidential campaign speech.
6. "Tell the truth before the senators affected have you assassinated."—Santiago telling alleged pork barrel scam mastermind Janet Napoles to name names.
7. "Kapag tumataas ang posisyon mo sa gobyerno, lumiliit ang balls mo."—Santiago's conclusion after observing that low-level government employees play basketball, those in mid-level positions play bowling, and high-ranking officials play golf.
8. "Tatalon ako sa eroplano pag naaresto si Erap." and "I lied."—Santiago's assertion that former President Joseph Estrada would never be arrested, and her response afterwards after he was arrested.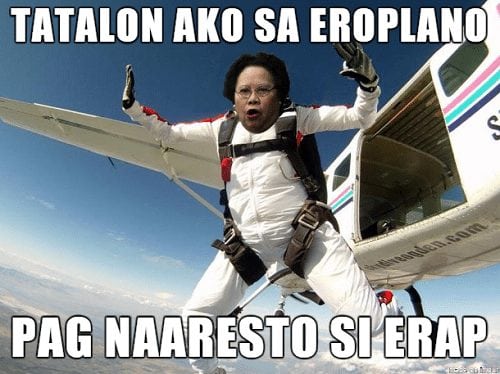 9. "I am surrounded by idiots"—Santiago's description of the members of Commission on Appointments which was accidentally overheard.
10. "I am not angry. I am irate. I am foaming in the mouth. I am homicidal. I am suicidal. I am humiliated, debased, degraded. And I am not only that, I feel like throwing up to be living my middle years in a country of this nature. I am nauseated. I spit on the face of Chief Justice Artemio Panganiban and his cohorts in the Supreme Court, I am no longer interested in the position if I was to be surrounded by idiots. I would rather be in another environment but not in the Supreme Court of idiots."—Santiago's reaction after being bypassed for the post of Chief Justice of the Supreme Court.
11. "I eat death threats for breakfast!"—Santiago's answer to a reported about threats on her life.
12. "Maybe they will be happy because on one hand I might die and then they could get rid of me. But on the other hand I might survive and then I will get rid of them."—Santiago to her enemies after revealing she had lung cancer
13. "Ang yayabang ng mga nagsasalita ng ganyan, gago naman. Wha! I request the secretary to record in our journal that I said Wha!"—Senator Miriam Defensor-Santiago berating the House of Representatives' prosecutors for their premature celebration despite dropping five charges against ex-Chief Justice Renato Corona.
14. "No, I don't want to watch these clowns. I die a thousand deaths every time a corrupt politician appears"—Santiago's handwritten response to an aide after she was asked whether she wanted to watch a TV talk show while confined for a vehicular accident in 1992.
15. "Please don't treat me as a mere observer. I am a judge in this proceeding! In any trial court…you should not speak, you should not take any behavior at all unless with the consent of the presiding judge. Don't drown me out by screaming in this courtroom! Only I can scream here and my fellow judges!"—Santiago scolding private prosecutor Arthur Lim during Corona's impeachment trial.
16. "How many witnesses do you intend to present? You don't even have any idea? You come to court prepared! You do not waste the time of this court!"—Santiago chastising chief prosecutor Niel Tupas for failing to answer how many witnesses he intended to present during the same trial.
Related Article: 17 Things You Didn't Know About Rodrigo Duterte
17. "You know, if you shut down all the TV cameras, the proceedings will be finished in one week, but people want more than 15 [minutes] of fame."—Santiago on why impeachment proceedings are so slow.
18. "May I just make a point of grammar please? The Bible does not say, "Go out to the world." It sounds very much like God is encouraging us to go out and copulate in public. God said in the Bible, "Go forth and multiply." That meant that God wanted man, not necessarily to literally multiply, but to go out to work with the rest of the human beings of this planet and to apply the stewardship theory. Meaning to say, taking care of each other, who are all in the planet living together."—Santiago's response to Manny Pacquiao after the latter quoted the Bible literally against the RH bill.
19. "Change the Charter so that only taxpayers will be allowed to vote."—Santiago's proposal to stop patronage politics.
20. "Anong tawag 'pag nagtapon ka ng basura sa dagat? Sagot: Pollution. Ano naman ang tawag kapag tinapon mo sa dagat ang mga pulitikong kurakot? Sagot: Solution"—One of Santiago's pork barrel punchlines.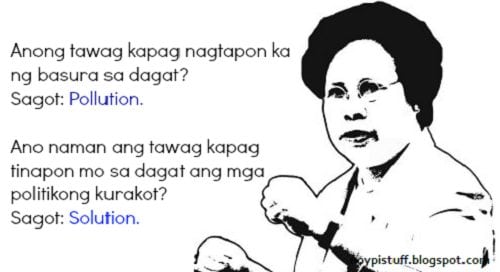 21. "Eat, blank, and die."—Santiago telling her fellow senators implicated in the pork barrel scam to commit suicide.
22. "Congress and the cabinet are talking at cross-purposes. We are trapped in a political Tower of Babel. Our national leaders are accursed by glossolalia, or talking in different tongues."—Santiago criticizing the executive branch and the Senate for opposing her alien legalization program.
23. "I will not spend my adult life answering obviously false charges. But I will exert every effort to resist the charge that I lack sex appeal."—Santiago's response to Immigration employees who filed charges against her after she disciplined them for graft and corruption.
24. "Go stick your finger in the wall socket!"—Santiago's answer to the Immigration employees calling for her ouster as Commissioner.
25. "They should be chopped into a thousand pieces and fed to the sharks in Manila Bay. But it is problematic whether the sharks will eat them, out of a sense of professional courtesy!"—Another response to the same employees.
26. "Those crooks exhibit the epidermis of pachyderms. But I am prepared to fight them. I have cultivated intestinal fortitude."—Yet another Santiago quip to the employees after finding out their plan to burn her effigy.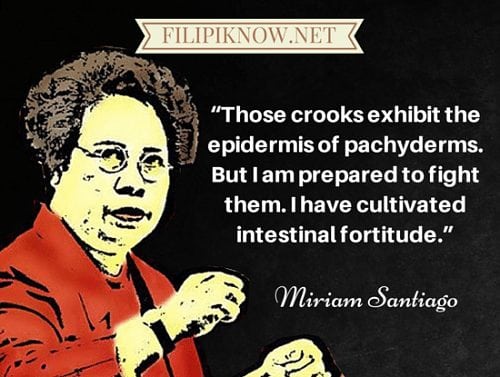 27. "The fixer is a person who nominally looks like a human being. But he specializes in creating misery for others, in order that he can offer to fix it for a fee."—Santiago explaining why she ordered the mass arrest of fixers at the Commission of Immigration and Deporation's grounds.
28. "They were not only rebellious, they were malicious to boot. Naturally I got mad, but I restrained myself. No, I did not throw a chair at my employees. (Laughing) The accurate statement is that I may have rearranged the furniture."—Santiago on accusations she threw a chair at some Immigration employees who wanted her removed.
29. "Entering politics is a fate worse than death."—Santiago on being asked to comment on her political ambitions.
30. "My ambition is more modest. I desire only to be known as the Demi Moore of Philippine politics."—Santiago's response to questions on her presidential run.
31. "I do not subscribe to the school of thought that I am leading the presidential polls because of my beautiful legs."—Santiago after learning that she was leading the survey of presidentiables.
32. "I feel like Indiana Jones in the Temple of Doom."—Santiago after going inside Congress for her first confirmation hearing.
33. "I was accused of almost every crime under the Penal Code, except adultery. At malapit na rin kaming dumating doon."—Santiago on being grilled by the Commission on Appointments.
34. "There's no intelligent life down here. Beam me up, Scotty."—Santiago using Star Trek's line while riding an elevator inside Congress.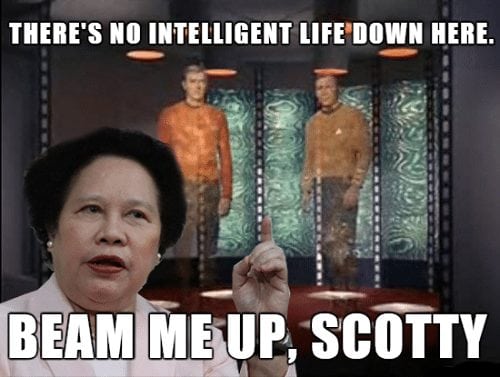 35. "Discombobulated moral retardates!"—Santiago as Agrarian Reform Secretary blasting a few of her employees who were organizing against her shortly after she implemented reforms in the wake of her predecessor's land-pricing anomaly.
36. "I will exterminate them from the face of the earth!"—Santiago's threat to the same DAR employees calling for her ouster.
37. "I shall expect the landlords to cooperate with the agrarian reform program. Right now, it looks like I'm headed for One Hundred Years of Solitude."—Santiago upon hearing that President Cory Aquino appointed her as Agrarian Reform Secretary.
38. "The chances of me quitting are like the chances of a snowball in hell."—Santiago after knowing that some DAR employees opposed her confirmation.
39. "When the government employee is poor, and he works in a corrupt agency, he can resist everything except temptation."—Santiago on why some government officials are corrupt.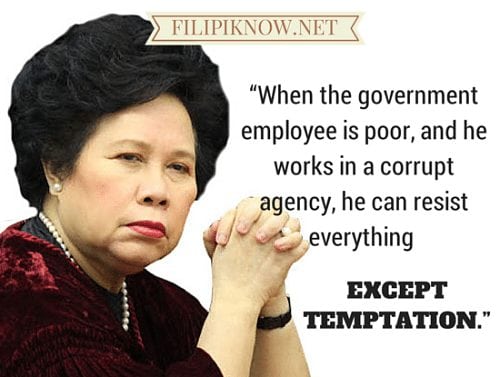 40. "I do not have any strong desire to remain in government. When my task is done, I shall be happy to leave and enhance my love life with my husband."—Santiago on being asked on her retirement plans.
41. "This is goodbye. I shall not importune you any longer. I shall fade into the night like Batman."—Santiago's last words before resigning as Agrarian Reform Secretary.
42. "Sometimes I pray that God might turn my enemies into pillars of salt."—Santiago addressing a group of nuns.
43. "Head-bashing is the best strategy. Sometimes I have to splatter their brains on the pavement"—Santiago on being asked the best way to fight corrupt officials.
44. "You students, there is no substitute to hard work . Kaya huwag kayong mangongopya and if you copy you will never succeed. Tignan mo ang nangyari sa kanila noong college sila, nangopya. Ngayon, senador na, nangopya pa rin."—Santiago's address to some students and an obvious dig at fellow Senator Tito Sotto III for allegedly plagiarizing parts of his anti-RH speech.
45. "If he's brave, he should switch place with me: He should be funny and I'll be the asshole"—Santiago challenging fellow Senator Juan Ponce Enrile for his alleged role in the pork barrel scam.
46. "In Cagayan, it is said that when he was a baby, his mother dropped him on his head. Kaya ganyan yan."—Another of Santiago's jabs at Enrile.
47. "Pinagpapaskil nyo ang mga pagmumukha nyo sa EDSA! Ang papangit nyo!"—Santiago lambasting politicians for their excessive ad endorsements.
48. "Ang dami-daming pinagsasasabi pero hindi naman nagbabasa. The main problem with some of our politicians is that they are illiterate."—Santiago criticizing politicians who are clearly not qualified to run for office.
49. "If you can't find enough number of senators as a bloc, then bumili ka doon sa House. Mas marami sila, di mas mura pa sila. Para silamg mga talakitok."—Santiago after her 2007 Anti-Billboard Bill was stricken by members of Congress.
50. "I have only entertainment value in Philippine politics."—Santiago's comment to a foreign journalist.
51. "Why did man climb Mt. Everest?  Because it is there.  Why am I fighting graft and corruption?  Because it is here!"—Santiago's answer after being asked on her dogged anti-corruption campaign.