MRT is one of the three rail systems that make up the rail infrastructure of Metro Manila.
It started its operations in December 1990 and added the last three train stations (Ayala, Magallanes, Taft Avenue) back in July 2000.
In this handy guide for commuters, we'll discuss everything you need to know about MRT stations and all the nearby landmarks/establishments connected to each of them.
Related: How to Commute Through LRT: An Ultimate Guide to Manila's LRT 1 & 2 Stations
Table of Contents
MRT vs. LRT: What's the Difference?
Manila Metro Rail Transit System (MRT) and Manila Light Rail Transit System (LRT) are both rail systems in Metro Manila. The only differences between the two are the companies running them and their routes.
The MRT is operated by the Metro Rail Transit Corporation (MRTC) which is a private organization composed of seven Filipino—owned companies which are: Allante Realty and Development Inc, Anglo-Philippine Holdings Corporation, Ayala Land Inc, DBH Inc, Fil-Estate Management Inc, Greenfield Development Corporation of Unilab, and Fil-Estate Management Inc.
The LRT is currently owned by the Philippine government. It's operated by the Light Rail Transit Authority (LRTA) which is associated with the Department of Transportation (DOTr) and the Light Rail Manila Corporation.
On the other hand, MRT stations are located along EDSA while LRT1 & LRT2 stations are located along Taft Avenue to Rizal Avenue and Ramon Magsaysay Blvd to Aurora Blvd.
MRT Fares, Schedules, and Other Things You Should Know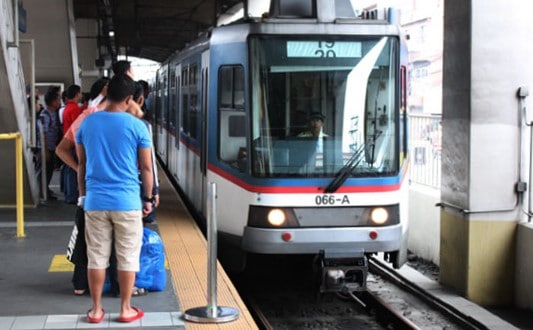 1. Fares
The price of a single journey MRT ticket ranges from PHP 13 – PHP 281. It depends on your destination and the location of the station you'll be coming from.
2. Tickets and Cards
These are the four types of tickets available for MRT passengers:
Single Journey Ticket – It's a single ride ticket and only valid on the day it was purchased.
Single Journey Discount Ticket – It's also a single ride ticket which comes with a 20% discount for Seniors and PWDs. 
Stored Value Ticket – It's a multiple ride ticket which is valid for 3 months from the date of purchase. It costs PHP 100 and comes with the last ride bonus.
Stored Value Ticket Discount – It's also a multiple ride ticket but it comes with a 20% discount for Seniors and PWDs. 
You can also purchase a Beep card so you don't have to wait in line while trying to purchase single journey tickets.
The Beep card is a stored-value smart card that is valid for 4 years from the date of purchase. You don't have to fill out any forms. You just have to pay for the initial load and then you can start using the Beep card.
There is no minimum load amount but it has a PHP 10,000 maximum load limit.
You can use this card for other modes of transportation like LRT1, LRT2, BGC Bus, Citylink Coach Services, and most P2P buses in the city. The card can be loaded through beep loading kiosks in all MRT and LRT stations, as well as bus stops and convenience stores. It can also be loaded online through the Coins.ph app.
Beep Concessionary Cards are also available. There are three types of concessionary cards: Senior Citizen Card, Student Card, and Persons with Disability (PWD) Card. These cards entitle holders to their corresponding discount.
3. Schedule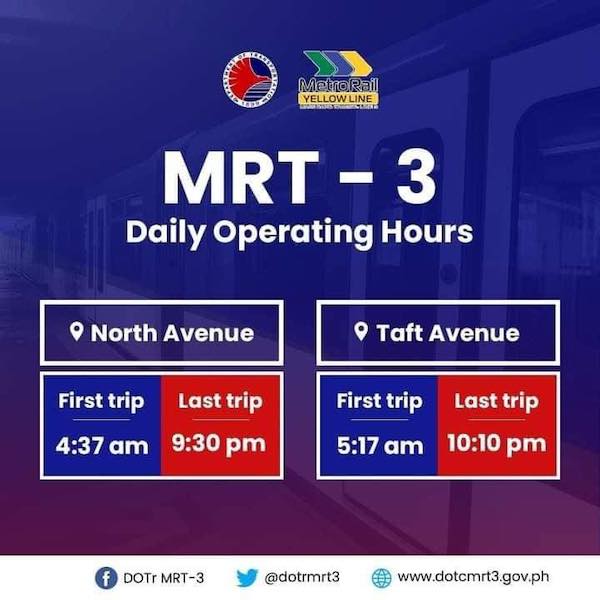 On weekdays, the first train trip leaves the North Avenue station at 4:37 AM while the last train trip leaves at 9:30 PM2. If you're coming from the other side, keep in mind that the first train trip leaves the Taft Avenue station at 5:17 AM while the last train trip leaves at 10:10 PM.
15 trains run during weekdays.
On weekends, the first train trip leaves the North Avenue station at 4:59 AM while the last train trip leaves at 9:10 PM. On the other hand, the first train trip leaves the Taft Avenue station at 5:51 AM while the last train trip leaves at 10:01 PM.
12 trains run during weekends.
4. Routes
For South-bound passengers, the trip starts at the North Avenue station located in Quezon City and follows this route: other Quezon City stations (Quezon Avenue, Kamuning, Cubao & Santolan-Annapolis), Pasig City station (Ortigas), Mandaluyong stations (Shaw Blvd.  & Boni Avenue), Makati City stations (Guadalupe, Buendia, Ayala & Magallanes), and the last stop is at a Pasay City station (Taft Avenue).
For North-bound passengers, the train route is simply the reverse of the one previously mentioned, starting at the Taft Avenue station located in Pasay City and ending at the final Quezon City station (North Avenue).
5. Train Specifications
MRT trains are designed to carry 23,000 passengers per hour and per direction daily. The trains are also designed to run at a maximum speed of 65 kilometers per hour. Without any delays, it can take as little as 30 minutes to go from the first to the last MRT station.
6. Safety Guidelines and Prohibitions
a. Items Allowed Inside MRT Trains
After announcing that liquids (including bottled drinks, perfumes, and other cosmetic/skincare products) are not permitted inside MRT trains, the management released a list of liquid products allowed which are the following:
Drinking water for children (drinking water for babies or small children)

Baby formula and breast milk in bottles (if the passenger is traveling with a baby or small child)

Medications (both prescription and over-the-counter medications)

Beverage for PWDs (includes water, juice, or liquid nutrition or gels)

Medical and cosmetics (only if used to augment the body and for cosmetic and medical reasons like a saline solution, mastectomy products, prosthetics breasts, shells, or bras which contain gels)

Life-support and life-sustaining liquids (blood products, bone marrow, and transplant organs)
The Complete List of MRT Stations (With Landmarks and Nearby Establishments)
Update: The Unified Grand Central Station (North Triangle Common Station) is scheduled to have its soft opening in March 20223. This station will connect the following rail lines: LRT1, MRT3, and the upcoming MRT7 (which will be partially functional by the end of 2022) and Metro Manila subway (targeted to be fully functional by 2025). The Unified Grand Central Station will be located between SM North EDSA and Trinoma (Quezon City).
1. North Avenue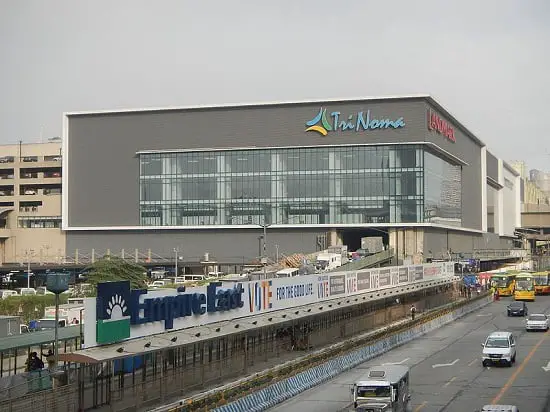 Location: Diliman, Quezon City.
Nearby Establishments & Landmarks:
Department of Agriculture

MRTC Office

Ninoy Aquino Parks and Wildlife

Quezon City Science High School

Quezon Memorial Circle

SM City North Edsa

TriNoma

Veterans Memorial Medical Center
2. Quezon Avenue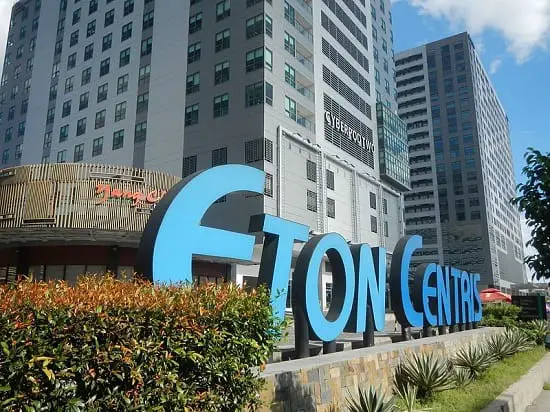 Location: Diliman, Quezon City.
Nearby Establishments& Landmarks:
ABS-CBN Network

Court of Tax Appeals

Eton Centris

Fairview

Lung Center of the Philippines

Ninoy Aquino Parks & Wildlife Center

Office of the Ombudsman

PAG-ASA Complex

Philippine Science High School

Quezon Memorial Circle

UP-Ayala Land Technohub 
3. GMA – Kamuning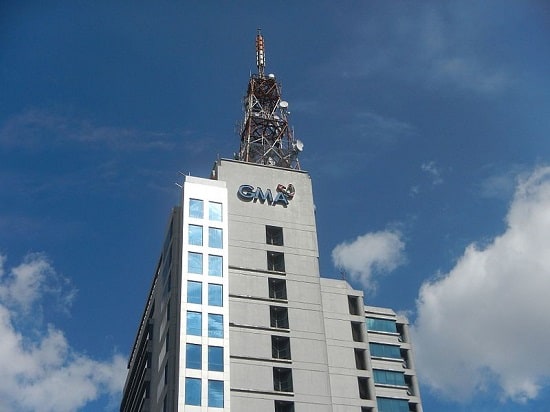 Location: Diliman, Quezon City.
Nearby Establishments & Landmarks:
Department of Public Works and Highways

GMA Network

National Kidney and Transplant Institute

Philippine Heart Center

Philippine Statistics Authority

Quezon Memorial Circle
4. Araneta Center – Cubao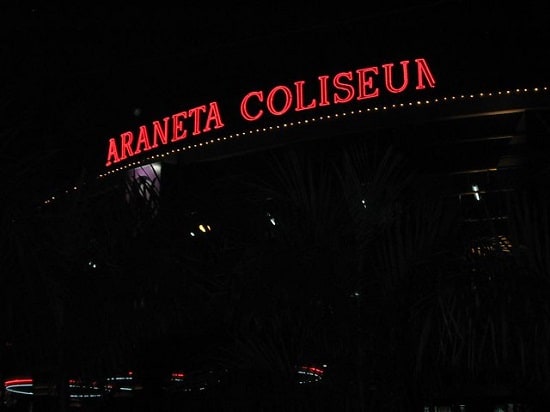 Location: Cubao, Quezon City.
Nearby Establishments & Landmarks:
Ali Mall

Cubao Expo

Farmer's Plaza

Gateway Mall

Kia Theater
5. Santolan – Annapolis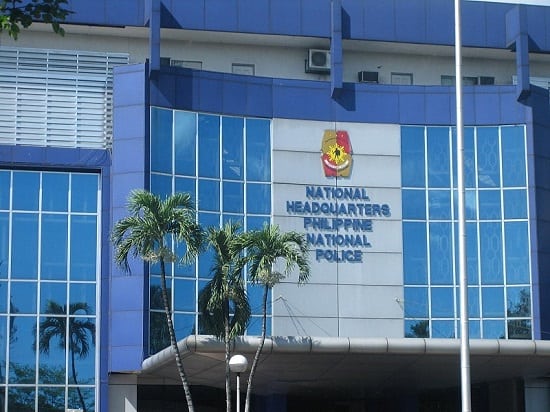 Location: Camp Aguinaldo, Quezon City
Nearby Establishments & Landmarks:
Armed Forces of the Philippines

Camp Aguinaldo

Camp Crame

Department of National Defense

Greenhills Shopping Center

Philippine National Police
6. Ortigas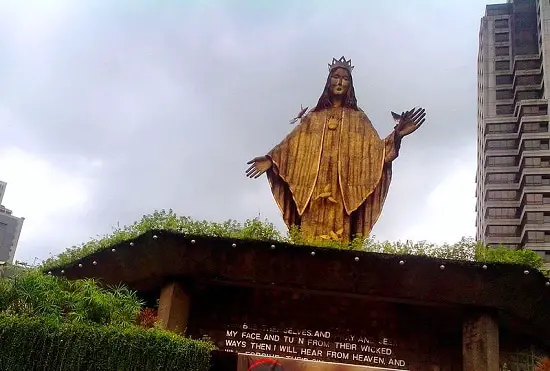 Location: Wack-Wack Greenhills, Mandaluyong.
Nearby Establishments & Landmarks:
Asian Development Bank

Crowne Plaza

Department of Transportation and Communications

EDSA Shrine

Francis Square

Holiday Inn

Meralco Theater

Philippine Stock Exchange

Robinson's Galleria

SM Megamall

SM Podium

The Medical City
7. Shaw Boulevard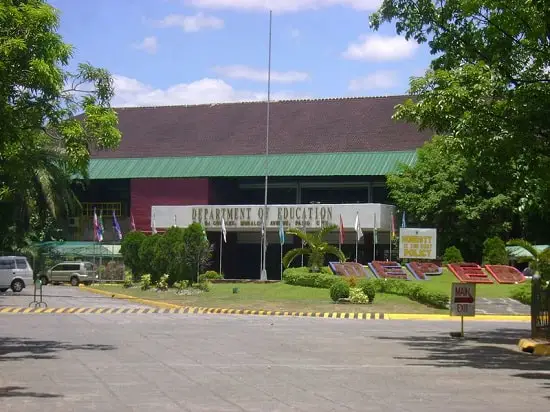 Location: Wack-Wack Greenhills, Mandaluyong.
Nearby Establishments & Landmarks:
Capitol Commons

Department of Education

Lourdes School

Paul College Pasig

Pavillion Mall

PhilSports Arena

San Miguel Corporation

Shangri-La Plaza

Starmall Shaw

The University of Asia and the Pacific

Wack Wack Golf and Country Club

Ynares Sports Arena
8. Boni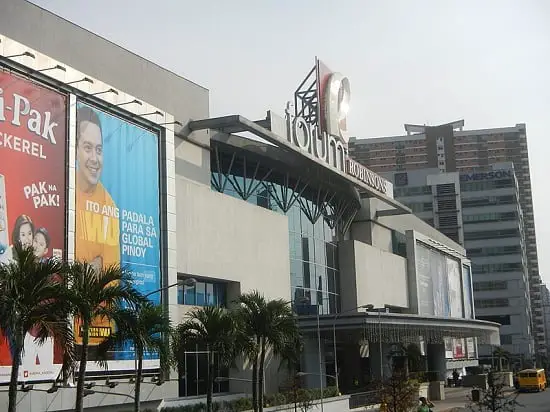 Location: Barangka Ilaya, Mandaluyong.
Nearby Establishments & Landmarks:
GA Twin Towers

Paragon Plaza

Rizal Technological University

Robinson's Cybergate

Robinson's Forum

SM Light Residences

TV5 Media Center

Victor Potenciano Medical Center
9. Guadalupe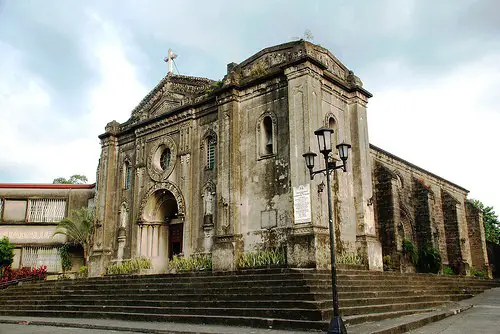 Location: Guadalupe Nuevo, Makati.
Nearby Establishments & Landmarks:
Guadalupe Church

Makati City Hall

Our Lady of Guadalupe Seminary

PowerPlant Mall

Rockwell Center

Roman Catholic Archdiocese of Manila

San Carlos Seminary

University of Makati
10. Buendia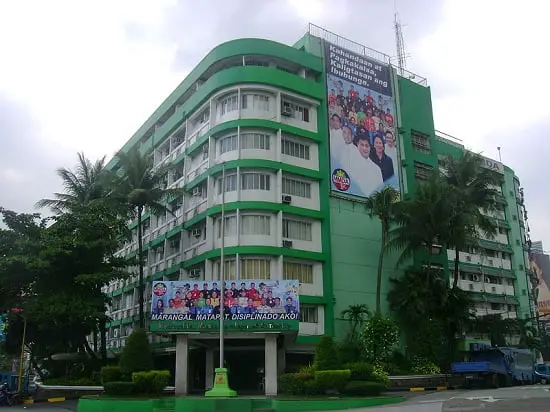 Location: Urdaneta, Makati.
Nearby Establishments & Landmarks:
Century City Mall

Department of Energy

Department of Trade and Industry

Jupiter Street

Makati Avenue

Metrobank and DBP Headquarters

MMDA Offices
11. Ayala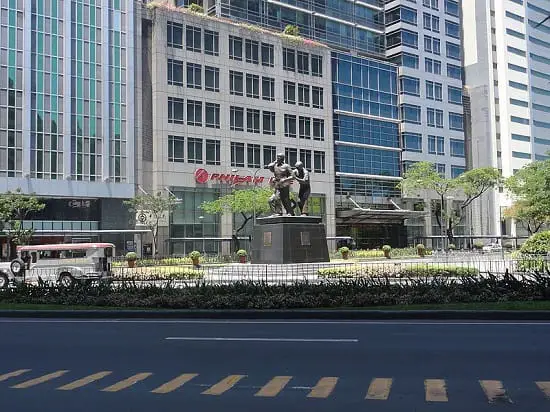 Location: San Lorenzo, Makati.
Nearby Establishments & Landmarks:
American Cemetery

Asian Institute of Management

Ayala Museum

Ayala Triangle Gardens

Bonifacio Global City

BPI Headquarters

China Bank Headquarters

Citibank Headquarters

Glorietta

Greenbelt

Makati Medical Center

Makati Shangri-La Hotel

Manila Golf Club

Manila Peninsula

RCBC Headquarters

SM Makati

The Mind Museum

The Philippine Stock Exchange 
12. Magallanes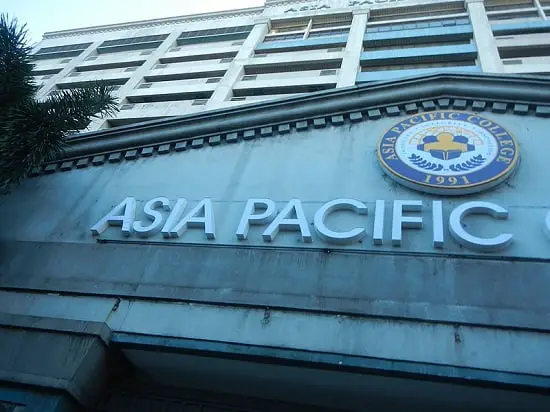 Location: Magallanes, Makati.
Nearby Establishments & Landmarks:
Alphaland Makati

Asia Pacific College

Assumption College

Colegio San Agustin-Makati

Don Bosco Technical Institute

San Lorenzo Place

San Lorenzo Village

St. Alphonsus Mary de Liguori Parish Church
13. Taft Avenue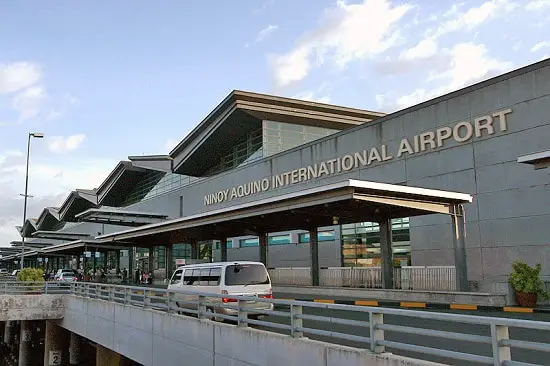 Location: San Rafael, Pasay.
Nearby Establishments & Landmarks:
Manila Tytana College

Ninoy Aquino International Airport

San Juan de Dios Hospital

SM Mall of Asia

SMX Convention Center
Tips and Warnings
1. Don't ride the MRT during rush hour
If it's entirely possible, avoid the rush hour when riding the MRT. The lines are unbelievably long during rush hour and the trains are always jam-packed.
It's best to wake up early and take the trips before 6 AM or let the morning rush pass and take the trips after 9:30 AM.
The rush hour begins again at 4 PM but it's still manageable. The worst kind of rush happens around 5:30 PM so make sure you either ride the MRT from 4 PM to 5 PM or wait it out and just come back at around 9 PM.
2. Location is important
If it's possible, ride the MRT on stations that are not as crowded as the others.
The most crowded ones are Cubao and Ayala stations. Some of the stations with fewer passengers are GMA-Kamuning, Magallanes, and Ortigas. You can take the MRT from these stations instead of Quezon Avenue, Taft Avenue, and Shaw Blvd, respectively.
Once you're on the train, find a good location where you're not far from the door and you have something to hold on to.
3. Bring a handy pouch when commuting
It can be frustrating to rummage through your bag in order to find a spare change or a Beep card while you're about to board the train.
To solve this problem, buy a small pouch where your keys, spare change, Beep card, and ID can fit. This way, it will be easier to find the usual stuff that you need when commuting.
4. Wear comfortable clothes
Make sure to wear a breezy shirt made with breathable material so you'll feel cool even if you're cramped inside a train with hundreds of people. 
5. Be polite and considerate
In a crowded place and a stressful setting, being kind can go a long way.
Follow the rules and don't try to cut the line or push people around. Make sure to let the passengers get off the train first before making your way inside. Always cooperate if it's for the benefit of passengers like you.
6. Buy and use a Beep card
Using a Beep card during a commute is a great way to save time. You won't have to fall in line to buy tickets so you can head straight to the security check. It can also be used for other modes of transportation like LRT1, LRT2, P2P Buses, BGC Buses, and a lot more.
7. Try to memorize all the MRT stations
If you'll be commuting daily, it's very helpful if you memorize all the MRT stations. You can't always check MRT signs since you'll be struggling to stay in your chosen spot.
Memorizing the stations will give you a lot of time to prepare before getting off. You can slowly move closer to the door if you're just a couple of stations away from your destination.
8. Be calm and enjoy the moment no matter how chaotic it can be
Riding the MRT can be such a hassle but once you find your tiny spot in that jam-packed train, you can try and be happy in your own little world.
You can listen to music while the trains go from one station to the next. It's an amazing way to start your day right or end it on a good note.
9. Secure your belongings
Incidents of theft at MRT trains happen almost every day. The best way to avoid being a victim of theft is to always secure your belongings.
Hold on to your bag and make sure that you can feel it in case someone tries to do something suspicious with it. There are different types of pouches that you can hide inside your body and where you can secure your valuables like money, IDs, credit cards, and ATM cards.
Frequently Asked Questions
1. Is it more affordable, more convenient, and faster to ride the MRT regularly than the other modes of transportation?
Riding the MRT is undoubtedly more affordable than riding buses and even jeeps.
A trip from Taft Avenue to North Avenue only costs Php 28. It's also a lot faster since it doesn't get affected by the heavy traffic along EDSA.
When it comes to convenience, it's hard to say that MRT is more convenient to ride than buses, jeeps, and others. During rush hour, the trains are really crowded and you'll have to wait in line for a long time just to buy tickets and go through the security check.
2. Do MRT trains leave on time?
MRT trains usually leave on time. However, over 10 trains get delayed every day according to daily reports from the MRT management. Some of the reasons for delays are the lack of available trains and malfunctioning trains.
3. Are small kids allowed to ride the MRT?
Yes, the first two trains are exclusively for senior citizens, PWDs, women, and parents traveling with their small children. Parents are advised to keep an eye on their small children to prevent accidents and unfortunate incidents.
4. How safe is this mode of transportation?
MRT is generally safe for passengers. However, you must still be cautious and alert since there might be thieves around.
5. Is it PWD-friendly?
Yes, there are special coaches for PWDs, as well as women, children, and the elderly. Most of the time, guards are very helpful when it comes to assisting PWDs.
6. What will be the route and stations of the new MRT line 7?
MRT 7, which is expected to be partially operational by the fourth quarter of 2022, is estimated to provide commuters with a relatively faster 35-minute travel time between Quezon City (North Avenue) and Bulacan (San Jose Del Monte)4. It is expected that MRT 7 will have the following stations:
Quezon Avenue Joint Station
Quezon Memorial Circle
University Avenue
Tandang Sora
Don Antonio
Batasan
Manggahan
Doña Carmen
Regalado
Mindanao Avenue
Quirino, Sacred Heart
Tala
San Jose del Monte
References