When we think about the late 19th century or early 20th century, we often imagine people who rarely smile and lived through a "black-and-white" era far more boring than ours. This is partly because old photographs lack the visual element that is now ubiquitous in our generation–color.
Thankfully, the sudden unprecedented growth in social media usage also paved the way for a 'new breed' of historical photographs. With the help of modern tools such as Photoshop, one can easily give life to old portraits and make them more visually appealing to Filipino netizens with limited attention span.
Colorized photographs provide us with a portal to our past, an incredible view of our ancestors' daily life as if they're just arm's length away. After all, that is exactly the purpose of old photos: To tell stories, satisfy our curiosity and make history come alive.
Also Read: 100 Years of Filipino Men And Women's Beauty Captured In Vintage Photographs
Table of Contents

1. Quiapo, Manila (1949)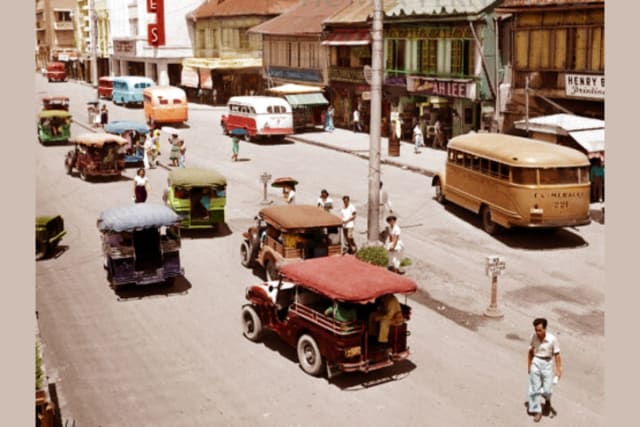 2. A classroom in the Philippines (1945)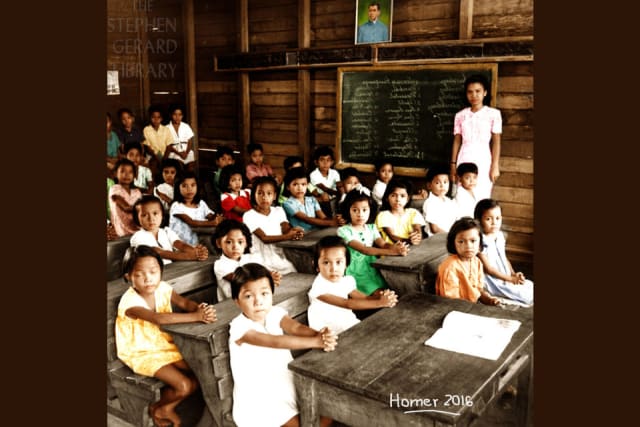 3. Quiapo, Manila (1949)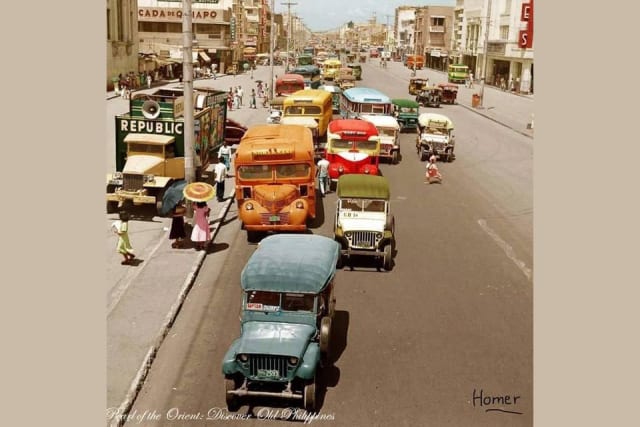 4. University of the Philippines-Manila (1949)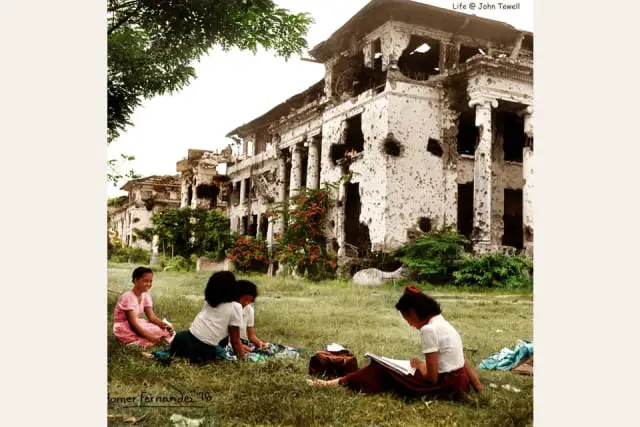 5. "Bayanihan" (1945)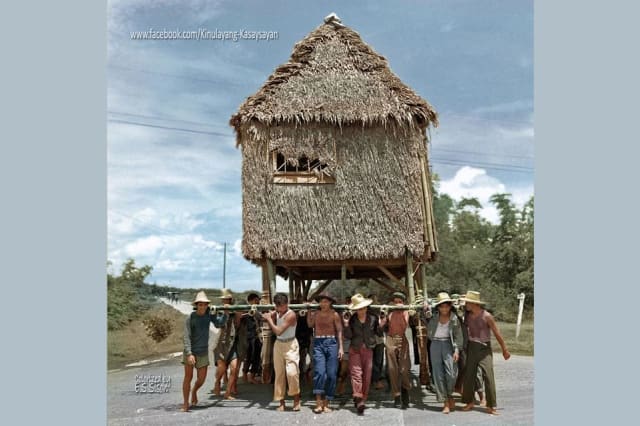 6. Filipino boy with pet dog (1949)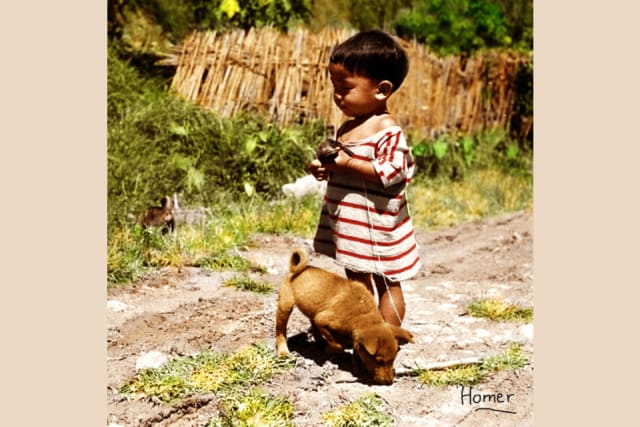 7. Manila Cathedral (1908)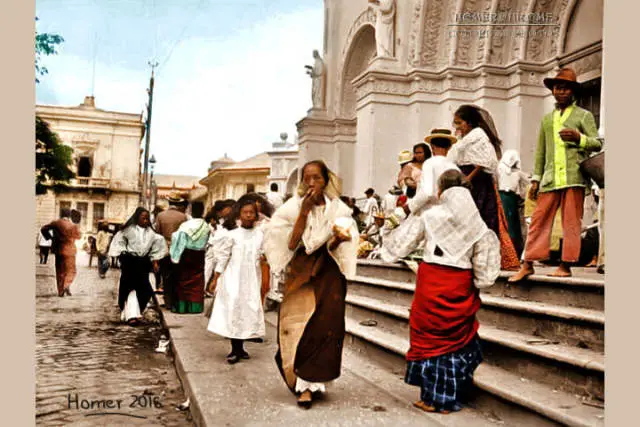 8. Calesas in Cebu (circa 1940s)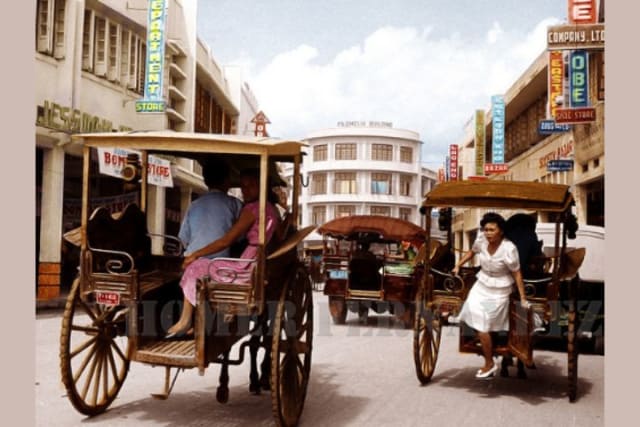 9. "Helping Mama Iron the Clothes the Old Filipino Way, Island of Luzon, Philippines (early 20th Century)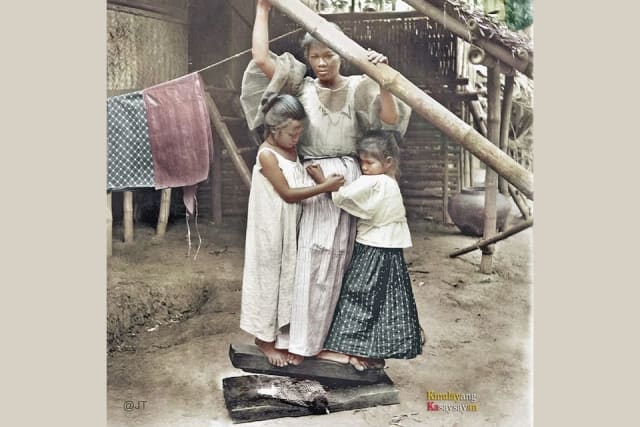 10. Old Quiapo Church (late 19th century)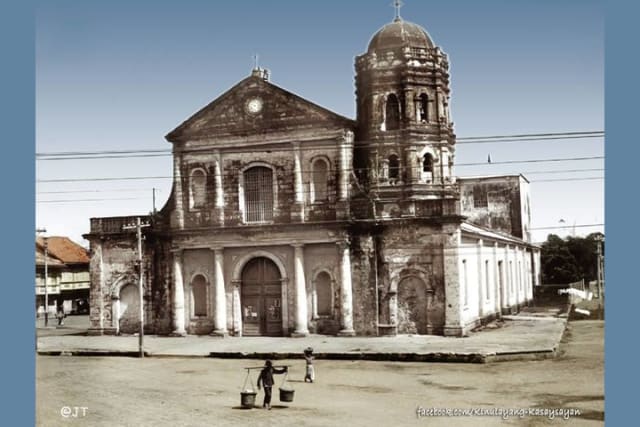 11. Two young Filipinos enjoying music from a portable RCA Victor 78 RPM phonograph player (circa 1940s)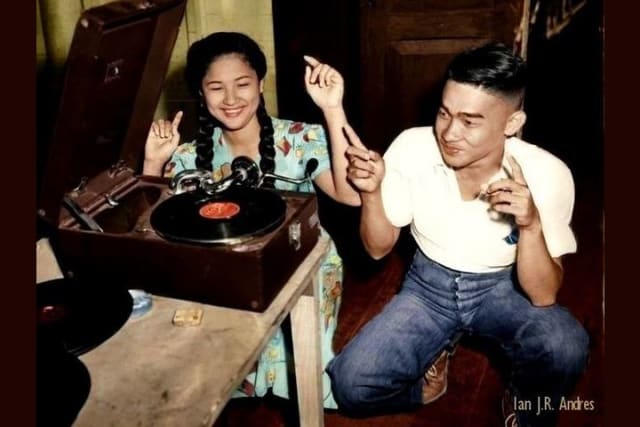 12. Students of the Philippine Normal School (1914)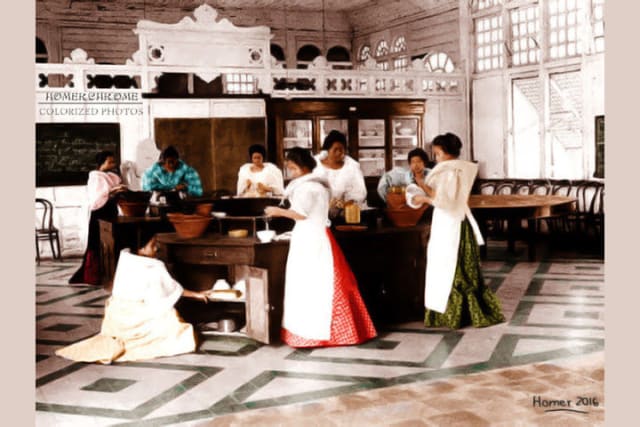 13. Americans meet Filipina girls at J.P. Rizal Avenue (circa 1940s)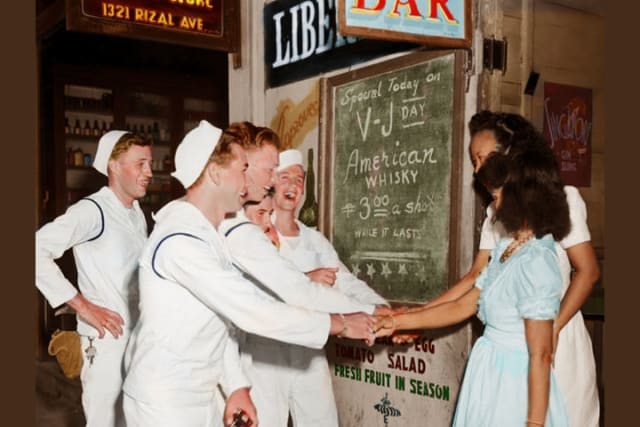 14. A carabao milk peddler in Manila (early 1900s)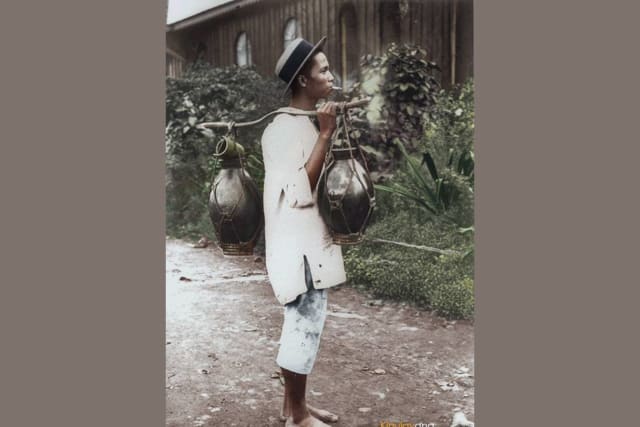 15. "Busy traffic with cars, carriages, and street car in Manila" (circa 1930s)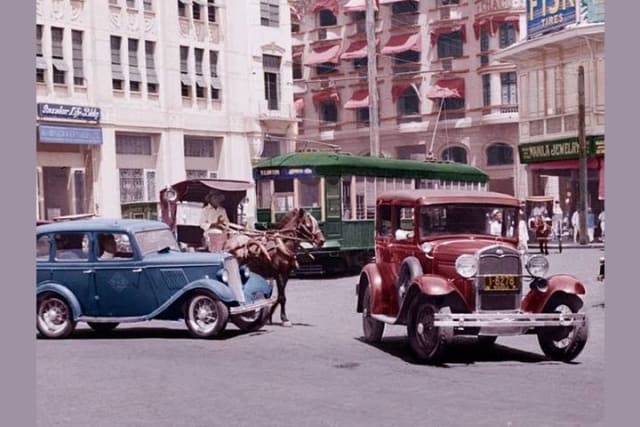 16. Whiskey for Sale (circa 1940s)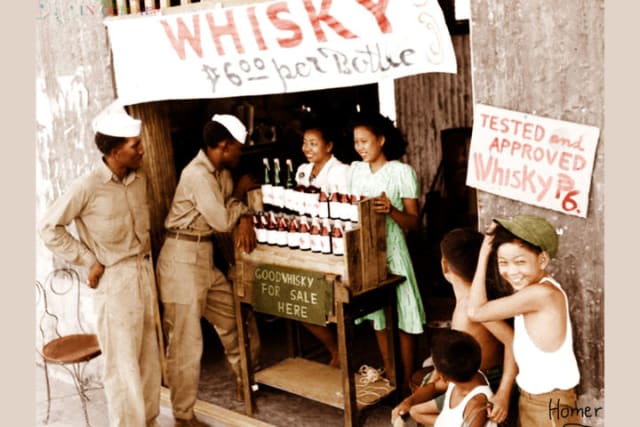 17. A horse-drawn tranvia in Escolta (1910)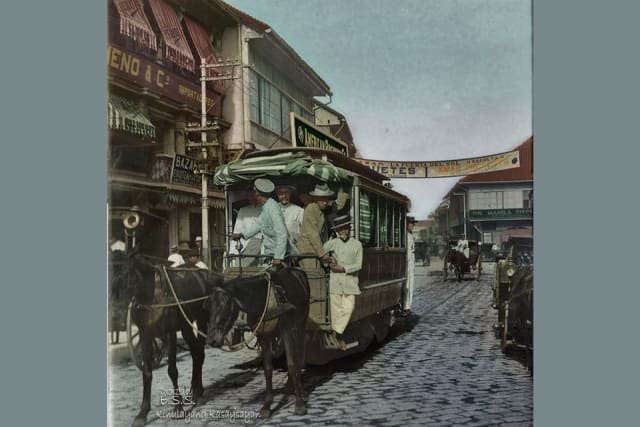 18. A scene in a Manila marketplace (1954)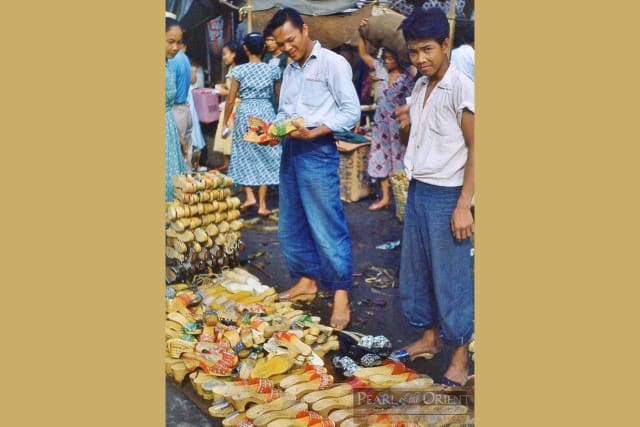 19. Young survivors of WWII in Manila (1945)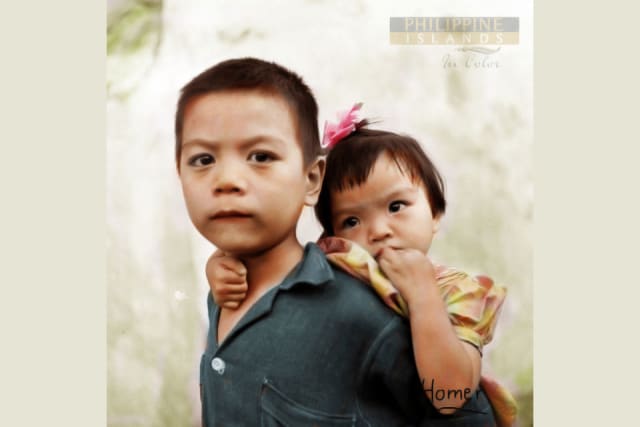 20. Filipino women hulling rice for breakfast (1905)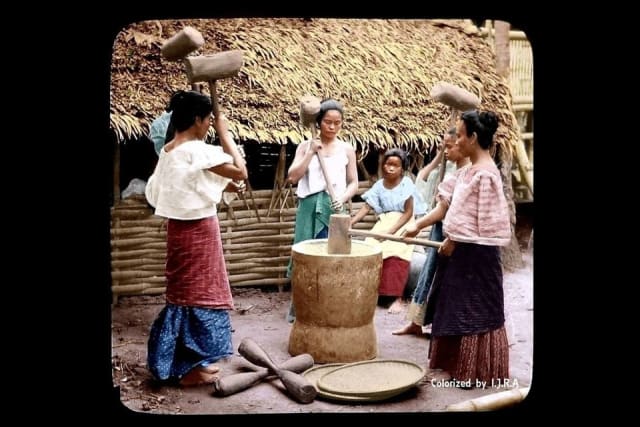 21. A typical Filipino "sari-sari" store (circa 1940s or 1950s)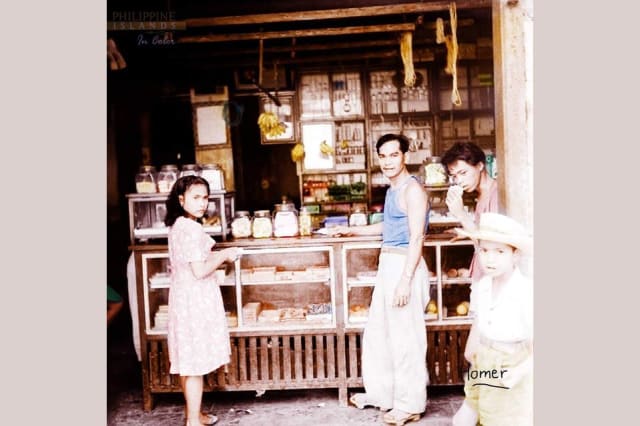 22. Vehicles in Manila (1949)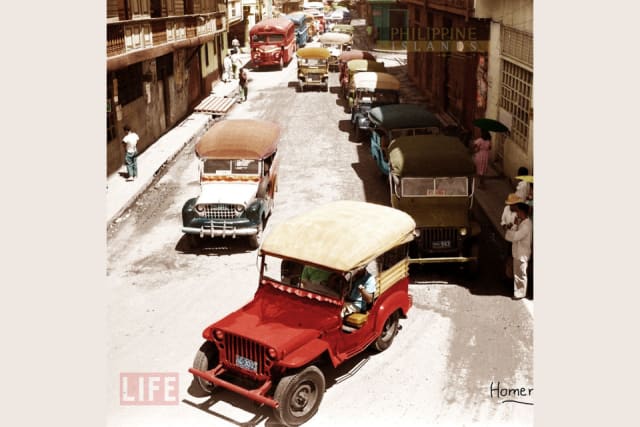 23. "A Trio of Tagalog Girls on the Street, Ermita, Manila" (early 20th century)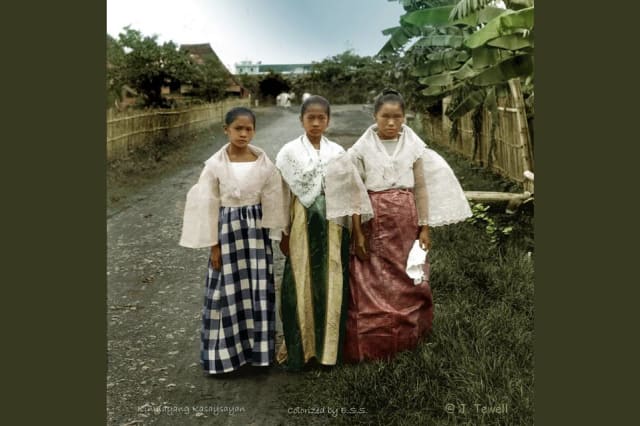 24. Americans, Chinese, and Filipinos in the Philippines (circa 1900s)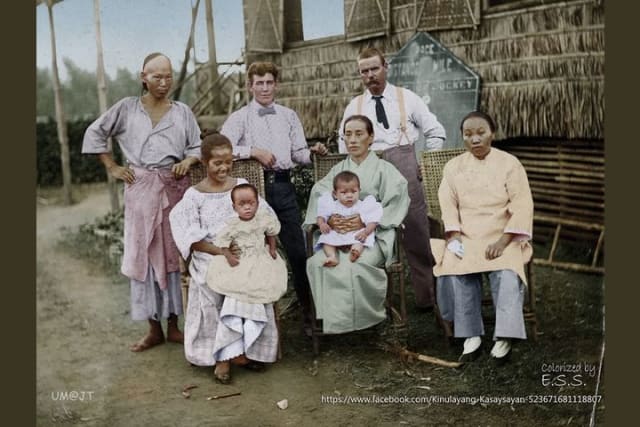 25. Manila schoolgirls in native dress (early 20th century)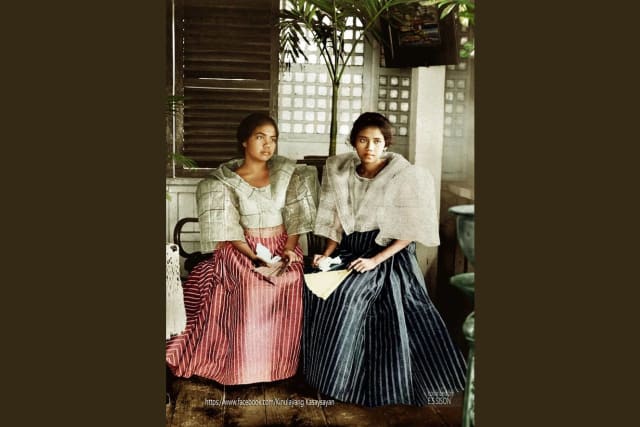 26. A street in Manila (circa 1940s)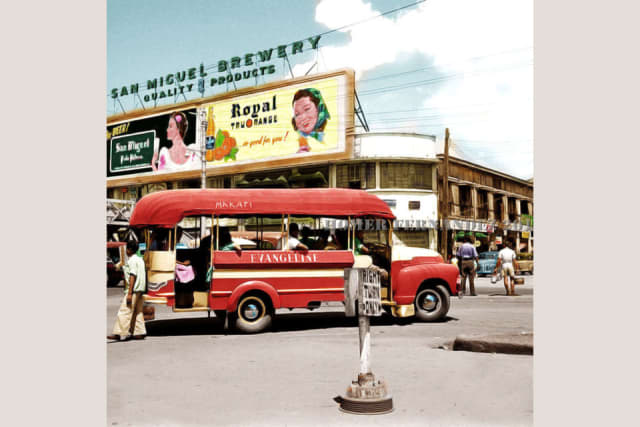 27. Rizal Monument (1946)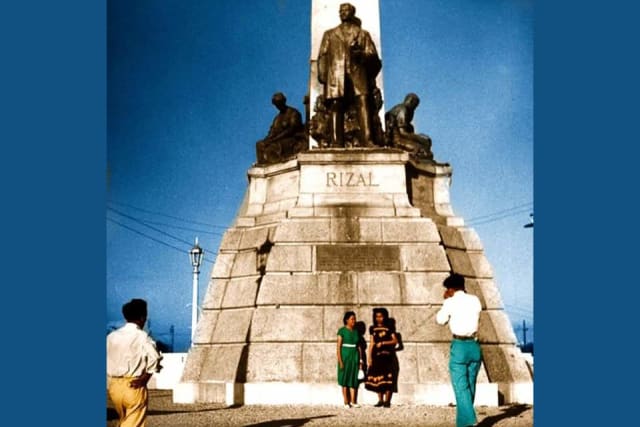 28. Boating in the Philippines (circa 1920s)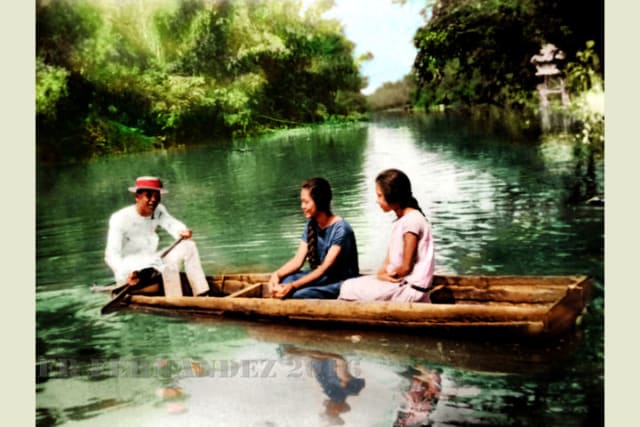 29. Preparation for a cockfight (1904)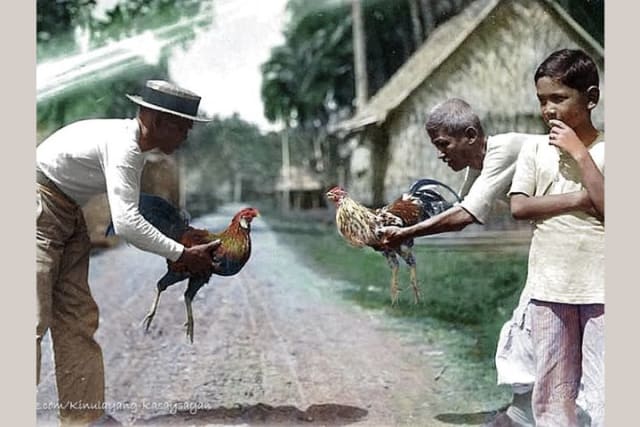 30. Pre-war Filipino movie stars (circa 1930s)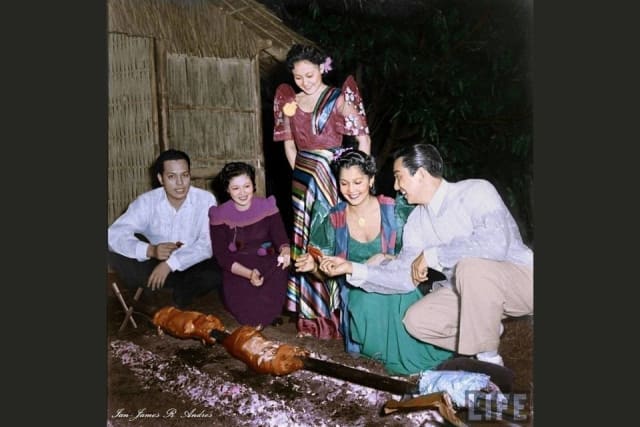 31. Manila Post Office (circa 1950s)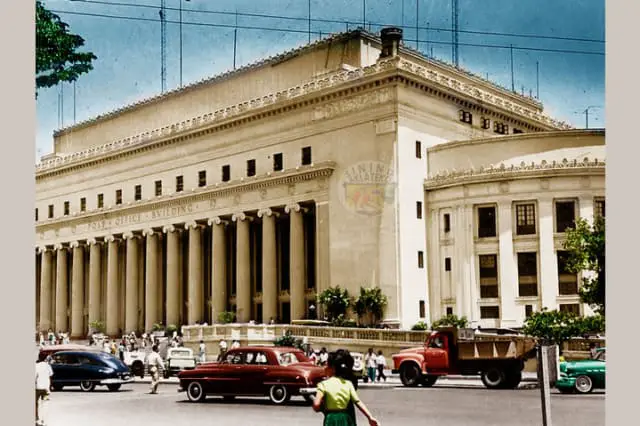 32. A blind Filipino street musician in Manila (early 20th century)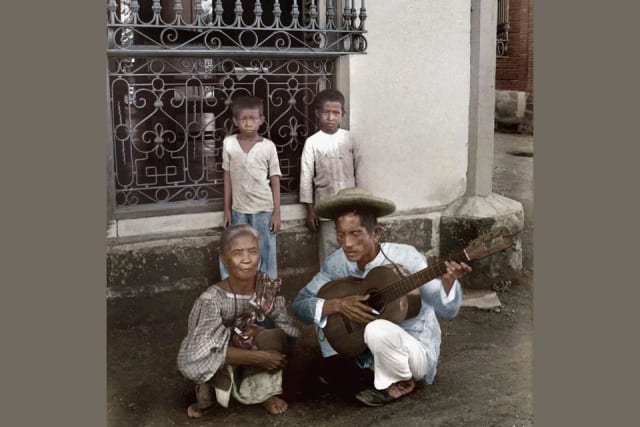 33. Manila billboards and jeepneys (1950s)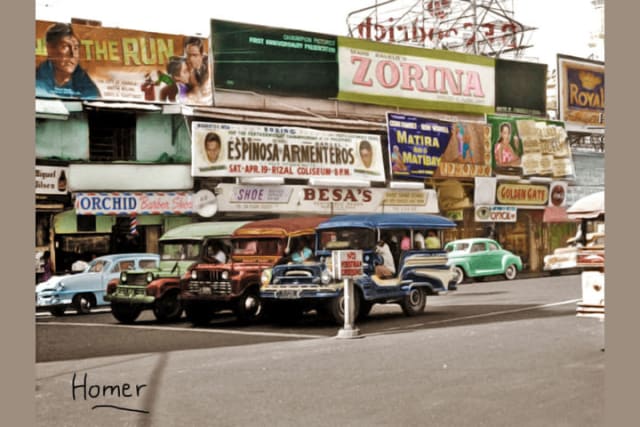 34. "Canlubang Club Party – Phillippines" (1941)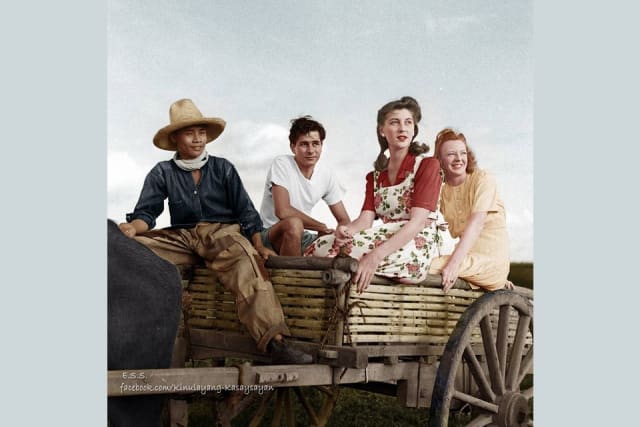 35. Filipino boys watching a war artist sketch in the field (circa 1900s)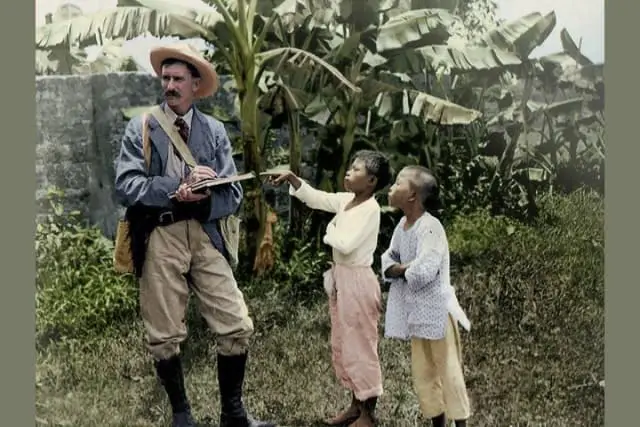 36. An old Spanish church at Cavite (1929)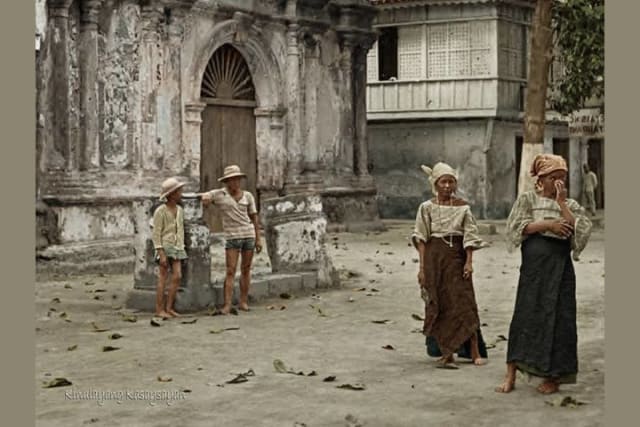 37. Alemar's (1949)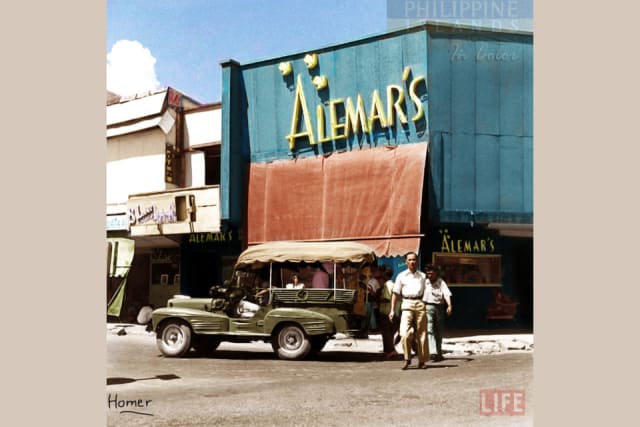 38. "Spreading Hemp To Dry, Manila Hemp Industry, Philippines." (early 20th century)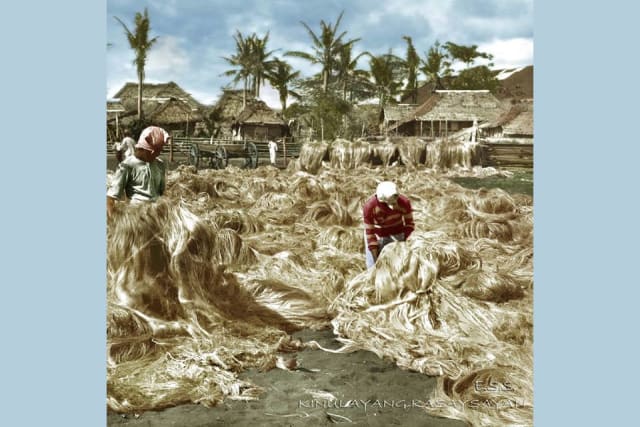 39. Manila jeepneys (circa 1940s)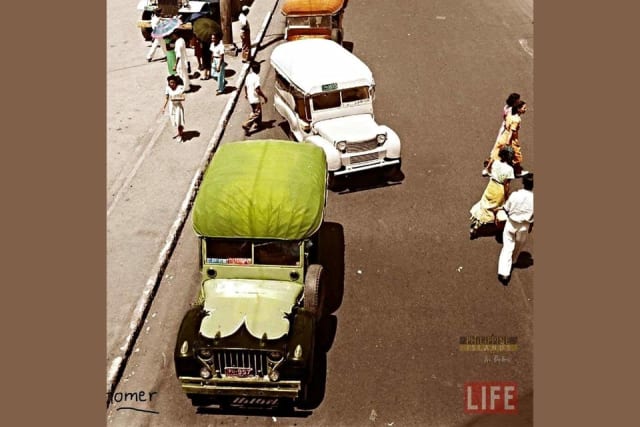 40. "On The Way To A Filipino Christening" (circa 1900 – 1902)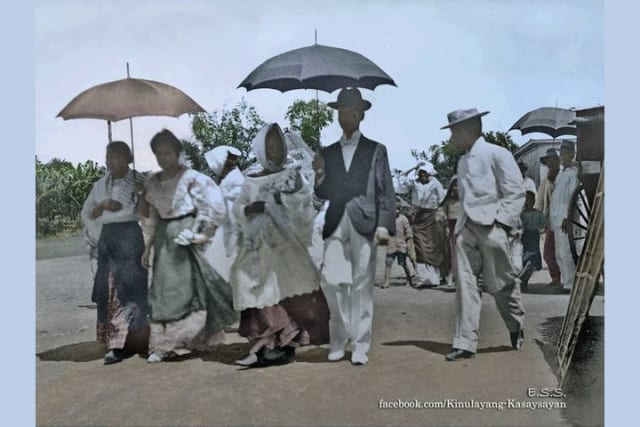 41. A maiden of Pandacan, Manila (1929)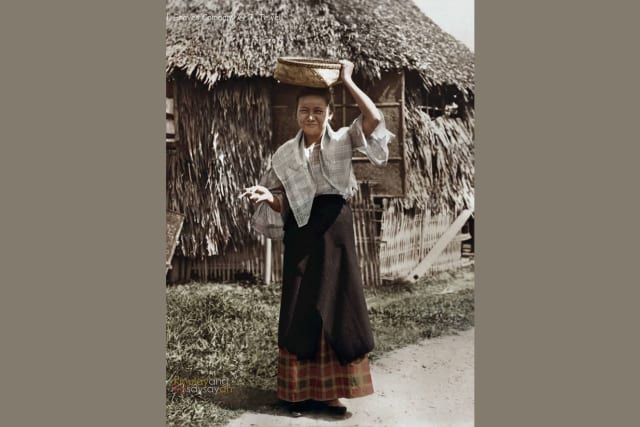 42. Philippine market (1930s)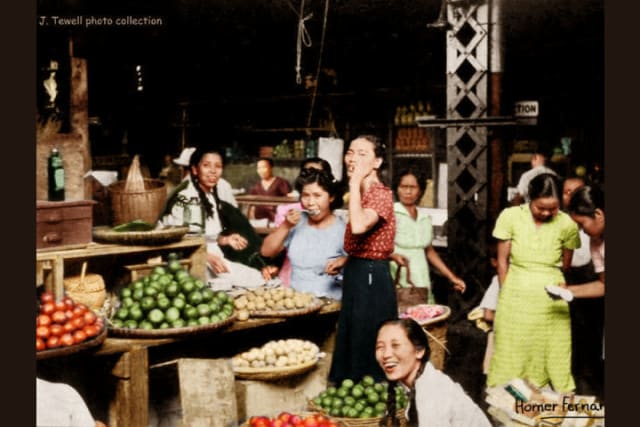 43. Native method of propelling canal boats on Escolta Canal, Manila (early 1900s)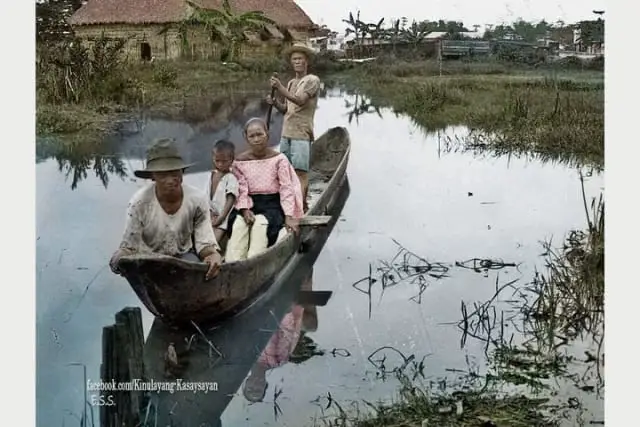 44. Filipino folk dancers (1930s)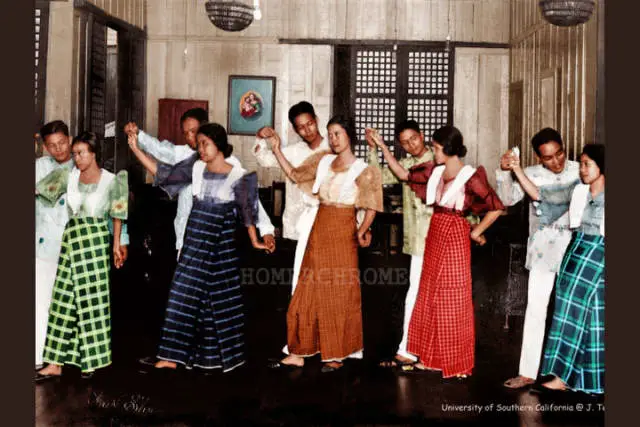 45. Filipino washerwomen in Manila (circa 1890s – 1900s)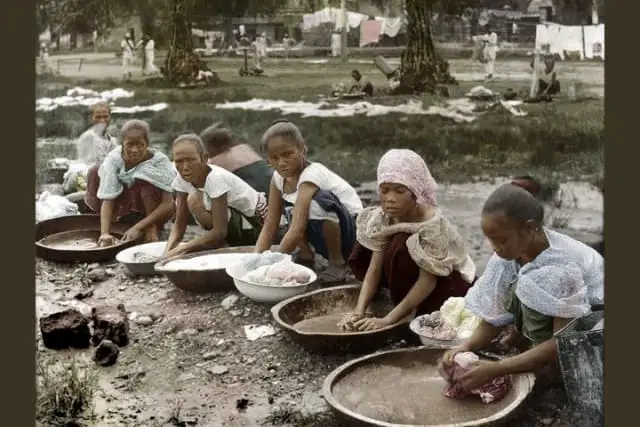 46. A captured dugong in Zamboanga (1933)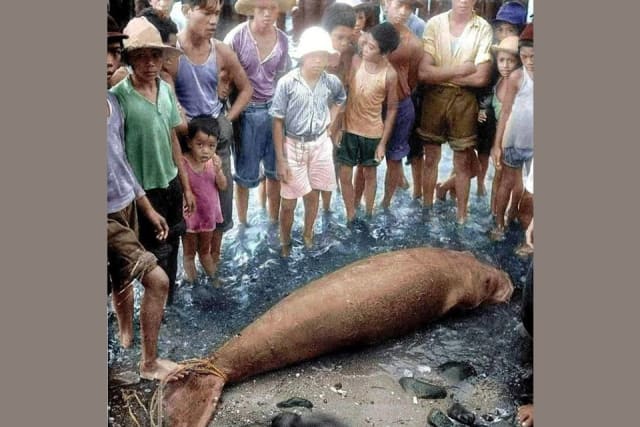 47. "Indias dela Provincia dela Pampanga" (circa late 19th century to early 20th century)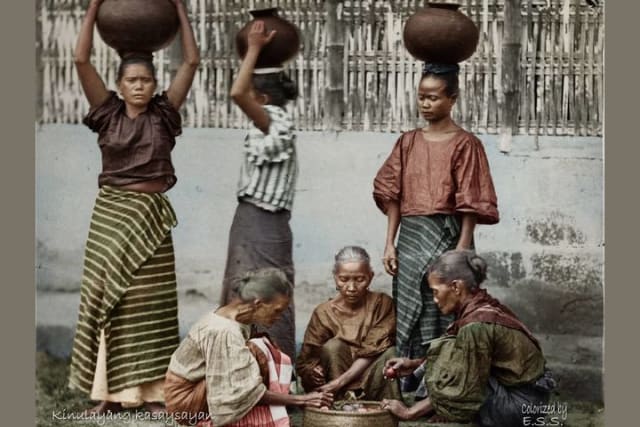 48. "Fish Trap, Philippines" (1929)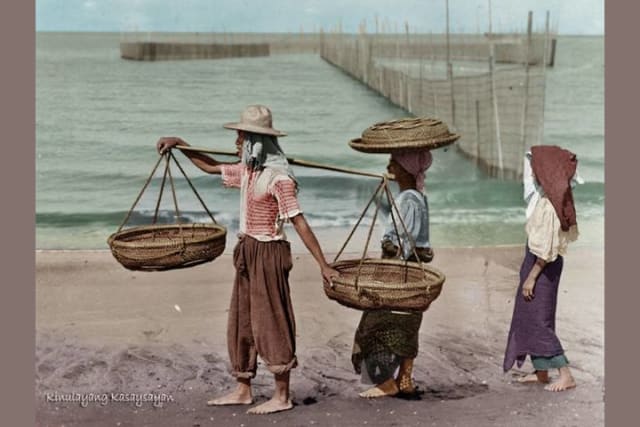 49. Crowd in a Manila marketplace (1901)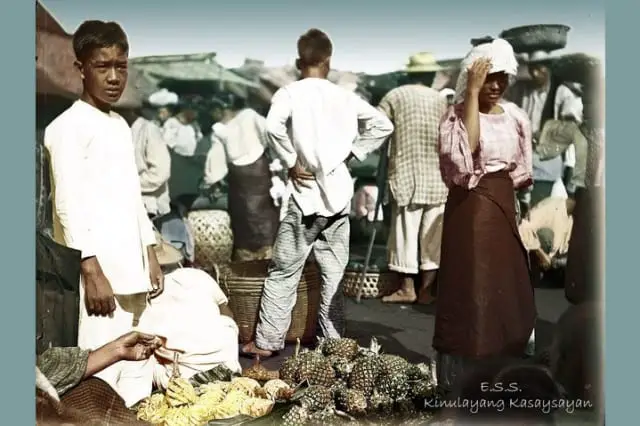 50. Children in a Manila marketplace (1901)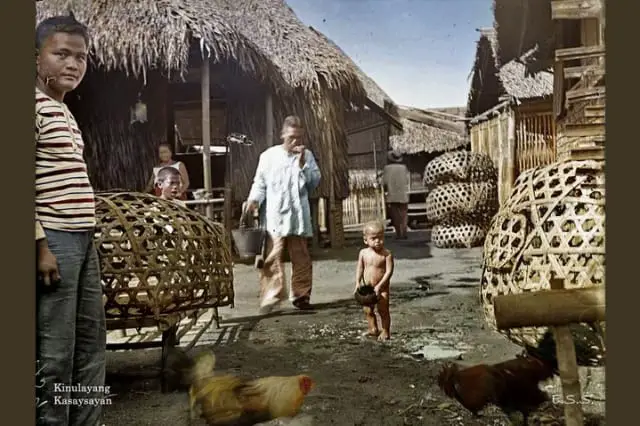 51. "A neighborly talk, a nipa house is under construction behind them, in the outskirts of Manila, Philippines" (early 20th century)