How do you define a hero?
For most people, the term brings up images of Jose Rizal being shot in Bagumbayan or fictional icons such as Superman fighting hard to save Planet Earth.
An article from NHCP, however, defines a hero as "anyone who seeks for the attainment of an ideal society by breaking away from the shackles of oppression for the interest of the general public."
In other words, one can be a hero by simply making a difference in the lives of other people, regardless of their race, color, or creed. And this status can be achieved either through direct or indirect participation to the war against oppression.
We've already learned about some great Filipino heroes–from well-known personalities like Bonifacio to forgotten heroes such as Gliceria Marella-Villavicencio. But how about those foreigners who once fought under the Philippine flag? Or whose valiant efforts have benefited us in the long run?
In this article, we're going to look back at some of the forgotten foreign (or "half-Pinoy") warriors who once fought for us or helped our countrymen in their own little ways.
1. Claire Phillips a.k.a. "Manila Mata Hari."
Nationality: American
Who is she? Claire Phillips was a talented dancer and singer who opened an upscale nightclub in Manila for the purpose of spying on the Japanese, hence her nickname "Manila Mata Hari."
She arrived in Manila in 1941 to join a song and dance revue, but later met a young American soldier whom she fell in love with. Her husband was eventually captured and killed in the Japanese prison camp.
To evade capture, Phillips changed her identity into that of a Filipina with Italian descent. She would later open "Club Tsubaki" which catered to powerful Japanese officials. With the help of her Filipino staff, Phillips was able to gather information from their customers which proved to be valuable to the Allied intelligence.
"Hero" moments: As a spy, Phillips regularly supplied local guerrillas with valuable intelligence. And her effort soon paid off: A tip to American soldiers once launched a successful attack against a Japanese submarine squadron in the Pacific.
She also used the profits of Club Tsubaki to buy medicines and food intended for the prisoners-of-war at Cabanatuan as well as fund an underground tabloid which reported current war developments. Phillips was known then as "High Pockets" for her habit of hiding secret valuables in her bra.
Unfortunately, Claire Phillips was eventually captured by the Kempeitai (military police arm of the Imperial Japanese Army). Her skin was burned with cigars and she was also punished using a method called "water cure." By the time she was released in the prison in 1945, Phillips had already lost 55 lbs.
After returning to Oregon, she wrote a memoir entitled "Manila Espionage" and became the only woman in the state to receive the Presidential Medal of Freedom in 1951. Nine years later, she died due to alcoholism-related meningitis.
2. Col. Manuel Sityar a.k.a. "Son of Spain."
Nationality: Spanish
Who is he? Col. Manuel Bernal Sityar, a Spanish mestizo, was originally part of the Royal Armed Forces of Spain. Two years after the Philippine Revolution began in 1896, Sityar defected to Aguinaldo's army and declared, "I have served the country of my father with blood. Now I will serve the country of my mother with blood."
Sityar was born on Aug. 20, 1863, to an "Indio" mother and a Spanish father who was a duke and commodore of the Spanish Navy. After training in Manila, he then went to Toledo, Spain to further his military studies. He graduated from the Academia Militar de Toledo in Spain in 1895.
As part of the Spanish forces in the Philippines, Sityar was the first to discover the existence of the Katipunan. On July 5, 1896, he reported to the Governor General of Manila that a group of men in San Juan del Monte and Mandaluyong was signing documents using their own blood to join an undisclosed organization.
The Spanish authorities dismissed Sitar's warning, believing it was just a cult. Or so they thought.
"Hero" moments: After declaring that he had switched alliance on May 28, 1898, Col. Sityar became the assistant chief of staff and aide-de-camp to General Emilio Aguinaldo. Along with other 100 Spanish officers, he started to fight for the Filipino cause.
Sityar is also known in history as the founder of the first military academy in the Philippines. He also represented Laguna during the Malolos Congress.
In 1900, despite his role in the Philippine Revolution, Sityar was still awarded by the Spanish government the title of Knight First Class (Caballero) of the Military Order of Maria Cristina.
After he surrendered to the Americans in 1899, Sityar taught at the Liceo de Manila and also became one of the founders of Partido Federal. He died in 1927.
3. David Fagen a.k.a. "The Black Rebel."
 Nationality: American
Who is he? David Fagen, an African-American soldier, was part of the American forces before he defected to Emilio Aguinaldo's army during the Philippine-American War (1899-1902).
Born in Tampa, Florida around 1875, Fagen enlisted in the 24th Infantry, one of the four Black regiments who arrived in the Philippines to fight with white American troops.
As part of the 24th Regiment, Fagen was involved in several major battles against insurrectos in Central Luzon. However, the overwhelming racism perpetrated by their white comrades threw Fagen into a dilemma.
A Black private once wrote that "the white man's prejudice followed the Negro to the Philippines, then a thousand miles from where it originated." He also had constant arguments with his superiors who frequently ridiculed him and forced him to do "all sorts of dirty jobs."
Soon, Fagen grew sympathetic towards Filipinos who were also a "colored" race fighting for their own freedom. On November 17, 1899, Fagen defected to the Filipino army and made his way to the rebel's sanctuary at Mount Arayat, Pampanga.
"Hero" moments: Known by his men as "General Fagen", he clashed with his former allies at least eight times between 1900 and early 1901. He is best remembered for leading his men in capturing an American steam launch in Pampanga, and later seizing its cargo of guns.
Due to his exemplary skills, Fagen was promoted by General Jose Alejandrino from first lieutenant to captain on September 6, 1900. The New York Times also featured Fagen on its front page and described him as "cunning and highly skilled guerilla officer."
As insurrecto leaders were captured one by one, Fagen reportedly took refuge in the mountains of Nueva Ecija together with his Filipina wife. In 1901, he was being hunted as a bandit with a $1000 price on his head.
Later, a Filipino hunter named Anastacio Bartolome delivered a sack to the American authorities containing the alleged head of Fagen. He claimed that he killed Fagen while he was bathing in a river with his wife and a group of Aetas.
However, it was never confirmed whether Bartolome received his reward. Official army records, on the other hand, describe the incident as the "supposed killing of David Fagen." The Philippine Constabulary also reported about occasional sightings of the black rebel during the ensuing months.
Although his death is still shrouded with mystery, it is said that Fagen fabricated his own death so he could live peacefully in the mountains with his Filipina wife.
4. Ann Agnes Bernatitus a.k.a. "Angel of Bataan."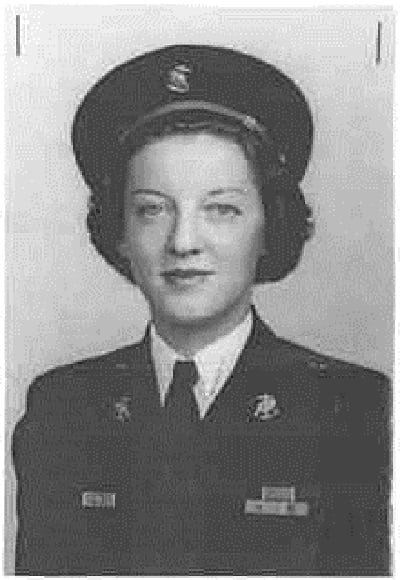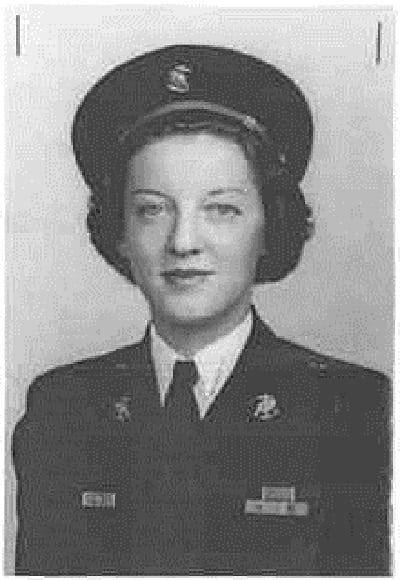 Nationality: American
Who is she? Capt. Ann Agnes Bernatitus became the first person to receive the Legion of Merit medal in 1942 for her courageous decision to treat Filipino and American soldiers even while Bataan was being bombed during World War II.
Born on January 1, 1912, in Exeter, Pennsylvania, Bernatitus joined the U.S. Navy as a nurse in 1936. Four years later, she was assigned to the Philippines. "I had no idea what the Philippines looked like," she says, "I hadn't read up on it or anything. …But life was very good out there…. We went to work at 8 o'clock. You went to lunch and then didn't have to go back on duty."
"Hero moments": Bernatitus was the only navy nurse who was assigned in Bataan at the height of WWII. Among the 50 nurses who served throughout the Battle of Bataan, half are Filipinos while the other half are Americans.
Referred to as the 'Angel of Bataan,' Bernatitus worked in the war-plagued province as an operating nurse. She cared for the wounded Filipino and American soldiers even when the Japanese bombed the American field hospitals in the area.
Just before the fall of Bataan, she and other nurses were moved to the underground tunnels in Corregidor.
She was the last naval nurse rescued from the island by the submarine USS SPEARFISH (SS-190) which then sailed to Australia. After returning home, she continued to serve in the Navy until 1959. She died in 2003 at the age of 91.
Describing Bernatitus' war exploits, state Sen. Raphael Musto once said: "She wasn't a hero because she carried a gun and stormed a fortified position. She didn't fly a plane or pilot a ship. She was a hero because she carried compassion and caring into battle and did her job to the best of her ability."
5. James H. Blount a.k.a. "The Anti-Imperialist"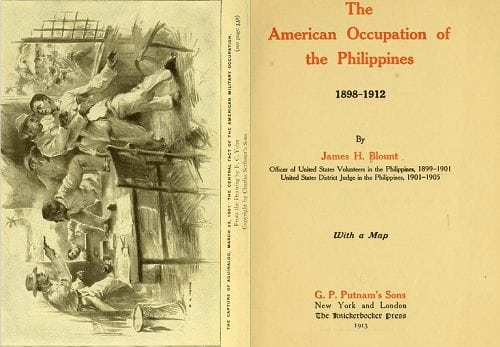 Nationality: American
Who is he? James H. Blount was a leading figure of Anti-Imperialism who wrote a groundbreaking book in 1913 to expose the injustice of America's policy toward the Philippines.
His magnum opus, "The American Occupation of the Philippines 1898-1912", was criticized by The New York Times in 1913. On its review, the latter described Blount as "undified, unjust, intemperate, and abusive."
But Blount's sentiments didn't come out of nowhere; they were based on his personal experiences.
After serving in Cuba during the Spanish-American War, Blount was assigned to the Philippines where he stayed for 7 years. He first served as a military officer from 1899-1901, and then as a United States district judge in the Philippines from 1901-1905.
"Hero" moments: In his book, Blount recounts how the Philippines was deceived by the U.S.–from the time American Ambassador Spencer Pratt made a false promise regarding Philippine independence to how Admiral George Dewey came to mislead Aguinaldo that independence would indeed be forthcoming.
Later, Blount also supported the Mcall Resolution which was a proposal for an early grant of independence to the Philippines.
The McCall Resolution read:
JOINT RESOLUTION
declaring the purpose of the United States to recognize the independence of the Filipino people as soon as a stable government can be established, and requesting the President to open negotiations for the neutralization of the Philippine Islands.
Resolved by the Senate and House of Representatives of the United States of America: in Congress assembled:
That in accordance with the principles upon which this government is founded and which were again asserted by it at the outbreak of the war with Spain, the United States declares that the Filipino people of right ought to be free and independent.and announces its purpose to recognize their independence as soon as a stable government, republican in form, can be established by them and thereupon to transfer to such government all its rights in the Philippine Island s upon terms which shall be reasonable and just, and to leave sovereignty and control of their country to the Filipino people.
Resolved, That the President of the United States be, and he hereby is, requested to open negotiations with such foreign Powers as in his opinion would be parties to the compact for the neutralization for the Philippine Islands by international agreement.
Blount didn't directly participate in the war, but his early attempts to end the American Imperialism in the Philippines are worth remembering.
References
Dumindin, A. (2006). The Philippine Army: From "Katipuneros" to "Soldiers". Philippine-American War, 1899-1902. Retrieved 30 June 2016, from http://goo.gl/2mSBx5
People & Events: Claire Phillips. Public Broadcasting Service (PBS.org). Retrieved 30 June 2016, from http://goo.gl/jShnUR
Phillips, C. & Goldsmith, M. (1947). Manila Espionage. Binfords, Portland.
Robinson, M. & Schubert, F. (1975). David Fagen: an Afro-American Rebel in the Philippines, 1899-1901. The Pacific-Historical Review, 44(1), 68-83.
St. Petersburg Times,. (1942). The Food on Submarine Was "Excellent" Says Navy Nurse, p. 12. Retrieved from https://goo.gl/TVJKUb
The Nurse and the Submarine. (2014). Submarine Force Museum. Retrieved 30 June 2016, from http://goo.gl/5e9wjq