Photos are powerful learning tools, especially if you're dealing with Philippine history. I mean, it's not like fiction novels where you can solely use the power of imagination to recreate scenes and characters–history doesn't work that way. In order to get an idea about the things that happened in the past, you first need solid evidences and/or primary sources.
Also Read: 10 Vintage Photos of Filipinos Being Awesome
There are historical events that are only supported by a few surviving documents. In most cases, however, the stories we know have been fully preserved in photographs. And we're not just talking about iconic photographs like Rizal wearing a coat or Bonifacio's only existing portrait. There are a lot of lesser-known photos in Philippine history that are equally intriguing, and here are just 7 of them:
1. President Emilio Aguinaldo during the opening of Malolos Congress, with General Antonio Luna behind him (1898)
This photo shows Emilio Aguinaldo during the opening of the Malolos Congress in Bulacan on September 15, 1898. Aguinaldo arrived in Malolos from Cavite in August of that year, but only convened the Malolos Congress a month later together with 85 delegates.
The Malolos Congress was established after the Revolutionary Government declared independence from Spain on June 12, 1898. It drafted the constitution for the First Philippine Republic, with some historians describing it as the "best constitution the country has ever had." The said constitution was finished within four months, culminating to the creation of the first democratic republic in Asia on January 23, 1899.
It's interesting to note that almost a year after the above photo was shot, General Antonio Luna (the one riding a horse) would be assassinated by Aguinaldo's bodyguards, most of whom Luna previously ordered disarmed. His alleged last words were "Cowards! Assassins!"
 Also Read: 13 Most Famous Last Words Ever Uttered in Philippine History
2. A group of guests attending a Moro wedding in Sulu (1891)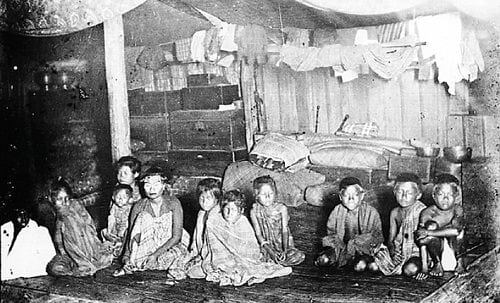 This photo, taken in the early 1890s during a Muslim wedding in Sulu, is one of the earliest in Dean C. Worcester's photographic collection. Worcester published "The Philippine Islands and Their People," one of the first books to ever reach American readers after the end of Spanish-American War in 1898.
Born in Vermont in 1866, Worcester worked as an Assistant Professor of Zoology at the University of Michigan before being appointed by President William McKinley to the Philippine Commission in 1899. He later became the secretary of the interior of the Philippines and held that position from 1901 to 1913.
Related Photo: Ifugaos in Wedding Dress (1900)
Even before he was assigned to the Philippines, Worcester already had a passion for travel and photography. In fact, his first trip to the Philippines was in 1887 when he became part of a bird-watching expedition led by his professor at the University of Michigan. He returned in 1890 with fellow scientist and photographer named Frank L. Bourns to conduct another expedition.
During this second trip, Worcester was able to travel to some of the most remote places in the country, and meet its inhabitants ranging from hunters and warriors to fishermen and farmers.
Most memorable among their encounters, however, was when they met the Muslim inhabitants in Mindanao. Influenced by the Koran, the Moros were against the act of getting photographs of living things. For this reason, Worcester had to steal most of the pictures and use deceptive techniques just to get hold of his photographs.
Referring to the rare photograph above, Worcester noted that they
"….were very anxious to get pictures of the guests, and that evening
smuggled in our dismounted camera, together with some magnesium
powders and a flashlight lamp. Under pretext of contributing our share to
the entertainment, we showed them how to make artificial lightning. Bourns focused by guess, I touched off magnesium powders, and in this way we
made a number of exposures, only two of which gave us negatives that
would print."
3. Entertaining the Kalingas (1914)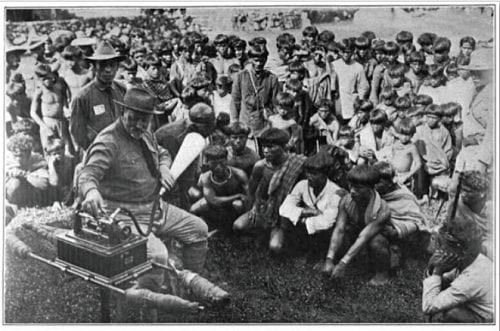 Another gem from Worcester's collection, this photo–along with another one showing some tribal Filipinos staring at and amused by a phonograph–suggested the cultural inferiority of indigenous Filipinos.
As the colonial administrator and head of the Bureau of Non-Christian Tribes, Dean Worcester slowly introduced the Western culture to the indigenous Filipinos. At one point, they built schools and initiated workshops to teach English rather than Philippine languages. They also introduced Western athletic games and suppressed Philippine national sports in the process.
Also Read: The U.S. Benevolent Assimilation of 1898
The most transformative, however, was the colonial military, specifically the Philippine Scouts and Philippine Constabulary. Some colonial officials touted both branches as "schools for citizenship," having served as institutions which recruited ethnic groups to fight against Philippine insurgents.
4. A man on a hammock (presumably Apolinario Mabini) guarded by Americans (1899)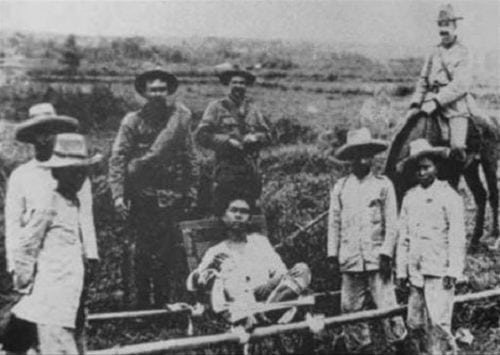 This undated photo shows a man on a hammock–presumed by some historians to be Apolinario Mabini–guarded by American soldiers including an officer on horseback.
Known in Philippine history books as the "Sublime Paralytic" or "Brains of the Revolution," Mabini was Aguinaldo's most trusted adviser. When the Filipino-American War broke out, he fled to Cuyapo, Nueva Ecija carried in a hammock. He hid in the place until his capture by Americans on December 10, 1899.
Also Read:  8 Reasons Why Apolinario Mabini Was More Badass Than You Think
Eyewitness accounts confirmed that although a captive, Mabini was "transported in a manner befitting the rank and dignity of a high official" and even received full military escort.
It is also said that the moment Mabini came out of his house in a hammock, the townspeople lined up along the road cheering "Mabini! Mabini! Mabuhay si Mabini!" (Mabini! Mabini! Long live Mabini!) with the American soldiers even joining the people in "boisterous cheering and hat-tossing."
5. Uniforms worn by plague researchers in the Philippines (1912)
This photo from the archives of the National Museum of Public Health shows two plague researchers in the Philippines wearing protective masks/uniforms. In 1912, Dr. Heiser, chief quarantine officer, and director of health of the Philippine Islands discovered that the Third Plague had already reached the country.
The Third Plague, said to have originated in the Yunnan Province in China in 1855, was the last major pandemic of plague. Unlike the Black Death which claimed the lives of millions of Europeans, the Third Plague was mostly bubonic plague. This means that it's less deadly but still highly virulent as evidenced by over 12 million deaths in China and India alone.
Also Read: The Oldest Known Photos of the Philippines Ever Taken
By the end of October, 1912, Dr. Heiser reported 17 cases of plague in Manila, with 15 deaths. The plague began in the freight warehouse of the Manila & Dagupan Railway Co. where several dead rats were discovered. It initially claimed the lives of 2 laborers, with 11 other employees also stricken with the plague.
According to a journal article found in the Public Health Reports (1896-1970), the spread of the plague was arrested through effective measures which include moving of all the goods in affected warehouses. The buildings were also "thoroughly saturated with kerosene and then wet down with carbonic solution." 
6. Carlos P. Romulo with his future wife Virginia Llamas, crowned Queen of the Philippine Carnival (1922)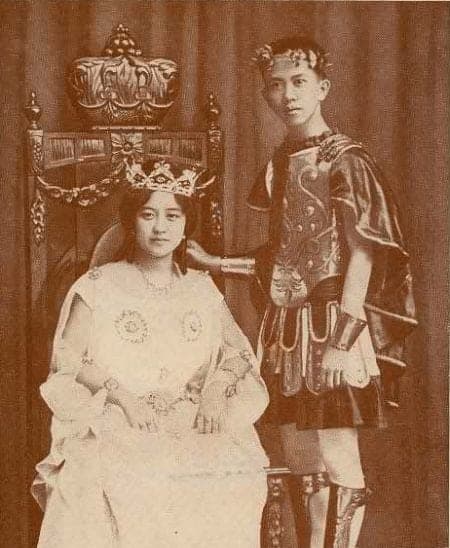 Born in 1898, Carlos Peña Romulo was a highly acclaimed educator, Pulitzer Prize-winning journalist, the first Asian to be elected president of the United Nations General Assembly, and a dedicated public servant who worked under eight Philippine presidents.
In 1924, Romulo married a local beauty queen named Virginia Llamas. It is said that the romance started when Romulo was assigned to be the escort of Llamas who was crowned Queen of the Philippine Carnival in 1922 (see photo above).
Llamas, who once said that she preferred to glow "faintly in her husband's shadow," died in 1968, near the end of Romulo's term as president of University of the Philippines.
Romulo, regarded by many as one of the greatest Philippine presidents the country never had, once wrote: "I had to be outstanding, to make the greatest effort to win, to prove I was capable not in spite of having been born a Filipino but because I was a Filipino."
7. Homeless Filipino children amid WWII wreckage (1945)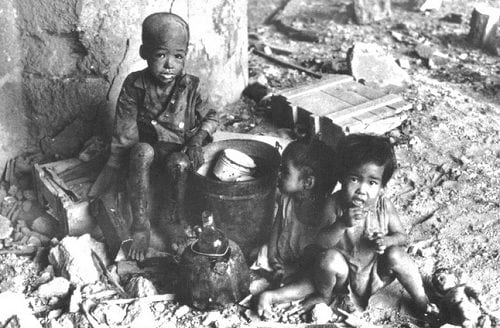 This heartbreaking photo shows three Filipino children–with the older boy severely burned–during the aftermath of Battle of Manila in 1945. The Japanese atrocities resulted in the deaths of at least 100, 000 innocent Filipino civilians, including women and children.
Also Read: 12 Rare Pinoy Historical Videos You've Probably Never Seen
Cruel acts of the Japanese in the 1945 "Rape of Manila" ranged from women's breasts being hacked off to attempts of having carnal intercourse with the body of a dead female civilian.
References
Balabo, D. (2006). Historians: Malolos Congress produced best RP Constitution. [online] philSTAR.com. Available at: http://goo.gl/IqRMAU [Accessed 25 Sep. 2014].
Capozzola, C. (2012). Photography and Power in the Colonial Philippines: Dean Worcester's Ethnographic Images of Filipinos (1898 – 1912). 1st ed. [ebook] Available at: http://goo.gl/xZOdU4 [Accessed 29 Sep. 2014].
De Viana, A. (n.d.). The I Stories: The Events in the Philippine Revolution and the Filipino-American War as told by Its Eyewitnesses and Participants. 1st ed. University of Santo Tomas Publishing House and Flipside Publishing.
General Carlos P. Romulo Official Website, (n.d.). Biography of Carlos P. Romulo. [online] Available at: http://goo.gl/O0TcXl [Accessed 29 Sep. 2014].
Ocampo, A. (2014). Looking Back 8: The Virgin of Balintawak. 1st ed. Mandaluyong City: Anvil Publishing, Inc., p.20.
Philippine Islands: Manila. Plague. (1912). Public Health Reports (1896-1970), 27.