Last Updated on 05/11/2020 by FilipiKnow
It's no secret that Filipinos can be conservative. A lot of us used to find conventional dating methods to be ideal. However, the recent advancements in technology created more ways for people to meet and one of them is through online dating.
Gone are the days when meeting possible dates online is a big no-no. According to a study conducted by YouGov, half of all Filipinos have used online dating apps to meet new people. Although it seems like online dating apps are mainly used for hookups, a lot of relationships were formed through them.
In fact, according to the same study, around 71% of Filipinos know at least one couple who met through online dating.
This quick how-to guide will help you successfully find love (or hookups) through Tinder and other dating apps.
Tinder: The Most Popular Dating App in the Country.
Tinder is undeniably the most popular dating app among Filipinos. It's easy to use and with millions of users around the globe, it's easily the biggest dating pool for single Filipinos.
Related: Top 10 Reasons Why You're Still Single
Instead of going out every night in the hopes of meeting your next partner, you can now look for potential dates using your trusty smartphone at the comfort of your own home.
Pros and Cons of Using Tinder.
PROS.
It's a convenient and effortless way to meet new people.

If you're bored, it can be an interesting way to pass the time.

There are countless Tinder success stories and finding love through this app is not far-fetched at all.
CONS.
Looks play a big part in this modern way of dating. 

Fake profiles are everywhere. 

It can be hard to find people you can have fun with.
How to Use Tinder: 5 Steps.
1. Download the app.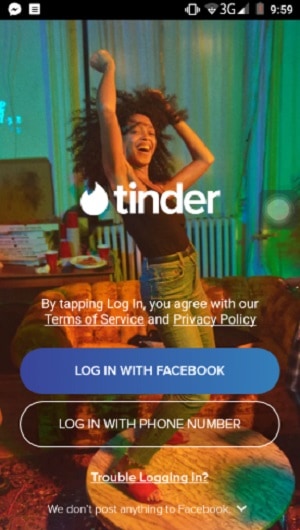 Tinder is available for both Android and iOS users. You can just look for the app at the Google Play Store or Apple App Store and download it.
Tinder's registration process is quick and easy. You can register either through your Facebook account or your phone number.
If you'll sign up using your Facebook account, you'll be redirected to the Facebook app or browser. After logging in using your Facebook account details, a temporary Tinder profile will instantly be created for you.
Your Facebook profile pictures and details like your age, university, gender and others will be added to your dating profile. You can always edit your profile and add/remove photos and details.
On the other hand, if you'll sign up using your phone number, you just need to enter your mobile number with the area code. A verification code will instantly be sent to your phone. After providing the correct code, your profile will be created.
You'll be asked to provide your first name (which will be displayed on your profile), your birthday, gender, and then your preferred profile photos.
2. Choose a membership plan.
If you want to access all the best features of Tinder, there are two subscription plans for you to choose from: Tinder Plus and Tinder Gold.
a. Tinder Plus.
The following features will be available to you once you subscribe to Tinder Plus:
Passport To Any Location

(You can match with people all around the world.)

Control Who Sees You

(Your profile will only be shown to certain types of people on Tinder.)

Control Who You See

(You'll only see the most relevant people or the most recently active first.)

Control Your Profile

(You'll have the option to hide your age and distance on your profile.)

Rewind Your Last Swipe

(If you've mistakenly swiped left or right, you can undo it and change your swipe.)

Skip The Line

(You'll be a top profile in your chosen area for 30 minutes and you'll get 1 free boost every month.)

Unlimited Right Swipes

(You'll have the ability to like as many people as you want.)

Hide Ads

(You'll be able to enjoy an ad-free online dating experience.)
Getting Tinder Plus privileges is not cheap. You may avail of a 1-month, 6-month, or 12-month subscription, with price varying between Php 200+ to Php 500+ per month depending on the plan you choose (the longer the subscription plan, the lower the monthly payment). 
b. Tinder Gold.
These are the features that will be available to you after subscribing to Tinder Gold:
Instant Matches

(See all the users who like you and match with them instantly.)

Swipe on  Every Top Pick, Every Day

(You'll get access to top picks every day.)

Passport To Any Location

(You can match with people all around the world.)

Control Who Sees You

(Your profile will only be shown to certain types of people on Tinder.)

Control Your Profile

(You'll have the option to hide your age and distance on your profile.)

Unlimited Rewinds

 (If you've mistakenly swiped left or right, you can undo it and change your swipe.)

Super Likes

(You'll get 5 Super Likes every day.)

Unlimited Likes

(You can swipe right as many times as you want.)

Turn Off Ads

(You won't see any ads while swiping.)
Tinder Gold subscriptions are more expensive and available in 1-month, 6-month, and 12-month subscription plans. Monthly payments range from Php 300+ (if you subscribe for one year) to Php 700+ (if you only want to try it for a month).
3. Create your profile.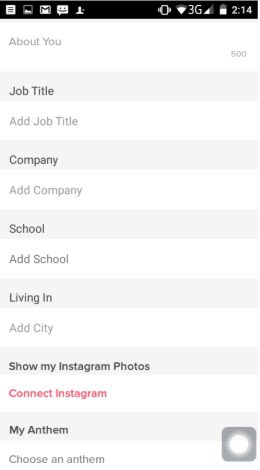 Creating an amazing profile is the key to getting a lot of good matches. 
First, you must choose several photos that you like best. You can add up to 9 photos. You can also add an "About Me" section which should have at most 500 words. You have the option to add your job title and company. You can also include the name of your university and the city you're currently living in. 
Moreover, you can now connect your Instagram profile to your Tinder profile. You can also share your Spotify Anthem and Top Spotify Artists. 
If you ever get tired of swiping, you can temporarily hide your profile by using the "Pause My Account" feature. Meanwhile, if you wish to leave Tinder for good, there's a "Delete My Account" feature that you can choose.
4. Start looking for your match.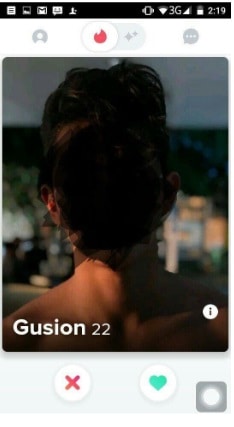 Tinder makes it easy for you to find possible matches according to your preferences. You have the option to choose which gender you want to match with: Men, Women, or Everyone. 
You can set the minimum and maximum distance of possible matches from your current location, ranging from 1 mile to 100 miles. You can also set the age range of your possible matches, from 18 to 55+.
After applying all the available settings and turning on your location, you can now start your first swiping session.
If you're not interested in a profile, click the X button or simply swipe left. If you like a profile, click the heart button or simply swipe right. 
Sometimes, you'll be given free premium features like Rewind, Super Like, and Profile Boost during swiping sessions.
The Rewind feature lets you go back to your previous swipe if you've accidentally swiped left or right and you wish to undo that action. The Super Like feature is a great way to catch the attention of a user that you significantly like more than others. The Profile Boost will make yours the Top Profile for 30 minutes and increase your chances of getting matched.
If any of the profiles that you swiped right also liked you, that's when you'll get a match. Once you match with a user, you'll be able to message each other. Both of you will get a notification that you've matched with each other.
5. Get your first Tinder date.
A lot of people are wondering if it's entirely possible to get a date from Tinder and the answer is a big YES. A small percentage of Tinder users even find future boyfriends or girlfriends from this dating app. 
It's all about the timing and the kind of people you match with. Out of hundreds of matches, less than 10 of them will probably maintain an engaging conversation with you.
If you luckily find yourself an amazing match who could hold a conversation, then you may eventually go on a date with that person. A coffee date is the best way to meet your Tinder match for the first time. It's a great way to get to know your date without all the fuss.
Tips and Warnings.
1. Just be yourself.
Lying on your profile and through conversations with matches will only slow down your Tinder dating process. Staying true to yourself will make it easier to find matches who share the same interests and qualities with you.
2. Pick the best photo for your profile picture.
Choose a photo that shows your best features and a little bit of your personality. It's the first thing that users will see and it's always best to leave a great first impression.
3. Do some research before personally meeting one of your matches.
When you're hitting it off with a match and you've both decided to go on your first date, make sure to check his social media accounts. A lot of married and committed people are on Tinder so it's better to be safe than sorry.
4. Always prioritize your safety.
If you have successfully scored a date through Tinder, make sure to meet up with them in a crowded place. Let a couple of your friends know that you're meeting a Tinder date and give them his photo and personal details.
5. Know when to move on.
A lot of good-looking people on Tinder turn out to be bad at making conversation. If the person seems uninterested, it's better to forget about him if around 24-48 hours have passed since your last conversation. Online dating is all about timing.
6. Don't pass up on a great match.
While the idea of matching with hundreds of users might be tempting, don't let go of an amazing match thinking that you'll find better ones in the future. You don't need thousands of matches; you just need a few ones who could carry a conversation well and hit it off with you.
Frequently Asked Questions.