There's really more to life than meets the eye. And just when you thought you have it all figured out, puzzling events come to prove you wrong.
Such is the case with unsolved mysteries, the enigma of which seems to challenge what local history textbooks have taught us over the years. From a mysterious creature that looks like Bigfoot's distant cousin to gruesome murders that have left unanswered questions, Philippine history has its own way to fascinate the mystery buff in us.
Due to persistent public demand, here is the sequel for one of our most popular lists, Top 10 Unsolved Mysteries in the Philippines (Part 1). Read, enjoy, and share!
5. "Amomongo" – Philippines' Big Foot.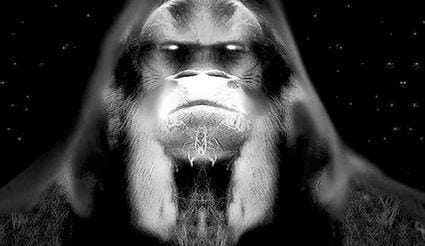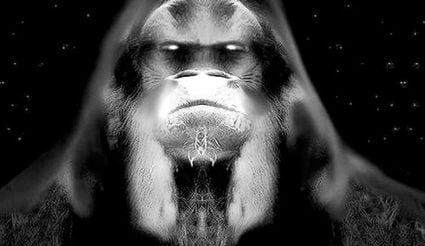 The backstory:  For starters, Amomongo is perhaps the local counterpart of America's Sasquatch or Bigfoot.  The name is a loose term for 'gorilla' and was used by the residents of La Castellana, Negros Occidental to describe the elusive creature who terrorized their town a few years ago.
In 2008, Elias Galvez and Salvador Aguilar, residents of Brgy. Sag-ang, were allegedly attacked by a "hairy creature with long nails". Medical records show that they suffered numerous scratches on their face, abdomen, and back. Additional probing revealed that the same creature purportedly disemboweled at least50 chickens and one goat a month before the incident.
'Clueless' factor:  Described as a hairy white ape with a size of a man, Amomongo is usually a reclusive cave dweller.  The thing is, no chimpanzee or gorilla has ever been identified as native in the Philippines. In addition to that, the last albino gorilla known as "Snowflake" already died a decade ago and the chances of another albino hiding somewhere in the Philippines are pretty slim.
So is this hairy white ape just a hoax or another one of Mother Nature's best-kept secrets? Only time will tell. [Image source: Mental Floss]
4. The Assassination of Gen. Antonio Luna.
The backstory:
General Antonio Luna
played a pivotal role in the Philippine Revolution. But two things have made him even more famous: his mustache and his notoriously bad temper.
According to historian Ambeth Ocampo, the latter was best exemplified when Luna challenged a Spanish journalist named Mir Deas to a duel. It didn't happen, of course, as Luna was famous for his superior skills in swordsmanship. However, this dark side of Luna's personality is the same thing blamed for the general's untimely death.
UP Professor Vivencio Jose recounted in his book, "The Rise and Fall of Antonio Luna" what really happened on that fateful day of  June 5, 1899. Antonio Luna arrived in a convent in Cabanatuan to supposedly meet Aguinaldo.
While waiting for the latter, Luna rushed downstairs to check on gunshots he heard in the courtyard. On the way to the final step of the stairs, a bolo knife struck his head.
He then received a total of 30 wounds either by gunshots or steel weapons from several Cavite soldiers, most of whom he knew very well. The great general died instantly along with his aide, Col. Francisco "Paco" Roman.
'Clueless' factor: Prior to the assassination, it had been reported that "bitter dissensions, mutual suspicions, and jealousy" formed a rift between Aguinaldo and Luna.
For this reason, most allegations have directly claimed that Aguinaldo was the mastermind of the killing. In addition to that, Capt. Pedro Janolino, the first soldier to ever struck Luna with a bolo knife in Cabanatuan, was also a known ally of Aguinaldo.
However, none of the alleged murderers–not even Aguinaldo–were punished or even investigated. Antonio Luna's case remains unsolved up to this day.
3. Lucila Lalu a.k.a. The "Chop Chop" Lady.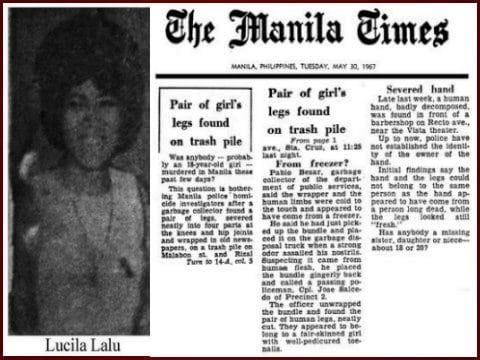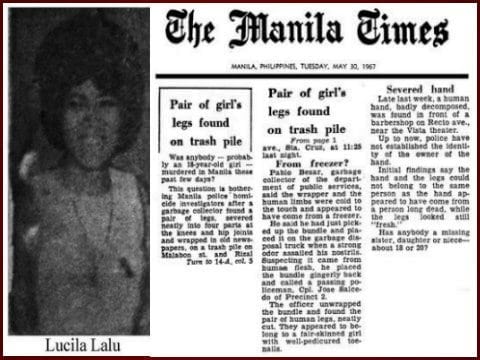 The backstory: Using her business mindset, probinsyana Lucila Lalu slowly emerged from being a simple waitress to a bona fide entrepreneurial success. By 1967, she already owned two establishments: Pagoda Soda Fountain, a restaurant-cum-cocktail lounge in Rizal Avenue, and Lucy's House of Beauty, a beauty parlor on Mayhaligue St., Sta. Cruz.
Life seemed so sweet for Lucila until things took an ugly turn. On May 28, 1967, the whole nation was shocked as the first case of a "chop chop" lady emerged in newspaper headlines.
Several body parts which later identified to be those of the 29-year old Lucila were found scattered in different parts of Manila.  Her legs, chopped into four pieces, were found wrapped in a newspaper and stuffed in a garbage can not far from Lucila's cocktail lounge. Later on, her headless body was discovered on a vacant lot along EDSA.
Sadly, the severed head of Lucila, who was also one-month pregnant at the time of the murder, has never been discovered.
'Clueless' factor: Four men, all of whom were romantically linked to Lucila, were considered suspects for the murder. First on the list was 19-year old Florante Relos who worked as a waiter for Lucila's cocktail lounge.
The second was patrolman Aniano Vera who was Lucila's common-law husband at that time. However, both Relos and Vera were cleared from charges due to lack of strong pieces of evidence to prove them guilty.
Another two suspects emerged in the following months including an unidentified printing firm executive and a 28-year old dental student Jose Luis Santiano who many believed was just a fall guy.
After four decades of searching, Lucila Lalu's murder case remains unclosed.
2. Bonifacio's Bones.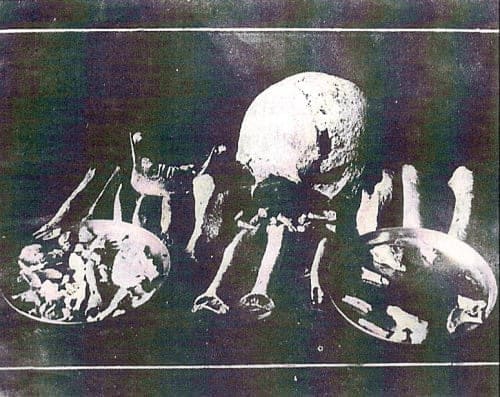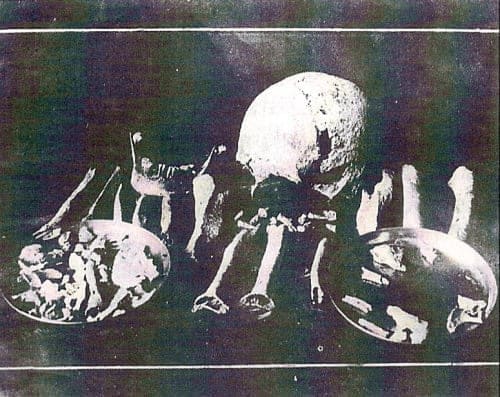 The backstory: Much of the controversies about Andres Bonifacio's death revolve around the issue of whether Aguinaldo intentionally ordered the execution or not. That or the never-ending suggestion to declare the Supremo of Katipunan as our national hero.
But the greatest mystery lies on Bonifacio's bones, their whereabouts, and the reason why they remain hidden after all these years.
Few people know that in 1918, a set of bones was exhumed in Maragondon, Cavite. We should remember that the brothers Andres and Procopio Bonifacio were sentenced to death after a revolutionary court found them guilty of treason.
It is said that the bones were later brought to the University of the Philippines for an autopsy procedure led by Dr. Sixto de los Angeles. Subsequent reports, including an interview with Espiridiona Bonifacio (younger sister of Andres), proved that the excavated remains were, indeed, those of Bonifacio. Or so they thought.
'Clueless' factor: Not long after its discovery, the alleged Bonifacio's bones mysteriously disappeared. They were last seen in 1926 displayed at the Temple of the Legionarios del Trabajo.
Two probable reasons emerged to explain the disappearance: Either they were stolen by heartless thieves or,  in the words of famed historian Ambeth Ocampo, disappeared because "they would not have stood closer scrutiny". 
Other accounts claimed that the legendary bones were cremated and deposited under the Bonifacio Monument immediately after the autopsy.
On the other hand, Lazaro Makapagal, one of the actual people who buried the Bonifacio brothers shortly after their execution, insisted in 1925 that the exhumed "Bonifacio's bones" were fake and that the final resting place remain somewhere in Maragondon mountains.
1. Yamashita's Lost Treasure.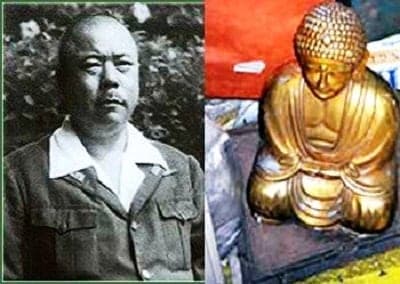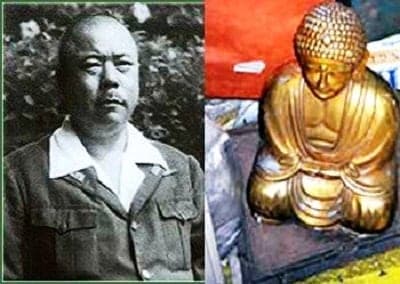 The backstory: The name Yamashita is almost synonymous to a single theme: treasure hunting. Such was its impact to gold hunters that for the last few decades after General Tomoyuki Yamashita's death, the search for the legendary treasure has lingered on.
According to legends, the aptly named "Yamashita's gold" is a collective term for numerous war loots amassed by the Japanese forces from its different conquests across South East Asia.
General Yamashita's original plan was to hide the treasure in the Philippines and then transfer it to Japan via warships once the American forces take over. As we all know, Yamashita was captured, tried, and executed–forever locking the treasure inside the vault of secrecy.
'Clueless' factor: Although Yamashita's gold has long been considered as the Holy Grail of treasure hunting, some experts continue to doubt its existence.
One of them is U.P. professor Rico Jose who insisted that by 1943, Japan was no longer in control of Philippine seas so the idea of bringing in "something that valuable here when you know it's going to be lost to the Americans" makes no sense.
Author Mike Tharp also revealed that from December 1944 up to his defeat, Yamashita had to "relocate his headquarters at least six times", giving him no time to think, let alone plan, on how to hide the treasure.
However, the criticisms toward the authenticity of Yamashita's treasure forgot to remember the strange case of Filipino hunter Roger Roxas, who allegedly discovered a part of Yamashita's treasure in Baguio.
And then there's the former First Lady Imelda Marcos who admitted publicly that the late president actually used and sold gold treasures to help the country survive economic struggles in the 1960s and 1970s.
True or not, Yamashita's treasure remains one of the most intriguing mysteries ever to set foot in the Philippines. [Image source: www.rottentomatoes.com]