We all know the benefits of having an online job – high earning potential, flexible working hours, and freedom from corporate hassles. 
But where to find these online jobs? How will you start your online job hunting? 
If you think that it's a headache to look for one, don't worry because we've got you covered! 
Let this article guide you to the best online job sites in the Philippines, the places where you can find your next online job opportunities.
Table of Contents
Top 10 Best Online Job Sites in the Philippines
Whatever skills or expertise you can offer, whether you're looking for a full-time or part-time job, the following 10 online job sites are the best places to start your job hunting.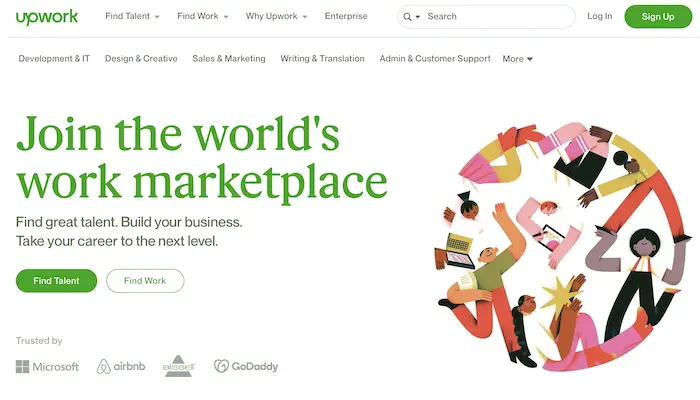 With multiple online job opportunities in the fields of digital marketing, writing, customer service, information technology, and more, Upwork is one of the leading sites that connect freelancers to potential clients around the globe.
How to find an online job through Upwork: Create a profile by including an overview of you, your work history, skills, and expertise to attract potential clients. Then, start exploring remote jobs offered by various clients here. Afterward, send a proposal for the job you desire.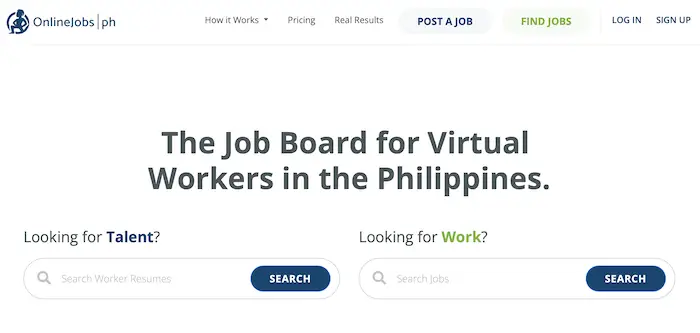 With more than 8,000 employers signed up as of November 2021, OnlineJobs.ph is one of the best go-to sites for Filipino virtual job hunters. Employment opportunities include blog writing, forum posting, coding, researching, and more.
How to find an online job through OnlineJobs.ph: Create an account. Once your account is ready, look for an online job here. There's also a chance that employers will contact you if they deem your profile fit for the job.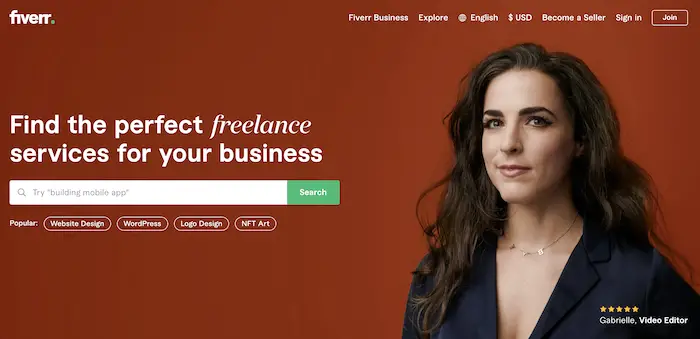 Fiverr is a digital marketplace where you can set your own price and sell your freelance services to clients around the globe. These offered services are called "gigs". Social media management, article writing, audio mixing, and programming are just some of the possible gigs you can offer.
How to find an online job through Fiverr: Sign up for a Fiverr account. Once you have successfully created an account, activate your seller account to create Gigs. To activate, follow the steps here. Afterward, you can now create your first Gig. Put a title like "I will design your website logo", then add a description about it. You can also include a FAQ section for additional details. For more information on how to create a Gig, refer here.

As one of the leading job sites in the world with around 10 job openings added per second1, Indeed is one of the best spots to find a remote work opportunity.
How to find an online job through Indeed: Create an account using an active email address. Since Indeed offers both on-site and remote work opportunities, you have to search for available remote job opportunities you can apply for. To do so, use the Indeed job search and enter remote/online job or similar keywords in the "What" search box.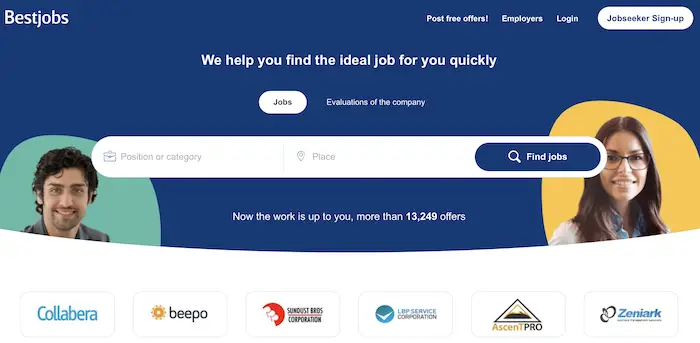 Bestjobs is a job recruitment network that operates in more than 30 countries such as the US and UK. This site allows jobseekers to send their resumes and apply for job offers they desire.
How to find an online job through Bestjobs: Create an account. Afterward, provide a resume by uploading a Word or PDF file or completing their form. To look for online job opportunities, simply enter remote/online job or similar keywords in the search bar. Once you find a job offer you want, click the offer and read the details. Click the Apply button to proceed.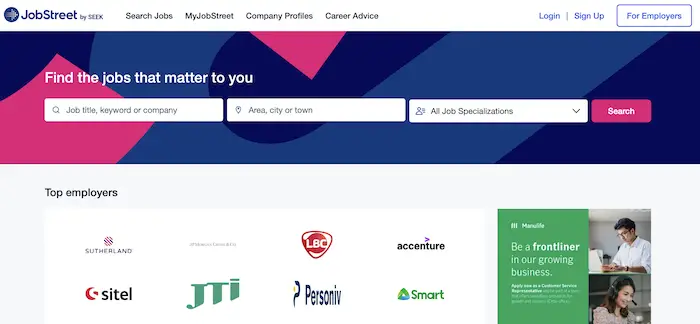 Considered as one of the leading job marketplaces in Asia2, JobStreet provides online job opportunities in e-commerce, tutoring, customer service, design, and more.  
How to find an online job through JobStreet: Sign up for a JobStreet account. Then, provide a resume by uploading one or completing your JobStreet profile. To look for online job opportunities, browse through the job offerings posted. Try also using the search bar to look for online work. Since JobStreet offers both on-site and remote job opportunities, use keywords such as online job/remote work.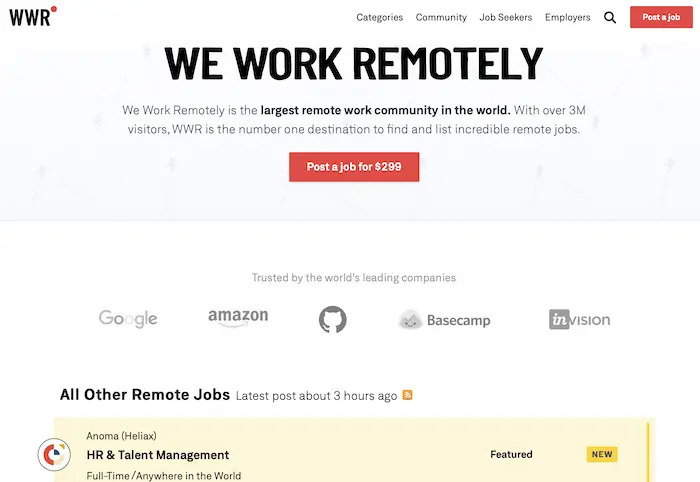 WWR posts remote job opportunities in UX designing, programming, marketing, writing, and more. With over 1,000 new offers monthly, this site is one of the best places to start your job hunting.
How to find an online job through WWR: Create a WWR account. Then, look for an online job by using their Categories tab or the Advanced Job Search feature under the Job Seekers tab. Click the job you want and read the description. Click Apply for this position for further instructions on how to submit your application.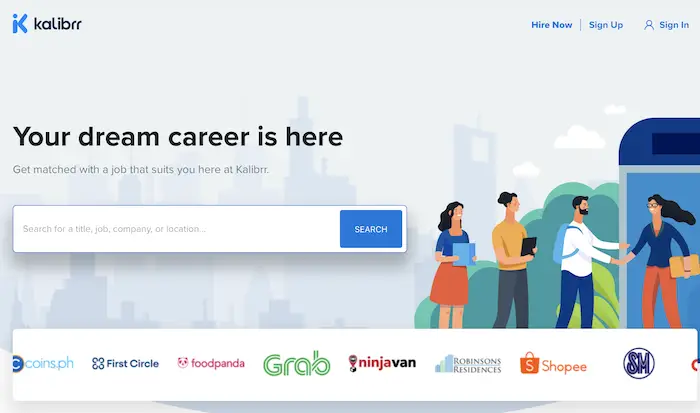 Founded in 2013, Kalibrr prides itself on helping millions of job seekers build their careers3 in a faster and simpler manner. They also provide skill tests to boost your credibility.
How to find an online job through Kalibrr: Start by creating an account. Then, use the search box to look for a job (e.g., "writing"). Make sure to filter the results by ticking the box next to "Work From Home" under the Location tab. Once you find an online job opportunity you want, click the job offer and select Apply now.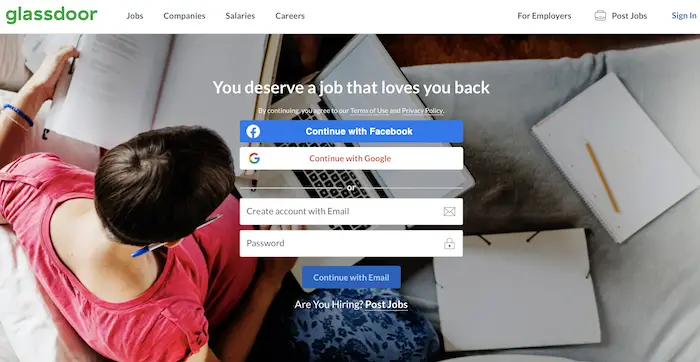 Glassdoor is an American-based job site where you can find remote work opportunities. This site also offers reviews on companies from former employees so you can make an informed decision in choosing the best company. 
How to find an online job through Glassdoor: Create an account with Glassdoor by choosing from one of the registration options presented on its homepage. Afterward, complete your profile and upload a resume. Use the search bar to find an online job. Since Glassdoor offers both on-site and remote work opportunities, you must include keywords such as online job or remote work in your search. Once you see a job offer you want, click the offer and read its description. Click Easy Apply to start your application or Save it if you want to save it for later.
10. Careerjet

Careerjet makes your online job hunting easier by mapping all the available jobs on the internet and collating them in a single database.
How to find an online job through Careerjet: Create an account. Then, upload your CV so you can apply quickly for the job opportunity you desire. You can also create one using their Create your CV feature. To look for an online job, use their search bar. Make sure to use keywords such as online/remote job. Take note that Careerjet will direct you to the website where the job offer originated.
Best Online Job Sites in the Philippines for Specific Workers
1. Writing, Forum Posting, and Content Marketing
2. Tutoring and Online Learning
3. Transcription, Online Survey, and Data Collection
4. Graphic Design and Video Editing
5. Translation
Gengo – offers translation jobs with flexible working schedules.
Unbabel – offers part-time translation jobs which you can do from the comfort of your own home.
6. Virtual Assistantship
VirtualStaff.ph – a Philippine virtual assistant outsourcing platform where Filipinos can get a chance to be a VA for clients from different countries.
7. Programming and Web Development
WordPress – WordPress offers remote job opportunties involving web development.
Arc.dev – a site that collects available online jobs for remote developers.
8. Customer Service
Outsourcely – offers a lot of full-time remote customer service jobs.
Related: How to Earn Money Online in the Philippines: An Ultimate Guide
How To Get Hired in an Online Job Site: 5 Tips
1. Impress recruiters with an updated and concise resume
Since most online job sites require you to upload your resume, it is important for you to invest in it. 
Provide a brief summary of your qualifications. Highlight relevant work experiences and skills (technical and soft) to entice potential employers. Make sure to add a brief description of your previous experience, especially those that contributed a lot to your previous company. Also, include achievements or certifications you have obtained that are related to the job. 
Related: How to Write a Resume in the Philippines (with Samples, Formats, and Templates)
2. Create a portfolio
A portfolio is a compilation of your most impressive works which you can present to potential employers should they ask for one.
For instance, if you are aspiring to get writing gigs in the future, you can start by writing articles related to your interests or hobbies. You can also focus on a specific niche and start building your own blog.
3. Provide a professional online profile
Since potential employers will view your online job site profile, ensure that it looks decent, simple, and professional.
First, provide a high-quality profile picture with you in professional attire. Then, add a short yet straightforward description of yourself. Example: "Freelance Health and Fitness Writer" or "Video Animator and Logo Designer". 
Provide essential information you deem useful to boost your profile such as relevant working experiences, skills, and education. You may also add links to online sites which can showcase your previous works. There are also job sites such as Upwork and Kalibrr that allow you to take skill tests to help you increase your credibility. 
4. Ace the virtual interview
Some employers may require a virtual interview to complete your job application. One thing you don't want to experience on your interview day is technical problems. Hence, make sure that your computer, internet connection, and camera are all in good shape. Furthermore, avoid virtual backgrounds since they look unprofessional.
Just like in an actual interview, be yourself and keep calm. Answer confidently and maintain eye contact. 
5. Make sure you have the required qualifications
Obviously, your chances of being hired will be greatly influenced by your qualifications. However, job qualifications are not limited to specific working experience or skills. There are also jobs such as online tutoring which require you to have specific computer specifications, internet speed, and other accessory devices. 
References
About Indeed. Retrieved 5 January 2022, from https://ph.indeed.com/about
About Us. Retrieved 5 January 2022, from https://www.jobstreet.com/about-us
About. Retrieved 5 January 2022, from https://www.kalibrr.com/about