This article has been reviewed and edited by Miguel Dar, a CPA and an experienced tax consultant who specializes in tax audits.
Got your first job? Whether you're a Filipino or a foreigner, all new employees in the Philippines must register with the Bureau of Internal Revenue (BIR) as part of the pre-employment requirements.
In this guide, you'll learn how to become a taxpayer for the first time by completing the BIR Form 1902.
Disclaimer: This article is for general information only and is not substitute for professional advice.
Download the latest copy of BIR Form 1902 here (PDF format)
Table of Contents
What Is the Purpose of BIR Form 1902?
The BIR Form 1902 is the tax form used to register new employees (either with one employer or multiple employers) in the Philippines. It should be filed within 10 days from the hiring date, or before paying any income tax due or filing a tax return.
Who Should File BIR Form 1902?
Newly employed Filipinos and foreigners in the Philippines, whose only source of income will be through a salary from their employer/s, are required to file the BIR Form 1902 as part of pre-employment requirements.
New hires who have an existing TIN from their previous job/s should not file this BIR tax form again to avoid having multiple TINs.
Employers may handle their new employees' BIR registration and TIN application.
How Much Is the Registration Fee?
The BIR doesn't charge any fee for registration and TIN issuance of employees.
Where To Register?
For employees with multiple employers at the same time within the year: RDO having jurisdiction over their main employer
What Are the Requirements for Filing BIR Form 1902?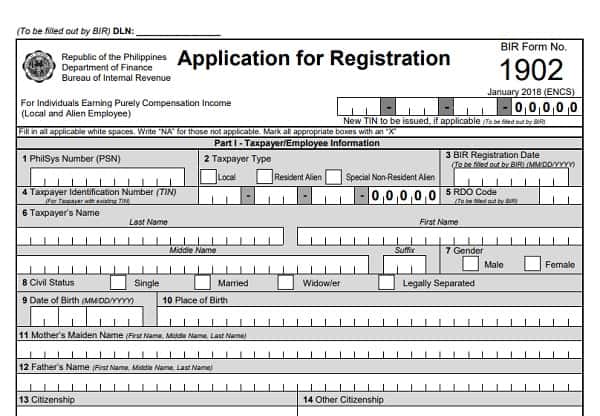 Two copies of BIR Form 1902, accomplished by both the employee and employer (or employer's authorized representative such as an HR officer)
For local employees: Birth certificate, community tax certificate, or any valid ID (such as passport and driver's license) indicating the applicant's name, birth date, and address
For married local employees: Marriage certificate
For foreign employees: Passport and working permit or photocopy of duly received Application for Alien
Employment Permit (AEP) from the Department of Labor and Employment (DOLE)
Steps to Filing BIR Form 1902 for Local and Foreign Employees in the Philippines
1. If the employee is registering on his/her own
Inform your new employer that you don't have a TIN yet. Request the company HR to provide you with two copies of the BIR Form 1902. It should be filled out with the employer's information and signature.
Fill out the BIR Form 1902.
Submit all the requirements, including the accomplished copies of BIR Form 1902, to the appropriate RDO.
Wait for the registration officer to finish checking your documents, verifying and encoding your information in the BIR database, and generating a TIN.
Receive your TIN and copy of BIR Form 1902. You'll find your TIN on the upper-right corner of the receiving copy.
Submit the BIR Form 1902 to your employer.
2. If the employer is registering their employees
Fill out the Employer Information section (Part IV) of the BIR Form 1902 and affix your signature (or your authorized representative's).
Provide two copies of the form to your new employees who don't have a TIN yet. Ask them to fill out the forms.
Submit the accomplished copies of BIR Form 1902, together with the TIN application requirements (which your new hires should have submitted to you as part of pre-employment requirements), to your RDO.
Receive your employees' TINs and copies of BIR Form 1902.
Go back to the main article: Tax in the Philippines: An Ultimate Guide to Filing and Paying Taxes