This article has been reviewed and edited by Miguel Dar, a CPA and an experienced tax consultant who specializes in tax audits. He provides tax advice to various start-up enterprises and clarified tax concerns of individual taxpayers. This includes assisting clients in registering their businesses, tax and bookkeeping training for start-up businesses, settling open cases, tax planning for future tax compliance and answering tax-related inquiries. 
Whereas BIR Forms 1901 and 1902 are for individual taxpayers, the BIR Form 1903 is intended for corporations.
You use BIR Form 1903 to register corporations, partnerships (taxable/non-taxable), including GAIs, LGUs, Cooperatives, and Associations, with the BIR. This guide will show you how.
Disclaimer: This article is for general information only and is not substitute for professional advice.
Download the latest version of BIR Form 1903 here (PDF format)
Table of Contents
What Is the Purpose of BIR Form 1903?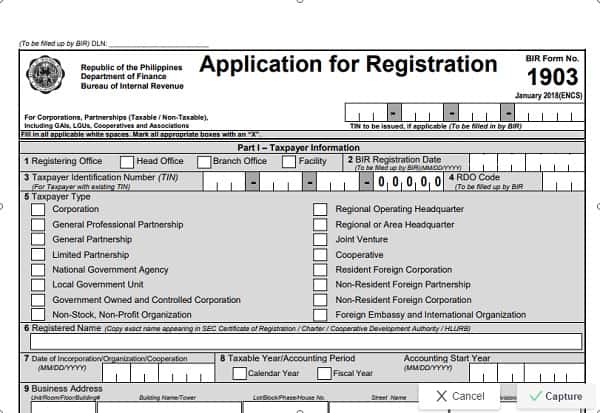 The BIR Form 1903 is the tax form that corporate taxpayers, whether taxable or non-taxable, use to register their organization with the BIR and secure a TIN.
Corporations should file the BIR Form 1903 on or before the start of their operations. Partnerships and non-profit entities are required to file this tax form before or upon the filing of any applicable tax return.
Who Should File BIR Form 1903?
Corporations and partnerships, whether owned by Filipinos or foreigners (resident/non-resident)
Non-stock, non-profit organizations
Cooperatives
Associations (e.g., homeowners associations, labor unions, etc.)
National government agencies
GOCCs
LGUs
How Much Is the Registration Fee?
Corporations and partnerships registering with the BIR pay the Php 500 annual registration fee (ARF) plus Php 15 documentary stamp tax (DST) and Php 15 certification fee on or before January 31 every year.
Although the ARF is paid every year, the registration is done only once.
Where To Register
RDO having jurisdiction over the head/branch/regional office location.
Requirements for Filing BIR Form 1903 – Corporations and Partnerships
Two copies of accomplished BIR Form 1903
For domestic corporations: Photocopy of SEC Certificate of Incorporation and Articles of Incorporation
For foreign corporations: Photocopy of License to Do Business in the Philippines and Articles of Incorporation
For partnerships: Photocopy of Certificate of Recording and Articles of Partnerships
Photocopy of Mayor's Permit (or duly-received application form for Mayor's Permit if it's still being processed)
Proof of Payment of Annual Registration Fee (ARF)
If the ARF is not yet paid: Two copies of accomplished BIR Form 0605 (Payment Form)
Accomplished BIR Form 1906 (Application for Authority to Print Receipts and Invoices)
Final and clear sample of principal receipts or invoices
Requirements for filing BIR Form 1903 – Cooperatives
Two copies of accomplished BIR Form 1903
Photocopy of Certificate of Registration from the Cooperative Development Authority (CDA)
Articles of Cooperation
Accomplished BIR Form 1906
Final and clear sample of principal receipts or invoices
Requirements for filing BIR Form 1903 – Associations
Two copies of accomplished BIR Form 1903
For homeowners association: Photocopy of Certificate of Registration from the Housing and Land Use Regulatory Board (HLURB) and Articles of Association
For labor unions: Photocopy of Certificate of Registration from DOLE and Constitution and by-laws
Accomplished BIR Form 1906
Final and clear sample of principal receipts or invoices
Steps to Filing BIR Form 1903 for Corporate Taxpayers
At your assigned RDO, proceed to the New Business Registrant Counter and submit all the requirements. After checking and verification, the registration officer will encode your information in the BIR database, generate a TIN, and indicate your TIN on the BIR Form 0605.
For corporations and partnerships only: Pay the registration fee at the RDO's authorized agent bank using the BIR Form 0605. Receive your proof of payment, which is an official receipt along with the machine-validated BIR Form 0605.
Return to the RDO, submit your proof of payment and pay the DST and certification fee.
Attend the briefing for new business registrants.
Wait for the release of the following BIR registration documents:
BIR Form 2303 (Certificate of Registration)
"Ask for a Receipt" Notice (ARN)
Authority to Print (ATP)
BIR-printed receipt/invoice (if applicable)
eReceipt as proof of payment
(Note: If you have an existing TIN, save time by paying the ARF in advance before you register with the BIR. Just fill out the BIR Form 0605 and pay through the AAB, the bank's online banking facility, or GCash.)
Go back to the main article: Tax in the Philippines: An Ultimate Guide to Filing and Paying Taxes