Some Filipinas in history went beyond their motherly roles just to prove their bad-assness. Most of their names have been forgotten, but their achievements will definitely blow your minds.
Related Article: 14 Amazing Filipina Heroines You Don't Know But Should
Here are 9 of the most amazing lesser-known Filipinas who blazed a trail and made their own mark in Philippine history:
1. Leona Florentino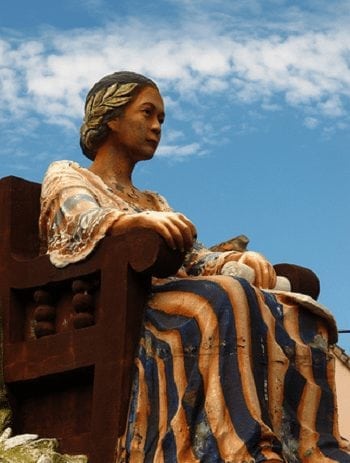 Also known as Mother of Philippine Women's Literature.
Extraordinary moments: Leona Florentino (1849-1884) became the first internationally recognized Filipina poet at a time when Philippine society was largely patriarchal. Born in Vigan, Ilocos Sur, Florentino started to write poems at the age of ten. Her works–written in Ilocano and some in Spanish–include Naangawan A Kablaaw ("A Jolly Birthday Greeting") and Nalpay A Namnama ("Blasted Hope").
A prolific poetess, satirist, and playwright, Florentino braved all adversities to express her creativity–sometimes even at the expense of her family. It is said that due to her feminist views, her husband and son opposed her writing. For this reason, Florentino was forced to leave her family and had since led a life of solitude until her untimely death in 1884 at the age of 35.
Florentino's 22 poems were later exhibited posthumously in the Exposicion General de Filipinas (Madrid, 1887), Exposition Internationale (Paris, 1889), and St. Louis International Exposition (Missouri, 1904). Her name, as well as her works, were also represented in Madame Andzia Wolska's anthology, Bibliotheque Internationale des Oeuvres de Femmes, edited in 1889.
Interesting facts:
Leona Florentino's ancestral home in Vigan City, Ilocos Sur now houses the Provincial Tourism Center, the Vigan Heritage Commission, and the famous Café Leona.
She was a distant cousin of Jose Rizal, Philippines' national hero.
She was the mother of Isabelo de los Reyes, a labor activist and founder of the Aglipayan or Philippine Independent Church. Like his mother, De los Reyes was also a talented writer. In fact, he is considered as the Father of Philippine Folklore. Among his works include Ti Langit Ti Inanamatayo ("The Glory of our Hopes"), the first short story in Iluko.
Did you know? President Ferdinand Marcos was baptized into the Aglipayan Church.
2. Encarnacion Alzona
Also known as The first Filipina historian and also the first Filipina to obtain a doctoral degree.
Extraordinary moments: In an era when Filipinas were somehow considered intellectually inferior to Filipino men, a woman named Encarnacion Alzona (1895-2001) refused to be defeated. Her fight for gender equality opened a lot of opportunities for women that would not have been possible if she had refused to take a leap of faith.
In 1919, Alzona participated in the pensionado program of the American government which, for the first time in many years, provided equal opportunities for middle- and upper-class Filipinas to study in the US. She eventually earned a master's degree from Radcliffe College as well as a Ph.D. degree from Columbia University in 1923, the first Filipina to do so. Her achievements gave her the necessary credentials to serve as the chairperson of the Department of History in U.P.
Even while pursuing her career, Alzona never stopped fighting for women's rights. Believing that education is the key to gender equality, Alzona helped other Filipinas–including Fe del Mundo, then a medical student–to pursue studies in the US. She also fought for Filipinas' right of suffrage, going as far as hosting tea parties for members of the Legislature just to convince them to grant such right.
Fortunately, her efforts soon paid off. In September of 1937, the election bill that grants the right to vote to all citizens (male and female, 21 years of age and who can read and write) finally became a law.
Interesting facts:
As a historian, Alzona's most prominent works include "The Filipino Woman: Her Social and Political Status 1565-1933," published in 1934 as part of the campaign for woman suffrage in the country, and "A History of Education in the Philippines: 1565-1930," her first book that was released in 1932.
Alzona was elected Chairperson of the Sub-Committee on Social Science, Philosophy, and Humanities during the 1946 meeting of the UNESCO in Paris.
In 1985, she received her highest award when she was given the distinction of National Scientist by the National Academy of Science and Technology.
3. Pelagia Mendoza
Also known as The first known Filipina sculptor in history.
Extraordinary moments: Pelagia Mendoza y Gotianquin (1867-1939) stood out for excelling in the male-dominated field of sculpture. She was the first female student ever accepted at the Academia de Dibujo y Pintura, known as the first and only coeducational institution during the Spanish regime.
With an exceptional flair for painting, embroidery, and sculpture, Mendoza entered the prestigious school at the age of 22. With the help of her mentors Agustin Saez and Lorenzo Rocha, Mendoza's artistic mastery grew by leaps and bounds, culminating to her award-winning entry to the Columbus Quadricentennial Art Contest, a competition organized by the Spanish Government in 1892.
Also Read: 7 Most Unintentionally Terrifying Statues In The Philippines
Mendoza's winning artwork–a wax bust of Christopher Columbus–also reaped other international awards such as the second prize at the 1892 Chicago Universal Exposition, making her the first Filipina artist to gain international recognition.
Interesting facts:
Pelagia Mendoza married Crispulo Zamora, a silversmith and her former classmate at the  Academia de Dibujo y Pintura. To support their seven children, the couple established an engraving business, Crispulo Zamora and Sons, Inc., which became known for religious jewelry and ornaments.
After her husband's death in 1922, Mendoza took over the business. By traveling to different countries and studying the different carving techniques used in those places, Mendoza was able to help modernize the metal-working and engraving industry in the Philippines.
All of Mendoza's works–including the award-winning bust–were destroyed when her family home at Sta. Cruz was bombed during WWII.
4. Olivia Salamanca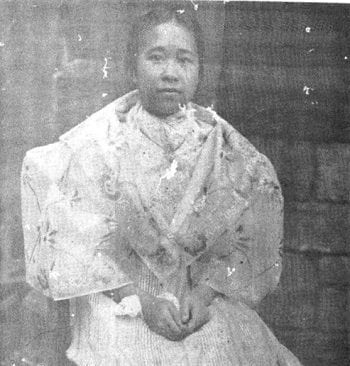 Also known as Pioneer Woman Physician of the Philippines.
Extraordinary moments: In 1910, Salamanca obtained the degree of doctor of medicine from the Women's Medical College in Philadelphia. Therefore, she was the second Filipina to become a physician after Dr. Honoria Acosta-Sison who graduated from the same school in 1909.
Salamanca was among the pensionados who qualified and were chosen by the government to study in the US in 1905. She was sent to St. Paul, Minn. to finish the secondary course and later to Women's Medical College where she fulfilled her dreams of becoming a physician. Salamanca graduated on June 1, 1910, at the age of 20 and also passed the civil service examination in the same year.
Also Read: 34 Facts You Didn't Know About Philippine First Ladies
To give back to her countrymen, Salamanca returned to the Philippines and served as the first secretary of the Philippine Antituberculosis Society. At the time, potent anti-TB drugs were not available yet, so Salamanca and other medical professionals had to care for their patients at the expense of their own health.
Eventually, Salamanca was also diagnosed with tuberculosis. Despite her deteriorating health, she still led an active life, travelling back and forth between Philippines and Hongkong until her untimely death in 1913 at the age of 24.
Interesting facts:
Salamanca was one of the first Filipinos to be subjected to the use of tuberculin in the treatment of tuberculosis. However, her health had not improved.
She was a child prodigy. In fact, she was able to play the piano without the guidance of a teacher. Maestro Manuel Ruiz y Javier, her elder sister's teacher, was so impressed by her that he composed a mazurka entitled "Olivia."
To honor her contributions as a pioneer Filipino physician, the Philippine Medical Women's Association named the place at the corner of General Luna and T. Kalaw as "Plaza Olivia Salamanca."
Also Read: How to Become a Doctor in the Philippines
5. Magdalena Leones
Also known as Lioness of Filipina Agents.
Extraordinary moments: Born and raised in Kalinga, Magdalena Estoista Leones didn't let her lack of military experience stop her from assuming various roles during WWII. She spent most of her early twenties nursing the wounded and providing vital intelligence information to the Allied forces. Indeed, she was the ultimate Filipina spy.
Also Read: 6 Badass Filipina Warriors You Never Heard Of
Once a deaconess to evangelical churches, Magdalena was forced to take over a new role when the American soldiers from the Japanese-occupied Baguio City chose to retreat to her hometown. She assisted Reverend Nagel of the United Evangelical Church who became the chaplain to the American soldiers led by Colonel John Horan. She also served as an interpreter between English and Ilokano/Kalinga speakers.
After the Fall of Corregidor in 1942, Magdalena was imprisoned together with Horan's troops. She was later freed and subsequently joined the guerrilla Fil-American Irregular Troops (FAIT) in Manila. In January of 1944, Magdalena was ordered by an agent "AZ-48" to "collect rosters of guerrilla forces in Northern Luzon." Although she did as she was told, an American-sponsored investigation revealed that agent "AZ-48" was actually a double agent of the Japanese.
In the end, Magdalena left FAIT and joined USAFIP, NL (the United States Armed Forces in the Philippines, Northern Luzon) as its special agent. From 1944 to 1945, Magdalena escaped death thrice and traveled back and forth between Manila and provinces such as Pampanga, La Union and as far as Bicol to secure intelligence information, medical supplies, and other important provisions.
Interesting facts:
In 1945, the United States Army awarded Magdalena "Maggie" Leones the Silver Star, the third highest military decoration that can be given to a member of any branch of the United States armed forces.
She was the only Filipina WWII veteran who was awarded the Silver Star medal.
Later, she also received four more awards–the Philippine Liberation Medal, the Resistance Movement Medal, the World War II Medal, and the Philippine Independence Ribbon.
In an interview for the 2007 documentary "A Moral Debt: The Post-War Battle of The Veteranos," Magdalena Leones shared her painful experience of witnessing at least 20 young people being executed during WWII, and how that incident became "some kind of a motive in which I go against the Japanese."
6. Maria Ylagan Orosa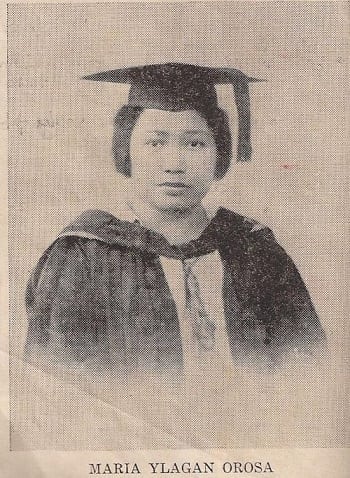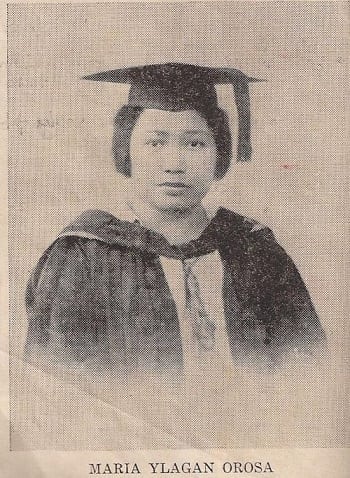 Also known as A war heroine, banana ketchup inventor, and the first Filipino nutritionist.
Extraordinary moments: A native of Taal in Batangas, Maria Ylagan Orosa (1893-1945) was a pioneer in food technology, nutrition, and preservation. In fact, she was credited for inventing some of the most amazing foods we know today–banana ketchup, Calamansi Nip (a powdered form of calamansi), Soyalac (powdered soya beans), just to name a few.
Orosa's mission in life was plain and simple: to make every Filipino family self-sufficient in terms of food, health, and nutritional needs. However, the journey she took to achieve her life goals was not easy by any means. At the age of 23, she went to the US as a stowaway armed with a dream of getting a college degree. After doing odd jobs to support her education, Orosa finally earned degrees in Pharmaceutical Chemistry, Food Chemistry, and Pharmacy.
Hard work soon paid off for Orosa when she became the first Filipino to be appointed assistant state chemist of Washington in 1920. However, she left the position in 1922 and went back to her country instead. As the chief of Plant Utilization Division of the Bureau of Plant Industry, Orosa started to bring local food technology into a whole new level.
Among Orosa's countless innovations include the use of Philippine fruits in wine-making; coconut in preparing honey, flour, cassava, cooking oil, and candy; and pineapple in making vinegar. She also pioneered the making of catsup from banana, extracting insecticide from tobacco dust, and making toyo from soy.
Did you know? Contrary to popular belief, Datu Puti vinegar was not based on a legendary chieftain.
As a war heroine and humanitarian, Orosa devised a process of canning food for the guerrillas. She was a captain in Marking's Guerillas during WWII and supplied food to soldiers, prisoners of war, internees, and religious communities in UST and concentration camps. When her family decided to leave Manila for Batangas, Orosa refused to join them, saying "I am soldier and soldiers do not leave their post, I cannot in conscience abandon my work and my girls."
Orosa died when she was hit twice by shrapnel during a bombing raid in Manila on February 13, 1945.
Interesting facts:
Orosa founded the Home Extension Service which taught barrio housewives different ways to earn extra income and improve their homemaking skills. To honor this contribution, former President Carlos P. Garcia declared November 29–Orosa's birthday–as Home Extension Day.
Florida Street in Ermita was renamed after her.
Orosa was the first to produce and export frozen mangoes in the US during an era when freezing was still relatively unknown. Dr. Kruze, a food technologist in Berkeley, California, describes Orosa as "a Filipina who came to the laboratory to do experiments who surprised everyone with the first frozen mangoes from the Philippines".
Orosa also invented the famous "Palayok-Oven," a device specially made for housewives who had no electricity.
She left behind more than 700 recipes which were results of her experiments.
Before she died, Orosa had planned nationwide rehabilitation projects which were supposed to start as soon as peace was restored. She also planned to produce and export chocolate candy, a project which Samuel Gaches, the famous owner of Heacock's, had promised to finance.
7. Clemencia Lopez y Castelo
Also known as The first Filipina to visit the White House.
Extraordinary moments: At the age of 26 and with no relatives to guide her, Clemencia Lopez y Castelo went to the White House in the U.S. with one goal in mind: to appeal the case of her brothers who were imprisoned in the Philippines for supporting the revolution and refusing to pledge allegiance to the U.S.
Born in Balayan, Batangas to a prominent Lopez family, Clemencia knew from the start that nationalism runs in their blood. Her father, the gobernadorcillo of their town, was a pro-Filipino during the Spanish regime. Her brothers followed their father's footsteps and supported the Philippine revolution all the way to the Philippine-American War, leading to their arrest in 1901.
A year later, Clemencia traveled to the U.S. to meet with then-President Theodore Roosevelt on behalf of her brothers. She made a speech before the Massachusetts Association for Women's Suffrage to uphold the woman's right to vote as well as the desire of the Philippine women to free their country from American colonization.
Interesting facts:
On her return to the Philippines in 1905, Clemencia became a founding member of the Philippine Feminist Association, an organization dedicated to the "promotion of social welfare and the encouragement of the participation of women in public affairs."
To pay tribute to her courage and accomplishments, the National Historical Commission of the Philippines installed in February 2013 a historical marker in the Lopez home in Batangas.
8. Nicolasa Dayrit Panlilio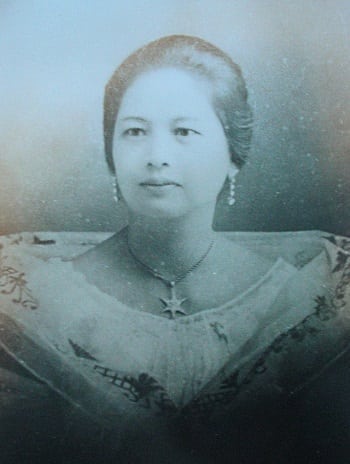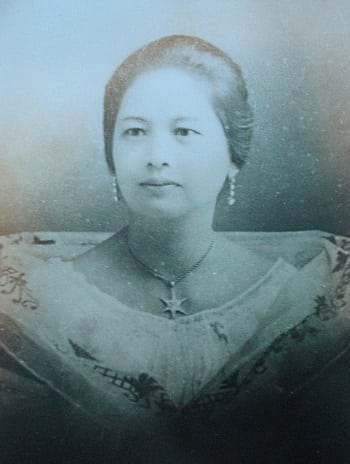 Also known as The Peacemaker of Pampanga.
Extraordinary moments: Born to a wealthy family in San Fernando, Pampanga, Nicolasa Dayrit (1874-1945) was more than a local beauty. Along with Pampanga's Red Cross president Praxedes Fajardo, Nicolasa wholeheartedly volunteered to care for the sick and wounded during the Philippine-American War. However, most historians best remember her for helping end the rift between two famous Filipino generals.
All the drama started when Gen. Antonio Luna (famous for his fiery temper) ordered Gen. Tomas Mascardo to reinforce the former's troops during a battle with the Americans. However, Mascardo, then commander of Philippine troops in Guagua, refused to follow Luna's orders, putting the latter in a very bad mood. The altercation was so serious that it almost ended in a duel.
Thankfully, with Pampanga governor Tiburcio Hilario's request, Nicolasa Dayrit and other Kapampangan women offered flowers, knelt before Gen. Luna, and asked him to stop the said conflict with Mascardo. It all ended well, but things would have been different had Nicolasa refused to be a peacemaker.
Interesting facts:
Nicolasa Dayrit Panlilio was fluent in Spanish and was one of Pampanga's best pianists during her time.
Some historical accounts suggest that Nicolasa was among the women who sewed the flag of the Pampanga Batallion during the Philippine Revolution of 1898.
Nicolasa married a Spanish-educated doctor named Vicente Panlilio and had five children with him. They later moved to Malate, Manila when their home in Pampanga was destroyed during WWII. She died on April 12, 1945, at the age of 71 due to heart failure.
In 2003, Mayor Rey Aquino of San Fernando, Pampanga declared September 10 of every year as "San Fernando Women's Day" in honor of Nicolasa Dayrit who was born on the same day.
9. Maria Carpena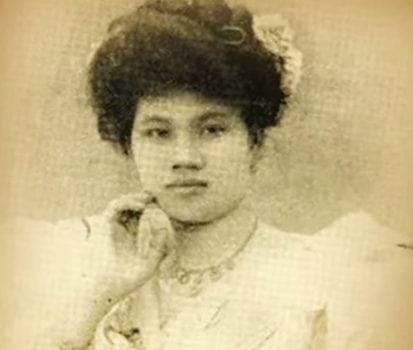 Also known as: "Nightingale of Zarzuela" and the first Filipino recording artist in history.
Extraordinary moments: After overcoming all adversities, Maria Evangelista Carpena (1886-1915) finally blazed the trail for other Filipino singers when she became the first Filipino recording artist in 1908.
A native of Santa Rosa in Laguna, Maria was born with a superb talent in singing. However, her father was no fan of music. He prevented Maria from performing onstage and even threatened to disown her if she would pursue a music career. Unfazed, Maria went to Manila and stayed at a convent at Colegio de Sta. Rosa in Intramuros where she would help in doing household chores and embroidery work.
Maria married a sales agent named Jose "Pepe" Alcantara. Sadly, in 1904, she became a widow at only eighteen years old. She was left to take care of their two kids, Florita and Jaime Alcantara.
As a singer, Maria's debut performance came when she was only 15 years old. It was for a benefit concert at the Zorila Theater in 1901, an event where she earned the applause and admiration of the audience. However, her biggest break happened in 1902 when she was chosen by Severino Reyes, director of the Gran Comania de Zarzuela Tagala, for the lead role in Minda Mora. She went on to star in numerous plays including Walang Sugat, Lukso ng Dugo, and La Confianza Mata al Hombre.
After receiving an invitation from Governor General Howard Taft to go to the US in 1908, Maria Carpena embarked on a journey that would soon place her name in Philippine history. Accompanied by the Molina Orchestra, she recorded "Ang Maya" and other songs for Victor Recording Company, making her the first Filipino recording artist in history.
Unfortunately, Maria's life was cut short when she died of health complications after undergoing appendectomy on March 8, 1915.
Interesting facts:
Maria Carpena did not receive any formal voice training. In fact, she never learned to read music sheets and only learned songs through the use of her ears.
Professor H. Otley Beyer, a renowned anthropologist, described Maria as a "real nightingale" who would "sing at the Luneta to 20,000 people and her voice would be heard clear through Manila Hotel."
After the death of her first husband, Maria fell in love with a married man from Manila. The affair produced a love child named Mauro Carpena who was born on March 12, 1908.
A copy of the original recording of "Ang Maya" was obtained by Antonia Tiongco from the Filipinas Heritage Library of the Ayala Foundation in Makati.
Her remains were buried and can be found at the La Loma Cemetery.
A street in Quiapo was named in her honor.
References
A Moral Debt: The Post-War Battle of The Veteranos. (2007). San Francisco, California.
Alzona, E. (1981). The Diary of Olivia Salamanca MD 1889 – 1913. Transactions Of The National Academy Of Science And Technology, 3, 28-47.
Camagay, M. (1990). Encarnacion Alzona, an Indefatigable Feminist. Review Of Women's Studies, 1(1), 56-60. Retrieved from http://goo.gl/gCY3Hw
Celdran, B. (2014). I Am… Woman: Historic Filipinas. Philippine Tatler. Retrieved 1 February 2015, from http://goo.gl/8tDdUk
Duque, R. Kurditan Samtoy: The Literature of A Manly Race. National Commission For Culture And The Arts. Retrieved 19 January 2015, from http://goo.gl/nv9Vji
Flores, P. (2003). Birthing Women Artists. National Commission For Culture And The Arts. Retrieved 19 January 2015, from http://goo.gl/yj5Ljq
Jacinto, F. (2013). Clemencia Lopez, the extraordinary woman of courage. philSTAR.com. Retrieved 1 February 2015, from http://goo.gl/JeyrDh
Kimpo, P. (2014). The Filipina Super Spy: Magdalena Leones. Choose Philippines. Retrieved 19 January 2015, from http://goo.gl/SRDvaL
Orosa-Goquingco, L. (1998). Maria Y. Orosa, war heroine, master of culinary arts. Manila Bulletin. Retrieved from http://goo.gl/JyS8uF
Philippine Daily Inquirer,. (2003). San Fernando honors Nicolasa Dayrit and other women patriots, p. 123. Retrieved from http://goo.gl/zrgSPg
Protacio, R. Maria Carpena: Nightingale of Zarzuela. Asian Journal. Retrieved 1 February 2015, from http://goo.gl/i9ZmGd
Rivera, R. (1998). Women Artists And Gender Issues In 19th Century Philippines. Review Of Women's Studies, 8(2), 78-82. Retrieved from http://goo.gl/Fme81t
Roces, A. (2007). Maria Ylagan Orosa. philSTAR.com. Retrieved 27 January 2015, from http://goo.gl/K8iLol
Zhao, X., & Park, E. (2013). Asian Americans: An Encyclopedia of Social, Cultural, Economic, and Political History [3 volumes]: An Encyclopedia of Social, Cultural, Economic, and Political History (pp. 426-427). ABC-CLIO.