Heroes are made, not born. And only a few Filipinos can exemplify this quote better than Manny Pacquiao, the Philippines' primary source of pride and inspiration.
Pacquiao is no ordinary man. From an impoverished life in the southern Philippines, he fought his way to the top, emerging as the first and only eight-division world champion with ten world titles under his belt.
Also Read: 8 Thrilling Facts You Didn't Know About 'Thrilla in Manila'
Thanks to his achievements, Pacquiao has gained a multitude of fans from around the world, with some experts describing him as the history's finest boxer even greater than the legendary Sugar Ray Robinson.
But what makes Manny Pacquiao one-of-a-kind? What are the forces that have pushed him to excel in boxing and even explore music, basketball, and politics among others?
Let's get to know Manny Pacquiao up close and personal with these little-known facts that have made him the great fighter he is today.
1. As a child, Manny Pacquiao wanted to become a Catholic priest. However, poverty came in the way so he pursued boxing instead.
2. Contrary to popular belief, his nickname "Pac-Man" was not based on a Japanese arcade game of the same name. Rather, it is the combination of the first syllables of his first ("MAN" from Manny) and last name ("PAC" from Pacquiao).
3. His other nicknames include People's Champion, The Destroyer, The Mexecutioner, Ang Pambansang Kamao (The Nation's Fist), The Fighting Congressman, Pambansang Ninong (National Godfather), and The Filipino Slugger.
4. Manny was born in a poor and isolated town of Kibawe in Bukidnon, Philippines. When he turned two, his family moved to an even more isolated place called Tango in Sarangani Province where they lived in a small one-room payag (Cebuano word for a nipa hut).
5. In Tango, the young Manny had to climb the mountain several times a week to search for food and fresh water. In his autobiography, Manny shares that this experience had helped develop his strong calves. He adds that "there isn't a machine in my modern gym that compares to the trek through the wilderness of my childhood."
6. As a child, Manny was awestruck by Bruce Lee's speed and agility after watching the latter's movie for the first time. Inspired by what he saw, Manny started to imitate the movie star's moves by punching and kicking a large banana tree near their house.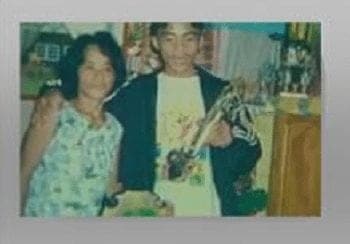 7. Growing up exposed to the realities of poverty and hunger, Manny's first dream he remembered having as a child was that of a "table of bowls overflowing with food" and his family smiling as "they ate their fill, and their stomachs were content for an entire day."
8. When he was about six or seven years old, Manny got his first job as an assistant to a very old fisherman. For his efforts, he was given a share of the catch. He kept two for his family and sold the rest for 50 pesos per piece. This experience, according to him, also helped build a lot of his upper body strength which proved to be useful later in his new career as a boxer.
9. Manny had his first fist fight when he was about nine or ten years old. It was between him and a group of schoolboys who were bullying his younger brother, Bobby. He won that fight.
10. At the age of 13, Manny became a "one-man traveling grocery store," selling various goods ranging from bread and peanuts to water and doughnuts in the hot streets of General Santos.
11. When he was seven, Manny witnessed a cockfight for the very first time. The roosters taught him the importance of persistence and being quick on your feet, two qualities that would later become part of his mentality.
12. In 1990, Manny had his first encounter with professional boxing when he watched with his Uncle Sardo the epic battle between James 'Buster' Douglas and Mike Tyson in Tokyo–a fight in which Tyson lost.
13. Already a teenager, Manny sparred with almost all kids in their neighborhood for two years. The venue was the makeshift boxing area in the Oval Plaza Park, and the event was dubbed "Boxing at the Park." He fought kids bigger and heavier than him, including the unbeatable kid named "Amang" whose ribs were broken after a bloody fight with then thirteen-year-old Manny.
14. When he left General Santos City for Manila, he didn't tell anyone from his family lest they would never let him go. At that time, he was also penniless so he had to stow away on a boat just to get to the capital.
15. His first job in Manila was scraping off rust at a local metal yard.
16. On days when he's out of work and had nothing to eat, Manny would go to some restaurants in Manila where he would wash the dishes or clean the kitchen in exchange for food.
17. It was also in Manila when he met Ben Delgado, owner of a gym in Sampaloc. Delgado agreed to train Manny and even allowed the latter to stay in a very small room (about six feet wide and six feet long) inside the gym.
18. Manny started his professional boxing career in a local boxing show on TV called Blow By Blow where he would be paid two dollars per fight.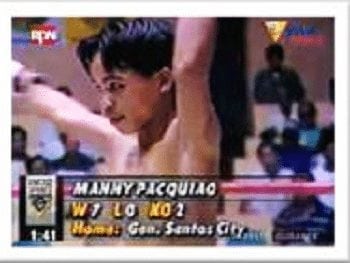 19. To qualify for Blow By Blow, Manny had to cheat (he was only 16 and weighed less than the required 100 pounds at that time). He told the producers he was already eighteen and also put steel ball bearings in his pockets during the weigh-in to help him meet the required weight.
20. In the 1997 match for the Oriental and Pacific Boxing Federation Flyweight Title, Manny won his first belt after knocking out his older opponent, Chokchai Chockvivat, in the fifth round.
21. Manny first met his future wife, Jinkee, in the General Santos Mall where the latter was working as a beauty consultant for skin care products. They were introduced to each other by Reynaldo Jamora, Manny's old friend, and Jinkee's uncle.
22. Two years before their epic fight, Manny Pacquiao personally met Oscar De La Hoya. During this encounter, Oscar allegedly uttered: "Manny, I will personally make you a legend in this sport. Because of me, one day you will take the throne of boxing." That statement proved to be prophetic.
23. In 1996, Manny Pacquiao experienced the first loss in his boxing career after being knocked out by his opponent, Rustico Torrecampo. Before the fight, Manny failed to meet the weight requirement so he was given heavier gloves–a penalty that gave Torrecampo a clear advantage.
24. Known as the only Filipino fighter to have beaten Pacquiao, Rustico Torrecampo was involved in the murder of a garbage truck driver in 2007. He is currently out on bail.
25. Manny owns a lottery outlet for the Philippine Charity Sweepstakes Office.
26. Manny's father, Rosalio Pacquiao, left their family for another woman when he was young. When Manny turned fifteen, his father killed his beloved dog around the same time he left GenSan to go to Manila. These events, according to Manny, led him to held bitterness against his father for quite some time.
27. Manny now has a new pet: a Jack Russell terrier who shares the same nickname 'Pacman' with his owner. This dog comes with him during training runs.
28. Manny hates swimming. "I don't, and can't, relate to fish–rooster perhaps, but not fish," says Manny in his autobiography. "I have very little body fat, and I don't float too well. I swallow water, cough, and struggle most of the time I'm in the water."
29. Manny helped set up his personal website at mpboxing.com (later moved to mp8.ph).
30. In 2009, Manny starred in the movie Wapakman as Magno Manese, a plumber who possessed superpowers.
31. For Manny, the secret to his success lies in the system he called the "Power Three." This three-step process involves (1) your goals, (2) a system to reach those goals, and (3) discipline to maintain your system until you reach your goals.
32. Aside from giving back to the Philippines, Manny is also an active participant/supporter of various US-based advocacy groups. In fact, he once planted trees in America to show his support for the fight against global warming.
33. As a philanthropist, he donates one million pesos to a hospital in GenSan every time he has a fight. One of his beneficiaries, a man who had a successful kidney transplant, volunteered to campaign for him during the elections so that people would know about his good deeds. However, Manny refused the offer, saying that his philanthropic work is separate from his political career.
34. In 2007, he ran for the congressional seat of the first district of South Cotabato. He was defeated by then incumbent Congresswoman Darlene Antonino-Custodio because their campaign was "rushed and disorganized" (he filed his candidacy in January 2007, he trained and fought Solis in April 2007 and the election was held a month later, giving him only few weeks to campaign).
35. When he ran for Congress for the second time in 2009, Manny and his team decided to convert a room in the house of Mayor Tani Pepito into a "secret headquarters" where they would do a lot of "political strategizing and maneuvering." They called it the "Pentagon."
36. When he won a rematch against Juan Manuel Marquez in 2008, Manny earned the WBC and The Ring World Super Featherweight belts, making him the first Filipino to win three world titles from major sanctioning bodies in three different weight divisions (he was a former WBC World Flyweight champion as well as a former IBF World Super Bantamweight champion).
37. Manny left the Catholic Church for Evangelical Christianity. In his interviews, he said that "I found the right way, salvation, born again. Christ said unless we are born again, we cannot enter the kingdom of God, so it's very important to me."
38. He is now building a two-story church in General Santos City, Philippines. The said structure–which will be called "The Word for Everyone Movement Inc."–is set to be completed in December 2015. It includes a Bible sanctuary, picnic grounds, and a tennis court.
39. In 2008, Manny became the first Filipino Olympic non-participant to become the Team Philippines' flag bearer during the opening ceremonies of the Summer Olympics at the Beijing National Stadium. His stint came after President Arroyo's request to national sports officials to have Manny replace swimmer Miguel Molina (2005 SEA Games Best Male Athlete) as the flag bearer.
40. In the same year (2008), the House of Representatives of the Philippines issued a resolution recognizing Manny as "a people's champ for his achievements and in appreciation of the honor and inspiration he has been bringing to the Filipino people."
41. After defeating David Diaz in 2008, Manny became the first Filipino fighter to ever win a world title at lightweight.
42. Manny is the first Filipino boxer and athlete to appear on a postage stamp.
43. He is featured in boxing video games including Fight Night Round 2, Fight Night Round 3, and Fight Night Round 4.
44. There were plans to do a feature film about Manny's life in Hollywood. The movie, which obviously didn't push through, was supposed to star Manny himself and no less than action movie icon Sylvester Stallone.
45. In 2009, Manny was included in Time Magazine's list of the world's most influential people. He also became the sixth Filipino to grace the cover of this magazine, after former Philippine presidents Manuel Quezon, Ramon Magsaysay, Ferdinand Marcos, Corazon Aquino, and Filipino actress and environmentalist, Chin Chin Gutierrez.
46. As of June 2014, Manny Pacquiao's net worth is $41.8 million (Source: Forbes).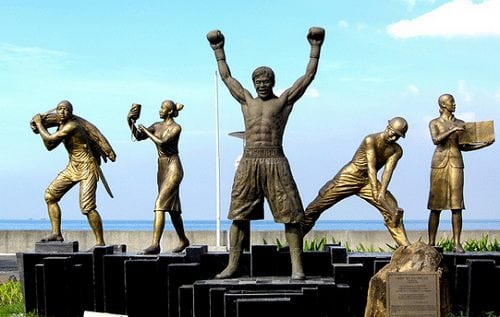 47. In 2010, a 10-foot bronze statue of Manny was unveiled at the SM Mall of Asia (MOA). It stood alongside 8-foot bronze statues of a nurse, a farmer, a teacher, and a construction worker–a fitting tribute to hardworking Filipino men and women. Aptly named "Hardworking Filipinos," this art installation was created by prize-winning Filipino artist Fred Baldemor.
48. Manny's first tattoo–a figure of a boxing glove inked on his chest–was done by Manny himself, which explains the bad design. He used to do tattoos on his self when he was 13 and although he describes the glove design as ugly, he never considered removing it.
49. He has a collection of luxury vehicles. Among his most prized possessions are a Ferrari 458 Italia sports car worth $228,000, a Mercedes Benz, Lincoln Navigator, and a Porsche Cayenne.
50. Manny reportedly owns five mansions: two in GenSan, one in Parañaque City, another one in Laguna, and a P380-million residence in Forbes Park in Makati City.
References
Aberia, H. (2009). Manny Pacquiao: The Greatest Boxer of All Time.
Arcangel, X. (2013). BIR eyeing Pacquiao properties, not just bank accounts, to cover tax liability. [online] GMA News Online. Available at: http://goo.gl/7NYgqz [Accessed 17 Nov. 2014].
Corpuz, R. (2014). Manny Pacquiao's Church To Rise Soon In The Philippines. [online] International Business Times. Available at: http://goo.gl/i0hzp8 [Accessed 17 Nov. 2014].
Henson, J. (2007). Pacquiao Tormentor Wanted for Murder. [online] The Philippine Star. Available at: http://goo.gl/8iafLs [Accessed 17 Nov. 2014].
Pacquiao, M. and James, T. (2010). Pacman: My Story of Hope, Resilience, and Never-Say-Never Determination. Nashville, Tennessee: Dunham Books.