WWII forced many Filipinos to make life-changing decisions. Either take up arms or be caught in the crossfire. Most chose the easier way out, but the courageous few decided their lives were worth sacrificing.
Surprisingly, the latter included women who could have just chosen to be in the shadows of men and remain in their comfort zones. Instead, they did the unexpected and proved to everyone that in difficult times such as a war, the bravest of women will always shine.
Also Read: 6 Badass Filipina Warriors You've Never Heard Of
1. Josefa Capistrano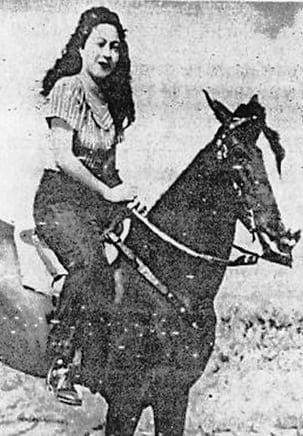 The fact that she's been dubbed as "Mindanao's Gabriela Silang" speaks volumes about how badass Josefa Capistrano was.
In 1943, the middle-aged Capistrano founded the Women's Auxiliary Service (WAS) which inspired a lot of women from Mindanao to stand up and join the war. Under Capistrano's leadership, WAS members ballooned to an impressive 3,000 by the end of WWII.
These brave women–which included Muslim royalties like Princess Tarhata Alonto–not only nursed the wounded soldiers but also served as spies for the Filipino-American forces.
Such was her dedication to WAS that Capistrano refused to accept the Military Merit Medal in 1946, demanding that WAS be recognized first as an official military unit. Before long, her wish was granted.
In 1963, then President Diosdado Macapagal made the Women's Auxiliary Corps (WAC) an official part of the AFP. Until it was dissolved in 2013, the WAC had served as an all-women administrative arm of the Philippine military. Capistrano, on the other hand, assumed various roles during the latter part of her career: as a labor leader in the 1950s and captain of the UP Women's Rifle and Pistol Team.
2. Elena Poblete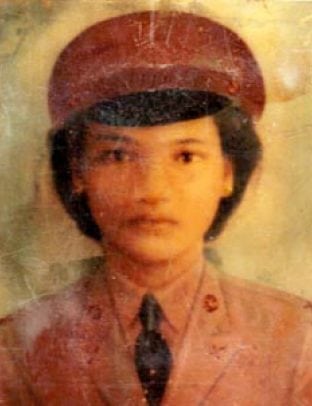 Being the daughter of Huk commander Jose Poblete (alias Kumander Banal), it came as no surprise when the young Elena took a similar path. The little information we have about this Kapampangan warrior came from Moises Lopez, a Huk veteran from Minalin who belonged to the same squadron where Elena, also known as Kumander Mameng, served as commander.
In 1943, after a tiring cat-and-mouse chase with the Japanese, Kumander Mameng decided to retreat to Saguin (Pampanga) and give the soldiers plenty of time to rest.
Also Read: 9 Kickass Women in Philippine History You've Never Heard Of
That decision proved to be fatal. For some reason, the Japanese were able to trace their location. Exploding enemy bombs woke them up the following morning. It quickly dawned on the Huks that they were under attack.
Thankfully, Kumander Mameng had enough presence of mind to order her men to disperse in smaller groups. She then joined other Huk soldiers in the front line of defense, and in so doing made herself an easy target for the Japanese. Shortly after that, Elena Poblete met her tragic end after a bullet pierced through above her right brow.
3. Amparo Quintos-Bonicillo
Born on November 29, 1915, this Pangasinan native grew up to be a respected teacher in their community. She later married another educator, Luciano Bonicillo, and both of them joined the Resistance movement when the war broke out.
Aside from doing espionage and propaganda works, Amparo channeled her inner warrior to kill as much as 22 enemies with her firearm. In the process, she experienced a lot of near-death encounters, hunger, diseases, and a lot of terrible things that would have been too much even to a male soldier.
READ: The Japanese Woman Who Saved Hundreds of Filipinos During WWII
But the teacher-warrior fought her way to victory. In addition to attending the wounded soldiers and sick civilians, she also performed menial tasks in the camp such as cooking, running errands, and even fetching water for the guerrilla fighters.
Even after the war, Amparo was still productive. Among her accomplishments as a retired teacher included an award for short story writing from the National Board of Directors of the Philippine Normal College Alumni Association, Inc.
Amparo also received the Philippine Veterans Legion Gold Medal as an Outstanding Filipino Woman Veteran of WWII.
4. Bataan's Angels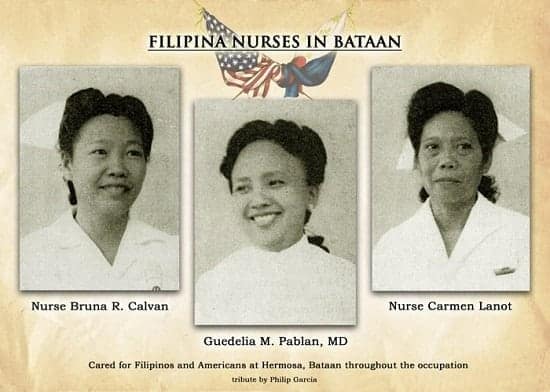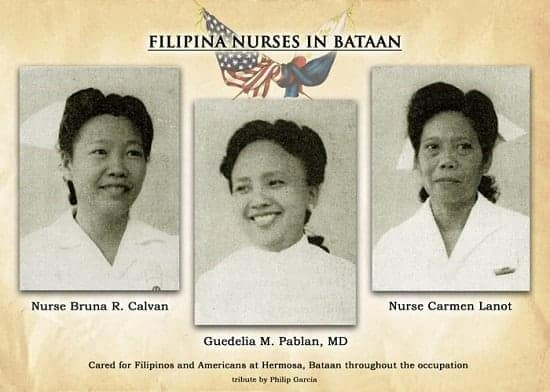 Since their horrifying firsthand encounter with the "Death March" victims, Dr. Guedelia M. Pablan and nurses Carmen Lanot and Bruna R. Calvan had promised not to leave Hermosa town in Bataan during WWII.
And boy did they stay true to their word. One by one, other medical professionals left Bataan until there were only three of them–and a few who arrived later–remained. Dr. Pablan said that their decision was partly because they were all single. But it wouldn't be long before they finally realized that they stayed there for a reason.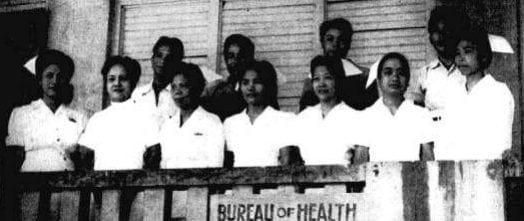 A UST graduate, Dr. Pablan's mission was to survive the war so that others could survive as well. Their resilience saw them transferring to a convent after the Japanese burned their hospital to the ground. And when the convent was burned as well, they had no choice but to move into fish ponds and start all over again.
Describing what they had been through as difficult would be an understatement. Nipa huts served as their makeshift hospitals. And for all the services they rendered, they were only paid monthly with Japanese money equivalent to about 30 cents–barely enough to even buy food. But that was just the tip of the iceberg, considering the many times their lives were put in danger.
Related Article: A Touching Story of How Filipinos Saved A Million Lives At The Most Unexpected Place
For instance, the three of them had the difficult task of faking documents so the enemies wouldn't notice that they were secretly giving quinine to the malaria-infested guerrilla camps in the mountains. The Japanese became suspicious, so they decided, later on, to just assign the task of delivering the goods to someone unsuspected by the enemies.
As for the reason why they all risked their lives, Dr. Pablan was quoted during the aftermath of the war saying: "We have lied and we have cheated, perhaps, but we do not care. We have tried to care for our people in need. Now we are free again, and happy." 
5. Celia Mariano-Pomeroy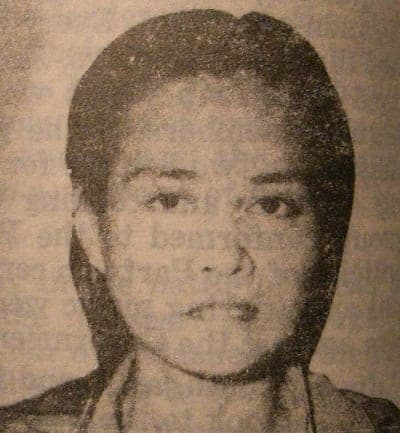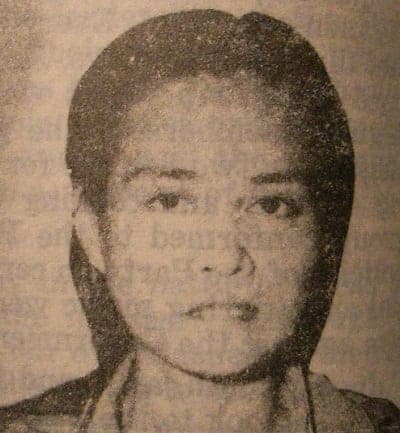 As early as 10 years old, Celia was already disturbed by the growing social injustice around her. After earning an education degree from the University of the Philippines and landing a job at the Bureau of Civil Service, things became even clearer to her.
She met radical thinkers from the Philippine Youth Congress (PYC) from whom she learned the principles of fascism and communism. Before long, the same friends convinced her to join the Communist Party of the Philippines. She hesitated at first but later gave in after much convincing.
When the war broke out, Celia allowed her comrades to use their family farm in Tanay, Rizal as the base of the guerrilla operations. Shortly after that, she became an official part of the anti-Japanese Hukbalahap in Central Luzon. Her college degree proved to be useful because her initial task was to educate and encourage people from Bulacan and Nueva Ecija to participate in the Resistance movement.
Also Read: 10 Biggest Misconceptions About World War II In The Philippines
However, her job didn't come with no risks. For several times, she narrowly escaped being captured and executed by the Japanese. But through the help of barrio folks, she survived all those near-death encounters.
Highlights of her involvement in the Huk rebellion included her editorial role for the revolutionary newspaper Katubusan ng Bayan (Redemption of the Nation) and the opportunity to teach future Huk leaders, including Remedios Gomez alias Kumander Liwayway. 
After the war, Celia married Bill Pomeroy, an American soldier, and historian who also happened to be a member of the Communist Party of the United States. The two rebels hid in the jungles of Sierra Madre for many years before finally being captured by the Philippine Army. Then, after serving long prison sentences in the Philippines, the two were given amnesty.
Bill was deported to the United States, but since Celia couldn't be granted US visa because of her radical political beliefs, they decided to settle down in England. Their love story came to a bittersweet end in 2009 when Bill and Celia passed away only a few months apart.
6. Ma. Agripina Cagulada
Those who heard about her war exploits for the first time probably gasped in disbelief. And who wouldn't? Ma. Agripina Cagulada was a nun, and the last thing you'd imagine her doing was to work as a WWII spy.
Born on June 23, 1917, Cagulada, or "Pining" to her friends, was just a simple lass from Camiguin with simple ambitions. She was energetic and a little bit of a tomboy for she loved adventures, horseback riding and other stuff that only a few girls her age enjoyed.
Related Article: 7 Intriguing Filipino Spies in History You Might Not Know
WWII turned the peaceful life she once knew into total chaos. While Pining was busy growing her buy-and-sell business, there was also an increasing need for people who were willing to join an espionage mission against the Japanese.
The adventurous girl that she was,  Pining accepted the invitation of her confessor and was soon inducted as SPO-201.
Also Read: 5 Most Badass Filipina Nuns in History
Jumping from Camiguin to Cebu and Misamis Oriental, Pining pretended she was on a business trip but was in fact secretly tracking down Japanese hideouts.  She accomplished her tasks well and was even offered a trip to the United States to study Secret Operations. However, she soon realized it was not for her so she ditched the offer and followed her true calling–to be a nun.
Sr. Ma. Agripina B. Cagulada, RVM or "Sr. Pine" never stopped to make herself useful even when she's already in the convent. In fact, she became instrumental in the construction of 27 magnificent buildings for their different ministries all over the country.
7. Valeria "Yay" Panlilio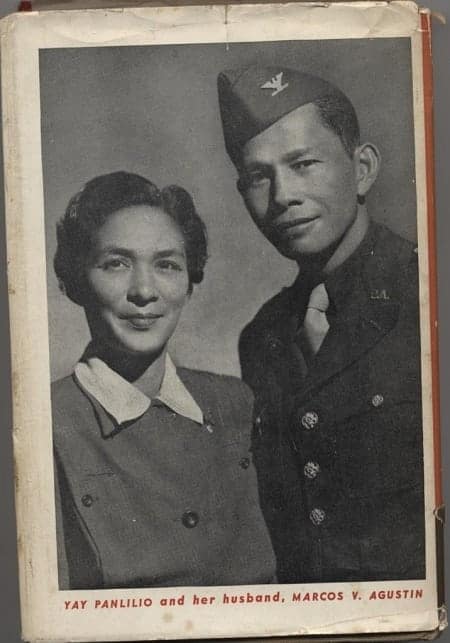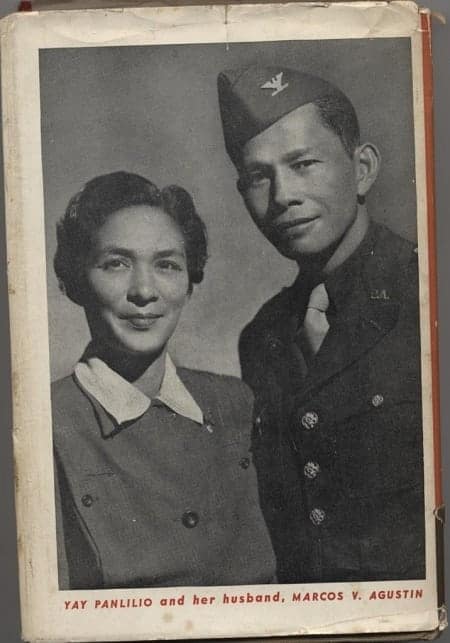 Aside from her unique three-letter nickname, Yay also stood out because of the incredible journey she took to become a female icon of the Philippines' guerrilla movement. But first, let's go back to where it all began.
Yay grew up in Colorado with her Filipino mother and stepfather. Her biological father was actually Irish-American, but that's the only thing known about him. After the family moved to California in the 1930s, the 16-year-old Yay left home to marry another Filipino that was nine years her senior–Eduardo Panlilio.
The couple eventually flew back to their native country, the Philippines, where Yay gave birth to three kids. The romance didn't last, and the two eventually separated. This gave Yay a chance to pursue her true passion–journalism.
For the most part of the pre-war era, Yay became famous within the Filipino and American circles for her fearless works as The Philippines Herald reporter and broadcaster for the KZRH radio station. Such was her influence that Fortune magazine staff writer Florence Horn described her as "probably the best-known woman in the Islands."
Also Read: 10 Facts About World War II That Never Made It To Your Philippine History Books
When the war broke out, she joined the underground movement and became a member of US Army Intelligence Agency. Among the brave Filipinos she met, one man caught her eyes–Marcos Villa Augustin ("Marking"), a former cab driver and boxer from Manila.
Yay fell in love for the second time. As told by her fellow newspaperwoman Pacinta Pestaño-Jacinto, the love-struck Fil-Am guerrilla fighter "became more deeply committed. Love seasoned with danger, laced with fear, Yay was in her element."
Yay soon became the brains of Marking's Guerrilla, one of the most formidable, ruthless, and famous guerrilla movements of WWII.
She joined her men as they hid in the jungles of Sierra Madre, survived hunger, paranoia, and near-death encounters with the enemies.
Her amazing character became evident when she once wrote: "Filipinos will die for love, and Americans will die for principle.  I am half-and-half.  I die the same way."
8. Felipa Culala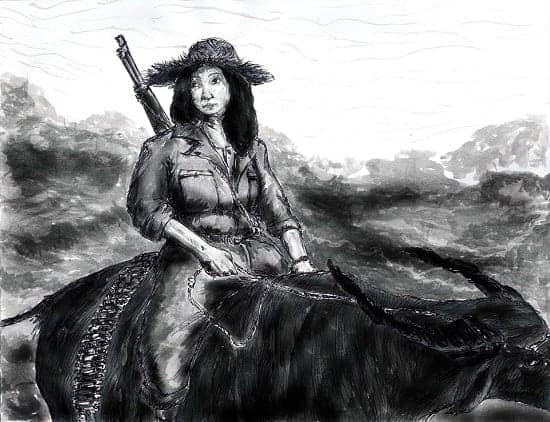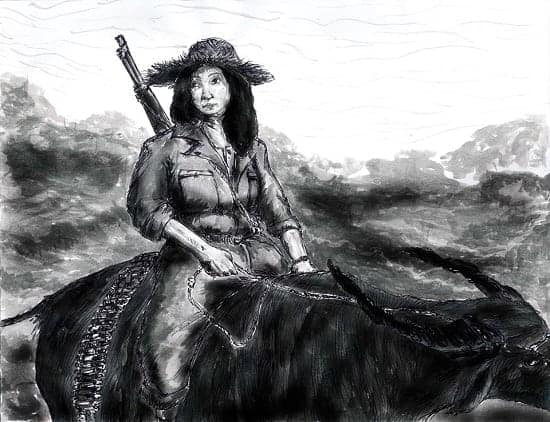 Before joining the anti-Japanese guerrilla group Hukbalahap, Culala was credited to the success of the Filipinos in the little-known Battle of Mandili.
In the said battle, the Japanese and some Filipino collaborators were on their way to pulverize Culala's hometown, Barrio Mandili. But instead of the enemies giving the surprise attack, it became the other way around.
Culala got the word about the plan and led 130 guerrillas in an ambush attack where as much as 40 Japanese were killed. It was a complete success, and Culala made her presence known.
Everything about Culala was intimidating. Her alias Dayang-Dayang, for instance, was a tribute to an equally badass Muslim princess. Huk members who became witness to her fierceness described Dayang-Dayang  as a "huge woman" who had "masculine personality with a commanding demeanor."
She feared no one but was feared by everyone. No wonder she became the only woman to be elected into Hukbalahap's Military Committee. But since winning the position, things started to turn for the worse for Dayang-Dayang. Some Huk members began complaining about her attitude. It was said that she disliked taking orders from other leaders and even asked her men to call her Generala. 
Related Article: 6 Reasons Why Ramon Magsaysay Was The Best President Ever
Her "diva" attitude reportedly also turned off a lot of barrio folks who claimed that Dayang-Dayang acted like a queen and even asked for "pigs and chickens to be killed and cooked upon her arrival." When the complaints about theft and abuse of power became too much to handle, the Politburo or the executive committee decided to take action. They had Dayang-Dayang arrested, tried, and executed by firing squad.
Despite her notoriety, some women Huk veterans later claimed that the charges against Dayang-Dayang had no basis at all, and went so far as accusing Taruc of being jealous and intimidated by Culala's efficient leadership.
9. Josefa Llanes Escoda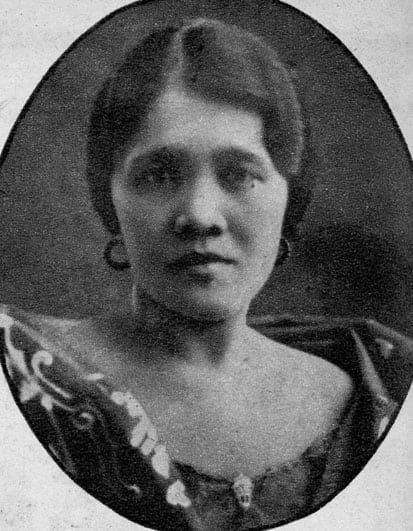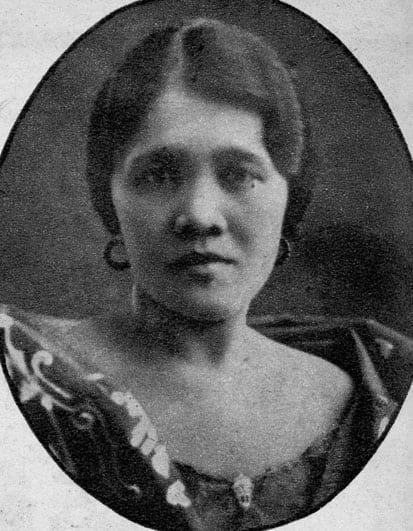 You may have seen her face on your 1,000-peso bill. Perhaps her name always pops into your mind every time you hear "Girl Scout of the Philippines." Whatever the case, the story of Pepa, as she was fondly called, is way more amazing than we give it credit for.
For one, Pepa has a very impressive resume. She earned her master's degree in social work (on scholarship!) from Columbia University. It was also in the US where she trained in girl scouting. You know what happened next: She returned to the Philippines, trained young girls, and organized the GSP as its first National Executive.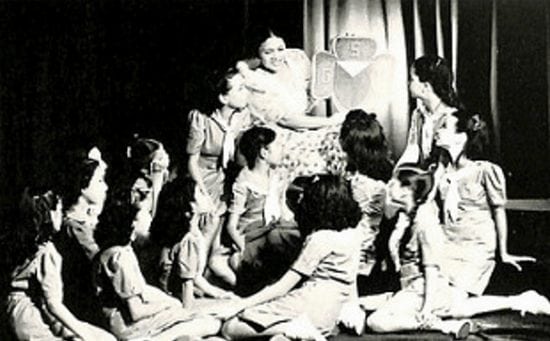 During the war, Pepa put her education and training into good use. She helped feed "Death March" prisoners and attended to the needs of the internees at the UST. With the help of the members of the Volunteer Social Aid Committee of which she was also a member, Pepa was able to collect donations and deliver them to the prisoners.
The Japanese learned about their heroic efforts and soon arrested Pepa and her husband, Antonio Escoda. Many believe that both were executed, although Pepa's death remains a mystery.
One posthumous award after another was given to honor Pepa's contributions, the most prestigious of which was the Philippine Legion of Honor Medal from the AFP and the Silver medal from the American Red Cross.
10. Carmen Rosales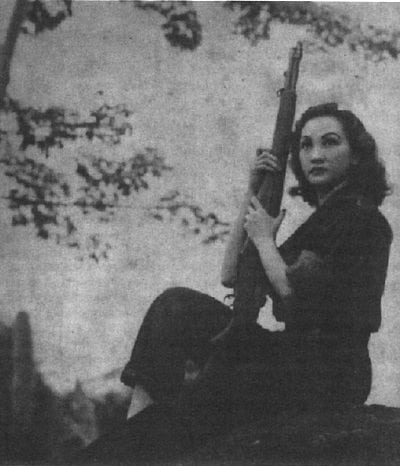 If you're wondering what Carmen Rosales is doing on this list, that only means you have yet to see the feisty side of this legendary movie queen.
Born Januaria Constantino Keller in 1917, the half-Swede and half-Filipina actress was a simple dressmaker before she tried her luck in radio singing in the 1930s. Little did she know that it would soon lead to a long, fruitful career in the entertainment industry.
Also Read: Rare Yearbook Photo of Carmen Rosales (And Other Influential Pinoy Personalities)
She was already married to Ramon Navales, another radio personality when Carmen inked her first deal to appear in a movie. That film was the 1938 "Mahiwagang Binibini" which also became her stepping stone to become a contract artist of Sampaguita Pictures.
It was in 1939 movie "Takipsilim" where her legendary love team with Rogelio dela Rosa was born. The two made a lot of movies together, and when I say "a lot" I mean 12 in total.
A lot of things changed when the WWII broke out. After her husband was killed by the Japanese, Carmen decided to take matters into her own hands and joined the underground movement.
In a 1992 issue of the Sunday Inquirer magazine, no less than Carmen's eldest son Rene retold the story of her mother's heroic war exploits:
"My mother's underground work took her to Santa Rosa, Laguna, where she was involved in the killing of a Makapili (Japanese collaborator). She later fled to Silang, Cavite to evade capture by the Japanese. My mother was a sharpshooter who toted a .45 and sometimes wore a moustache in order to disguise herself…"
Her experience during the war reportedly became one of the inspirations behind the 1946 movie "Guerilyera" where she starred as a female guerrilla fighter (see photo above). Three years later, she also bagged a starring role in "Batalyong XIII," another WWII-inspired movie and also the first Pinoy film in full color.
Carmen retired in the mid-1960s, leaving behind a legacy unparalleled by any actress from her generation. She died in 1991 of kidney malfunction at the age of 74.
References
Carmen Rosales as 'Guerilyera'. (2015). philSTAR.com. Retrieved 17 April 2016, from http://goo.gl/zNVDMZ
Carmen Rosales: The Original 'Superstar' of Philippine Movies. (2008). Video 48. Retrieved 17 April 2016, from http://goo.gl/5olLfi
Depasupil, W. (2013). Women's Auxiliary Corps unmanned after 50 years. The Manila Times. Retrieved 17 April 2016, from http://goo.gl/p71yiz
Kaminski, T. (2015). Angels of the Underground: The American Women Who Resisted the Japanese in the Philippines in World War II (pp. 29-30). Oxford University Press.
Klein, R. (2008). The Other Empire: Literary Views of Japan from the Philippines, Singapore, and Malaysia (p. 107). UP Press.
Lanzona, V. (2009). Amazons of the Huk Rebellion: Gender, Sex, and Revolution in the Philippines. Univ of Wisconsin Press.
Maceda, M. (2005). Carmen Rosales: The Genuine Superstar. philSTAR.com. Retrieved 17 April 2016, from http://goo.gl/VXtPBK
Maranan, E. (2010). Celia Mariano Pomeroy: The hero who could not come home again.philSTAR.com. Retrieved 18 April 2016, from http://goo.gl/VCC7e9
Orejas, T. (2016). Elena Poblete. Singsing Magazine, 59-60.
Philippine History: Josefa Llanes Escoda: National heroine, great social and civic leader. (2014).Manila Bulletin. Retrieved 19 April 2016, from http://goo.gl/bzhrzc
Ritt, C. (1945). Filipino Nurses on Bataan. American Journal Of Nursing, 45(5), 346-347. Retrieved from http://goo.gl/q5FRqo
Sulong Pilipina! Sulong Pilipinas!: A Compilation of Filipino Women Centennial Awardees. (1999).