Philippine history is chock-full of ingenious Filipinos who engaged themselves in espionage.
They may be nothing like James Bond but these historical figures risked their lives for a reason–some did it for the love of their country while others did it for their own gain.
Related Article: The Forgotten Story of Manila's Mata Hari
Here are some  lesser-known yet intriguing spies in Philippine history who give James Bond a run for his money:
6. "Macabebe Marie."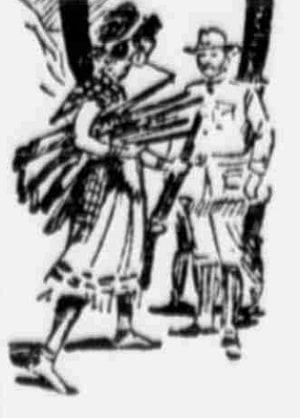 "Macabebe Marie" was the alias of a fearless Filipina warrior who came to be known as one of Philippine-American War's most formidable spies.
In what seems to be biased reports published by various American newspapers in 1902, "Macabebe Marie" was described as "well educated, fine-looking, and fearless." After her husband died while leading a group of soldiers during the Philippine Revolution, Marie reportedly took command of the troops and fought the Spaniards a la Gabriela Silang.
The arrival of the Americans didn't scare her either; "Macabebe Marie" served as a Captain in Aguinaldo's army and became adept at ambushing American soldiers. However, a sudden turn of events pushed the brave woman to leave the Philippine army and pledge allegiance to Uncle Sam.
The real reason? General Emilio Aguinaldo's broken promises.
It is said that Aguinaldo once declared that he would pay 50 pesos for any officer "who was wounded in actual battle against American troops." Incidentally, "Macabebe Marie" was wounded in a battle against the Americans the day after the announcement was made. She sent a bill to Aguinaldo and later sustained two more wounds in another encounter.
But lo and behold, Aguinaldo broke his promise and refused to give the poor woman any money at all.
Also Read: 7 Un-Heroic Deeds Of Emilio Aguinaldo
With great disappointment, Marie took sides with the Americans. She worked as a spy first under Captain Batson and his Macabebe Scouts, and later under General Funston who promoted her as one of his personal staff.
As a secret agent, Marie would sometimes disguise as a man or a beggar and wander through the Filipino army to get vital intelligence.
According to the May 11, 1902 issue of The Pittsburgh Press, "Macabebe Marie" would often "go out alone, armed with  only a revolver, and return with three or five rifles, which she would turn over to the American forces."
Without a doubt, she was an asset to the Americans due to her "uncanny influence over the natives. She could wheedle them into telling her anything she wanted to know. And she would carry such information straight to Funston."
Thanks to "Macabebe Marie," plans of a night attack against the American troops were often thwarted before they were even executed. Such was her shrewdness that "Aguinaldo was never able to catch her…nor were any of the men to whom he offered glittering rewards for her capture."
On May 4, 1902, news of the Filipina spy's death was received "in a letter from an officer at Luzon" and was subsequently sent out to various newspapers in the U.S.
5. Franco Vera Reyes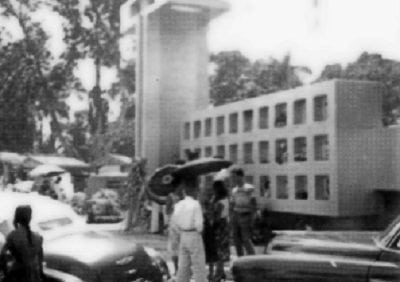 Vera Reyes was like your stereotypical movie villain: he was sly, deceptive, and willing to betray his own countrymen for his own sake.
Before working as a spy for the Japanese during WWII, Vera Reyes used to forge checks for American POWs which then led to his incarceration in the Old Bilibid Prison. Lucky for him, he was freed by the Japanese under the condition that he would work for them. Vera Reyes readily agreed and so started his dirty work as a Japanese spy.
The swindler-turned-double agent disguised himself as "Lieutenant Colonel Reyes," an intelligence officer who came to the Philippines from Australia via submarine and with orders from General MacArthur to coordinate all guerrilla activities.
To make his act more believable, his Japanese masters provided him with some paraphernalia, among them an Identification Card of the Allied Intelligence Bureau in Australia, a few dollar bills, and even American magazines.
So effective was his role as a double agent that Vera Reyes was able to infiltrate Manila's underground guerrilla network.
In fact, he was instrumental in the capture and subsequent execution of the missionary members of the guerrilla Fil-American Irregular Troops or FAIT (of which Magdalena Leones was a member) and some of Manila's prominent civilians, namely: Juan Miguel Elizalde, a rich industrialist; Enrico Pirovano, manager of De la Rama Shipping; and Blanche Jurika, mother-in-law of Commander Chick Parsons.
All of the victims, accused of conspiracy by the Japanese, suffered torture and heinous deaths. According to an eyewitness account, both Elizalde and Jurika were among the civilians who were brought to Manila's North Cemetery only to be executed either by beheading or a single shot to the head.
Ironically, it was reported that Vera Reyes was later arrested and killed by the Japanese after his 'outstanding' work as a Filipino double agent.
4. Filomeno Castro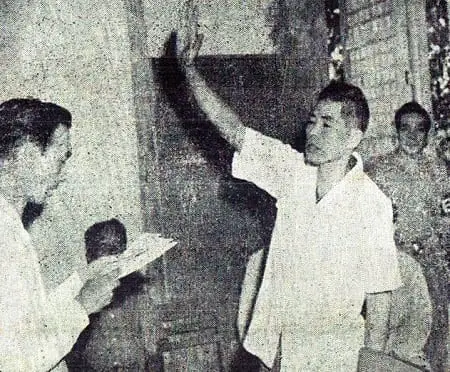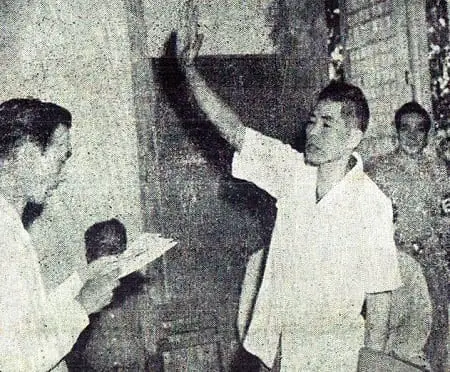 A member of the pro-Japanese Ganap party, Filomeno Castro was sentenced to life imprisonment and fined 100,000 pesos after being convicted of treason on January 26, 1946. The case was in connection with Castro's role as a Japanese spy and collaborator during WWII.
Originally from Cuyapo, Nueva Ecija, Castro joined the Ganap shortly before the war started. He and the rest of the group would later wear Japanese uniforms and carry weapons as they patrolled the barrio of Parang Norte, Mariquina, Rizal on behalf of their masters.
For his role as a Japanese spy, Castro was captured and detained at the camp of the ROTC guerrilla outfit in barrio Tala, Mariquina.
Upon his release, however, Castro retaliated by leading a group of Japanese soldiers in a surprise raid against the guerrilla camp. He would later identify actual and suspected guerrilla members, most of whom were captured and subsequently tortured or executed by the Japanese.
Before receiving the verdict, Castro was accused of treason on nine counts. In a last attempt to defend himself, he claimed that he was a guerrilla member and was only framed up by his former comrades, whom he also accused of killing his wife and baby.
3. Capt. Jesus Villamor and the "Planet Men."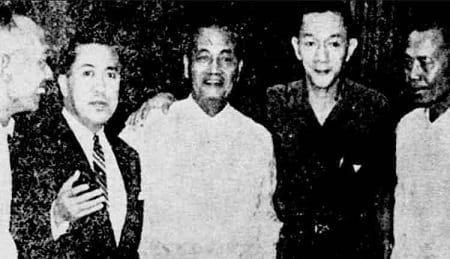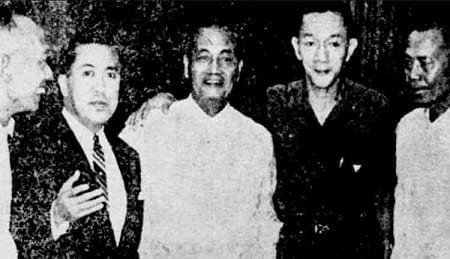 As part of the grand plan to liberate the Philippines, Gen. MacArthur sent a group of operatives to the country in 1942. The espionage mission was known as "Planet Party," so called because the major Philippine islands were code-named after the planets in our solar system.
The all-Filipino "Planet Party" was led by Captain Jesus Villamor, a bemedaled fighter pilot who previously followed Gen. MacArthur to Australia after the outbreak of WWII. As soon as its members were chosen, the "Planet Party" underwent rigorous training where they learned "codes, ciphers, secret inks, and disguises"; practiced fatal combat skills on cadavers, and gained survival instincts by staying in a jungle armed with only a pocket knife and a piece of rope.
After completing the training, the group rode the USS Gudgeon submarine that would take them on a 2,000-mile journey to the Philippines. Upon arrival in Southern Negros, the "Planet Party" was welcomed by local guerrillas who would soon work with them in establishing a nationwide espionage network and an effective communication system between Australia and the Philippines.
Such was the success of the underground mission that MacArthur's return to the Philippines happened earlier than what was originally planned, providing the USAFFE with ample time to think of strategies to liberate the Philippines.
2. Conrado Tudtud Sr.
Born on Christmas Day, 1902, Conrado belonged to the prominent Tudtud clan in Cebu.
Before the war, he was among the group of Cebuanos who organized a political movement in their district called the Mabolo Golden Era. Also a businessman, Tudtud was a pioneer of the cold refreshment industry. In fact, his then famous "Conrad's Ice Drop" was a hit both among the locals and even the Japanese troops during WWII.
READ: 10 Amazing Facts You Probably Didn't Know About Cebu
During the war, Tudtud was living near the Mabolo Elementary School which was previously converted into a Japanese garrison. Using his location to his advantage, Tudtud cloaked himself under the guise of a businessman and a friend of the Japanese, all the while providing the Cebuano-American guerrilla movement with vital intelligence.
After WWII, Tudtud continued managing his local business. He also served as the Captain and Assistant Chief SSD District Commander, and eventually became the Chief of the Detective Bureau of the Cebu Police Department.
He died in 1970 and a street in Cebu, formerly known as H. Guibilondo, was subsequently named in his honor.
1. Josefina Guerrero
VIDEO: Mrs. Josefina Guerrero, leprosy sufferer, and guerrilla heroine, arrives in the US for treatment. Source: British Pathé.
Probably one of the most underrated WWII heroines, Josefina Guerrero had an unlikely background: she was diagnosed with leprosy shortly before the Pearl Harbor attack. But instead of becoming a burden, her condition served as Guerrero's key to work as a spy for the United States.
In the early period of the Japanese occupation of Manila, Guerrero was asked to accomplish the risky task of mapping Japanese fortifications, secret tunnels, and other important buildings. She then took a two-day journey through known enemy territories to deliver the vital intelligence to the 37th Infantry Division.
With the map strapped to her back, Guerrero was able to outsmart the Japanese soldiers who basically avoided her due to her skin condition.
In the end, the Filipina spy not only successfully delivered the map but also provided the Allied soldiers with food and clothes necessary for their survival.
Read More: 14 Amazing Filipina Heroines You Don't Know But Should
For her extraordinary role, Mrs. Guerrero received an equally extraordinary award: the US Medal of Freedom with Silver Palm, the highest honor that could be given to a civilian by the American government.
Later, in 1948, Guerrero flew to the United States not only to receive a hero's welcome but also to receive yet another life-changing gift: She was sent to Carville, Louisiana to receive a leprosy treatment, making her the first foreign leper to enter the US to receive such privilege.
After she was discharged, Guerrero settled down in California and later became a staff member of the Star, an international publication whose goal was to educate the public on Hansen's disease (leprosy).
BONUS: The youngest Filipino spy ever?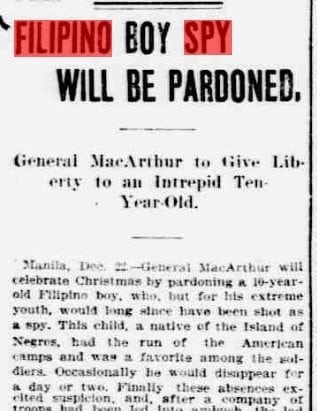 The complete opposite of "Macabebe Marie," this Filipino spied for the insurrectos when he was only–drum roll please–ten years old!
According to a news report published in the December 1900 edition of The St. Louis Republic, the unnamed Filipino boy was a native of Negros. At first, the young boy "had the run of the American camps and was a favorite among the soldiers." Soon, however, he would reportedly disappear for a day or two, much to the suspicion of some American soldiers.
READ: 8 Dark Chapters of Filipino-American History We Rarely Talk About
It was when after a "company of troops had been led into an ambush" that the Filipino boy was finally reprimanded. He was later positively identified as a spy when "incriminating papers were found upon him and he was sent to Bilibid Prison."
As it turned out, the Filipino spy's young age became his saving grace. In December 1900, General Arthur MacArthur granted clemency to the young man. The decision, according to the report, "follows more than a score of hangings, the victims being native outlaws, found guilty by the military tribunal of murder and pillage."
References
A Letter From The Publisher, Aug. 24, 1953. (1953). TIME Magazine. Retrieved from http://goo.gl/4OnFvy
Bautista-Binkowski, E. (2006). Code name High Pockets: True Story of Claire Phillips, an American Mata Hari, and the WWII Resistance Movement in the Philippines (p. 130). Valour Publishing.
Beyond The Wire. (2011) (1st ed., pp. 4 – 5). Retrieved from http://goo.gl/4yl2e3
Breuer, W., & MacArthur, D. (1995). MacArthur's Undercover War: Spies, Saboteurs, Guerrillas, and Secret Missions (p. 118).
de la Victoria, V. The Spies Who Came In From The Sea. Positively Filipino. Retrieved 20 July 2015, from http://goo.gl/xduiSK
Filipinas Heritage Library,. Jesus Villamor: Soldier, Spy. Retrieved 20 July 2015, from http://goo.gl/xl2A2x
Gould, T. (2014). A Disease Apart: Leprosy in the Modern World. St. Martin's Press.
McCoy, A. (2009). An Anarchy of Families: State and Family in the Philippines (pp. 473 – 474). University of Wisconsin Press.
Oaminal, C. (2013). Conrado C. Tudtud Street, Cebu City. The Freeman. Retrieved 18 July 2015, from http://goo.gl/LCyz4W
Salazar, G., Reyes, F., & Nuval, L. (1993). World War II in the Philippines: Defense, Defeat, and Defiance (pp. 109, 111, 539). Veterans Federation of the Philippines.
Terhune, A. (1918). Stories of Spies. The Evening World. Retrieved from http://goo.gl/4bSYjX
The Milwaukee Sentinel,. (1948). Warm Welcome for Philippine Leper Heroine, p. 20. Retrieved from https://goo.gl/Pd8oCB
THE PEOPLE OF THE PHILIPPINES, plaintiff-appellee, vs. FILOMENO CASTRO (alias FELOMINO CASTRO), defendant-appellant., G.R. No. L-300 (Supreme Court of the Philippines 1949).
The Pittsburgh Press,. (1902). "Macabebe Marie" Dead. Retrieved from https://goo.gl/Gg9u6j
The Singapore Free Press,. (1948). Filipino war heroine had leprosy, p. 3. Retrieved from http://goo.gl/O8Dpc6
The St. Louis Republic,. (1900). Filipino boy spy will be pardoned, p. 7. Retrieved from http://goo.gl/0OTqOJ
Williams, R. (1999). Asian Pacific American Women Served in World War II, Too. U.S. Department of Defense. Retrieved 18 July 2015, from http://goo.gl/umvzEz