When she burst on the Philippine silver screen in 1951, Darna, the first high-flying Filipina superheroine, held movie audiences spellbound and in awe with her amazonian strength, power and beauty as she fought the supernatural forces of evil.  
In this article, we'll look back at the first Darna and the fascinating origin story of the iconic Filipina superhero.
Table of Contents
The Birth of a Superwoman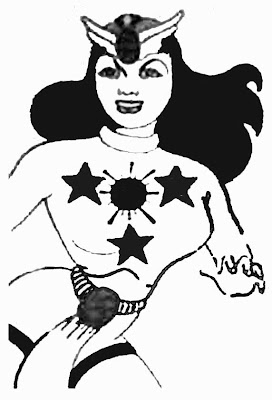 Legendary stories of warrior women, ruling matriarchs, and jungle girls abound in history and our literature. Princes Urduja, Maria Sinukuan, and Reyna Sima are just a few examples. However, only a handful was represented in films. The post-war "Gerilyera" (1946), which starred Carmen Rosales and the daring role she played in our fight for freedom, was more of an exception. 
In the mid-century Philippines, women were still portrayed in films in the usual stereotypes: demure, modest girls of unassailable feminine virtues, as seen in "Probinsyana" and "Matimtiman," both released in 1946, with the latter proclaiming, "..idinadambana ang mga kababaihang Pilipino."
Other films depicted the Filipina as a self-sacrificing martyr, born to take on suffering, exemplified by the 1947 weeper, "Dolorosa: Pagtitis ng Isang Babae." But not this woman known as Darna—who was ready to flex her muscles to defend people from diabolic elements and underworld fiends, from the very essence of evil itself.
The scantily-clad beauty could fly, leap from tall buildings at a single bound, outfight a mortal—yet was full of beauty and grace! Just like Wonder Woman and Supergirl, who earlier appeared in the 1940s in American comic books.
But those two strong woman characters never inspired Darna's creation. Instead, the venerable writer, Mars Ravelo, modeled her after her mother, his real-life hero who raised him singlehandedly. Ravelo then peddled his concept of this "kamangha-manghang dilag" to local comic publishers, who thumbed down the idea;  female superheroes won't sell, he was told. 
It was only after the war that the persistent Ravelo finally convinced Bulaklak Komiks to publish his comic story about a Filipina superhero—now named "Varga"—in 1947. His stint with the magazine ended in 1949 after a squabble with his editor. He left "Varga" with Bulaklak and found new employment with Ace Publications. 
Ravelo recast his superheroine into a character deftly drawn this time by Nestor Redondo—thus was born Darna, a mighty, out-of-this-world "warrior of light" that reincarnates through a mortal girl named Narda. Narda summons her by swallowing a magic stone inscribed with the name "DARNA," which, when called out, transforms her into an invincible superwoman.
From Comic Strips to the Silver Screen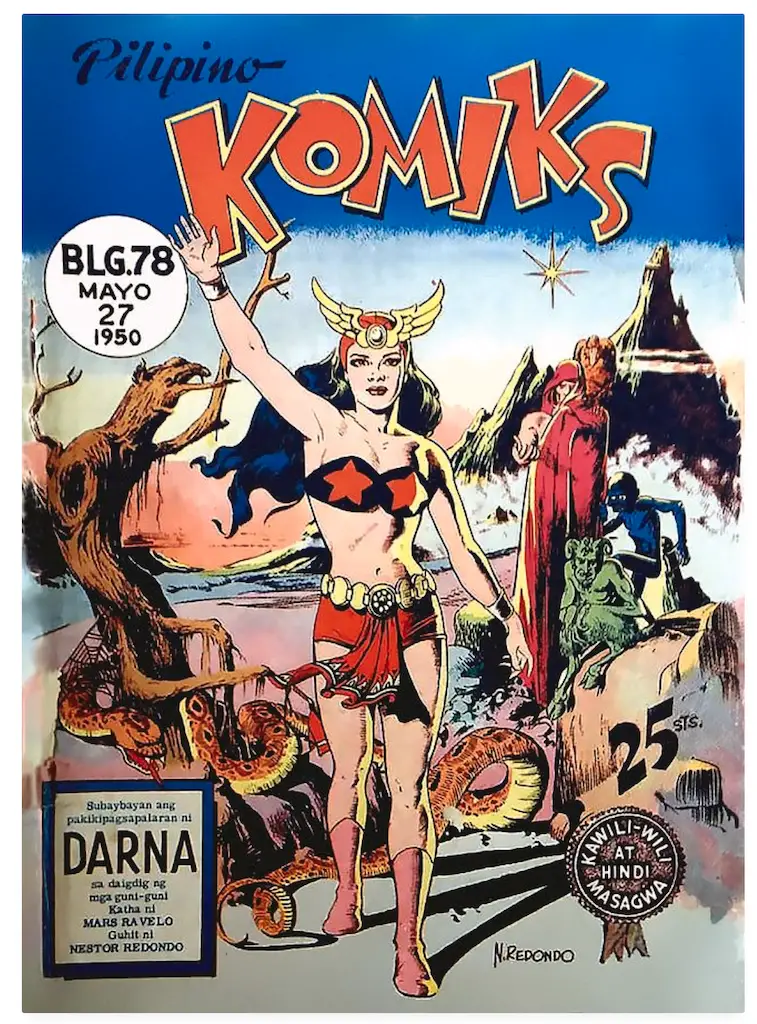 Darna's costume is cut like a modest bikini. Her bustier sports two gold stars, while the bottom part–more like a pair of short shorts–features a waist sash, held in the middle by a belt. She wears high boots, golden bracelets, and a signature winged red helmet a la Pallas Athena, the Greek warrior deity. Arrayed in her costume, Darna cut a formidable presence when she first appeared on the pages of Pilipino Komiks on May 13, 1950.
The plot was simple enough: an accursed baby girl born with snakes on her head is disowned by the town and returns as an adult to exact revenge. Valentina finds her match in  Darna, who not only tangled with her but also had to deal with her venomous minions that overran the town.
The comic series was such a big hit with Filipino comics fans that even before it ended, Royal Productions, owned by Fernando Poe Sr., had secured the rights to turn the story into a movie in 1950, which he directed. 
Poe, Sr., himself, an experienced movie actor, assembled an original cast for his first fantasy action venture. The primary roles of Darna, Narda, Ding, and the villainess Valentina were handpicked by Poe Sr. Although scores of Darna movies and TV series have since been produced with different actors and actresses, there is no cast like the original.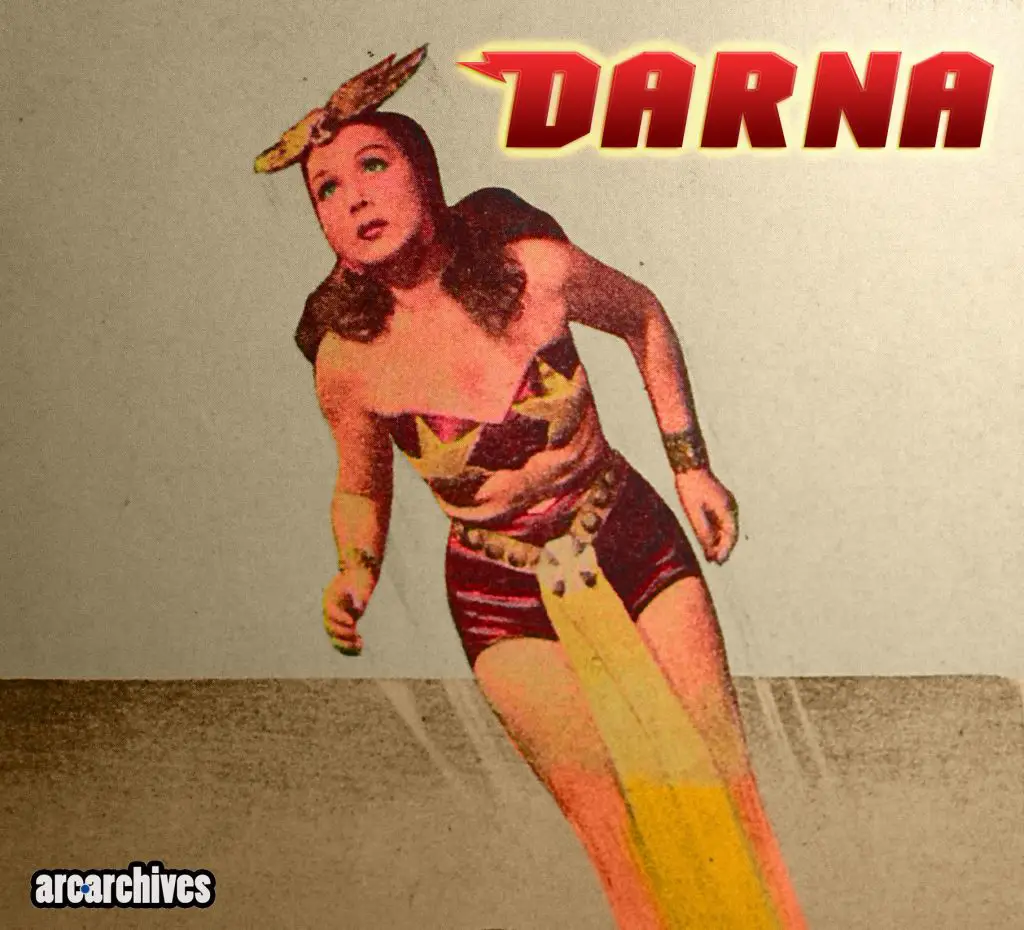 Vaguely remembered after 66 years, all the actors nevertheless contributed to Darna's phenomenal success when the much-hyped movie premiered at the air-conditioned Clover Theater on May 31, 1951. People in the cinema house cheered, screamed, whistled, and clapped whenever Darna flew into view to fight and then vanquish her foes. It was the same success story when the movie was rolled out in theaters nationwide, setting box-office records everywhere. 
In a poll conducted in 1952, Darna was acclaimed as one of the "Top 30 Outstanding Philippine Films produced from 1919-1951." No mean feat for the original cast who made the story of DARNA, NARDA, DING, and VALENTINA come alive on the silver screen in such a compelling way, making DARNA truly—"A darned wonderful and exciting movie!" as the movie blurb cleverly proclaimed. 
The First Darna: Rosa del Rosario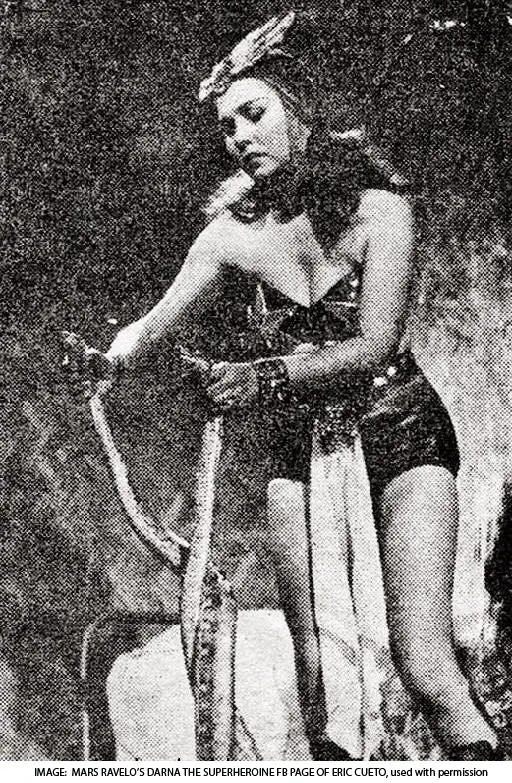 To the prewar Queen of the Philippine Movies goes the distinction of being the first actress to play Darna. Rosa del Rosario was already 31 years old when she was chosen to play the lead role in the pioneering superheroine movie. 
Born on December 15, 1919 in Bacolor, Pampanga, Rosa del Rosario or Rosa Stagner in real life was the daughter of Agustina del Rosario and American Frank Stagner.
Frank brought his large family to Manila, where one elder daughter set up a dress shop business. Twelve-year-old Rosa was in the shop when a foreign director knocked to ask about a film outfit in the city. Her big sister told the director about Malayan Motion Pictures, and the two siblings volunteered to arrange an appointment with Malayan owner Jose Nepomuceno on behalf of the director.
When Mrs. Nepomuceno saw the Stagner girls, she was immediately taken by the budding beauty of Rosa. She immediately sought permission to cast her as a child actress in her debut silent film, "Satanas" (1932). But it was later in the year that she created quite a stir when the 14-year-old, now billed as  Rosa del Rosario, was cast in an adult role opposite Carlos Padilla in the 1932 film "Ligaw na Bulaklak."
Rosa's long and legendary movie career had just started.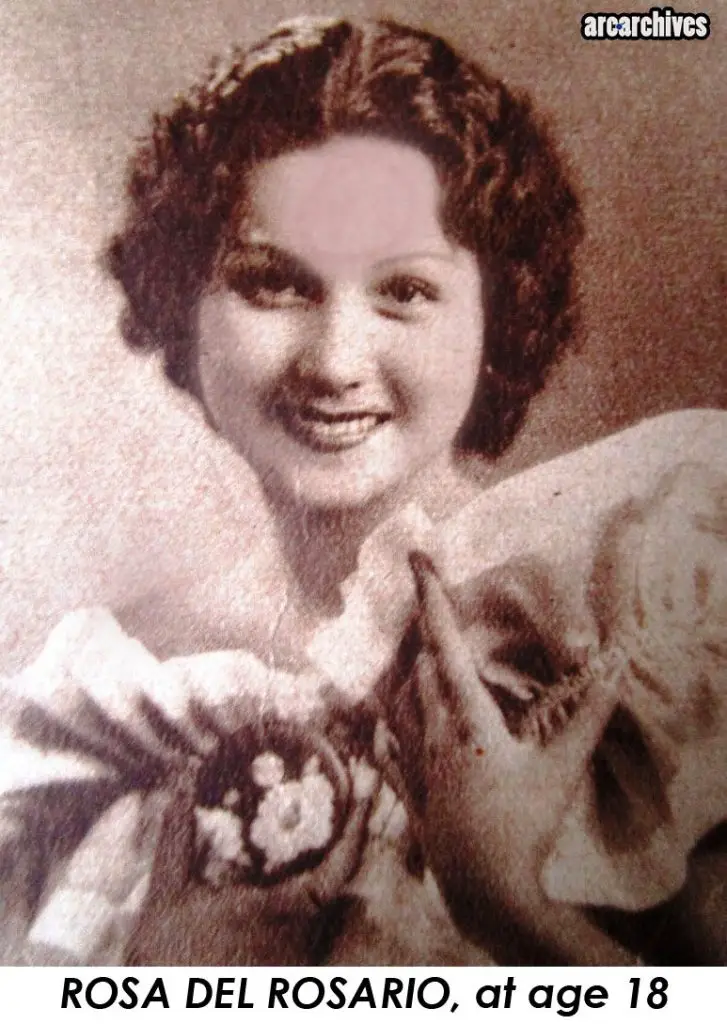 In the next few years, Rosa del Rosario enthralled movie fans, appearing alongside leading men like Rogelio dela Rosa and Leopoldo Salcedo, the great profile. She made several movies with Leopoldo: the zarzuela-based "Walang Sugat" (1939), "Kundiman ng Lahi" (1950), and the historical bio-flick, "Tandang Sora," which she considers her favorite.
She was also one of the first Filipinos to break into Hollywood. News of her fame in the Philippines reached an American director who came over to cast her in "Anna and the King of Siam" in 1939 as one of the king's royal wives.  
Poe Sr. remembered her co-star's superb physical acting in "Zamboanga" ( 1937) and in Hollywood films like the U.S. western "The Border Bandits"(1946) and, later "The American Guerrillas in the Philippines" (1950), so despite her age, he booked her for the starring role of Darna.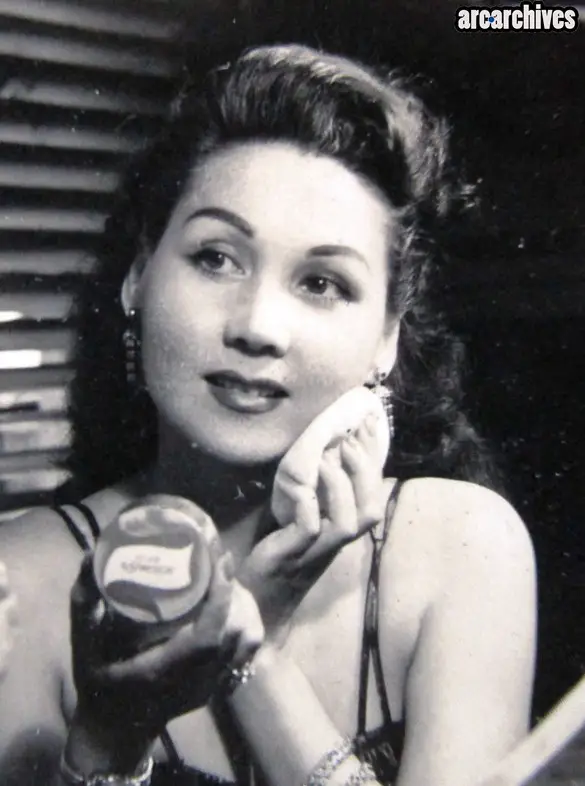 As the first Darna, she learned to "fly" suspended from wires that hung from a helicopter.  She shot her physically-demanding scenes all over Manila, in Quiapo, and in scenic Bulacan. At the end of the shooting day, Rosa would come home black and blue all over. 
Without any squeamishness, she handled slithering serpents of all sizes. She devised her stunts and choreographed her fighting moves. Her pivotal hand-to-hand combat atop a hill with Valentina, the Pinay gorgon played by Cristina Aragon, was spectacular–it was not just meant to dramatize the triumph of good over evil, but also Darna's beauty with a purpose!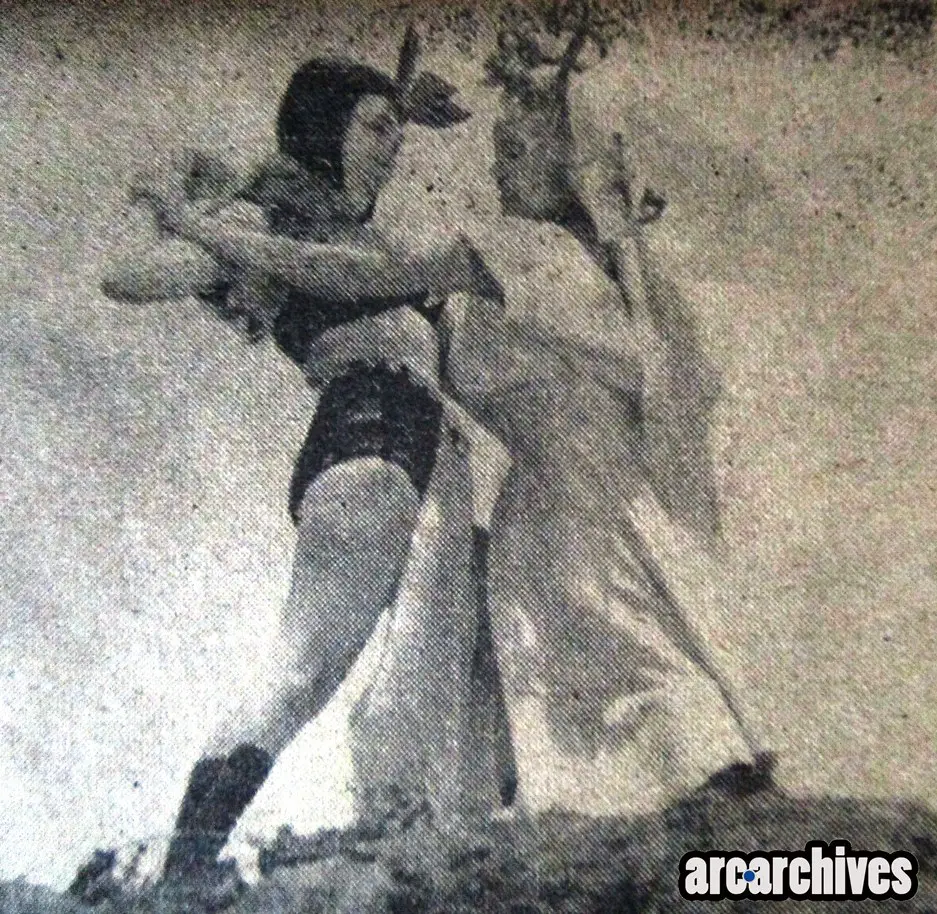 The success of the first Darna movie demanded the making of a sequel, which commenced production in 1952. Though reeling from the untimely death of Poe Sr. in 1951, Royal Productions wanted to continue the momentum that Darna created. This time, a new arch-enemy in the form of a winged Hawk Woman would be DARNA's new nemesis. 
"Darna at ang Babaing Lawin," also serialized in Pilipino Komiks, was produced as a movie in 1952, directed by the esteemed director Carlos Vander Tolosa.  Cast as the hawk woman was the sultry siren, Elvira Reyes. The rest of the original primary cast was essentially retained in this second DARNA installment dubbed "the most spectacular movie of the year!!!" shown in mid-August 1952. 
It was to be Rosa's second and last Darna movie. Towards the end of the 1950s, Rosa moved to San Francisco, California, with her husband, John Samit, and her two daughters, Geraldine and Teresa. 
She returned to the Philippines in the early '80s to accept the "Walang Kupas Award" (Unfading Luster Award), the ultimate recognition for movie personalities who have made indelible marks on Philippine cinema.
Rosa lived to see the role she originated immortalized in at least a dozen movies, including comedy spoofs and an Indonesian Darna version. It also had several reincarnations as a blockbuster TV serial, as a musical, and even as a ballet show. 
The Evolution of Darna
Since the '50s and to this day, there was a Darna movie produced every decade. The highly sought-after lead role was essayed by different female actresses, some name stars, others, were virtually unheralded and unknown.
After Rosa del Rosario, these actresses played  movie DARNAs:
Liza Moreno (1963, Si Darna at ang Impakta, Isputnik vs. Darna)
Eva Montes (1965, Darna at ang Babaing Tuod)
Gina Parreño (1969, Darna at ang Planetman)
Vilma Santos (1973, Lipad, Darna Lipad; 1974, Darna and the Giants; 1975, Darna at ang Planetwomen; and 1980, Darna at Ding)
Rio Locsin (1979, Bira, Darna, Bira!)
Sharon Cuneta (1986, Captain Barbell, cameo role)
Nanette Medved (1991, Darna)
Anjanette Abayari (1994, Darna: Ang Pagbabalik)
Regine Velasquez (2003, Captain Barbell

remake, cameo role only)

Lorna Tolentino

(1977, on TV)

Angel Locsin

(2005, on TV)

Marian Rivera

(2009, on TV)

Jane de Leon

(2022, on TV)
The First Narda: Mila Nimfa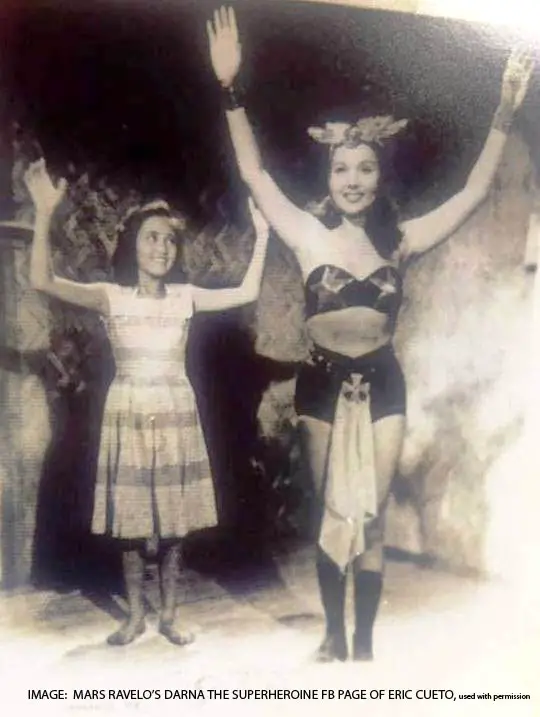 The character 'Narda' was introduced as the mortal 'alter ego' of Varga, who lived in the sleepy town of Masambong with her Lola Asay and younger brother Ding. It was she who saw and chased after a falling star that turned out to be a stone talisman with transformative power when placed inside one's mouth. 
Fernando Poe Sr.'s pick for the coveted role of 'Narda' was a no-brainer. He chose a charming young actress he was grooming to be a future star—Mila Nimfa.  Just a year before, she had bagged the Best Child Performer trophy in the 1st Maria Clara Awards for the sentimental drama "Nanay Ko," directed by Poe Sr. himself. The film starred veteran Carmen Rosales and Danilo Montes.
Mila Nimfa considered the senior Poe her second father, and the two forged a close relationship. 
Though just past 11, Mila Nimfa had an outstanding resume. Milagros Salonga (b. 1940), in real life, she was a native of Meycauayan, Bulacan. Before her film career, she was a regular contestant in popular radio programs and a consistent First Prize winner in amateur radio shows sponsored by PMC products like Purico and Camay. She had also appeared on stage with the Davila Grand troupe.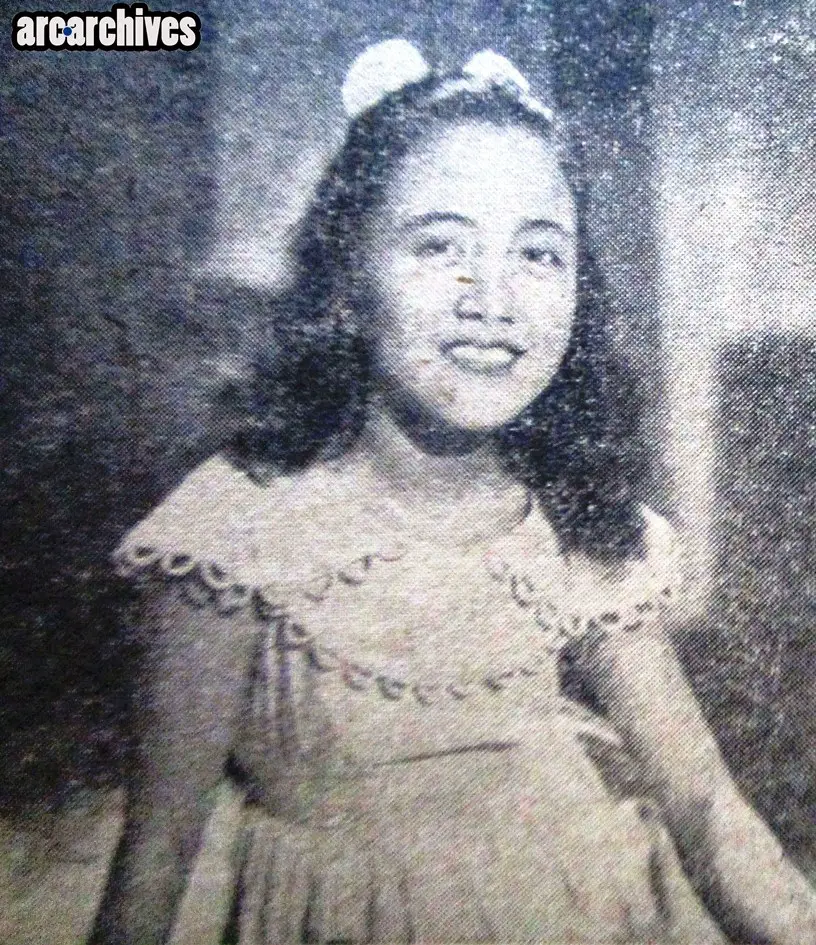 Poe Sr. saw one of her singing and acting performances, which impressed him enough to put the 9-year-old under contract with his Royal Productions. The aforementioned  "Nanay Ko"(1950) was her first film, and her award-winning performance won her another worthy role—the first Narda. 
Though just part of the supporting cast, Mila Nimfa's Narda was a critical character in the story, and her magical transformations, complete with the famous "Darna!" yell, was avidly awaited by adoring fans.
After Darna, Poe Sr. knew she was ready for stardom. She was given her first starring role in the 1951 movie "Basag na Manika," a sob story about a slum girl who is mistreated by members of her rich, adoptive family. Mila Nimfa was ably supported by fellow child actresses Amelia Saguinsin and Corazon Rivas.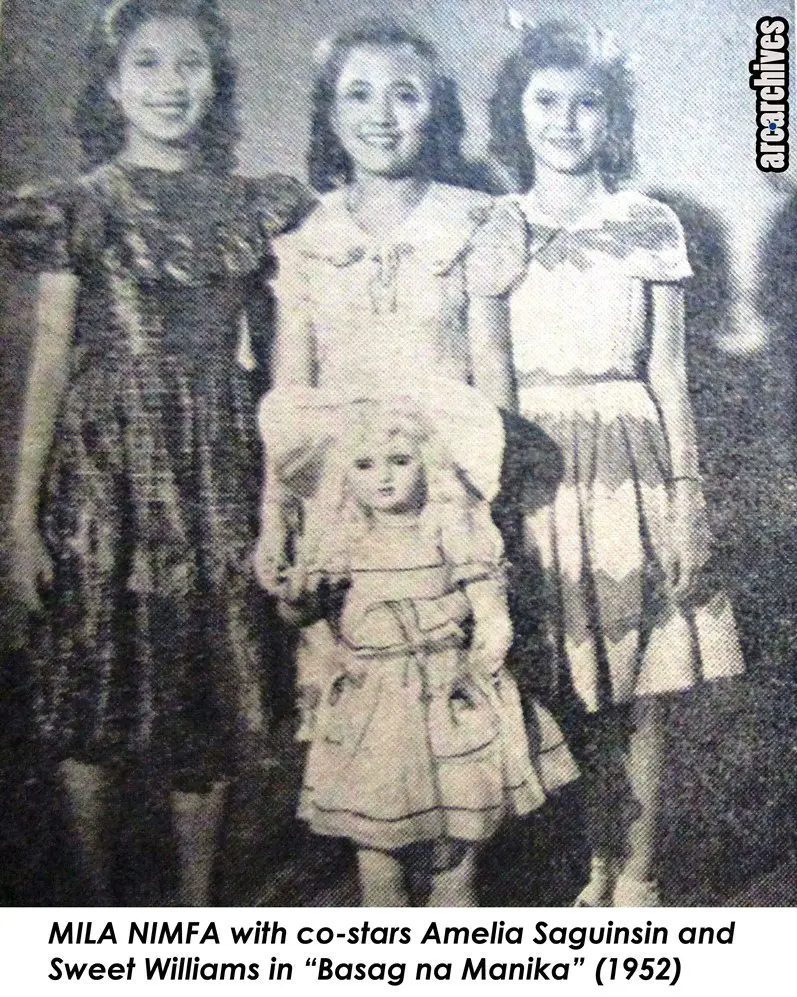 The movie was already scheduled for its premiere in October when Fernando Poe Sr. unexpectedly died of rabies. 
"Basag na Manika"—the last movie directed by the respected Fernando Poe Sr.– became another Royal box-office success.
The disconsolate Mila Nimfa would carry on and reprise her role as Narda in the second Darna movie, "Darna at ang Babaing Lawin," in 1952. But without Poe Sr. to personally chart the course of her showbiz career, the future looked uncertain, and she eventually retired from movie making for the rest of the 1950s.
She resurfaced in 1963 as a featured actress in the action movie "Sierra Madre," top-billed by Fernando Poe Jr., her former boss' son. It was to be her last foray into films.
In her golden years, she became an active member of her church group in Tondo. Mila Nimfa, who would forever be known as the first Narda, passed away on Saturday, October 21, 2017. 
The Evolution of Narda
Narda was a separate character in the first two Rosa del Rosario movies in which she was first seen.

She was absent in the next three 1960s movie versions (i.e., Darna at ang Impakta, Isputnik vs. Darna and Darna at ang Babaing Tuod).
In the 1969 Darna at ang Planetman, Narda resurfaced, portrayed by the young Gina Alajar.
In the 1973 blockbuster hit, "Lipad, Darna, Lipad!," teen star Vilma Santos played the dual roles of Darna and Narda.
The First Ding: Manuel Ubaldo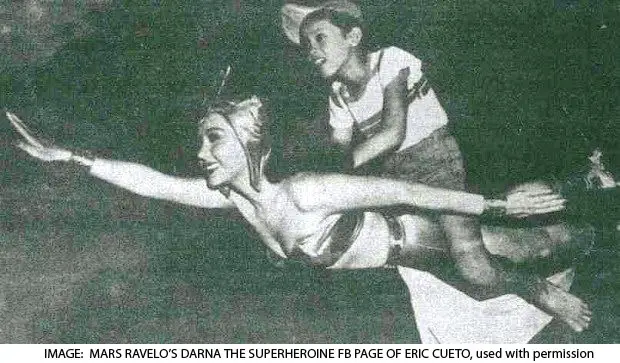 The boy destined to fly with Darna was born in 1941 as Manuel Ubaldo or "Uwel," a native of Pakil, Laguna.
His two brothers, who went by the screen names Rico and Nobel Macabasco, had started as singers on stage and then transitioned to films. This prompted his parents to move the family to Manila so the brothers could pursue their careers. 
Little did they know that Uwel, in his fifth grade at Far Eastern University, would also be discovered for the movies. Growing up, the little boy showed little interest in performing and had never participated in any presentations staged at his school.  
But when a call over the radio was sounded for a boy to appear in the 1950 movie "Ang Magpapawid" of Royal Productions, Uwel—who had tuned in to the radio—was seized with excitement and prodded his parents to allow him to join the audition.
The next day, under Director Paquito Bolero, Ubaldo underwent a screen test, passed, and was put under contract with Royal Productions.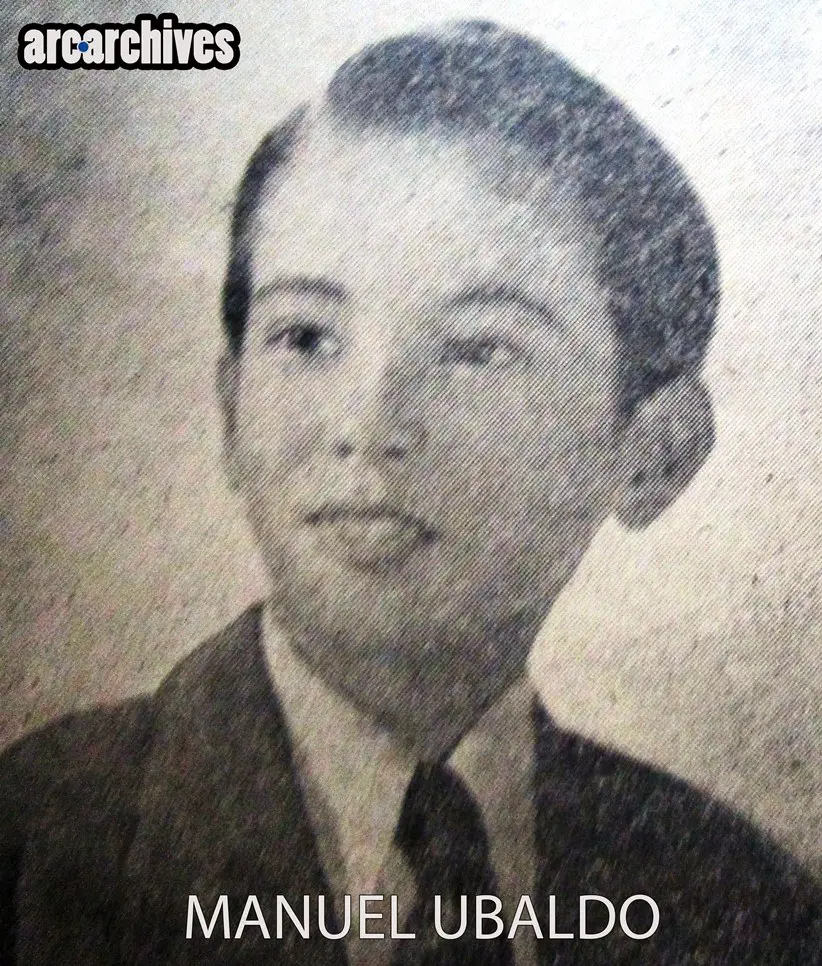 Not only did he do "Ang Magpapawid," but was also cast in quick succession for movies such as "Nanay Ko," "Mag-Inang Ulila" and "Anak Ko!" (1951), all directed by Fernando Poe Sr. He was third-billed behind Danilo Montes and Ben Perez in "Kamay ni Hugo" (1952),  and also got to act with his brother, Rico Macabasco.
When not doing films, the sweet-voiced Uwel sang with the stage troupe of Paquito Bolero, who performed song-and-dance acts and comic revues in leading theaters of their day.
But Manuel Ubaldo is best remembered as the first-ever Ding to Rosa del Rosario's Darna (1951). He had actually worked with the principal actors before: in "Mag-Inang Ulila" (with del Rosario), "Nanay Ko" (with Mila Nimfa) and "Kamay ni Hugo" (with Ben Perez, directed by Mario David).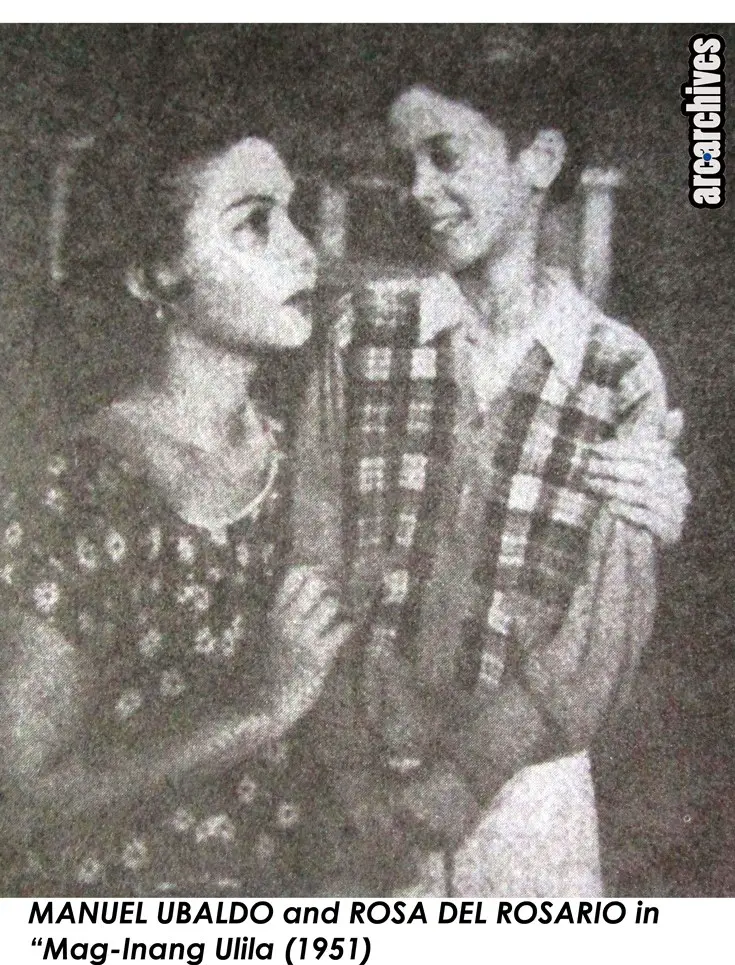 Of working with Mila Nimfa who was about his age, Uwel enthuses, "Isa siyang mabuting kasama…at napakabait niya."
In the amazing flying sequences, Manuel Ubaldo as Ding had the enviable position of riding on Darna's back as she "soared high" to her destination. But of course, all the flying scenes were done using camera tricks like rigging the actors with wires and superimposing images together. Nevertheless, Uwel enjoyed the experience just as much as the adulation he and the cast received from movie fans when they graced the premiere of "Darna" in first-run theaters. 
Like Mila Nimfa, the death of Fernando Poe Sr. dealt a big blow to  Manuel Ubaldo's rising career. Poe Sr. had promised him two more movies: the Darna sequel, "Darna at ang Babaing Lawin," shown in 1952, where he reprised his role as Ding; and "Tabak ng Langit," which never materialized as Royal Productions shifted its focus to giving technical services to independent producers and film distribution. 
In all, Manuel Ubaldo did only five movies in his entire, short-lived career. He left showbiz for good, went back to school, and to this day, nothing has been heard about his life as an adult. 
The Evolution of Ding
Ding was absent in the 1965 movie "Darna at Ang Babaing Tuod," the only Darna movie without the character who was one of only 3 who knew of Darna's secret.
Male child actors who portrayed Ding after Manuel Ubaldo were:
Danilo Jurado

(1963,

Si Darna at ang Impakta, Isputnik vs. Darna

)

Boy Alajar

(1969,

Darna at ang Planetman

)

Angelito

(1973,

Lipad, Darna, Lipad

)

Dondon Nakar

(1973,

Darna and the Giants

)

Bentot Jr.

(1975, 

Darna vs. the Planetwomen

)

Romnick Sarmenta

(1979,

Bira! Darna! Bira!

)

Niño Muhlach

(1980,

Darna at Ding

)

Atong Redillas

(1991,

Darna

)

Lester Llansang

(1994,

Darna: AngPagbabalik

)

CJ Muere (2005, on TV)
Buboy Villar (2009, on TV)
Zaijan Jaranilla (2022, on TV)
In the 2005 Darna TV series starring Angel Locsin, Ding was depicted strangely enough as a teenager.
The First Valentina: Cristina Aragon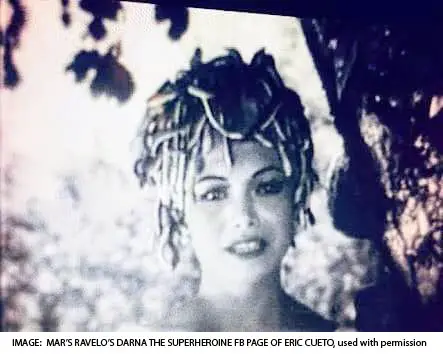 Valentina, or "Ang Babaeng Ahas," was Darna's first—and best-remembered arch-enemy. As 1970s Valentina Celia Rodriguez quipped, "Kung walang Valentina, walang Darna!"
The hideous snake-haired daughter of Miguel and Doray, Valentina turned against her parents by commanding her pet snake, Vibora, to kill them. Controlled by the snake creature Kobra, she began her abominable evil spree in an attempt to turn the world into her realm of snakes and serpents.  
Valentina, like Darna, would appear many times in subsequent reworkings of the movie, played by actresses of all ages and stature.
But the first to play the role of a Filipina Medusa was a 19-year-old actress from a showbiz royalty background, Cristina Aragon (b. 18 Nov. 1931). Violeta "Leta" Padilla in real life, Cristina was the daughter of Francisca Cruz with Jose Galvez Padilla Sr. of Plaridel, Bulacan, a pre-war screen idol who went by the name "Mario de Cordova."
Eventually, his father would enter politics and become a 2-term governor of Bulacan in the 1930s. He would father many children who became film luminaries like Jose Padilla Jr., Carlos Padilla Sr., Roy Padilla Sr., Consuelo Padilla Osorio, and Amado Cortez.
Like her siblings, she had entertained the thought of being a movie star but ended up as a teacher of beauty culture at the Pioneer Institute of Arts and Fashion, a vocational fashion and beauty school in downtown Manila. She had even gone to the U.S. to undergo special training in cosmetology.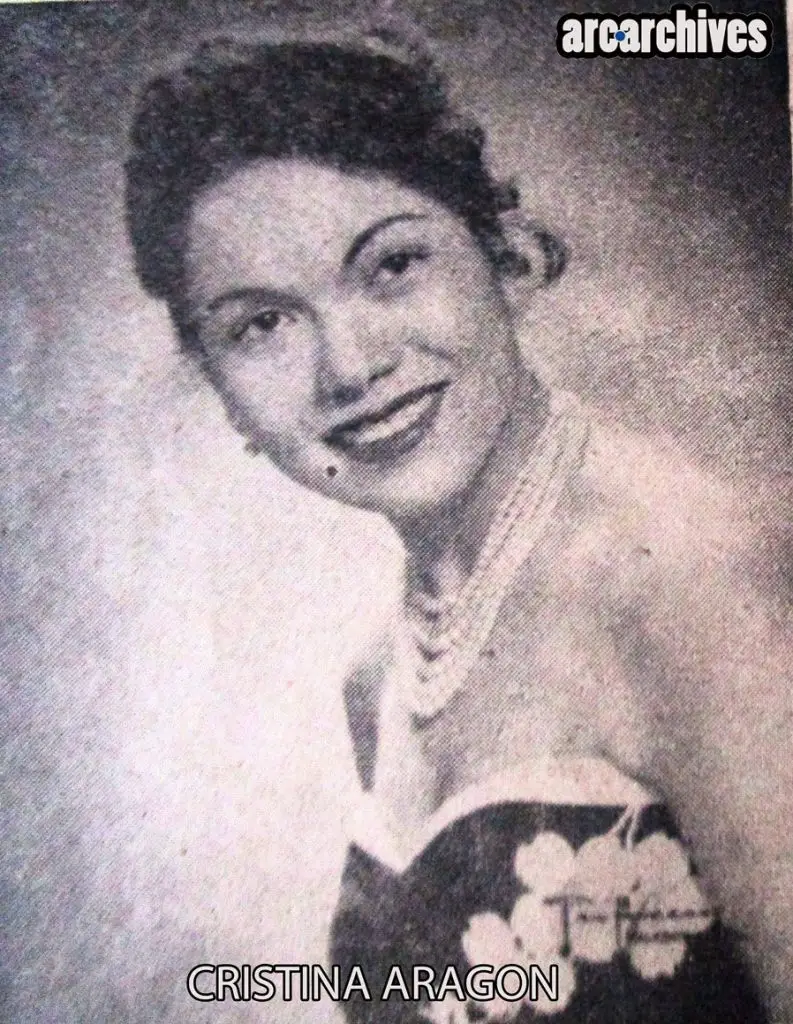 By chance, one day, Cristina wandered onto a movie set where a cameraman friend saw her. This friend suggested she try out for a movie, "Tatlong Limbas"—a Leopoldo Salcedo-Mila del Sol opus. 
When the director, Carlo Vander Tolosa, saw Cristina, he did away with the screen test and immediately included her in the 1950 movie based on a hit radio serial. Her natural acting ability earned her an important role in "Higanti." Her third movie, where she would originate the iconic role of snake-haired "Valentina," was "Darna," which began shooting in late 1950. 
The villainous role was not without difficult challenges. For weeks, Cristina had to wear a headdress onto which real, crawling snakes were sewn—not the store-bought plastic variety. She endured this challenge courageously, handling all the live snakes—from the small 2-footers to a long 14-feet reticulated python that coiled around her arm. 
"One gets used to the snakes much quicker than one suspects," says Cristina of her experience. "I think I can safely say that after I have finished this picture, I can handle any role given to me. And I'll tackle any assignment with relish."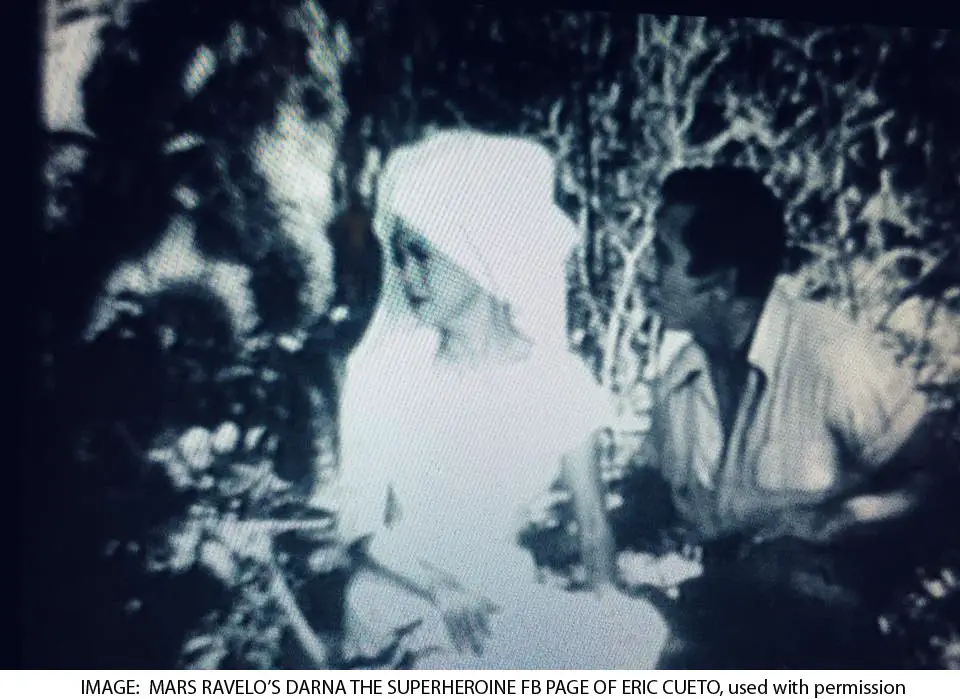 But the assistant director, Mario Bari, and the two snake handlers on the set were not as lucky; they were bitten by the non-poisonous snakes used in the film. Even Valentina's screen mother, actress Sofia Chico, was attacked by a constrictor.
"The snakes were quite civil, I tell you," the witty Cristina said, "Truth is, I've met more venomous varieties, and they didn't come from forests either."
In the movies, she wore a white head covering to conceal her creepy-crawlin' hairdo. The effect on the audience is horrific once she uncovers her head. In their ultimate battle, Darna comes to grips with Valentina on top of a craggy cliff, where, with her defeat imminent, she flings herself down the cliff, where she dies alongside her parents' remains. 
After finishing Darna, Cristina immediately began shooting "Walang Kapantay," one of the last movies by Poe Sr., featuring the tandem of Leopoldo Salcedo and Carmen Rosales. Mila Nimfa was in the same movie, shown in August of 1951.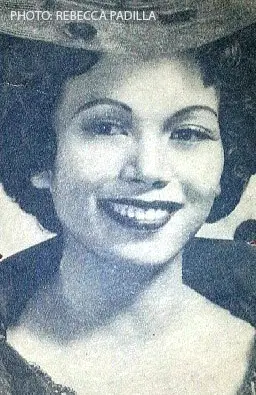 She next did "Singsing na Sinulid," directed by Eduardo de Castro, released in December 1951. It was headlined by Darna co-star Rosa del Rosario and Teody Belarmino. They were not as big a hit and did nothing to boost Cristina's supporting artist stature.
She turned her back on showbiz and settled in the U.S., became a resident, only to pass away tragically in a vehicular accident in San Luis Obispo, California, in 1992 at age 61.
The Evolution of Valentina
A little over 20 years after Cristina Aragon essayed the role of Valentina, the character resurfaced in a new Darna movie in 1973, starring Vilma Santos.
Subsequently, the part was played  by the following:
Celia Rodriguez (1973, "Lipad, Darna Lipad"; Rodriguez portrayed her bald with a few slithering snakes on her head)
Pilar Pilapil (1991, Darna)
Pilita Corrales (1994, Darna: Ang Pagbabalik; daughter Cherie Gil

was also snake-haired).

A spin-off movie, Valentina, was produced in 1991, starring Melissa Perez-Rubio.

Actresses who portrayed Valentina on TV include

Alessandra De Rossi

(2005-06 in Darna TV Series);

Jodi Sta. Maria (2006 Komiks Presents: Valentina);  Iwa Moto

(2009, Darna TV Series);

Melissa Ricks (2010, Wansapanataym Presents: Valentina); and Janella Salvador (2022, Darna TV Series).
References
Chanco, Mario F. "So Help us, But the Gal Wants to Write."  Literary Song-Movie Magazine, May 1951. P. 18
D'Gracia, Sonia. "Bagong Tuklas-Batang Bituin ng Royal Productions." Literary Song-Movie Magazine , September 1951. P. 48
Mars Ravelo's Darna the Superheroine FB Page: https://www.facebook.com/marsravelosdarna/
Comicvine: https://comicvine.gamespot.com/darna/4005-50899/
Valentina, https://en.wikipedia.org/wiki/Valentina_(Philippine_comics)