Philippine passport renewal fees depend on where you make the appointment/transaction.
You may avail of either regular processing or express processing (if you want to receive your passport faster).
Passport renewals in Aseana or Consular offices in Metro Manila cost Php 950 (regular; released in 12 days) or Php 1,200 (express; released in 6 days).
If you make an appointment in any of the Regional Consular offices outside Metro Manila, the cost of passport renewal is the same with the regular passport released in 12 days and expressed passport in 7 days.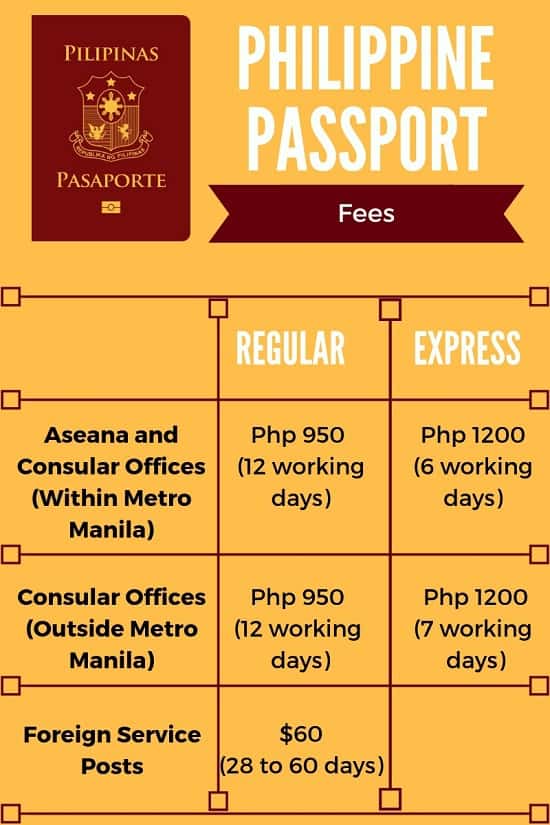 Take note that these waiting time are only applicable to those who will personally claim their passports at DFA. Additional days may be needed if you have availed of the courier service.
Meanwhile, Filipinos abroad may visit a Foreign Service Post in their host country to have their passports renewed. The renewal fee is $60 but it may take up to 2 months (28-60 days) before you can receive it since all Philippine passports are printed in the Philippines.
READ: How to Renew Philippine Passport Abroad: Guide for OFWs and Filipino Immigrants
Take note that those with lost or mutilated ePassports have to pay an additional Php 350 as penalty fee when renewing their passports. This fee is only applicable to those applying in the Philippines and may vary depending on the Foreign Service Post in your host country.
Go back to the main article: How to Renew Philippine Passport: An Ultimate Guide