Last Updated on 10/23/2021 by FilipiKnow
Find out how to renew your Philippine passport in Malaysia with this short and updated guide for Filipinos.
Read the main article here: How to Renew Philippine Passport Abroad: Guide for OFWs and Filipino Immigrants
Philippine passport renewal requirements in Malaysia.
Where to renew Philippine passport in Malaysia.
1. Philippine Embassy in Malaysia.
Address:

G/F No. 1 Jalan Changkat Kia Peng, 50450 Kuala Lumpur.

Contact information: +(603) 2148-4233 / [email protected]
Office hours:

Mondays to Fridays, 9 a.m. to 4 p.m.
2. Consular outreach mission.
Every month, the Embassy conducts mobile consular services, including passport renewal processing, in different areas outside Kuala Lumpur. To know the schedules and venues of the consular outreach, check the Embassy's website and Facebook page.
Update: As of October 2021, there's no update regarding any upcoming consular outreach program from the embassy. The last outreach mission was dated February 2020.
3. Special appointments for urgent passport renewals.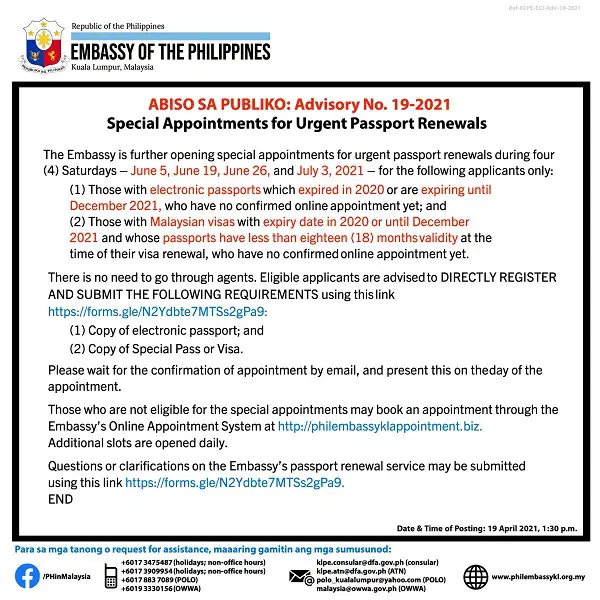 The Philippine Embassy in Kuala Lumpur has opened Special Appointments for Passport Renewals1. However, you need to meet certain qualifications for you to be able to renew your passport through these appointments. The embassy announced through their Facebook page the conduct of these Special Appointments together with the instructions. Check the embassy's Facebook page regularly for updates regarding these Special Appointments.
How to Renew Philippine Passport in Malaysia: 7 Steps.
1. Set an online appointment.
Visit the online appointment system and select "Passport Application" from the list of consular services. Choose your preferred date and time from the available slots on the calendar. 
Then fill out the appointment form with the required details and click Submit. Print or take a screenshot of the appointment letter that will appear on the screen. You'll receive the confirmation letter in your email, too.
2. Go to the Philippine Embassy in Kuala Lumpur.
Come to the venue at the exact date and time of your appointment. You won't be allowed to enter the Embassy if you arrive late.
Proceed to the Consular Section on the ground floor of the Embassy. Present your appointment letter printout and get a queue number from the automated queue system.
3. Submit passport requirements.
When your number is flashed on the screen, go to Window 1 and submit your documents.
After the staff has evaluated the requirements, wait for your number to be called again for the passport fee payment.
4. Pay the Philippine passport fee.
Go to Window 3 and pay MYR 288 for the passport renewal fee.
5. Proceed to biometrics data capturing and encoding.
Wait for your number to be called again for the next step, which is capturing and encoding your data at Door 5.
Applicants can have their passports delivered via courier. If you want your passport to be mailed to you instead of claiming it personally, bring a prepaid, self-addressed PosEkspres (XS size) envelope during your passport renewal application.
6. Check for the availability of your new passport.
Expect your passport to arrive one to two months from your application date.
While waiting for your new passport, you may check its availability on the Passport Finder section of the Embassy's website. Just enter your service number or receipt number (found on your official receipt) and surname then click the Submit button.
7. Claim your passport or wait for it to be mailed to you.
If you didn't arrange for passport delivery, pick up your passport at the Embassy. No need to make an appointment for that. 
However, you have to follow a schedule for passport release2. Go to the Embassy only on the day of the week assigned to the first letter of your surname.
A-C: Every Wednesday
D-H: Every Thursday
I-M: Every Monday
N-R: Every Tuesday
S-Z: Every Friday
For example, if your surname is Fajardo, you can get your passport on a Thursday.
When claiming your new passport, present your old passport and official receipt.
You may ask an immediate family member to claim your new passport on your behalf. 
The authorized representative must present your notarized authorization letter, old passport, and the official receipt, as well as his or her valid ID.
Frequently Asked Questions.
Go back to the main article: How to Renew Philippine Passport Abroad: Guide for OFWs and Filipino Immigrants
References.
Philippine Embassy in Malaysia. (2021). Advisory No. 19-2021: Special Appointments for Urgent Passport Renewals [Image]. Retrieved from https://www.facebook.com/PHinMalaysia/photos/pcb.4044537245603220/4044536735603271/
Philippine Embassy in Malaysia. (2020). Abiso sa Publiko Ukol sa Online Appointment System [Image]. Retrieved from https://www.facebook.com/PHinMalaysia/photos/pcb.3016377998419155/3016371301753158/