There's something poignant about photos of people or things during their last moments on Earth. You know they're doomed, but as an observer, you're left with no choice but to ponder on endless what ifs and might-have-beens.
Things get a little bit more serious when the subject is of historical importance. The end may be tragic, but as our country's history has taught us, one man's death could bring enlightenment to those who have been left behind.
Here are 10 of the most haunting last pictures taken in Philippine history and the incredible facts surrounding them:
Read Part II: 20 More Haunting Last Pictures Ever Taken in Philippine History (Part II)
1. The 24 Filipino delegates to the 11th Boy Scout World Jamboree (1963)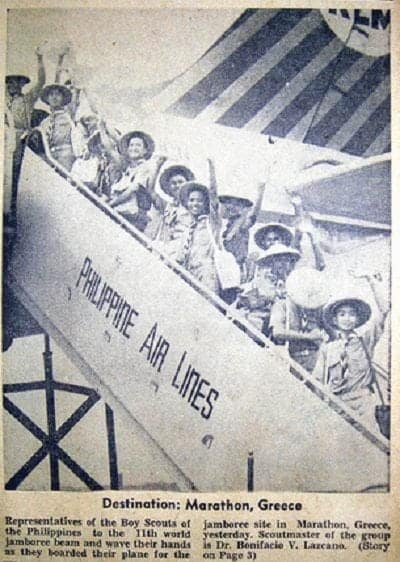 On July 28, 1963, United Arab Airlines Flight 869 crashed into the Arabian Sea a few miles off Bombay, India. A total of 60 people perished in the tragedy, among them were the 24 Filipino boy scouts and scout officials en route to Athens, Greece for the 11th World Jamboree.
Two days before the crash, the ill-fated boy scouts (see photo above) wearing their uniforms and native hats (salakot) entered the KLM plane at the Manila International Airport. They were off to Hong Kong where they would take a connecting flight to Athens, Greece. In addition to some equipment, the group also brought with them traditional Filipino costumes as well as folk dancing props.
Also Read: The first aircraft to fly in the Philippines
The said connecting flight had a brief stop over at Bangkok. The plane then flew  towards its destination, despite having been informed about clouds hanging low over Juhu beach. Soon, the plane received instructions from Santa Cruz Airport in Bombay to execute an emergency landing. Unfortunately, the British-made Comet jetliner plunged into the sea in one piece, as told by eyewitnesses from Mahd island.
Now hailed as heroes, the 24 members of the BSP who perished in the tragedy were honored by the Quezon City Council on April 24, 1964 by renaming the streets in Kamuning and Roxas Districts after them. The Ala-Ala Mausoleum in North Cemetery was also built in their memory. Finally, in 1988, then President Corazon C. Aquino declared 28th of July as "Scout Memorial Day" to celebrate the lives of the Filipino boy scouts who died in their line of duty.
Interesting facts:
Before their ill-fated flight, the chosen delegates underwent a rigid training in Manila and Mt. Makiling, Laguna from July 8 to the date of departure. Scoutmaster Bonifacio Lazcano, also the BSP physician, headed the said training.
Most members of the delegation were either sponsored by business establishments or under a "fly now, pay later" plan. Two scouts–Nicasio Fernandez and Guillermo Flores–were supposed to join the group, but they were left behind after failing to raise the required funds. They were among the lucky few who missed the flight.
During their stop over in Bangkok, Thailand, Aid Scout Observer Chito Albano wrote his last message on a postcard. It reads:
"Dearest Pa, Ma, Brothers, Sisters and Everybody,
We arrived in Bangkok at 10:25 PM (Manila time) safe and in good condition. We departed in Hong Kong at 8:45 PM (Manila time). I already sent Tio Pati a postcard. Please pray for me. Thank you. 
Love, kisses and prayers, 
Chito"
2. President Manuel L. Quezon (1944)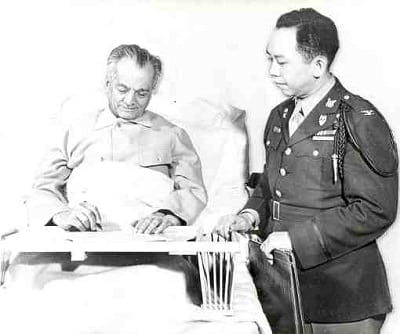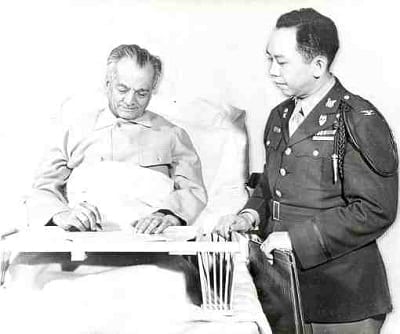 Saranac Lake in New York was a popular sanatorium during a time when potent antituberculosis drugs were not widely used yet. Manuel Luis Quezon, first president of the Philippine Commonwealth, took refuge here when he was struck by the bacterial disease. He stayed there until his death on August 1, 1944.
Quezon was forced to evacuate to the U.S. during the outbreak of WWII. There, he established the Commonwealth government in exile, appointed members of his Washington Cabinet, participated in the Pacific War Council, and signed the agreement which organized the United Nations against the Axis Powers.
Quezon's term as president was supposed to end on November 1, 1943 as mandated by the Constitution. However, he wanted to continue serving even beyond his eight-year term, forcing his would-be successor, Vice President Sergio Osmeña, to gave way to avoid further conflicts. A resolution allowing Quezon to serve beyond the eight-year limit was thereby approved by the American Congress on November 10, 1943.
After his term was cut short by his death, Quezon was succeeded by Osmeña as president. His remains were then transferred from Arlington National Cemetery to the Manila North Cemetery in 1946, before being moved to its final resting place at the Quezon Memorial Circle in 1979.
Interesting facts:
The height of Quezon Memorial Shrine's three vertical pylons was based on President Quezon's age when he died. Read more
One of Quezon's lesser-known talents involved his mastery of the piano, as evidenced by the time he single-handedly taught a trans-Atlantic ship's orchestra how to play the Philippine national anthem. Read more
One huge controversy that erupted during World War II involved Quezon giving American general Douglas MacArthur $500,000. Read more
3. The Thirteen Martyrs of Bagumbayan (1897)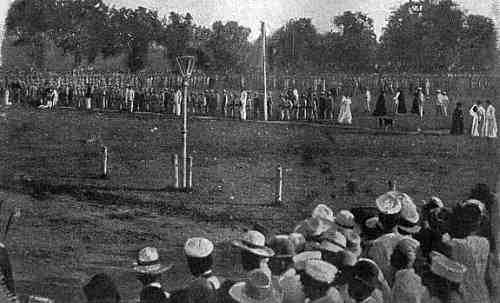 The "Thirteen Martyrs of Bagumbayan" is a collective name given to those forgotten Filipino patriots who, after being implicated in the Katipunan, were executed by firing squad on January 11, 1897–twelve days after Rizal's death.
Those who aren't adept in history have often mistaken these patriots for another group of martyrs in Cavite from which the capital of the province, Trece Martires, was named after. Unlike the former who were executed in Bagumbayan (now Luneta), the 13 martyrs of Cavite were sentenced to die by firing squad at Plaza de Armas near Fort of San Felipe, Cavite City on September 12, 1896.
READ: 5 Great Philippine Heroes Nobody Remembers
Two photographs of the execution of the 13 martyrs of Bagumbayan exist: the one showing them just before the execution (see photo above) and another one showing the dead martyrs lying face down on the ground.
The thirteen martyrs–all freemasons–were Domingo Franco, a tobacco merchant; Numeriano Adriano, a lawyer; Moises Salvador, member of the Liga Filipina; Francisco Roxas, a businessman; Jose Dizon, a Katipunan member; Benedicto Nijaga, a second lieutenant in the  Spanish army; Cristobal Medina, a corporal in the Spanish army; Antonio Salazar, a businessman; Ramon Padilla, an employee of the Manila customs house; Faustino Villaruel, a merchant from Pandacan; Braulio Rivera, a Katipunan member; Luis Enciso Villareal, member of the Liga Filipina; and Faustino Manalac (not Eustacio Manalac as some sources suggest).
Interesting facts:
Ramon Padilla, one of the thirteen martyrs, once had a confrontation and almost had a duel with Emilio Aguinaldo. The altercation happened after the latter was inducted into the Katipunan. Andres Bonifacio intervened and later asked Padilla to apologize or else a duel would take place. Padilla eventually apologized. Bonus Trivia: Aguinaldo and Bonifacio almost had a duel.
Moises Salvador, also one of the martyrs, was a pure Spaniard. Born in Quiapo (thus making him an Insulare or Philippine-born Spaniard) on November 25, 1868, Salvador studied in Ateneo Municipal and took further studies in Madrid. He allegedly walked barefooted while smoking a cigar before his execution. An elementary school in Sampaloc, Manila was renamed in his honor in 1936.
Benedicto Nijaga and Cristobal Medina were both members of the Spanish army. The Nijaga Park in Calbayog City, Samar was named in Nijaga's honor.
4. President Ramon Magsaysay (1957)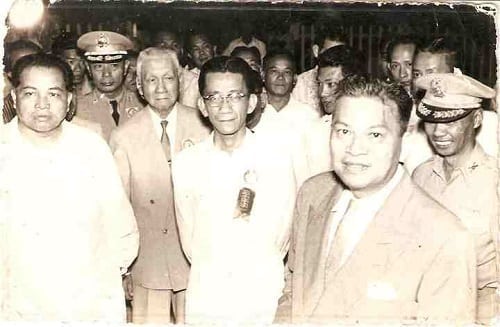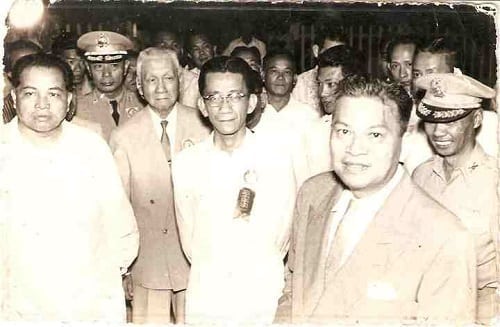 On March 17, 1957, the country lost a great leader when then President Ramon Magsaysay perished in a plane crash that also took the lives of 26 other passengers.
Prior to the accident, Magsaysay was in Cebu for several speaking engagements. In his book "One Came Back: The Magsaysay Tragedy," former Philippine Herald reporter Nestor Mata–the lone survivor of the plane crash–revealed that Magsaysay and his entourage were given two invitations to stay overnight in Cebu, both of which were politely declined by the president due to a scheduled meeting in Malacañang the next day.
READ: "Ramon Magsaysay was assassinated" (and other crazy Pinoy conspiracy theories)
Magsaysay and the rest of the group then boarded the Douglas C-47 army plane named "Mt. Pinatubo" which took off at about 1:15 AM. A few moments later, the plane crashed in Mt. Manunggal, Balamban town, killing 27 passengers including President Magsaysay.
Interesting facts:
President Ramon Magsaysay was number 13 on the passenger manifest. Believing it was bad luck, Luis Esmero, a Malacañang technical assistant from Cebu, volunteered to take the president's number. Magsaysay refused the offer.
According to Mata, the interior of the plane was "sizzling hot" because President Magsaysay had the air conditioning removed. "Air conditioned ito dati, pero pinaalis ko na dahil maraming hele-hele. Kaya pare-pareho na lang tayong pawisan," explained the president.
The "Mt. Pinatubo" plane was named by Magsaysay after the volcano in his home province Zambales. Serving as the official presidential plane, the twin-engine C-47 had less than 100 hours of flight and a crew of five including its pilot, Major Florencio Pobre.
After realizing he was the only survivor, Nestor Mata shouted for help. Fortunately, a dog named "Serging"–owned by Marcelino Nuya who lived near the crash site–howled back. Together with his dog, Nuya found the badly burned Mata and sought the help of other barrio men to bring the lone survivor to a local hospital. When Mata was reunited with the hero dog, he renamed it "Avante" for being his "guardian angel." Read more
5.  MV Doña Paz (1987)
On December 20, 1987, the world witnessed the worst peacetime maritime disaster when the passenger ferry MV Doña Paz collided with the oil tanker "Vector" off the coast of Dumali Point in Mindoro. The tragedy, dubbed as "Asia's Titanic," killed more than 4,000 people–most of whom are still missing–and only left 26 survivors, two of which were from Vector.
The overwhelming death toll of the MV Doña Paz tragedy was brought by the confluence of human error and a host of other factors. For one, the passenger ferry owned by Sulpicio Lines was obviously overloaded. It should be noted that the incident happened around Christmas season, a time when most people from the provinces travel to Manila to spend the holidays with their loved ones. Hence, it's not surprising to learn that on the day of the disaster, the ship had 1,583 people on its passenger manifest–a little more than its declared capacity of 1,518.
Also Read: 10 'What If' Scenarios That Would Have Changed Philippine History Forever
Survivor accounts, however, prove that MV Doña Paz was carrying even more passengers. They claim that the ship was so full and packed to the railings that some of the passengers were already staying in the corridors. It is estimated that after the ferry loaded passengers at Samar and Leyte, it was already carrying with her more than 4,000 people.
At about 10:00 PM of December 20, MV Doña Paz was sailing through Tablas Strait when it collided with oil tanker MT Vector. The latter was carrying 9,000 gallons of petroleum products yet had no license to operate and even had no lookout at the time of collision. Ensuing investigations found out that the Vector hit the port side of the Doña Paz, disabling the engine and putting the two ships on fire.
Interesting facts:
 MV Doña Paz was originally built in Japan in 1963 under the name Himeyuri Maru. It was eventually sold to Sulpicio Lines (now Philippine Span Asia Carrier Corporation) which renamed it Don Sulpicio and became one of the company's "Big Two," along with its sister ship Doña Ana.
In 1979, Don Sulpicio was destroyed by fire. No fatalities were recorded but the ship was a total wreck. Nonetheless, Sulpicio Lines repaired it and then launched it in 1981 with a new name: MV Doña Paz.
In 1988, a year after the Doña Paz tragedy, the MV Marilyn–another ship owned and operated by Sulpicio Lines–also sank, leaving at least 500 people dead.
After witnessing the collision from afar, MV Don Claudio came to the rescue and arrived at the scene a few hours later. They were able to rescue 26 people–24 were passengers of the Doña Paz and two were from the Vector.
The maritime tragedy shocked the whole world. Some of the notable personalities who sent their condolences were Pope John Paul II,  Japanese Prime Minister Noboru Takeshita, and Queen Elizabeth II of Britain.
6. President Emilio Aguinaldo (1964)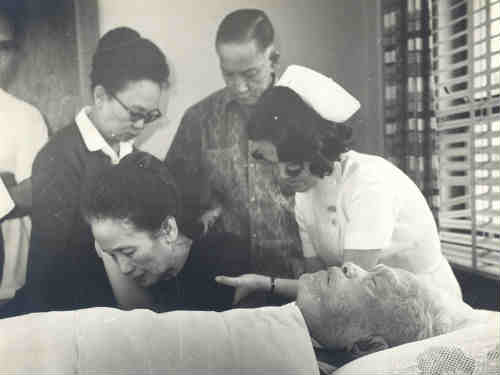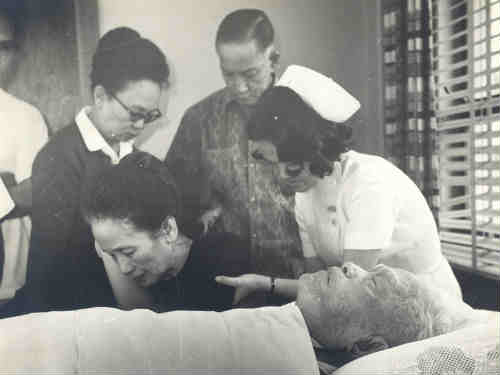 The president of the first Philippine Republic, Emilio Aguinaldo outlived most of his successors and witnessed how our country struggled in the hands of Spain, US, and Japan.
Also known in his lifetime as Kapitan Miong, Aguinaldo joined the Freemasonry and later the Katipunan. He would then become the leader of the Revolution after the Tejeros Convention in 1897–which was supposed to settle the conflicts between two rival factions: Aguinaldo's Magdalo and Bonifacio's Magdiwang–ended in the tragic execution of Bonifacio in Maragondon, Cavite.
Also Read: 7 Un-Heroic Deeds Of Emilio Aguinaldo
After his crucial roles in wars against Spanish and American invaders, Aguinaldo championed the rights of his fellow veterans by establishing the Veteranos de la Revolucion (Veterans of the Revolution) and helping them buy land on installment from the government.
Aguinaldo died of coronary thrombosis on February 6, 1964.
Interesting facts:
Aguinaldo was sent to study at the College of San Juan de Letran but he eventually quit college and returned to his home town instead.
He was appointed cabeza de barangay at the age of 17.
When he was inducted in the Katipunan in 1895, Aguinaldo used the symbolic name Magdalo which he adopted from the Santa Maria Magdalena, patroness of Kawit.
7. Cagsawa Church (1934)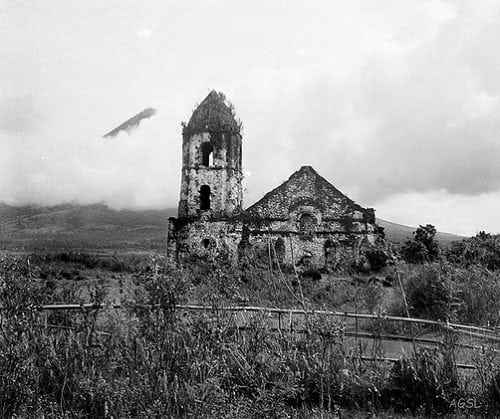 Shown above is one of the last few photographs of Albay's famous Cagsawa Church with its facade still standing. It negates the century-old belief that the church was buried by lava during the deadly volcanic eruption of 1814, leaving only its belfry intact.
The debate on whether or not the Cagsawa Church was engulfed by volcanic debris started in October of 2014 when novelist and historian Abdon Balde Jr. posted on Facebook some photos of the church dating as far back as 1928. The photos he shared–similar to the one above–prove once and for all that the church facade survived and remained standing well until the 1950's.
Also Read: 5 Facts About Mayon Volcano You Should Know Now
Balde, who is also a member of the National Commission for Culture and the Arts (NCCA), pointed out that the facade was gradually destroyed because the "area was abandoned for over 120 years." In addition to that, the church, as Balde noted, stands 10 km away from Mayon's crater, far from the volcano's six-kilometer danger zone.
Interesting facts:
Built after 1724 by Franciscan friars, the Cagsawa Church sits in an area that, according to some legends, used to be home to snakes. Hence, it is said that the name came from the word kagsawa–kag meaning "owner" and sawa meaning "phyton."
According to PHIVOLCS, the most destructive eruption of Mt. Mayon happened on February 1, 1814. The eruption was characterized by "plinian, pyroclastic flows" and "volcanic lightning." It affected half of Albay province and left 1,200 people dead.
8. President Manuel Roxas (1948)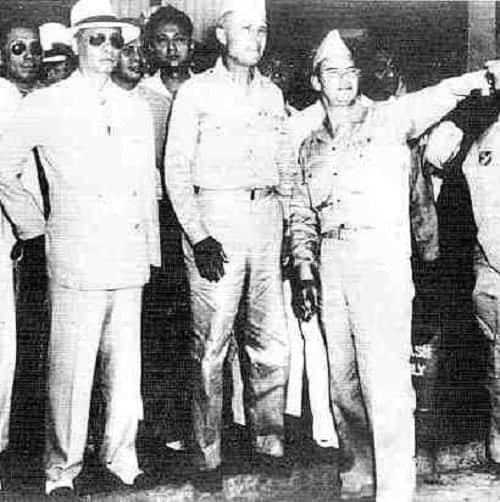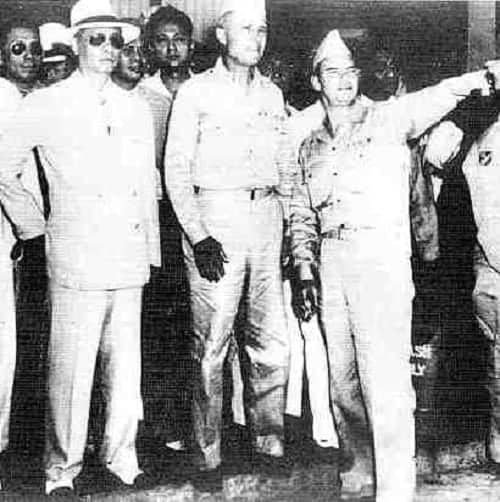 On the morning of April 15, 1948, President Manuel Roxas (fifth president of the Philippines and first under the Third Philippine Republic), arrived in Clark Air Base, Pampanga to deliver a speech before the United States 13th Air Force.
WATCH: President Manuel Roxas State Funeral (1948)
Roxas was welcomed by Major General E.L. Eubank with full military honors. The latter then gave President Roxas a tour of the base. After delivering his speech, Roxas reportedly felt dizzy so he was brought to General Eubank's house where he died a few hours later due to heart attack. He was only 56 years old.
Interesting facts:
Due to his untimely death, Roxas' term (one year, ten months, and 18 days) became the third shortest in the history of Philippine presidency. He outlasted both Sergio Osmeña and Jose P. Laurel whose terms only lasted for 665 and 670 days, respectively.
Two days after his death, Vice-President Elpidio Quirino took the oath of office as President of the Philippines.
He survived an assassination attempt. Read more
9. Sarah Jane Salazar (2000)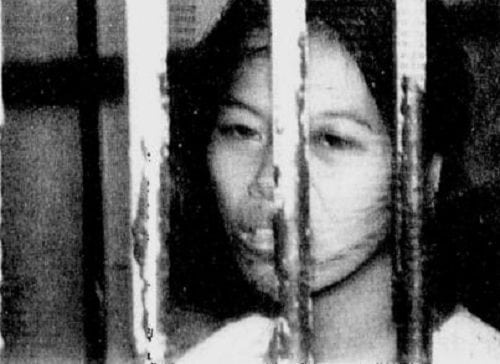 Born Marissa Reynon, Sarah Jane Salazar was a former commercial sex worker who admitted publicly in 1994 that she had HIV, the second Filipino to do so after Dolzura Cortez who died from AIDS in 1992.
After her public admission, the Department of Health sought her help to educate the public about the disease. Her decision to join the anti-AIDS campaign became fruitful: she was credited for the Philippines' low AIDS incidence and thereby considered a "heroine" by then Health Secretary Alberto Romualdez Jr.
Also Read: 14 Amazing Filipina Heroines You Don't Know But Should
However, Salazar's role as an AIDS educator didn't save her from imminent death. On June 11, 2000, she died at the age of 25 at the San Lazaro Hospital due to "multiple viral, fungal, and bacterial infections after her defenses were ravaged by AIDS."
Before being transferred to the Bahay Lingap (San Lazaro Hospital's ward for AIDS victims), Salazar was already in coma. Prior to that, she was also confined at the National Center for Mental Health after being diagnosed with manic depression possibly caused by the anti-AIDS drugs she was taking.
Interesting facts:
Salazar's life story was turned into a movie in 1994. Entitled "The Secrets of Sarah Jane/Sana'y Mapatawad Mo," the film starred Gelli de Belen who bagged a best actress award at the 1995 Gawad Urian for her role.
According to one of her closed friends, then Pasay City councilor Justo Justo, Salazar's final wish was "Please take good care of my children." She opposed the plans to have her children adopted abroad and asked Justo to "take care of all their needs, including their education, and to do everything a parent would do for her children."
10. Reynaldo Dagsa (2011)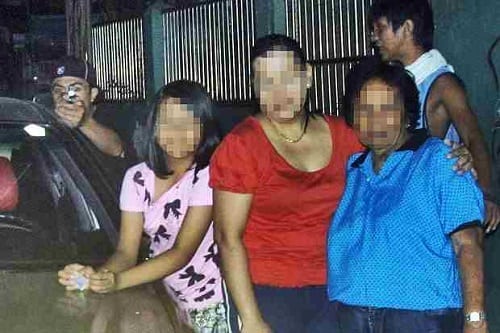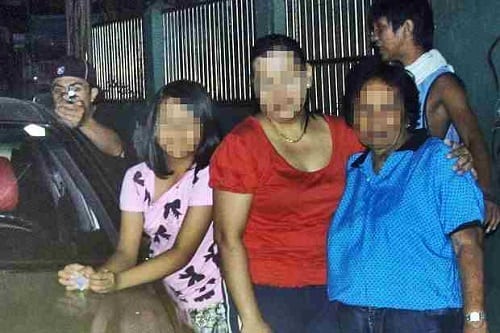 The chilling image above shows the last photo taken by Caloocan City councilor Reynaldo Dagsa a few moments before he was killed in New Year's Day of 2011. The suspect, Michael Gonzales, was also captured in the photo while aiming a gun at Dagsa.
It was reported that Dagsa was taking a photograph of his wife, daughter, and mother-in-law when the gunman–who obviously targeted the councilor for the latter's active law enforcement activities–shot him in the chest. Dagsa was declared dead on arrival. The suspect and his accomplice, on the other hand, were eventually arrested.
Interesting fact:
The photo shocked the whole world and was selected by photo editors of no less than TIME Magazine as one of the "best viral photos" of 2011.
References
Agoncillo, T. (2012). History of the Filipino People (8th ed., pp. 430-431). Quezon City: C & E Publishing.
Aning, J., & Papa, A. (2000). Goodbye, Sarah Jane: Woman with AIDS, gov't educator, dies. Philippine Daily Inquirer, pp. 1, 19. Retrieved from http://goo.gl/CS1qRH
FFE Magazine,. (2014). This week in Philippine hiStory: MV Doña Paz: Asia's Titanic. Retrieved 4 January 2015, from http://goo.gl/0Zfa1Q
Inquirer.net,. (2013). Tragic death of boy scouts remembered. Retrieved 21 December 2014, from http://goo.gl/jNFTNL
Montenegro, B. (2014). Your childhood may have been a lie: Mayon Volcano didn't bury Cagsawa Church. GMA News Online. Retrieved 6 January 2015, from http://goo.gl/8YnSJO
National Historical Commission of the Philippines,. Emilio F. Aguinaldo. Retrieved 4 January 2015, from http://goo.gl/UPcnmw
Ocampo, A. (2014). Looking Back 7: Storm Chasers (pp. 20-24). Mandaluyong City: Anvil Publishing, Inc.
Ocampo, L. (2013). Remembering the crash that killed Pres. Ramon Magsaysay. philSTAR.com. Retrieved 4 January 2015, from http://goo.gl/y98Vju
Perez, A., Antonio, C., & Consunji, R. (2011). The Sinking of the MV Doña Paz – A Critique on Maritime Disaster Preparedness in the Philippines: An analysis of the event. Acta Medica Philippina, 45(3).
Quismundo, T. (2011). Philippine killer picture tops Time Magazine's best viral shots. Inquirer.net. Retrieved 6 January 2015, from http://goo.gl/RzvRXx
Ragudo, C. The 11th World Jamboree Tragedy. The Merit Badge Center, Philippines. Retrieved 21 December 2014, from http://goo.gl/Pgq1ls