Undoubtedly one of the most intriguing pop culture figures in the country's history, the life story of Pepsi Paloma is as sad as it is mysterious.
Although having happened three decades ago, her death continues to get a good amount of attention, especially after the Eraserheads supposedly made her infamous rape at the hands of three well-known comedians the subject of their song Spolarium.
Also Read: 9 Creepy Pinoy Urban Legends That Never Get Old
Was Pepsi Paloma the real inspiration behind the song? In a 2011 Q&A at Jessica Zafra's blog, lead vocalist Ely Buendia himself only added fuel to the flame when he responded to the question with a cryptic message:
"I will take this secret to the grave."
But if there's anyone who probably brought more intriguing secrets to the grave, that would be Pepsi Paloma herself.
Table of Contents
Innocense Lost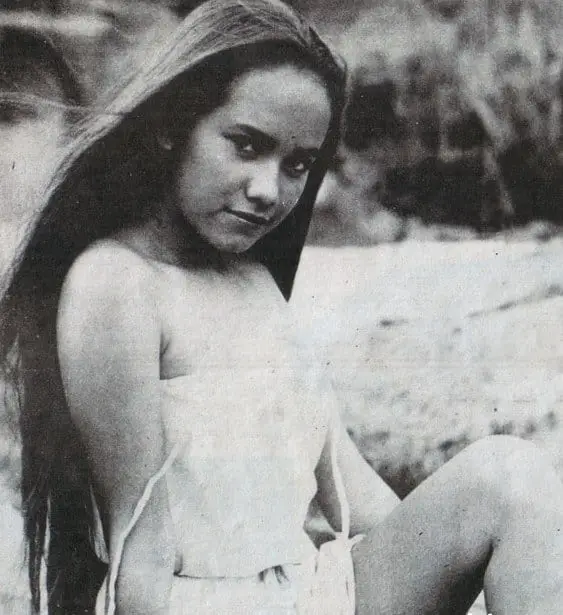 Born on March 11, 1966, Pepsi (or Delia Duenas Smith in real life) was the eldest of four children.
They were raised by their single mother, a Samar native, Lydia Duenas, after their father, an American letter carrier named Kenneth Smith, abandoned them when they were young.
In 1980, the young Delia met Tita Ester, who then introduced her to Rey de la Cruz, the gay optometrist-turned-talent scout known for catapulting the showbiz careers of Rio Locsin and Myrna Castillo.
Not long after, she earned notoriety for going nude in Celso Ad Castillo's film Brown Emmanuelle. She was only 14 at that time.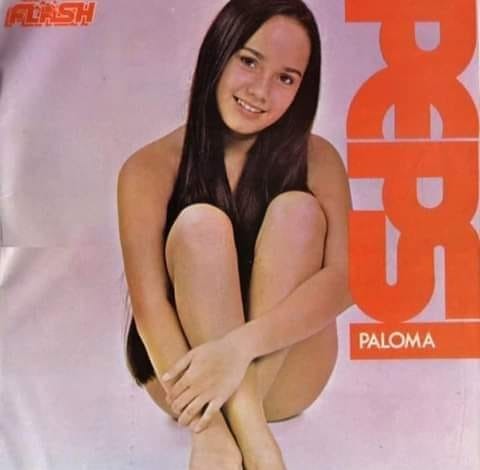 Delia was initially given the screen name Scarlet, but believing it didn't give her any luck, her manager, Rey de la Cruz, changed it to Pepsi.
Soon, the "soft drink beauties" group was born, named so because each member bears the name of a famous soda brand–Myra Manibog, Sarsi Emmanuelle, Coca Nicolas, and Pepsi Paloma herself.
It should be noted that Rey de la Cruz also captured public attention when he introduced another bevy of starlets named after famous roads in the Philippines (e.g., Ms. Aurora Boulevard, etc.).
Pepsi would later star in other titillating films such as the Virgin People (1984) and Naked Island (Butil-ulan) (1984), where she worked alongside veteran actress Charito Solis.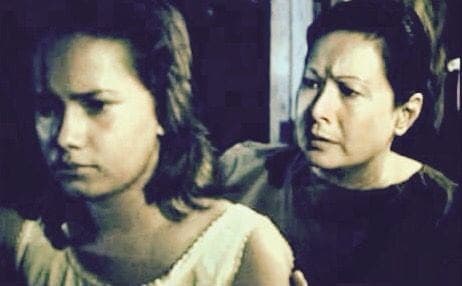 In June 1982, Paloma, along with fellow actress Guada Guarin made guest appearances at the comedy show Iskul Bukol which starred Eat Bulaga's emcees–Vic Sotto, Joey de Leon, and Richie D'Horsie (Ricardo Reyes).
After the taping, Paloma claimed that their blouses were ripped open by the trio, who then took turns to kiss her.
She said Richie pinned her arms at her back so Vic could kiss her effortlessly while Joey took photographs.
The incident happened at the Broadcast City, a television and radio broadcast center in Diliman, Quezon City, where the trio's home network, IBC-13, was located.
Later that evening, Paloma and Guarin were brought to Room 210 of the nearby Sulo Hotel, a favorite hangout or tambayan of the TV hosts because of its exquisite yet affordable coffee and lumpiang ubod.
In a case reminiscent of Maggie dela Riva's two decades earlier, but without the same fanfare, Paloma reported to authorities that she and Guarin were both allegedly drugged and raped by the three hosts in the said hotel.
The scandal made headlines and became the cover story of major entertainment magazines after Rey de la Cruz, the two actress' talent manager, filed a complaint with then Defense Minister Juan Ponce Enrile.
Meanwhile, in a Who Magazine interview published on September 29, 1982, Joey de Leon and the two Sotto brothers told their side of the story.
According to Tito, the two women came after the TV hosts, not the other way around.
After the taping for Iskul Bukol wrapped up, the actresses requested souvenir photos of the boys kissing them.
Tito Sotto, who was in the dressing room to get a massage at that time, claimed that two pictures were taken–one showing Vic wearing sunglasses and kissing Pepsi, with the latter holding on to the former's nape, and another with Joey giving an awkward kiss to Pepsi who looked as if she's trying to get out of the embrace because, as Tito claimed, her mouth had a bubble gum that she wanted to spit out.
Tito also countered Pepsi's accusation that their blouses were ripped apart, saying, "How can you easily rip a pair of maong? Suppose we did tear their shirts apart at Broadcast City; why would they follow us all the way to Sulo? To get a script? You mean nobody saw them in their tattered shirt? That's impossible."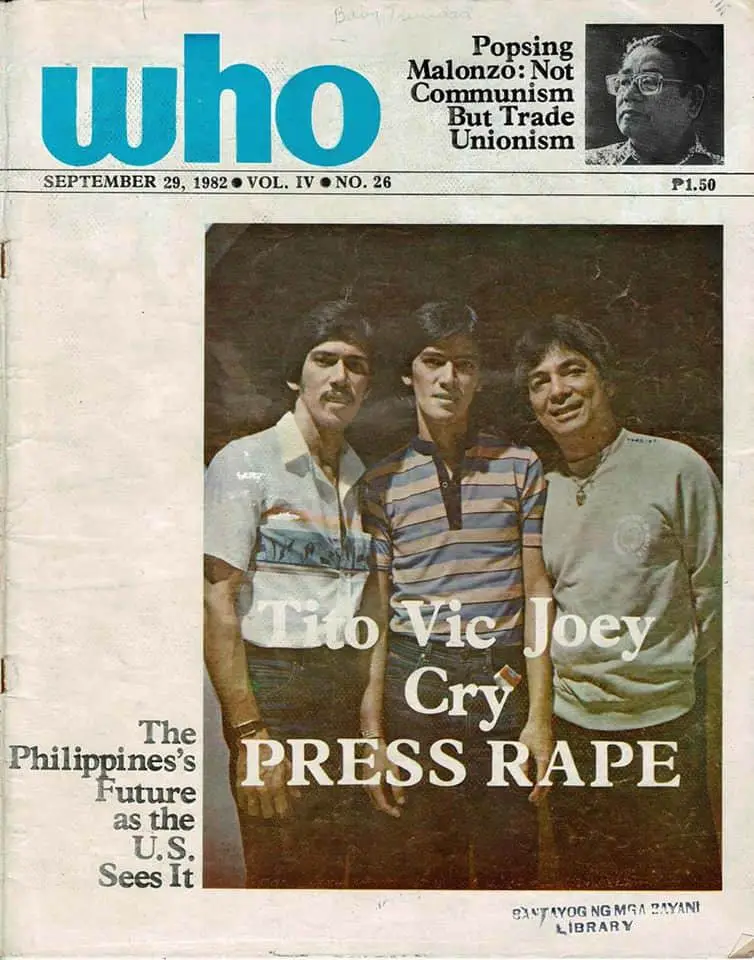 Although he was not present when the alleged rape occurred, Tito quickly denied his brother Vic's involvement, saying that the latter was too "frail or skinny" to beat women in arm wrestling, let alone sexually violate them.
"From that angle alone, the story looked sensational. No wonder the press picked it up," Tito remarked. "Imagine Vic Sotto, babakla-bakla, raping a woman?" 
On the other hand, Joey de Leon didn't let the controversy obscure his trademark humor. In the preliminary arraignment, for example, he wore a statement T-shirt bearing the words "Coke is it," apparently a snide reference to Pepsi Paloma, one of the soft drink beauties.
He took comfort in the fact that people still love and support them, going as far as asking for photographs even while the accused were in the middle of a hearing at the Quezon City Fiscal's Office. Joey even remembered a court clerk jokingly saying how she wished she was the one raped instead of Pepsi Paloma.
In the same magazine interview, Joey de Leon casually stated, "Martial law should be declared again, so press freedom will be stopped." 
His frustration was directed at the nosy writers who abused press freedom to invade people's privacy and spread malicious lies.
The self-proclaimed "press secretary" of the comedy trio, Joey constantly monitored write-ups about them and clashed with several reporters, with two of them–People's Journal's Diego Cagahastian and Artista magazine's Vic Felipe–ending up on the receiving end of a Php 5.5 million libel suit filed by the TV hosts.
As for Pepsi Paloma, Joey insisted that she "should come out in the open and tell the truth." 
He added that "the press should stop writing about the story. Somebody has called it a 'cheap story', and we believe it should stop at that."
Following the preparation of her case by Rene Cayetano (the father of Senators Pia and Alex Peter Cayetano), Paloma mysteriously disappeared but was later tracked down and rescued from Bienvenido "Ben Ulo" Mendoza, a known associate of the Castelos and Sottos.
Interestingly, the atmosphere changed barely a month after the TV hosts denied the accusations in a magazine interview.
The three emcees eventually made a public apology–on national TV (no record of it exists, unfortunately) and in the October 13, 1982 edition of the People's Journal (though it did not specifically mention the word rape):
"We hope that you will not allow the error we have committed against you to stand as a stumbling block to that future which we all look forward to. We, therefore, ask you to find it in your heart to pardon us for the wrong which we have done against you."
Intriguingly enough, Paloma later said she was forced to sign the affidavit by Tito Sotto, who allegedly wielded a gun in front of her.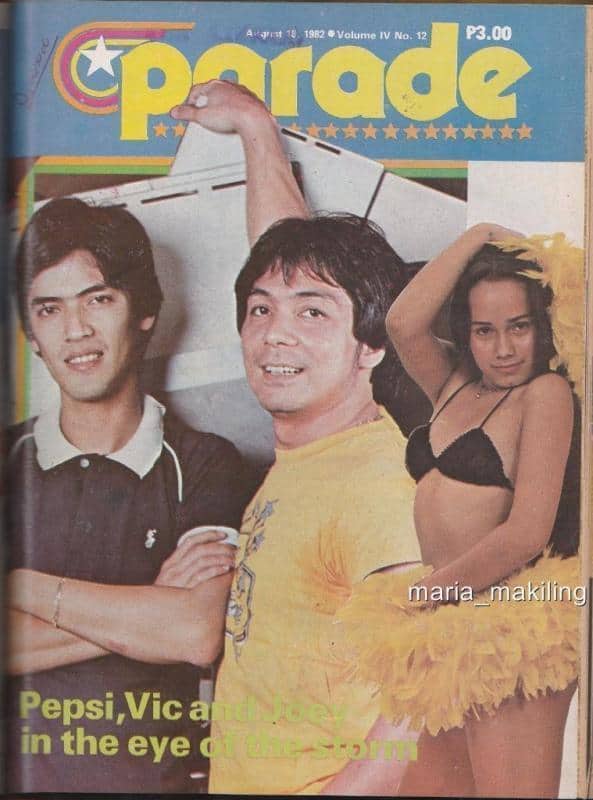 Also Read: 35 Things You Didn't Know About "Eat Bulaga!"
Since then, controversies have never stopped hounding Pepsi Paloma's name.
A year after the infamous rape, an obscenity case was filed against her when the PC Criminal Investigation Service (CIS) caught her during an indecent dance performance while raiding the Paulette Theater in Baliuag, Bulacan.
She also left her manager for her boyfriend, Roy Rustan, who lived in Makati. During this time, Pepsi allegedly had an abortion and became addicted to drugs.
When she decided to return to Rey de la Cruz in 1983, Pepsi was so thin and frail that she had to be confined to a private clinic.
Interestingly, Pepsi agreed to star in "The Victim," a movie that tried to exploit her experience as a rape victim. Like Celso Ad Castillo's Virgin People, the movie earned big at the 1983 Manila International Film Festival.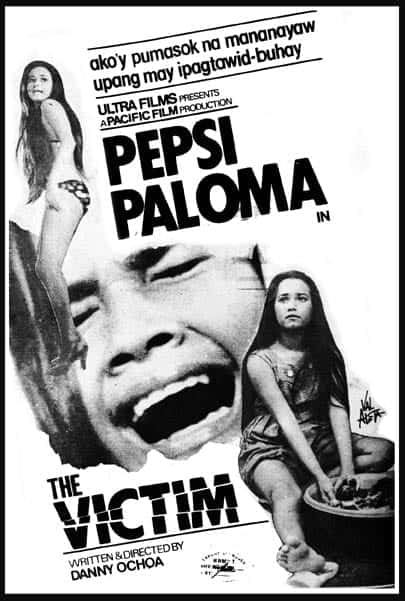 "This Is a Crazy Planets"
Pepsi Paloma's troubled life ended when on May 31, 1985, the lifeless body of the young actress was found hanging in her closet with a "three-inch thick and 36-inch long cotton sash" tied around her neck.
Related Article: Top 10 Pinoy Celebrities with Ridiculous Urban Legends
Police investigators believed she took her own life sometime between 1 P.M. and 2 P.M., but it was not until 6 P.M. when her body was discovered by her boyfriend Jose S. Sanchez, a 25-year-old salesman; her half-brother Zaldy White, who was only 15 at that time; and her two aides–George Ricaborla and Philipp Clemente.
Zaldy said that Pepsi went upstairs to her room at about noon after eating lunch. She told the two aides not to wake her up and immediately locked herself in the room.
Pepsi's boyfriend tried to call her at about 3 P.M. but got no response. Zaldy also knocked on the door to no avail.
When her boyfriend arrived at 6 P.M. and destroyed the door after futile attempts to wake her up, Pepsi was already dead.
In her suicide note, Paloma is said to have written, "This is a crazy planets"–a line immortalized by Lourd de Veyra's blog of the same name.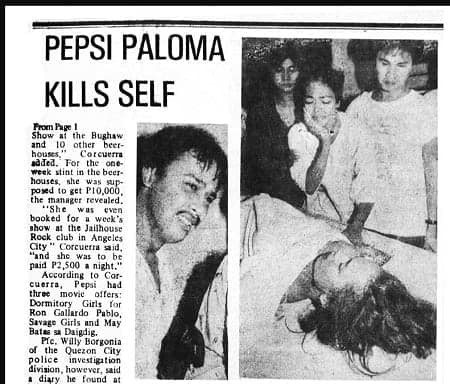 In its 1985 report immediately following Paloma's death, the Times Journal shed light on the specific details inside the actress' diary:
The entries were written from April 26 to May 18
"I love yah…Ms. Pepsi Paloma….love always," was written on the first page of the diary.
The next three pages contained a list of expenses–P2,000 for school accessories, notebooks (hs), pencil, scissor, paste, bag (hs), (silver swan); P 2,000 for the (g.olate and pert. set) dated May 25, dentist (w/ Tita Amphy), dated May 20; P2,000 for payment of the house; P250 for yaya of Chuck, dated May 22; P250 for maid. Also scribbled were the words "enrolment of Diane, Chris & George, Zaldy before June 85."
The list continued: P1,000-d. bank; P1,000-dentist; P2,000-p. house; P1,000 enrollment; P500-maid; P2,000-plate; P1,000-grocery; P250-curtains; P500-rice for mother; and P500-Zaldy for S.
The total was written as P9,750. Below the total, however, were written in big letters the words "Make it less its to (sic) much expenses (sic)."
In the same diary, Pepsi cited numerous issues that possibly drove her to kill herself: financial problems, insufficient movie roles, the weight of family responsibilities, and even her emotionally distant mother.
In her own words:  "Wala akong masyadong pelikula. Maraming gastos…..Ako lahat ang gumagastos sa bahay, pati pang-tuition ng mga kapatid ko…..Hindi ko alam kung itinuturing akong tunay na anak ng nanay ko."
However, Pepsi's manager Babette Corcuerra disputed the depression angle eyed by the police since Paloma was earning well, had adopted a four-month-old son named Chuck, and was excitedly preparing her debut.
The starlet was fully booked for dancing performances, having just finished the Pepsi Paloma Show at the Bughaw and ten other beerhouses.
Corcuerra even disclosed that Pepsi was being offered roles in three movies–Dormitory Girls, Savage Girls, and May Batas Sa Daigdig.
On top of all these, no forensic investigation was ever done, nor was there any attempt to verify whether the diary belonged to Paloma.
Meanwhile, a thorough background check revealed Pepsi's vulnerable psyche.
Sarsi Emanuelle, one of the soda beauties, said that the actress attempted suicide in her Quezon City apartment only a week before her death.
She added that Pepsi "confided to her all her family problems."
There were also several attempts before the incident. In 1982, while the rape case was ongoing, Pepsi tried to cut herself with a blade, but her manager, Rey dela Cruz, and Gil Guerrero, came in the nick of time to stop her.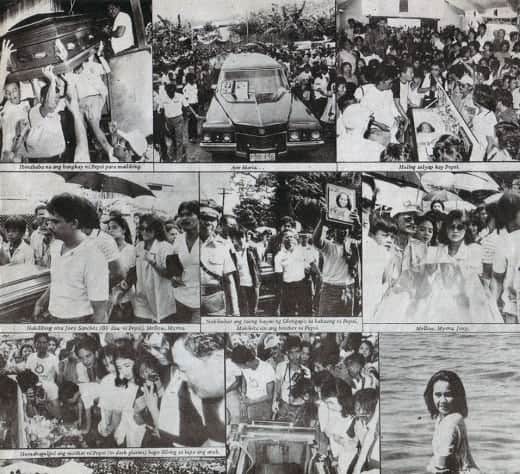 Pepsi Paloma was laid to rest on June 8, 1985, in Olongapo Memorial Park. Her grieving family, thousands of fans, and celebrities such as Laila Dee, Myrna Castillo, and Mello Sadiwa brought her to her final resting place.
When Pepsi took her own life, the potential of becoming a great actress like her contemporary, the Cannes film festival award-winning actress Jaclyn Jose, also died with her.
But more important are the unanswered questions, dark secrets, and undying controversies that will forever shroud her name in mystery.
Postscript
Pepsi Paloma retracted the rape case filed against the trio. In a recently-resurfaced September 1982 issue of the tabloid Tempo, the starlet revealed to the reporters that the fabricated rape story was started by people yet to be named who wanted to profit from the famous TV hosts.
She clearly stated that she was not raped and added: "Walang pagkakasala ang mga nakademanda, at ako'y pinilit lamang ng mga taong may pagnanais na kumita sa pamamagitan ng maling publisidad."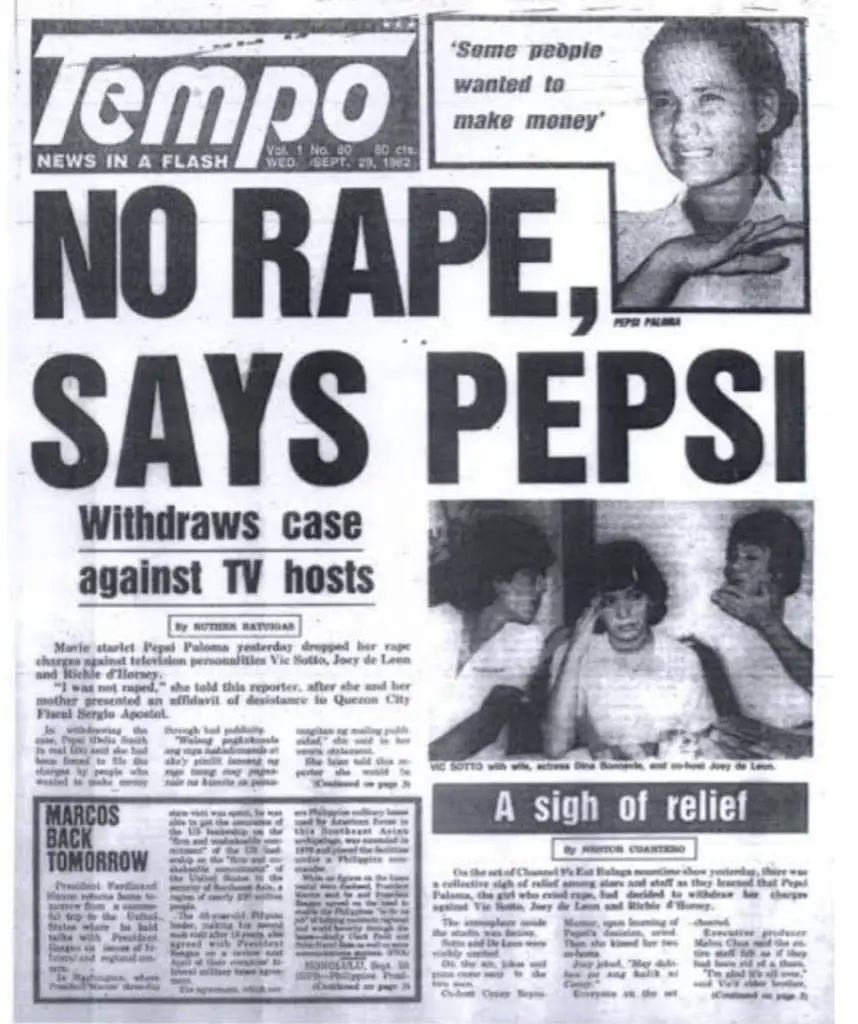 Guada Guarin, the starlet who joined Paloma in filing a rape case against the TV hosts, is now living a relatively peaceful life as a spa manager.
In a 2015 interview, she expressed her dismay with the resurrected controversy, telling the public that she doesn't want her name to be dragged into the issue.
Guarin reiterated that the public apology was enough and that she has moved on with her life. She added that reopening old wounds will serve no purpose, especially now that she has a daughter aspiring to be a teacher.
She also believes people will never understand what she and Paloma went through.
Meanwhile, in a 2016 election special in DZMM, Sen. Tito Sotto dismissed the Pepsi Paloma scandal as a mere gimmick of Rey del Cruz.
Facing libel threats from Vic Sotto and Joey de Leon, the talent manager attempted to reopen the case so the two would be forced to drop the charges.
As for the soda starlet's death, the celebrity-turned-senator blamed it on Paloma's alleged drug use.
References
(2016). Tito Sotto: Pepsi Paloma scandal was a 'gimmick'. ABS-CBN News.Retrieved from https://news.abs-cbn.com/halalan2016/entertainment/03/03/16/tito-sotto-pepsi-paloma-scandal-was-a-gimmick
del Carmen, C. (1982). It hurts only when they laugh. Who, (26), 38-40.
Pepsi fails the challenge… (1985). Movie Flash. Retrieved from https://pelikulaatbp.blogspot.com/2017/07/pepsi-fails-challenge-movie-flash.html
Rovira, E., & Balbastro, B. (1985). Pepsi Paloma kills self by hanging. Times Journal.
Tugado, A. (1985). Pepsi's diary talks of her torments. Times Journal.
Villacorta, RK (2015). Kaso nina Vic Sotto at Joey de Leon noon, 'wag na raw ungkatin ayon sa isa sa mga biktima. Pinoy Parazzi. Retrieved 3 June 2018 from http://www.pinoyparazzi.com/kaso-nina-vic-sotto-at-joey-de-leon-noon-wag-na-raw-ungkatin-ayon-sa-isa-sa-mga-biktima/
Zafra, J. (2011). Ely Buendia answers your questions. JessicaRulesTheUniverse.com. Retrieved 3 June 2018, from http://www.jessicarulestheuniverse.com/2011/10/26/ely-buendia-answers-your-questions/