Ferdinand Marcos is one heck of a controversial president. He's extremely polarizing, and only few in the history of presidency could match him in that aspect.
Some say he's the best president the country ever had, while others believe otherwise. But how well do we really know the Philippines' strongman? Is he really the evil dictator that the media claim he was?
Here are 18 facts about former President Ferdinand Marcos that young Filipinos ought to know: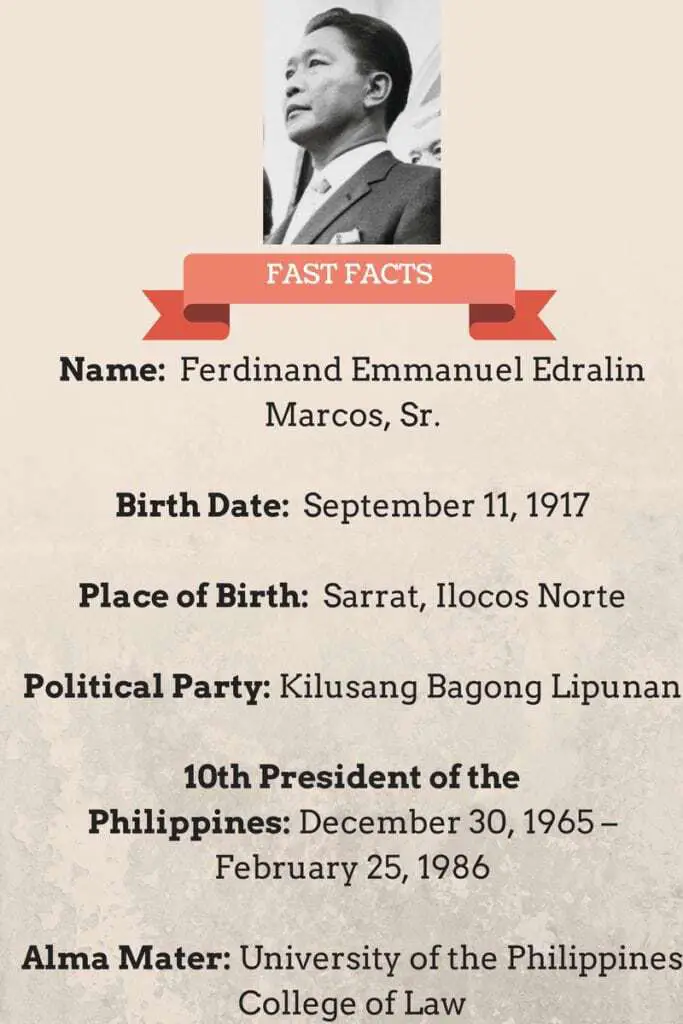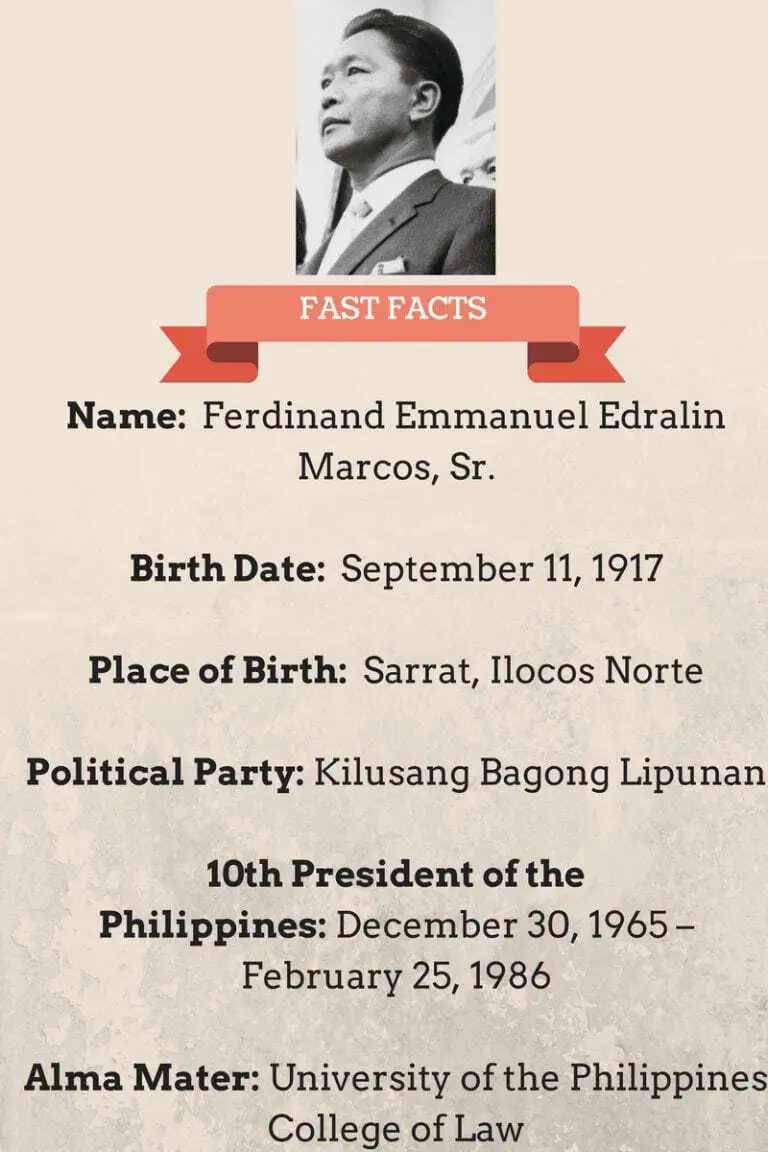 1. He was baptized into the Aglipayan Church.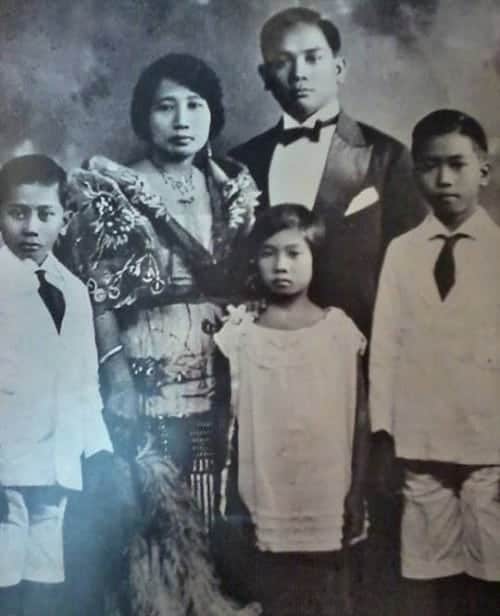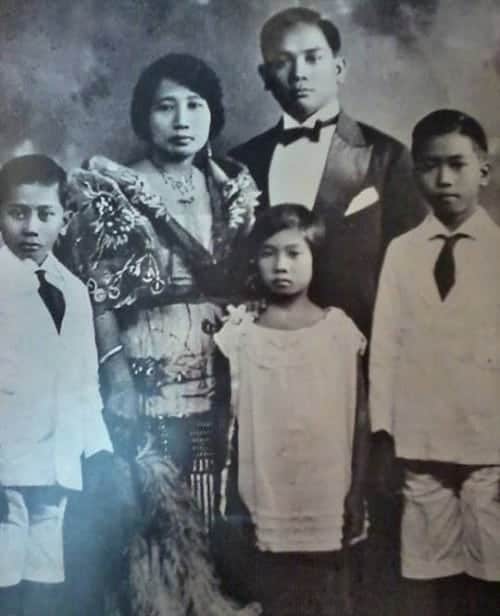 Born on September 11, 1917 in Sarrat, Ilocos Norte, Ferdinand Marcos was baptized into the Aglipayan or Philippine Independent Church.
The church was founded in 1902 by Isabelo de los Reyes and a Roman Catholic priest named Gregorio Aglipay who also became its first Supreme Bishop.
Also Read: Rare Yearbook Photo of Young Ferdinand Marcos
Members of this church reject the spiritual authority of the Pope as well as the doctrine of the Trinity. They also denied the existence of angels, devils, miracles and other supernatural manifestations.
2. Ferdinand Marcos' rare yearbook photo.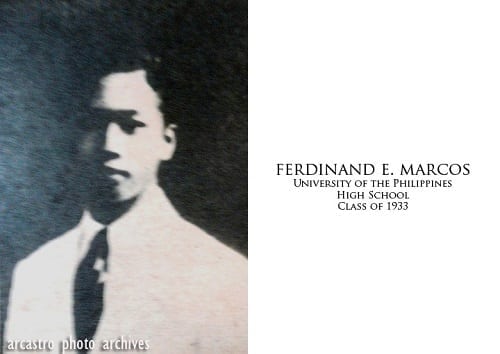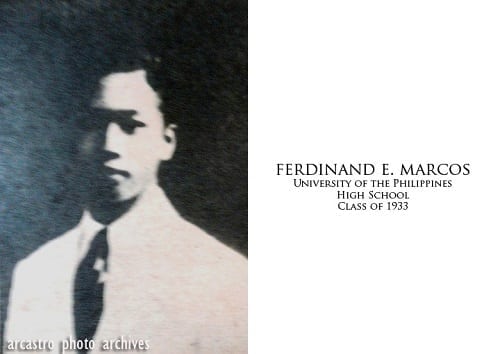 Ferdinand Marcos was educated in Manila, earning his high school diploma at age 15 in 1933 at the U.P. High School.
His classmates included the class president, Sotero Laurel (future Ambassador to Japan), Roberto S. Benedicto (future crony and president of Philippine National Bank) and Col. Napoleon D. Valeriano (famed anti-Huk fighter).
Called "Ferdi" by his classmates, he is remembered "for having a simple demeanor, interested in debates and discussions in which he outshone all."
Continue Reading: 20 Rare Yearbook Photos of Influential Filipino Personalities
3. He was a memory whiz but the claim that he got the "highest score ever" in the bar exam is false.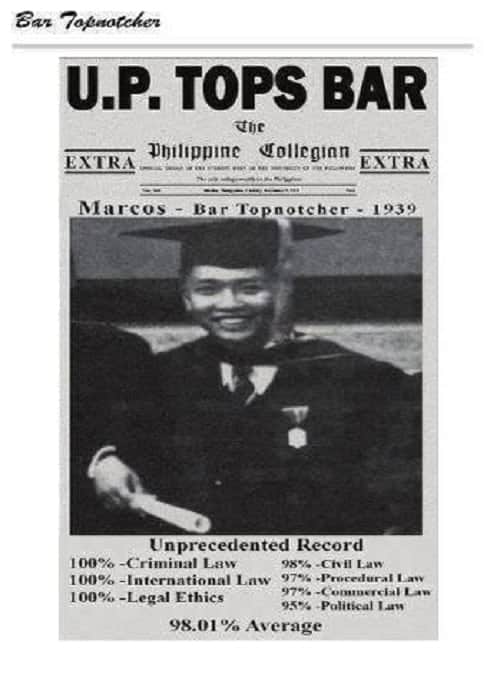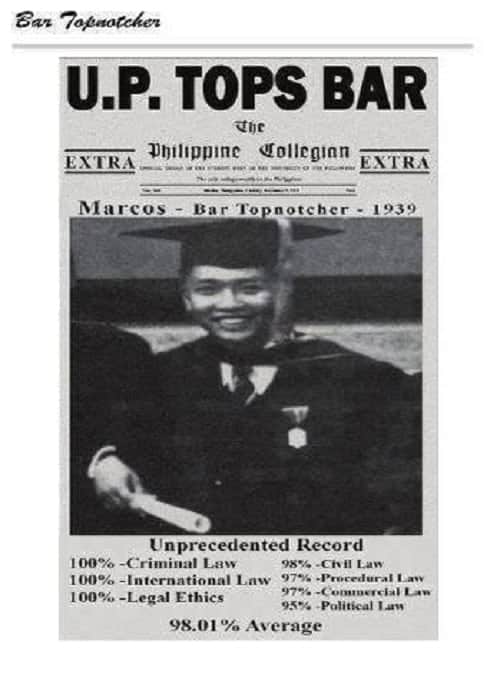 Marcos was so smart he single-handedly topped the 1939 Bar Examinations (with near-perfect score) despite being in jail for 27 days. Or so the viral photo above claims.
However, as confirmed by the Philippine Supreme Court, the distinction of having the highest bar exam score in the country belongs to former associate justice Florenz Regalado who scored an average of 96.7% in the 1954 bar exam. Marcos, on the other hand, indeed topped the bar exam in his time but with a relatively lower average score of 92.35%.
Although the photo above is nothing but fake news, we can't deny that Marcos was one smart man.
Several people attested to Marcos' incredible memory, including the late Senator Miriam Defensor-Santiago who once served as Marcos' speechwriter.
"One time, the Secretary of Justice forgot to tell me that the President had requested him to draft a speech…." said Miriam during an interview with the Philippine Star.
"And then, on the day the President was to deliver the speech, he suddenly remembered because Malacañang was asking for the speech, so he said, 'This is an emergency. You just have to produce something.'
…He (Marcos) liked long speeches. I think that was 20 or 25 pages. And then, in the evening, I was there, of course. President Marcos recited the speech from memory."
4. Ferdinand Marcos changed religion in order to marry Imelda in a Catholic church.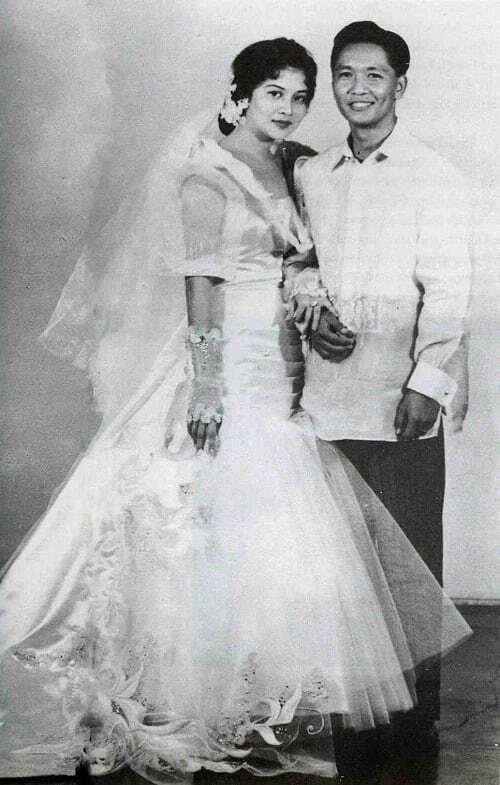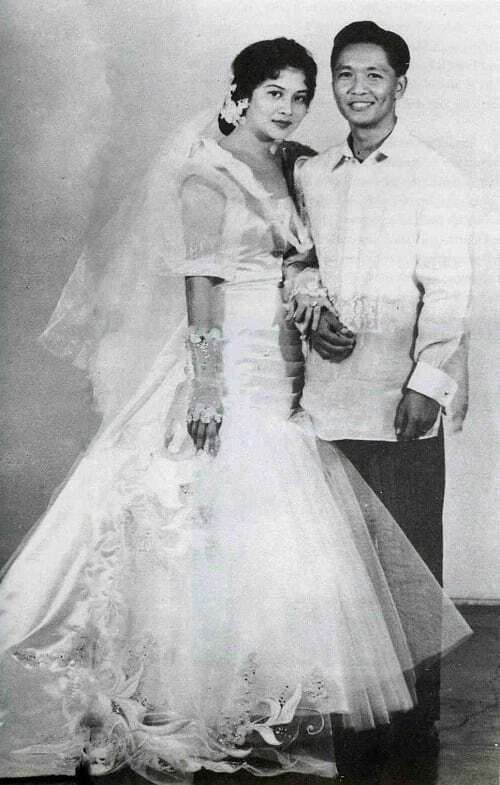 When Marcos first met Imelda Romualdez in 1954, it was love at first sight. So after only two weeks of courtship, the couple tied the knot first in a civil ceremony in Baguio City followed by a church wedding at the Pro-Cathedral of San Miguel in Manila.
Also Read: 9 Surprising Things You Didn't Know About Imelda Marcos
To make this possible, Imelda had to convince Ferdinand to convert from his native Aglipayan religion to Roman Catholicism. She succeeded in persuading the latter, and the church wedding was held afterward with President Ramon Magsaysay as the principal sponsor.
5. His "achievements" as a president can fill a book, and so can his crimes.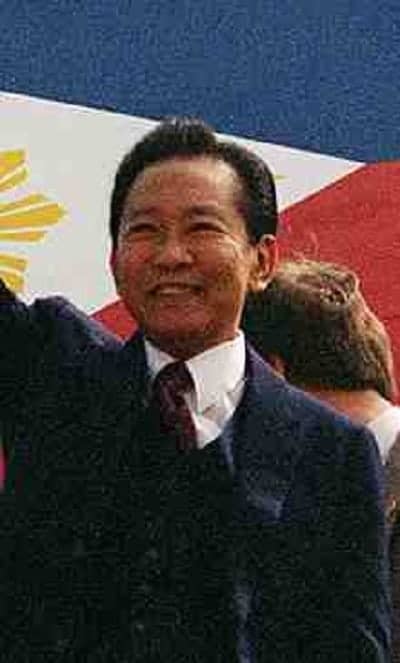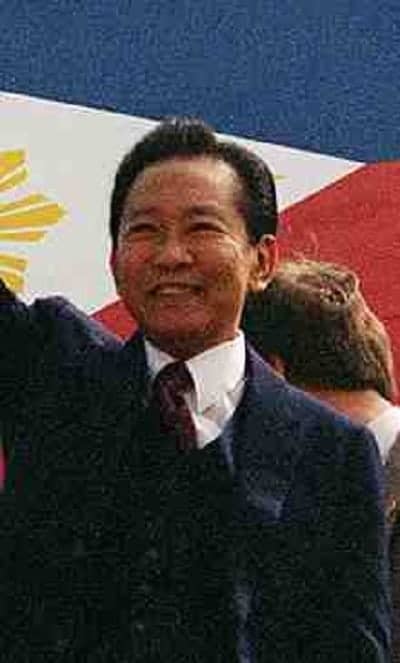 President Ferdinand Marcos' dream of building a new society had brought forth several projects that have benefited us in the long run.
During his third SONA in 1968, Marcos claimed that the country became self-sufficient in rice and corn, therefore solving the chronic food shortage.
Fast forward to 1980 and the Marcos administration reached yet another milestone. The country's gross national product (GNP) dramatically climbed from 39.5 billion pesos in 1965 to an outstanding 86.7 billion pesos in 1979, which translates to 6.6% growth rate a year.
And this was only the tip of the iceberg.
From Sept. 21, 1972, up to Feb. 26, 1986, Marcos was able to craft and formulate a total of 7, 883 presidential decrees and other 5 legal issuances. All of the country's specialty hospitals were also built during his term and these include the Kidney Center, Philippine Children Center, Philippine Heart Center and the Lung Center of the Philippines.
Also Read: 17 Things You Didn't Know About Rodrigo Duterte
Marcos' accomplishments are too many to mention and have since become the benchmark by which the performances of his successors are based upon.
But we also have to deal with the other side of the coin.
According to the Akbayan party-list group, the Marcos administration was responsible for 35, 000 torture cases, 70, 000 incarcerations, and 3, 257 murders. He's also blamed for the arrest of more than 50, 000 people including the "desaparecidos" or those who were victims of enforced disappearances.
It should also be noted that the value of the peso also dropped from P1 = US$ 1 to P25  = US$ 1 during Marcos' term. And from just $360 million in 1962, our country's debt reached a staggering P28.3 billion by the time Marcos left his office in 1986.
6. President Ferdinand Marcos reportedly used Thrilla in Manila as "distraction."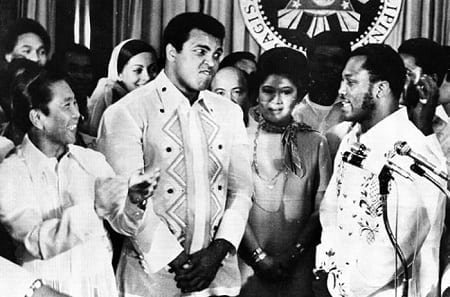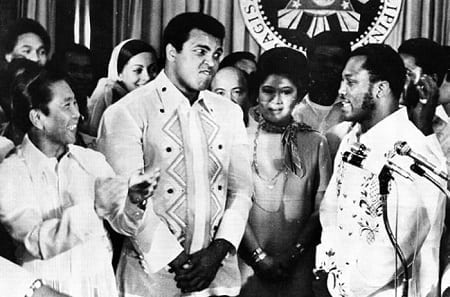 In 1975, there was a brewing revolution in the Philippines as a result of President Ferdinand Marcos' martial law declaration 3 years earlier.
Rampant corruption, widespread poverty, and impending threats of the insurgency were taking its toll on Marcos' "New Society." People would continue to lose trust in his dictatorship unless he finds a diversionary tactic.
The distraction came in the form of entertainment–world-class entertainment. It was during this era when Manila hosted the 23rd Miss Universe pageant and invited world-famous celebrities such as Brooke Shields and George Hamilton.
Marcos also campaigned to have the third and final Ali-Frazier match to be held in Manila, a request that was subsequently granted in exchange for a hefty price: the Filipino dictator promised to pay the expenses and even give Ali a staggering $4.5 million pesos at a time when most Filipinos' annual salary was not even enough to pay an upper box seat at the Araneta Coliseum.
Continue Reading:  Thrilling Facts You Didn't Know About 'Thrilla in Manila'
7. He reportedly wanted Ninoy to be his successor.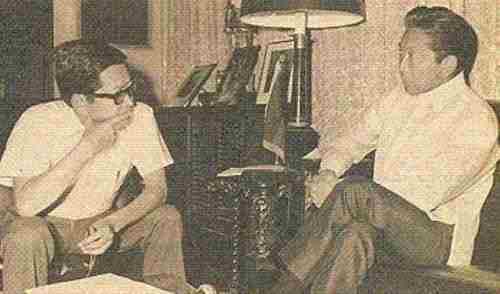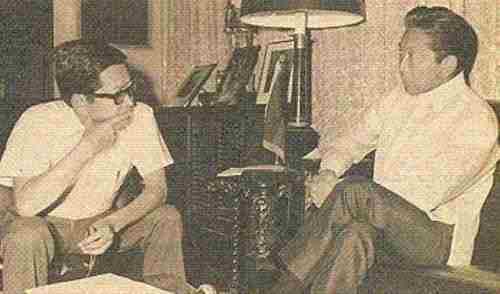 In a special report published by the Philippine Daily Inquirer, it was revealed that Marcos considered Ninoy Aquino as the best prepared to be president among the politicians during that era. Some also believe that  "Marcos may have already considered Aquino as a potential successor even before he allowed the Tarlac politician to have an open heart surgery in the United States on May 8, 1980."
Also Read: 6 People Who Killed Ninoy Aquino, According to Conspiracy Theorists
Ex-Master Sgt. Pablo Martinez, one of those convicted of murder, confessed that Ninoy was indeed chosen by Marcos to be his successor. The president's decision reportedly irked some of his allies, and so plans to assassinate Ninoy were made afterward.
The same report also discusses an alleged covenant between Marcos and Ninoy. A travel companion of Aquino in the U.S. said that the covenant included "the position of prime minister in the National Assembly, provided that Aquino won a seat in the 1984 elections."
8. Martial Law was communism's biggest recruiter.
For Marcos, the August 1971 Plaza Miranda bombing (which the regime blamed on the communists) was a clear sign of using democracy to destroy democracy itself. To eliminate communist threats, he suspended the privilege of the Writ of Habeas Corpus and later declared martial law.
Also Read: A Tale Of Two Presidents – Did Nixon Approve Marcos' Martial Law?
Ironically, the martial law became communism's biggest recruiter. From the 1,028 armed regulars in 1972, members of the New People's Army (NPA) had ballooned to 22,500 by 1986.
9. US President Nixon and Marcos' Martial Law.
Did Richard Nixon—contrary to the White House's official stand—actually know and consent to Ferdinand Marcos' declaration of martial law?
According to Raymond Bonner's book Waltzing with a Dictator: The Marcoses and the Making of American Policy, Nixon had in fact known about Marcos' plan several days before the actual declaration because the latter had personally phoned him twice to inform him about his decision.
The US president reportedly answered that he was alright to a dictatorship by Marcos so long as it would help further American interests in the region.
Aside from the personal calls, Nixon was also informed of Marcos' plan by the American ambassador to the Philippines Henry Byroade. According to the book, the ambassador told Marcos that the United States was prepared to back his regime if it would be necessary for quelling the communist insurgency.
Continue Reading: A Tale Of Two Presidents: Did Nixon Approve Marcos' Martial Law?
10. His war exploits are questionable.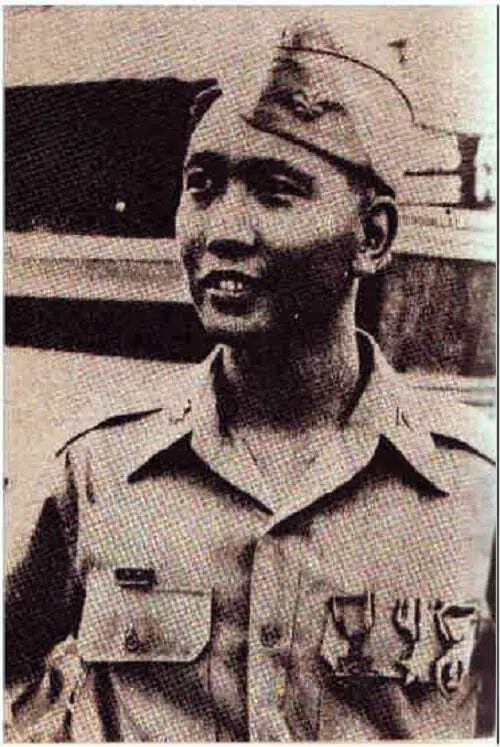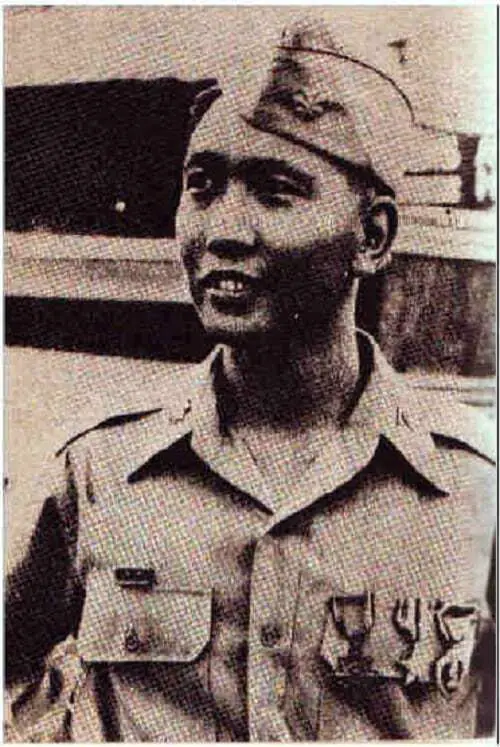 Marcos claimed he was the hero of the Battle of Bessang Pass during WWII, earning a total of 33 medals and awards throughout his career. However, his critics believe otherwise.
Bonifacio Gillego, a military officer who resisted martial law, exposed that 11 of the 33 medals were given 20 years after the war when Marcos was already a Senate President gearing up for a presidential campaign. Eight of these awards, on the other hand, were actually campaign ribbons given to all participants "in the defense of Bataan and in the resistance." 
Also Read: 5 Historic Lies You Were Taught In School
Regarding his war exploits, the U.S. army found no official documents that could prove Marcos led "Ang Maharlika," a guerilla force composed of 8,200 men. In the end, they declared Marcos' claims to be "fraudulent" and "absurd."
So where was Ferdinand Marcos during the Japanese occupation?
He said he was freed by the Japanese on August 4, 1942. However, a Japanese document discovered by John Sharkey of the Washington Post suggests that the prisoners released at that time were either too sick or "whose families have cooperated with the Japanese military authorities."
Marcos was not on the list of ailing prisoners published by The Manila Tribune. We should also remember that his father, Mariano Marcos, was one of those who welcomed the Japanese with open arms and later executed by anti-Japanese guerrillas in 1945.
READ: 11 Reasons Why Jose P. Laurel Was A Total Badass
Marcos also claimed that he was hiding at the Philippine General Hospital from June to August 1943. During the same period, President Laurel, leader of the Japanese puppet state, was also staying in the Japanese-controlled hospital. Go figure.
11. The 'Omega 12′ was behind Ferdinand Marcos' Martial Law.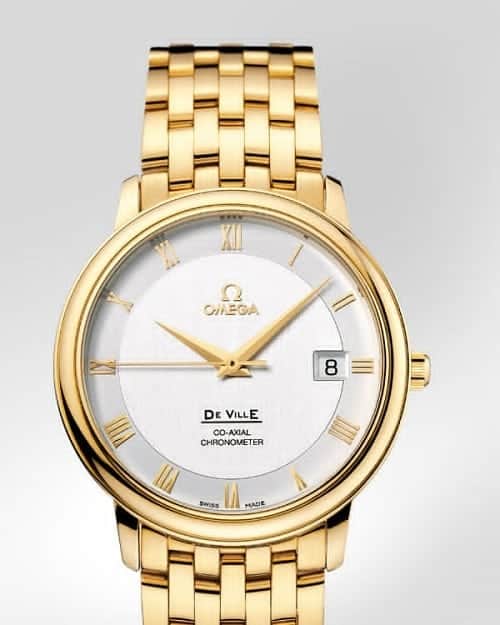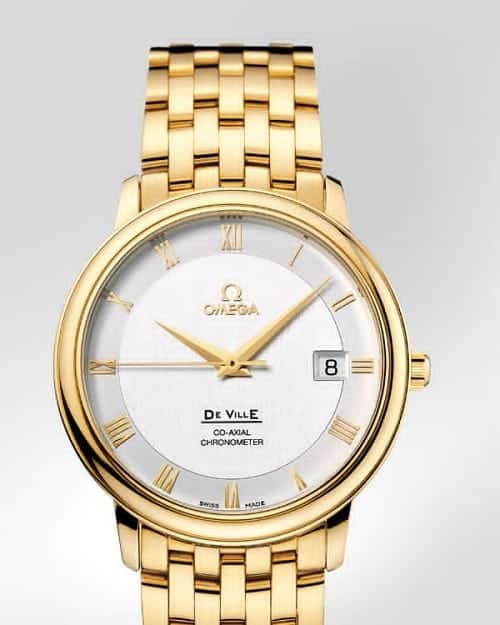 The martial law was not a one-man endeavor. In fact, Marcos sought the help of his '12 apostles,' later known as the "Rolex 12" (named after the Rolex watches that Marcos gave to them as gifts).
But according to a 1974 confidential memo of then US Ambassador to Manila William Sullivan, Marcos gave the 12 military officers gold Omega watches, not Rolexes. Hence, the proper term would have been "Omega 12."
Also Read: 11 Things From Philippine History Everyone Pictures Incorrectly
Before declaring the martial law in 1972, Marcos consulted with the Omega 12, and their plans were contained in a confidential document called Oplan Sagittarius. Five members of the group allegedly helped create the decrees of Proclamation 1081 before all 12 of them finalized Marcos' plan.
The following are the official members of the "Omega 12":
Defense Minister Juan Ponce Enrile,
Philippine Constabulary chief Maj. Gen. Fidel V. Ramos,
National Intelligence Security Authority chief Maj. Gen. Fabian Ver,
Lt. Col. Eduardo "Danding" Cojuangco, Jr.
Army chief Maj. Gen. Rafael Zagala,
Constabulary vice-chief Brig Gen. Tomas Diaz,
Armed Forces Chief of Staff Gen. Romeo Espino,
Air Force chief Maj. Gen. Jose Rancudo,
Navy chief Rear Admiral Hilario Ruiz,
ISAFP chief Brig. Gen. Ignacio Paz,
Metrocom chief Brig Gen. Alfredo Montoya, and
Rizal province Constabulary head Col. Romeo Gatan.
First off, Gen. Tomoyuki Yamashita really had nothing to do with the infamous treasure.
It was Emperor Hirohito's brother, Prince Chichibu, who led the "Golden Lily" campaign and plundered Asian territories. Chichibu's cousin, Prince Tsuneyoshi Takeda, was then assigned to hide the loot at hundreds of secret vaults within the Philippines. He also gave a copy of the maps to his Filipino servant for safekeeping.
Now let's go back to President Marcos.
For some reason, he was able to get a copy of the treasure maps and soon ordered his military officers to undertake a treasure hunt. And then came Rogelio Roxas, a Filipino treasure hunter who uncovered in a Baguio City tunnel thousands of gold bars and an 8-inch tall gold Buddha filled with real diamonds and precious stones.
It didn't take long before the news reached President Marcos. He immediately sent his men to confiscate the treasure and had Roxas arrested and tortured.
Also Read: 10 of the Most "Imeldific" Things Imelda Marcos Ever Did
When Cory Aquino became the president, she formed the now abolished Presidential Commission on Good Government (PCGG) to initiate the hunt for the missing Marcos Loot. As we all know, PCGG only recovered $5 billion (in the form of cash and other assets) out of the alleged $100 billion loot.
Imelda Marcos, on the other hand, claimed that her husband deposited a very large sum in a bank in Brussels, Belgium. This is because the amount of the fortune was so large "it would be embarrassing."
13. He bought the Kalayaan Island in Spratlys for 1 peso.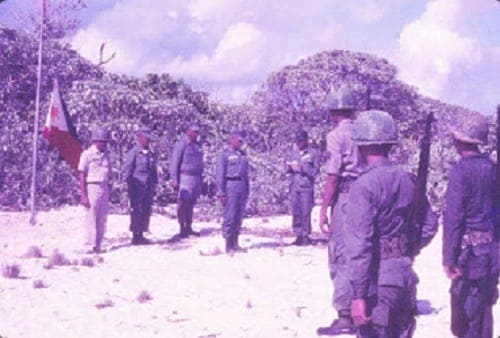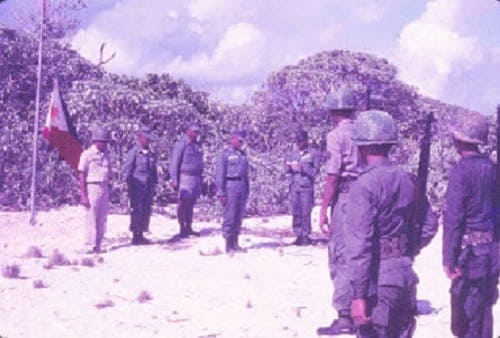 Philippines' claim over the Spratlys started when Tomas Cloma landed at its biggest island in 1956. A seafaring adventurer and owner of a fishing business, Cloma made a "Proclamation to the whole world" that a new state called  "The Free Territory of Freedomland" was created. He asserted sovereignty over the area although no country formally recognized his claims.
Also Read: The Baffling Truth About Philippine's Claim Over Sabah
Cloma, who was also the founder of the Philippine Maritime Institute, was later jailed during the martial law era for the fraudulent use of the "admiral" title (his drinking buddies at the National Press Club called him "Admiral").
He was released after he surrendered all his claims to the islands to Marcos for only one peso. Afterward, Marcos officially transformed the biggest island ("Pag-Asa Island") into a fortification, the first and probably the last time our country was able to add a new territory.
14. He launched the first Philippine-made rocket.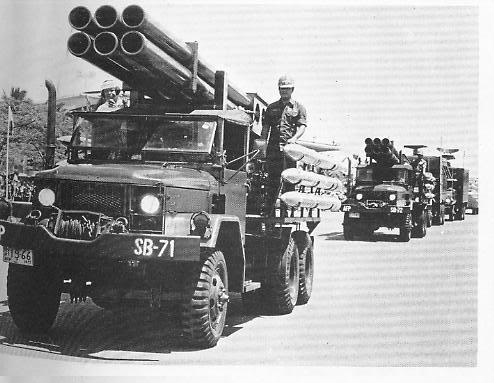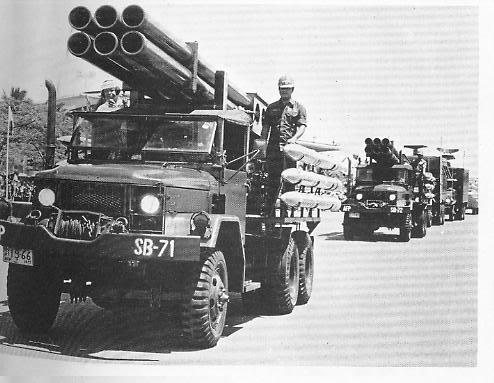 Yes, you heard that right: A rocket made in the Philippines.  Launched in Caballo Island (near Corregidor), the rocket was part of "Project Santa Barbara" which was participated by a group of scientists and the Philippine Navy.
Also Read: The Lost WWII Treasure of Corregidor
Since December 1972, a series of 37 dynamic tests had been conducted on the 180 MM rocket. The project, initiated by President Marcos, also involved testing of other weapons and armaments.
On September 1975, four "bongbong" rockets (obviously named after Marcos' son) were successfully launched. Asked about why the country was experimenting in making its own ballistic missiles, President Marcos explained:
"The defense of the Philippines cannot be left to alliance with other countries. We must assume that there will be contingencies where even the United States may not be ready to come to our assistance."
15. Ferdinand Marcos knew that the U.S. secretly stored nuclear weapons in the country, but never told anyone.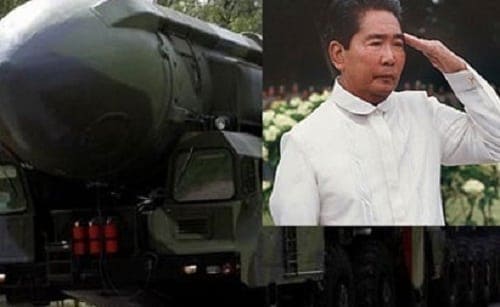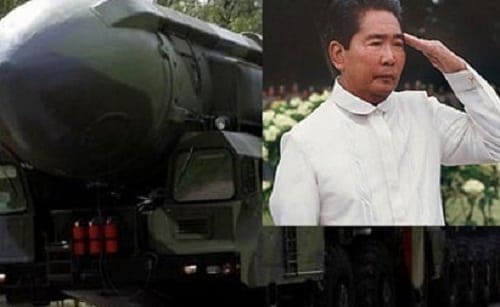 This is according to a document released by the National Security Archive based in George Washington University.
The said top-secret memo was from US career diplomat Robert McClintock. He informed then acting secretary of the US State Department that the storage of nuclear weapons "would be covered by executive privilege and not divulged to the Symington Subcommittee on overseas commitments."
Also Read: The End of The Marcos Regime, In Picture
The memo also suggests that the nuclear weapons have been stored in the country for many years "without prior consultation with the Philippine Government."
The document added: "The fact that President Marcos was secretly informed of the presence of these weapons in 1966 would not work to his advantage in the elections. The Philippine government and public are not aware of storage nor of President Marcos' knowledge thereof."
16. People worship him like a GOD.
Unlike most Filipinos who vilify the late dictator, a group of peasants in Ilocos Norte and in the mountains of Abra province worship Ferdinand Marcos like a saint.
In fact, they gather every month in their own chapel dressed in white flowing robes to worship the deceased president. Inside the chapel, they face an altar where the picture of the sacred heart of Jesus is displayed–with Jesus Christ's face replaced by that of Marcos.
Also Read: The Bizarre Life And Ugly Death of the Man Who Challenged Marcos
For the cult members, Marcos didn't steal but "simply kept the fortune they accused him of stealing." They also added that "time will come when all the money will be recovered and used for the development of our country."
According to cult leader Rodolfo Cabusao, their group started as a member of the Rizalian Brotherhood which have long believed that Rizal was Christ's reincarnation. They began worshiping Marcos when the strongman died in 1989, the same year Cabusao claimed that Marcos appeared in his dream and proclaimed himself as God's disciple.
17. The bizarre life and ugly death of the man who challenged Ferdinand Marcos.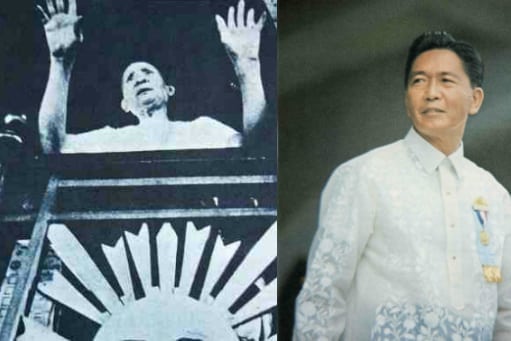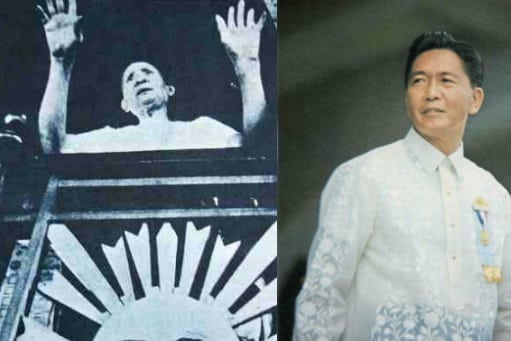 Regarded by his followers as a holy man who could converse with Bathala and the spirits of past Filipino heroes, Valentin Delos Santos was a perennial presidential candidate, having ran first against Carlos Garcia in 1957, Diosdado Macapagal in 1961 and then against Ferdinand Marcos in 1965 with the promise of achieving "true justice, true equality, and true freedom for the country."
However, his endeavor was met both with amusement and disdain by the public and his political opponents who believed him to be a crazy old coot.
Two years after losing to Marcos, Delos Santos—then already in his 80s—led around 400 of his followers who were dressed in strange blue uniforms with capes on a march from Taft Avenue in Pasay to Malacañang Palace to demand the president's resignation.
Delos Santos cited poverty, landlessness, and the country's exploitation by Western powers as his reasons why Marcos should resign.
When the chaos was over, 33 members of Lapiang Malaya and one soldier lay dead on the street. Dozens more—members, soldiers, and civilians—also suffered gunshot or hack wounds.
On August of the same year, Delos Santos met his end inside the center at the hands of his schizophrenic cellmate. Mauled in his sleep, he slipped into a coma and was never revived. The doctor of the facility later officially attributed his death to pneumonia.
Continue Reading: The Bizarre Life And Ugly Death of the Man Who Challenged Marcos
18. Ferdinand Marcos' last day in Malacañang.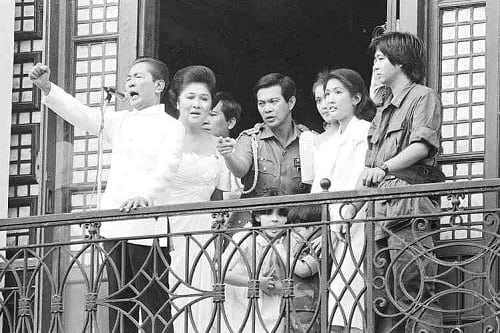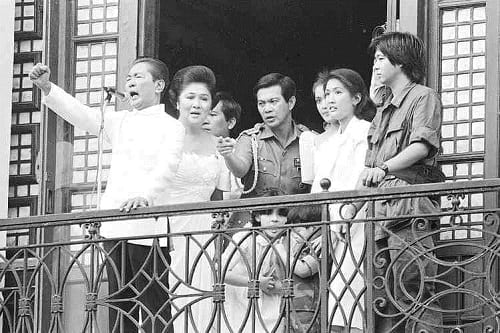 Here's a poignant portrait of a once-powerful family shortly after Marcos took his oath of office as the reelected president on February 25, 1986.
For everyone outside the presidential palace, however, the victory was a sham and the ceremony was just Marcos' last-minute attempt to stay in power. True enough, it would be the Marcoses' last photograph together in Malacañang; a few hours later, they were forced to flee into exile in Hawaii, marking the end of Marcos' two decades of dictatorship.
The days leading to this momentous event were certainly the darkest in Marcos' political career. One by one, his military functionaries–including the Air Force pilots–defected to the rebel camp of Juan Ponce Enrile and Fidel Ramos.
Such was his desperation that he called U.S. Sen. Paul Laxalt, one of the observers in the February 7 snap elections, to ask whether he should step down or not, and to which the American lawmaker replied:
"I think you should cut. And cut cleanly. The time has come."
Continue Reading: 10 More Haunting Last Pictures Ever Taken in Philippine History
References
Bangor Daily News,. (1975). Rockets test-fired from the Philippines, p. 4. Retrieved from https://goo.gl/CnAz1N
Bondoc, J. (2011). Marcos medals: Only 2 of 33 given in battle. The Philippine Star.
Boyce, J. (1993). The Philippines: The Political Economy of Growth and Impoverishment in the Marcos Era. University of Hawaii Press.
Diaz, P. (2013). Brouhaha over the 'Marcos Loot'. Global Balita. Retrieved 23 April 2016, from http://goo.gl/NSB1wM
Ferdinand E. Marcos, Fifteenth State of the Nation Address, July 28, 1980. Official Gazette of the Republic of the Philippines. Retrieved 23 April 2016, from http://goo.gl/FGp7z8
Ferdinand E. Marcos, Third State of the Nation Address, January 22, 1968. Official Gazette of the Republic of the Philippines. Retrieved 23 April 2016, from http://goo.gl/e2uPSi
Former Philippine president Ferdinand Marcos does not hold record for national bar exam. (2019). Retrieved 2 October 2019, from https://factcheck.afp.com/former-philippine-president-ferdinand-marcos-does-not-hold-record-national-bar-exam
Gomez, J. (1999). Philippine Cult Worships Marcos. The Associated Press. Retrieved from http://goo.gl/5gUwNS
Los Angeles Times,. (1986). Philippine Bishops Assail Fraud, Urge Nonviolent Protest : Prelates Charge That Presidential Election Was 'Criminal Use of Power'. Retrieved from http://goo.gl/j8Yd35
Marcos Addresses AFP. WikiLeaks. Retrieved 23 April 2016, from https://goo.gl/nus2Fd
Marcos didn't order Ninoy's assassination. (2012). Inquirer.net. Retrieved 23 April 2016, from http://goo.gl/H2ez2u
Maynigo, B. Marcos Fake Medals Redux (Part III). Asian Journal. Retrieved 23 April 2016, from http://goo.gl/DfsIys
Nery, J. (2013). Marcos was the worst. Inquirer.net. Retrieved 23 April 2016, from http://goo.gl/y2Hj0o
Silvestre, J. (2012). Miriam Santiago on love, loss and her home. philSTAR.com. Retrieved 23 April 2016, from http://goo.gl/g7v42N
The Bulletin,. (1992). Marcos widow claims wealth due to 'Yamashita treasure', p. A-3. Retrieved from https://goo.gl/u3DITa
The History of the Kingdom of Colonia St John. Kingdom of Colonia St John Information Services. Retrieved 23 April 2016, from http://goo.gl/yqCI56
The New York Times,. (1986). U.s. Army Years Ago Labeled Marcos' Wwii Tales As Lie. Retrieved from http://goo.gl/xYuJ1g
Tiglao, R. (2011). The Spratlys: Marcos' legacy, or curse?. Inquirer.net. Retrieved 23 April 2016, from http://goo.gl/AoEqz6
US secretly stored nuclear weapons in PH and Marcos knew about it, top secret memo shows. (2011).InterAksyon.com. Retrieved 23 April 2016, from http://goo.gl/7tb6YN
Zamora, F. (2008). Marcos: 'My best successor is Ninoy'. Inquirer.net