In the stock market, not all that glitters is gold. 
Stocks that are temporarily enjoying hype may turn out to be risky long-term investments. For example, in 2020, $DITO's stock price tripled to close the year at Php 10.76 per share. Despite lacking any operating track record, the stock performed very well because of the market's anticipation of DITO Telecommunity's telco franchise. This optimism was enough for some investors since the stock traded to as high as Php 18.76 per share in February 2021–80% up in less than two months! 
Today, however, $DITO is trading at the Php 5.00 level. If you bought at the high, you never would have seen a winning day, and about three-quarters of your capital would have already been wiped out.
Although $DITO's story isn't over (it still has an opportunity to prove itself as the third telco player), it is a relatively recent example of how risky it is to speculate in the stock market. Without your discretion, investing could easily turn into gambling. The difference between the two is the track record. Without a company's track record, all that's left is hype.
This is where blue chip stocks come in. 
DISCLAIMER: This article is for information purposes only. No portion of this work should be interpreted as an offer, solicitation, or recommendation to buy or sell the investment securities referenced herein. The information in this article is as of the date of publication, and may have changed following said date.
Table of Contents
What Is a Blue Chip Stock?
"Blue chip" is a term reserved for the largest, strongest, and most reputable companies in an economy. 
Investing in blue chip stocks is considered relatively less risky because the underlying companies are likely to survive and grow for a long time. This is so because these companies have managed to entrench themselves so much that their products and services become akin to necessity.
Although there is no certified list, a company is generally considered blue chip based on key criteria.
1. Reputation and Track Record
Blue chip companies tend to be household names. In the Philippines, such names include Jollibee, SM, and Puregold, among many others. Companies become a household name if their products or services are used routinely by Filipinos across the country–and if they've been doing so for a long time. Thus, their status as household names is also an indicator of their long and successful track record.
A solid reputation backed by a successful track record provides a solid basis for investing long-term. These companies have proven their ability to change with the times. And because they are perceived to be reliable, demand for their products and services is likely to continue long into the future. 
2. Long-Term Potential
Aside from company-specific factors, the long-term potential also involves the potential of the larger industry. Monde Nissin, URC, and Jollibee are some blue chip names because, aside from their reputation and track record in the Philippines, they also participate in a stable industry: food services. 
Because food is a necessity, the demand for food products is likely to remain stable. Because the Philippine population is growing, the need for food products is expected to grow as well. And because these companies have become household names, they are likely to retain their share in that growth and stability.
3. Financial Strength and Predictability
A company's stock price is ultimately driven by its bottom line (a.k.a. its net income). This is discussed in more detail in our beginner's guide to stock investing. 
Thus, a company with adequate cash and effective cost management is likely to be effective in sustaining its leadership position. You can rely on your broker's research services to assess a company's financial strength. 
Predictability is also a determinant of a company's blue chip status. Start-up companies may be exciting, but without a track record, investors can only guess how they will do in terms of profits. The likelihood of those guesses being wrong is high since about 50% of start-ups fail. If the company's profits aren't predictable, the stock price will be unpredictable as well.
Who Are the Blue Chip Stocks in the Philippines?
There is no badge to identify the blue chips from the regular stocks. However, a company's inclusion1in the Philippine Stock Exchange Index (a.k.a. PSEi, PCOMP, or PHISIX) is typically associated with blue chip status. 
The PSEi is the average stock price of the market. It consists of the largest and most actively traded stocks2 in the exchange. The PSEi's daily moves are widely regarded as the main barometer for how the market generally moved for the day. The following companies (referred to as PSEi constituents) are currently included in the index.
Ayala Corporation ($AC)
AC Energy Corporation ($ACEN)
Aboitiz Equity Ventures, Inc. ($AEV)
Alliance Global Group, Inc. ($AGI)
Ayala Land, Inc. ($ALI)
Aboitiz Power Corporation ($AP)
BDO Unibank, Inc. ($BDO)
Bank of the Philippine Islands ($BPI)
Converge Information and Communications Technology Solutions, Inc. ($CNVRG)
Emperador Inc. ($EMP)
Globe Telecom, Inc. ($GLO)
GT Capital Holdings, Inc. ($GTCAP)
International Container Terminal Services, Inc. ($ICT)
Jollibee Foods Corporation ($JFC)
JG Summit Holdings, Inc. ($JGS)
LT Group, Inc. ($LTG)
Metropolitan Bank & Trust Company ($MBT)
Megaworld Corporation ($MEG)
Manila Electric Company ($MER)
Monde Nissin Corporation ($MONDE)
Metro Pacific Investments Corporation ($MPI)
PLDT Inc. ($TEL)
Puregold Price Club, Inc. ($PGOLD)
Robinsons Land Corporation ($RLC)
SM Investments Corporation ($SM)
SM Prime Holdings, Inc. ($SMPH)
San Miguel Corporation ($SMC)
Security Bank Corporation ($SECB)
Universal Robina Corporation ($URC)
Wilcon Depot, Inc. ($WLCON)
How To Invest in Blue Chip Stocks
1. Select a Blue Chip Stock
Experts advise holding only a handful of stocks in your portfolio. Thus, even if the PSEi consists of 30 stocks, that is still too much to have in one retail investor's portfolio. You must still narrow down your choices. This can be done by looking at a few key factors:
a. Familiarity with and confidence in the product and industry
Of the 30 constituents of the PSEi, which companies offer products that you are personally familiar with? Do you use those products or services yourself? Are you confident that those products or services will remain for a long time? 
Blue chip investing is about stability and reliability. Thus, it helps to narrow down your choices to the companies you know to form a reliable long-term opinion. 
b. Financial analysis
It is good and efficient to rely on your broker's research if you do not have financial expertise. However, there are things you can do to validate your broker's research. Key areas of focus include:
Profits: Has the company's net income grown steadily over the years?
Cash: Is the company generating enough cash every year to cover its debt payments?
Debt: Does the company have too much debt? When is it due, and will they be able to pay for that debt? Debt is a key focus, especially for stock investors, because if a company can't pay its debt, there will be no leftover for shareholders; the value of the stock will fall to zero. Remember that when a company goes bankrupt, debtors–not shareholders–are first in line to recover what's left.
Your broker already summarizes the financial data you need in order to answer these questions through their research reports. Below is an example of a financial summary table in one of COL Financial's reports on $ALI (Ayala Land).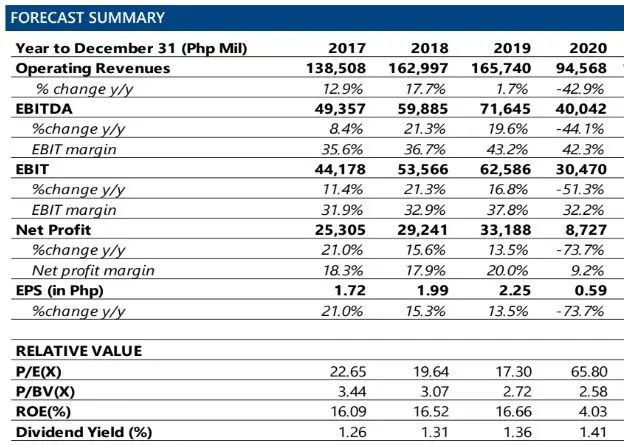 Aside from your broker, you can also get this information from the company itself. This is usually found in the 'Investor Relations' section of a company's website. For example, $ALI maintains its Investor Relations website. The website contains valuable resources like podcasts and recordings by $ALI where it explains its results and outlook to investors.
c. Valuation
A blue chip stock may still be expensive. Investors use a quick way to assess this by looking at the price-to-earnings ratio3, or P/E ratio for short. This ratio compares the stock's price per share to its earnings per share. $ALI's P/E ratio is included in the table above. 
Because the stock price grows with the company's profits, the P/E ratio should be stable over the years. If a stock's P/E ratio has been increasing, this is generally an indication that its stock price is rising faster than its earnings, which is unsustainable (i.e., the stock is expensive). Most likely, the stock price will have to decline to align with the level of the company's earnings.
2. Invest Regularly in the Stock
Given their long-term viability, blue chip stocks also lend themselves well to cost-averaging strategies. 
Cost-averaging means allocating a fixed amount regularly to buying a certain stock. It allows you to buy more shares when the stock price is down, and less shares when it is high. The long-term result is a lower average purchase price, so the capital appreciation is higher.
The table below from PSE Academy (the PSE's market education service) illustrates the benefit of small but regular investments4 over the long term.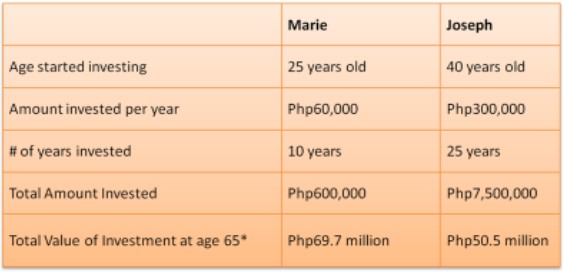 Tips & Warnings
1. Monitor your holdings at least annually
Blue chip stocks aren't blue chip forever, so do not be complacent. For example, PLDT ($TEL) was once regarded as an "old-reliable" because its money from telephone subscriptions was consistent. However, when the telecommunications landscape changed and the name of the game became data offerings while telephones became obsolete, the outlook for $TEL changed. To this day, it has not yet recovered back to the high it made in 2014. 
2. Focus on the big picture
Even blue chip stocks can be volatile. If you are confident in your long-term outlook for a company you know well, do not be discouraged by short-term dips in its stock price. 
Frequently Asked Questions
1. Is a company not blue chip if it is not in the PSEi?
A company can still be a blue chip company even if it is not in the PSEi. What ultimately makes a company blue chip is reputation, track record, financial strength, and long-term potential.
2. What is a stock rights offering?
Blue chip companies tend to be more mature and thus sophisticated in their capital raising activities. One way that companies raise capital to fund their projects is through a stock rights offering (SRO), among other means. 
An SRO offers shareholders the first option to purchase more shares in the company at a set price. In return, the company promises to execute specific growth plans. Not participating in an SRO will be dilutive to your holdings. That is, you will own a smaller percentage of the company after the SRO if you do not exercise your right to subscribe. 
3. What is a stock split?
If a company whose shares you own declares a stock split, this has no impact on the value of your holdings. For example, if the company declares a 2-for-1 stock split, the number of shares you own will double, but the price will decline by half. The net impact on your portfolio is nil. Companies usually do this to lower their per-share price to make the shares more affordable to investors. 
4. What is a stock dividend?
 Instead of paying cash, companies may pay in additional shares. Like a stock split, this has no impact on the value of your holdings because the share price will decline by a proportionate amount.
Related: How To Invest in the US Stock Market From the Philippines
References