Stock investing is fun because we can directly profit from the products we use in everyday life. Although some of those products are produced in the US, Philippine investors can still invest in the companies that produce them. 
DISCLAIMER: This article is for information purposes only. No portion of this work should be interpreted as an offer, solicitation, or recommendation to buy or sell the investment securities referenced herein. The information in this article is as of the date of publication, and may have changed following said date.
Table of Contents
Why Invest in US Stocks?
1. Diversification
Investing in more than one stock provides a buffer for company-specific risks. By investing internationally, your portfolio also benefits from a buffer for country-specific risks. Thus, your portfolio may perform better compared to someone who invests purely in Philippine stocks.
For example, in the 18 months following the 2008 crisis, Philippine stocks (blue line) outperformed US stocks (orange line) because we were relatively insulated from the crisis.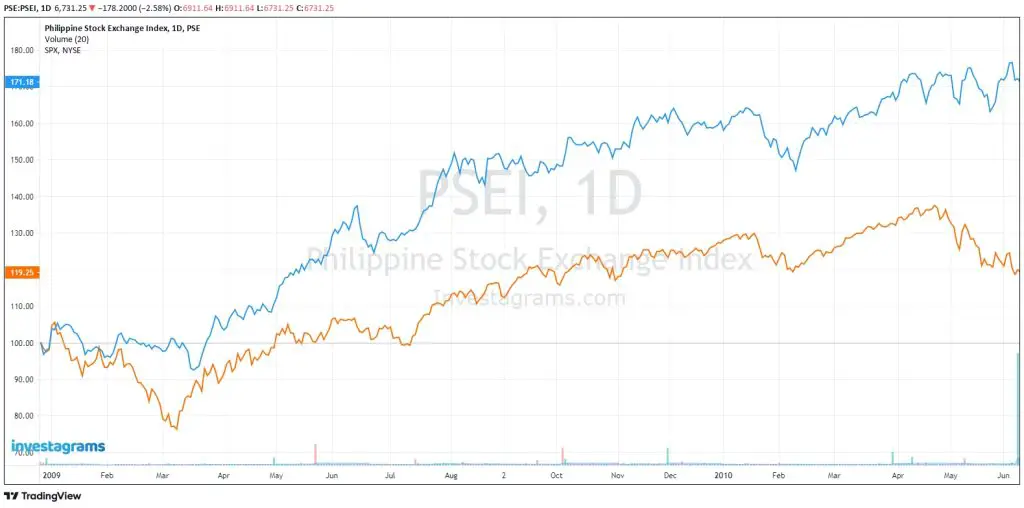 In contrast, during the first year of the pandemic, Philippine stocks underperformed because developed countries were perceived to have stronger systems to cope with the pandemic. Thus, the economic risk seemed greater for the Philippines.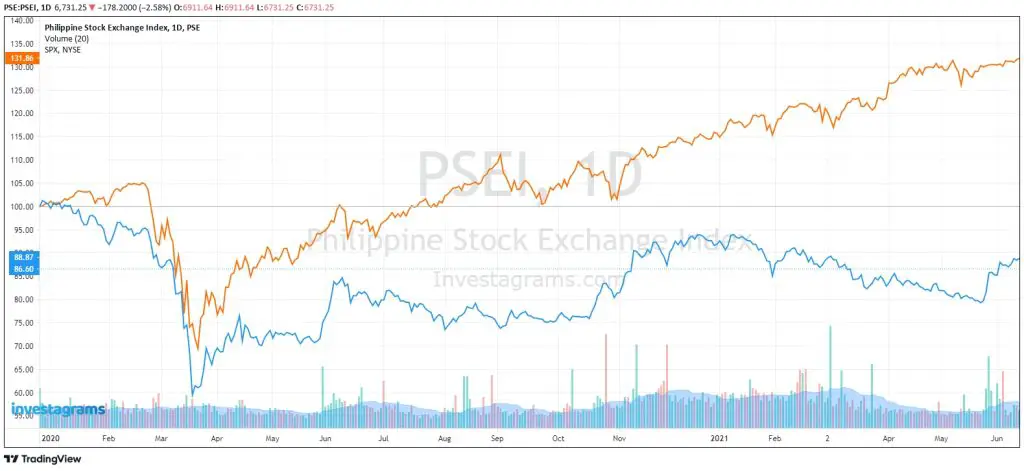 2. Advanced Features
International brokers offer more sophisticated services not yet available in the Philippines. For example, you can enter multiple orders for one stock–a stop-loss order and a take-profit order–through an order type called 'one-cancels-all'. Thus, in some ways, you can automate your risk management.
3. Breadth
If you are interested in the tech sector, for instance, there are only a couple of tech stocks listed in the PSE, none of which are very prominent. With US stock investing, you can invest in truly relevant tech names like Google, Twitter, and Apple.
What Are the Risks?
Aside from the risks from stock investing in general, international investing comes with unique risks.
1. Losses From FX Rate Changes
When you invest in US stocks, your profit will be in US dollar terms. If the foreign exchange (FX) rate moves unfavorably, some of your gains could be watered down by your FX losses.
The easiest way to minimize this risk is to reinvest your profits into other US stocks. If you need to spend your dollar profits, a practice known as natural hedging can also minimize FX risk. Natural hedging entails matching your dollar income with your dollar expenses. For example, you could allocate your dollar profits to international travel expenses, international health insurance, or simply dollar reserves.
2. Lower Familiarity
Philippine investors do not have the same "insider" knowledge of foreign companies. For example, you might miss or not appreciate changes in laws and regulations affecting your US stocks. This risk is minimized simply through diligence. Keeping abreast of international news helps you keep track of your US stocks.
Top Options for International Brokers
Mutual funds are an easy way to gain exposure to US stocks more passively. Local institutions like BPI, Security Bank, and Sun Life offer such funds. For this guide, however, we will focus on options for direct investing.
Many brokers offer access to US stocks, but we will focus on three of the most established, as summarized below.
Interactive Brokers
eToro
Tiger Brokers
Commission rate
$0.0005 – $0.0035 per share, or $0.35 per order, whichever is higher
0% commission
$0.005 per share or $0.99 per order, plus similar platform fees
Inactivity fees
None
$10 per month after 12 months
None
Documentary requirements
1 government-issued ID
1 proof of residence
1 government-issued ID
1 proof of residence
1 government-issued ID
1 proof of residence
Funding options
Bank wire
Bank wire
Credit/debit cards
PayPal
Bank wire
Wise
Option 1: Interactive Brokers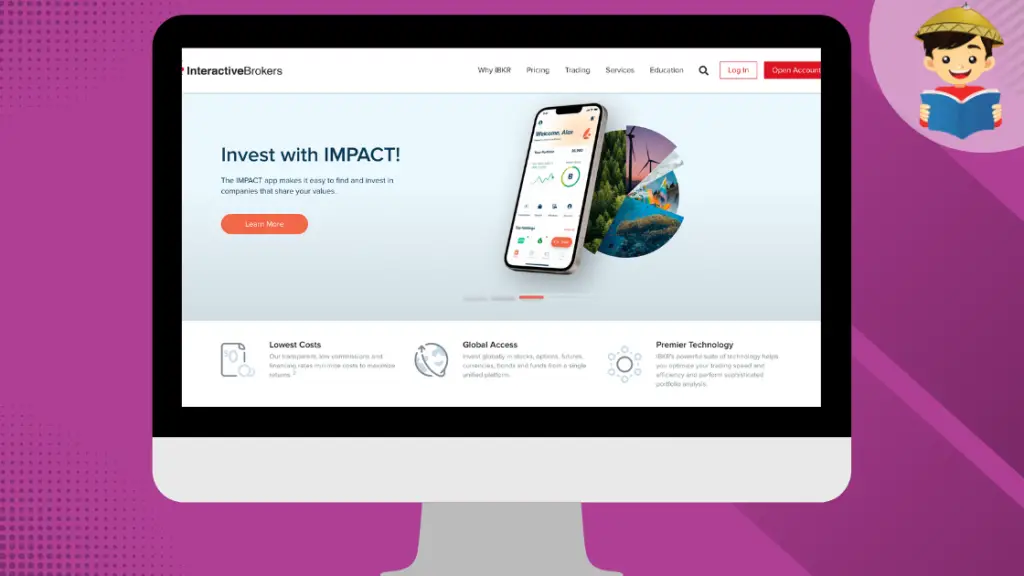 a. Background: Interactive Brokers (IBKR) is headquartered in the US but has offices worldwide. It has a 44-year track record of offering brokerage services. It is available for Philippine retail investors1 .
b. Commission rates: IBKR charges $0.0005 – $0.0035 per share, or $0.35 per order, whichever is higher. The commission charges come in a range because larger orders (>300,000 shares) are charged lower rates. IBKR does have a zero-commission service, but it is currently unavailable to non-US investors.
c. Other charges/requirements: Opening and maintaining an IBKR account is free. Unlike before, IBKR no longer charges2 inactivity fees. There is also no minimum deposit3 (with exceptions4, none of which generally apply to Philippine retail investors).
d. Documentary requirements: The requirements5 for opening an account with IBKR include:
1 proof of identity (passport or driver's license)
1 proof of address (e.g., recent utility bill, driver's license, bank statement)
e. Funding and withdrawal options: Currently, you can only fund your account or withdraw funds through a bank wire. Thus, you will need to open a USD account with a bank. Other methods are not endorsed by IBKR.
f. Pros & cons:
Pro: IBKR is the most established of the three options and, anecdotally, is the most widely used by Pinoy investors. It also allows you to earn extra income6 if you're a long-term investor.
Con: Funding options are limited and inconvenient.
Option 2: eToro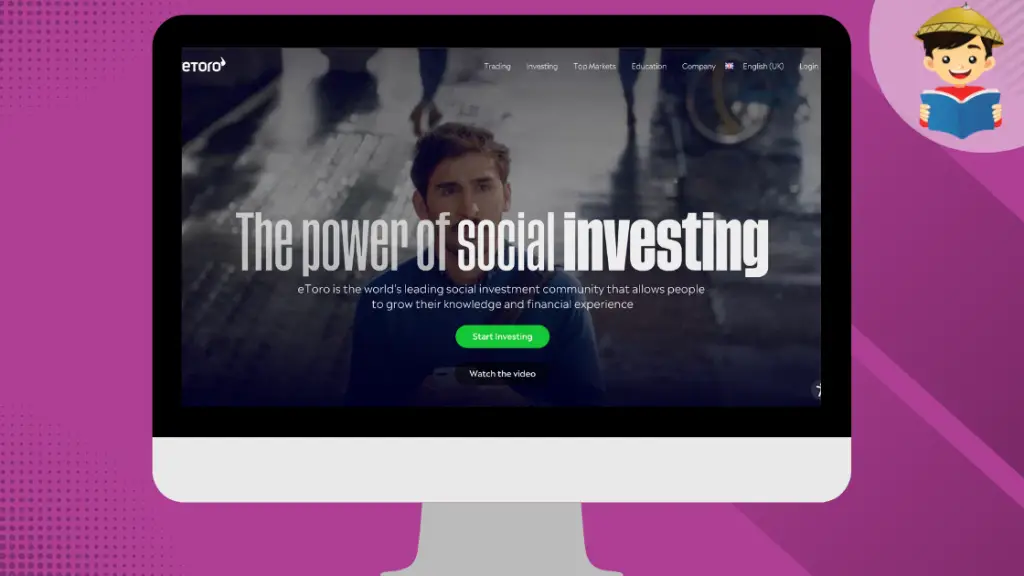 a. Background: eToro has been around since 2007. It has offices in the UK, the US, Australia, and Cyprus. It is available to Philippine investors7.
b. Commission rates: eToro charges 0% commission on stock trades8 .
c. Other charges: Account opening is free9 on eToro, but it charges a $10 inactivity fee per month after 12 months of no login activity. It also charges a $5 withdrawal fee for withdrawals10.
d. Documentary requirements: eToro's documentary requirements11 are similar to IBKR's. You need 1 government-issued ID, and 1 proof of address.
e. Funding and withdrawal options: Besides bank transfers, eToro also supports funding12 via credit/debit cards and PayPal, among others. Note that withdrawals are sent through the same method13 they were deposited. I.e., if you funded your account via credit card, a subsequent withdrawal will be credited to your card.
f. Pros & cons
Pro AND Con: eToro focuses on community-driven investing. Its CopyTrading14 and "smart" portfolios15 service allow investors to benefit from the expertise of better traders without added charges. The downside is that you're following these experts based on faith instead of your own judgment, which is frowned upon by certain circles as bad investing practice.
Option 2: Tiger Brokers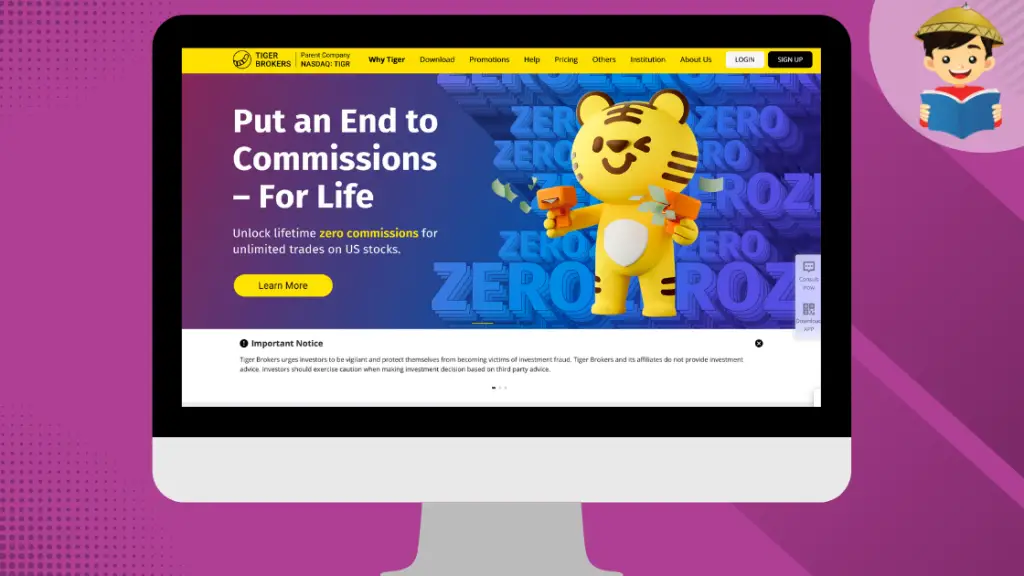 a. Background: Tiger Brokers was founded in 2014. It is run by a Chinese company listed on NASDAQ. Although it is the youngest on our list, it has the support of key shareholders16 , including IBKR.
b. Commission rates: Tiger Brokers charges a commission17 of $0.005 per share or $0.99 per order, whichever is higher. It also charges a platform fee of about the same amount.
c. Other charges: Account opening is free, and Tiger Brokers does not charge inactivity fees.
d. Documentary requirements: Tiger Brokers' documentary requirements18 are similar to IBKR's and eToro's. You need 1 government-issued ID (Tiger recommends a passport) and 1 proof of address.
e. Funding and withdrawal options: You may fund your account19 via a bank transfer or Wise. Tiger Brokers does not charge deposit and withdrawal fees.
f. Pros & cons:
Pro: Tiger Brokers is an Asian company with a good presence in Singapore. Thus, funding options might become more convenient for Southeast Asian investors in the future.
Con: Tiger Brokers does not seem to offer research services. Thus, you will have to rely on your own research or public sources for investing decisions.
How To Start Investing in US Stocks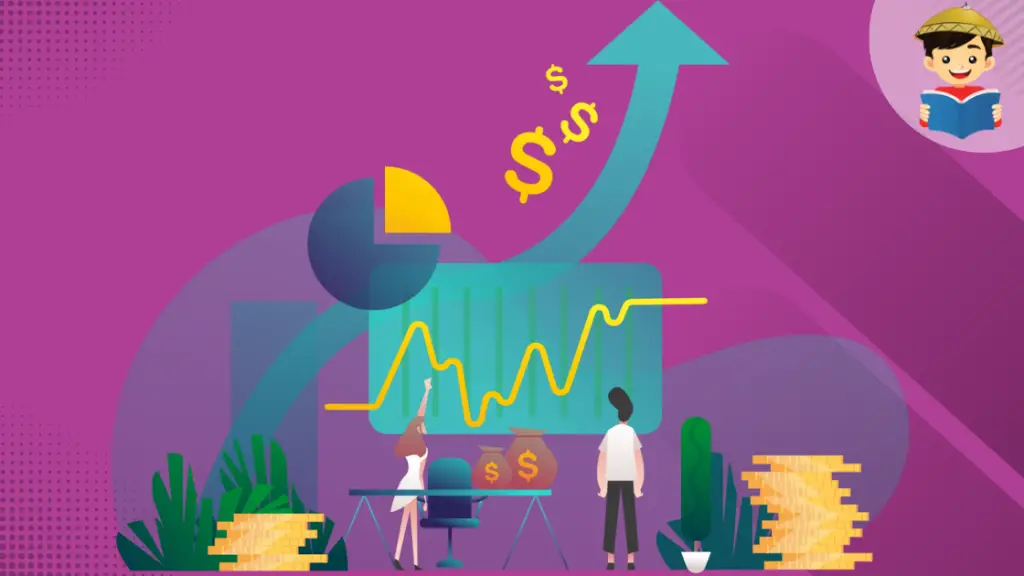 Once you've selected a broker, getting started is a straightforward process. Although the steps may differ slightly depending on the broker, the process generally follows the same steps. It is also quite similar to opening a brokerage account locally.
1. Open a Demo Account
Also called a trial or paper account, a demo account allows you to sample the broker's trading platform. You can simulate the entire trading process without risking actual capital because a demo account comes with a virtual starting balance (i.e., paper money). All three of the brokers we discussed here offer the option to start with a demo account.
2. Open a Live Account
After confirming your decision to go with a specific broker, the account opening process generally follows the following steps: 
Step 1: Create an Account With the Platform
This step is similar to opening an account on social media or other online platforms. You will be asked to provide your email address and nominate login credentials.
Step 2: Select Your Account Type
Generally, you will be asked if you prefer to open a margin account or a cash account. For beginning investors, it is best to open a cash account. A margin account allows you to trade on margin (discussed further in the FAQs), which entails trading stocks with borrowed money. 
Margin accounts come with more risk than regular investing, and they typically require high minimum balances. Thus, the chances of your application getting rejected are higher. 
Step 3: Fill Out Forms and Submit Documentary Requirements
Aside from the documentary requirements enumerated previously, this step also involves disclosing information regarding your income sources, tax residency, and investing experience. International brokers request this information because they are required by their regulators. You may also be asked to take a selfie on the spot. This is known as "Know Your Customer" (KYC) checks and Philippine brokers do this as well.
Once through with the application process, it typically takes 1-3 business days to receive confirmation from the broker.
3. Fund Your Account
Once you receive confirmation that your application has been approved, you may fund your account. With the three brokers discussed above, there are no minimum amounts required for funding. However, the funding process differs depending on the broker, and you may need to open a dollar account with a local bank. 
Detailed funding instructions are usually provided by the broker once you are prompted to fund your account. A good practice is to "test" the process and fund your account with a small starting amount. This way, you get to see how the process works without risking too much, and you gain confidence when you decide to deposit larger amounts later.
4. Research a Stock
Two of the three brokers discussed above provide research or expertise to help you decide which stocks to buy, but there's no need to stop there. US stocks are more widely followed than Philippine stocks, so third-party resources are also available. Seeking Alpha and Investor's Business Daily are among the most comprehensive resources available to US stock investors. Although not all their content is free, a premium subscription costs less than half the amount for a monthly gym membership in the Philippines, approximately.
5. Execute the Trade
Buying, monitoring, and selling a stock involves the same steps for both US and Philippine stocks. Of note, however, are the other order types that may be unfamiliar to Philippine investors. 
For example, a 'stop' order is commonplace on international platforms but not widely available locally. A stop order allows you to post a buy or sell order only when the stock hits a specified price. Stop orders are more efficient because they allow you to cut losses or take profits without relying on your discipline or emotional fortitude.
This is why starting with a demo account is valuable. Although it is optional, the room for experimentation that it provides will help in avoiding costly mistakes later on.
Tips and Warnings
1. Do Not Use Features You Are Unfamiliar With
International brokers offer more sophisticated services (e.g., margin trading, short-selling), more complicated order types (e.g., one-cancels-all, trailing stops), and other securities aside from stocks (e.g., cryptocurrencies, derivatives). These come with their own risks.
It is safest to open a cash account with your chosen broker to keep you from inadvertently using these services. Start with a demo account if you are really keen on exploring them.
2. Mind Your Tax Obligations
Capital gains taxes do not apply when you're investing in US stocks from the Philippines. However, dividend income and other realized trading profits from US stocks are still taxable (i.e., capital gains taxes do not apply, but income tax does).
Frequently Asked Questions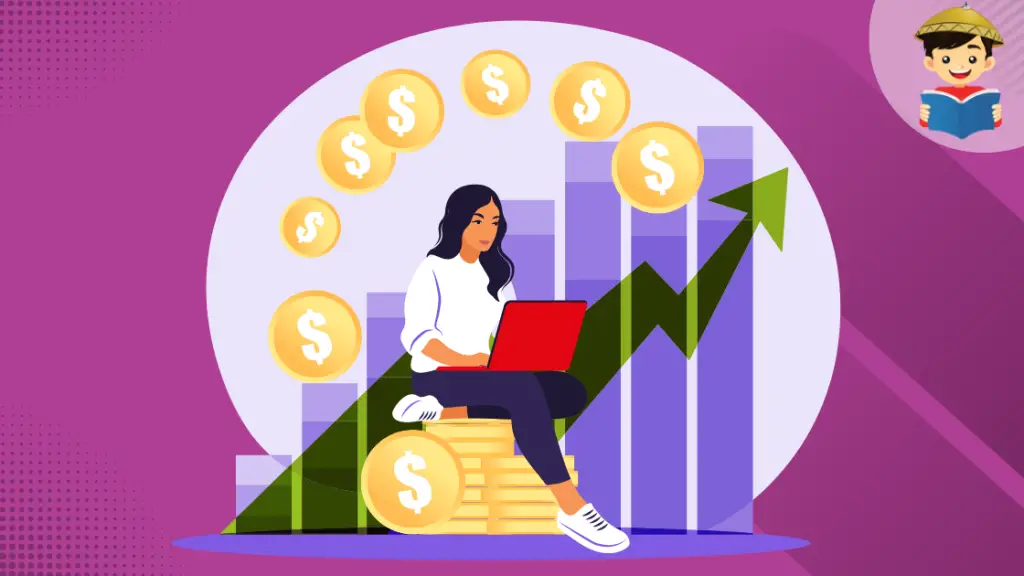 1. What Is Margin Trading?
Margin trading involves borrowing money to fund a trade. It allows you to magnify your gains because the profits from a margin trade all go to you. In other words, you can enlarge your gains by enlarging your starting capital. 
Margin trading may be tempting, but the risk is magnified as well because you absorb all of the losses. For example, a $1,000 loss is only a 10% loss with a starting capital of $10,000. But if $9,000 of that was borrowed, you would have lost your entire starting capital. That is, the stock only had to move 10% down for you to lose 100%.
2. What Is Short-Selling?
Short-selling allows you to profit when a stock price declines, as opposed to regular investing where you can only profit from an increase in the share price. This is not yet allowed in the Philippine stock market, but it can be done internationally. 
3. What Is a CFD?
Some international brokers offer exposure to US stocks through contracts for difference (CFD). A CFD is basically a betting instrument. You can profit from the price movements of the stock without actually owning the stock.
4. What Is a Fractional Share?
Quite literally, a fractional share is a fraction of one share. For example, Google is currently trading at about $2,200 per share. If you only had $500 to invest, you can invest in a fifth of one share of Google if your broker offers fractional shares investing. 
References