Nowadays, there are various investment options that Filipinos can choose from. These investment options have different interest rates, contribution plans, payment options, and more. If you're looking for a non-risky type of investment, the SSS P.E.S.O Fund might be the best option for you.
Related: Pag-IBIG MP2 vs. SSS P.E.S.O. Fund: Which Government Savings Program is Better?
What Is SSS P.E.S.O. Fund?

The SSS P.E.S.O. (Personal Equity and Savings Option) Fund is an investment program being offered by SSS (Social Security System) to members of their Regular SSS Program.
Dubbed as the "second savings for pension", it's a voluntary savings option that members can apply for in addition to their regular contributions. This investment program gives SSS members more chances to achieve financial freedom by saving more and making more contributions.
Who Can Open an SSS P.E.S.O. Fund Account?
Self-employed (SE), Voluntary (VM), OFW, and regular SSS Members can apply for an SSS P.E.S.O. Fund account as long as they meet the following requirements:
Benefits of Saving Under the SSS P.E.S.O. Fund
Aside from helping you prepare for retirement, you can also enjoy the following benefits under the SSS P.E.S.O. Fund:
Tax-free benefits
Risk-free environment for your investment
Guaranteed earnings
Profitable power of compound interest
When Should You Start Saving?
Since this investment option is a retirement program with compound interest, it's best to start saving as early as possible. You should also invest consistently, no matter what the amount.
With compound interest, the interest from your initial deposit and additional contributions will be accumulated. Saving early and consistently will double the earnings of your contributions once it matures after your retirement.
For example, Member A started saving Php 1,000 monthly at age 25 and stopped at age 34, completing 10 years of contributions worth a total of Php 120,000. Member B, on the other hand, started saving the same amount every month at age 35 until age 59. Member B was able to save a total of Php 288,000. They both retire at age 60.
Member A has total earnings of Php 112,619 while Member B earned a total of Php 66,282. Even though Member B invested more money than Member A, Member A has double the earnings because he started early and his savings accumulated interest for 35 years.
The best scenario is how Member C managed his SSS PESO Fund. Member C started saving Php1,000 every month at age 25 and continued saving until age 59. He saved a total of Php 408,000 in 35 years which resulted in total earnings of Php 210,141.
Here's a video that also clearly explains how compound interest works:
SSS PESO Fund Member Contribution
Members can make contributions anytime, as long as they also make a corresponding contribution to their Regular SSS account. For more information about SSS contributions, please refer to this article. 
Self-Employed, Voluntary Members and OFW workers are required to pay the maximum monthly Regular SSS contribution of Php 2,400 to be qualified. Once enrolled, they can put the equivalent amount to their PESO Fund account. 
It must be noted that members are only allowed a maximum yearly contribution of Php 500,000 while the minimum monthly contribution is Php 1000.
SSS PESO Fund Allocation
Under the SSS P.E.S.O. Fund, your contributions, and earnings will be allocated to three types of accounts:
Retirement/Disability which comes with guaranteed earnings based on 5-year T-Bond rates. 65% of your contributions will go to this type of account
Medical, where 25% of funds are allocated, also comes with guaranteed earnings based on 364-day T-Bill rates
General Purpose (education, housing, livelihood, unemployment) is where 10% of your earnings and contribution will be allocated. It also comes with guaranteed earnings based on 364-day T-Bill rates
Account Maturity and Withdrawals
Your SSS P.E.S.O. Fund account expires once you file for either Total Disability or Retirement in the Regular SSS Program.
You'll get your contributions and earnings from interest once you have successfully retired.
You have the option to collect your total contributions and earnings in the form of a lump sum, monthly pension, or a combination of both. In case of death, the member's total contributions and earnings will be equally distributed to the member's listed beneficiaries.
When it comes to withdrawals before the maturity date, SSS allows withdrawals of up to 35% of your total contribution; up to 25% for medical and up to 10% for general purpose. It must be noted that when you withdraw before reaching your fifth year of membership, you'll be charged with management fees and a corresponding penalty.
How To Open an SSS P.E.S.O. Fund Account
SSS members can open a separate SSS P.E.S.O. Fund account by heading to the nearest SSS office for an over-the-counter application. You can also apply online through My.SSS by following steps below (If you don't have an account yet, here's how to register):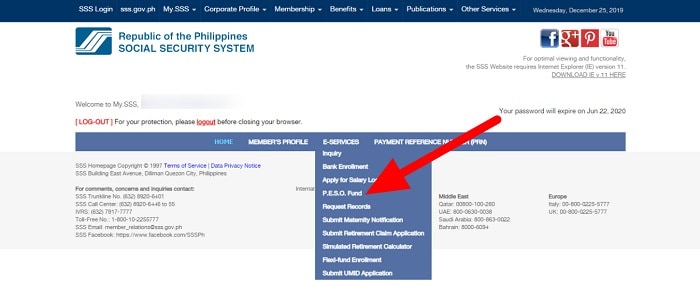 Log in to your old My.SSS account
Select 'E-Services' from the main menu
Click 'P.E.S.O. Fund' from the list of available options (see screenshot above)
You'll be informed if you're eligible to open an SSS PESO Fund account. Otherwise, the reasons why you can't open an account will be indicated
Proceed with the registration process
Payment Options for SSS P.E.S.O. Fund Contributions
These are the several payment options for SSS P.E.S.O. Fund Contributions:
1. SSS Offices
You can pay over-the-counter at the nearest SSS branch. You just have to submit a fully accomplished P.E.S.O. Fund payment form, along with your payment.
2. GCash
You can now conveniently pay contributions through your smartphone. Here's how:
Dial *137# and then choose 2 for "National Government Agency"
Select "SSS PESO Fund" from the list of biller options and enter the correct 10-digit SSS number
Select 1 or "Proceed" and then enter your four-digit GCash PIN
Once you have successfully completed the transaction, you'll receive a text confirmation.
Related: How to Pay Your SSS Contribution using GCash
3. Partner Banks
You can also pay online or over-the-counter at the following partner banks of SSS:
AUB
Bank of Commerce
PNB Savings Bank
Rural Bank of Lanuza
UnionBank
Wealth Bank
4. Bills Payment Centers
SSS has also partnered with the following bills payment centers:
Bayad Center
SM Business Center
SM Hypermarket
Savemore
ECPay