Courtesy lanes at DFA offices enable qualified applicants to get or renew their Philippine passports without the need for online appointments. Learn whether you're qualified or not to avail of this service through this article.
As of March 2022, eligible fully-vaccinated passport applicants, including OFWs, may now avail of the passport courtesy lanes at DFA Aseana Office in Parañaque1 and all consular offices in the country2. 
Listed below are the eligible applicants together with their respective documentary requirements. All qualified applicants must also bring and present their vaccination cards prior to using the courtesy lane.
Minors who are 7 (seven) years old and below – must be accompanied by his/her parents, legal guardian, or authorized representative (the adult companion may also be an applicant). The applicant must bring PSA Birth Certificate (original and photocopy) and additional documentary requirements if not accompanied by parents. READ: How to Get Philippine Passport for Minors
Pregnant women – must bring medical certificate/record as proof of pregnancy.
Senior Citizen with Senior Citizen ID. The senior citizen must be accompanied by an adult.
Solo parent with valid Solo Parent ID.
OFWs (land- or sea-based) with valid proof of status like valid OWWA E-card; valid work visa; valid POEA-authenticated employment contract; expired/canceled work visa or employment contract together with a Philippine passport with immigration arrival stamp of not more than 364 days from the application date; or a Seafarer's Identification and Record Book (SIRB) stamped at an international border not more than 364 days from the application date.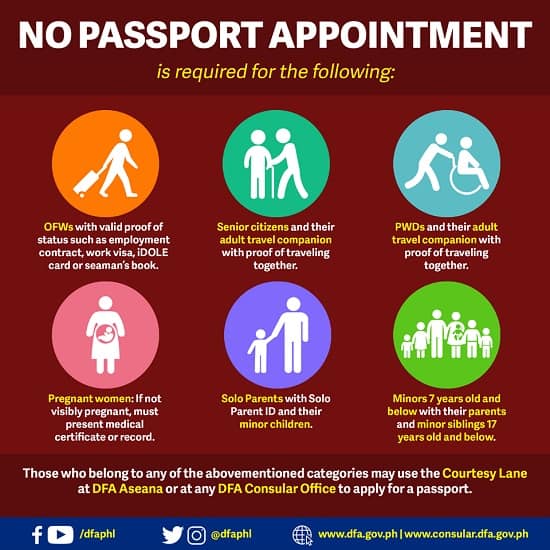 Here are a few reminders about the passport courtesy lanes:
Courtesy lanes for OFWs are only available at DFA Aseana and DFA NCR Central. OFWs may also apply in other Consular Offices but they need to secure an online appointment.
Senior citizens, PWDs, and infants up to 12 months can avail of courtesy lanes at any DFA Consular Office/capturing site except DFA NCR Central.
Senior citizens and PWDs are allowed to be accompanied by one (1) adult travel companion.

The companion can also avail of the courtesy lane

provided that he/she is an immediate family member (spouse, adult children/grandchildren, siblings, parents-in-law, or children-in-law) and can show proof of relationship.
If the companion of the senior citizen or PWD is not an immediate family member, proof of travel arrangements (e.g., confirmed hotel or plane booking) with the senior citizen/PWD must be presented to avail of the courtesy lane.
Priority/courtesy lanes have limited slots so they accommodate applicants on a first-come, first-served basis. It's best to come to the DFA office early so you can get a queue number and make it to the cutoff.
If the passport appointment is during regular hours from Monday to Friday, senior citizens and PWD applicants may choose either regular or expedited processing of their passport application.
Expedited processing is required for other applicants (including companions) whether during or outside regular hours. Senior citizens and PWD applicants are likewise required to pay for expedited processing if their applications are outside regular hours.
References
Ramos, C. (2022). DFA Aseana to allow passport courtesy lane walk-ins; no more slots for recruiters. Retrieved 19 March 2022, from https://newsinfo.inquirer.net/1566008/dfa-aseana-to-allow-passport-courtesy-lane-walk-ins-no-more-slots-for-recruiters
Ramos, C. (2022). DFA to open all consular offices to walk-in passport applicants. Retrieved 21 March 2022, from https://newsinfo.inquirer.net/1568328/dfa-to-open-all-consular-offices-to-courtesy-lane-walk-in-passport-applicants