OFWs with OEC exemption are not required to get an OEC and pay the POEA processing fee. If you get this exemption, processing your OFW documents at the airport before your departure will be faster. This guide will teach you how to obtain it.
Related: How to Get an Overseas Employment Certificate (OEC) Through BM Online or POPS-BaM
Table of Contents
Acquire OEC or Exemption: Who Can Get OEC Exemption?
Only balik-manggagawas who meet ALL the following requirements can be exempted from securing an OEC:
Has a valid work visa/work permit
Returning to the same employer and job site
Has a record in the POEA database (has been issued an OEC before at any POEA offices/centers, including the POEA main office, extension units, regional offices, POLO offices abroad, and BM mall processing centers)
OFWs hired through the Government Placement Branch are also qualified to get OEC exemption if they fall under the above categories.
If you don't meet any of the qualification requirements listed above, it means you're not qualified for OEC exemption, in which case you need to set an online appointment for regular OEC processing.
How To Get an OEC Exemption Through POPS-BaM
If you already have a DMW E-registration account and your old BM records are transferred to the new POPS-BAM site, you can get your OEC Exemption through POPS-BaM by following these steps2:
Each person must only have one E-registration account. Avoid creating multiple accounts because it's a ground for disqualification of POEA online services. 
2. Click "Let's Go"
3. Update Your Profile
Before applying for an OEC exemption, you need to update your profile. Click My Profile on the left side of your screen.
Provide all necessary information, including weight and height, because the system will not continue if these fields are empty.
Complete the "Identification" portion by uploading your valid IDs and passport. Upload only your latest passport to avoid encountering any problems during the application. 
Finally, fill out the "My Family" portion. You're required to enter at least one beneficiary in this portion. 
4. Select "Balik-Manggagawa" in the Upper Right Corner of Your Screen
You'll notice that the POPS-BaM screen is now filled with different content because all online services of the Department of Migrant Workers are processed on this site; if you're applying for a BM OEC exemption, there is no need to bother about this content and focus only on the Balik-Manggagawa module. 
5. Enter Your Flight Date
Upon clicking the Next button, POPS-BaM automatically presents your previous record (employer, job site, and position).
The system will also remind you to verify that your passport and work visa are valid upon departure. 
6. Answer Whether You're a Returning Balik-Manggagawa With the Same Employer, Job Site, and Position or Not. Otherwise, You Cannot Proceed With the Process
After responding "YES," you'll get the soft copy of your OEC Exemption. After the issuance, your information will be automatically transmitted to the Bureau of Immigration. 
7. Print Your OEC Exemption
How To Get an OEC Exemption Number Through BM Online (No Longer Available)
UPDATE: As of June 30, 20213, OFWs without an existing BM online account can no longer register under the old BM online system. You will be redirected to the new POPS-BaM system instead. For a step-by-step guide on how to use the POPS-BaM System to get an OEC exemption, go here. The new system uses the same process to get an OEC or OEC Exemption.
To avoid inconvenience at the airport during departure, exempted balik-manggagawas are still required to get an exemption number from BM Online. This allows the POEA to validate if the OFW is exempted from getting an OEC.
If you're qualified for OEC exemption, here are the steps to get a Balik-Manggagawa Exemption Number.
1. Log In to the BM Online System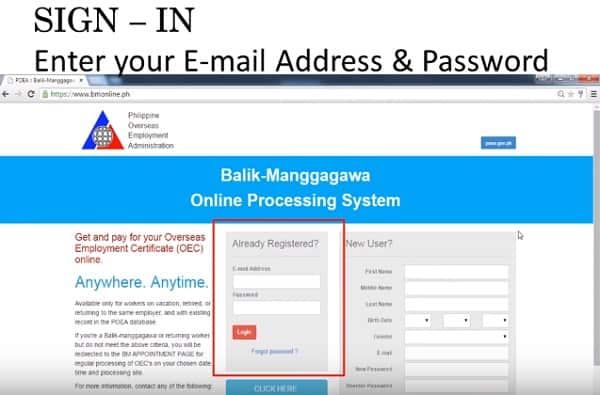 On the Already Registered box, enter your email address and password. If you are not registered yet, click here for the instructions on creating a BM Online account.
After logging in, enter your last issued OEC number. If the system finds no record in the POEA database (which means you're not exempted), you must set an online appointment for regular OEC processing. Click here for the steps to set an OEC appointment.
2. Update Your Profile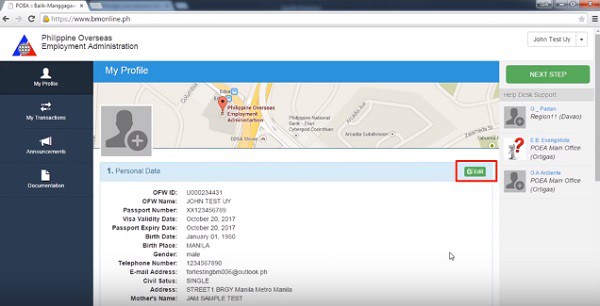 You'll be directed to the My Profile page if your record is found. Update your data, job contract information, and beneficiaries. 
You can edit almost every field except specific information under Personal Data, such as your name (first, middle, surname), birthday, and your mother's full maiden name. You can't also edit some data under Contract Particulars, specifically your employer's name, job site, position, and salary.
If you want to change or update the information in these non-editable fields, you must secure an appointment with POEA at your preferred date and time.
Lastly, you must ensure that you still look like the photo in your profile. The profile photos in the system are used by the Bureau of Immigration for identification purposes, especially during the final departure.
If your appearance has changed, you need to update your profile photo by uploading your most recent image that doesn't exceed one (1) MB. This recent photo must show your whole face, similar to the passport picture.
Once you're done filling out/updating all the required fields, don't forget to click SAVE. Otherwise, you'll not be able to proceed to the next step.
The BM Online system will transmit your records to the Bureau of Immigration, which the Immigration officer will refer to when validating your OEC exemption during your departure.
3. Click the Acquire OEC or Exemption Button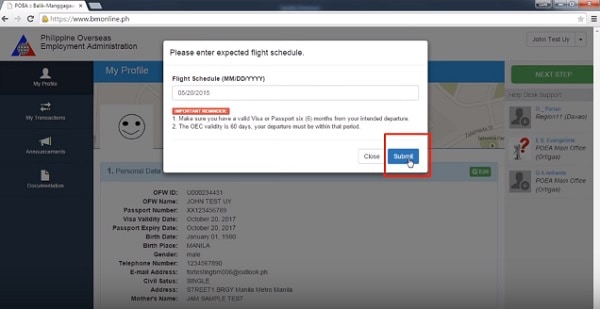 Enter your flight date (MM/DD/YYYY format) and confirm if you're returning to the same employer and job site. 
4. View Your BM Exemption Number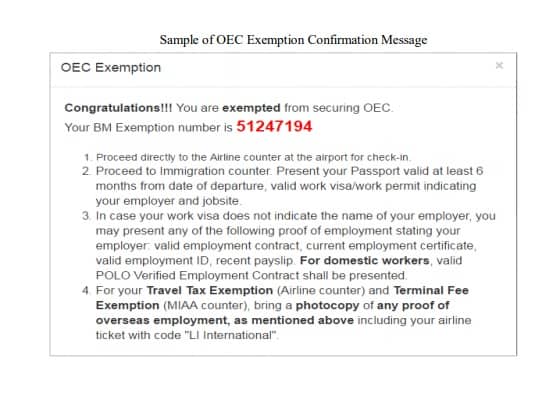 A message confirming your OEC exemption with a BM Exemption Number will appear. Your exemption number is transmitted to the Bureau of Immigration, proving you're exempted from getting an OEC.
On your departure date, go directly to the airline counter at the airport to check in.
After checking in, proceed to the Immigration counter and present the following:
Passport valid at least six months from the date of departure

Valid work visa/work permit indicating your employer and job site
If your work visa doesn't have your employer's name, you can present any of the following instead (provided that it states your employer's name):
For company-hired: Valid employment contract, current employment certificate, valid employment/company ID, or latest/most recent payslip
For domestic workers: Valid POLO Verified Employment Contract
No need to go to the POEA Labor Assistance Center at the airport for revalidation of your OEC exemption.
On the other hand, if you don't receive the pop-up confirmation message shown above, it only means that the system is unable to retrieve the data proving you're returning to the same employer and job site, in which case you'll be redirected to the appointment page so you can set an appointment for OEC issuance at any POEA office/center at your preferred date and time.
Go back to the main article: An OFW's Complete Guide to Getting an OEC Through BM Online or POPS-BaM
Tips and Warnings
1. There's no need to print the BM Exemption Number
OFWs qualified for OEC exemption don't have to print the confirmation message containing the BM Exemption Number since the system electronically transmits it to the link used by the Immigration Officer.
On departure day, you must check in and proceed to the Immigration counter to present your passport and work permit/work visa.
2. Update your profile picture
Since it's been a while since you uploaded the picture, your appearance may have already changed. Hence, updating it by uploading your most recent passport picture with a file size not exceeding one (1) MB is essential.
Updating your photo is essential because the Bureau of Immigration uses it for identification and final departure formalities.
3. You need to log in to the POPS-BaM System every time you return to the Philippines to avail of the OEC exemption
All returning OFWs are required to register with the POPS-BaM System.
All you need to do is log in to the system if you already have an account and have been issued an OEC.
Without logging in each time you go on vacation in the Philippines, you can't obtain an OEC exemption. Logging in and updating your information online is the only way POPS-BaM System can determine whether you're exempted from securing the OEC.
If you've been proven to be qualified, the data will then be transmitted to the Bureau of Immigration, which will then clear your name of departure formalities.
4. Get your OEC exemption number less than 60 days before your departure date
Just like regular OEC, an OEC exemption number is only valid for 60 days and can only be used for a single exit.
Therefore, you must consider your flight schedule before obtaining an OEC exemption. For example, if you are in the Philippines for a vacation for three months, then you shouldn't get your OEC immediately. Wait for a month or two first before getting your OEC.
Get it too early (i.e., more than two months or 60 days before your departure), and the OEC exemption will expire when you're scheduled to leave the country.
Frequently Asked Questions
1. I can't log in to BM Online or POPS-BaM because I've forgotten my email address and password. What should I do?
According to POEA, account holders who have forgotten their email address and password may contact the System Administrator through telephone numbers 02-7219496 / 02-7277778 / 02-7210785 / 09173257397 or email [email protected], [email protected], [email protected], and [email protected].
You can also send your concerns through POEA's Helpdesk feature. Read the step-by-step guide below to learn more.
Step 1: Go to POEA Online Services Portal and scroll down to find the POEA Helpdesk feature.
Step 2: Click on the Create Ticket button, then click Continue once it takes you to the next page.


Step 3: Next, under Select Service, choose Online Services – ERegistration, and then under Select Concern, choose Account Problem – Forget EReg Details. Click on Next.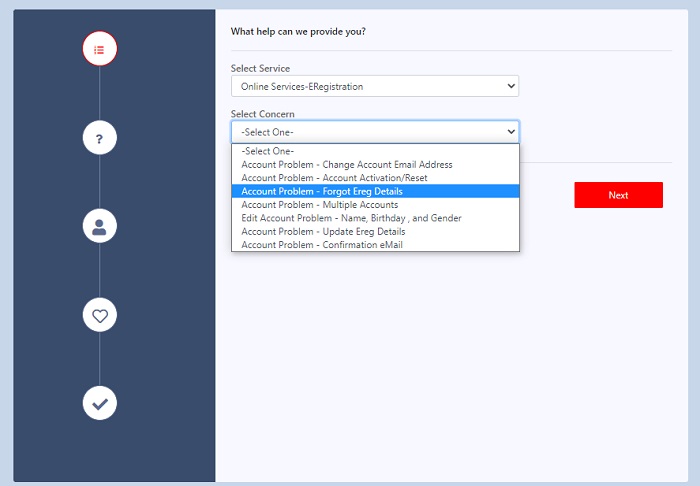 Step 4: Click on Next again.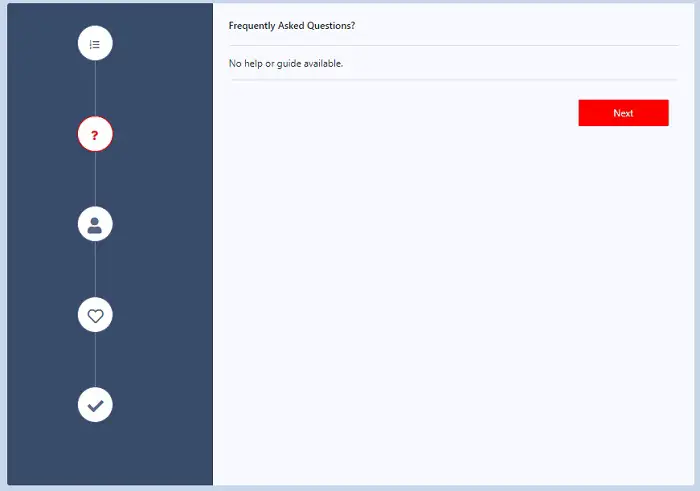 Step 5: You should now be on the page below. Here, you can choose one of the options to help you find your account. If you know your eRegistration number, then click on the first option.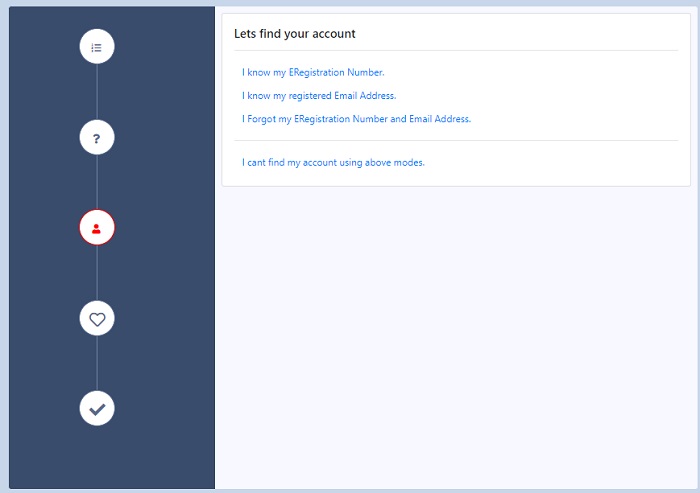 If you don't know your eRegistration number and email, click the third option. There, you will only be asked to provide your name and birthdate.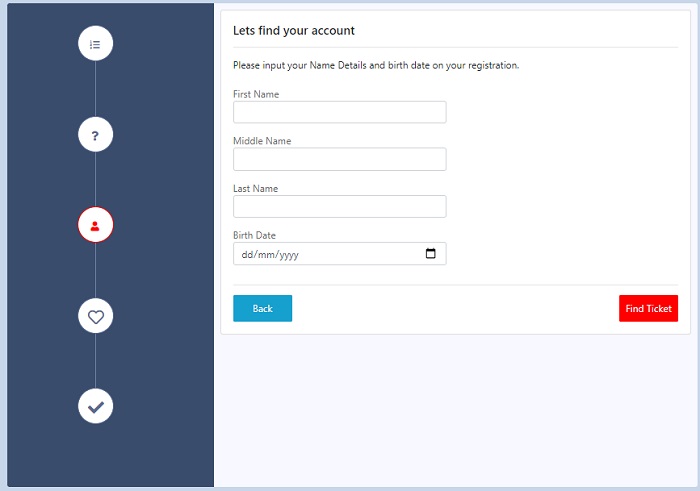 After entering your details, click on Find Ticket to proceed.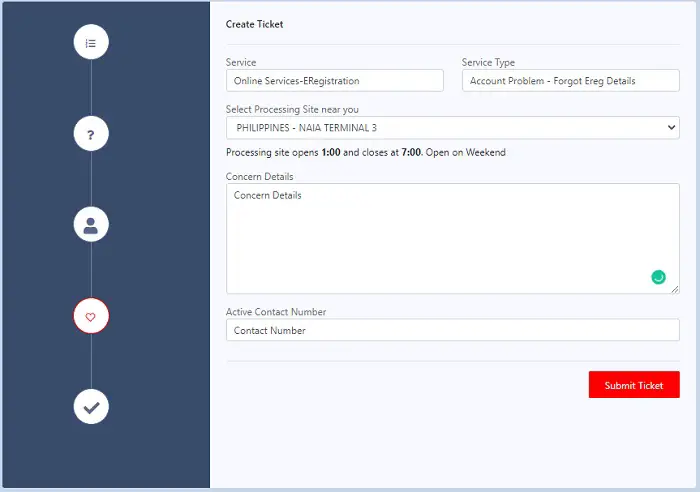 On this page, enter the details of your concern and your contact number. After you are done, click on Submit Ticket to proceed. After that, POEA support should contact you for the next steps.
2. I am returning to the same employer and job site with a previous OEC, but the System still re-directs me to the Appointment page. What's wrong?
If you're trying to get an OEC exemption but get automatically redirected to the Appointment page, you're not exempted from securing an OEC in the first place.
And this can happen even though you were issued an OEC previously and are returning to the same employer and job site.
Is this even possible? you may ask. Absolutely.
You're not exempted from getting OEC and are therefore required to secure an appointment with the POEA if you're one of the following:
a. BM workers returning to a different employer and/or job site
b. Watchlisted worker and/or OFW with a watchlisted employer
c. OFWs returning to the restricted or non-compliant country
d. Workers without POEA records / No record found / Discrepancy in
any record
e. Undocumented workers (i.e., Tourist to OFW, Dependent to OFW,
Student to OFW, etc.)
f. Sea-based workers who changed position to Landbased Worker
3. The link to OEC Exemption online application is not working. What should I do?
If POPS-BaM is inaccessible, the site might be down or under maintenance. Try to access it after a few minutes until it becomes accessible again.
Meanwhile, note that you will receive a "site can't be reached / server not found" error if you try to create a new BM online account. That's because the old BM online site no longer accepts new users. In this case, the only possible way to apply for an OEC Exemption online is through the POPS-BaM system. 
4. There's an error in my POPS-BaM E-registration. What should I do?
Do not create a new account if you encounter an error in POPS-BaM E-registration (e.g., not receiving an email verification). Instead, file a concern ticket in the POEA HelpDesk. You'll also do this if you enter incorrect details in your E-registration. 
5. I manually matched my old BM online system records to the  POPS-BaM site, but they are still not synced/transferred. How can I apply for an OEC Exemption?
You have to request a ticket4 so that your previous BM online records can be "matched" to the POPS-BaM system and get your OEC exemption. Follow the steps indicated below to request a ticket:
Step 1: Go to the POEA (DMW) online services website
Step 2: Proceed to the "DMW HelpDesk" section and click Create Ticket, then press Continue
Step 3: Under the "Select Service" dropdown menu, select "online service Balik -Manggagawa"
Step 4: Under the "Select Concern" dropdown menu, pick "BM-OLD records problem"
Step 5: Click the Next button below the "Frequently Asked Questions" section
Step 6: Select among "I know my E-registration number," "I know my Email Address," and "I forgot my E-registration number and email address"
Step 7: Complete your ticket by entering the following details: Processing site near you
*OEC number
*Concern details (state that your old BM records failed to transfer to the POPS-BaM)
*Contact number
Step 8: Press Submit Ticket 
After submitting your concern ticket, you'll get your HelpDesk Ticket number. Take note of it, as you may use it to inquire about updates regarding your request.
References