History is more than rote memorization of useless names and dates. There are intriguing facts about Philippine history that may fuel your curiosity and give you the desire to know more.
Before you know it, you're hooked to real stories far stranger than fiction. And that's when the real fun begins.
In this last installment of the ultimate trivia list, join me as we look back on some of the most interesting facts about Philippines history that will inspire the curious child in you.
Table of Contents
56. Manila Zoo's Zebronkey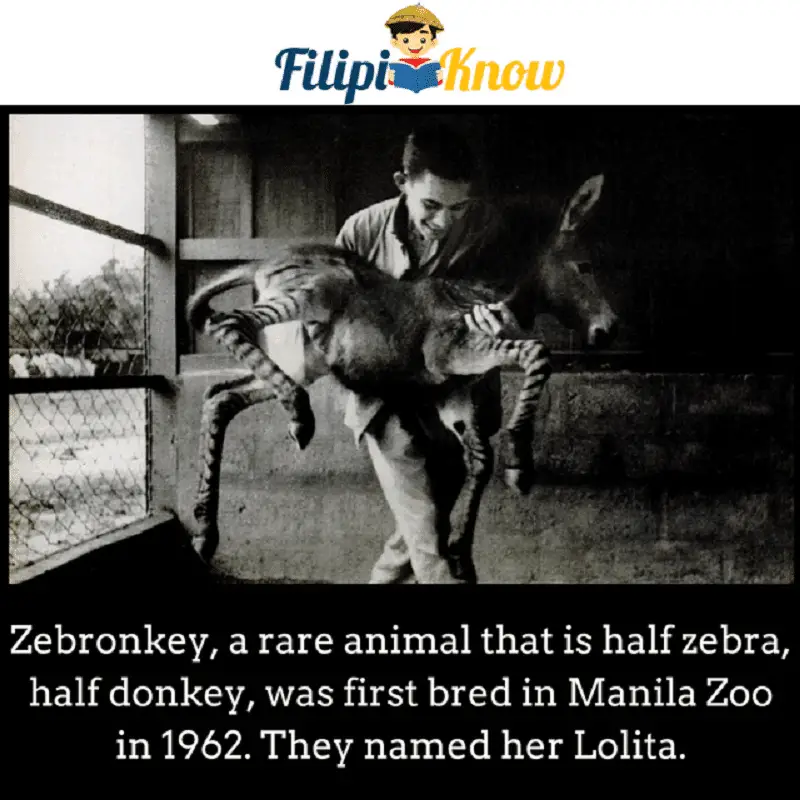 According to a LIFE Magazine article, dated October 26, 1962, Lolita:
"…is a lonely zebronkey. From the moment of her birth, both parents rejected their strange offspring and even the other animals of the zoo tend to give her a wide berth. So Lolita devotedly trails around after her keepers, hoping to have her ear scratched or be given another bottle of fresh carabao milk…she is thriving on a diet of milk, molasses, vitamins, and grass."
Just like the hybrid mule (donkey + horse), a zebronkey is also sterile (can have no offspring) because of the failure at meiosis to produce viable gametes.
Around the same time Lolita came to the world, another zebronkey named Zit was born at the Portland, Oregon zoo.
Related article:
Top 10 Weirdest Philippine Animals
57. Filipina Actress Who Won Big at Cannes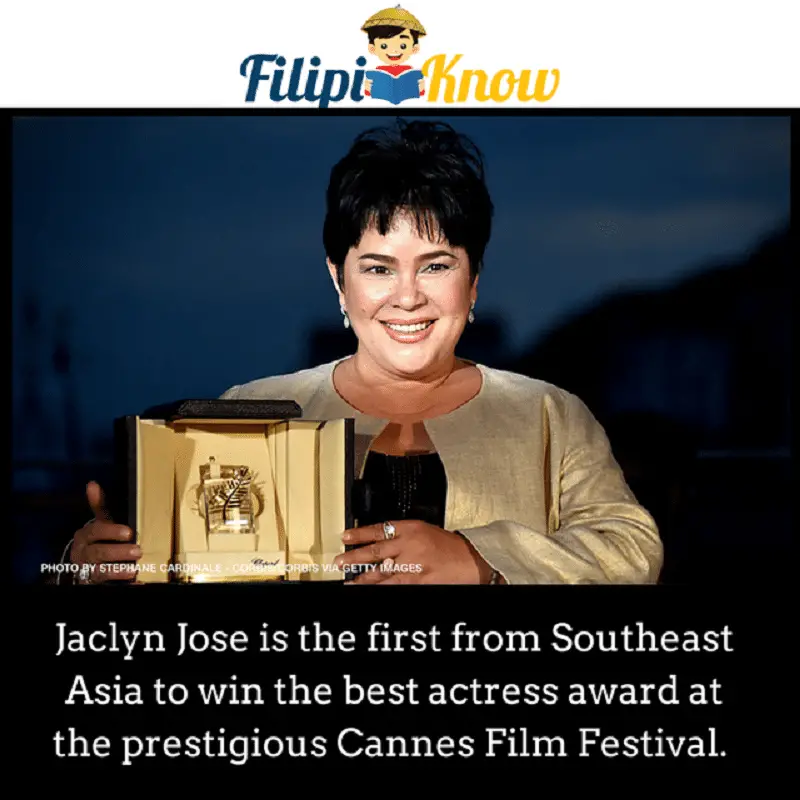 She won the award for her role in the gripping drama film "Ma' Rosa," directed by Brillante Mendoza.
For this category, she bested no less than Academy Award-winning actresses Charlize Theron (US entry "The Last Face" directed by Sean Penn) and Marion Cotillard (France's "Mal de Pierres" / "From the Land of the Moon" directed by Nicole Garcia).
The 2016 Cannes film festival jury was led by Australian director and "Mad Max" creator George Miller.
Related article: 
8 Filipinos Who Make You Proud To Be Pinoy
58. Meet the Real Lapu-Lapu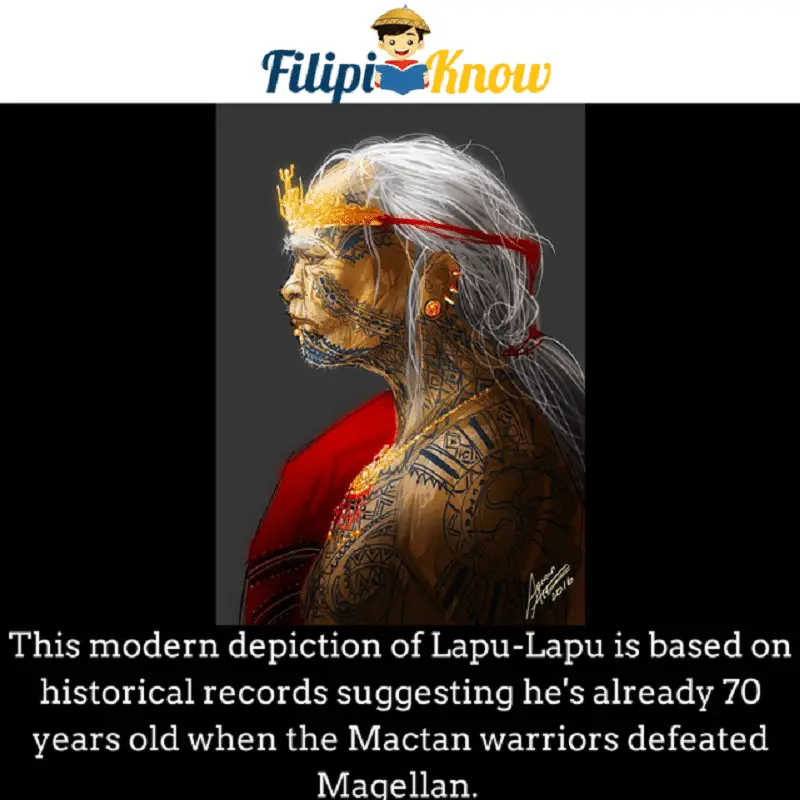 Made by renowned Filipino comic book artist Arnold Arre (author, "The Mythology Class" graphic novel), this beautiful modern-day image of Lapu-Lapu is a far cry from the younger, more muscular warrior depicted in monuments and books.
In his Philippine Daily Inquirer column, award-winning historian Ambeth Ocampo shares this tidbit about Lapu-Lapu after getting hold of a book by Danilo Madrid Gerona entitled "Ferdinand Magellan: The Armada de Maluco and the European Discovery of the Philippines"
The book, which is based on "Spanish and Portuguese primary sources found in repositories in Madrid, Sevilla, and elsewhere," shatters the existing perception we have of the Mactan hero.
As said by Ocampo: "Contrary to popular belief, Lapu-Lapu was not a handsome, gym-fit, warrior who killed Magellan, Lapu-Lapu was, like President-elect Rodrigo Duterte, 70 years old. He was not in the battle itself. Another textbook fairy tale down the drain."
Note: According to Mr. Arnold Arre, he based the ceremonial crown on an "old illustration of a Visayan warrior in the Boxer Codex."
Related article:
11 Things From Philippine History Everyone Pictures Incorrectly
59. Beauty and Brains of Binibining Pilipinas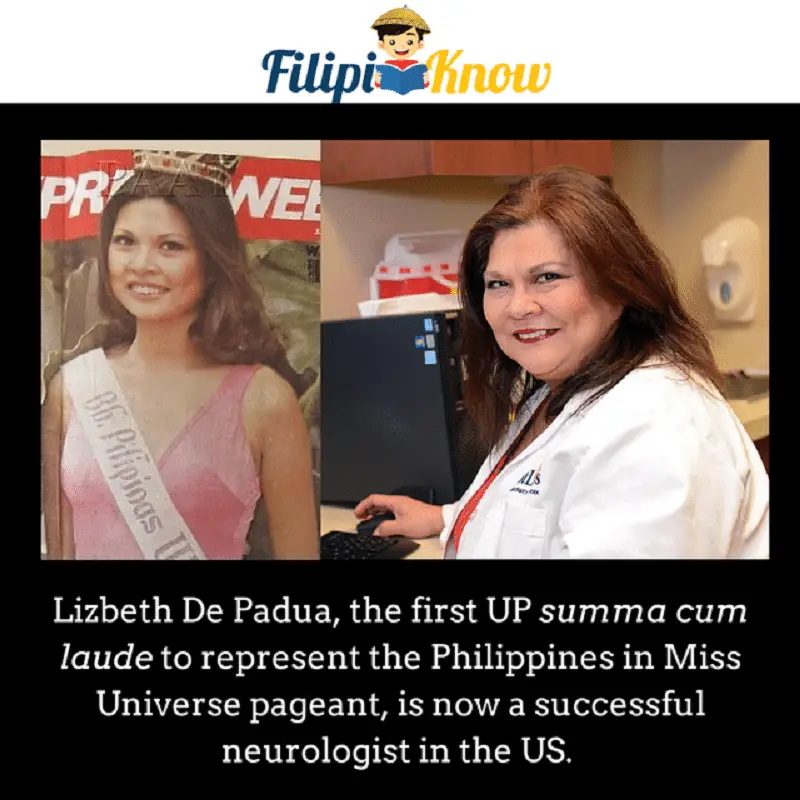 Lizbeth took up biology at UPLB and graduated summa cum laude in 1976. She was preparing for a magazine photo shoot when a salon owner, also a talent scout, invited her to join that year's Miss Philippines pageant.
The 19-year-old de Padua tried her luck and eventually won, making her the first UP summa cum laude and the first one with a full college degree to ever win the title.
After competing in Miss Universe, beauty-and-brains de Padua enrolled in a medical school in the Philippines and later completed her residency training in the United States. She is now a respected neurologist in Bethlehem, Pennsylvania.
Asked about her experience in the said pageant, de Padua said: "Winning Miss Philippines was kind of a blessing and a curse. As much as I try to downplay it now, it gave me name recognition in the Philippines. After I was done with it, every department I was in in medical school, someone said, 'Oh you are Miss Philippines.' Sometimes, it was unwanted attention."
Learn more about Filipina beauty queens:
7 Fascinating Facts About Filipina Beauty Queens
60. The Golden Age of Manila's Streetcar System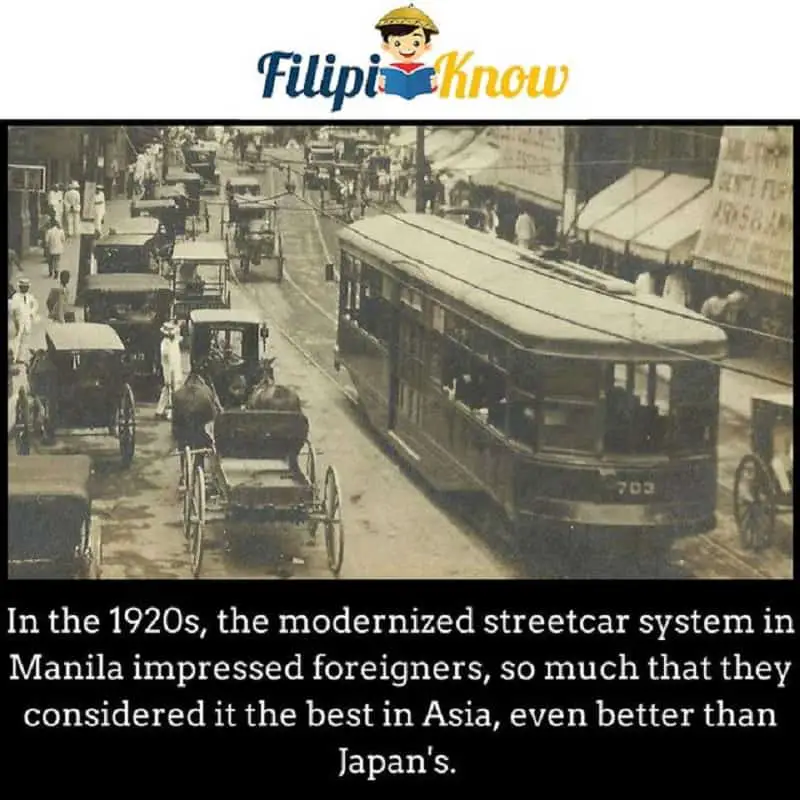 The tranvia system was destroyed during WWII. Discouraged by the high cost required to restore the tranvias, MERALCO decided to pursue the business of providing power instead.
To cope with transportation shortage, Filipino ingenuity gave birth to jeepneys. Soon, what was intended to be a temporary solution to a problem proliferated Manila streets and now remains the backbone of the city's transportation system.
Related article:
22 Things We No Longer See in Manila
61. Maria Paz Mendoza-Guanzon, a Filipina of Many Firsts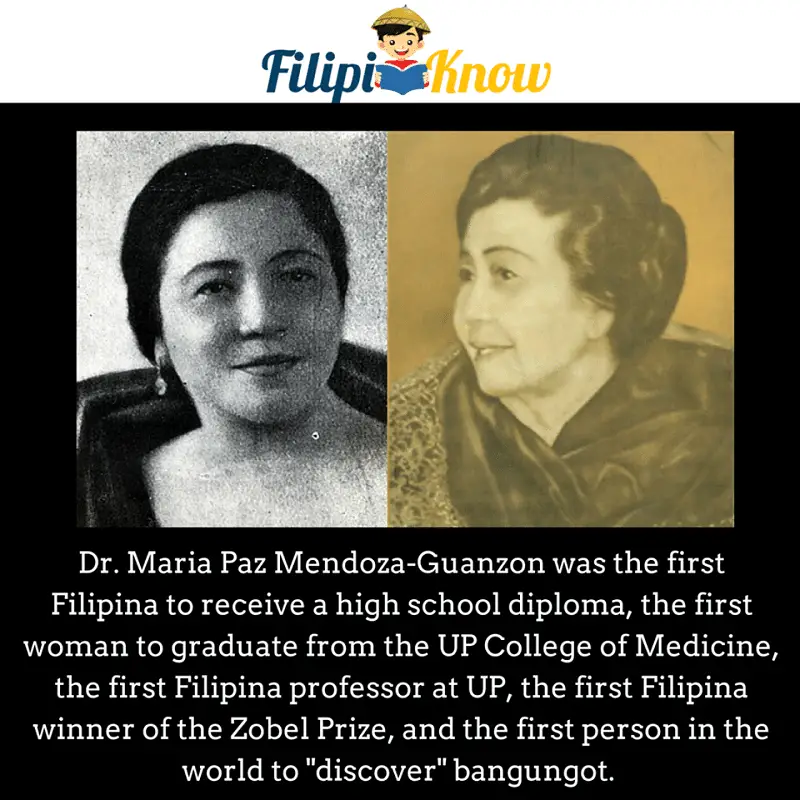 However, Dr. Mendoza-Guazon was not the first woman physician in Philippine history; this distinction belongs to Dr. Honoria Acosta-Sison, a pensionado who earned her medical degree from the Women's Medical College of Pennsylvania and eventually became the first Filipino woman obstetrician.
Related article:
30 Things You Didn't Know About University of the Philippines
62. Origin of the Word "Salvage."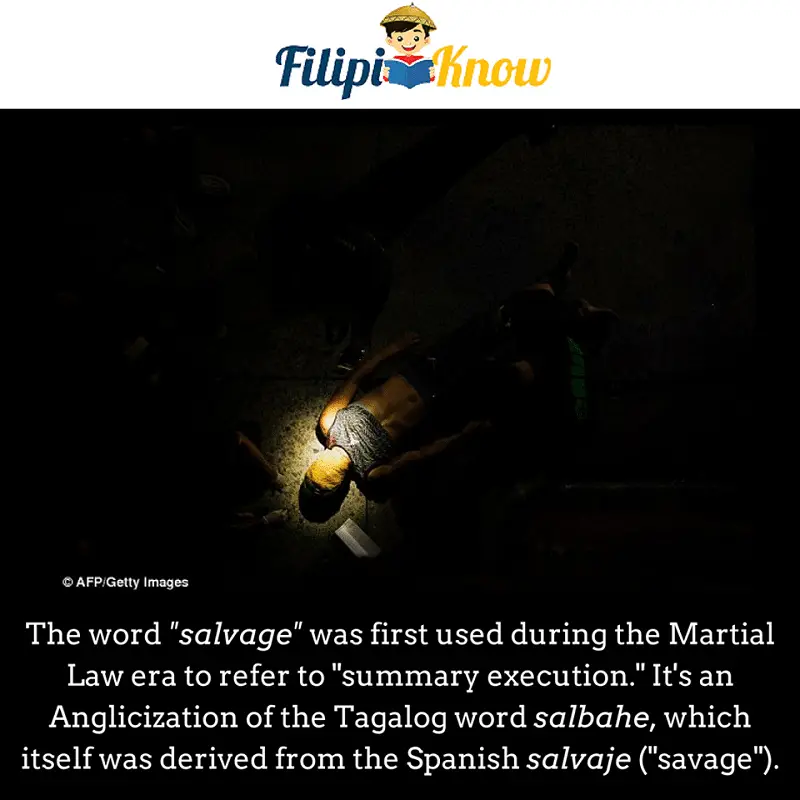 Why does the word salvage ("to save") mean summary execution in Philippine English?
In his Manila Times column in 1995, journalist Pete Lacaba traced its origin to the Tagalog word "salbahe" (naughty, abusive) which was then derived from the Spanish "salvaje" (savage, wild).
In addition to that, the Tagalog verb "sinalbahe" and the English verb "to savage" (meaning "to attack violently") share similar meaning with "salvage" in the present Philippine context. The visual similarity gave birth to its present meaning.
The Manila police reportedly first used the word to refer to summary executions during the Martial Law era.
Related article:
13 Pinoy Expressions With Crazy Origins You Would Never Have Guessed
63. Ferdinand Marcos on a 500-Peso Bill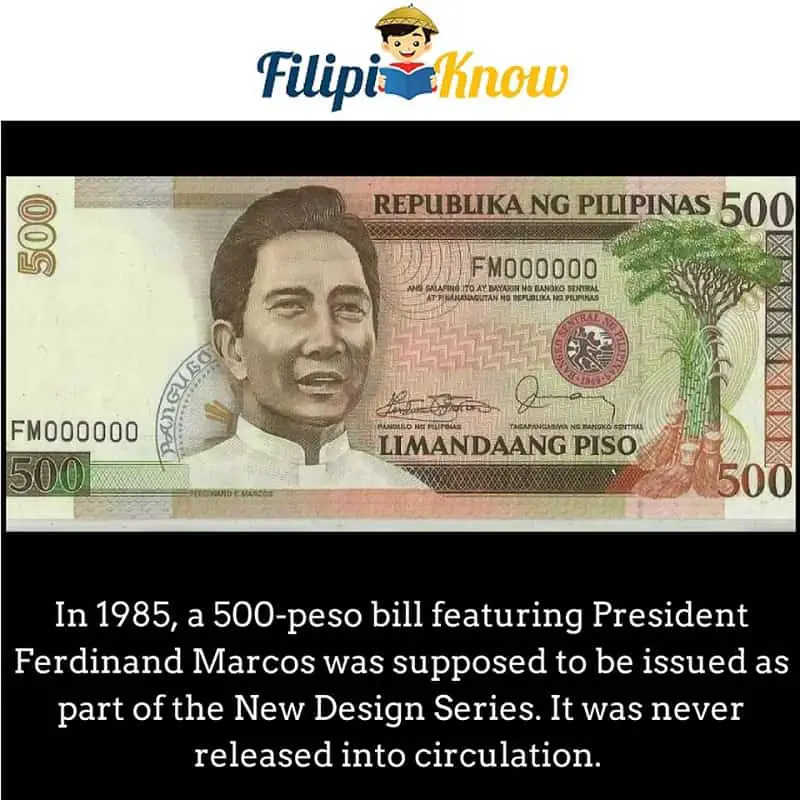 Take note that Marcos was still alive at that time.
According to the banknote's designer Romi Mananquil:
"the 500-peso Marcos bill was slated for production in late 1985. However, when a snap election was scheduled, the circulation of the newly printed bills was put on hold in deference to the law against electioneering as Marcos, whose image appeared on the new banknote was the incumbent running against Corazon Aquino.
My 500-peso Marcos bill was never circulated and with the events that proceeded: the snap elections, the disputed victory of Marcos, the success of People's Power in February 1986 and the instatement of Aquino as President, it perhaps seemed fitting that any vestiges of the overthrown government were thrown off. President Corazon Aquino soon ordered the redesign of the bill to honour her husband, Senator Benigno "Ninoy" Aquino whose 1983 slaying became the catalyst for change and the new democracy's rallying cry for the overthrow of Marcos. 
Though I was once again tasked with the redesign of the bill, my family's move to Canada prevented me from taking on the assignment."
Related article:
6 People Who Killed Ninoy Aquino, According to Conspiracy Theorists
64. The "Marston Mat" from WWII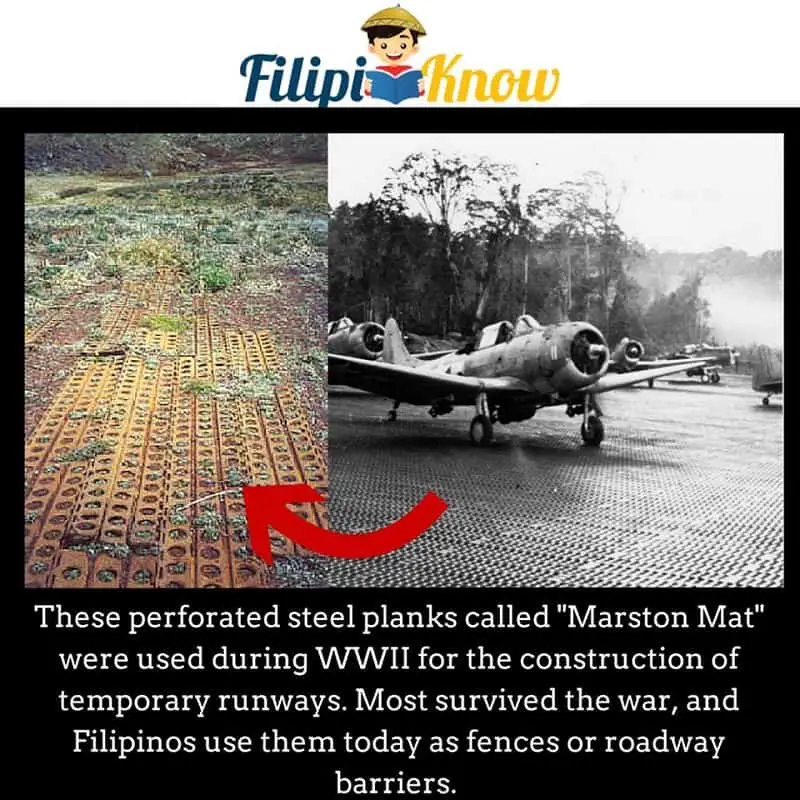 Commonly misspelled as "Marsden matting," these steel planks were first used in Marston, North Carolina, hence the name.
As described by Peter J. Dean in "Australia 1943: The Liberation of New Guinea" (Cambridge University Press, Set 27, 2013), these sheets have "holes in them for lightness, and clips along the sides so they could be connected together. They could be stacked in storage. Marston Mat required a well-compacted subgrade, but could be used over sand and gravel areas, such as beaches or dry riverbeds, that would not otherwise be able to form a satisfactory surface."
Related article:
10 Biggest Misconceptions About World War II In The Philippines
65. Filipina Painter Behind Singapore's Art Bridge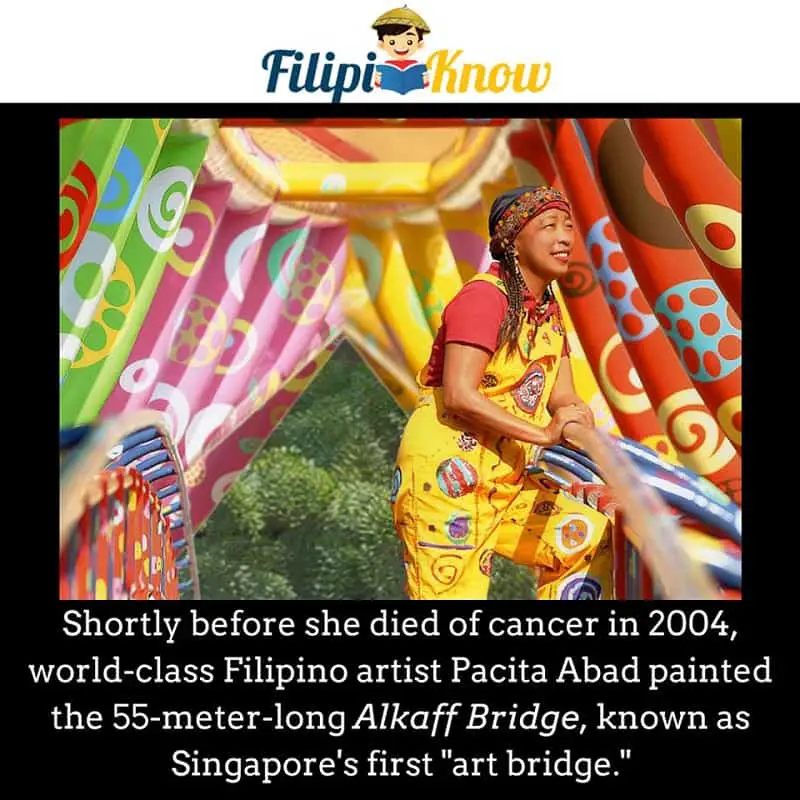 While doing so, she underwent radiotherapy treatment every morning as an outpatient and then went to work on it immediately after.
She covered the bridge with 2,350 multi-colored circles just a few months before she passed away.
Alkaff Bridge is a pedestrian bridge in Singapore. It spans the Singapore River at Robertson Quay, located in the Singapore River planning area within the Central Area.
Born in Basco in 1946, Pacita earned a BA degree in political science at the University of the Philippines but was later forced to leave for America in 1970 due to her political activism against the Marcos dictatorship.
She studied law in San Francisco but she soon shifted gears and started a prolific thirty-year career as a painter. Her works are characterized by "vibrant color, constant change, experimentation, and development".
Once her home studio, Fundacion Pacita in Batanes was refurbished by Budget Secretary Butch Abad, Pacita's brother, and is now the most expensive and luxurious hotel in the province.
Related article:
9 Interesting Facts You Might Not Know About Batanes
66. The "It" Girls of Martial Law Era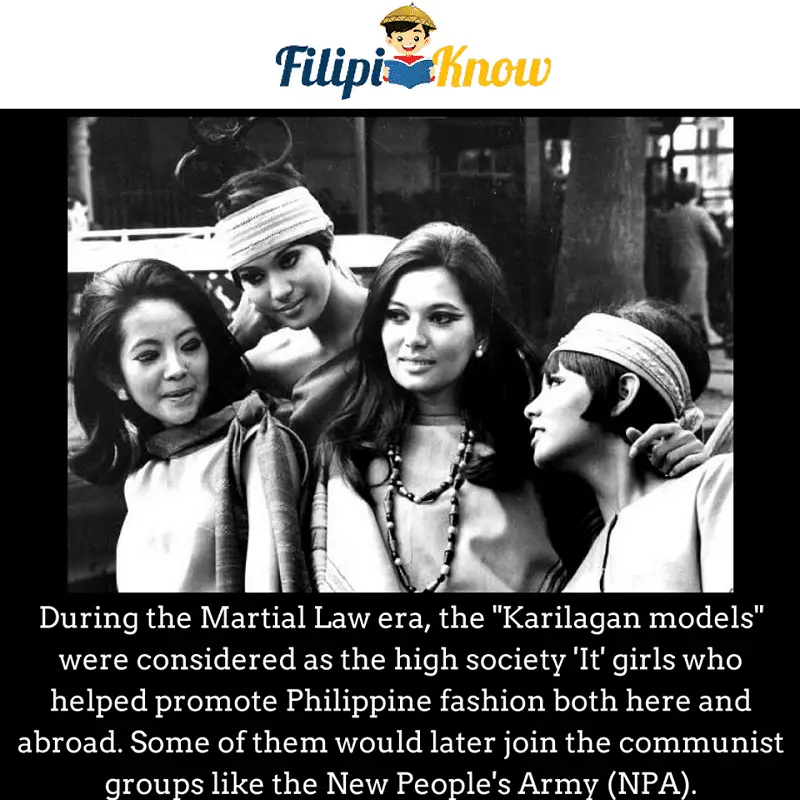 The Karilagan International was founded by Conchita Sunico, a former beauty queen herself and also the Philippines' first tourism commissioner under Diosdado Macapagal's administration.
Karilagan "was one closely knit family of fashion designers and models in the early '60s to the late '80s."
Maita Gomez, one of its former models and also crowned Miss Philippines in 1967, broke the mold when she joined the underground communist movement in the 1970s, supposedly after witnessing the plight of the poor in the aftermath of Typhoon 'Yoling.'
She returned to the mainstream society in 1986 and took up a master's degree in economics at the University of the Philippines. Before her death, Maita briefly taught economics at De La Salle University and became a vocal advocate for the environment.
She passed away in 2012 at 65 years old.
Baboo Mondoñedo, another former Karilagan model, chose to join the rebels led by Fr. Conrado Balweg in the Cordilleras.
Related article:
10 Lesser-Known Photos from Martial Law Years That Will Blow You Away
67. Pinoy Character in Archie Comics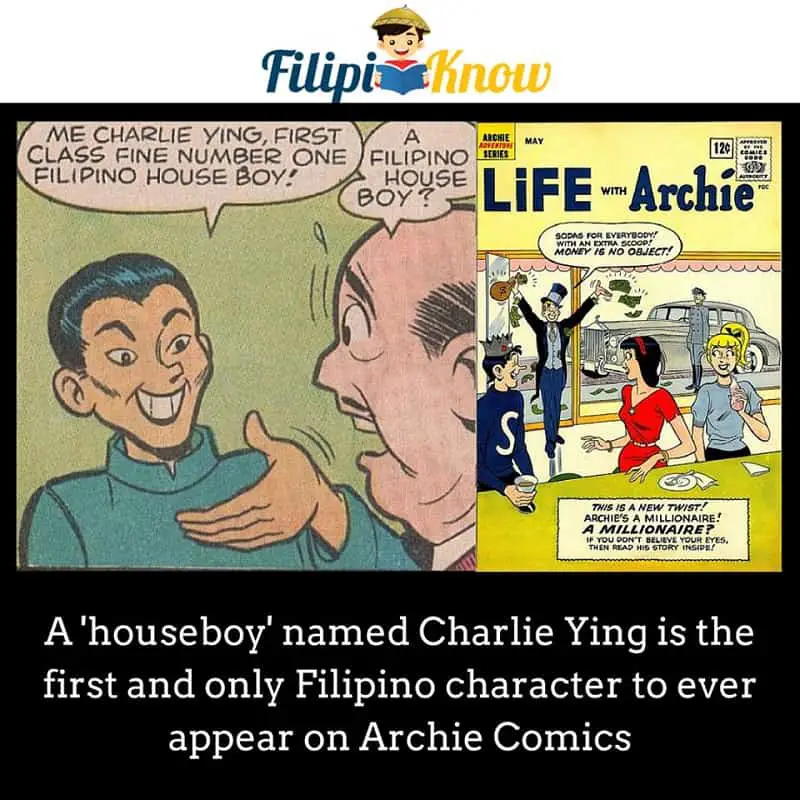 Unknown to most fans of the long-running comic book series, a Filipino character appeared in the May 1962 issue of Archie comics.
In "Life with Archie" #14, the protagonist Archie Andrews found a briefcase containing $1 million in cash. The overnight millionaire started spending the windfall on all kinds of luxury, including a Rolls Royce for his father and a swimming pool.
Archie also hired a Filipino houseboy named Charlie Ying, described as a "grotesquely buck-toothed racial caricature" with a weird accent and who refuses to work in a house "where peoples don't dress for dinner!!"

The character is an example of racial stereotyping in the media during the 1960s, and his portrayal in the said comics was anything but flattering for the Filipinos living in the US at that time.

Turns out, the first few editions of Archie comics were notorious for lacking diverse characters. In his book "Twelve-Cent Archie," comics scholar Bart Beaty mentioned that the "sum total of black people depicted in the nearly four thousand Archie stories of the twelve-cent period then is three, none of whom appear in Riverdale and none of whom are given a speaking role, let alone a name."

Related article:
10 of the Most Hilarious Characters From Classic Pinoy Komiks
68. Philippines' Oldest Person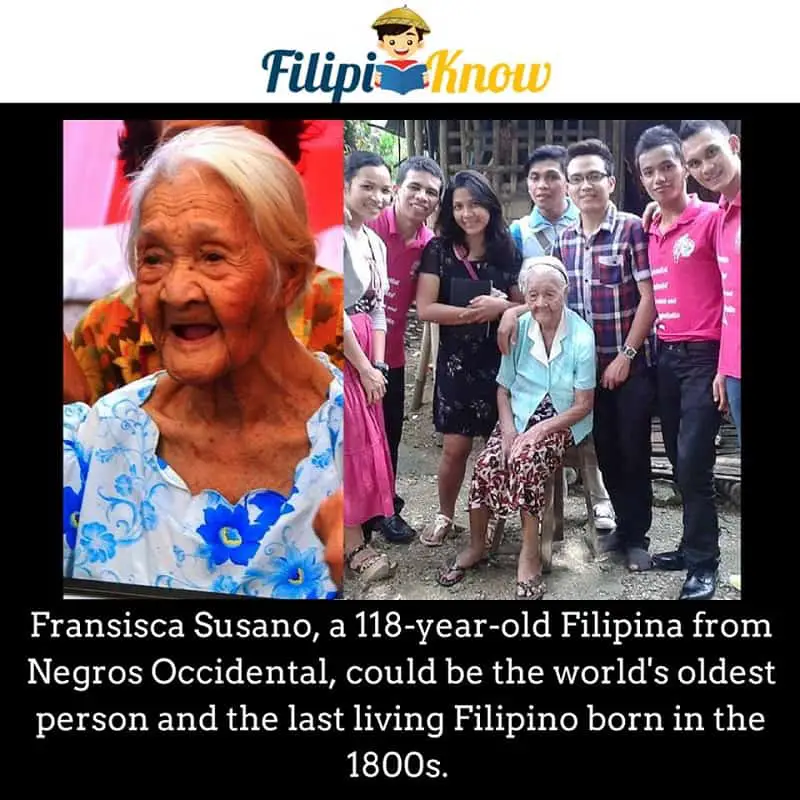 A native of Kabankalan, Negros Occidental, Mrs. Susano was born on September 11, 1897.
She has 14 children, the oldest of which is 99 years old and still alive. She also has 70 grandchildren and 4 great-grandchildren.

In an interview with an online news website in 2015, Susano said that she never went to school, and she and her husband, who died many years ago, were able to survive by working as farm laborers.

Asked about her secret to long life, she answered "I always eat vegetable. I also eat meat when there's meat."

Susano was among the centenarians in her province who received one-time cash incentive worth P100,000. This was after the provincial board approved in early 2015 the "Negros First Centenarian Act," an ordinance that provides cash benefits to centenarians who have been residents of Negros Occidental for at least 3 years.

Currently, the recognized world's oldest person is Emma Morano of Italy, as confirmed by Guinness World Records. She is 116 years old and was born on November 29, 1899.
Related article:
The Oldest Known Photos of the Philippines Ever Taken
69. (Almost) Filipino Mutant in X-Men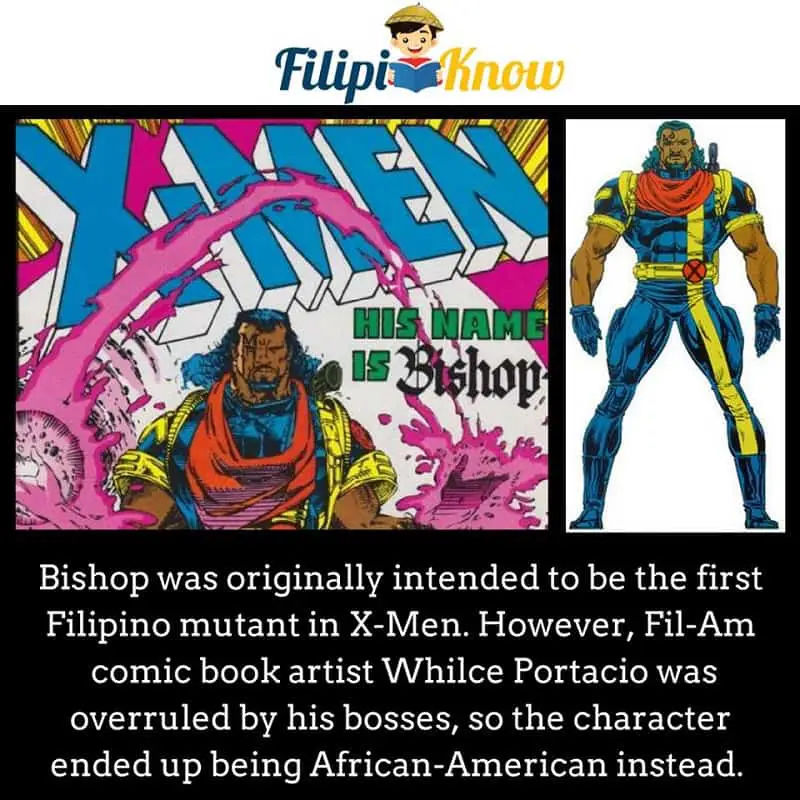 Whilce Portacio co-created the character for Uncanny X-Men with writer John Byrne and artist Jim Lee. Bishop is an energy-manipulating mutant policeman from a dystopian future.
Portacio eventually worked on his own comic called Wetworks and made his character Grail (Joel Salvador Alonday II) into a Pinoy.
Related article:
10 Classic Pinoy Superheroes You've Probably Never Heard Of
70. Origin of "Filipino Time."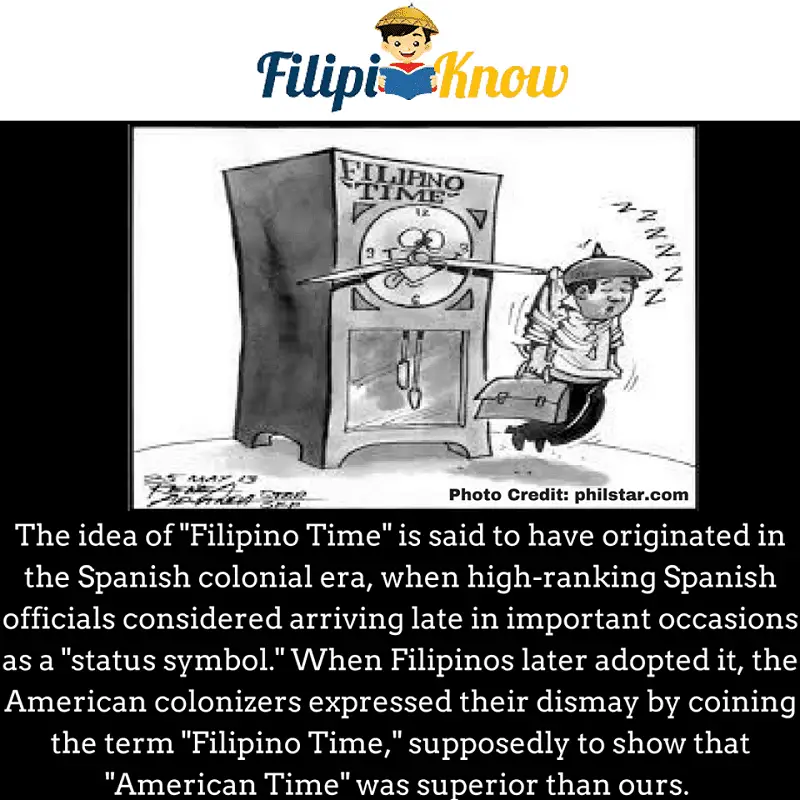 Read the full story: The Intriguing History of 'Filipino Time'
Continue Reading: