Useless facts are meant to entertain the trivia and history buff in us. But here in FilipiKnow, it is our goal to bring you not only useless facts but also information that will help you know more about our past, culture, and achievements as a nation.
In this second installment of the ultimate trivia list, we're going to explore lesser-known trivia about Philippines that will impress foreigners and Filipinos alike.
Table of Contents
21. The Bagobos' Bizarre Beautifying Procedure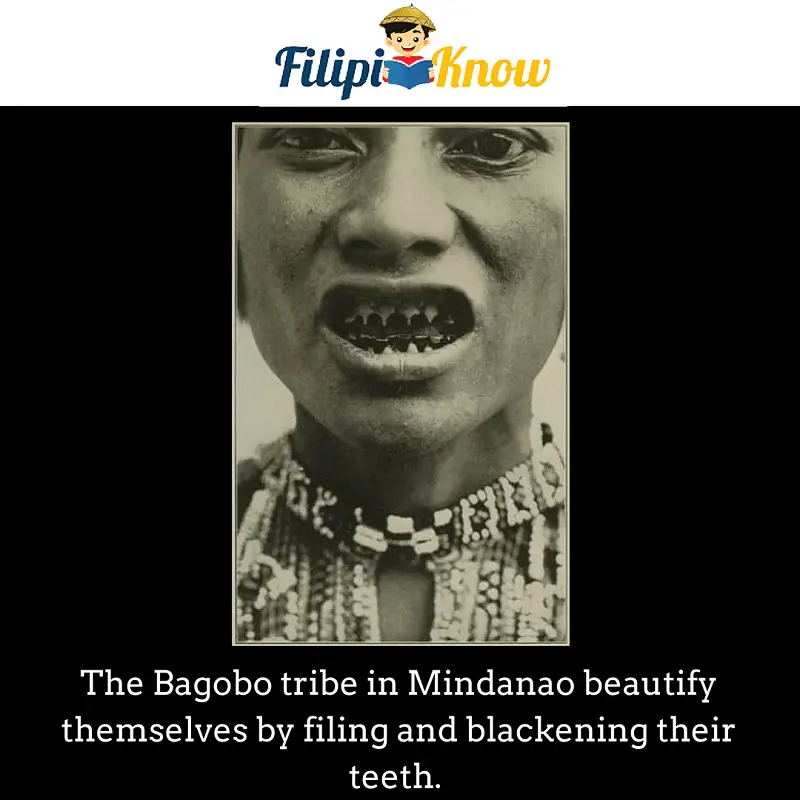 The Bagobo, one of the largest indigenous groups in the country, require their members who have reached the age of puberty to have their teeth filed and blackened. It is a beautifying procedure they consider as an ultimate rite of passage for every young Bagobo.
To file the teeth, the candidate must place his head against the operator and grip a stick of wood between his teeth. Each tooth is then filed, leaving only the stump.
After the sharpening, the teeth are blackened using either a deposit formed through a smoke coming from a charring bamboo or a powder known as tapEl produced by the lamod tree.
During the entire duration of the treatment, the candidate is not allowed to drink water, eat sour food, or attend a funeral to avoid having teeth with poor color.
Related article:
Our pre-colonial ancestors compressed their babies' skulls for aesthetic reasons.
22. The First Woman in Harvard Medical School Was a Filipina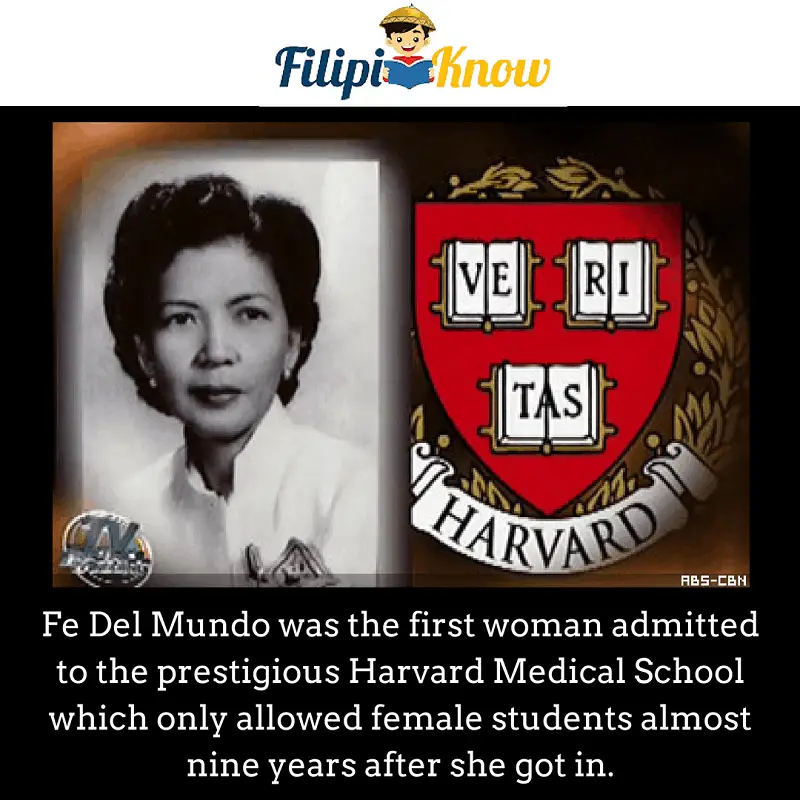 Fe del Mundo was a woman of many firsts. She founded the first pediatric hospital in the Philippines and also invented an improvised incubator, a cloth-suspended scale, and a radiant warmer made of bamboo that was widely used in rural areas.
She was also the first woman admitted to Harvard Medical School which only allowed female students almost nine years after she got in.
In 1936, Fe Del Mundo earned a post-graduate scholarship offer to enter Harvard University Medical School. However, she was already in a men's dorm in Boston when Harvard — which would only open its gates to women in 1949 —  realized they allowed a female to be part of their all-male school.
Thanks to her impressive scholastic credentials, Fe del Mundo was finally allowed to stay in Harvard and became its first and only female student at that time.
Meet more amazing Filipina heroines and trailblazers in these articles:
9 Kickass Women in Philippine History You've Never Heard Of
14 Amazing Filipina Heroines You Don't Know But Should
23. Philippine Church Built With the Use of Egg White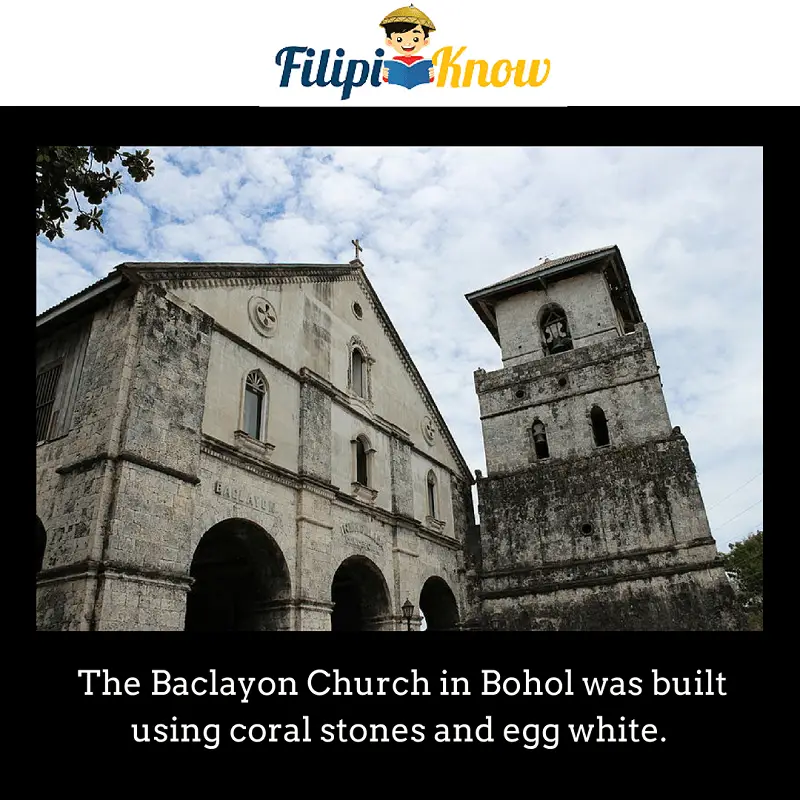 Completed in 1727, the Baclayon Church in Bohol is considered to be one of the oldest churches in the country.
Baclayon was the first choice of the Spanish Jesuit missionaries to be their seat, but fear of Moro marauders forced them to move to Loboc. It was only in 1717 that Baclayon became a parish, leading to the construction of the church.
The church was built by a total of 200 native laborers who took coral stones from the sea, cut them into blocks, and lifted them using bamboo. To cement the blocks together, they used the white of about 2 million eggs. The church was completed in 1727 and obtained a large bell in 1835.
Unfortunately, the Baclayon Church is one of the heritage sites in Bohol that was destroyed by a 7.2 magnitude earthquake that hit the province last year.
Related article:
9 Things You Didn't Know About The Catholic Church In The Philippines
24. Little Africa of the Philippines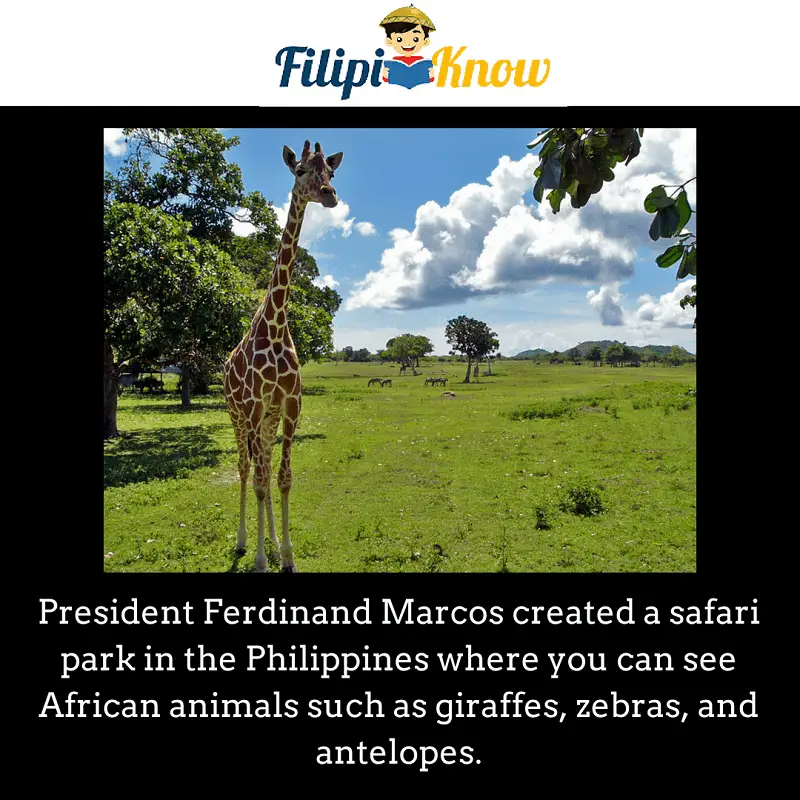 Located in Busuanga in Palawan, the Calauit Island was declared a game preserve and wildlife sanctuary by the Presidential Proclamation No. 1578 under the Marcos administration.
The sanctuary, which is also the only known savanna in the country, was created by the late dictator as a response to an appeal by the International Union of Conservation of Nature (IUCN) to save endangered animals in Kenya, Africa.
With an area of 3, 700 hectares, the Calauit Island Wildlife Sanctuary is where both African wildlife and endemic Philippine animals live in their natural state with minimum human interference.
It is home to many species of African animals such as zebras, giraffes, waterbucks, gazelles, and impalas as well as Philippine animals like Calamian deer, bearcat, sea turtle, and Palawan peacock pheasant among others.
Meet more interesting animals in these articles:
How An Elephant Became Pre-War Manila's Walking Alarm Clock
25. A Different Kind of Prison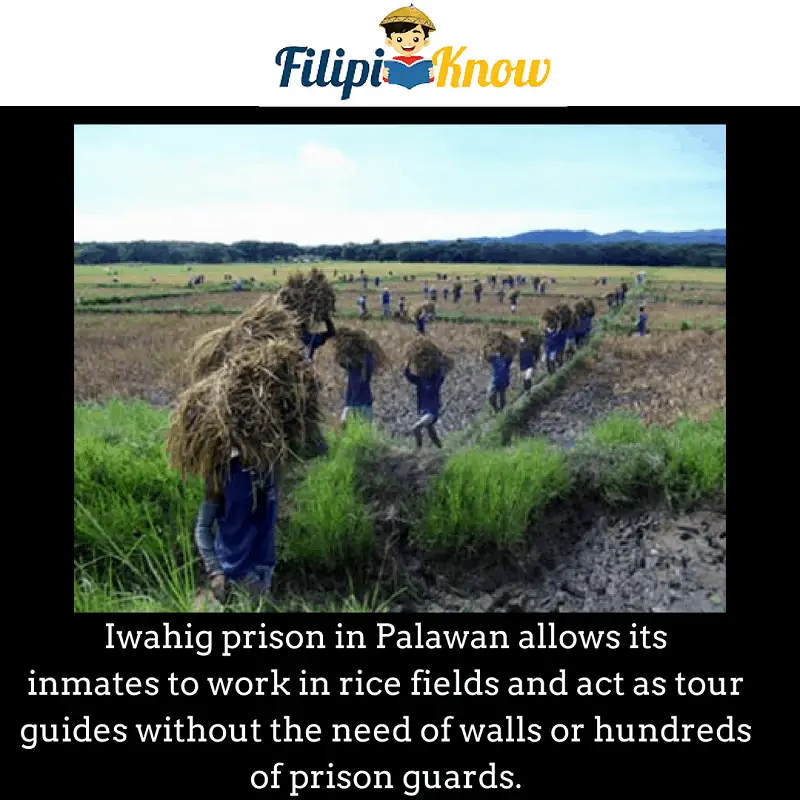 The Iwahig Prison and Penal Farm in Puerto Princesa, Palawan started during the American Occupation. Governor Luke Wright was the one who authorized its establishment on November 16, 1904. During its first few years, it faced several instances of attempted escapes, but when Col. John R. White became its superintendent in 1906, the colony started to become a huge success.
Today, inmates are allowed to act as tour guides, manufacture souvenirs, and take various vocational activities such as farming, forestry, and carpentry.
Asked why the prison has no walls and hundreds of guards, the warden explains, "they have nowhere to go, they will only be beset my mosquitoes and fall ill of malaria in the jungle" should they try to escape.
26. Philippines' Dwarf Colony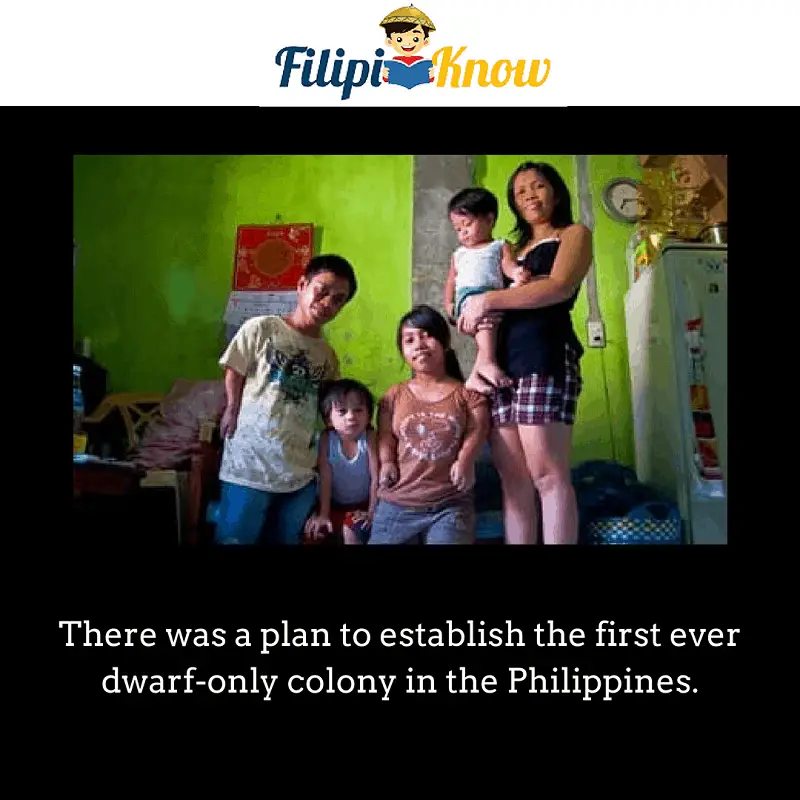 To escape the harassment and discrimination that are part of having a diminutive size, Alejandro Doron Jr. along with 30 other Filipino dwarves announced their plan to establish the country's first colony for little people.
In an article published in The Guardian in 2011, Doron said that there was already an investor who donated 16, 000 sqm of land near Manila, although additional funding is still needed to clear the fields and build the houses.
Doron, a 35-year-old bartender who works at The Hobbit House, the country's only restaurant run entirely by little people, hopes that politicians will help them build their dream colony and even turn it into a tourist spot in the future.
27. Texas Used To Be Called Nuevas Filipinas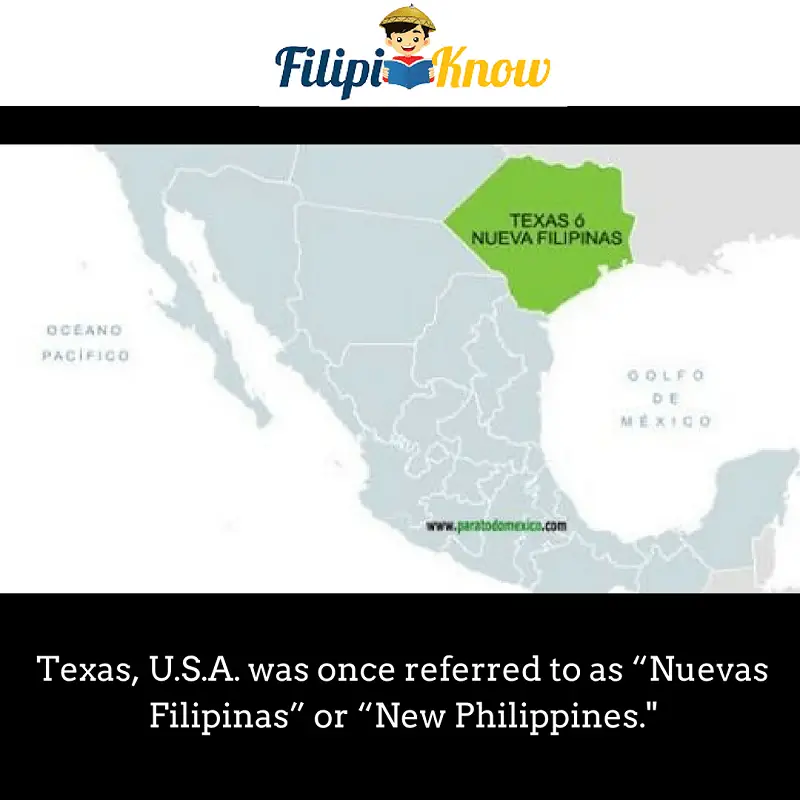 According to Texas State Historical Association, both Nuevas Filipinas and Nuevo Reino de Filipinas were secondary names assigned to an area of Texas located above the Medina River.
Antonio Margil de Jesús first used Nuevas Filipinas in a letter to the viceroy dated July 20, 1716. It was also used by missionaries in the area with hopes of gaining royal patronage which Spain gave to the Philippines a century and a half earlier.
The name regularly appeared on documents during the next forty years but eventually disappeared towards the end of the 18th century in favor of 'Texas.'
28. A Filipino Hero Pilot Who Saved 272 Passengers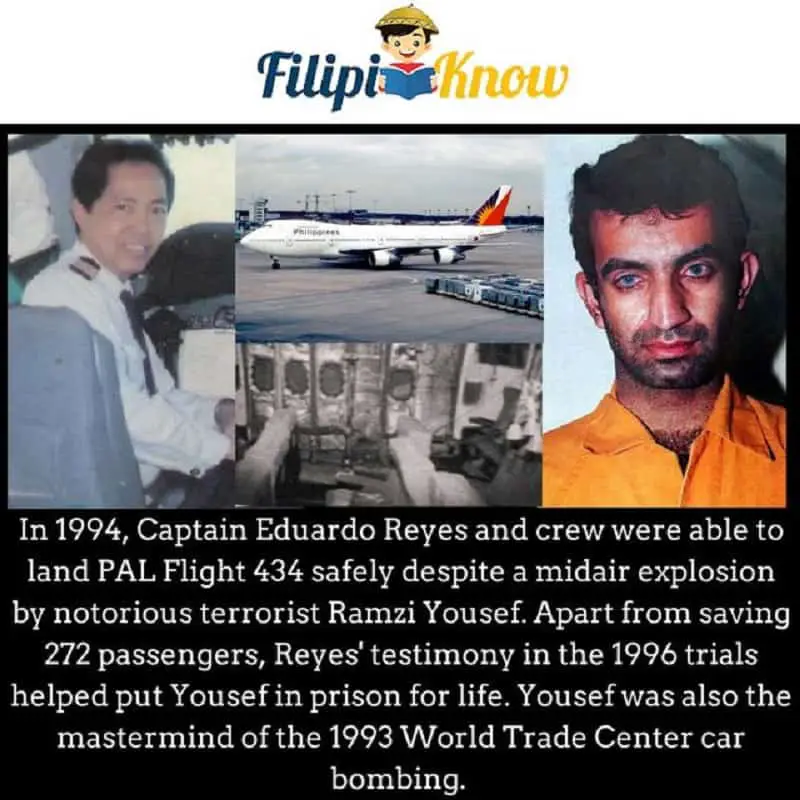 On December 11, 1994, Captain Ed was flying PAL Flight 434 en route to Tokyo from the Philippines. He had just assured the passengers of "a beautiful day in Tokyo" when there was later on a sudden violent explosion.
A notorious terrorist had gotten on board in Manila, left an improvised bomb underneath his seat, and disembarked in the Cebu stop (the terrorist Ramzi Yousef would later be convicted for the Flight 434 bombing and the 1993 World Trade Center bombing).
The explosion killed the Japanese man directly seated above the bomb and injured 10 more in the surrounding seats. Luckily, the aircraft skin was not compromised or they would have been sucked out. However, vital controls were damaged. The plane did not respond to left, right, up and down controls and they needed to make a turn and make an emergency landing at Naha Airport.
The captain and his crew tried different tactics even going so far as disengaging the autopilot and going on manual control. However, the explosion had damaged the ailerons (for turning left and right), the elevators (for climb and descent) and the rudders. Captain Ed and crew tried emergency procedures in their QRH (pilot's bible) but nothing worked. Finally, the captain decided to try using the plane's thrusters to turn. This was not in their handbook.
It was a feat of skill to turn and land the plane in its damaged state. Flight Engineer Dexter Comendador monitored their speed while co-pilot Jimmy Herrera was pushing and pulling the elevator controls as per the captain's orders. At one point, Herrera had both feet up on the instrument panel as the captain commanded: "pull some more." A few feet above touchdown, the captain gave his last command to "PULL" as he guided the plane down successfully. The passengers, who had already written their last wills and letters to loved ones all clapped in thanksgiving.
Captain Ed would recall that at the time of the explosion, his thought was "God forgive me, I am going to die." Instead, he saved the lives of 272 passengers and 20 crew members.
Later, Captain Ed bravely stood as witness to the trial of Ramzi Yousef. His testimony in the 1996 trial helped to put one of the world's most dangerous terrorists in prison for life.
Captain Ed Reyes put down his wings in 2002 and passed away of prostate cancer on the eve of Valentine's day 2007.
Related article:
The Filipina Pilot Who Sacrificed Her Life To Save Hundreds of Families
29. The Filipina Animator Behind "Dory."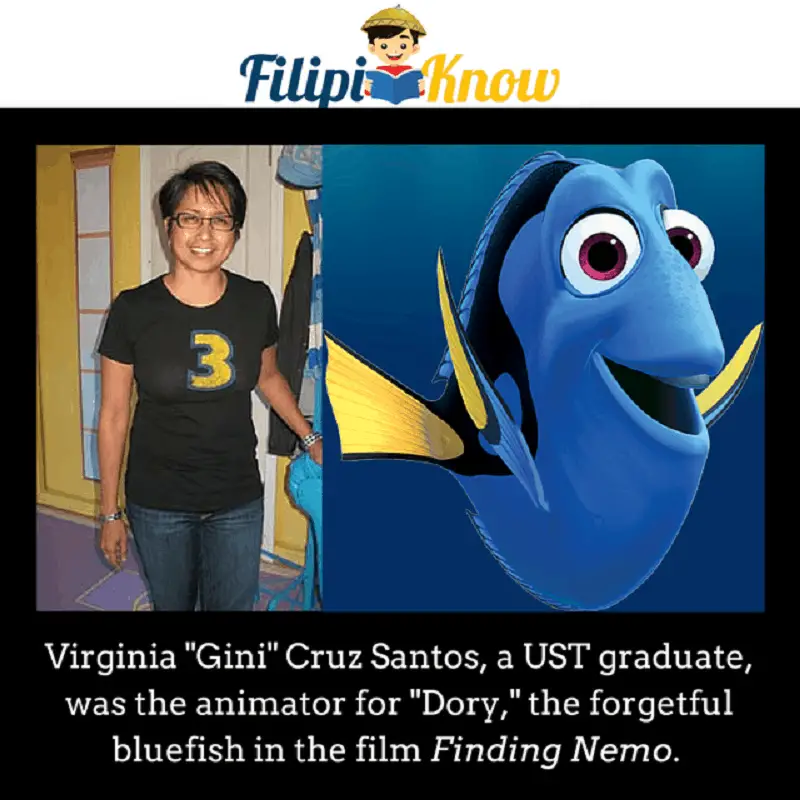 Born in Pasay City, Gini migrated to Guam with her family when she was three. But with her father's advice, she returned to the Philippines to finish her high school and college education.
In 1987, Gini earned a degree in fine arts major in advertising at the University of Santo Tomas. She returned to Guam and pursued a career in advertising before shifting to animation.
As a successful animator for Pixar, her impressive portfolio includes Woody and Jesse the Cowgirl in Toy Story 2, Sulley and Mike in Monsters, Inc., and Dory from Finding Nemo.
In a 2003 interview with the Philippine Daily Inquirer, Gini shared her experience working on Dory, the forgetful blue fish voiced by Ellen DeGeneres:
"It really appeals to me, the idea of this fish with short-term memory loss. Ellen DeGeneres was amazing. She has such a rich array of emotions in her voice."
She was also one of the animators who worked on Pixar's The Incredibles, the Oscar-winning animated movie in 2005.
Meet more world-class Filipinos:
8 Filipinos Who Make You Proud To Be Pinoy
30. President Quezon's Famous Quote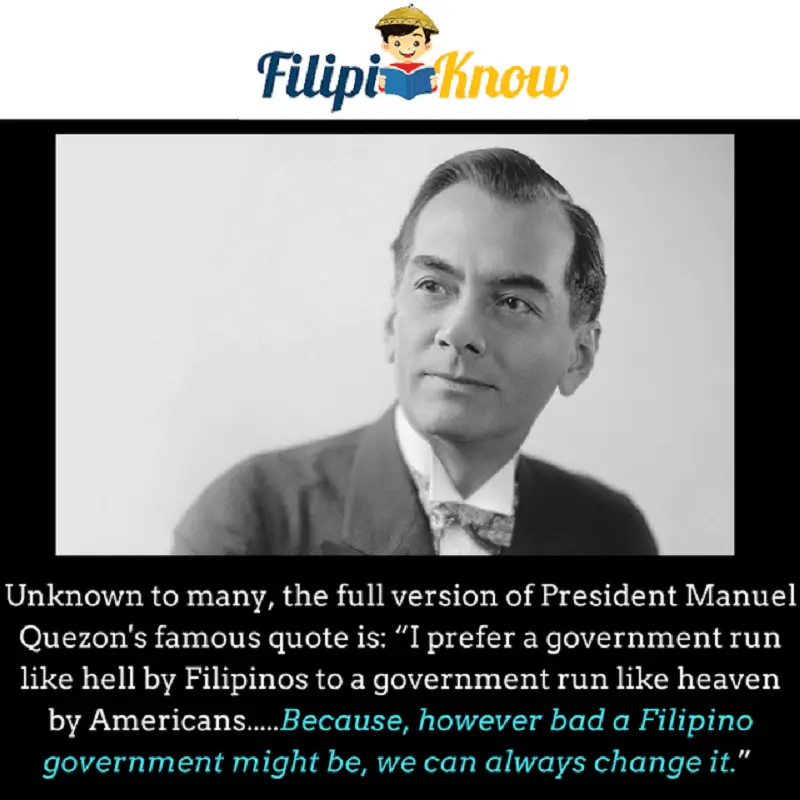 The statement, according to his descendant Manolo Quezon, "is the essence of nationalism: a people, a nation, must have the chance to make good and bad decisions, because there is simply no substitute for decisions made for one's self, by one's self."
Related article:
President Quezon's rare audio recording
31. The Mother of All Philippine Maps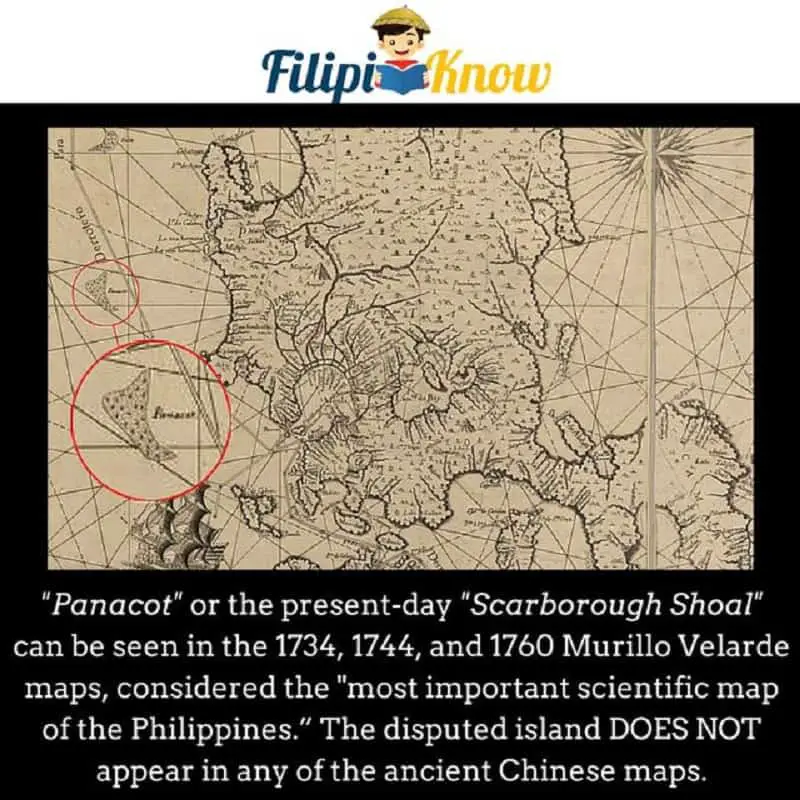 As Supreme Court Associate Justice Antonio T. Carpio wrote in his monograph "Historical Facts, Historical Lies and Historical Rights in the West Philippine Sea" and has repeatedly stressed in his lectures on the territorial dispute between the Philippines and China, Panacot has been "consistently depicted in ancient Philippine maps from 1636 to 1940."
Only after Sept. 12, 1784, when an East India Co. tea-clipper was wrecked on one of its rocks did the shoal become "Scarborough Shoal." For Carpio Panacot or Scarborough Shoal "does not appear in any of the ancient Chinese maps."
In a landmark ruling today, the U.N. arbitration court is dismissing China's territorial claims in the South China Sea, saying it has "no historic title" to the vast maritime region.
Related article:
32. Magsaysay and His Barong Tagalog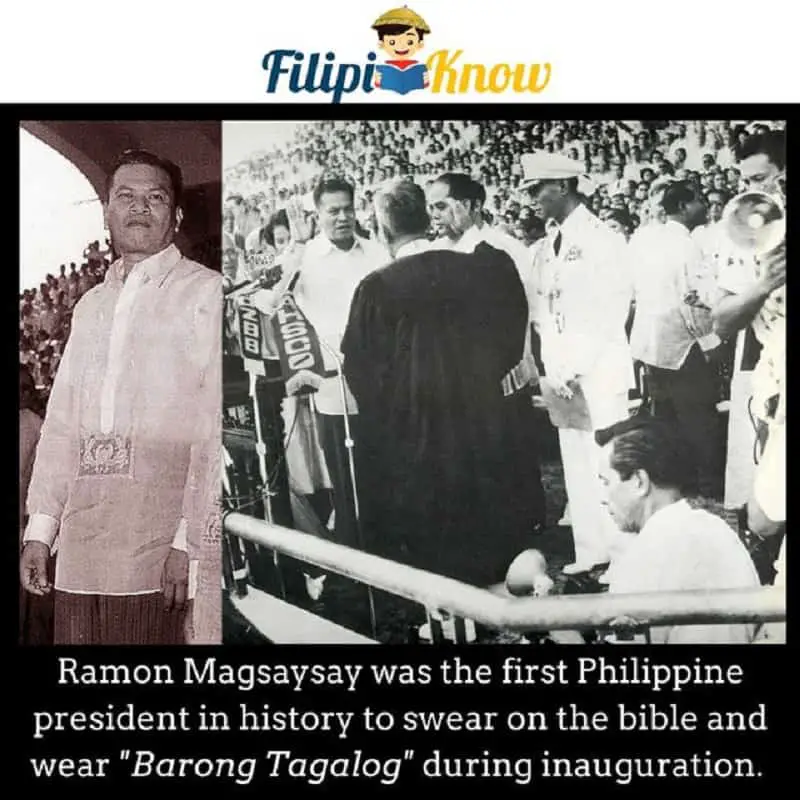 Magsaysay took his oath of office on December 30, 1953, in front of over 2 million people, the largest crowd ever to witness the ceremony.
His inauguration is memorable for two reasons: He was the first Filipino president to wear the traditional "Barong Tagalog" as well as swear on the Bible during the inauguration.
In fact, according to the Presidential Museum and Library, he used two Bibles–one from his father's and another from his mother's branch of the family.
Related article:
The Controversial Origin of Philippines' National Costume
33. Rizal Park in China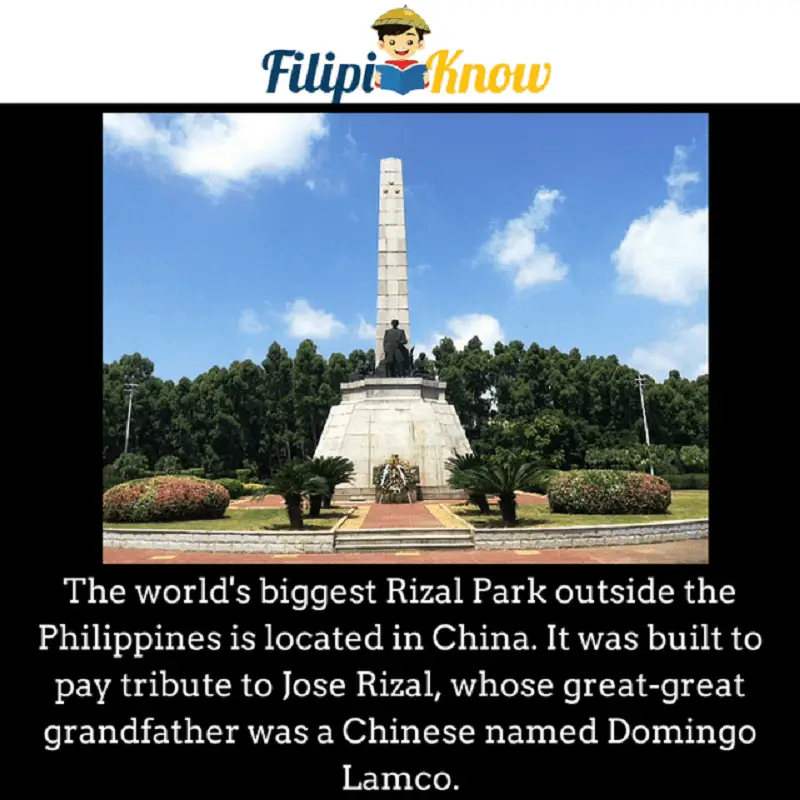 The monument dedicated to Dr. Rizal was completed in January 2003 and stands inside a five-hectare People's Cultural Plaza in Jinjiang City's Qiongque Village.
The village is believed to be the ancestral home of Rizal's paternal great, great grandfather, Ke Yinan, who was later baptized with the Christian name, Domingo Lamco, when he immigrated into the Philippines about 300 years ago.
Learn more facts about Jose Rizal in these articles:
36 Amazing Facts You Probably Didn't Know About Jose Rizal
9 Reasons Why Rizal Was Just As Human As The Rest Of Us
&nbsp:
34. A Filipino Boy Scout Who Singlehandedly Saved Thousands of Lives With the Use of a Flag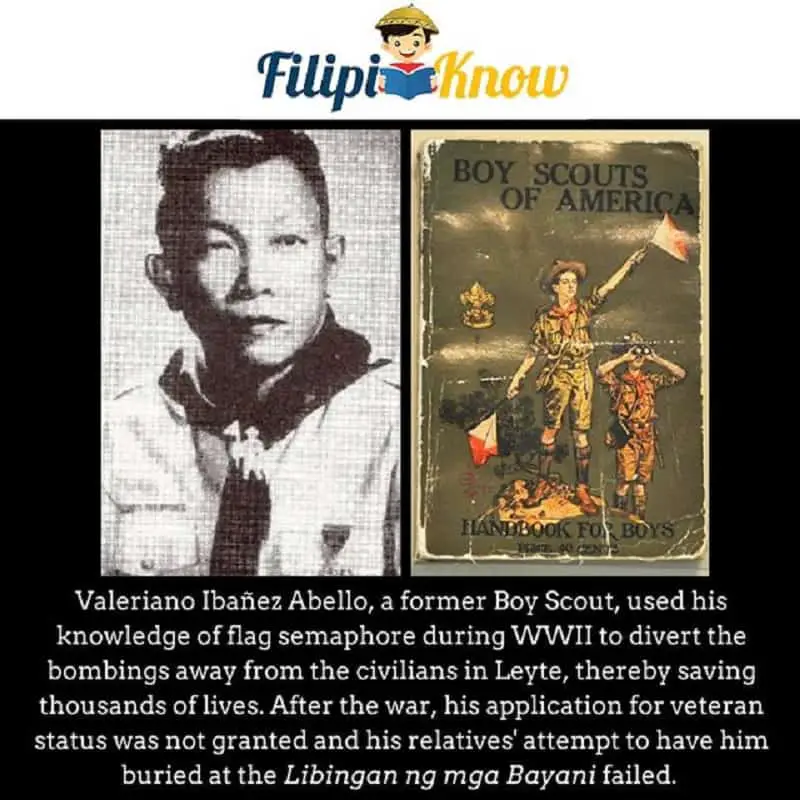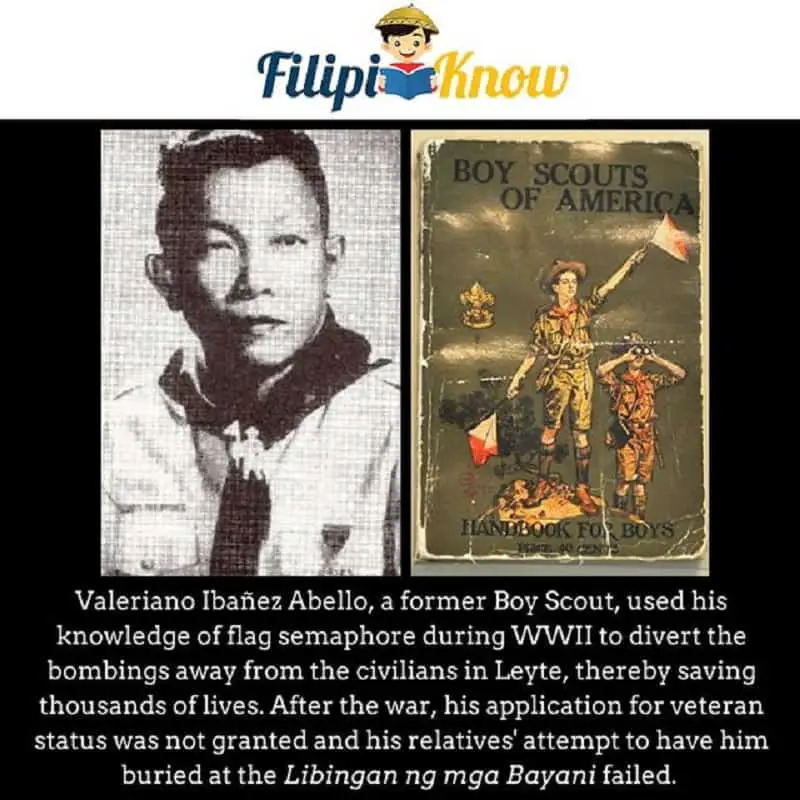 Do you know that in 1944, Valeriano Ibañez Abello and his two Boy Scout pals stood on a beach in Leyte and saved many lives?
According to sources, Valeriano Ibañez Abello was 31 years old when Allied warships came to Leyte. From the beach where he was standing, he spied two men on different ships signaling furiously.
Luckily, Abello was a former Boy Scout and understood semaphore. He was able to figure out that there were going to be bombings prior to the forces making their landing.
Abello promptly made his family evacuate but rather than running away himself, Abello stayed despite his neighbors' warnings.
Abello used flag semaphore to attempt to communicate with US Warship 467 from the shores of Barangay Telegrafo in Tolosa.
Using two white sheets on sticks, he signaled, "Don't bomb the beaches, there are civilians. If possible let me direct the shelling."
Joined by two other Boy Scout friends, Antero Junia and Vicente Tiston, Abello got on a banca to get near the warship. It was only 1 kilometer but the distance seemed greater as the Japanese shelled and capsized their little boat until they were finally hoisted up by US soldiers.
Also a forestry personnel, Abello was cognizant with map reading and he was able to pinpoint Japanese installations for the US troops. His assistance helped divert the bombings away from the populated areas of Tolosa.
Abello was awarded the Philippine Legion of Honor by President Magsaysay on Oct. 20, 1956. However, Abello was not awarded veteran status after the war, a lapse of history said PDI columnist Belinda Olivares-Cunanan. He was also not allowed to be buried in the Libingan ng mga Bayani.
Learn more about forgotten Philippine heroes:
5 Great Philippine Heroes Nobody Remembers
5 Awesome Philippine Heroes Who Are Not Filipinos
35. Filipina Olympic Silver Medalist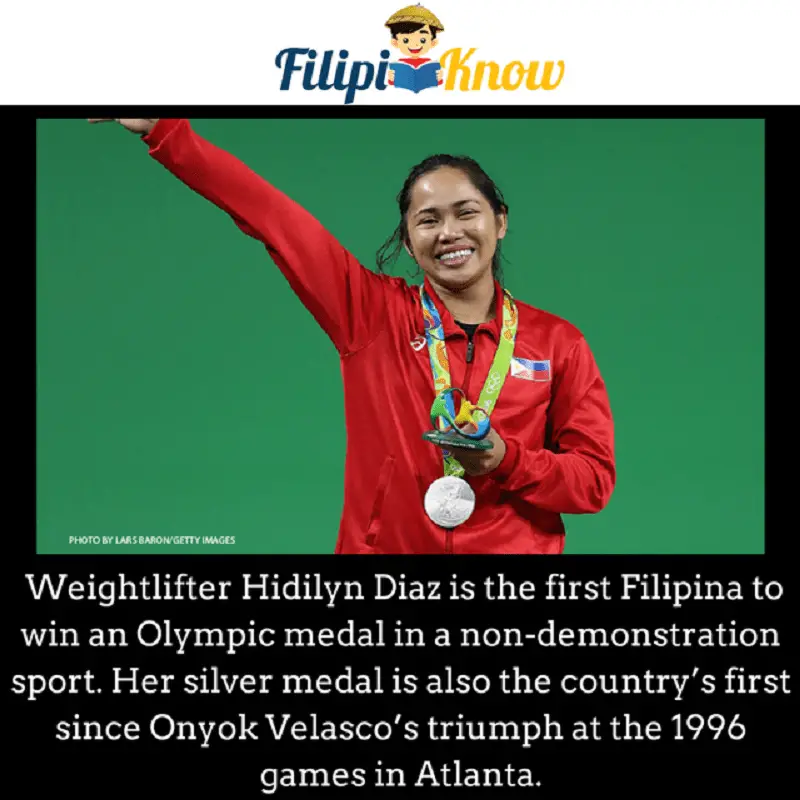 Diaz, 25, one of 13 Philippine athletes competing in Rio, finally won a medal after three Olympic stints. Her first was in the 2008 Beijing Games followed by the 2012 London Games where she also served as the flag-bearer. It is only the Philippines' third silver medal in the Olympics, and Diaz's silver is the first outside of boxing.
Meet more legendary Filipino athletes:
13 Sports Legends Who Proved Filipinos Are Kickass Athletes
10 Greatest Filipino Athletes You've Never Heard Of
36. Philippines' Oldest Tree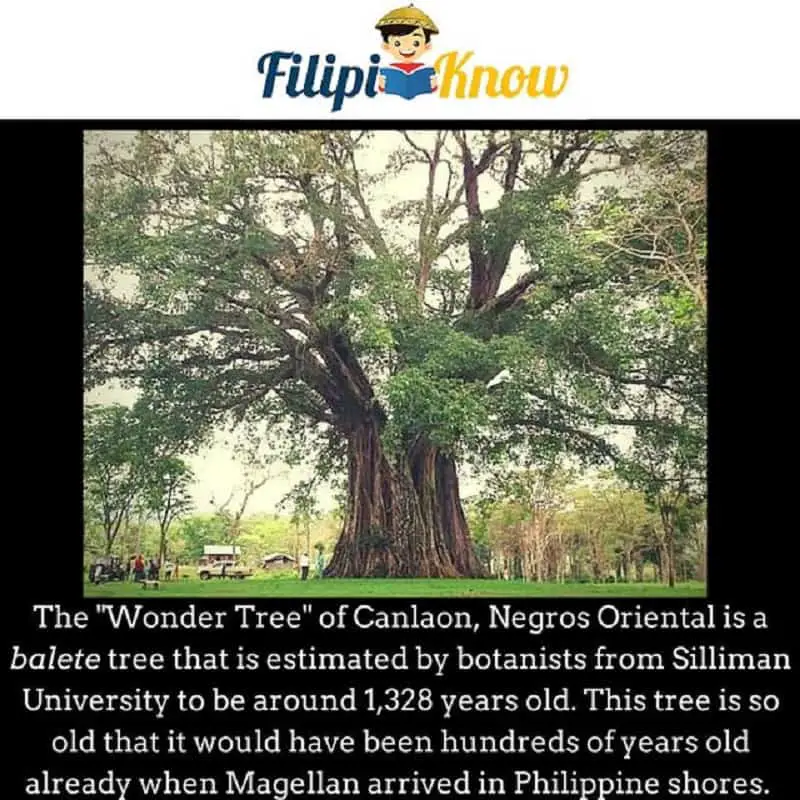 Apart from its age, the balete tree is huge and needs at least 42 people to fully encircle its trunk.
Canlaon's balete tree stands in the middle of rice and coffee plantations in Oisca Farm in Lumapao. As with trees of this species, it is regarded with some awe, fascination, and superstition.
The tree has a cavity in its middle and is home to lizards, bats, and insects. At night, hundreds of fireflies illuminate the huge tree. Some local folks believe that the balete tree is a gathering spot for fairies and supernatural folk.
Related article:
The Oldest Known Photos of the Philippines Ever Taken
37. Roselle Ambubuyog, the Blind Genius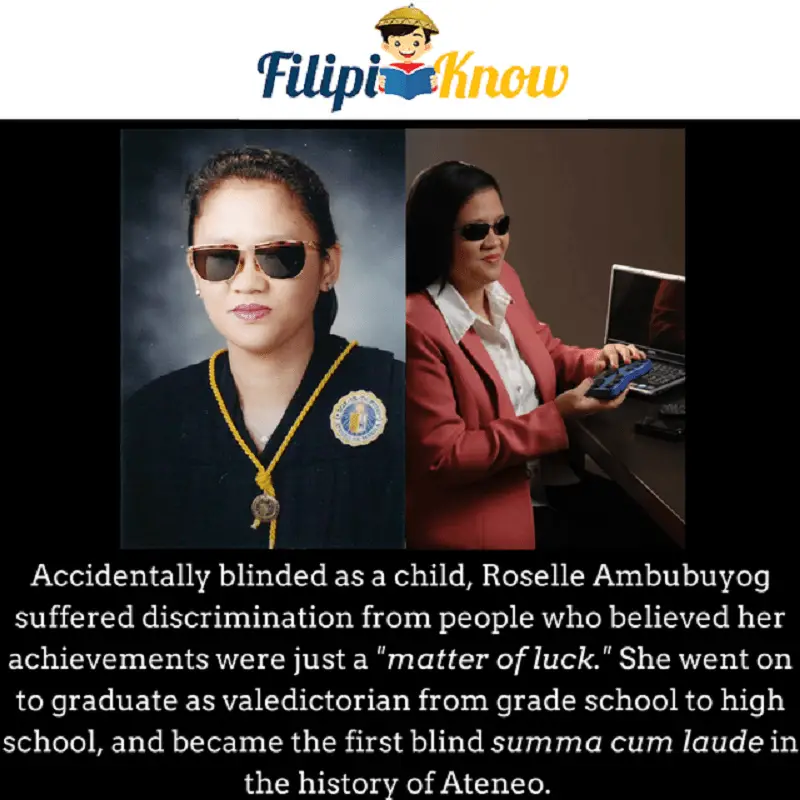 Later, Roselle helped develop the first Windows Mobile® screen reader for touch-screen smartphones and PDAs which converted screen content into synthesized speech, magnified text, and Braille output.
She defined the Braille interface of similar software for the Symbian® OS, enabling even the deaf-blind to use popular Nokia phones.
During her tenure as Product Manager of these software innovations, Code Factory of Barcelona, Spain, garnered recognition from the American Foundation for the Blind at the 2008 AFB Access Awards.
She also guided an international team of sighted programmers to develop a talking GPS navigation solution for blind pedestrians, based on the Windows Mobile platform and using the software architecture and GPS maps from the Sendero Group, which won the International CES Best of Innovations Design and Engineering Award.
Related article:
This Filipina Is The World's Fastest Reader
38. The First Basketball Games in the Philippines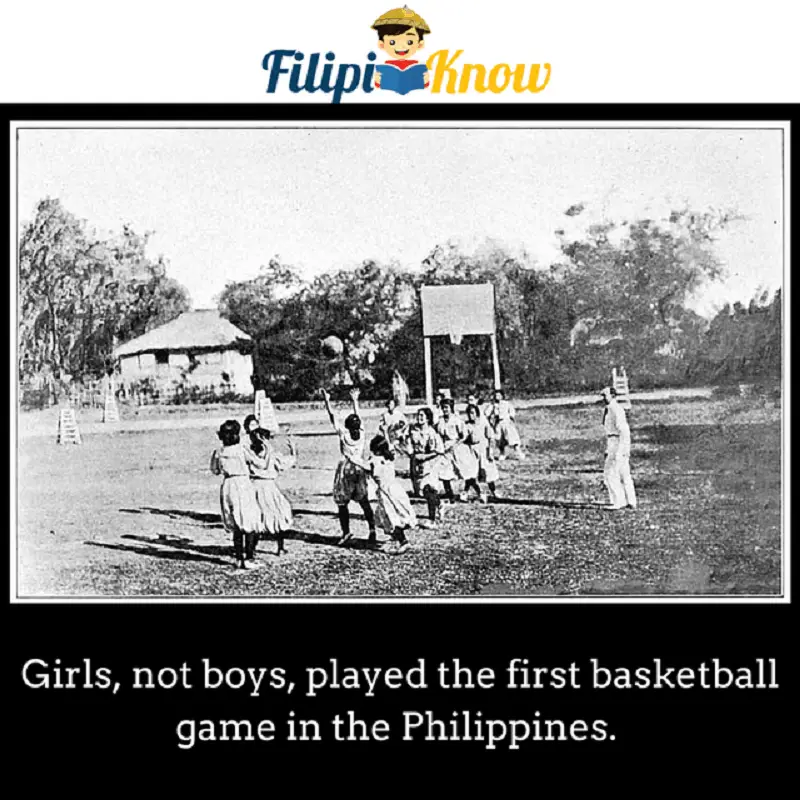 According to sports columnist Manolo R. Iñigo of the Philippine Daily Inquirer, it was in 1905 when basketball was first played in the Philippines. Way more surprising is the fact that the first players were not boys, but girls!
American physical education teachers introduced basketball here in the 1900s along with other sports like baseball and boxing.
The first official basketball tournament for girls, meanwhile, was held at the 1911 Manila Carnival and athletic meet. In this game, the Tondo Intermediate School reigned supreme after winning the five-team championship.
Former POC president Julian Malonso also revealed that among the notable Filipina basketball players from this golden era were the late Aurora Quezon, wife of President Quezon; and Josefa Edralin Marcos, mother of the late President Ferdinand Marcos.
In contrast, Filipino men were late bloomers: They first competed in organized basketball in 1910.
Related article:
First Filipino basketball player to score a basket in PBA history
39. Philippines' Oldest House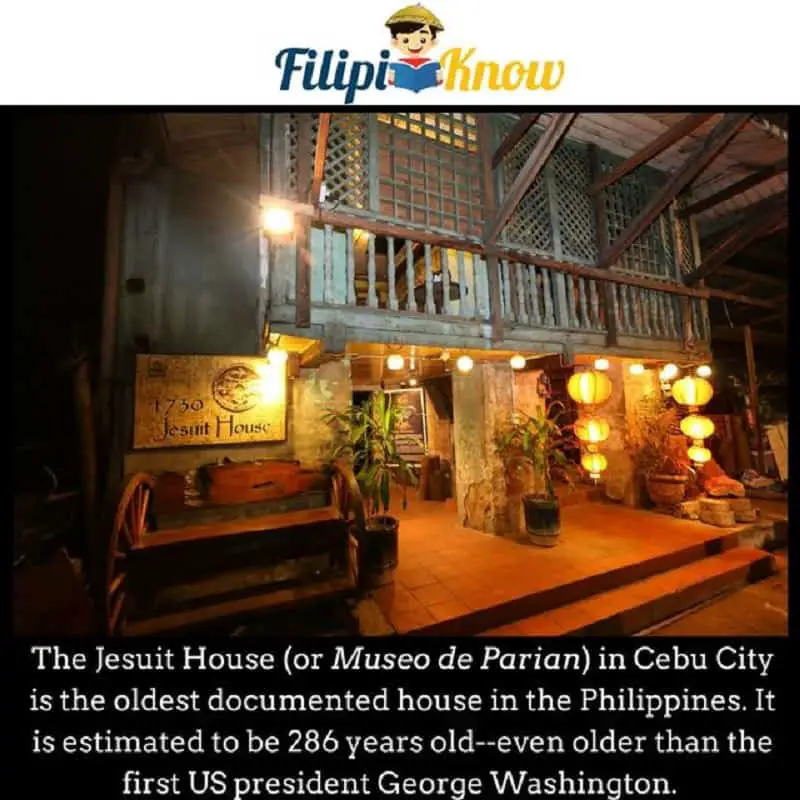 According to Cebu City Tourism, Fr William Repetti, S.J., a seismologist and archivist of the Jesuits, identified this old structure as the "Jesuit House of 1730" and pictures of his visit hang on its walls today. Fr Repetti noted the existence of the house in his book published in 1936.
However, restoration works carried out by the team of Architect Anthony Abelgas in 2010 prove that it could even be older than that.
A coin, for example, dating back to the Ming Dynasty and found buried in a post of the original house suggests that: (1) the house has gone through periods of transformation; and (2) it was originally owned by a Chinese family who was among the early settlers in the Parian district.
Moreover, the house is made of coral stone from ground to the second floor. Abelgas pointed out that during the Spanish governance, this practice was no longer allowed.
Related article:
The 8 Most Haunting 'Abandoned' Places in the Philippines
40. "Dona Victorina" Syndrome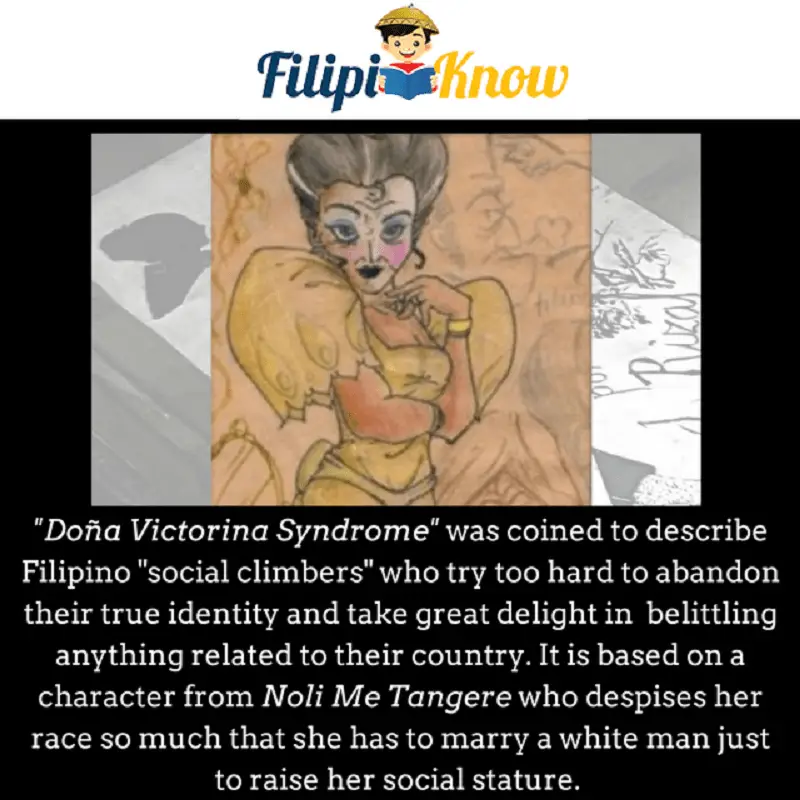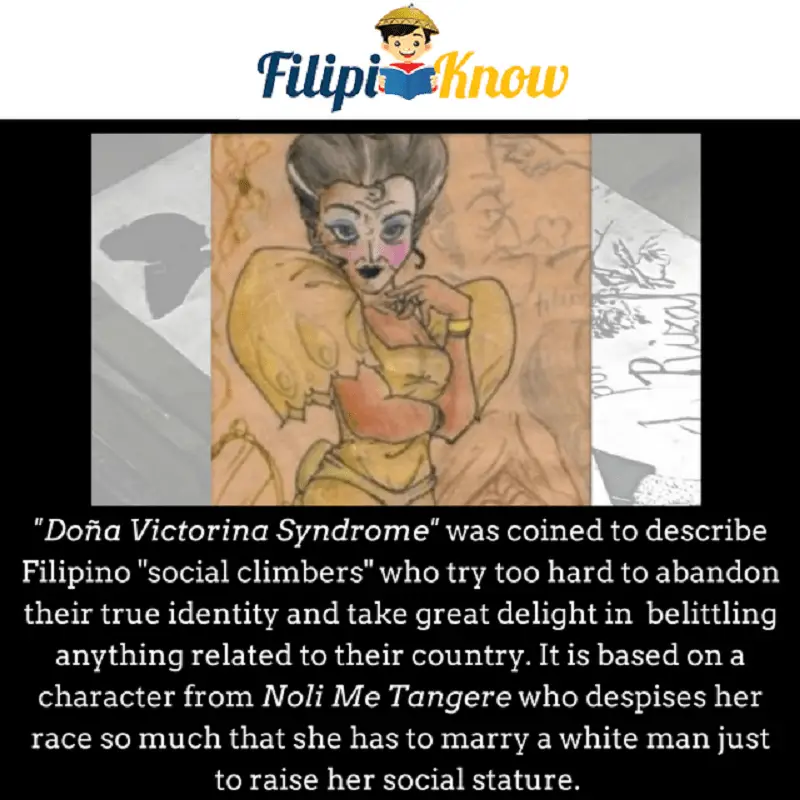 According to Felipe M. de Leon, Jr., professor of art and Chairman of the National Commission for Culture and the Arts (NCCA), "Dona Victorina" Syndrome may be defined as:
*Doubt in the Filipino capacity for achievement.
*Perverse delight among Filipinos to constantly belittle themselves.
*Serious lack of respect or contempt for each other.
*Instead of harnessing our culture as a vast resource of knowledge and wisdom for sustainable development, we squander it by wallowing in a negative self-image that is tantamount to a self-fulfilling prophecy.
Related article:
10 Weird Phenomena That Perfectly Sum Up Today's Filipino Culture
Continue Reading: