Confused about how to renew Philippine passport in Japan?
In this condensed and updated guide, we'll discuss only the essential things you need to know when renewing Philippine passport while you're in the Land of the Rising Sun.
Read the main article here: How to Renew Philippine Passport Abroad: Guide for OFWs and Filipino Immigrants
Table of Contents
Watch Video: Tips When Renewing Philippine Passport Abroad
Philippine Passport Renewal Requirements in Japan
Confirmed appointment schedule.

Accomplished passport application form in A4-sized paper:

Tokyo: Download here; Osaka: Download here.
Original latest passport.
Photocopy of passport data page in A4-sized paper.
Self-addressed envelope:
           -Tokyo: Letter Pack 520 envelope
           -Osaka: 120 x 235 mm-sized envelope (Nagagata-3 or 長型 3号 type envelope) with postage stamps worth JPY 9001.
Where To Renew a Philippine Passport in Japan
1. Philippine Embassy in Tokyo
Address:

5-15-5 Roppongi Minato-ku, Tokyo 106-8537.

For a detailed information on how to get into the embassy via train, bus, or car, kindly refer here.
Contact information: 03-5562-1600 ext 127 / [email protected] / [email protected]
Office hours: Mondays to Fridays, 10 a.m. to 2 p.m.
Consular jurisdictions:

Akita

Aomori

Chiba

Fukushima

Gunma

Hokkaido

Ibaraki

Iwate

Kanagawa

Miyagi

Nagano

Niigata

Okinawa

Saitama

Shizuoka

Tochigi

Tokyo

Yamagata

Yamanashi
2. Philippine Consulate in Osaka
Address:

Twin 21 MID Tower 24/F 2-1-61 Shiromi, Chuo-ku, Osaka 540-6124.

Contact information: 06-6910-7881 / [email protected]
Office hours: Mondays to Fridays, 9 a.m. to 5 p.m. (no noon break)
Consular jurisdictions:

Aichi

Ehime

Fukui

Fukuoka

Gifu

Hiroshima

Hyogo

Ishikawa

Kagawa

Kagoshima

Kochi

Kumamoto

Kyoto

Mie

Miyazaki

Nagasaki

Nara

Oita

Okayama

Osaka

Saga

Shiga

Shimane

Tokushima

Tottori

Toyama

Wakayama

Yamaguchi
3. Consular outreach mission
Both the Embassy in Tokyo and Consulate in Osaka conduct consular outreach in their respective jurisdictions. This means you can apply for passport renewal in a location closer to you without having to go to the Embassy or Consulate.
For instance, the Philippine Consulate General in Osaka announced some of its consular outreach missions for the remaining months of 20212. Here are the tentative dates of the consular missions to be administered by the Consulate in Osaka:
Okayama (Nov. 27 – 28, 2021)
Oita (Dec. 11 – 12, 2021)
Hiroshima (Dec. 18 – 19, 2021)
Regularly check the consulate's website for updates regarding its upcoming consular outreach missions.
How To Renew Philippine Passport in the Philippine Embassy/Consulate in Japan: 5 Steps
The Embassy recommends renewing your passport at least eight months before its expiration date.
1. Book an online appointment
An appointment is required for passport renewals at both the Embassy in Tokyo and Consulate in Osaka.
How to set an appointment for passport renewal in Tokyo:
Starting October 1, 20213, passport appointments in the Embassy in Tokyo must be made through the DFA's Global Online Appointment System (GOAS). Those who already have scheduled appointments until December 2021 are not required to make new appointments via GOAS. 
To set an appointment via GOAS, follow these steps:
Access the DFA Global Online Appointment System or enter www.passport.gov.ph in your web browser.
Select Schedule an Appointment.
Tick the checkbox to accept the Terms and Conditions.
If you are setting up an appointment for one person, select Start Individual Appointment. Otherwise, select Start Group Appointment.
Provide all the required information.
Select the date and time of your appointment and complete your appointment details.
Select whether your appointment is for New Passport, Renewal, or Lost Passport.
Complete your contact details.
Verify your appointment and contact details before confirming. Once everything is verified, confirm your appointment and wait for a confirmation message via email.
Print your emailed accomplished appointment form on an A4-sized paper.
How to set an appointment for passport renewal in Osaka:
Access the Osaka PCG Passport Appointment Portal.
Select your preferred date from the available slots.
Fill out and submit the online passport application form.
Email a scanned copy or image of your passport data page to [email protected].
Wait for an email confirmation of your appointment schedule from the Consulate.
2. Go to the Philippine Embassy in Tokyo or Consulate in Osaka
If you're applying in Tokyo: Proceed to the Consular Section on your scheduled appointment. Submit the requirements at Window 6 for assessment and verification.
If you're applying in Osaka: Proceed to the Passport Processing Window and submit the requirements for assessment and verification.
3. Pay the Philippine passport renewal fee
Go to the cashier and pay JPY 7,800 for the passport fee. Keep the official receipt issued to you.
4. Have your photo, digital signature, and fingerprints captured
Go to the passport encoding area for the capturing of your photo and biometrics.
5. Wait for your new Philippine passport to be mailed to you
It takes about one to two months (for renewals in Tokyo) or six to eight weeks (renewals in Osaka) for passports to be released.
If you applied for passport renewal in Osaka, you may track your passport application status here.
Once your passport arrives from Manila, the Embassy or Consulate will send it to you via postal mail using the self-addressed return envelope you provided.
As soon as your new passport is ready for release, you'll receive a postcard or hagaki if your old passport is extended or uncancelled yet.
You may send your old passport to the Embassy, and it will send the old canceled passport along with the new passport. Or you can come personally to the Embassy to present your old passport for cancellation and get your new passport.
If two months have passed and you still haven't received your new passport, you may send an email to the Embassy or Consulate to follow up on your renewal application status.
How To Renew Philippine Passport in Japan Through Consular Outreach
Update: As of October 2021, the Philippine Consulate in Osaka has ongoing consular outreach missions. Unfortunately, passport services are already fully-booked. Kindly check the consulate's website regularly for the next consular outreach programs.
1. Find out the schedule of consular outreach missions
Check the Philippine Embassy/Consulate website and Facebook page for their consular outreach schedule and venue for the year.
Here are quick links you can refer to:
Choose a schedule and venue that will work best for you. Each application filed through the consular outreach mission must undergo pre-processing, so you can't just suddenly come to an outreach mission as a walk-in applicant.
2. Mail your application to the Philippine Embassy in Tokyo or Consulate in Osaka
Update: The Philippine Consulate in Osaka is now using its website for appointment booking. You may also scan their QR code which can be accessed via this Facebook post. You have to email a copy of your data page to [email protected] with an email subject: Last name, First Name, Middle Name. The official list of applicants can be seen on the consulate's website or Facebook page.
Put your accomplished passport application form and a photocopy of your passport data page in a Letter Pack 510 envelope.
Don't include the other requirements such as your old passport and passport fee payment—these should be presented on the day of the outreach mission.
Outside the envelope, write down the location or city of your chosen outreach mission (e.g., Hiroshima, Hokkaido, Shizuoka, Nagoya, etc.). Don't forget to put the seven-digit postal code of the Embassy or Consulate at the top right portion.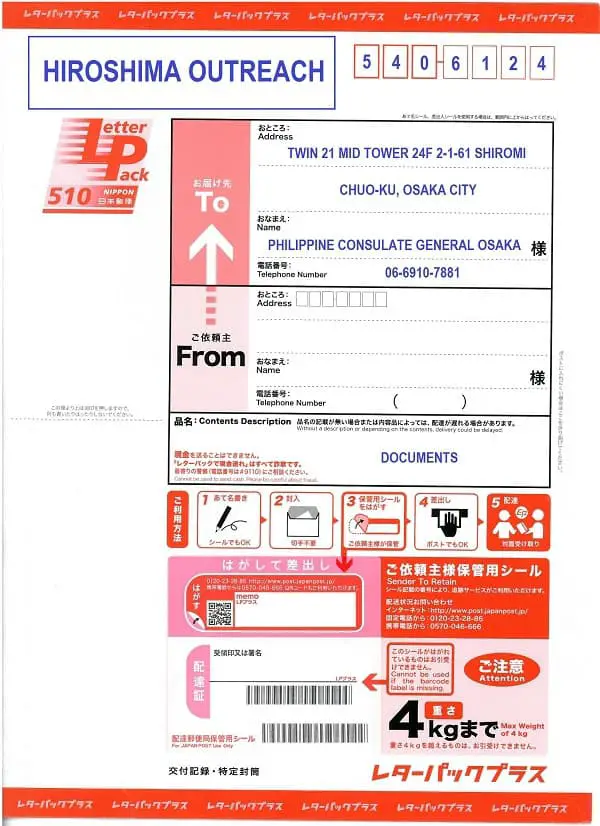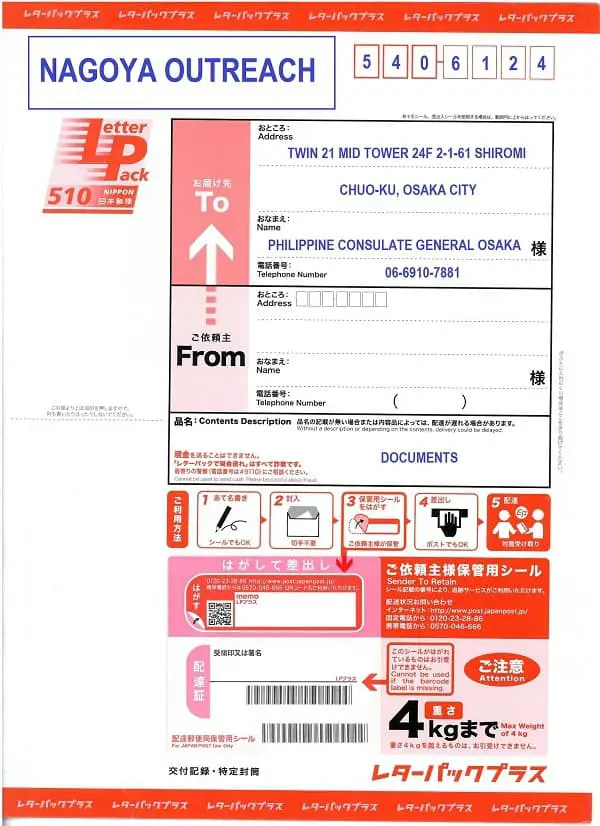 Send the requirements via postal mail within the application period to the Embassy or Consulate that will conduct the outreach.
The Embassy or Consulate must receive your documents on or before the deadline, so you'll be given an appointment slot for passport renewal. Applications received after the deadline will not be included in the passport applicant list for the consular outreach.
3. Check the list of passport applicants with slots
Around one to two weeks before an upcoming consular outreach mission, the Philippine Embassy and Consulate post the list of passport renewal applicants with slots on their respective websites and Facebook page.
If you're on the list, take note of the date, time, and exact location for your scheduled appointment.
4. Go to the consular outreach venue on your scheduled appointment
Arrive at the exact time on your appointment schedule.
Submit all the original copies of your documents, including your old passport. If you don't want your old passport to be canceled while waiting for the new one, bring a postcard or hagaki as well.
During the consular outreach, pay the passport fee of JPY 7,800 and have your photo and biometrics data taken.
5. Wait for your new Philippine passport to be mailed to you
Like in the Embassy and Consulate, passports processed through consular outreach are sent via postal mail. Processing may take longer than two months, so patiently wait for your new passport.
Related Article: How to Get Japan Visa in the Philippines
Tips and Warnings
1. Don't drive your car to the Embassy
There's no public parking space in the Embassy's premises and the nearby streets, which are designated as No Parking/Tow-Away zones. So it's better to leave your car at home and just commute by bus, train, or taxi to the Embassy in Tokyo.
If you really need to bring a car, like when you're accompanying a senior citizen or pregnant applicant, look for pay parking areas within the area.
2. Ensure your address on the return envelope is complete and correct
To avoid delay in receiving your new passport, make sure your address (including your postal code or yubinbango) is complete and correct. The required stamp value (JPY 960 for applications in Osaka) should also be correct.
3. Ensure someone is available to receive your new passport
Somebody should be available to receive your passport. If no person can receive it during delivery, the Post Office will leave a delivery notice for the applicant.
If you receive this hagaki, read the instructions that come with it. You may claim your passport at the Post Office or request for it to be delivered to you again.
If you opt for redelivery, make sure that someone will be waiting for your passport on your chosen delivery date and time. If no one is there to receive your passport again, your passport will be returned to the Embassy or Consulate. If that happens, you'll have to personally pick up your passport.
Frequently Asked Questions
1. Are walk-in applications allowed?
No. Both the Embassy in Tokyo and Consulate in Osaka implement a No Appointment, No Entry policy. They don't accept walk-in applicants without a confirmed appointment.
2. I need to travel abroad for an emergency, but my current passport is expiring or expired/my new passport is not yet available. What should I do?
Update: Effective October 2019, the DFA no longer issues extension of Philippine passport validity. Click here for more info. 
You may apply for an extension of your passport validity during or after your renewal application. In addition to the typical requirements for passport renewal, you need to pay the passport extension fee of JPY 2,600 and submit the following documents:
Accomplished passport extension application form (Get one from the Embassy or Consulate).

Permanent residence card, employment contract, or any other proof of being an OFW or permanent resident in Japan.

A medical certificate, death certificate, notice of hearing/subpoena, or any relevant proof of travel urgency.

Confirmed flight details and plane tickets.
3. Can I personally claim my new passport?
No. The Embassy and Consulate in Japan release passports by postal mail only. To limit the number of people within their premises, walk-ins are not accommodated yet.
Go back to the main article: How to Renew Philippine Passport Abroad: Guide for OFWs and Filipino Immigrants
References
Passport Requirements. Retrieved 19 October 2021, from https://osakapcg.dfa.gov.ph/consular-services/consular-requirements/passport
Schedule of Consular Outreach Missions for 2021. (2021). Retrieved 19 October 2021, from https://osakapcg.dfa.gov.ph/newsroom/advisories/470-schedule-for-consular-outreach-missions-for-2020
Philippine Embassy in Japan. (2021). Announcement [Video]. Retrieved from https://www.facebook.com/PHLinJapan/videos/338035931399128/