As you thrive and enjoy success in Lion City, don't forget to keep your citizenship intact. In this updated guide, we'll teach you how to renew your Philippine passport in Singapore so you can enjoy your stay, worry-free.
Read the main article here: How to Renew Philippine Passport Abroad: Guide for OFWs and Filipino Immigrants
Table of Contents
Watch Video: Tips When Renewing Philippine Passport Abroad
Philippine Passport Renewal Requirements in Singapore
Printed appointment confirmation from the Embassy.

Accomplished passport renewal application form.

Original latest passport.

Orginal and one photocopy of the passport data page.

Original and one photocopy of

Singapore IC (Identity Card), which can be any of the following:

Permanent Residence Card

E Pass

S Pass

Work Permit

Dependent Card

Study Permit

Long-Term Visit Pass
Where To Renew a Philippine Passport in Singapore
Philippine Embassy in Singapore.
Address:

20 Nassim Road, Singapore 258395 (nearest MRT station: Orchard, exit at Door B).

Contact information: 6737-3977 ext 137,110, 130 / [email protected] / [email protected]
Office hours: Mondays to Fridays.
Processing time: 9 a.m. to 12 p.m. and 1 p.m. to 4 p.m.
Releasing schedule: 9 a.m. to 5 p.m. (no noon break)
 How To Renew Philippine Passport in Singapore: 5 Steps
The Philippine Embassy advises Filipino residents in Singapore to renew their passport around nine months before its expiration date.
The Embassy accepts renewals one year or more before the passport's expiration only when the current passport's remaining visa pages are already few or when the applicant needs to extend his or her overseas travel.
1. Book an Online Appointment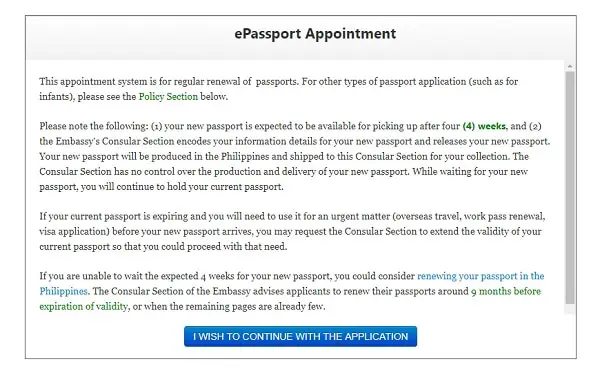 Transactions at the Philippine Embassy, including passport renewals, are strictly by appointment only. Without an appointment, your passport will not be processed.
Reserve a slot for your passport renewal application using the ePassport appointment system.
One appointment per person is allowed. If you're applying as a family, each member must make his or her own appointment.
If no slots are available for the current month, click to the next month until you get to the month with available dates.
After setting an online appointment, check your email for a confirmation from the Embassy. Print out this appointment confirmation.
2. File Your Application in the Embassy
Go to the Philippine Embassy on your scheduled appointment.
You may take the shuttle service that takes passengers to the Embassy from 8:30 a.m. to 4 p.m. From the Orchard MRT station, take the exit at Door B and walk to the car park across Wheelock Place along Angullia Road to get to the shuttle service pickup point.
When you get to the Embassy, submit the requirements, pay the Philippine passport renewal fee of SGD 102, and undergo photo and biometrics data capturing.
You'll be issued a blue Consular Collection Slip that contains the collection date for your new passport.
3. Verify Your New Passport Status
It takes around six (6) weeks1 after the application date for a renewed passport to be printed in DFA Manila and shipped to the Embassy in Singapore.
The Philippine Embassy in Singapore has an ePassport availability verification system for checking your passport renewal status.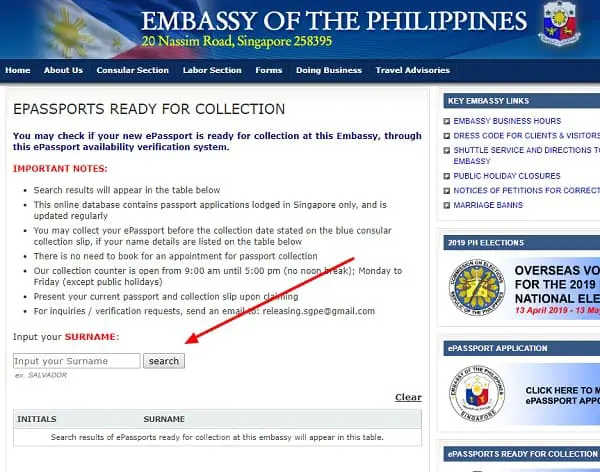 Enter your last name and click the Search button. If your name appears on the search results, you can already claim your passport.
You may also contact the Embassy at 6737-3977 ext 129 or [email protected] to inquire about your passport status.
4. Make an Appointment for Passport Pickup
Once your passport availability is confirmed, set an appointment for passport collection by filling out and submitting this online booking form.
Another way to secure a slot for your passport release is to send an appointment request via email to [email protected].
Don't come to the Embassy without making an appointment. Otherwise, you won't be allowed to claim your passport. You'll be asked to come back after securing a schedule for passport release online.
5. Claim Your New Philippine Passport
On your scheduled passport collection date, pick up your passport personally or through your authorized representative at the Embassy. 
Present your blue Consular Collection Slip and old passport for cancellation. If someone else will claim your passport, he/she must present your signed authorization letter.
Tips and Warnings
1. Book an online appointment for two to three months in advance
Appointment slots in the ePassport appointment system get filled quickly.
The earliest month you can book could be two to three months from now. Therefore, schedule an appointment at the earliest time possible.
If you need to renew your passport earlier, you may request to move your appointment to an earlier date. Send an email to [email protected] with the subject line "Urgent need for passport" and attached images of your current passport, Singapore IC showing the expiration date, and the Embassy's confirmation message for the previous passport appointment.
In your email message, indicate your preferred date and time for the earlier appointment and the reason for your request.
The Passport Section will reply with the rescheduled appointment.
2. Use your own email address for your online appointment
Although the Embassy allows using somebody else's email address for making an online appointment, it's better that you use your own or create a new email address, if you don't have an active one.
This is to ensure that you'll immediately receive the appointment confirmation message and other notices from the Embassy.
Frequently Asked Questions
1. My passport is already expired. Can I renew it?
You need to apply for a new passport, starting with securing an online appointment.
If you need to travel abroad but your passport is expired, send an email to [email protected] with the subject line "Expired passport, need to travel" and attached images of your current passport and Singapore IC showing the expiration date.
Wait for a reply from the Passport Section with advice on the next steps to take.
2. I can't access the online appointment system. What should I do?
Try to refresh the page. If it still doesn't work, use another browser.
If you still can't access the online appointment system, send an email to [email protected] with the subject line "Cannot access ePassport Appointment System."
3. Is there a way to get my new passport faster than four weeks?
You may renew your passport in the Philippines and apply for expedited processing (six to seven-day processing). OFWs are exempted from making an online appointment and can use the courtesy lane at the DFA office.
Another workaround is to request for passport validity extension. Send an email to [email protected] with the subject line "Request for immediate passport renewal and passport validity extension."
Extending the validity of a passport costs SGD 34.
Update: Effective October 2019, the DFA no longer issues an extension of Philippine passport validity. Click here for more info.
Go back to the main article: How to Renew Philippine Passport Abroad: Guide for OFWs and Filipino Immigrants
References
Applying for a Philippine Passport. (2021). Retrieved 23 October 2021, from http://www.philippine-embassy.org.sg/consular/passport/applying-for-a-philippine-passport/