Last Updated on 09/12/2020 by FilipiKnow

Struggling to come up with profitable ideas

worthy of a spot in Shark Tank? If your creative juices aren't enough to create the next big invention, perhaps capitalize on what people already need–a water refilling station business.
We all need water, specifically safe drinking water to quench our thirst and support our body's vital functions.
The problem with tap water is it's laden with chemicals or minerals which you can only get rid of with the use of expensive home filters. Bottled waters, on the other hand, are too expensive for daily consumption, not to mention the weird aftertaste they leave behind.
Enter the water refilling station business–a heaven-sent for those who need a cheaper and more convenient way to have a daily supply of drinking water. There's a demand almost everywhere so you can spend less on marketing and advertising.
If you're one of those who want to get a piece of the pie of this profitable idea, this definitive water refilling station business guide is for you.
Go back to the main article: Best Small Business Ideas in the Philippines with High Profit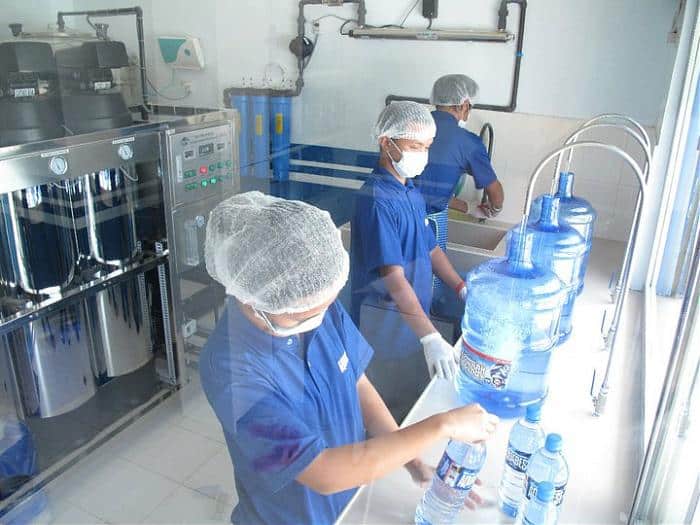 Who should start a water refilling station?
People who live in or near an area with a demand for safe drinking water.
Entrepreneurs who want to open a business with lower risk and constant demand.
How much is the capital for a water refilling station business in the Philippines?
Overall, you need between Php 600,000 and Php 700,000 as an initial investment to start a water refilling station business in the Philippines.
Take note that this estimate already covers building construction (of course, the cost will be significantly lower if you own the property), the machine, permits, containers, motorcycle with a sidecar (which you will need for product deliveries), the cost of drilling the deep well (which will serve as your water source; more on this later), seminar, and other initial expenses.
The water refilling machine eats a huge portion of the capital. Fortunately, for as low as Php 150,000, you can already own a water refilling station. The cost already includes all the equipment needed. Some companies even offer installments. After paying a downpayment of Php 40,000, you can pay the remaining balance within 36 months for only Php 2,000 to Php 3,000 per month.
Franchised water refilling station business, on the other hand, can cost anywhere from Php 80,000 to Php 350,000 depending on the type, number, and size of the equipment included. The cost of rental and overhead expenses are not included.
If you have only saved up the minimum amount of capital, water refilling station owners we've interviewed and researched about suggest not to enter the battlefield too easily, This is because you will need more money to pay for the operational expenses which will most likely come from your own pocket during the first few months of operations.
For this reason, it is also advisable not to resort to loans to fund the capital for your water refilling station. Businesses are unpredictable, more so if this is your first venture with absolutely no past experience to rely on. So save up as much money as you can and study the ins and outs of the business carefully before making that leap of faith.
Is the water refilling station profitable?
Yes, but it depends on a lot of factors. Just like any business, the success of a water refilling station largely depends on a combination of high market demand, zero or few competitors, and how business-savvy the owner is.
During the first few months of operations, be ready to do most of the tasks yourself as you're not profitable enough to hire additional employees yet. This is the ideal time to put your resourcefulness into good use.
For example, you can learn how to do simple accounting tasks instead of paying a bookkeeper to do it for you. This way, you can minimize expenses and learn more as a businessman in the process.
Provided that you've done everything by the book and the market is large enough to sustain your business, you'll be able to determine how long it will take to recoup your investment and whether or not the business is profitable.
Let's say your new water refilling station is selling 100 jugs of water per day, each of which costs Php 25 (this is a conservative estimate as it's easy to sell more than that provided there's a massive demand in your area). The monthly expenses, meanwhile, include your employees' monthly salaries (Php 19,000 which is enough to pay a driver, a helper, and a manager), the electric bill (Php 7,000), the cost of materials and gas (Php 7,000), maintenance fee to pay for unexpected things that can derail business operations if left unattended (Php 600 or more), and additional expenses like the cost of new filters that are ideally changed every month (roughly Php 2,500 or more).
Based on the figures above, your gross profit, if your water refilling station is open every day, will be Php 75,000 (again this is assuming you're just a beginner). Subtract the monthly expenses and you'll be left with a net profit of more or less Php 38,000 which will give you an idea of how many months it will take to earn back the capital you initially invested.
What are the benefits and drawbacks of a water refilling station?
Pros.
Water is a basic commodity so demand is not a problem. Unlike seasonal businesses, a water refilling station can be profitable all year round. You will also be serving your community, with customers coming from high- to low-income backgrounds.
It's relatively easier to handle compared to other businesses since you only sell water.
You don't necessarily need to find a location in crowded places where rental costs can go through the roof. By offering delivery services, you can go to your customers directly instead of them going to your store.
Cons.
Depending on the existing demand and competition in your area, it may take longer to recoup the initial investment.
The water station equipment requires maintenance which can eat up your budget and revenue.
How to Start a Water Refilling Station Business in the Philippines: 13 Steps.
1. Know what you're getting into.
Every business is hard and a water refilling station business is no exception. You don't have to be very passionate about the idea but a little interest in the business can go a long way to sustain you during the tough times.
Study the business carefully and evaluate whether this is the right model for you. Take into consideration your strengths or skills, your risk appetite, and the amount of money you're willing to invest.
Since water is an easy product to market and there are ready buyers everywhere, expect to face stiff competition. You should also be ready to put in the work since a water refilling station involves a lot of deliveries.
In times when your delivery staff aren't available or fail to show up at work, you will have to do the tasks yourself lest you disappoint your customers.
2. Learn more about the business and the product.
If you're convinced the water refilling station business is the right fit for you, it's time to get into a crash course.
There are two ways to learn more about this venture. One is to enroll in a seminar that will teach you both theory and hands-on experience.
Franchisors often conduct free seminars for interested entrepreneurs as part of their marketing strategies.
You can also conduct research and learn everything about the business on your own. This is a viable option if you have a technical background to begin with.
Although the business can be easily grasped by anyone, it will be easier if you're genuinely interested in the science and technical aspects of water purification.
In general, products sold in water refilling stations are of three varieties:
Mineral water – a product of a filtration system that eliminates impurities easily seen by the naked eye. Ultraviolet is also applied to kill bacteria. It's known for lowering blood pressure, aiding digestion, reducing skin blemishes, and improving one's bone health.
Purified water – made by removing all impurities or "hardness" of the water through reverse osmosis. Drinking this helps reduce your chances of developing gallstones. It also absorbs toxins from your body and flushes them out through your urinary system.
Alkaline water – or alkalized ionized water is produced by removing the acid content of the water and increasing its pH level. Alkaline water helps reduce the acid in our bloodstream, boosts metabolism, and prevents oxidation which leads to premature aging and diseases.
3. Conduct a feasibility study.
A feasibility study is a process of assessing a business idea in terms of practicality and its likelihood to succeed.
To produce a reliable feasibility study, the following factors are explored in great detail:
Market demand: Conduct a simple survey to determine how many prospective customers are living in your area. You don't want to start a business that sells a product nobody needs, do you?
Competition: How many similar businesses already exist in your area? The more competitors you have, the more difficult it is to penetrate the market.
Location: Although water refilling station businesses can thrive with its delivery services alone, you still need a strategic location in order to attract your first few customers. Consider opening your store near or inside a subdivision or exclusive village. You can rent a space or convert your garage into a commercial space to save on rental fees. To operate a water refilling station, you should have a minimum area of 20 – 25 sq.m.
Water source: Where will the water come from? It will come from either the water district or a deep well. Between the two, the latter is a more practical choice since you don't have to pay steep monthly fees for commercial use. The water district is also unreliable because of instances of water service interruptions that may occur without prior warning. However, should you opt for a deep well as a water source, make sure you build it at least 25 meters away from the septic tank. It should also have a safe distance away from piggeries, funeral parlors, gas stations, cemeteries, and other places that can contaminate the water.
pH level of water: The total dissolved solids (TDS) in the water supply, also known as the "hardness" of the water, will determine the types of treatment or purifying processes that can be applied to the water source.
4. Decide whether to put up your own brand or get a franchise.
While starting from scratch can potentially bring you more profit in the long run, the stress and risk of failure can overwhelm any first time entrepreneur.
It's also more difficult to compete with more established brands since people are inclined to buy from stores with familiar names.
Fortunately, franchising is always an option. While you're bound to a contract and you have less control over some aspects of the business, you can look at it as a training ground where you can learn as much as you can before going solo in the future.
Franchise packages can cost anywhere between Php 80,000 to Php 350,000 inclusive of all the filters and other equipment. Franchisors also help their franchisees get their businesses off the ground by providing technical assistance, marketing support, and training programs for the staff and managers.
Below is a list of the most popular water refilling station businesses in the Philippines that are open for franchising:
a. Bluewaters Global.
Franchise cost: Php 80,000 to Php 178,000
Address: Room 203, Building 2, Octoarts Building 108 Panay Avenue, Quezon City
Email address: [email protected]
Contact numbers: Globe: 0977-771-6147; Smart: 0921-881-7991; Sun: 0932-119-4522; PLDT: +63 2 775 5010
Franchise cost: Php 98,000 to Php 257,000
Address: W8B CCMC Compd., Industrial Area, Veterans Center, Taguig
Email address: [email protected]
Contact numbers: (0063) 917 – 8074933/ (0063) 917 – 8527126
c. Alkaviva.
Franchise cost: Php 141,000 to Php 290,000 (can be paid through monthly installments)
Address: #270 Commonwealth Ave., 3rd., Flr. Crissant Plaza, Old Balara, Quezon City, Matandang Balara, Quezon City, 1119 Metro Manila
Email address: [email protected]
Contact numbers: (02) 281 1780 (PLDT); 0917 3089096 (GLOBE);0917 8366 194 (GLOBE); 0947 9976 438 (SMART); 0932 8479 675 (SUN)
Franchise cost: Php 100,000+ (exact figures available upon inquiry)
Address: 883 Quezon Avenue, Brgy. Sta. Cruz, Quezon City, 1104 Philippines
Contact numbers: +63-2-3710478
If you're interested to get a franchise, you may need to submit one or all of the following:
A letter of intent (including site location)
Duly accomplished application form
Business proposal
Franchisors usually specify the location requirements including the lot size, availability of parking space, absence of competitors, number of adjacent households or offices, etc.
They also strictly follow a floor plan or a store layout to ensure all the equipment, wiring, and piping will be installed properly for a seamless purification process.
5. Write a business plan.
A business plan is a written document that shows how your water refilling station business will evolve from start to finish.
You will probably not need this especially if you have no plans of borrowing money from the bank but creating your own business plan will definitely help. Not only will it provide you with a clearer, more objective view of your business, but also lays down the foundation that will prevent you from losing money on unnecessary expenses.
For more information about the business plan and how to write one, click here

.
6. Choose the right location.
Foot traffic is at the heart of any successful business and a water refilling station is no exception.
It's hard to attract potential customers if there are a limited number of people in your area so when building your business, pick a location near subdivisions, condominiums, hospitals, clinics, schools, or offices. The more people you'll be able to interact and promote your business to, the better.
If you're lucky enough to live in or near an area with a lot of foot traffic, you can also consider setting up your business in your own lot or converting an unused building to house your water refilling station.
7. Build your water refilling station.
After finding a suitable location for your water refilling station business, it's time to look for a supplier who will provide you with the needed equipment.
It can either be a franchisor who offers a water refilling station equipment as part of its packages or a company that only offers water refilling machines.
Never finalize a deal with a supplier without exploring other options. Compare the prices and features of the water refilling machines you find.
If you're short on cash, you can avail of equipment from companies that offer their products on monthly installments. Since it's not a franchise deal, you can buy the equipment from them and then put up your water refilling station bearing a business name of your choice.
Ensure that after-sales support like warranty, technical assistance, and maintenance, is available.
After doing your due diligence and signing a contract with the supplier you're most confident with, it's time to build the water refilling station. Here are the basic steps you need to follow:
Work with the supplier in creating a store layout or floor plan that complies with the company's standards. Someone will be sent to the location to survey the building and create a floor plan based on the findings. A standard water refilling station consists of a water purification room, refilling and selling room, container washing and sanitizing room, storage room for the refilled and empty containers, an office, toilet, and a source water storage facility.
Pay the downpayment to the supplier to have your equipment ready. Keep the official receipt.
After the layout or floor plan has been approved, the contractor will start building the water refilling station. Give or take, it may take a month to finish the construction depending on the size of the water refilling station.
While awaiting its completion, you can start securing the needed permits and documents to legalize your business (see next step).
The supplier will oversee the construction to ensure it follows the layout or floor plan down to its minute details like the piping, drainage, and washing area.
8. Register your business and secure needed permits.
To avoid legal troubles, any water refilling station business in the Philippines must secure the following permits/registrations:
DTI registration – is available from your local DTI branch. Requirements include barangay clearance, residence certificate, etc. For faster transactions, don't forget to prepare at least 5 to 10 business names. DTI business registration can now also be done online.
Mayor's permit – is issued by the municipal office two to three weeks from the date of application. You may be required to submit (a) water analysis of potability from your water source (physical, chemical, and bacteriological tests); and (b) engineering drawings signed by a sanitary engineer.
BIR – registration is done by filling up Form 0506 and paying the required fees.
Learn More: How to Register a Business in the Philippines: The Ultimate Guide

9. Install the equipment.
Now that your water refilling station is complete, it's time for the supplier to install the equipment.
Installation may take 2 to 3 days to complete, after which you can dry-run the machine for another 3 days to ensure the safety of the water supply.
Remember, the quality of the water you're going to sell depends primarily on the machine that filters it. You want the water to be free from microorganisms and chlorine, both of which pose serious health risks to your consumers.
To ensure that the machine's filtration system produces the quality you desire, get water samples and take it to a local DOH staff for analysis. If it passes the DOH requirements, then you can proceed with opening your water refilling station business.
Otherwise, contact your supplier to determine the cause of the contamination and replace the machines if needed.
According to the Sanitation Code of the Philippines, water refilling stations are subject to regular monitoring by local health offices. Expect to have the monitoring done during these times:
Bacteriological quality – once a month.
Physical quality – every six months.
Chemical quality – every six months.
Biological quality – once a year.
Monitoring of radioactive contaminants – only conducted if there's a significant amount of radiation input from the surrounding environment.
10. Purchase transportation and other necessities.
The need for a delivery service is essential for a water refilling station business to thrive.
For smaller stations, a motorcycle with a sidecar is enough to deliver water containers by bulk. As your business grows, you may need to invest in delivery trucks to manage the inventories of several stores.
Consider the cost of fuel, manpower, and maintenance when adding transportation to your list of expenses.
If you're not a franchisee, you also need to shell out money for other supplies like a heat gun, water containers, sanitizer soap, signage, and stickers bearing your business logo/name.
11. Hire employees.
It's impossible to run a water refilling station alone so you need helping hands for every task.
A water refilling station business needs at least 3 to 5 of the following employees:
Manager – oversees the business for at least 4 hours a day.
Front Liner – receives and refills the water containers from the customers.
Accountant/Bookkeeper – handles the financial aspect of the business.
Technical Asst. – takes care of the water refilling machines and troubleshoots technical problems.
Administrative Assistant – keeps a record of all sales and purchases.
Driver/Delivery Man – transports the refilled water containers to customers' homes.
You can assume the role of one or two of these employees when you're still starting out. As the profit increases, you can use the money to hire additional manpower so you can simply oversee the daily business operations as a supervisor.
12. Set prices for your products.
Pricing depends on the type of product you'll offer and the presence of other water refilling stations competing for the same market.
Commercially sold water usually comes in three varieties: mineral, purified, and alkaline water. They differ in prices because the filtration processes by which they are produced vary in complexity.
Your pricing strategy will also be based on the market price. Determine how much your competitors charge for every water container and price your products accordingly.
Offer competitive prices without sacrificing profit.
13. Promote your business.
In the beginning, don't expect people to swarm to your store. You need to get your business name in front of as many people as possible.
Assuming that you're in a strategic location with a fair amount of foot traffic, one way to introduce your business is by distributing flyers.
If you live in a subdivision, your first few customers will come from the neighborhood. Impress them with your product and service so they can help you find more customers through word of mouth.
If your existing location fails to drive enough human traffic, move to another place where there's enough crowd. Or, you can distribute another set of flyers in this place so you can deliver water supply to their homes without them visiting your store.
There's also the lucrative option called institutional selling wherein you convince big establishments like schools, churches, BPO companies, and restaurants to get their water supply directly from you. It sounds intimidating but if you have the will, there's definitely a way.
Tips and Warnings.
If possible, offer 24/7 delivery service to establish your store as a reliable one that your customers can always count on.
Be innovative. Research on the latest trend or technology in purifying water and offer them to your customers ahead of your competitors.
Focus on providing topnotch customer service all the time. Quickly fulfill orders and deliver them to your customers' homes without any delay.
Go the extra mile for your customers. For example, you can lend out water dispensers to your customers in exchange for a low monthly fee. In addition to the extra profit, you will also give your customers access to hot and cold drinking water without the need to buy a dispenser.
Monitor daily operations. Being a hands-on business owner allows you to prevent pilfering ("pangungupit") among your employees or any breach in sanitation that may affect the quality of the water.
Take care of your employees. Motivate them to work harder by giving commissions on top of their monthly salary for every X amount of water containers they're able to deliver.
Work hard. Even though the water refilling station business looks easy at first due to steady demand and fast ROI, there's still no shortcut to success.
Be resourceful. Water refilling stations waste a lot of water during the purification process. To help the environment, you can recycle the water by opening a laundromat adjacent to your water refilling station. By opening this combo business, you increase your net profit and help conserve water at the same time.
Go back to the main article: Best Small Business Ideas in the Philippines with High Profit